This bread crumb chicken recipe is perfect to make for any day of the week! From the kitchen to your table will only take 35 minutes. You won't find an easier chicken recipe to make for dinner with the family!
Garlic Parmesan Chicken is an easy weeknight meal option that everyone will love! Only 6 ingredients and your easy chicken recipe is ready to serve!
I'm always on the hunt for new easy weeknight meals. We don't have any kiddos, but hubby and I are busy! There are some night I find it cathartic to come home and whip up a fancy meal, but other nights I want to binge watch something on TV.
Garlic Parmesan Chicken is a recipe that has been used by busy moms for decades. Sometimes called Mayo Chicken or Mayonnaise Chicken and other times Italian Parmesan Chicken (which is too close to Chicken Parmesan for me), I landed on Garlic Parmesan Chicken.
Mayonnaise, minced garlic, parmesan cheese, salt & pepper, Italian breadcrumbs, and chicken breast. Six ingredients, that's all you need to make this deliciously easy and tender Garlic Parmesan Chicken. If you're ever looking for a quick and tasty go-to meal, I promise you this is an amazing choice!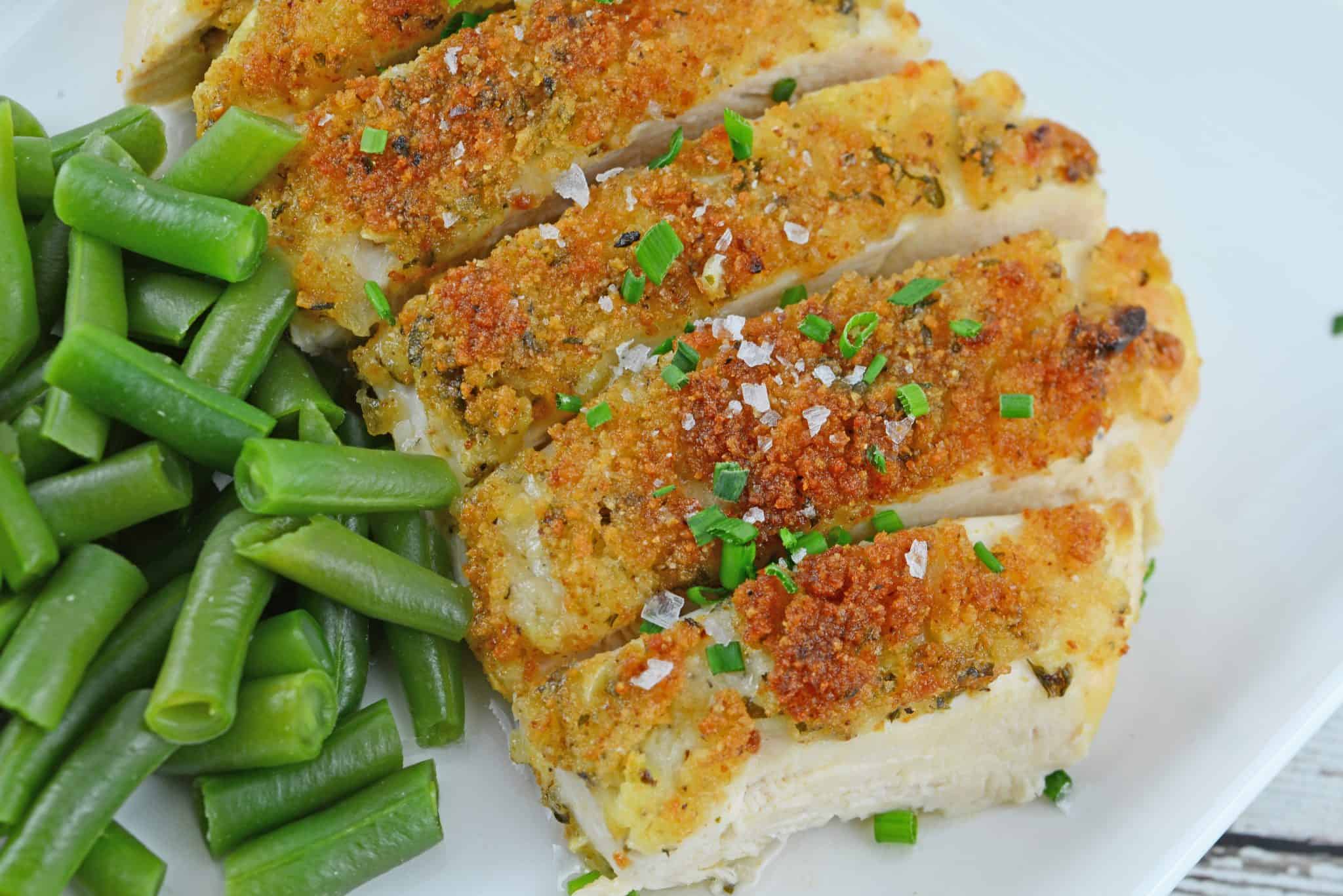 Baking the mayonnaise right on top keeps the chicken juicy and is made with eggs, so instead of melting off the sides like some sauce would, it actually bakes up and holds all the yummy seasonings right on it.
While some add the breadcrumb crust from the beginning, I prefer to add mine halfway through baking. This keeps the crust crunchy instead of getting all soggy.
Did you know that chicken has a lot of health benefits? Not only is it loaded with protein, it's a lean meat that is filled with all the amino acids that your body needs. You'll also find numerous vitamins and minerals that are good for you! Iron, zinc, vitamin A, selenium, and vitamin B12 just to name a few.
The best part is that chicken is filling but it's low in fat, sodium, calories, and cholesterol which makes it an ideal meat to enjoy!
If you enjoyed this chicken cutlet recipe, check out these other easy chicken recipes:
Tools for making Baked Parmesan Chicken: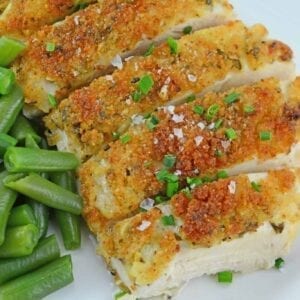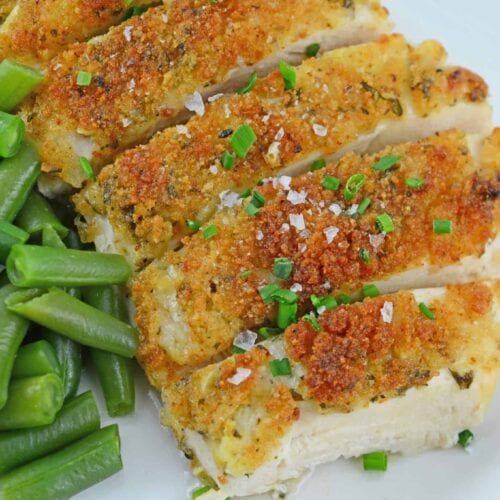 Baked Parmesan Chicken
Garlic Parmesan Chicken is an easy weeknight meal option that kids love! Just 6 ingredients and dinner is made!
Course:
Main Course, Main Dish
Ingredients
1/2

cup

mayonnaise

2

garlic cloves

minced

1/2

cup

Parmesan cheese

finely shredded

Fine sea salt and freshly ground pepper

4

boneless skinless chicken breasts

2-6

tablespoons

bread crumbs with Italian seasoning
Instructions
Preheat oven to 400 degrees.

In a small bowl combine mayo, garlic and parmesan cheese.

Lay each breast on a cutting board, cover with plastic wrap and tenderize until ½ inch thick. Repeat with each breast. Transfer to a baking dish lightly coated with cooking spray.

Season each chicken breast with fine sea salt and freshly ground pepper. Divide mayonnaise mixture evenly on each chicken breast, spreading out to the edges.

Bake for 15 minutes, remove from oven and top each breast with bread crumbs, pressing down lightly to "catch". The size of your chicken breasts will determine the amount of bread crumbs you use.

Return to oven and bake for additional 15 minutes or until chicken is thoroughly cooked. Cooking time might even be less depending on the size of your chicken breasts.

Remove and garnish with minced parsley or additional parmesan cheese, if desired.