This parmesan crusted chicken recipe is perfect to make for any day of the week. From the kitchen to your table will only take 35 minutes. Easy and delicious, does it get any better?
There are some nights I find it cathartic to come home and whip up a fancy meal, but other nights I want to binge watch something on TV.
Baked Chicken Breasts
Garlic Parmesan Chicken is a baked breaded chicken recipe that has been used by busy moms for decades. Sometimes called Mayo Chicken, Mayonnaise Chicken or even Hellman's Chicken because it was created by the iconic mayonnaise brand.
Mayonnaise, minced garlic, parmesan cheese, salt & pepper, Italian breadcrumbs, and boneless skinless chicken breast. Six ingredients, that's all you need to make this deliciously easy and tender baked chicken recipe.
Parmesan Breading for Chicken
This recipe doesn't use your typical process of breading, flour, egg and then bread crumbs. Instead it uses what I call a mayonnaise hack.
Mayonnaise is made with eggs and oil so it accomplish two goals. The first is to hold all your yummy bread crumb seasoning in place and the second is to keep your chicken juicy and moist.
No melting off the sides like some sauces would, it actually bakes up and holds it all!
Make Mayonnaise Chicken
First, you'll want to tenderize or pound out your chicken breasts for two reasons.
The first reason is that boneless skinless chicken breasts are a fairly uneven shape with one end tapering off and being super thin with the other up to 2 inches in diameter.
In order for the thickest part to cook fully the tapered end starts to get dry and rubbery. If your entire breast is the same thickness, this does not happen and you get juicy baked chicken through and through.
PRO TIP: If you don't want to tenderize, use a sharp knife and cut breasts in half lengthwise.
The second reason is that is breaks down fibers that can otherwise be perceived as chewy. The breast will be quite large after flattening, so I typically cut them in half to be more manageable.
Mayo Chicken Topping
Season your chicken with salt and pepper.
Next you'll mix up mayonnaise, garlic and Parmesan cheese in a small bowl.
Spread it evenly on top of each chicken breast.
Spoon seasoned bread crumbs on top of garlic mayo and press lightly to adhere.
Bake them up and that is it!
What to serve with chicken:
I like to pair mine with something green like asparagus or a leafy salad.
Rice pilaf or baked potatoes are also great options!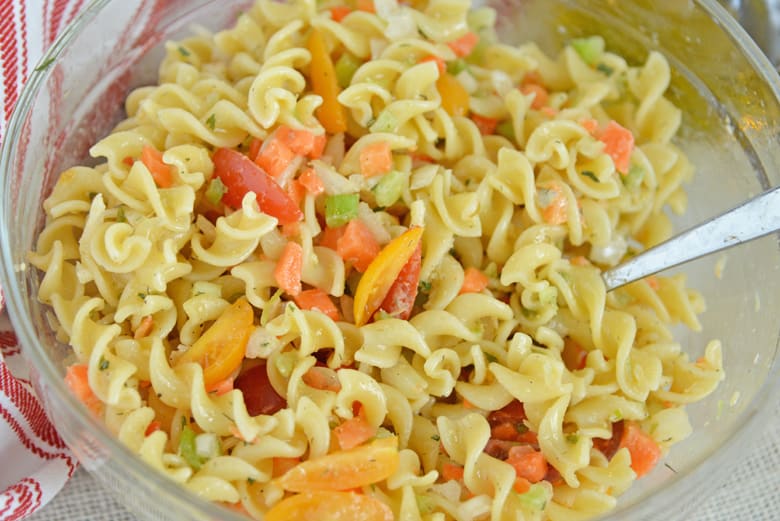 Tools:
Rimmed Baking Sheet– another kitchen staple! You'll use this for prep work, roasting and much more. I have 7 at my house.
Meat Mallet
– Also known as a meat tenderizer, I used to refer to any chicken recipe that used a tenderizer as "pounded chicken breast".
Tenderizing chicken not only makes it a uniform thickness so it cooks more evenly, it also breaks down fibers making it more tender and easy to chew.
Mixing Bowls– make sure to check out my article on Using the Right Mixing Bowl, you'd be surprised how many people aren't!