This post is sponsored by Rio Luna Organics, however recipes, thoughts and opinions are 100% my own.
Cinco de Mayo will look a little different for most of us this year. Instead of platters of tacos, sizzling fajitas and bottomless margaritas at your local Mexican joint, we will be indulging at home.
Which has me asking the question: why don't we start Cinco de Mayo at breakfast?
Who are we kidding, we also aren't opposed to breakfast for dinner, or brinner, if you will.
Breakfast Tacos Recipe
This year I'll be combining two of my favorite things: breakfast + tacos. After two trips to Austin, Texas last year, I am obsessed. It is true that breakfast tacos are much more of a Tex-Mex meal than authentic Mexican, but that doesn't make them less delicious or less perfect for kicking off your fiesta.
No taco, breakfast or not, is complete without deliciously, tasty Rio Luna Organic Peppers, our family's go-to for green chiles and jalapenos.
Breakfast tacos are a wonderful thing and perfect for the "build your own" or "taco bar" experience. Each diner can customize their taco accordingly. Tacos are a family friendly meal, and you can even get the kids involved and have them help with the prep work.
In fact, breakfast tacos can even be made low carb, gluten-free and keto-friendly by using lush butter lettuce in place of the tortilla or by making a breakfast taco bowl!
Breakfast Taco Toppings
There are no rules when it comes to building your breakfast taco although the majority are egg tacos. Here are our favorite toppings:
Crumbled breakfast sausage or chorizo
Bacon
Diced bell pepper
Raw or pickled onion
Avocado
Cilantro
Hot sauce
Red or green salsa
Chives or green onions
Sour cream or crema Mexicana
Crumbled cotija, queso fresco or cheddar cheese
Pile on the fluffy scrambled eggs and toppings to your favorite corn or flour tortilla, large lettuce leaf or just in a bowl.
Rio Luna Organic Peppers
Rio Luna Organics helps us Unlock the Power of Peppers by being certified organic, GMO-free, Kosher, fat free, low calorie and cholesterol free. They've been used in professional kitchens for years and are the easiest way to add some spice and flavor to your favorite dishes.
From annual seed selection and working with trusted growing partners, Rio Luna Organics makes it a priority to produce consistent quality pantry staples so you can throw together a taco bar at a moment's notice and without an extra trip to the store.
They also just rolled out their new heat index meter on the packaging to give consumers a peek inside the can. If you are like my husband, you are looking for the "I want to sweat" end of the index!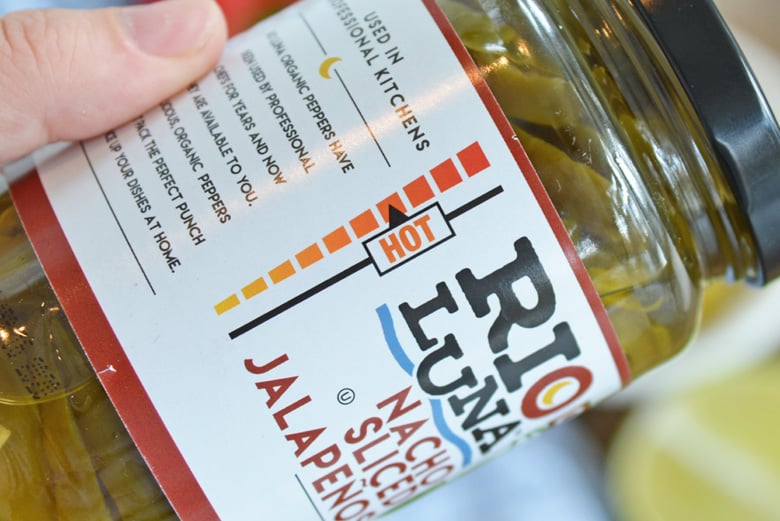 Cinco de Mayo Facts
I always find it fun to have some conversations starters up my sleeve on holidays. This year we are talking fun facts about Cinco de Mayo.
What is Cinco de Mayo? May 5th, 1862 was the date Mexican Army claimed victory over the French Empire at the Battle of Puebla.
The largest Cinco de Mayo celebration in the world actually happens in the U.S. in Los Angeles, California. Home to the biggest population of Mexican-American individuals.
In the town of Puebla, there is a battle reenactment, parade and fireworks.
Over 87 million pounds of avocados are sold annually for the holiday.
Vancouver, Canada usually holds a Cinco de Mayo mass skydiving event and mustache contest.
Cinco de Mayo is one of 365 festivals celebrated in Mexican culture.
It became officially recognized as a holiday in the U.S. in 2005.
It is estimated that Americans eat up to 4.5 billion tacos per year. Only a small fraction of those are breakfast tacos, as it is rare to find them outside of Texas.
Make sure you visit RioLunaOrganic.com for even more recipe inspiration and product information or follow them on Facebook and Instagram!
Rio Luna Organic Peppers and Chiles are available for purchase at Whole Foods nationwide, and for my Baltimore followers you can also visit Giant Foods and/or Safeway.
This is a sponsored post written by me on behalf of Rio Luna Organic Peppers.