This homemade Breakfast Pizza recipe is a fun way to switch up your typical scrambled eggs breakfast and will have the whole family asking for seconds!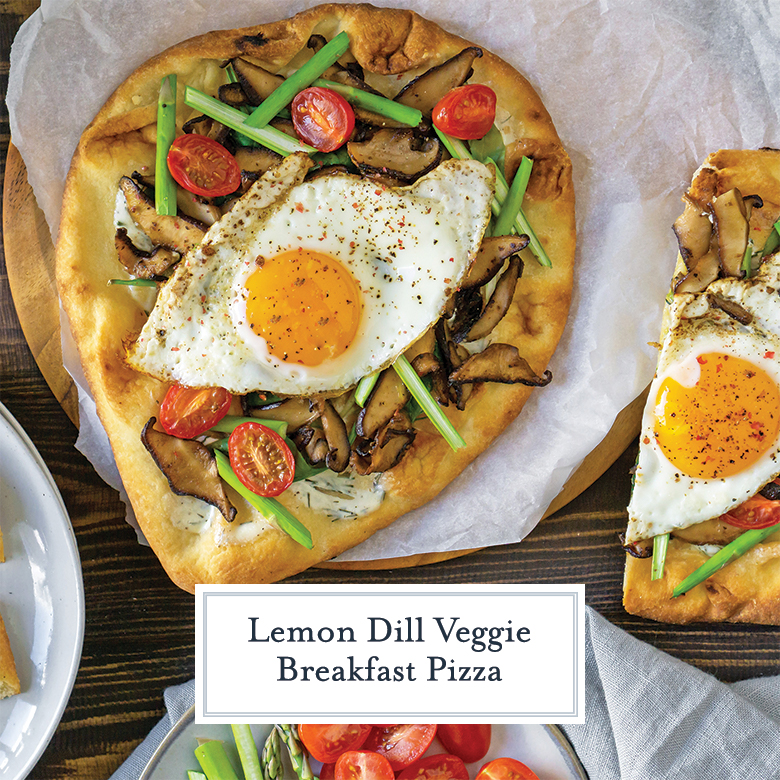 When it comes to easy breakfast recipes, this Breakfast Pizza tops the list! With just a few ingredients and a homemade sauce, this pizza is the best!
Who doesn't love pizza for breakfast? This homemade breakfast pizza recipe will get the kids (and any other picky eaters in your house) to eat a veggie packed breakfast!
Don't know how to make pizza? This simple how to make breakfast pizza recipe will have you whipping out pizza like a pro!
Didn't grow up in Italy spinning pizza dough?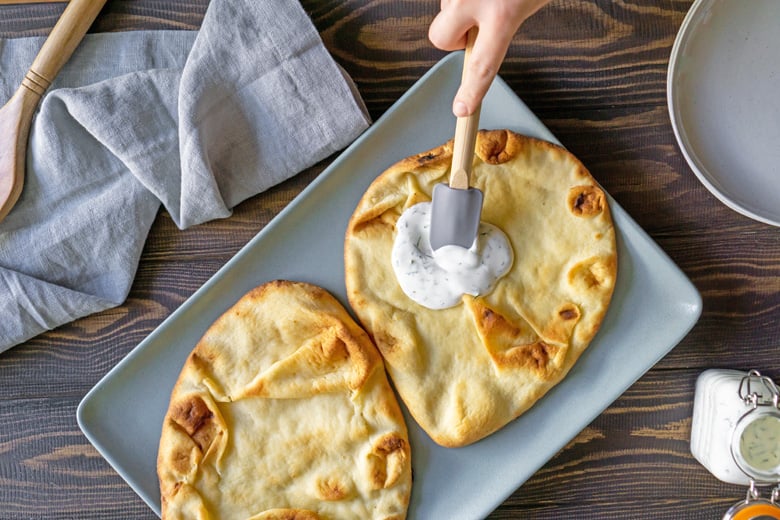 That's okay, neither did I!
However, this Breakfast Pizza is made with naan bread and a few pantry staples paired with simple, yet exciting fresh ingredients!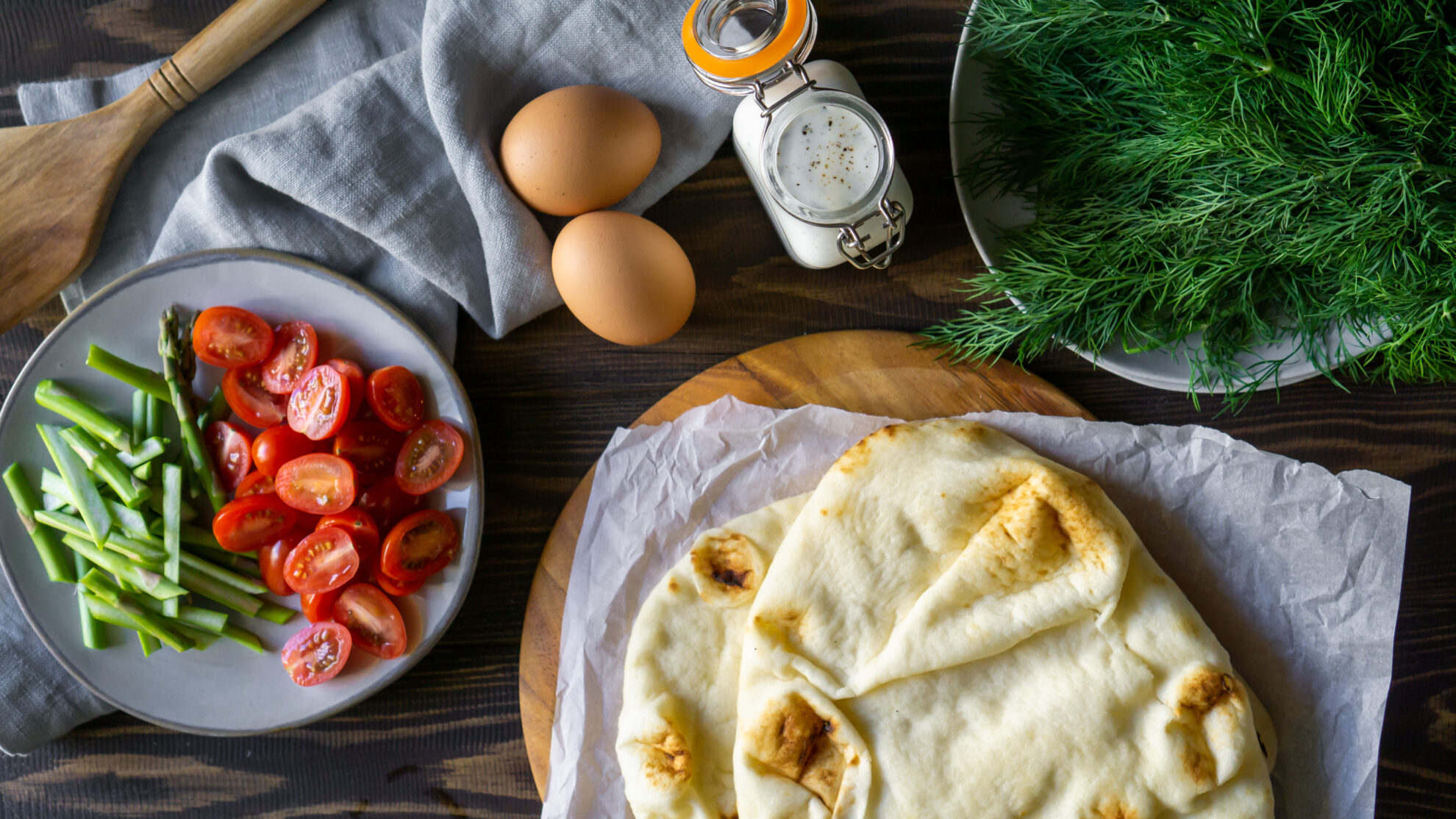 There is no yeast, no waiting for the dough to rise, and no fancy mixers that take up the entire kitchen counter!
This is the healthy morning pizza (with no stress) loaded with vegetables (or whatever you choose to top yours with) that you have been waiting for!
Now, lets chat pizza sauce (my favorite part)!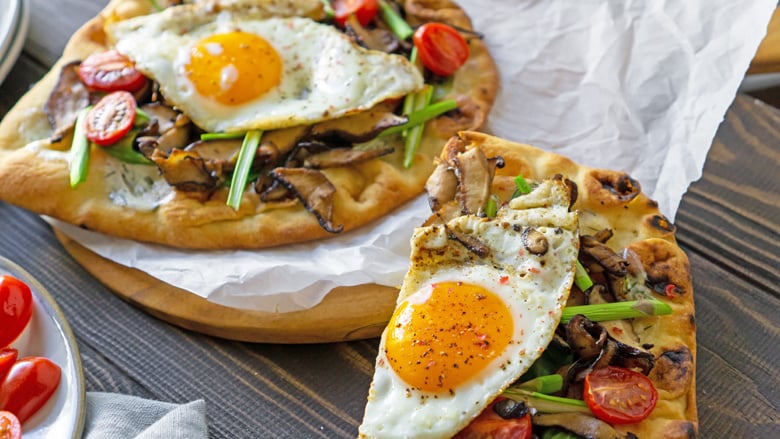 Since this isn't your traditional pizza, it is not made with the traditional pizza sauce…or really anything you'd think to pair with pizza. BUT, it is so good and it works! The lemony flavor goes perfectly with breakfast pizza toppings!
The best part? This is a recipe the entire family can love and enjoy together!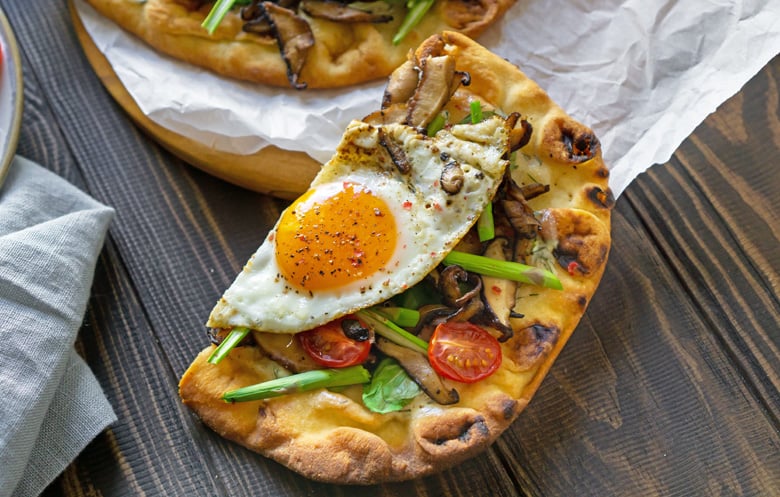 Now, anything I can share and enjoy with my family is an instant win in my book. However, this is also super easy to make and serve for one.
The recipe yields 2 pizza's however, if you need to prepare more, you can double accordingly.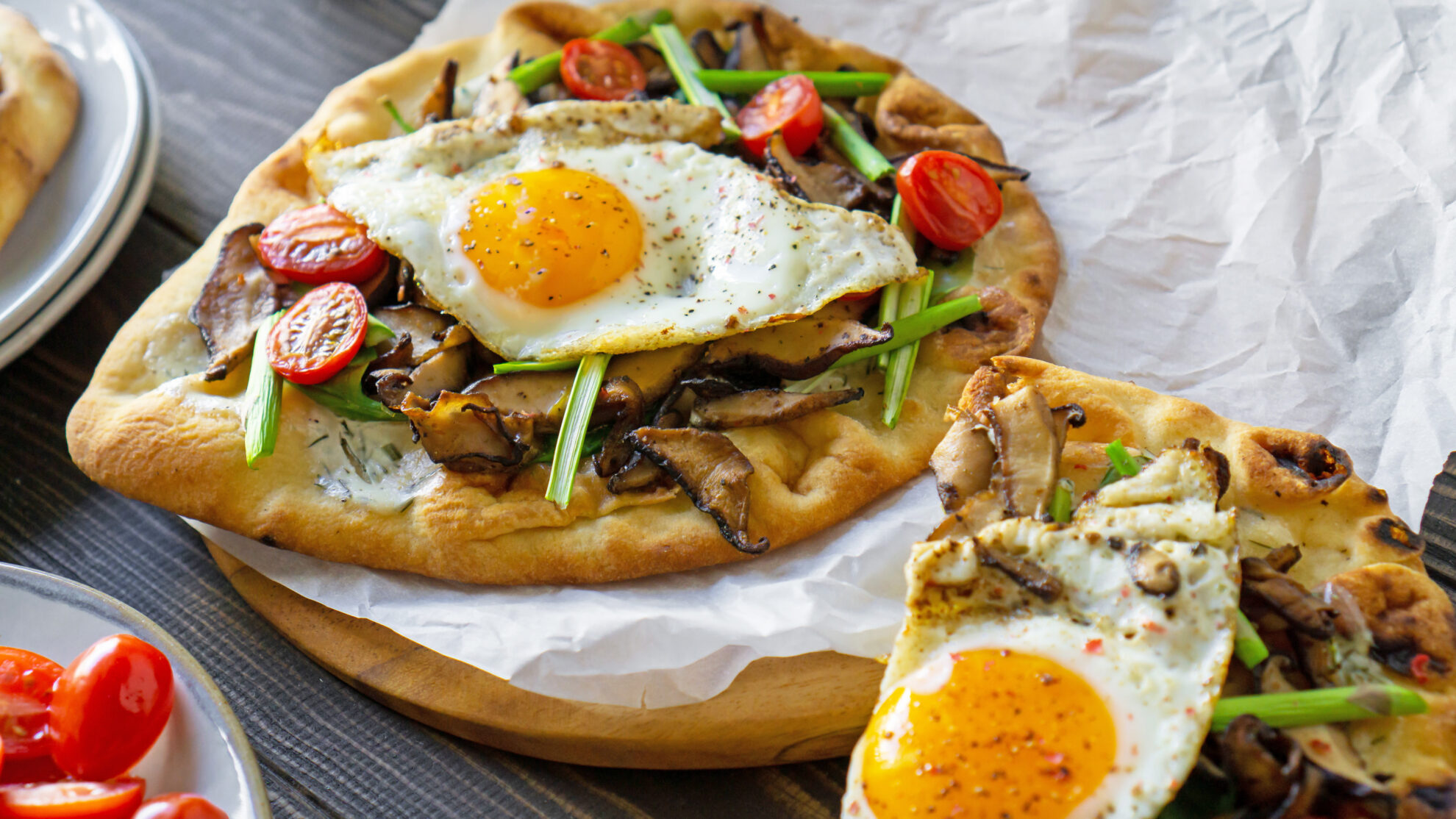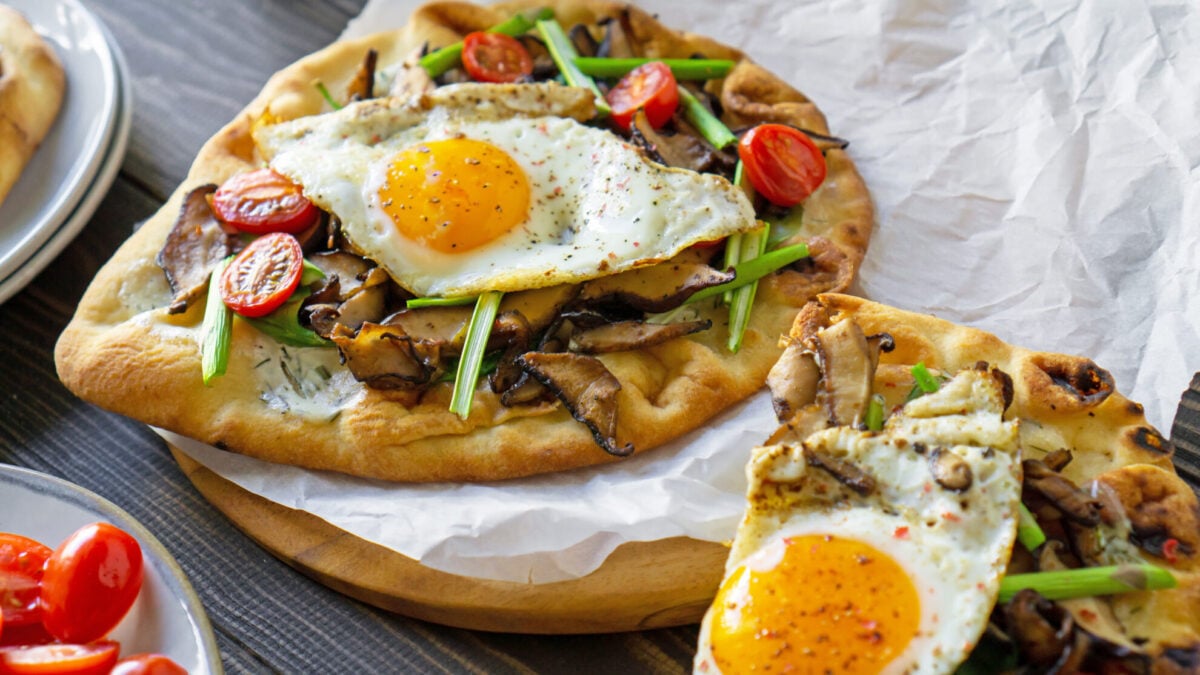 No one ever has to know how fast you can pop these out of the oven before serving family or ladies-brunch; that can definitely stay between you, me, and the pantry!
Breakfast Pizza Ingredients
Pizza Dough and Toppings:
Naan flatbread
Asparagus
Mushrooms
Tomatoes
Eggs
Lemon Dill Pizza Sauce:
Dill
White Wine Vinegar
Lemon Juice
Greek Yogurt
Fresh Cracked Pepper
Garlic Powder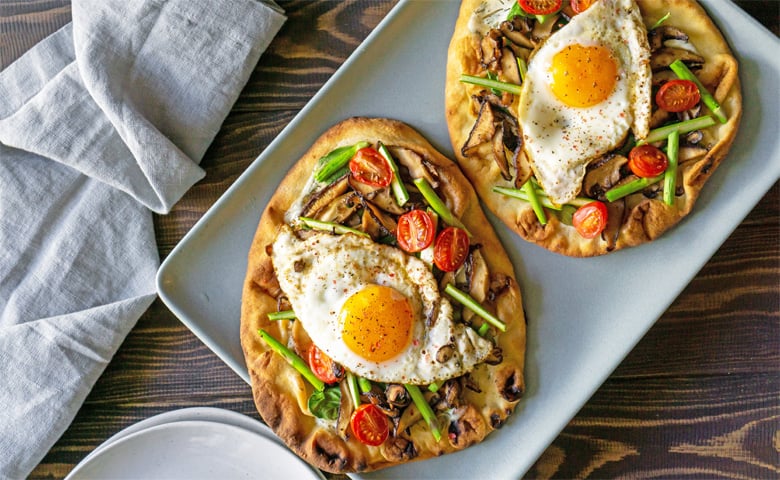 How to make breakfast pizza
1. Toast the Naan – Brush a thin layer of olive oil over the naan and toast in the oven at 400 degrees for 5-6 minutes.
2. Make your sauce – combine dill, white wine vinegar, lemon juice, greek yogurt, fresh cracked pepper, garlic powder, and in a small bowl and mix.
3. Sauté the mushrooms – In a warm pan add 1 tbsp of olive oil, mushrooms, and salt and pepper. Sauté for 3-5 minutes or until the mushrooms begin to brown. Once this step is complete, set aside. Note: If you'd like to sauté/cook all your toppings, you can do that too!
4. Fry the eggs – add 1/2 tbsp of olive oil and crack two eggs into the pan. Fry the eggs until the egg white (the white part) has set.
5. Add toppings and serve – spoon your sauce over each slice of naan and top with asparagus, mushrooms, tomatoes, and one fried egg.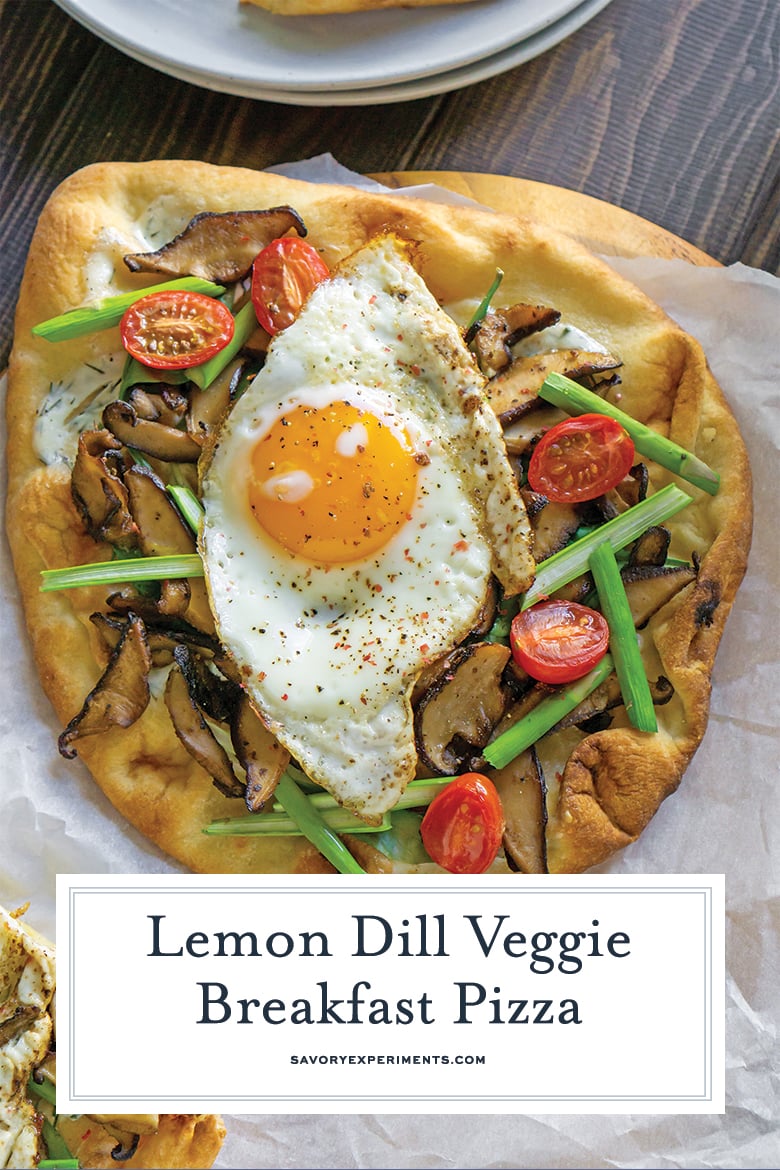 Ingredient substitutions:
Naan: You can substitute with regular pizza dough (no, you don't have to make it! Some stores sell balls of pizza dough in the frozen section).
Toppings: Don't like mine? That's okay! It's your breakfast pizza, make it your way!
Recipe tips:
The pizza sauce in this recipe is literally the most versatile thing ever!
Sauce: Make EXTRA lemon dill sauce and keep in the fridge for the week and serve it with chicken or salmon; you won't be disappointed!
Snack Time: Toast some naan and dip it in the sauce plain. It's a great quick snack packed with flavor!
Veggies and Dip: Looking for a different spin? Make this sauce and pair it with veggies for a healthy snack or party tray.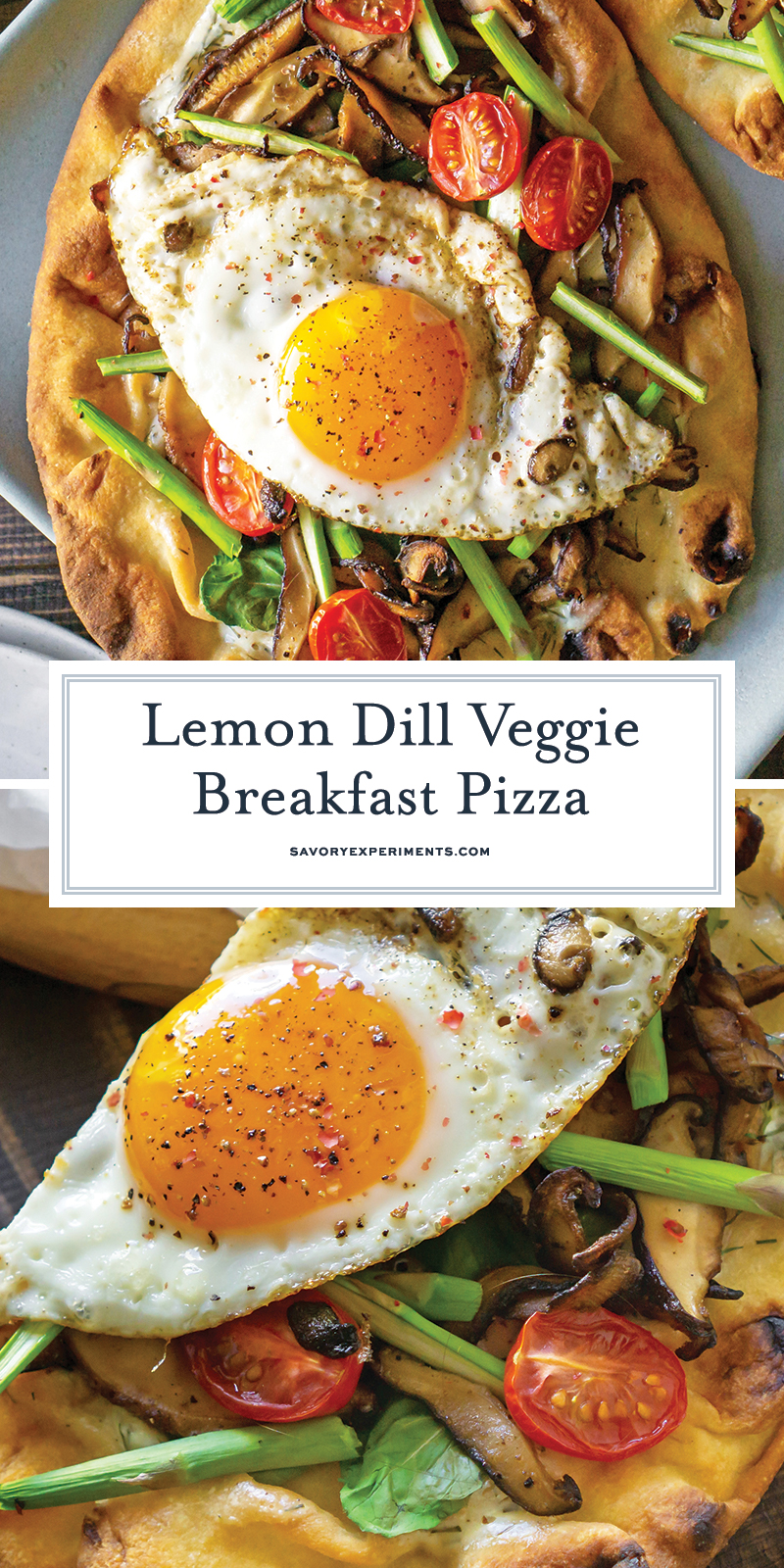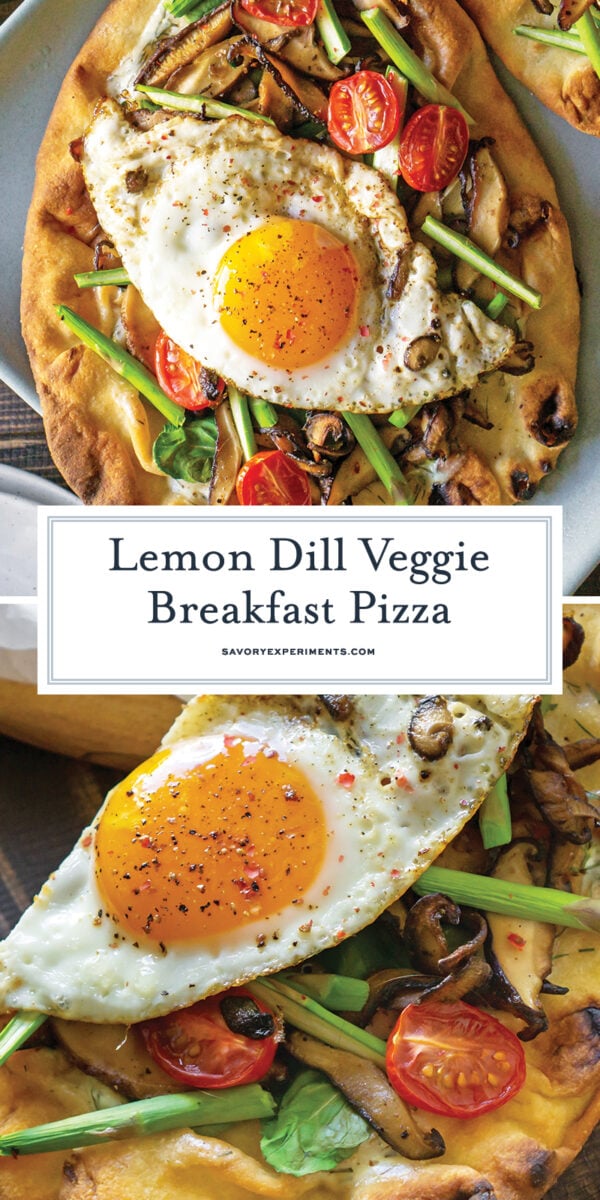 Questions you may have about how to make breakfast pizza:
Can I meal-prep these?
Since the recipe calls for fresh ingredients, I prefer to make and eat these fresh. You can prep the sauce and chop the vegetables ahead of time though!
Is breakfast pizza healthy?
Like anything, it's all about moderation and your ingredients! Since this recipe calls for fresh vegetables and naan, this definitely leans toward the healthier side.
However, if you are looking to cut calories, check the nutrition facts on the package of naan or pizza dough you buy. Your local grocery store might have lower carb options.
What else can I put on my breakfast pizza?
Anything! The best part of pizza (for any meal) is that it's totally customizable. Don't like veggies? That's cool, you can definitely add cheese, sausage, bacon or whatever your heart desires!
If you liked this easy breakfast pizza, you might also like these breakfast recipes: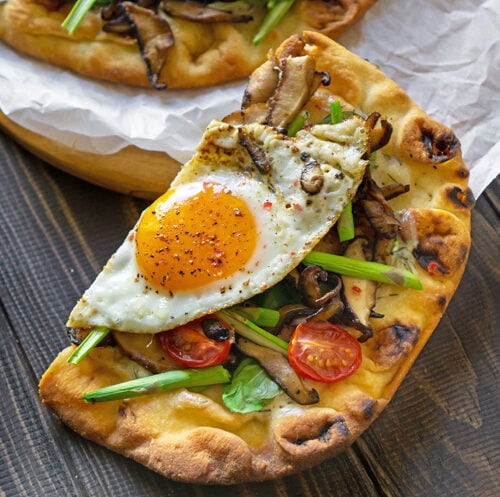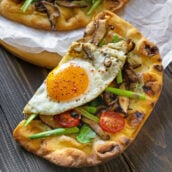 Vegetable Breakfast Pizza
When it comes to easy breakfast recipes, this Breakfast Pizza tops the list! With just a few ingredients and a homemade sauce, this pizza is the best!
Instructions
Lemon Dill Sauce:
Combine greek yogurt, white wine vinegar, dill, lemon, pepper, and garlic powder in a small bowl. Set aside.
Breakfast Pizza:
Preheat the oven to 400 F and brush a thin layer of olive oil over the naan. Toast the naan for 5-6 minutes, until it turns golden brown and is lightly toasted.

While the naan is toasting, heat a medium sized pan with 2 tablespoons of olive oil over medium-high heat. Add the mushrooms, season with salt and pepper, and sauté for 4-5 minutes or until the mushrooms begin to soften and turn golden brown. Set aside.

In the same pan, prepare the fried eggs. If needed, add another tbsp of olive oil or butter to the pan. Crack the eggs into the pan and fry until the white part has set.

To assemble the breakfast pizzas, spread the lemon dill sauce over the naan, top with mushrooms, asparagus, tomatoes, and one fried egg.
Nutrition
Calories:
531
kcal
,
Carbohydrates:
75
g
,
Protein:
24
g
,
Fat:
15
g
,
Saturated Fat:
3
g
,
Cholesterol:
176
mg
,
Sodium:
946
mg
,
Potassium:
648
mg
,
Fiber:
6
g
,
Sugar:
10
g
,
Vitamin A:
487
IU
,
Vitamin C:
26
mg
,
Calcium:
171
mg
,
Iron:
2
mg