With a fresh lime, some garlic and a couple of canned goods, you can make this simple Black Bean Salad recipe in no time. Easy to make for picnics and get togethers!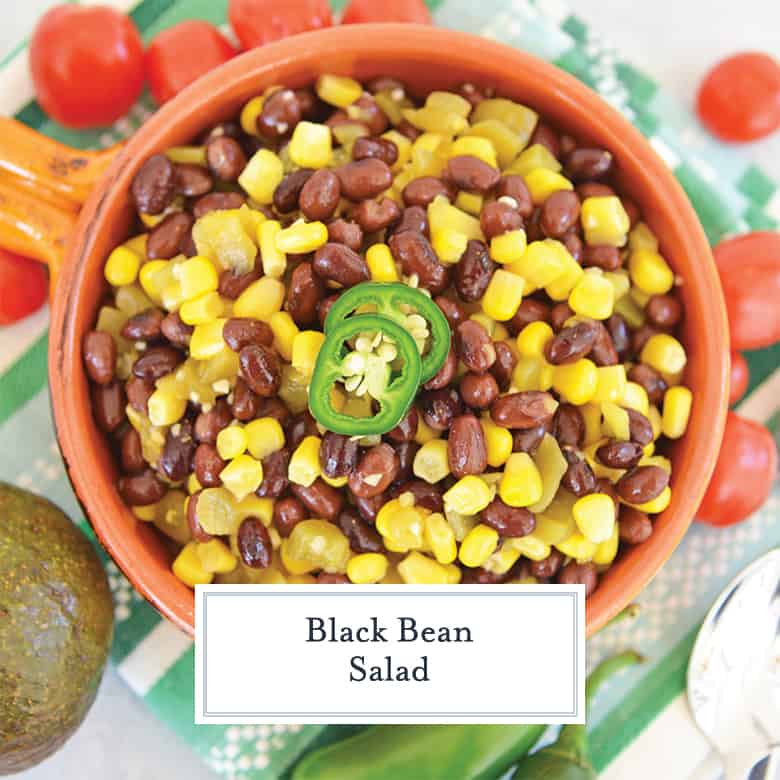 Black Bean Salad Recipe
I am beyond ready for summer and everything that comes with it. After being stuck in the house for months, a little sunshine and good times is just what the doctor ordered.
Memorial Day is coming up, and whether we're able to resume some sort of normalcy or we'll be celebrating at home, I'm taking advantage of it. I'm hoping we're able to (safely) spend time with friends and family, and that means picnics!
It's happened to all of us: we get a last minute invite to a summer party or picnic with no time to run to the store and nothing to bring. Well, I've got a solution for you and it's this easy Black Bean Salad.
Pantry Essentials
I consider myself to have a pretty well stocked pantry. I think it's good practice to have a good amount of canned goods (vegetables, beans, sauce) a few boxes of pasta and some dry goods like flour and sugar.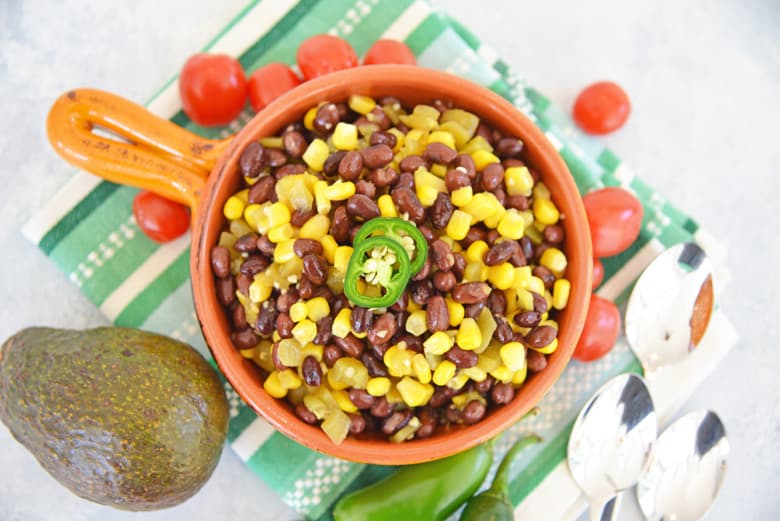 So in terms of items that I always have on hand, black beans, canned (or frozen) corn and green chiles are a solid bet! And luckily, those are the main components of this delicious salad.
The other items are great, but can be easily substituted or omitted. Also check out some of our other bean salads like Navy Bean Salad and Three Bean Salad!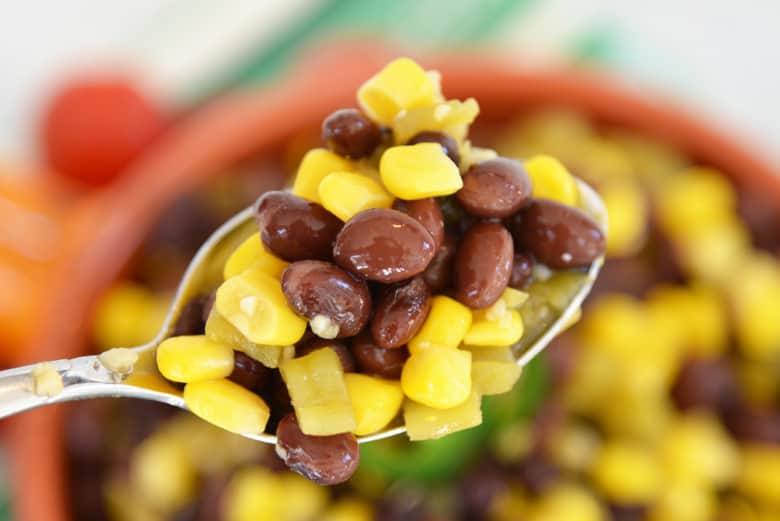 Black Bean Salad Ingredients
When I say this salad is easy, I really mean it! It's as simple as throwing all of the ingredients together in one bowl and letting it sit for awhile. In my salad I like to use:
black beans
corn (you can use canned, off the cob or frozen)
diced green chiles
minced garlic
lime juice
lime zest
kosher salt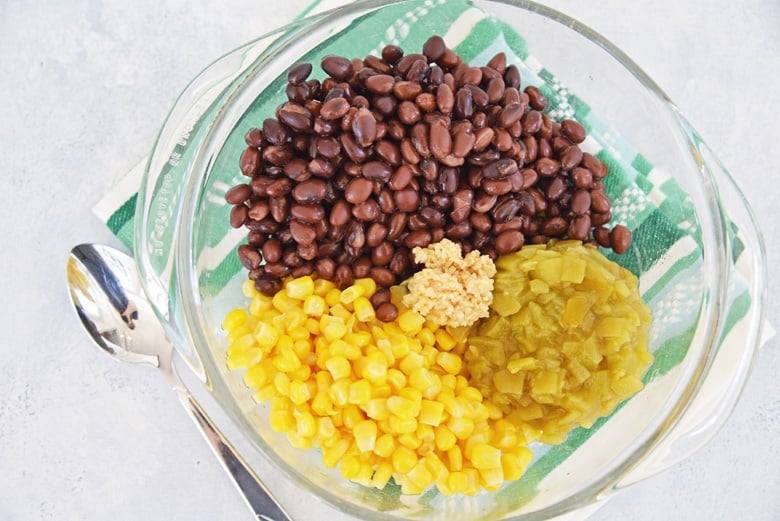 I do highly suggest using fresh lime and lime juice (or lemon if you have it) compared to bottle. Citrus starts to lose potency the moment is juiced, so bottled citrus juice is often muted or has added flavoring. Fresh is also cheaper!
If you'd like to add more color or variety to your Black Bean Salad, feel free to add in other elements. Some other delicious options are:
avocado
bell peppers
tomatoes
cilantro
red onions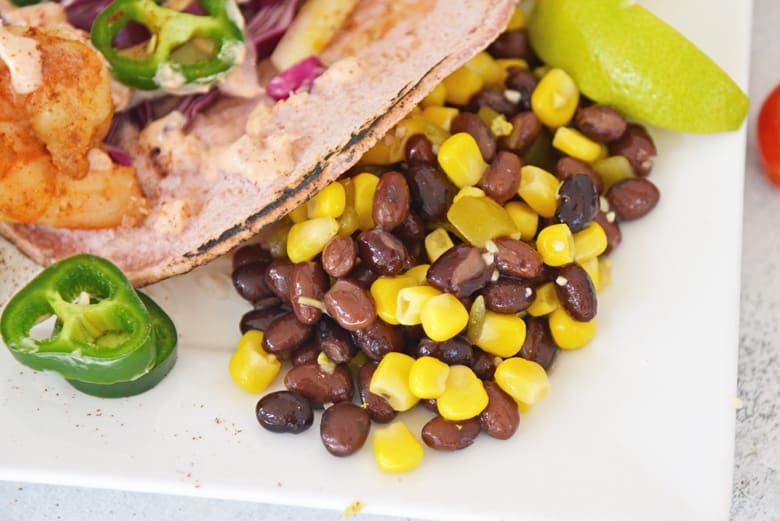 Black Bean Salad Tips
When making this salad, I like to make sure the beans and corn are both rinsed and then drained well before throwing them into the mix. This helps to get rid of the liquid from the can and residual water.
If readily available, I always prefer to use fresh corn. You just can't beat the taste of fresh, sweet corn in the summer. If you don't have any on hand or if corn is out of season, this Black Bean Salad will be just fine with canned or frozen corn.
If you are in a rush, you can certainly serve this salad right away. However, I like to let mine sit in the refrigerator for a couple of hours before serving. This lets the garlic and lime flavors really marinate into the beans and corn.
After allowing the Black Bean Salad to sit, you might need to drain the extra liquid from the bowl before serving. This is easy to do with a slotted spoon or a colander.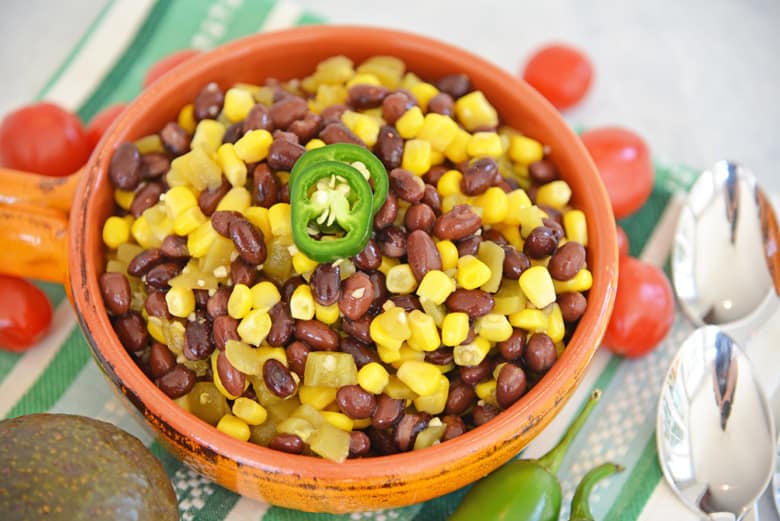 What You'll Need
Measuring Cups and Spoons – stainless steel, these are dishwasher safe and easy to use.
Large Mixing Bowl– Use a mixing bowl a little larger than you think you'll need. There is less pressure to keep it in the bowl. You can always transfer it to a smaller serving bowl later. I personally look for ones with lids so I can cut down on plastic wrap and aluminum foil waste.
Colander – You'll need a colander for everything from rinsing produce to draining pasta and canned goods. You can also use a fine mesh sieve. Both are good to have on hand.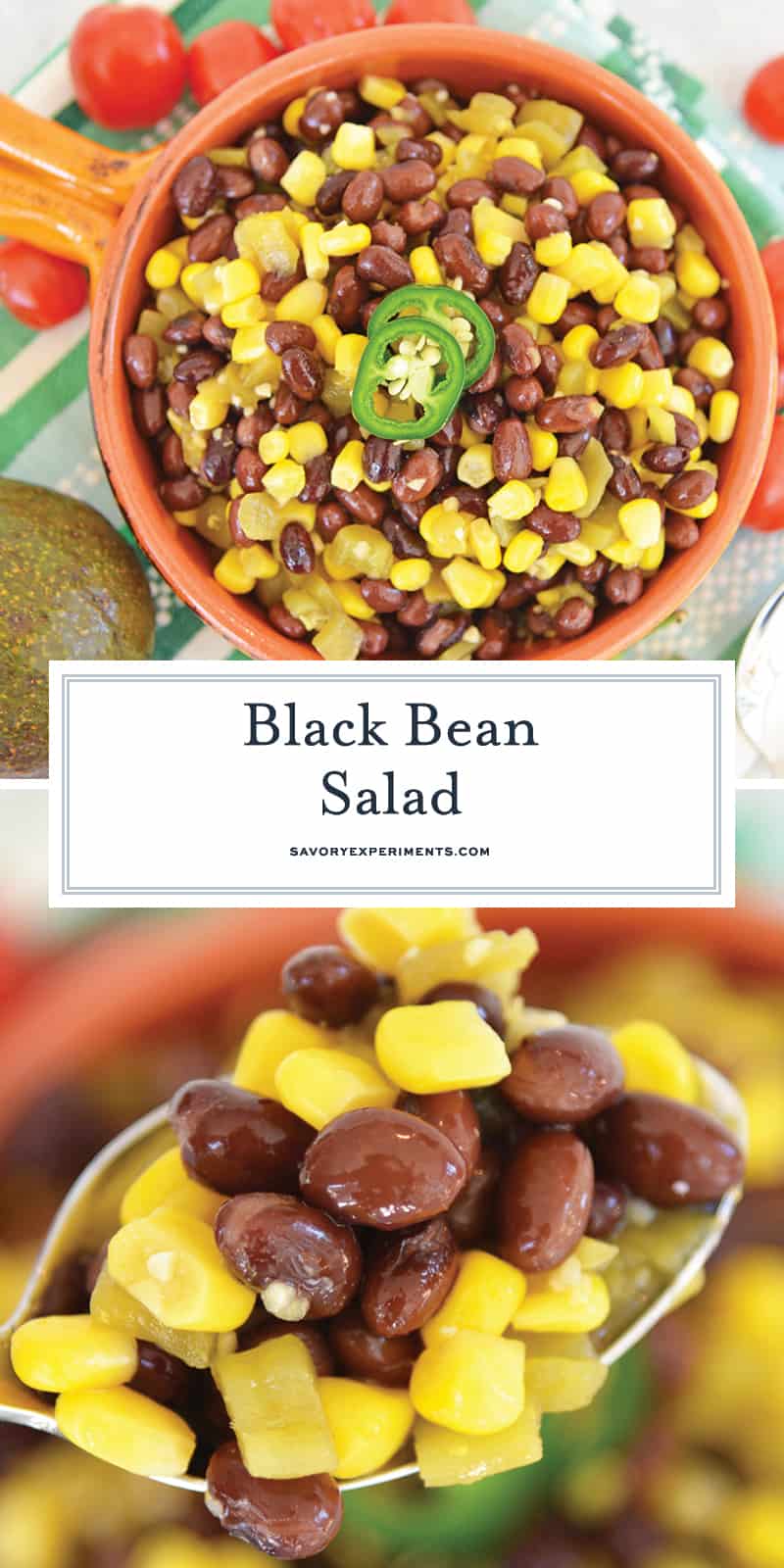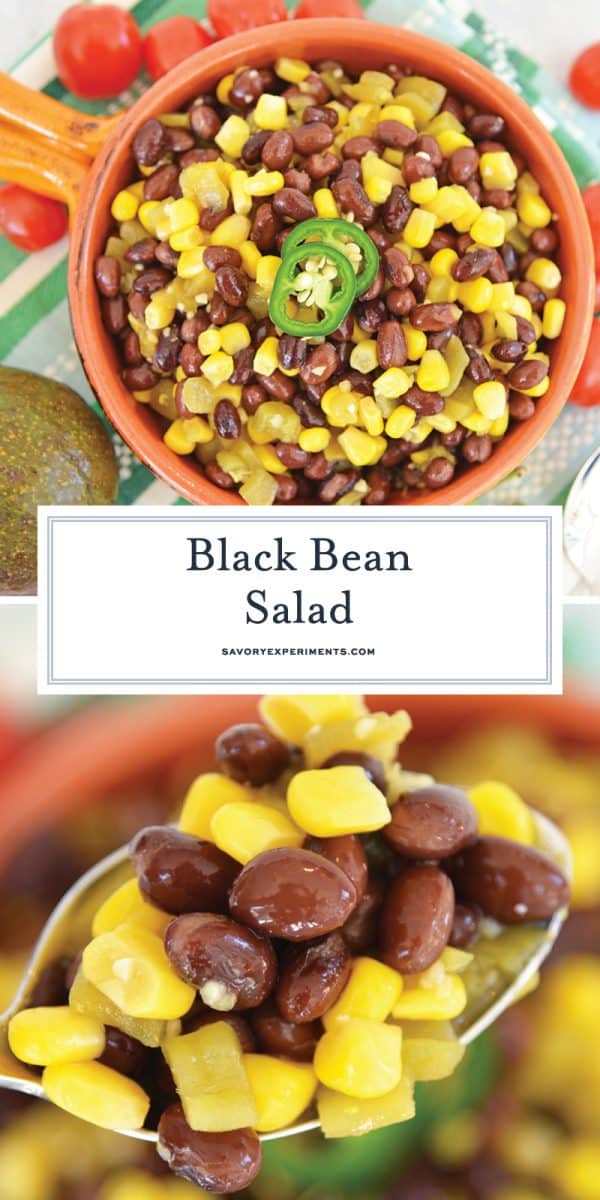 More summer salad recipes you will love: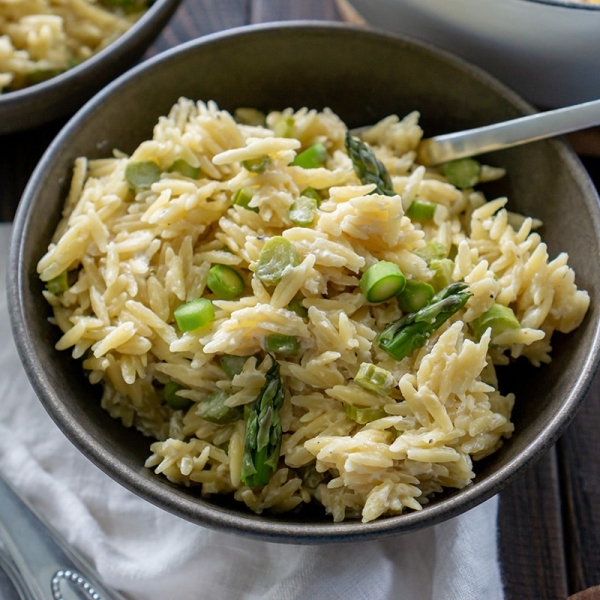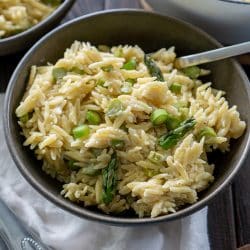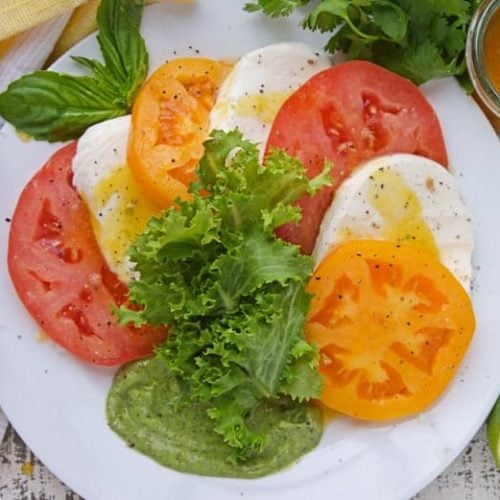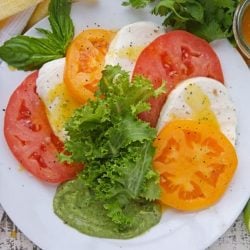 Passion Fruit Caprese Salad
Passion Fruit Caprese Salad, a summer salad offered by Omni Hotels & Resorts, combines a sweet and spicy serrano-passion fruit dressing and avocado spread with a traditional Caprese salad.
See The Recipe!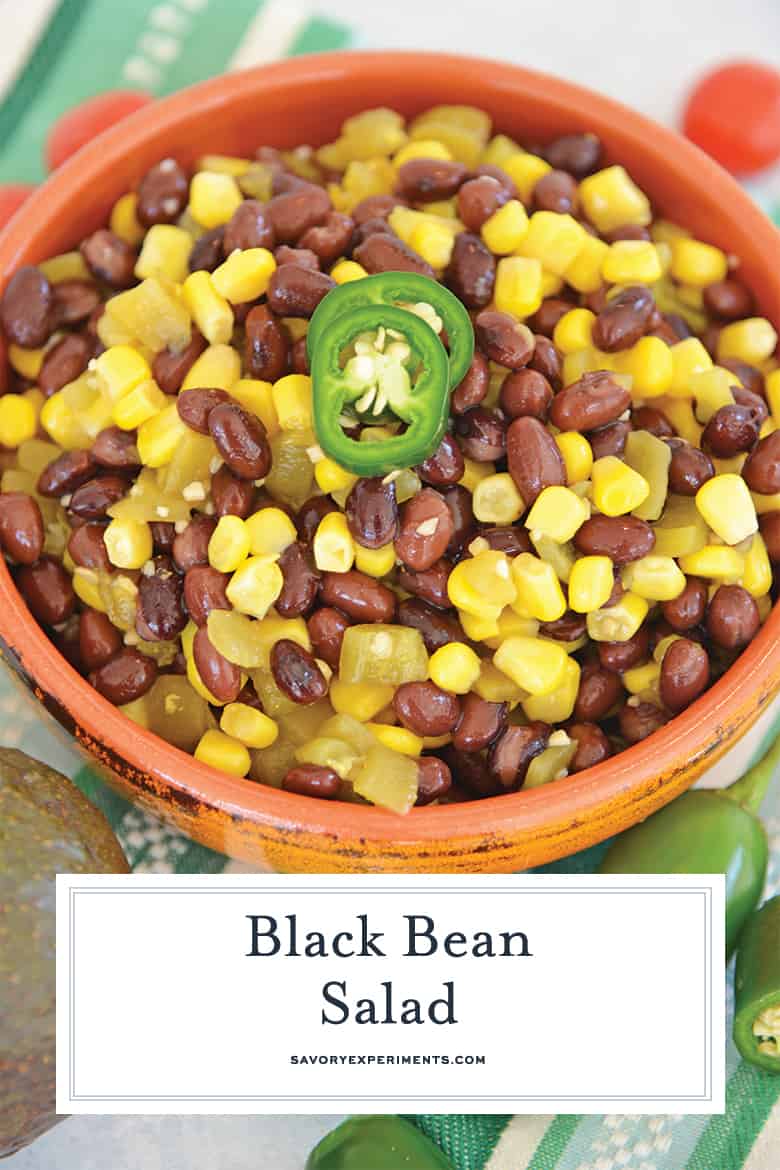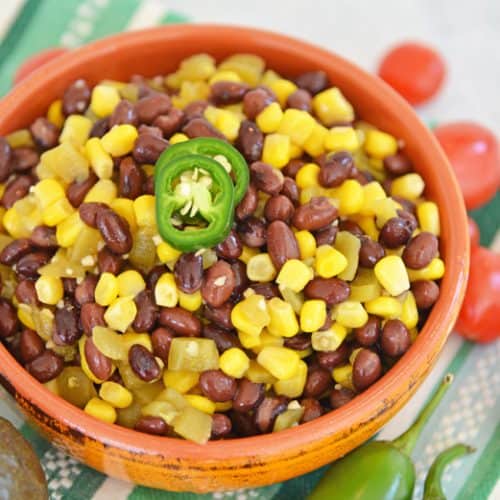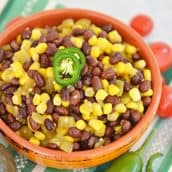 Black Bean Salad
With a fresh lime, garlic and a couple of canned goods, you can make this simple Black Bean Salad recipe in no time! EASY to make for parties and picnics!
Instructions
Combine all ingredients in a large mixing and toss.

Allow to sit for 1-2 hours before serving. If you rinsed right before combing, you might need to drain excess water from the bowl.

If you've tried this recipe, come back and let us know how it was!
Notes
You can use canned corn, corn off the cob or frozen corn. Nine ounces equals about 1 1/2 cups.
Nutrition
Calories:
104
kcal
,
Carbohydrates:
20
g
,
Protein:
6
g
,
Fat:
1
g
,
Saturated Fat:
1
g
,
Sodium:
159
mg
,
Potassium:
258
mg
,
Fiber:
6
g
,
Sugar:
2
g
,
Vitamin A:
84
IU
,
Vitamin C:
3
mg
,
Calcium:
16
mg
,
Iron:
1
mg