Cheesy Twice Baked Potatoes are pretty addictive! They aren't that challenging or time consuming to make either. There are a few things you should know before making them.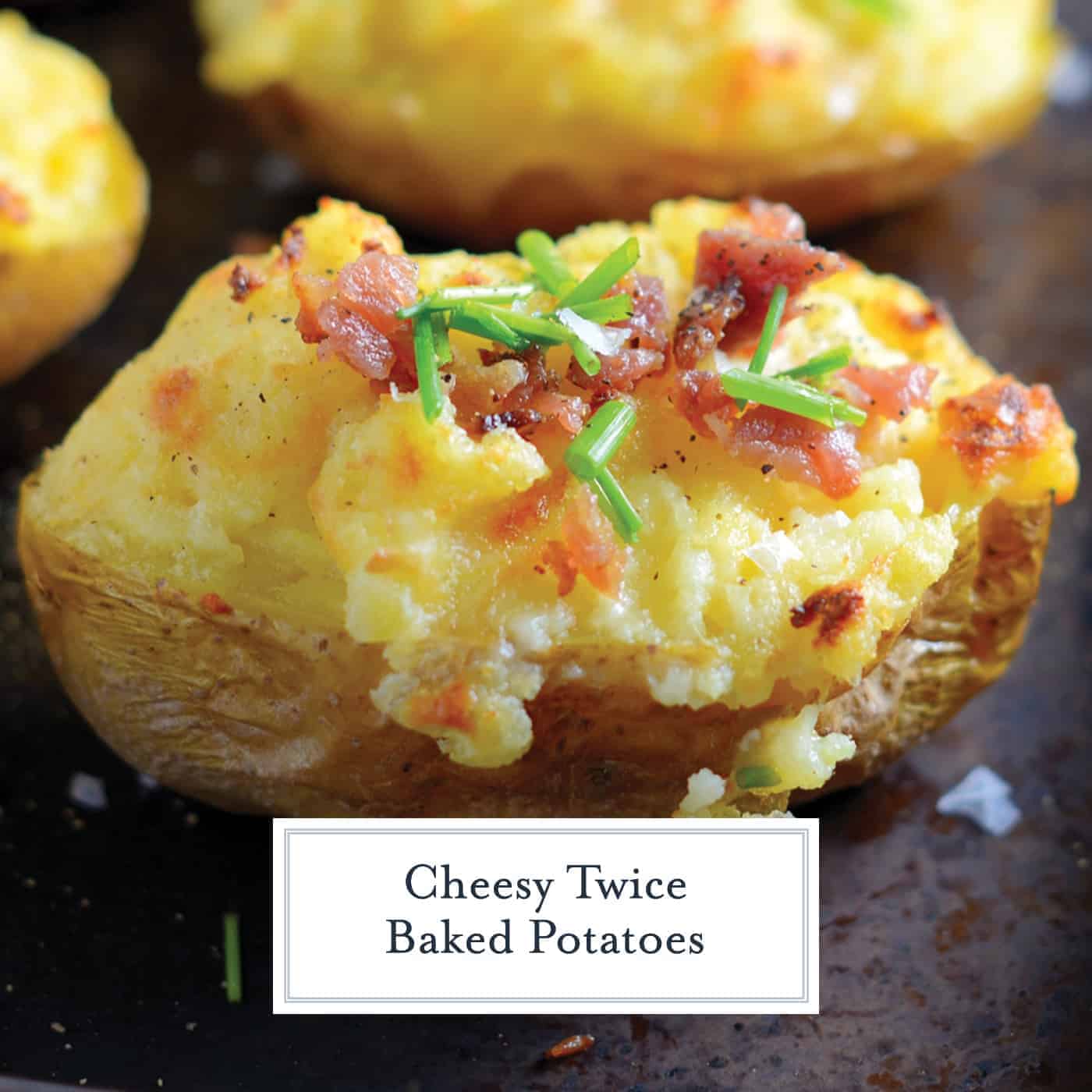 Cheesy Twice Baked Potatoes are velvety, buttery and cheesy- the perfect trifecta of potato perfection and the ultimate potato side dish!
Looking to same time? Microwave your spuds for the first cook. On that note, let me tell you a little story. A few years ago, I had coworker who had never cooked a potato in the microwave before.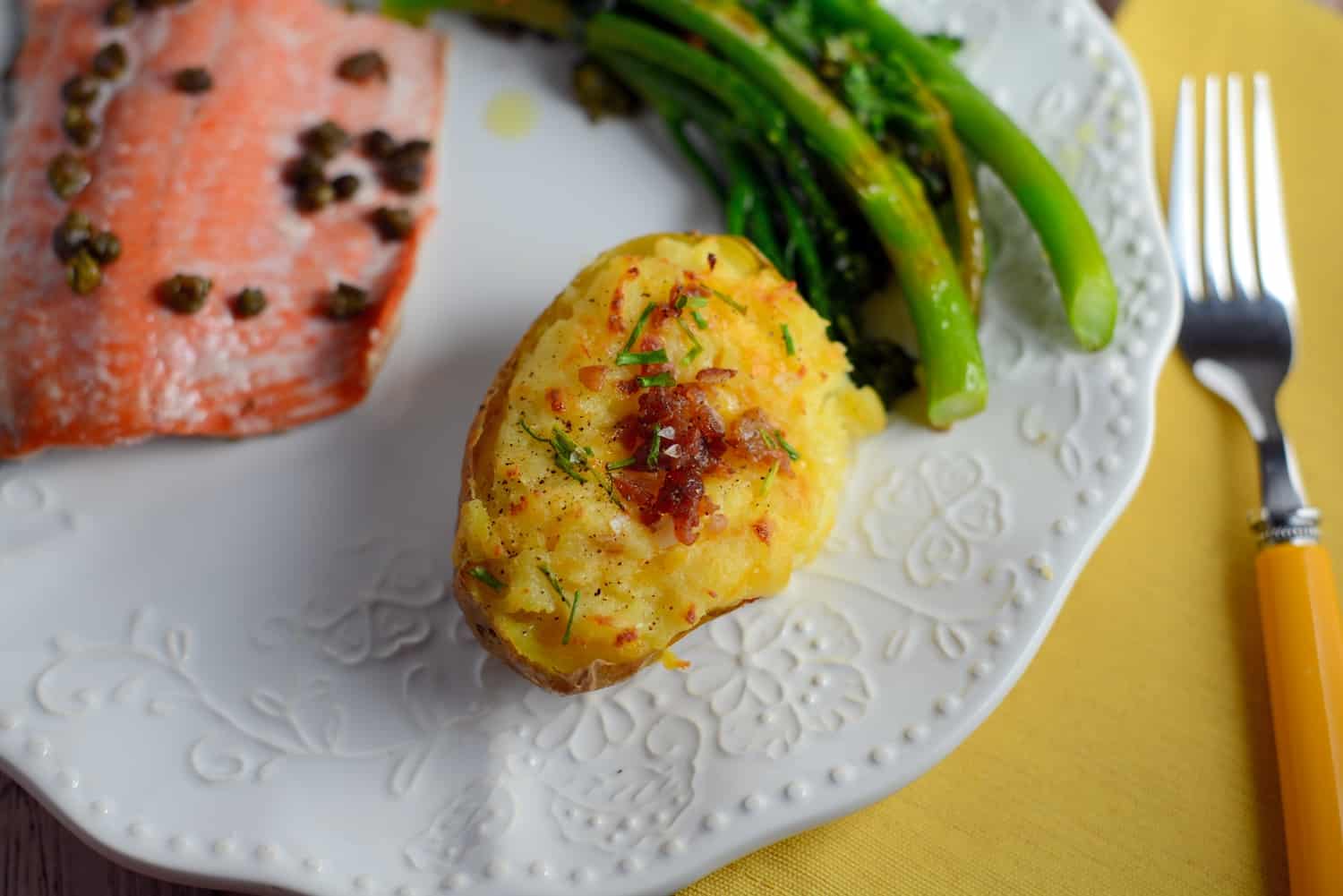 She didn't know two BIG rules: 1. poke holes in that bad boy to let steam escape. 2. Don't overcook them. Ten minutes into the cooking process we had what is affectionately known around the office as "potato-gate".
Flames, BIG flames, were coming out of the microwave, the fire alarm was pulled and after 2 hours we were allowed back into the building.
Needless to say, even though I know the two basic rules of cooking a potato in the microwave, it still scares me a little to this day, so opt for baking it in the oven.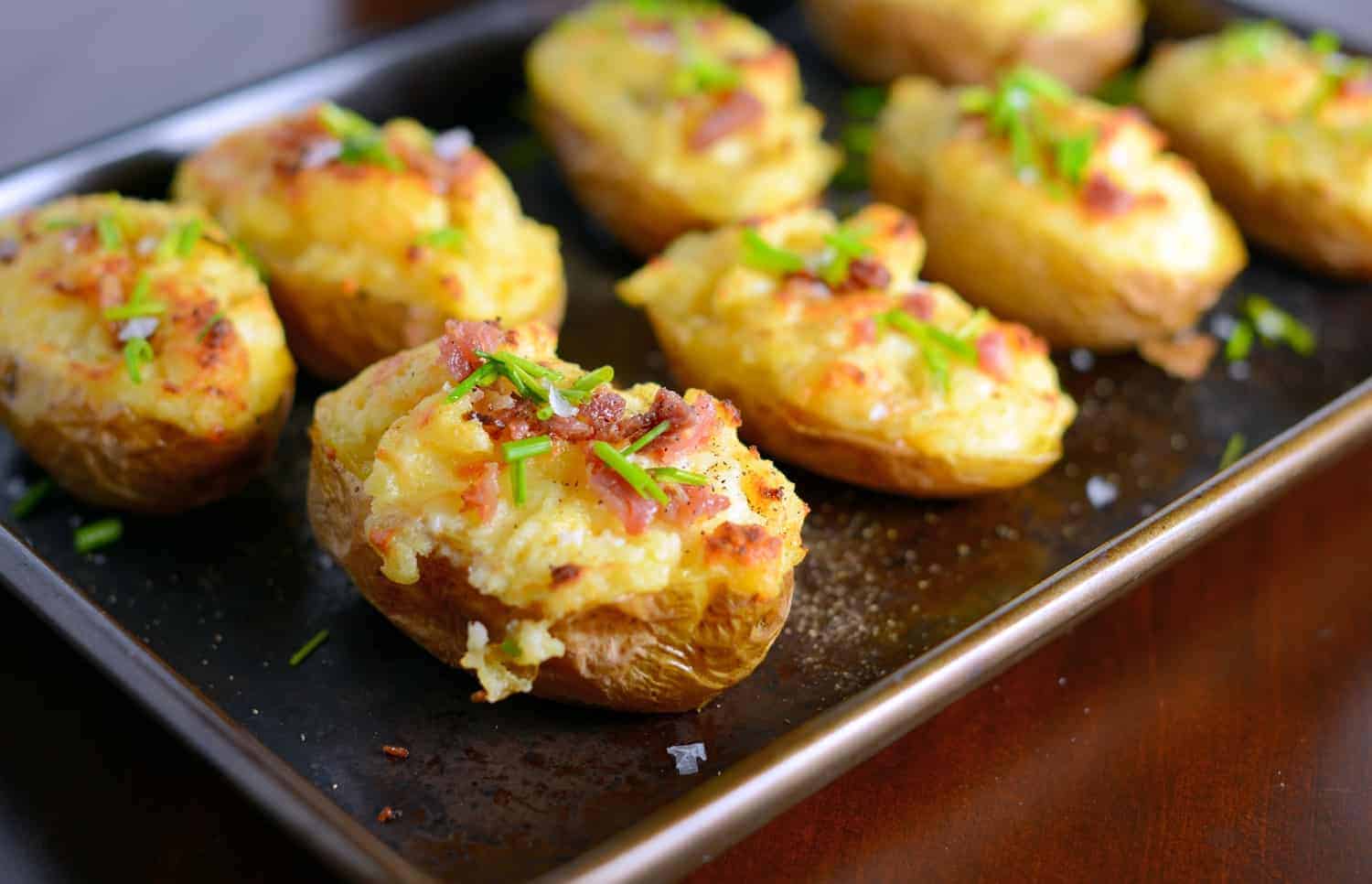 There are also some potatoes that lend themselves better for making Cheesy Twice Baked Potatoes. Russets are particularly good for this purpose.
The skins crisp up nicely and are easy enough to eat (eat those skins, they are good for you!). The starchy flesh makes them ideal for absorbing and blending with sour cream and butter.
Here are some foolproof tips on making baked potatoes in the oven. You can also make your potatoes in the Instant Pot or Air Fryer!
The result is a silky and buttery concoction that will go over like wildfire in your house! Add my secret ingredient, roasted garlic or garlic confit, and you will be named the Twice Baked Potato Queen (or King)!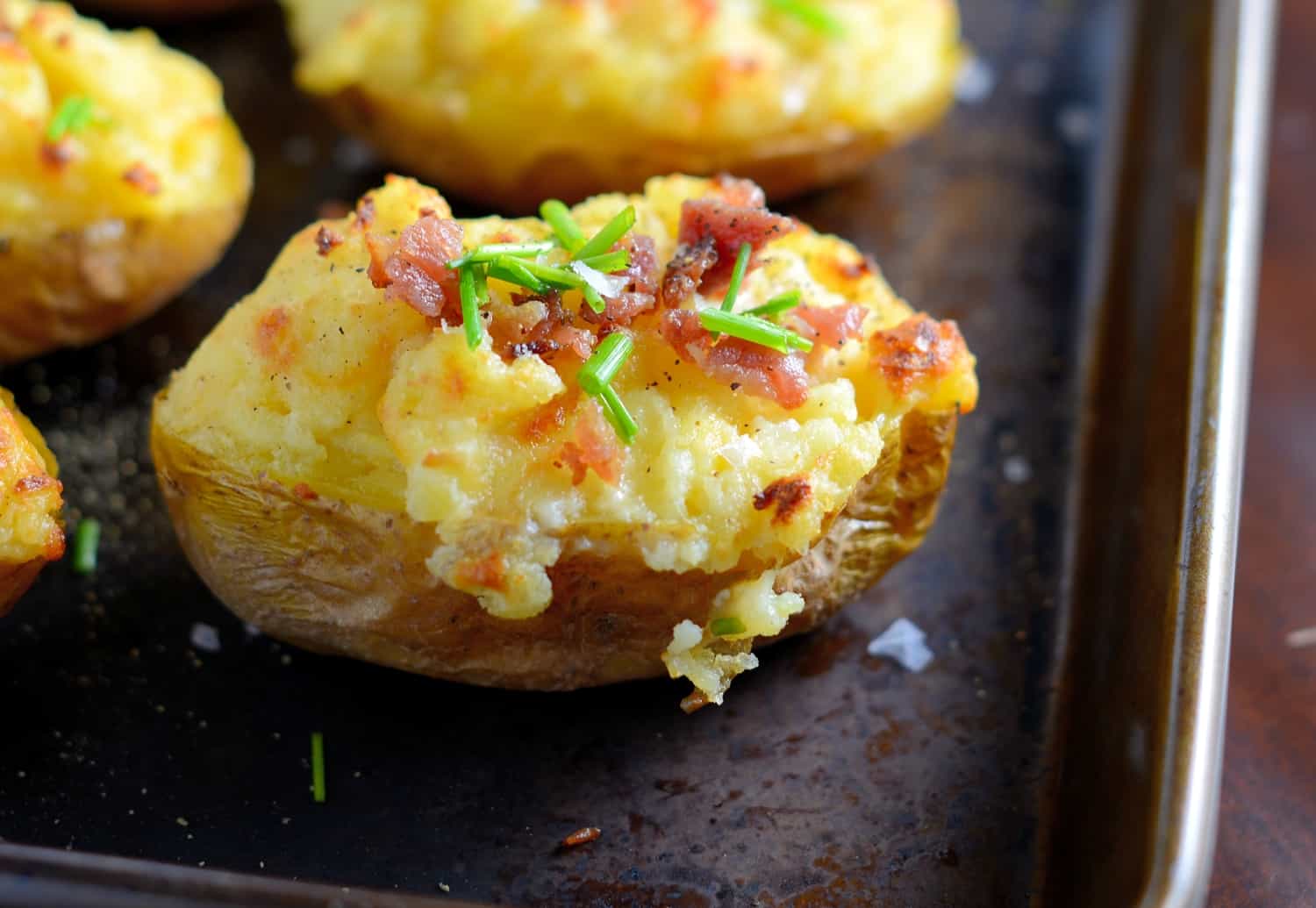 I have also made these Cheesy Twice Baked Potatoes with red potatoes, but the skin just turns out a little different. I don't suggest using Yukon gold, as the skins are so creamy, they don't make a good "basket" for the heavy potato filling.
Butter, sour cream, garlic confit (see notes if you aren't up for making confit) and cheddar cheese flavor these monstrous potatoes. Bacon, chives and Maldon sea salt are just the cherry on top!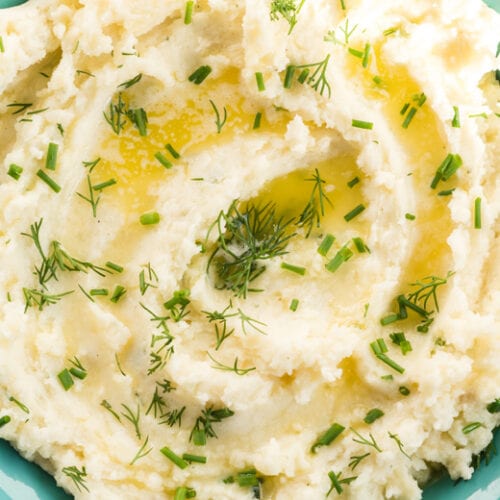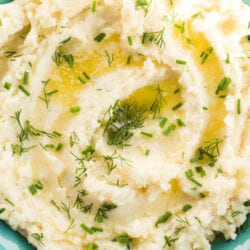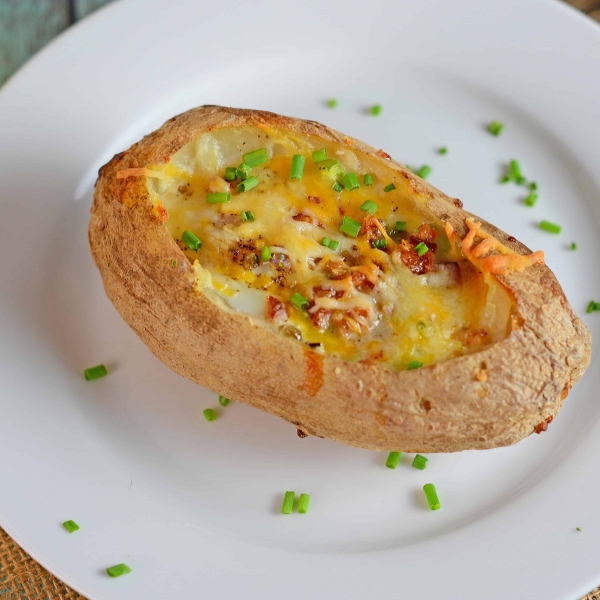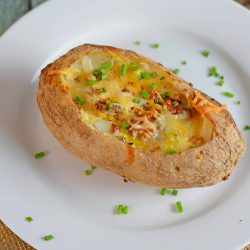 Stuffed Breakfast Potatoes
Potato boats stuffed with bacon, eggs, cheese and anything else you can pit into them!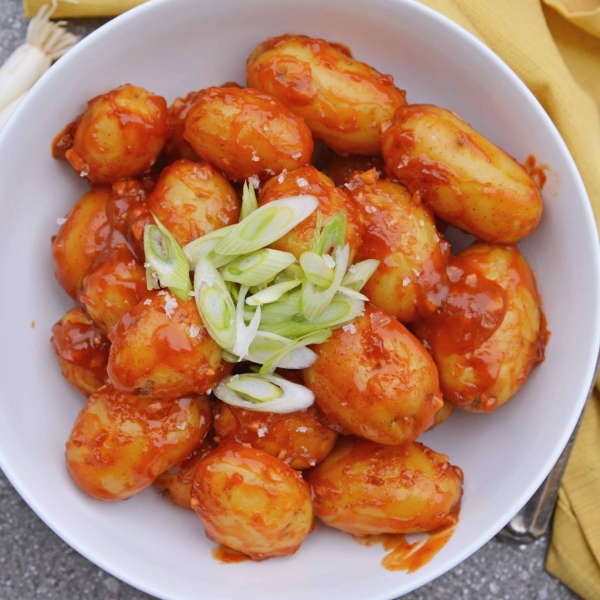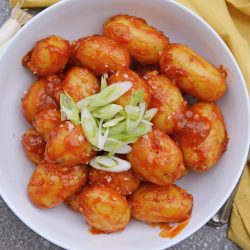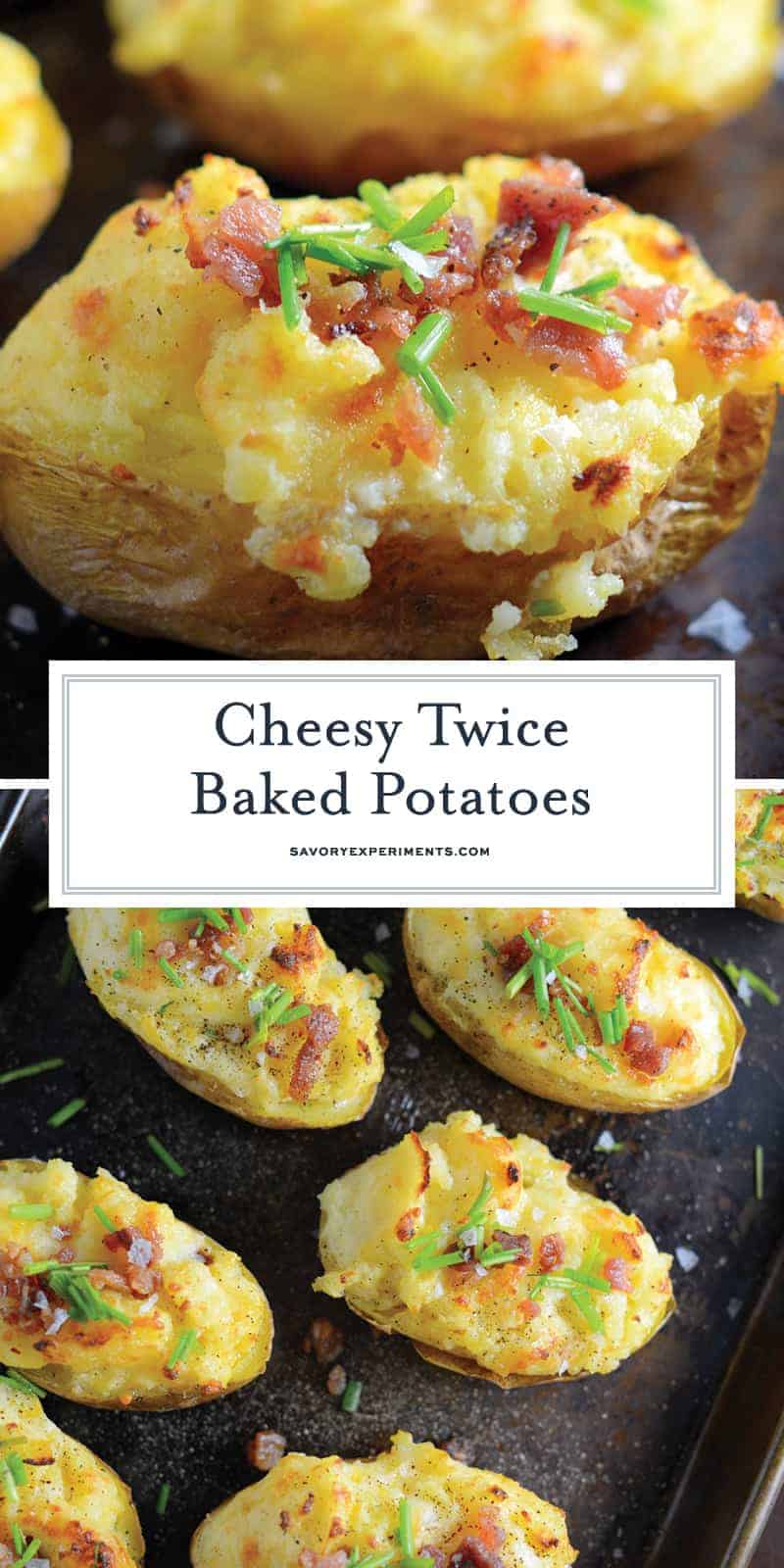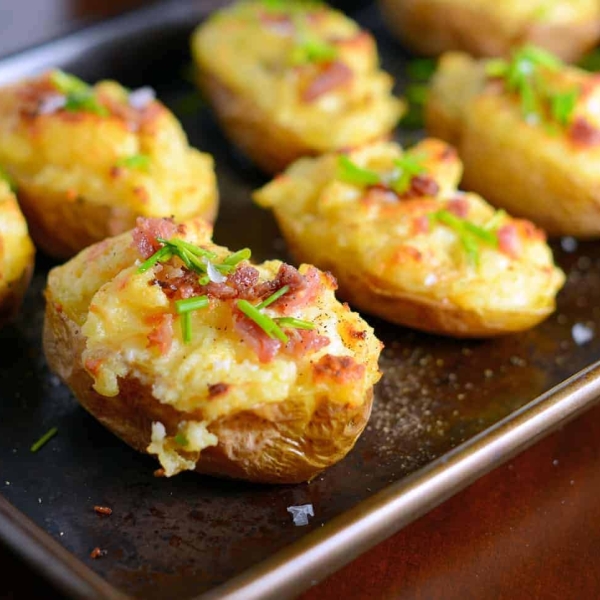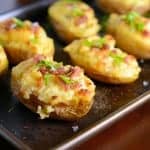 Cheesy Twice Baked Potato Recipe
Cheesy Twice Baked Potatoes are velvety, buttery and cheesy- the perfect trifecta of potato perfection and the ultimate potato side dish!
Instructions
Preheat oven to 350 degrees.

Cut each cooled potato in half and scoop out flesh, leaving 1/4 inch around the skin. Flip each half over and cut a small piece off so potatoes sit upright on the baking sheet. Use a rimmed baking sheet with plenty of space between each potato halve to prevent them from steaming.

Place flesh into a medium mixing bowl and mash with melted butter, roasted garlic, sour cream and fine sea salt. Since potato sizes vary greatly, you may need to add a little more sour cream or melted butter. Use a hand held potato masher until mixture pulls away from the sides and is shiny.

Fold in shredded cheese by hand.

Spoon into each empty potato skin. Bake for 30 minutes, or until tops start to brown. You can put them under the broiler for a few minutes to get the gorgeous brown look.

Remove and top with chives, bacon, Maldon sea salt and freshly ground pepper.

If you've tried this recipe, come back and let us know how it was!
Notes
Bake at 400 degrees for 40 minutes or pierce each potato generously and microwave on high for 3-4 minutes, or until tender.
Wrap each garlic clove in aluminum foil and bake at 350 for 15 minutes. Or you can substitute 1 teaspoon garlic powder.
Nutrition
Calories:
288
kcal
,
Carbohydrates:
20
g
,
Protein:
6
g
,
Fat:
20
g
,
Saturated Fat:
12
g
,
Cholesterol:
55
mg
,
Sodium:
375
mg
,
Potassium:
491
mg
,
Fiber:
1
g
,
Sugar:
1
g
,
Vitamin A:
620
IU
,
Vitamin C:
7.1
mg
,
Calcium:
138
mg
,
Iron:
1.1
mg