This is one of those amazing recipes that use Miracle Whip. This is a delicious spud recipe that you could eat week long!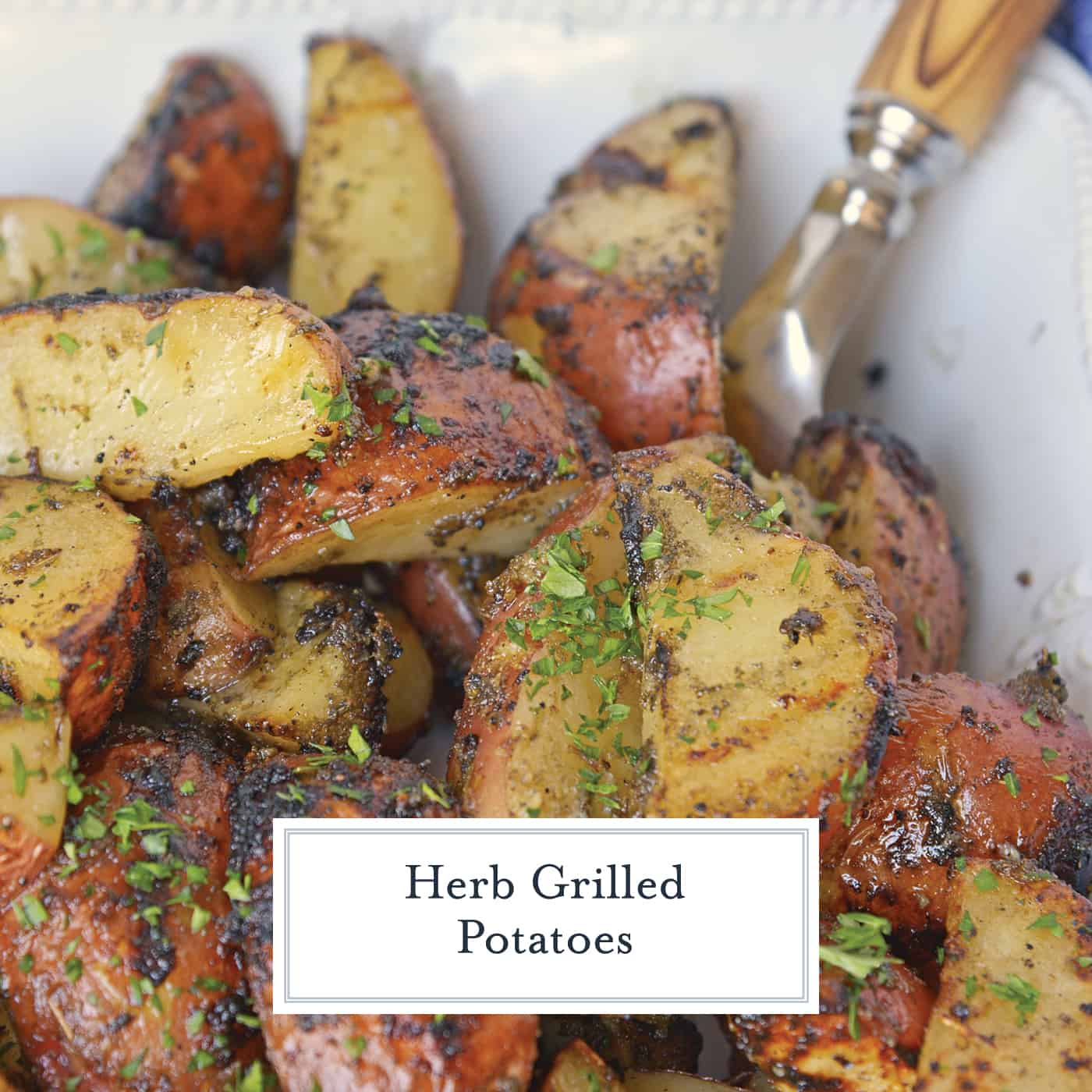 Herb Grilled Potatoes uses miracle whip and a handful of spices to keep those spuds nice and moist with loads of flavor! Make this easy side dish today!
If you read Savory Experiments, you've probably heard me rant and rave about homemade mayonnaise and butter. I only make my own and the jarred stuff just kind of scares me. But there is one recipe that transcends it all: Herb Grilled Potatoes.
These grilled potato wedges can be a challenge, as most potato recipes can be, actually. It is a recipe from my childhood.
My mother used to make potatoes on the grill alongside Onion Soup Mix Grilled Pork Chops or Grilled Lemon Pepper Chicken. I couldn't get enough.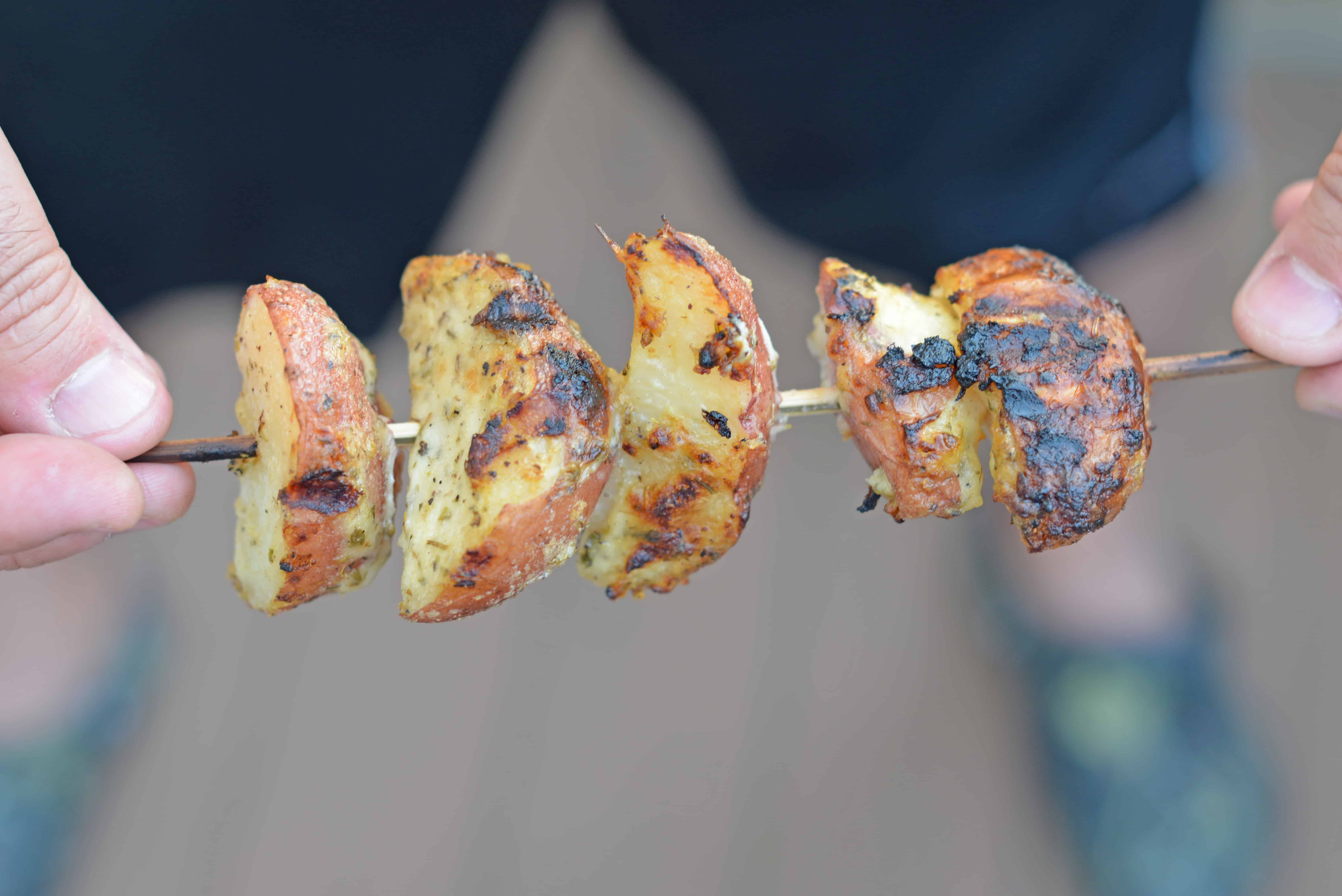 You can learn how to cook potatoes on the grill right here in this recipe! It is quite easy to do. After you have microwaved and marinated your potatoes for at least 3 hours, skewer them and turn your barbecue to a medium high heat.
Place the potatoes skewers on the grill and turn every 3-4 minutes for 20 minutes. That's it, you've made Herb Grilled Potatoes! Quite simple for a delicious grilled side dish!
Even in college, I would make grilled potato wedges in giant batches to eat all week long. In those days, I didn't have a grill, so I would cook them under the broiler to get the char (albeit I lost the smoky flavor). Instead of a side dish, it was my main meal!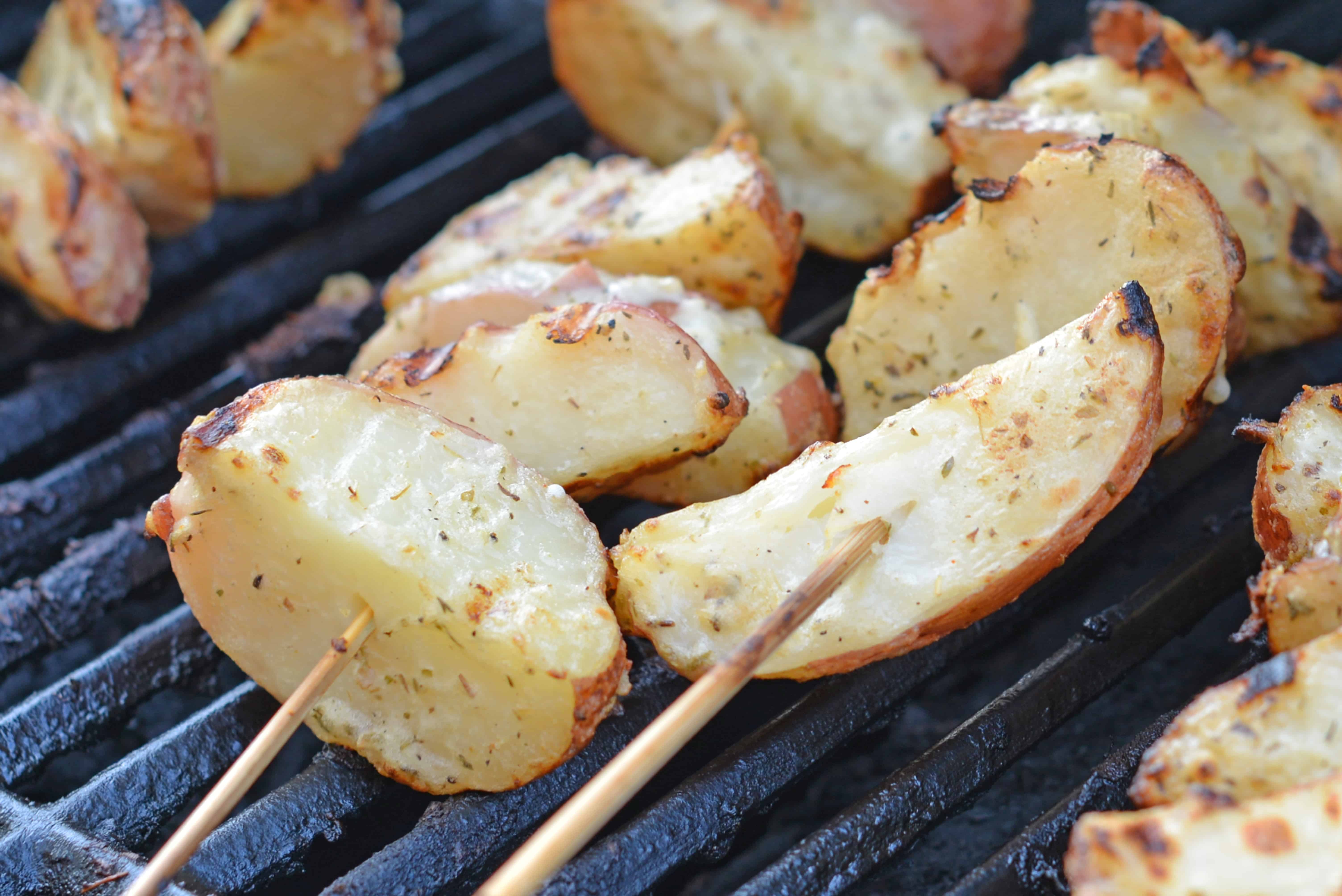 In addition to rarely (ok, only in this recipe) using Miracle Whip, I also use the microwave. Microwaves function by cooking foods from the inside out, rather than the outside in.
For any grilled potatoes we can use this to our advantage, essentially parboiling the potatoes before marinating them.
If you choose to skewer them, refrigerate them to make them harder. Marinating in miracle whip also helps keep them moist and adds a tangy flavor, as it does for most grilling recipes.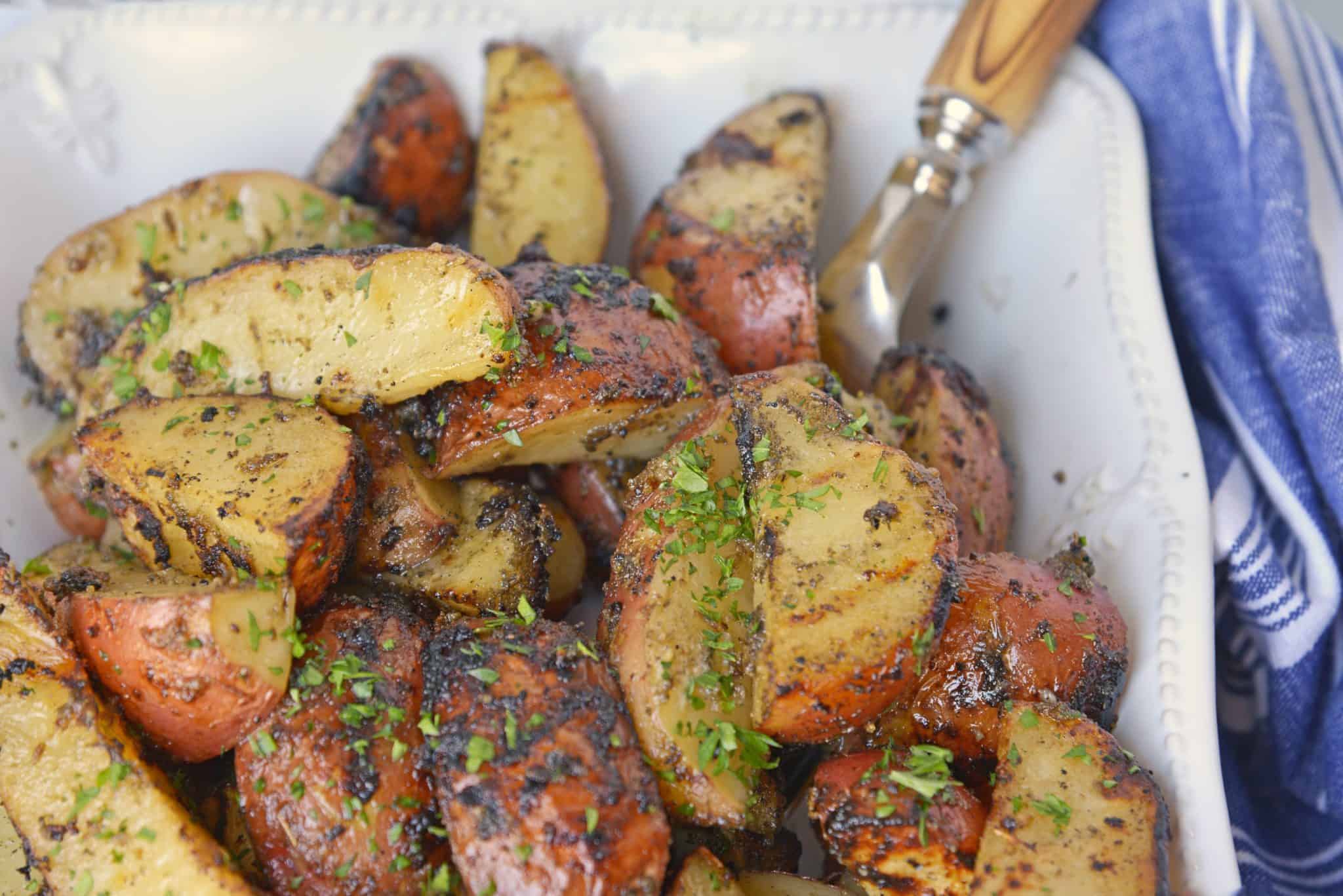 You can make the potatoes and marinade days ahead of time, threading (if you'd like) when you have time and then just throwing them on the grill when you are ready.
C
heck out these other easy grilled dishes: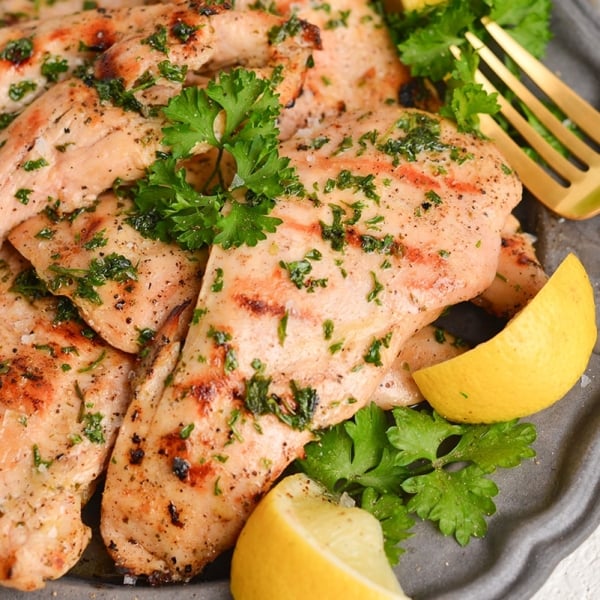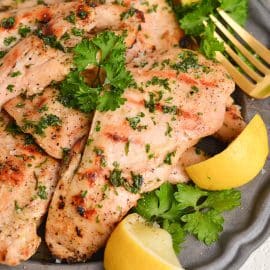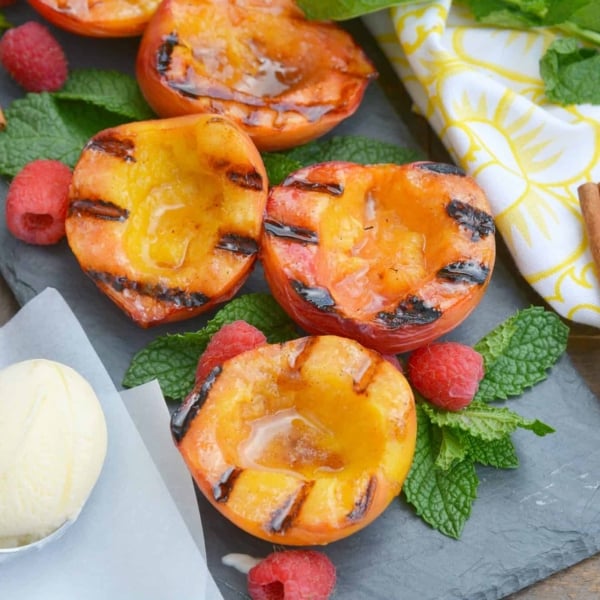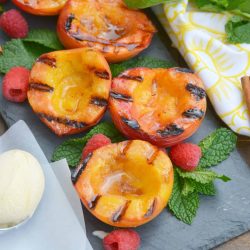 Grilled Peaches
Grilled Peaches basted with cinnamon brown sugar and butter are the ultimate summer dessert idea. Add vanilla ice cream and fresh raspberries for dessert perfection!
See The Recipe!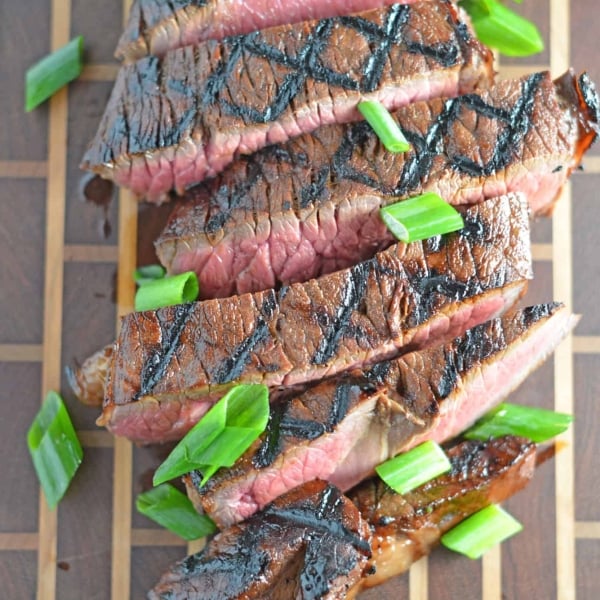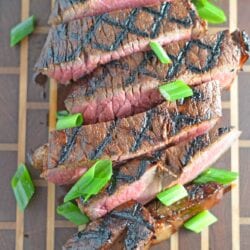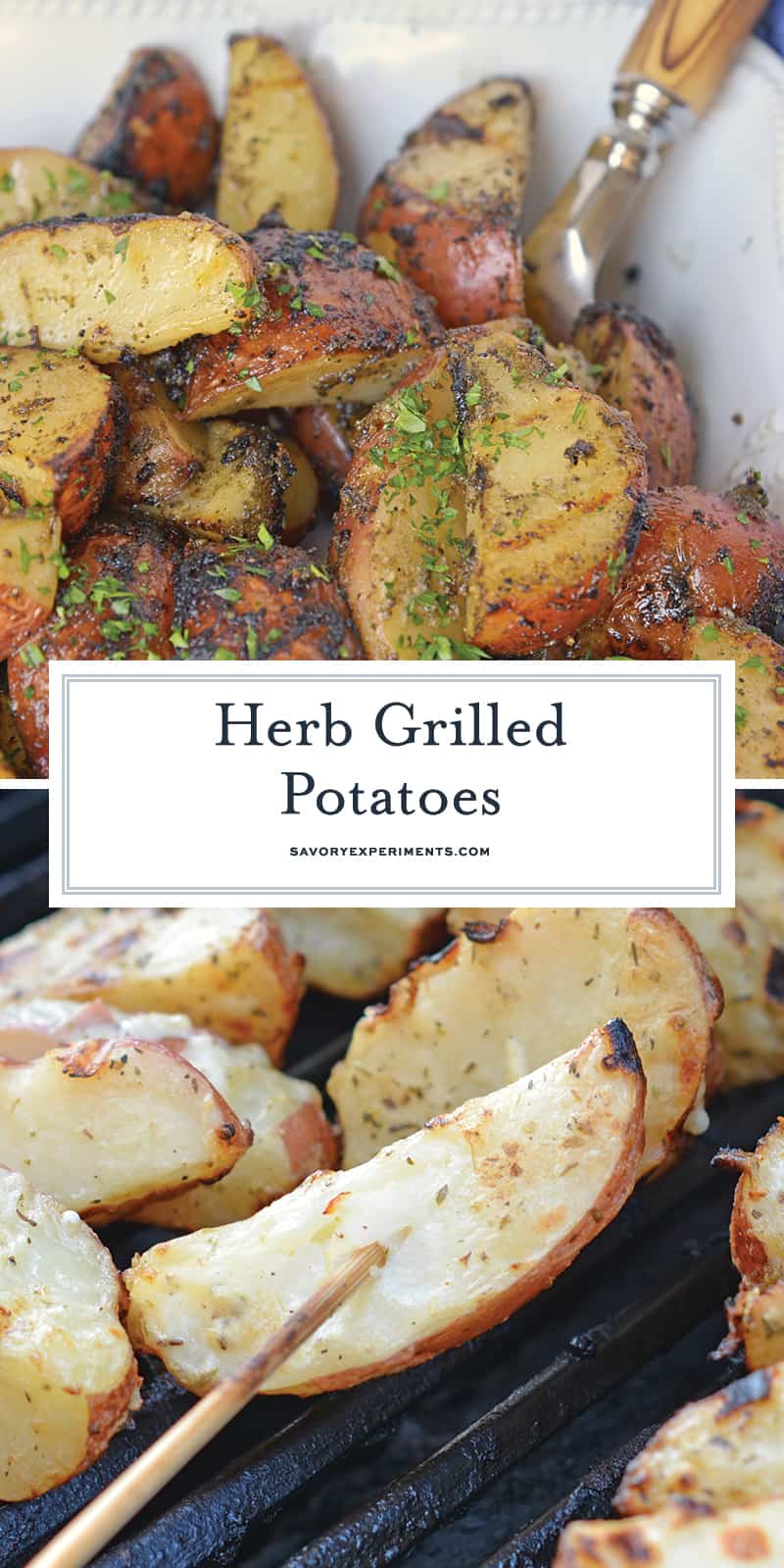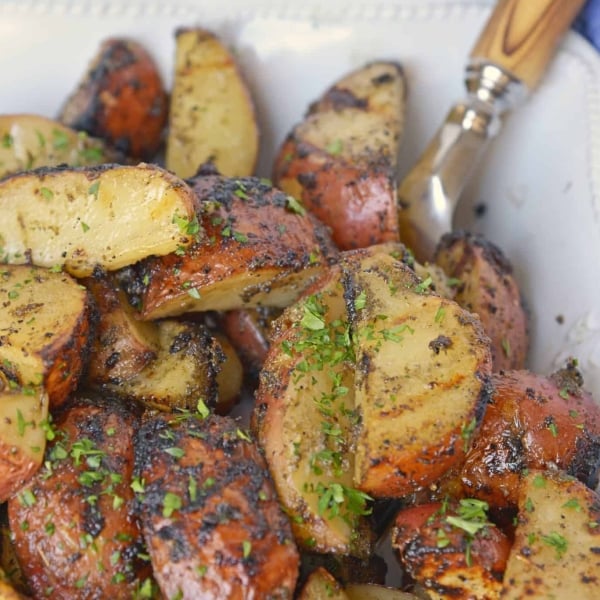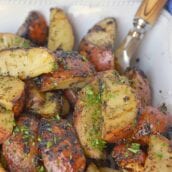 Herb Grilled Potatoes
Potatoes grill uses miracle whip (I called them Miracle Whip Potatoes growing up) and keeps those spuds nice and moist with loads of tangy flavor.
Instructions
Place potatoes in a microwave safe bowl, fill half way with water. Cover and microwave for 10 minutes. Stir, cover and microwave again for 8 minutes.

Drain water, reserving about 1/2 cup.

In a separate bowl, whisk together Miracle Whip through fine sea salt and the reserved water. Pour over potatoes and toss to cover.

Refrigerate/marinate for 3 hours- 24 hours.

If skewering, soak thick skewers in water for 30 minutes before threading.

If skewering, thread potatoes through skewers. Reserve marinade for basting.

Heat grill to medium-high heat. Oil grates and set potatoes onto hot grill. Grill, turning every 3-4 minutes for 20 minutes, or until lightly charred and heated through. You can use leftover marinade to baste throughout cooking, but you don't want the potatoes to be overly saucy.

Remove and allow to cool for several minutes.

If you've tried this recipe, come back and let us know how it was!
Nutrition
Calories:
227
kcal
,
Carbohydrates:
49
g
,
Protein:
4
g
,
Fat:
2
g
,
Cholesterol:
6
mg
,
Sodium:
1060
mg
,
Potassium:
1109
mg
,
Fiber:
5
g
,
Sugar:
10
g
,
Vitamin A:
65
IU
,
Vitamin C:
21.1
mg
,
Calcium:
31
mg
,
Iron:
1.9
mg