Never heard of harissa sauce? Enjoy spicy food? Meet your new best friend!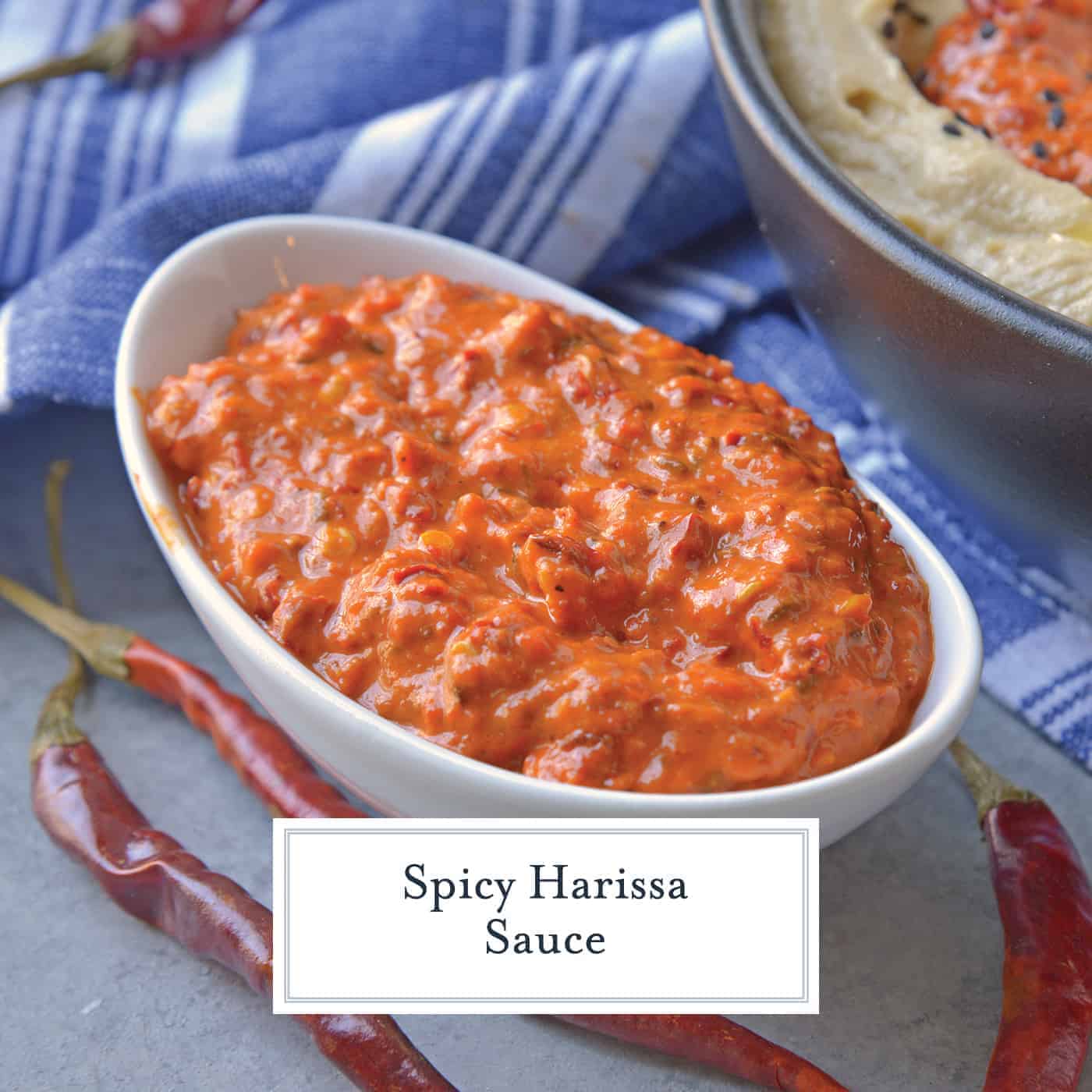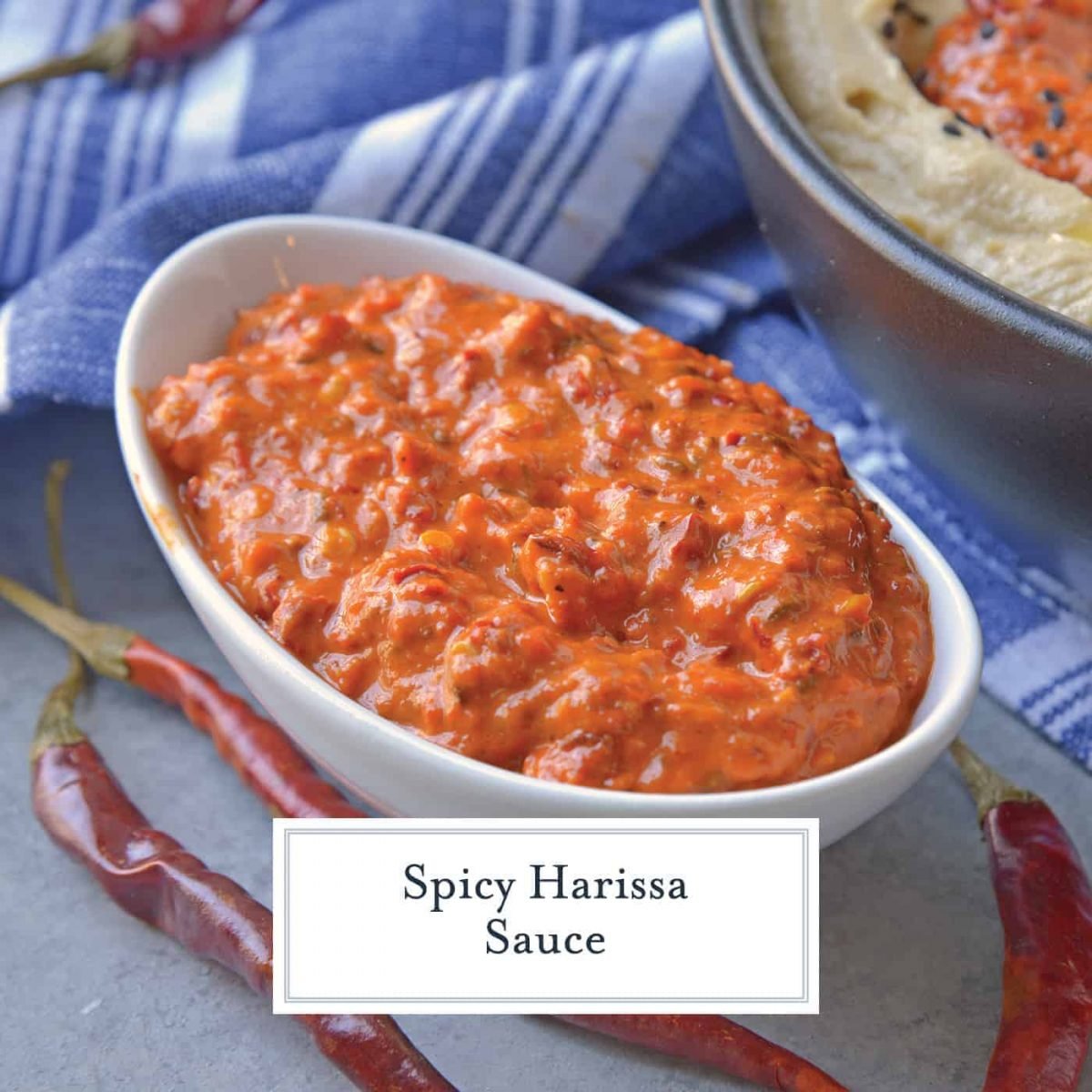 Harissa Sauce, also known as Harissa Paste, is a spicy chile sauce blended with spices. Add to marinades, hummus, salad dressings and more for some heat!
What is harissa? According to Wikipedia….
Harissa is a Tunisian (North African) hot chili pepper paste. The main ingredients of which are roasted red peppers, Baklouti pepper, serrano peppers, and other hot chili peppers, spices and herbs such as garlic paste, coriander seed, saffron, rose, or caraway, as well as some vegetable or olive oil to carry the oil-soluble flavors.
Historically harissa hailed from the Middle East and was made with Maghrebi hot chili peppers.
Since these chiles aren't available worldwide, but the condiment was so tasty, other cultures started making their own adaptations of harissa sauce using local pepper varities.
The original harissa recipe uses roasted red peppers, garlic, serrano peppers, coriander, caraway seed and olive oil for preservation. Some even added rose petals. Fancy!
Modern day harissa sauce has many variations. And like many sauces and condiment, feel free to put your own spin on it.
Some use tomatoes, smoked or roasted garlic and red bell peppers, smoked paprika, cumin, salt and even mint.
I haven't been able to find any recipes that still use rose water or rose petals, but hey, be my guest!
PRO TIP: Harissa was historically made with a mortar and pestle, but now days a mini food processor does the trick a lot faster.
I typically use New Mexico dried chilies, which are in the International aisle near Latin foods and sometimes just labeled "chile peppers," but you can always special order other blends and flavors or use chipotle for a smoky heat.
How do you use harissa?
Well, in just about anything you would typically use any other hot sauce. A little goes a long way and packs a punch.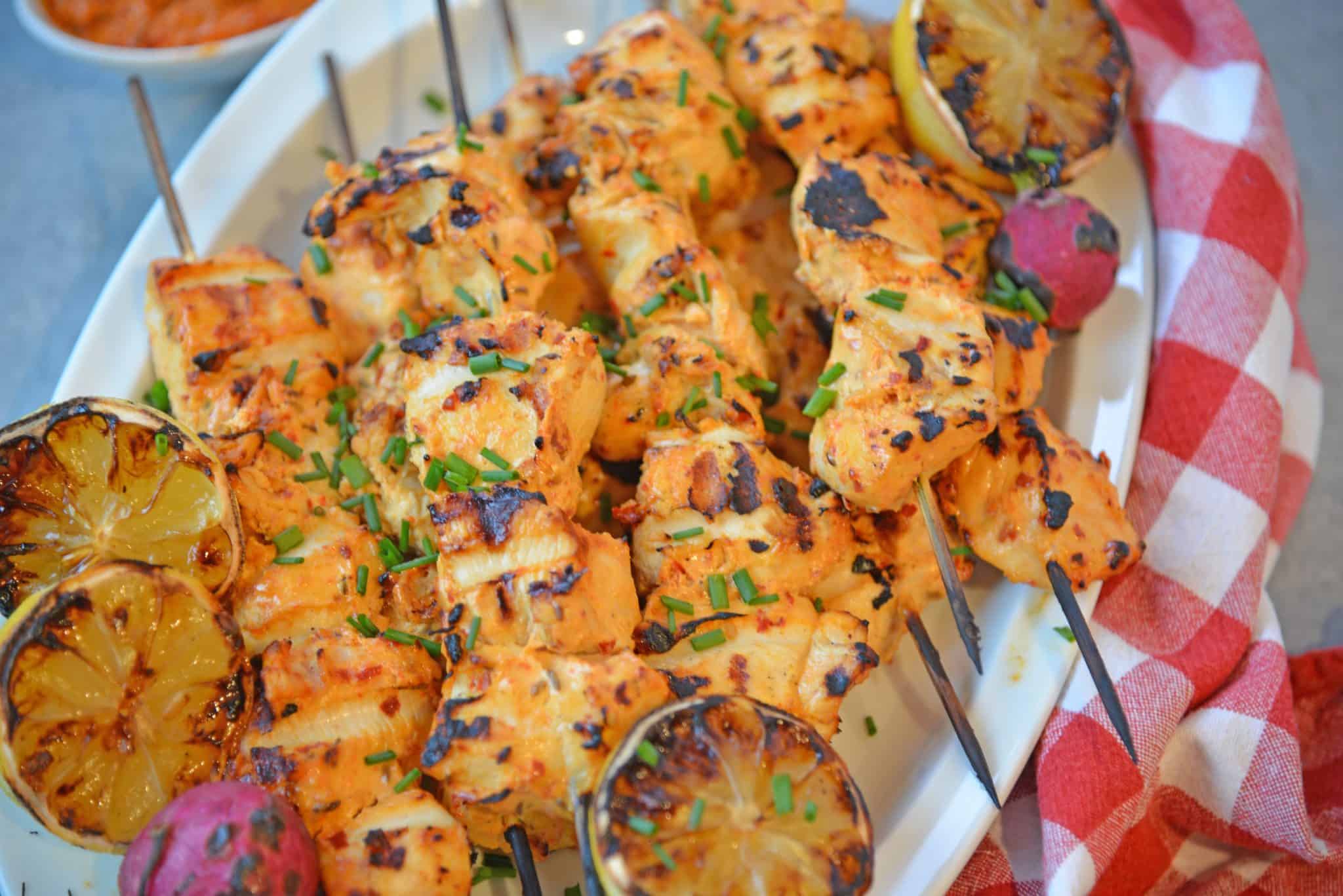 I like to top hummus with mine or blend it with plain Greek yogurt for an excellent marinade worthy of chicken, meats and seafood, even vegetables! Dip tortilla chips right on in or use to punch up soups and stews.
PRO TIP: It is rumored that spicy foods speed up your metabolism and can aid in weight loss!
It also makes a great salad dressing and many people make harissa potatoes, beans and vegetables. Anything you'd use hot sauce on, can be used with harissa.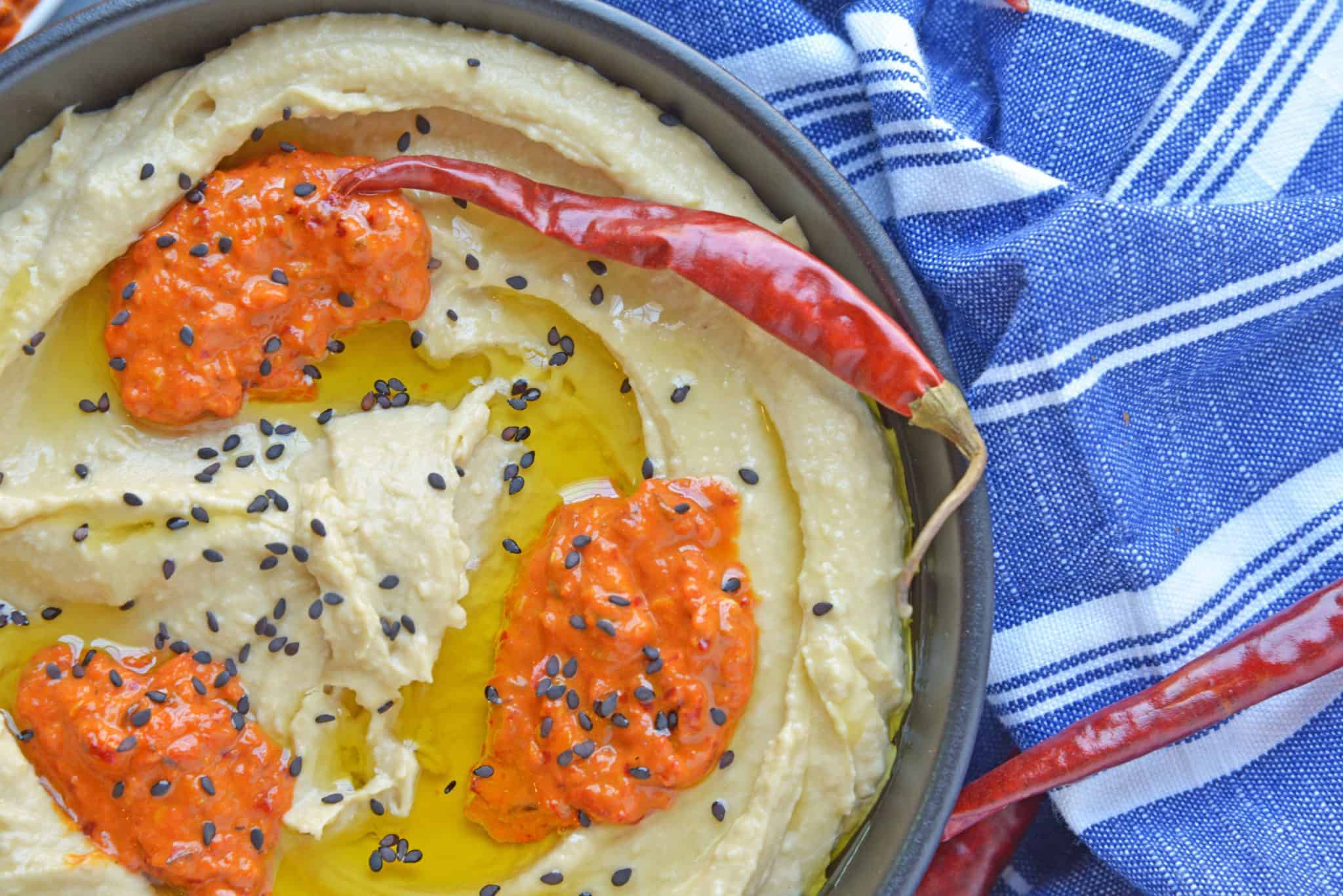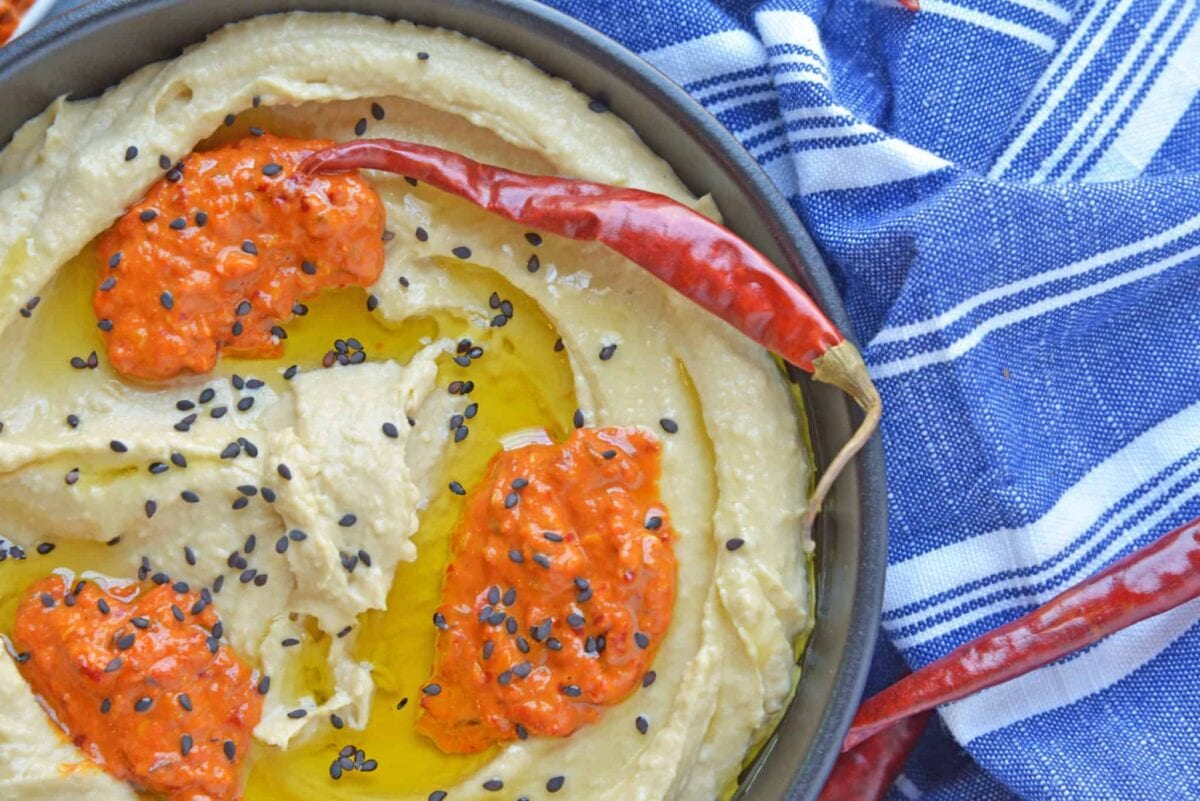 Tools for making Harissa Sauce:
Mini Food Processor– I use this thing daily! It is by far my most used kitchen appliance, it is small and I throw all the parts into the dishwasher, well except the base and cord, of course!
Wood cutting board – wood won't dull your knives like plastic and if treated properly, has natural antimicrobial properties.
Good knife – Global is my favorite! They are worth the price, I promise. I am kind of obsessed with them and store them tucked away so no one else can use them. Including hubby. Hands off my good stuff!
You'll like these other spicy recipes:
Questions you might have about how to make harissa sauce:
What is the difference between harissa sauce and harissa paste? There really isn't much of a different, only the name.
Can harissa be frozen? Yes, can freeze harissa. It is best frozen in small amounts. Try putting it into an ice cube container, freezer them, and then popping out.
Place them all in an airtight plastic bag, squeezing out as much air as possible. Then you can just use as much as you need when you need it!
Can harissa be substituted for other hot sauces or Sriracha? It sure can! All these chile based hot sauces are so similar. If you find you like one more than another, simply use the one you like!
What are harissa spices? Like so many recipe, the exact spice blend varies from restaurant to restaurant and family to family. The basics are chile peppers, garlic and olive oil.
The other most common harissa ingredients include: cumin, coriander, caraway and mint.
What type of olive oil do you use? Good Extra Virgin Olive Oil will taste like, well, olives, while a poorly made one will taste like vegetable oil. Gross. While people tend to favor Italian and Greek olive oils, I prefer to buy mine domestically.
They are some great ones out there from all over the world, but the reporting of ingredients isn't always the same and you could find that your super expensive olive oil was actually cut with vegetable oil.
How long is harissa sauce good for? You can keep it in an airtight container in the refrigerator for about a week. Since it is homemade, it doesn't have any preservatives to keep it good longer.
What is harissa mayo? Just mayo blended with harissa! You can use 1-2 tablespoons per 1 cup of mayonnaise.
What is harissa aioli? Basically, it is harissa mayo. Follow the same instructions as above!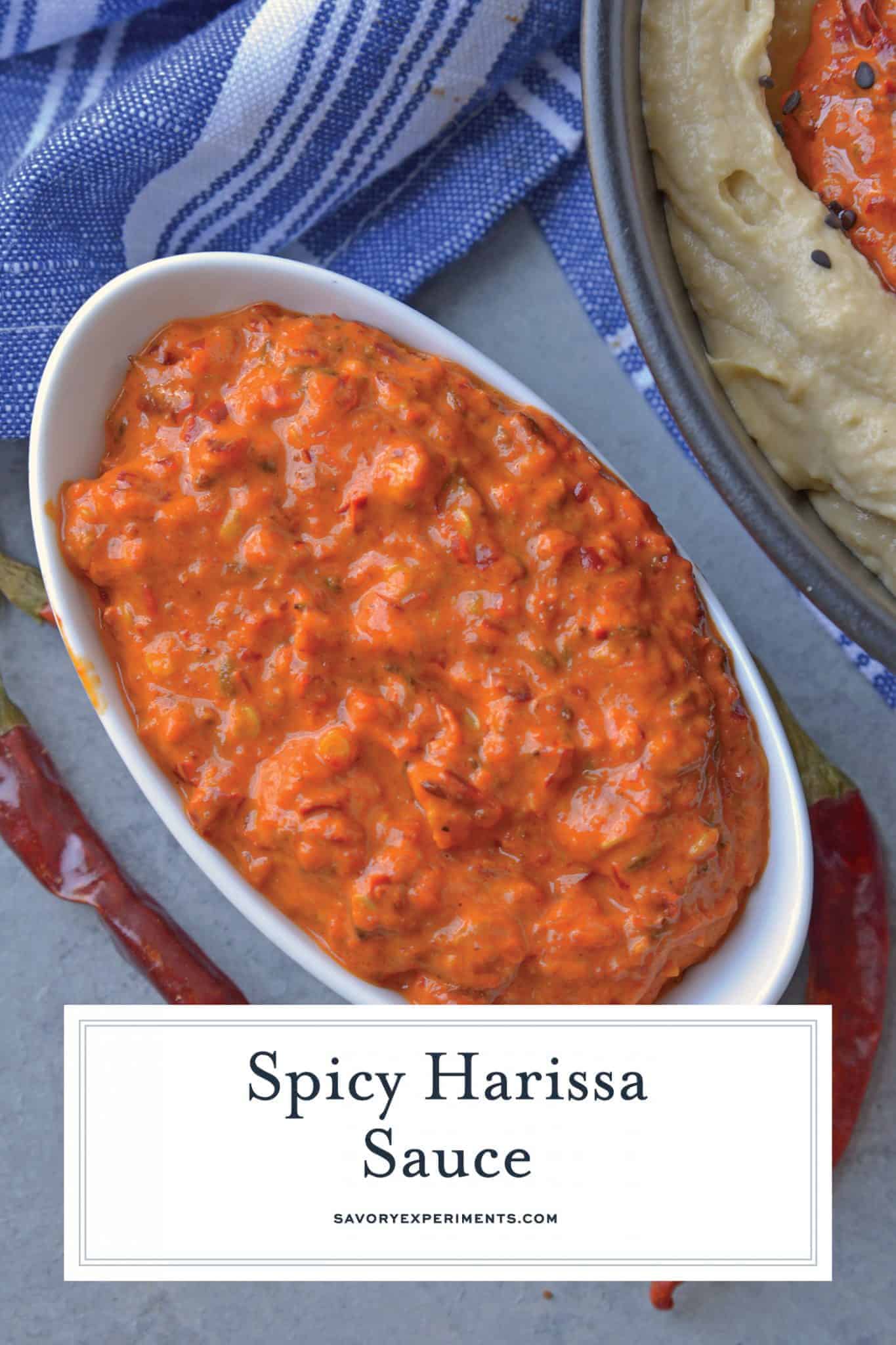 Harissa Sauce or Harissa Paste is spicy chile sauce blended with spices. Add to marinades, hummus, salad dressings and more for some heat!
CONNECT WITH SAVORY EXPERIMENTS!

Be sure to follow me on social media, so you never miss a post!

Facebook | Twitter | Youtube
Pinterest | Instagram

Get our FREE 8 Day E-Course on How to Be a Better Home Cook. Sign up HERE!