Whether for Taco Tuesday or any night you're feeling like Mexican for dinner, this easy Crock Pot Taco Meat recipe is exactly what you need!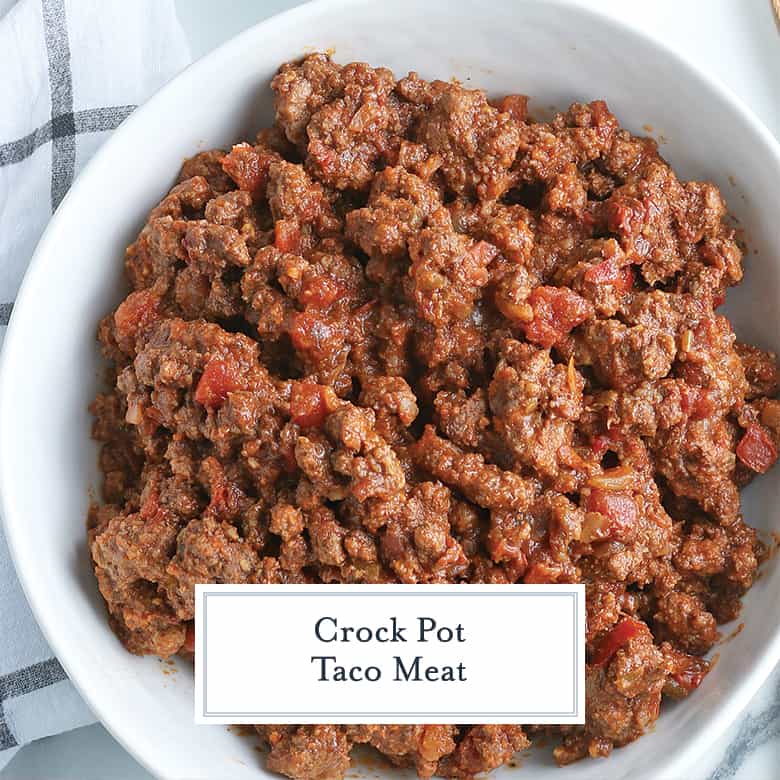 Crockpot Taco Meat Recipe
Tacos are great for any day of the week regardless of if it is Tuesday or not. Although I do use it being Tuesday as a good excuse for tacos.
Mexican has got to be one of my favorite cuisines to eat and tacos are pretty high up on the list. But this slow cooker taco meat can be used for so much more that just tacos.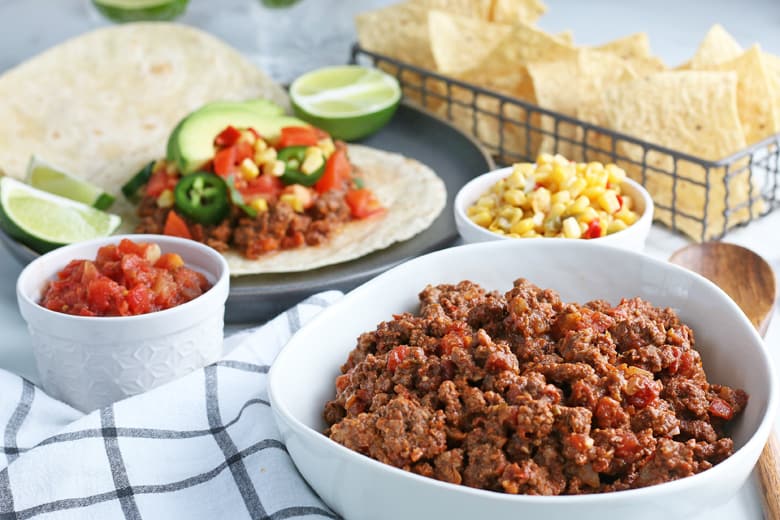 How to make taco meat in the slow cooker:
Add ground meat to crock pot. Most people use ground beef, but ground chicken, pork or turkey also work. Since we aren't browning and draining, I like to use something with a low fat content.
Sprinkle meat with homemade taco seasoning (or store bought) and add salsa, stir to coat. You can also add a can of diced tomatoes if you want it to be super mild.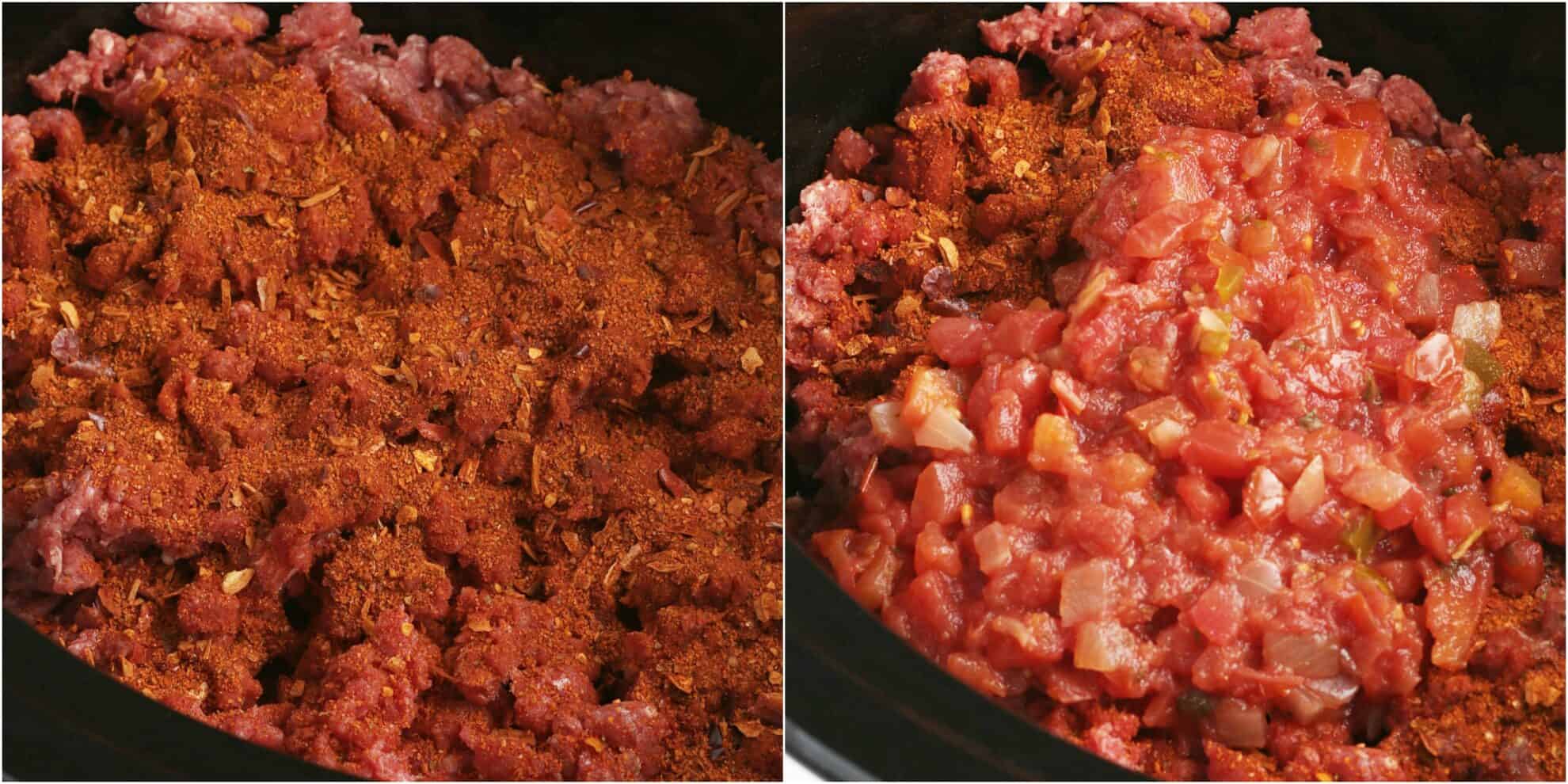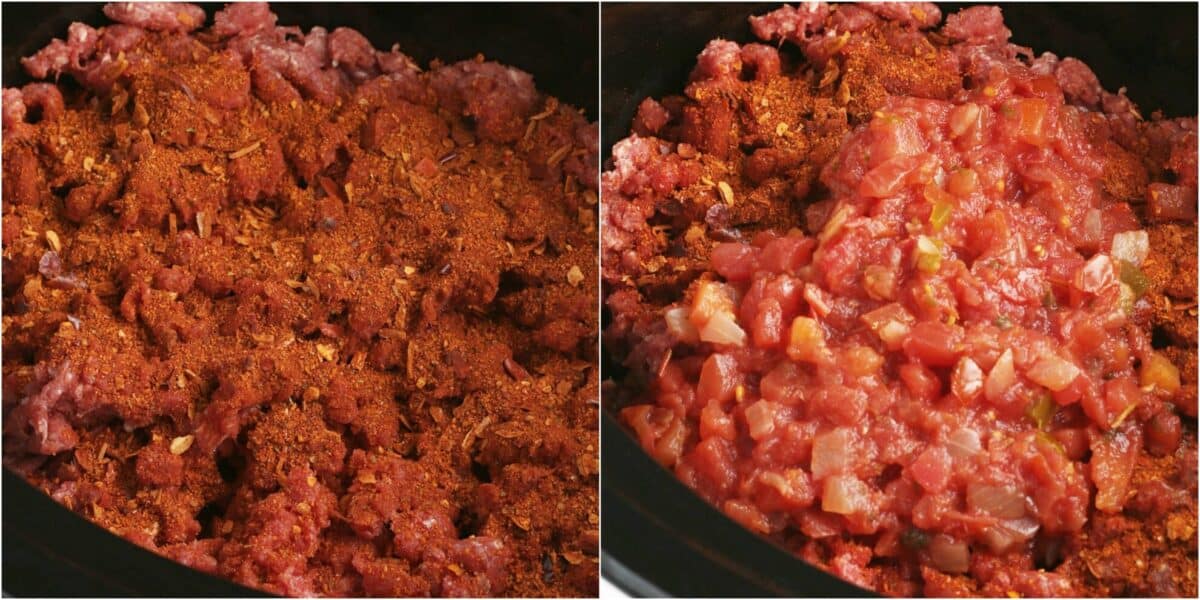 Cover and cook on low for 3 hours. Drain, if necessary or use a slotted spoon to remove meat. Tender and flavorful, this will be the best taco night ever! Serve with your favorite taco toppings on either a soft or hard shell.
You can use taco meat on:
Soft tacos or hard tacos, this is a basic mix for crock pot taco meat. Classic recipes use ground beef, but feel free to substitute ground chicken or ground turkey.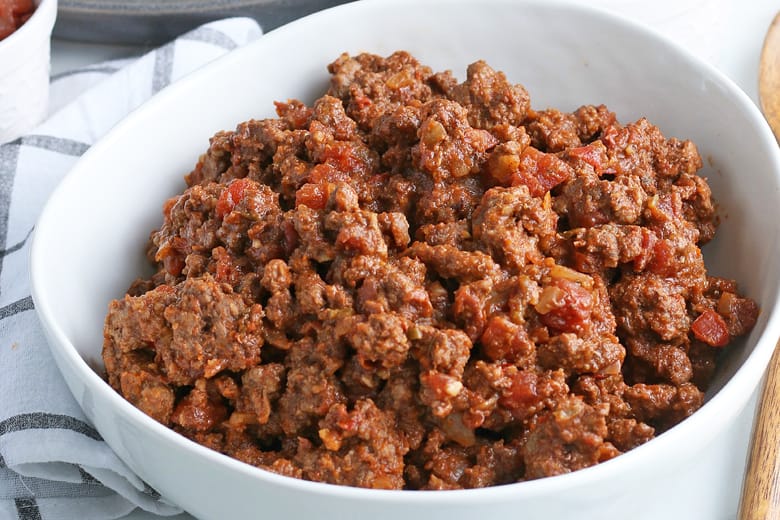 I prefer to use a lean ground beef so draining isn't necessary at the end. You do need some fat to prevent sticking and keep the mix juicy, but you don't want grease pooling on the top either.
Why make taco meat in the crock pot?
It is true that this crockpot taco meat recipe can just as easily be made on the stove top and in a fraction of the time, but it will also be more likely to dry out.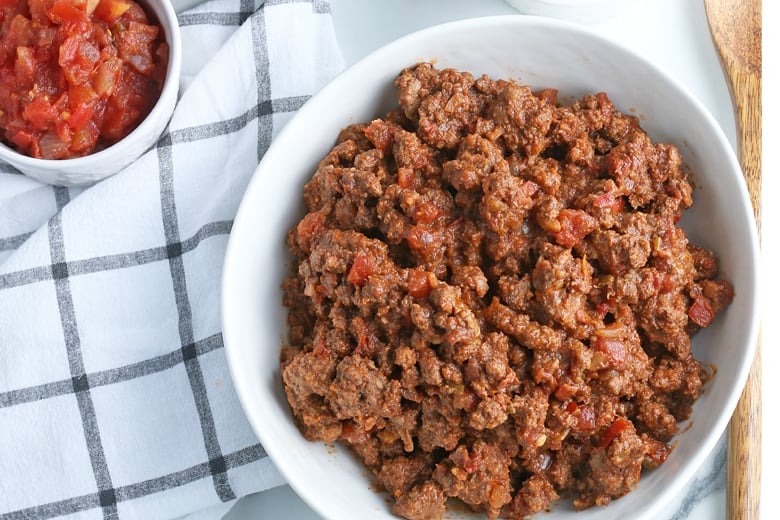 Making anything in a slow cooker ensures that the liquids don't evaporate and instead stay in the cooking vessel and with the food. In some cases, like a sauce, you don't want this to happen, but for taco meat it is perfect!
Making it taco meat in the slow cooker is also ideal for parties and serving on a taco bar!
How to make a taco bar:
ONE. Cook your taco meat and either serve it in the slow cooker on "keep warm" or in another serving bowl.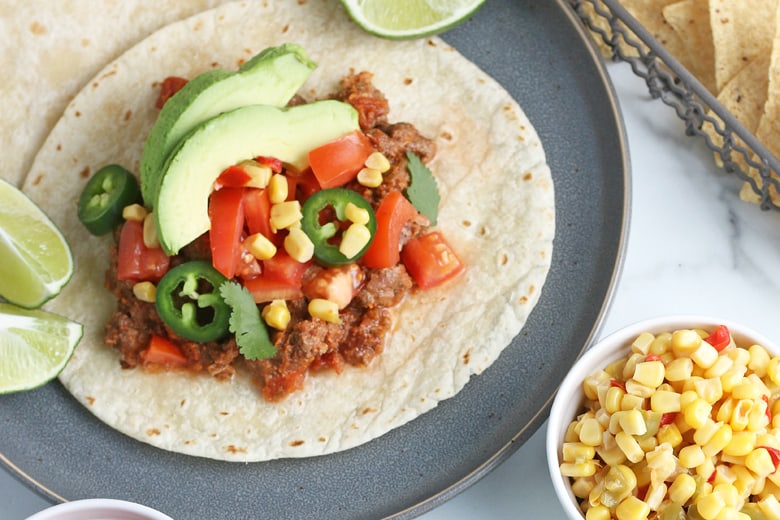 TWO. Chop up all of your other taco toppings and fixings. Some of our favorites for a taco bar include:
Shredded lettuce
Diced fresh tomato
Cilantro
Hot Sauce
Personalize your taco meat:
If you are looking to make your crock pot taco meat special, just add one of these and watch everyone swoon!
2 tablespoons chopped chipotle peppers in adobo sauce
1 tablespoon fresh jalapenos, minced
1/2 cup frozen corn
1/2 cup diced bell peppers
1 teaspoon liquid smoke
1/2 cup cooked bacon, crumbed
1 teaspoon crushed red pepper or aleppo pepper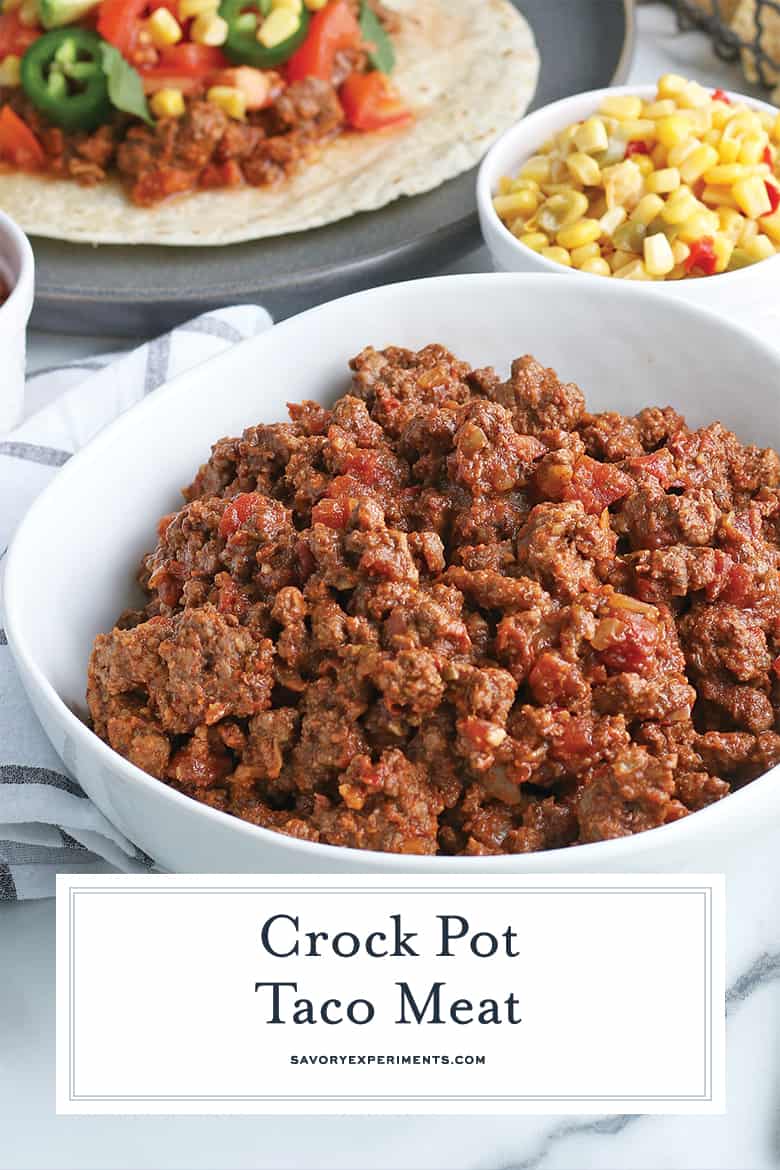 How much is in a taco seasoning packet?
You might notice I don't tell you to use a taco seasoning packet. It isn't that they aren't convenient or tasty, I just bet that you have all the ingredients already in your pantry.
chili powder
garlic powder
onion powder
dried oregano
paprika
ground cumin
fine sea salt
ground black pepper
If not and your prefer to buy a little packet, go for it and use just one.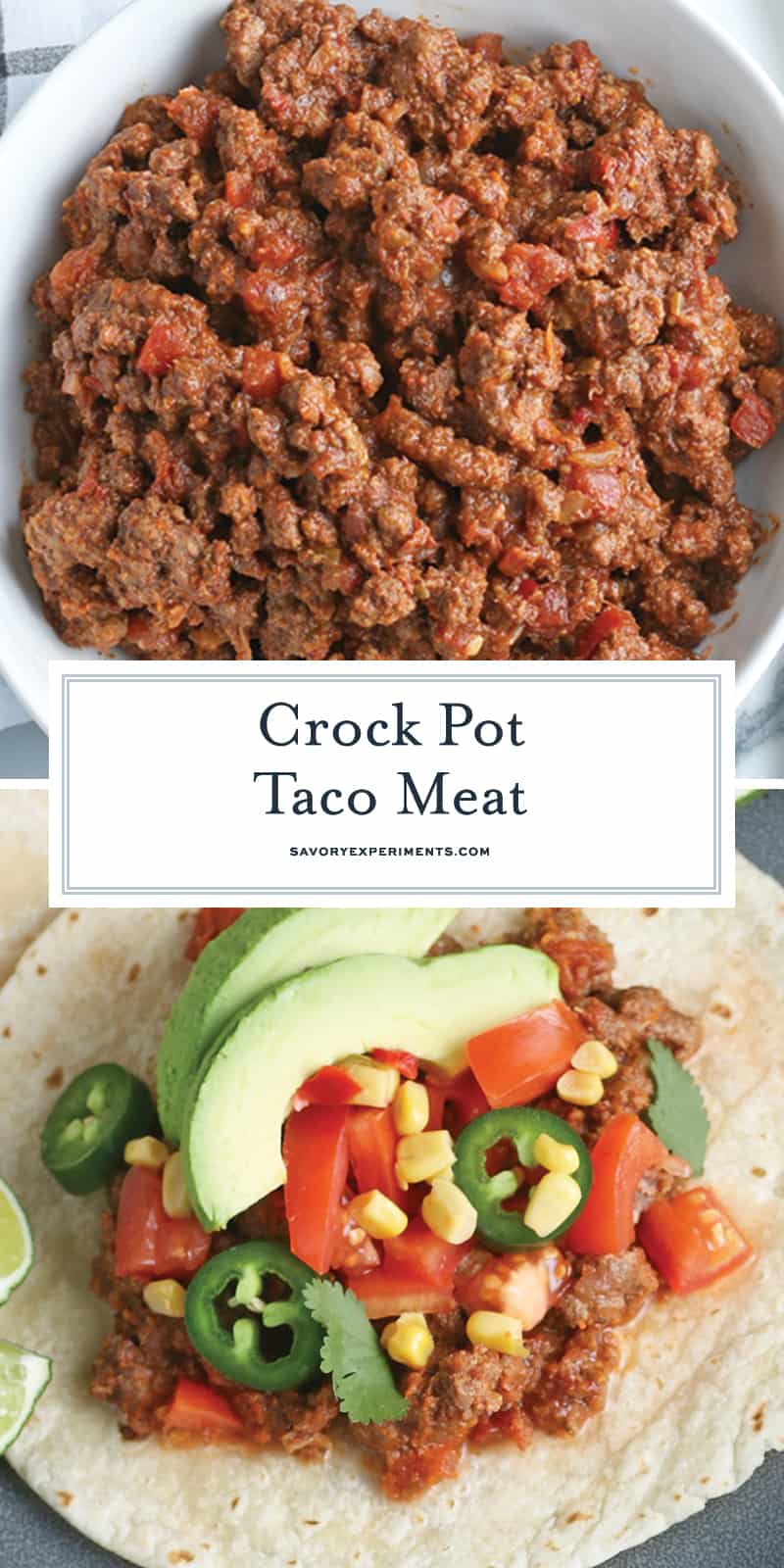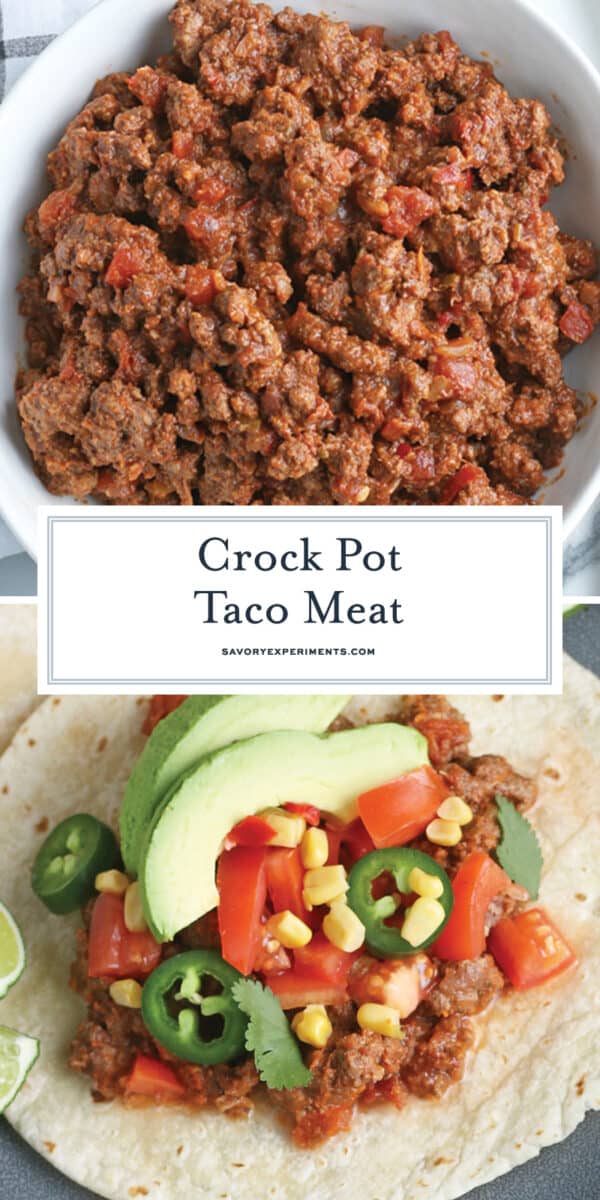 More Taco Recipes!
Alternatively, you can also make taco meat in the Instant Pot!
Whether it is Tuesday or any other day of the week, we hope you enjoyed your tacos!