A few years back a fellow food blogger had a post blow up for Chile Garlic Potatoes. And you could understand why, they looked freakin' delicious!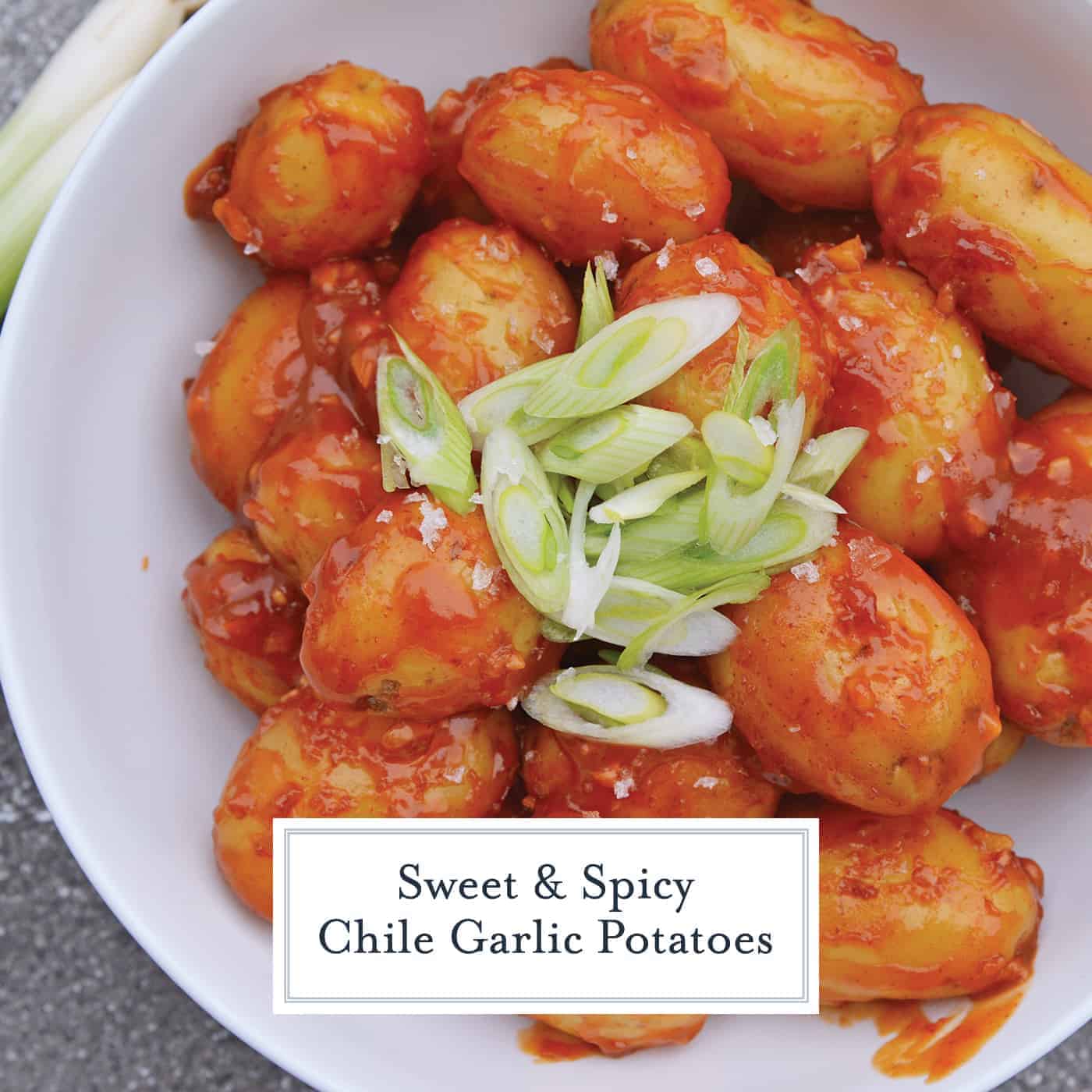 Chile Garlic Potatoes are an easy potato side dish using baby potatoes in a sweet and spicy sauce.
I don't recall her real name, but the blog was the Cooking Thumb. I remember it well because I thought it was such a cute and clever name. She had some fabulous recipes for authentic Asian cuisine and I genuinely liked following her.
Oh, Cooking Thumb, where have you gone? I don't see you anymore!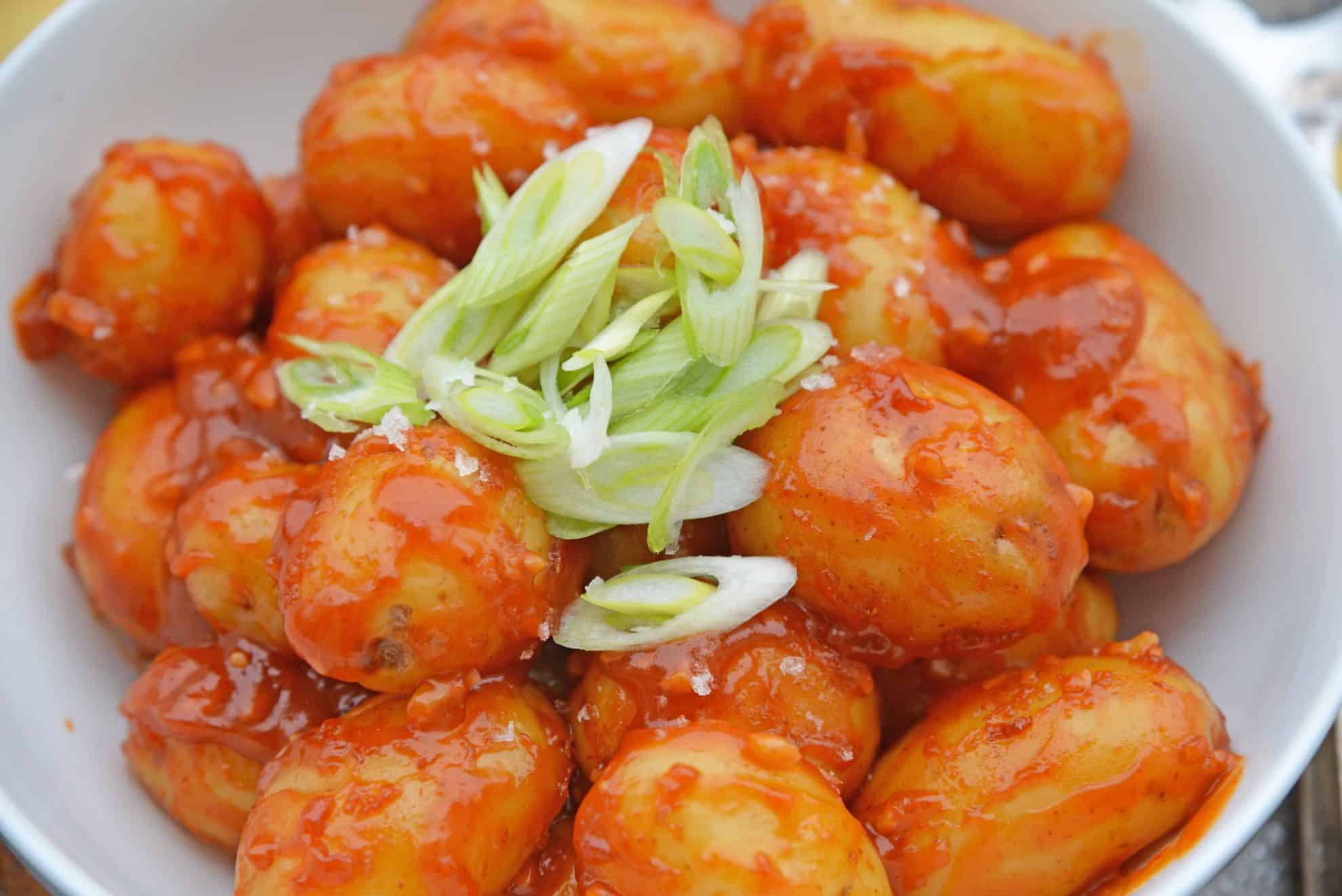 I think of her everytime I make this recipe. Originally it was her recipe for Chile Garlic Potatoes that has slowly morphed into my own.
I will warn you, this recipe is HOT, HOT HOT! Your nose will develop little sweat beads and your nose will drip. So here is how my version of Chile Garlic Potatoes came to be…
She peeled the potatoes, which I found to be complete necessary with baby golden potatoes that have a thin, buttery skin. Besides, all the nutrients are in potato skins.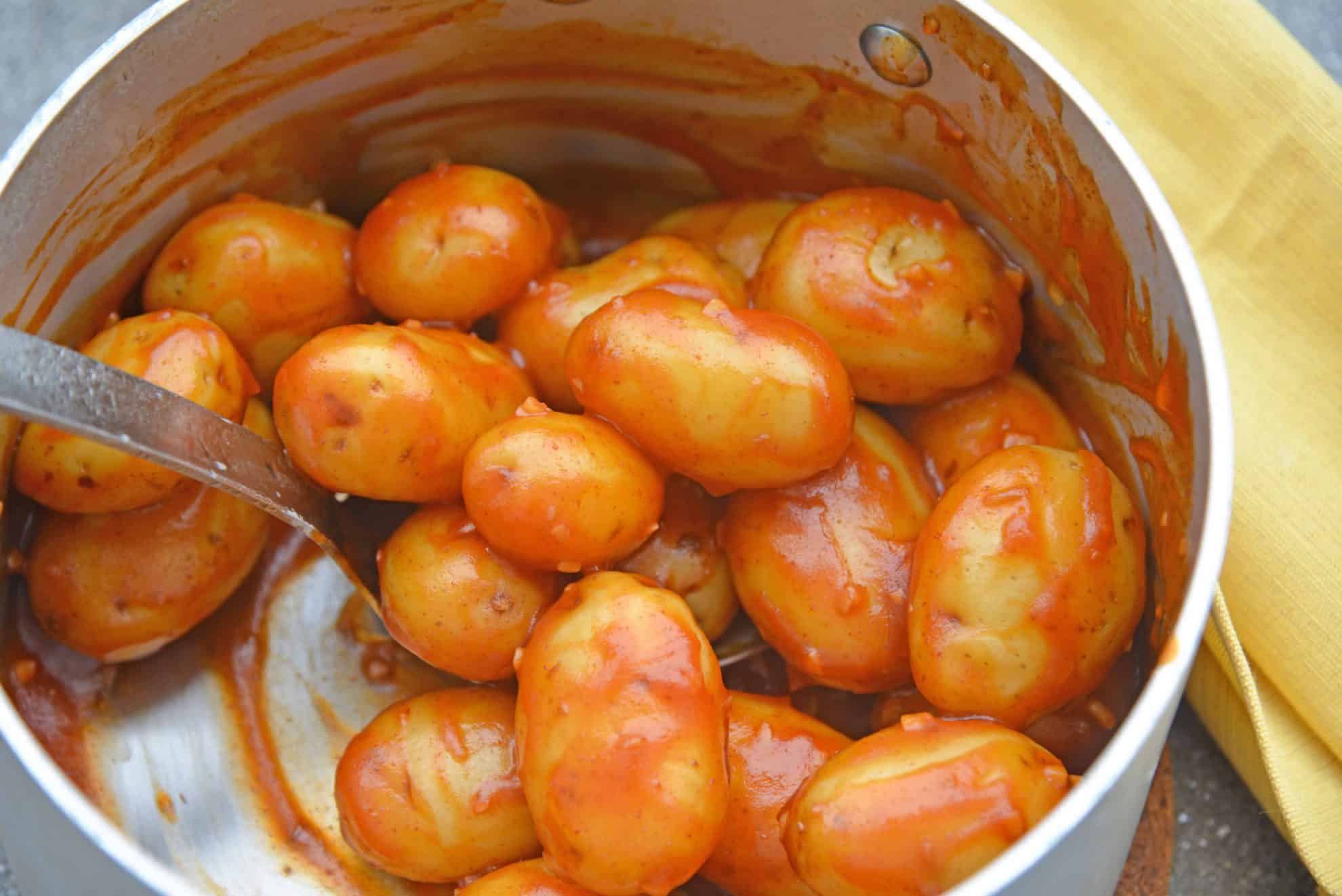 The recipe was flipping HOT! Like you need a glass of milk, hot. While my version is still pretty flaming, I balanced the heat a little more by increasing the acidity with soy sauce and seasoned rice vinegar. Brown sugar adds a little caramel to the blend and gives a sweet aftertaste.
I also omitted the crushed red chili flakes, as the sauce was spicy enough. Green onions for garnish stayed, adding a little fresh snap and crunch to each bite.
Instead of adding salt to the actual sauce, I heavily salted my boiling water and topped with Maldon sea salt, a less salty salt, if you will. And the texture that a finishing salt provides is always one of my favorite aspects of a dish.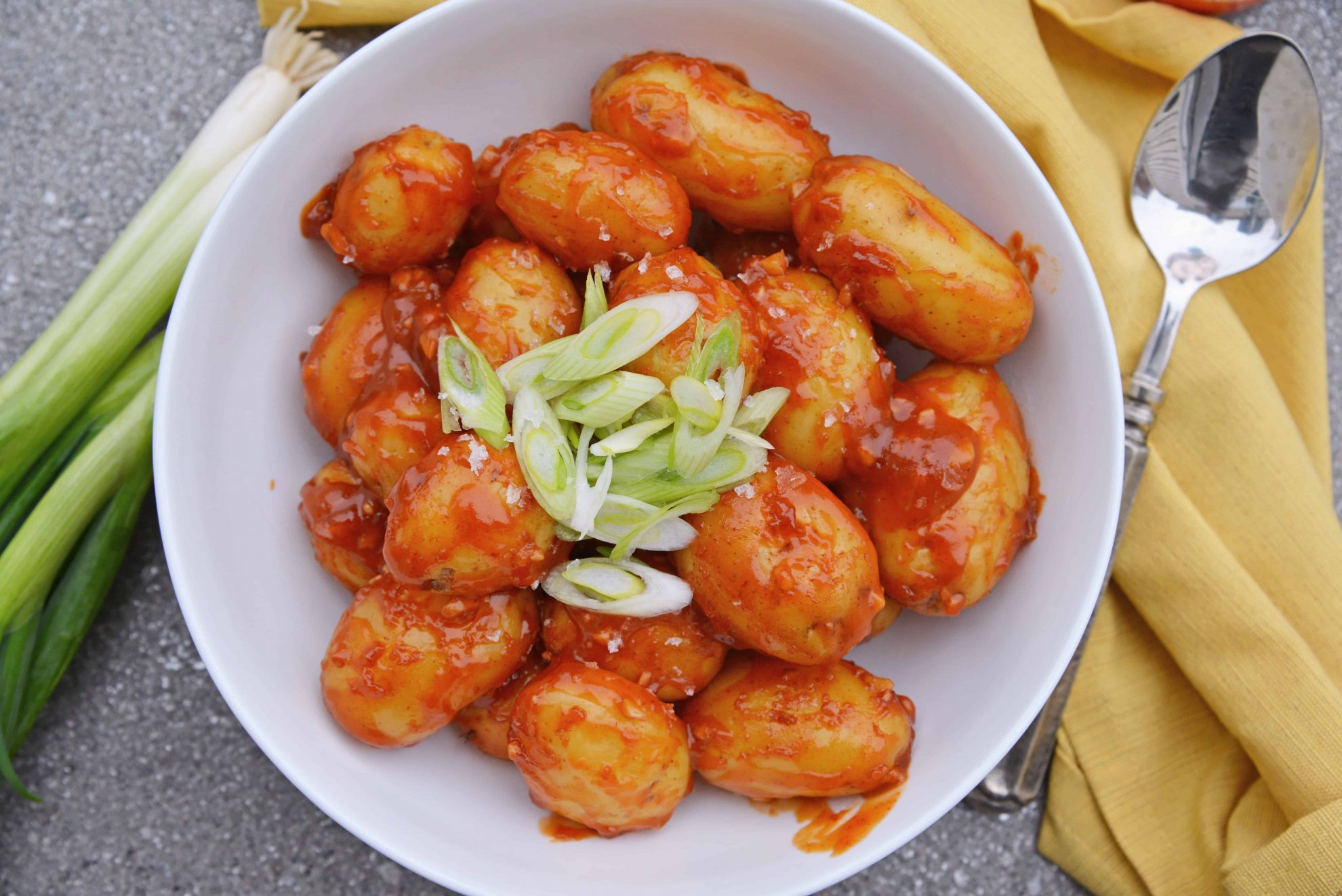 So there ya go. Another fantastic potato recipe in the books. Even though these Chile Garlic Potatoes have use Asian ingredients, the recipe can be served with anything from BBQ chicken to Mongolian Beef.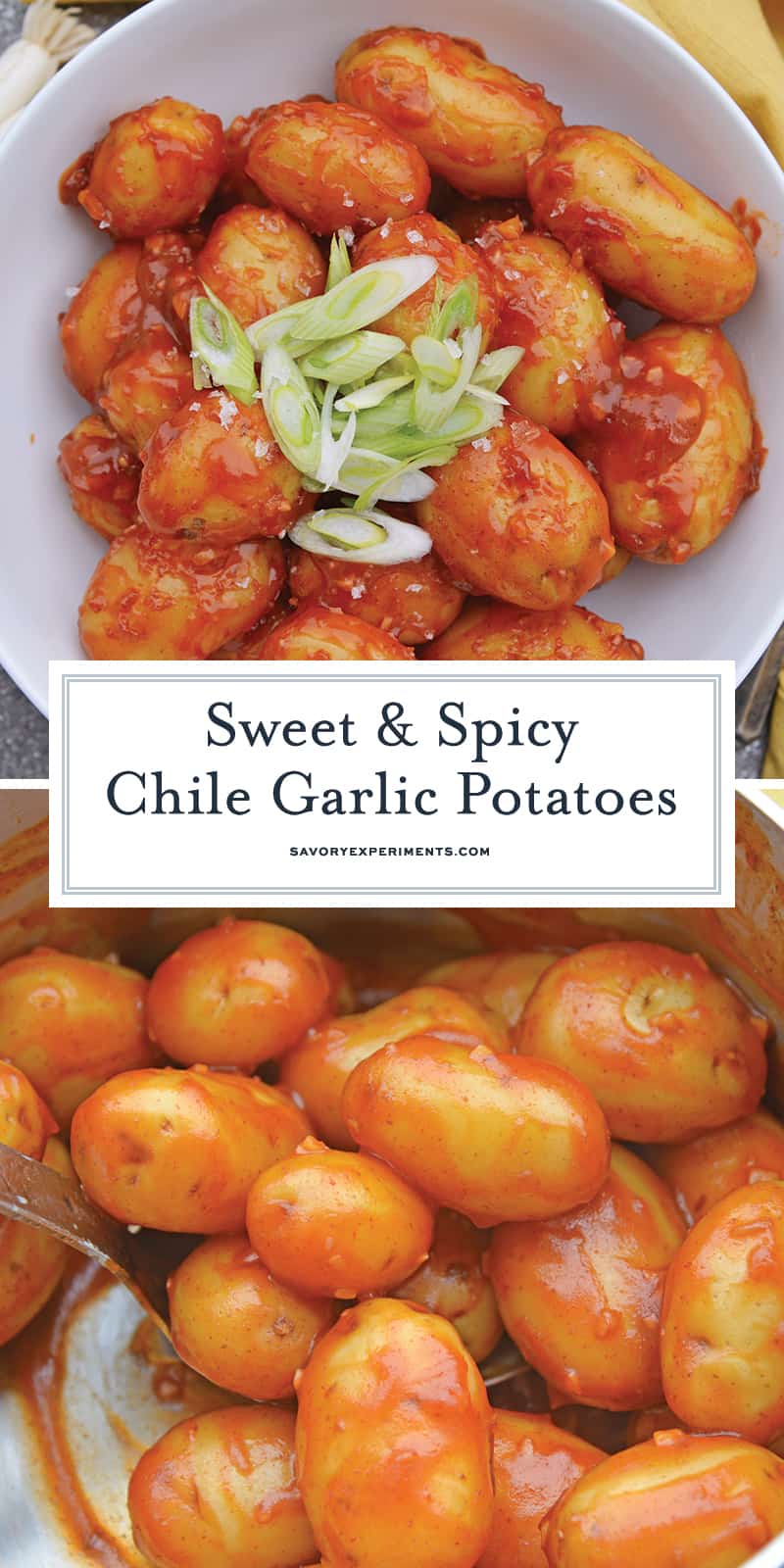 ---
---