I have a serious problem I am about to own up to. When I make mashed potatoes, I have a terrible time estimating how much I will need.
Loaded Mashed Potato Cups are my solution for too many potatoes.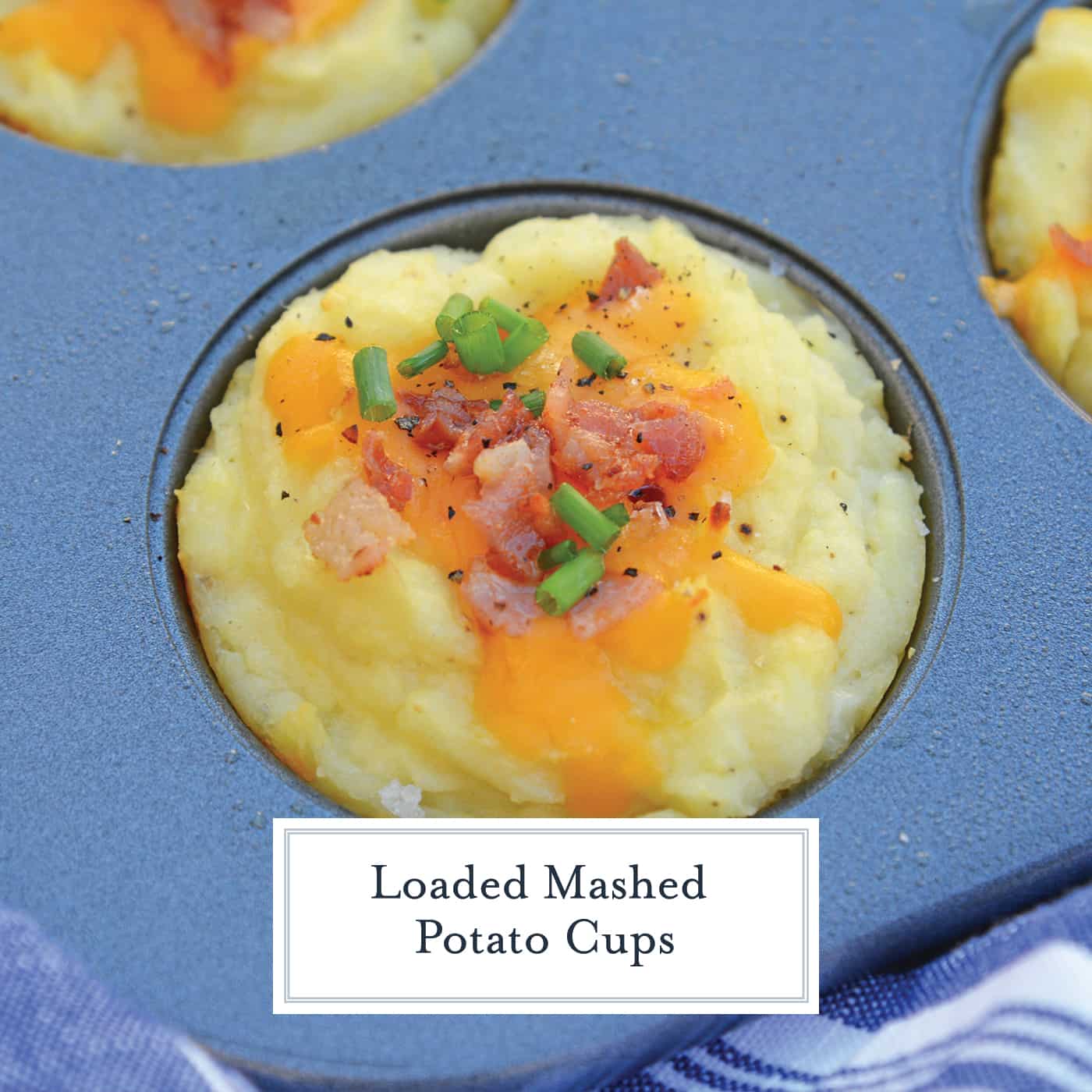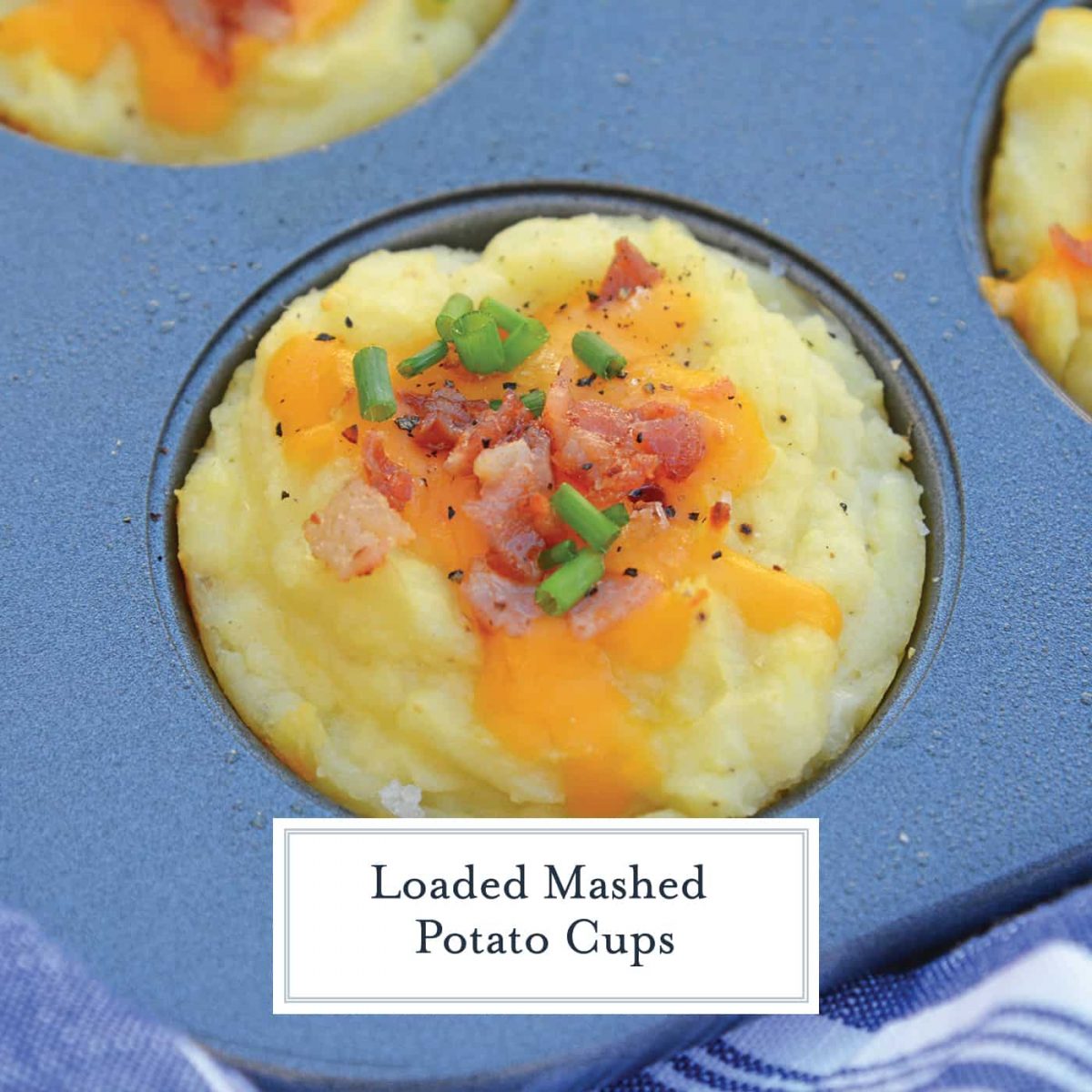 Loaded Mashed Potato Cups are the best way to use leftover mashed potatoes. Mixed with cheese and seasonings, load them into a muffin tin and poof, you've got finger food mashed potatoes!
Somehow I always end up with way too much. This happens every single time I make mashed potatoes or cocktail sauce. Not sure why….
And pasta. Always too much pasta.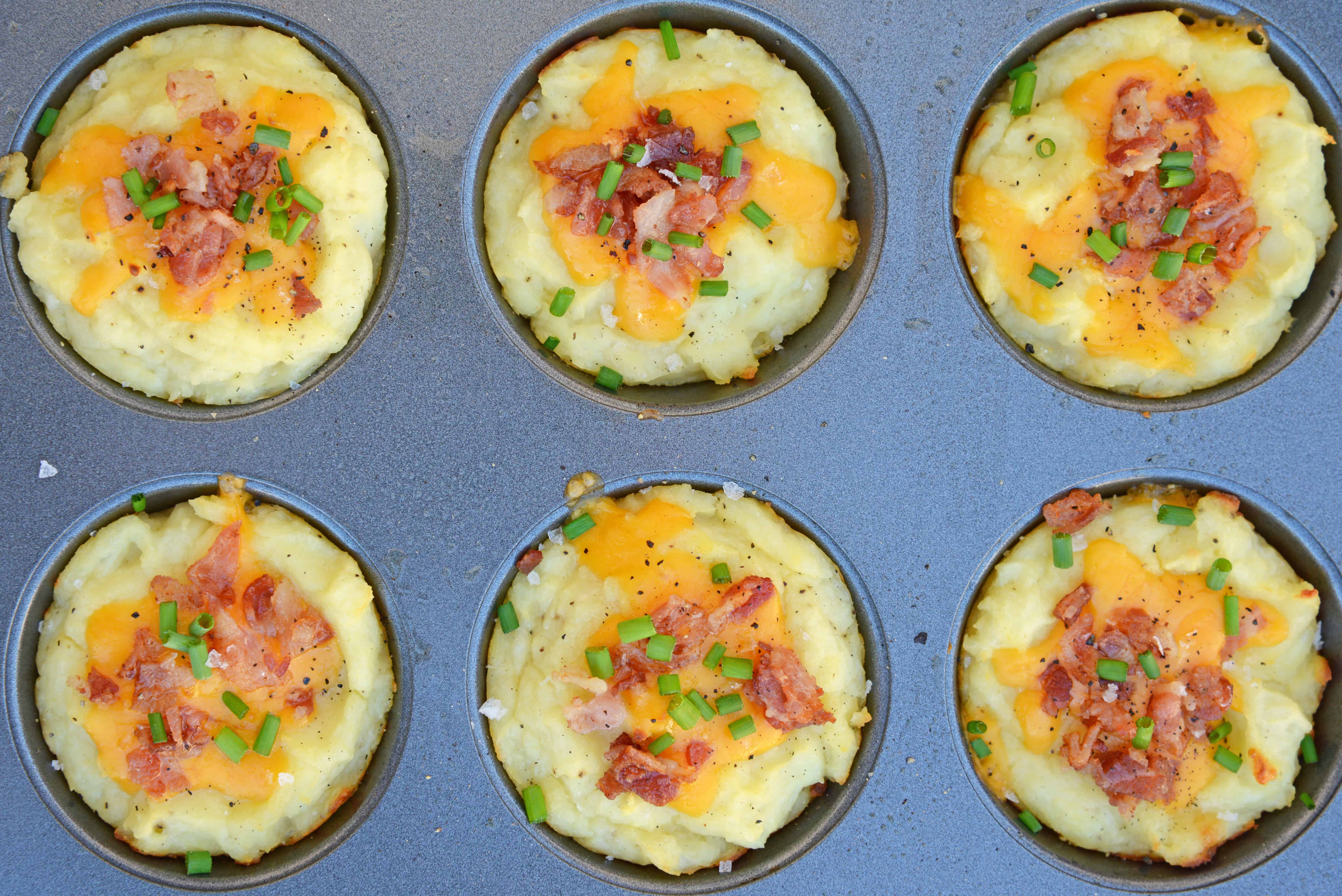 I am sure I'm not the only one who ends up with leftovers. Mashed Potato Cups the perfect way to make a small amount of leftovers into a full side dish.
You can use any variety of mashed potatoes you'd like. From scratch, from a box, loaded with cream cheese, made from sweet potatoes, it doesn't matter.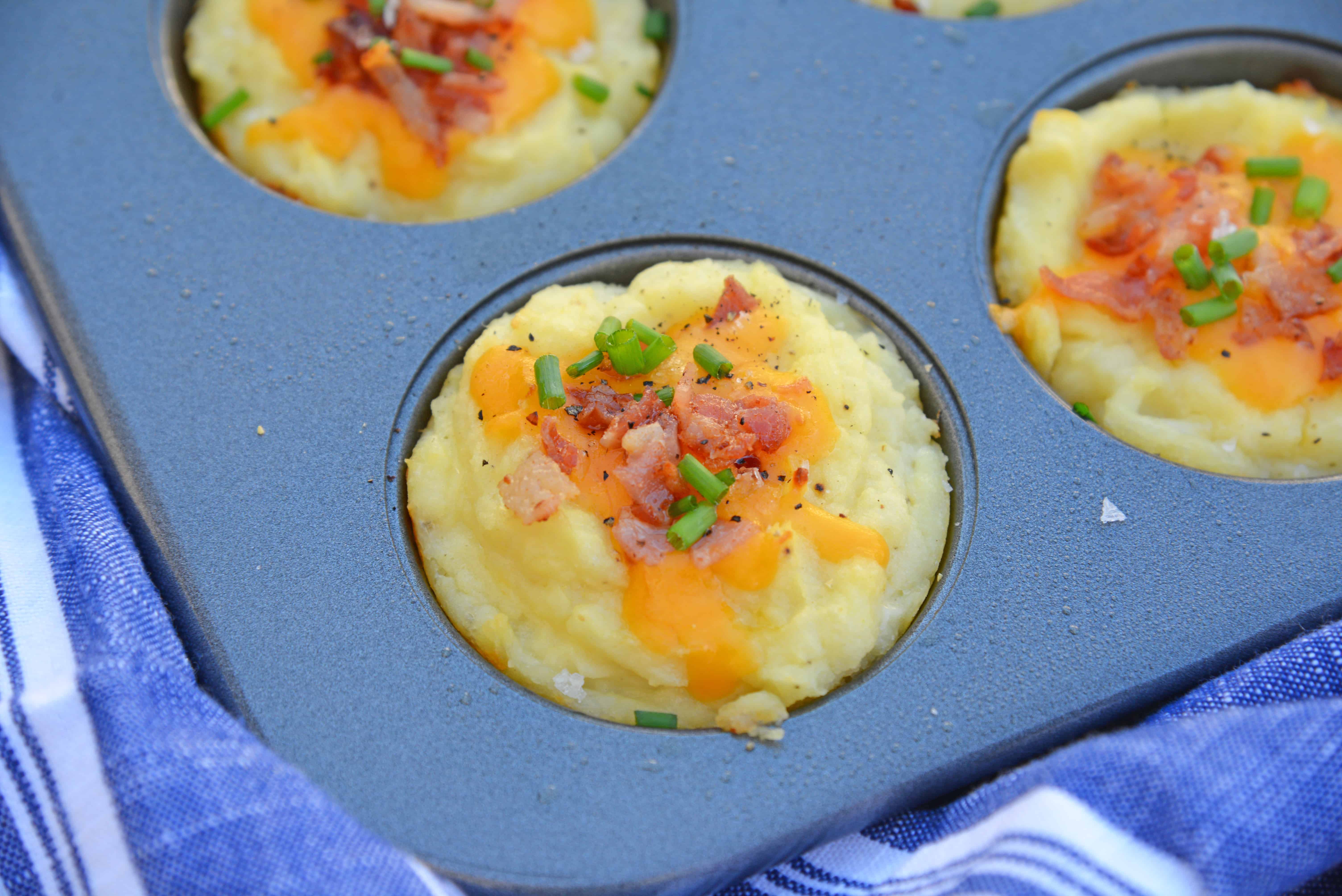 Even if you don't have a full two cups, you can also cut this recipe in half with just one cup. Or make some instant mashed potatoes to round out the batch.
Truth be told, I like my Loaded Mashed Potato Cups so much, I've been known to whip up a batch of mashed potatoes just to make this recipe.
PRO TIP: To cool mashed potatoes fast spread them into a thin layer on a rimmed baking sheet and place them in the refrigerator or freezer.
I will say it works best with cold, congealed mashed potatoes so this required you to think ahead a little.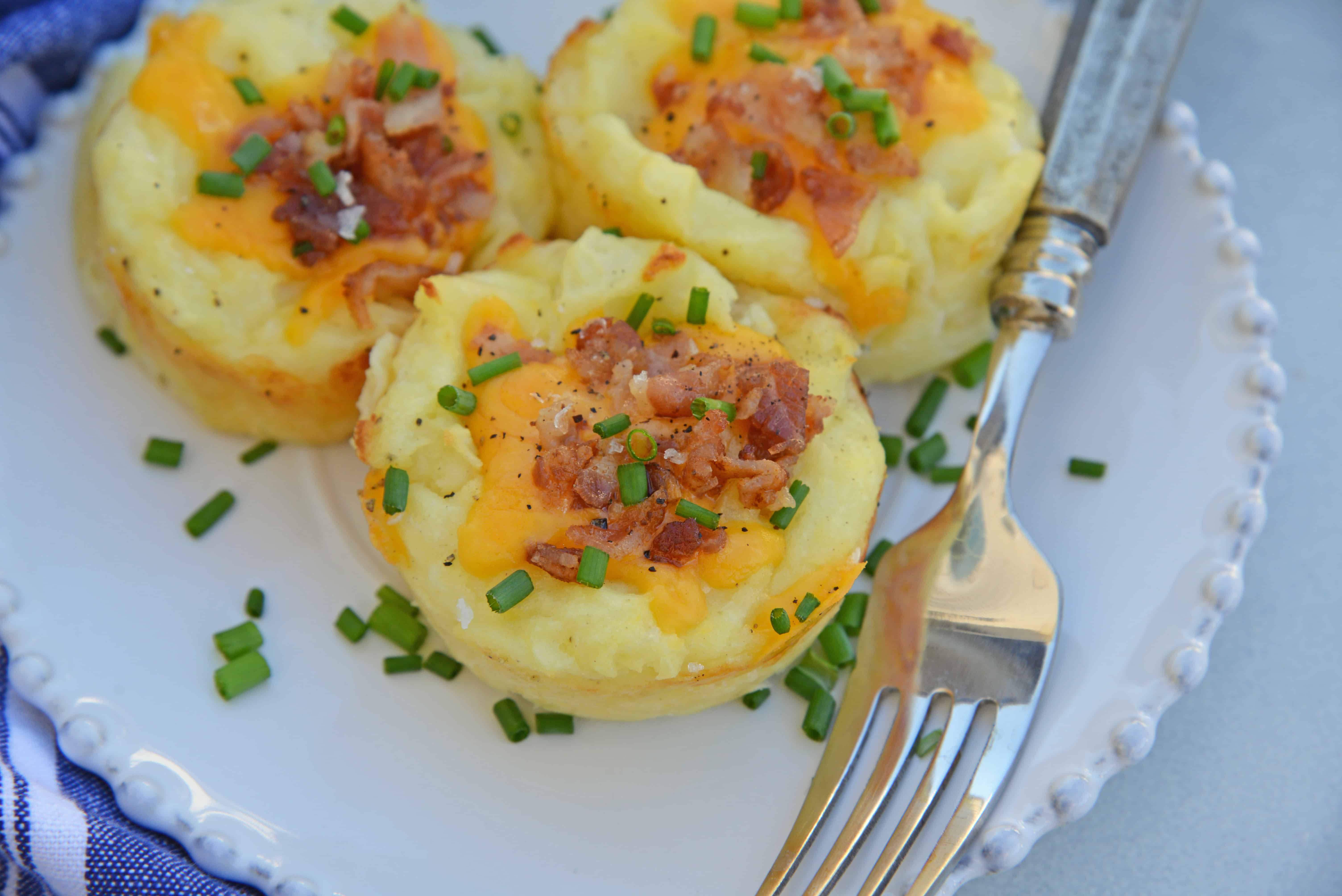 I then mix them with eggs and cheese, which allows them to set up and form nice little cups that could be eaten as finger food, if you'd like.
Top them with whatever you'd top your baked potato with.
I load mine with more cheese, bacon, scallions or chives and sour cream! What do you top your potatoes with?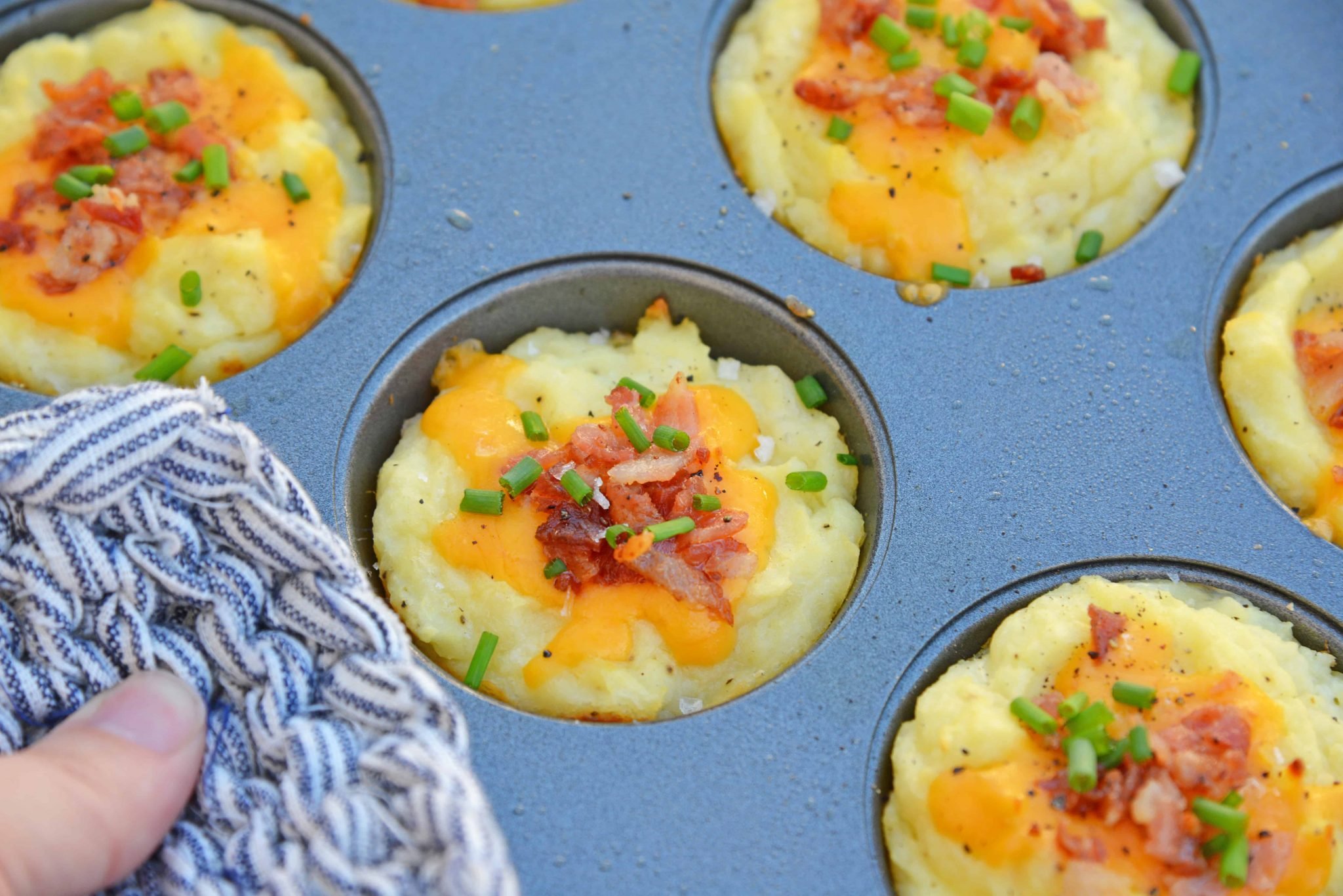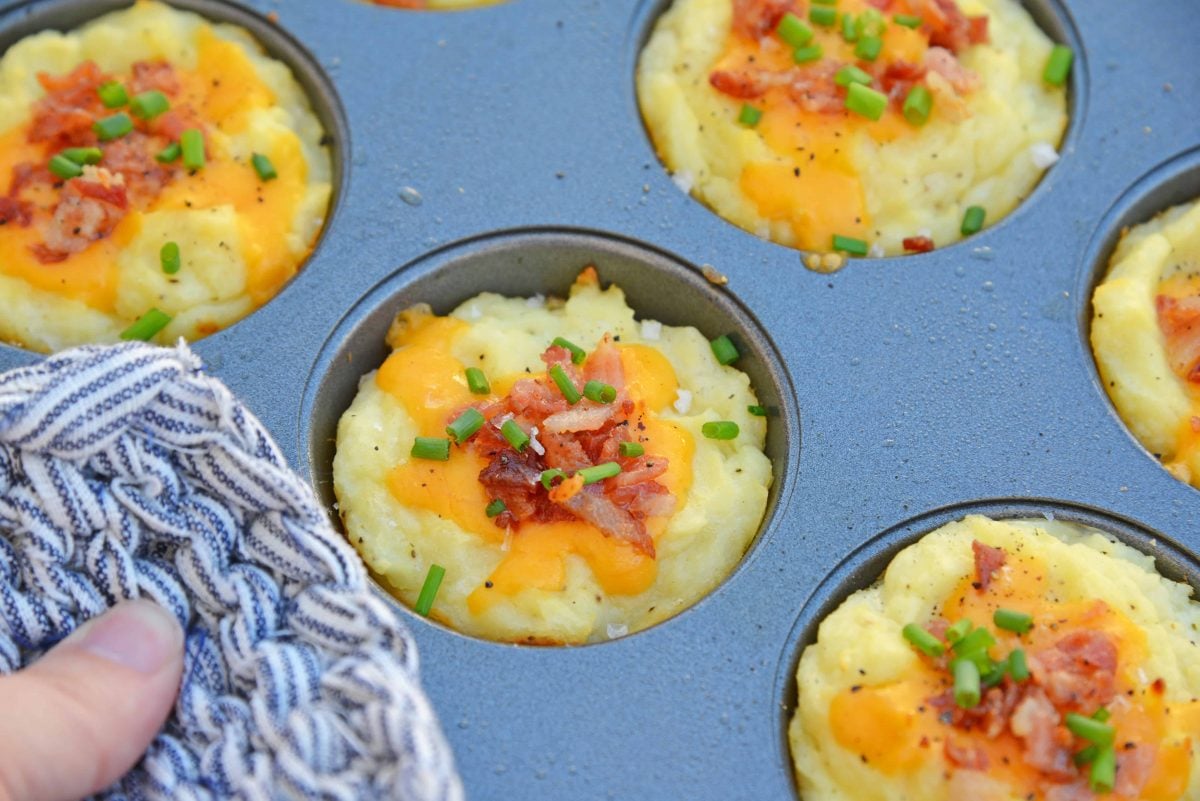 Best mashed potato toppings:
French Fried Onion Strings
Crumbed Bacon
Scallions or Chives
Salt and Pepper
Sour Cream
Shredded Cheese
Butter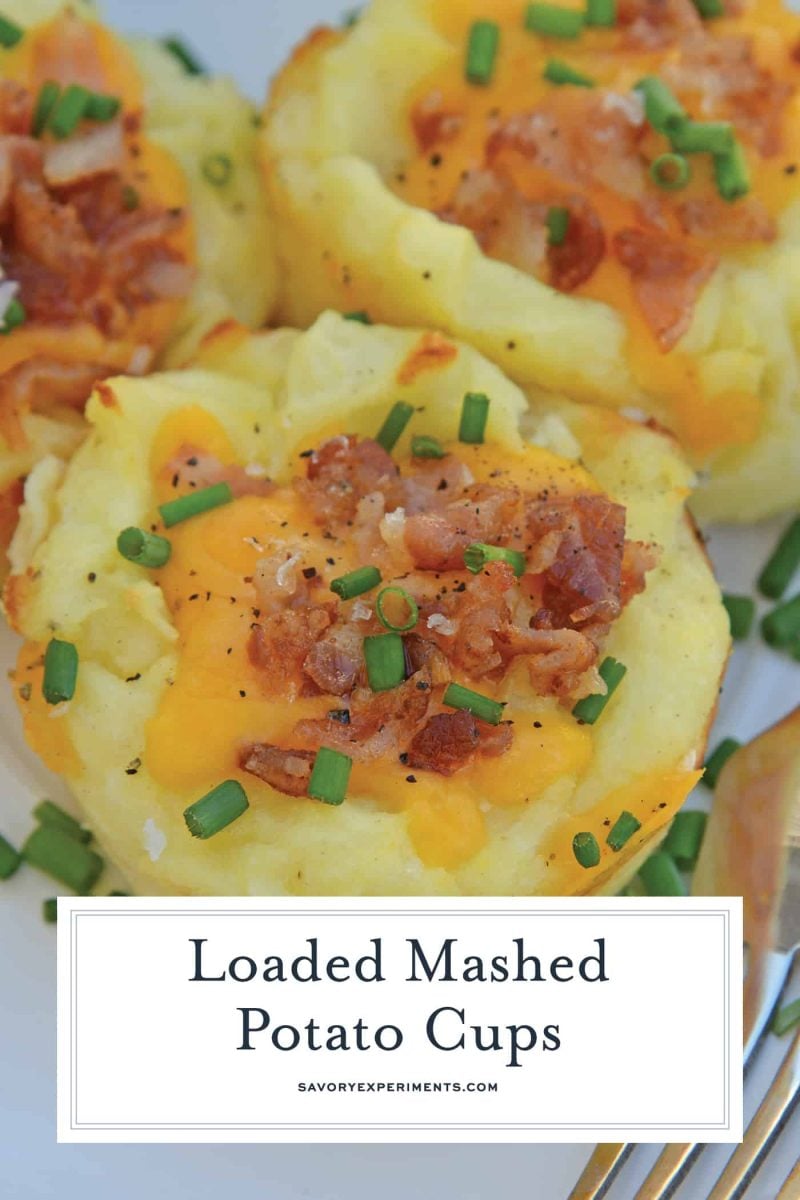 Questions you might have about how to make mashed potato muffins:
Can I make them ahead of time? Sure! These are great to make ahead and reheat. I suggest reheating in the oven.
Can I freeze mashed potato cups? Sure thing! Freeze them in an airtight bag and take them out as needed (or wanted, LOL).
Can I add other seasonings? Sure! Other seasonings I love include:
Garlic powder
Onion Powder
Dijon Mustard
Hot Sauce
Smoked Paprika
If you like our Loaded Mashed Potato Cups, then you'll love these other potato recipes: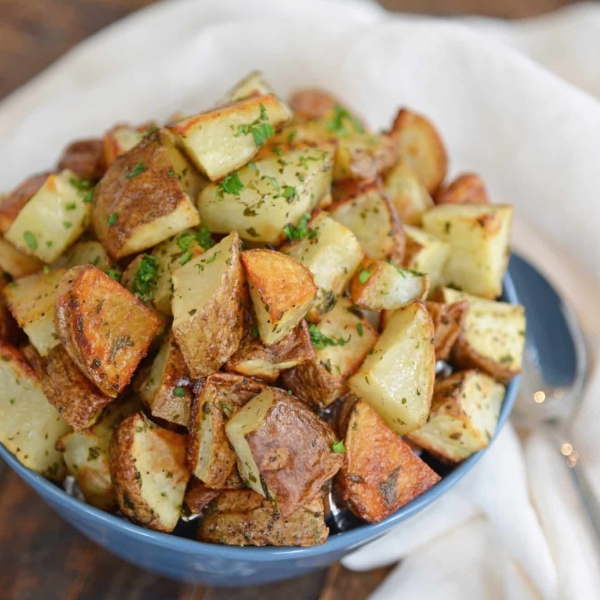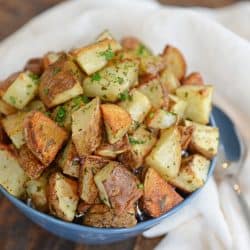 Ranch Roasted Potatoes
Looking for an easy side dish? These Roasted Ranch Potatoes are the BEST! And you only need 3 ingredients to make them!
View this recipe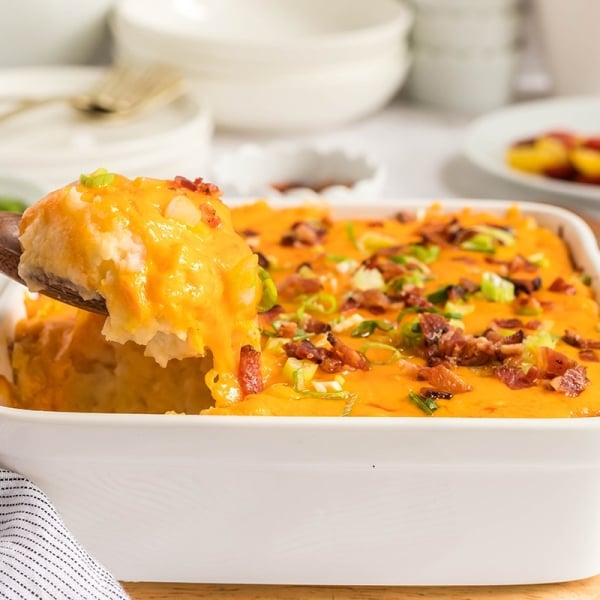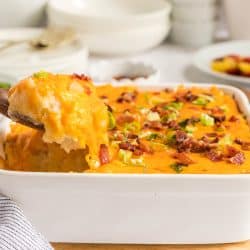 Twice Baked Potato Casserole Recipe
You will love how simple it is to make this easy Twice Baked Potato Casserole! Everything you love about twice baked potatoes is wrapped up into one easy dish.

View this recipe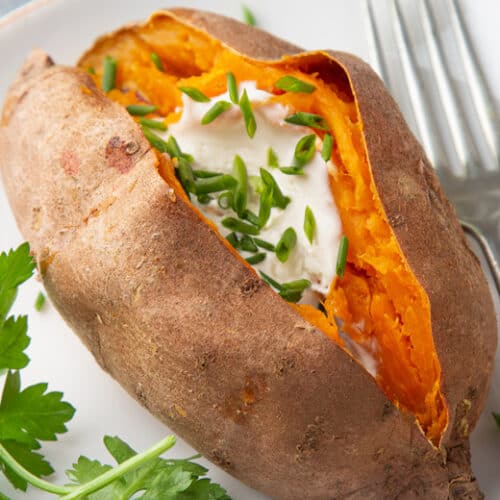 Microwaved Sweet Potatoes
Cooking sweet potatoes doesn't have to be a long, drawn out process. All you need are your spuds, a microwave, and a fork, and you are in business.
View this recipe
Tools for making Mashed Potato Cups:
Muffin Tins– I like to have 2 so I can bake all of my cupcakes at the same time. They are great for so much more than cupcakes, too!
Measuring Utensils– While I like to eyeball it, most folks prefer to measure. Suit yourself 🙂
Stand Mixer- While this is an investment, I can guarantee you will use it more than you realize and will never regret the decision.
Mixing Bowls– make sure to check out my article on Using the Right Mixing Bowl, you'd be surprised how many people aren't!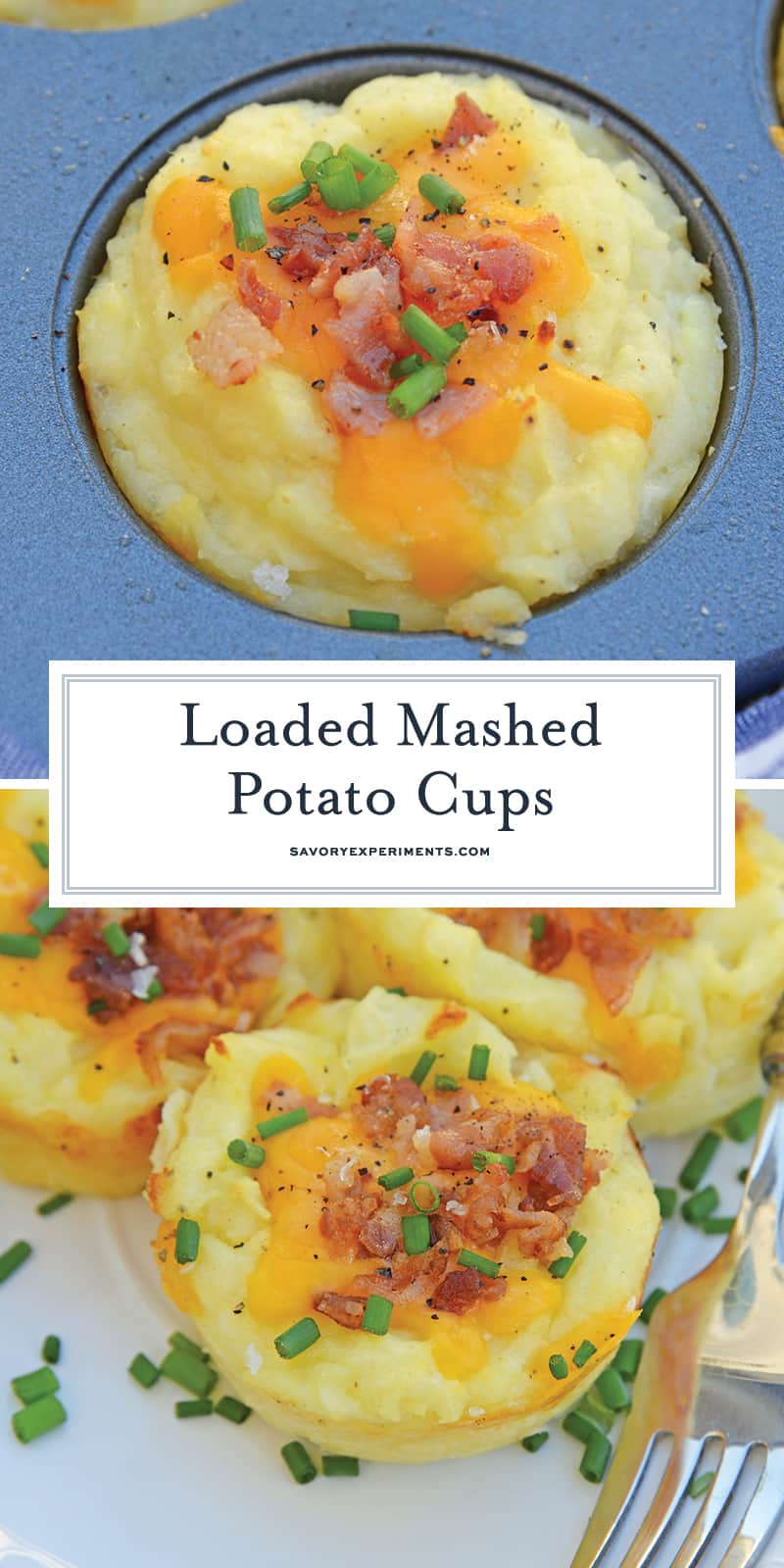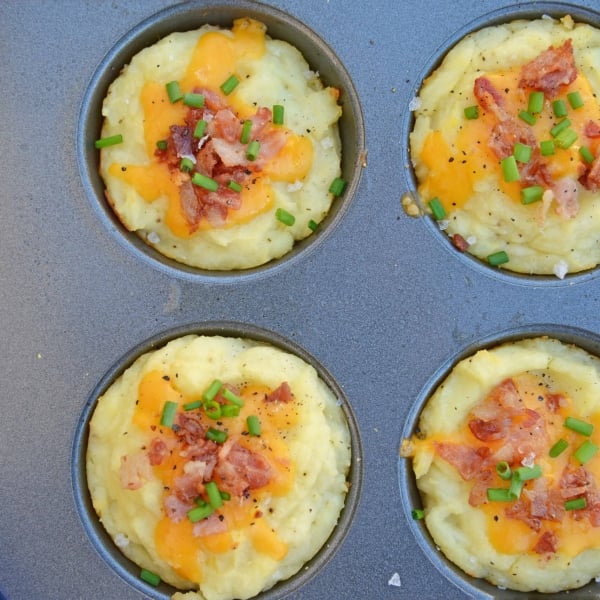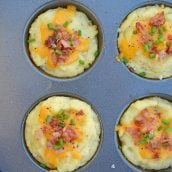 Mashed Potato Cups
Loaded Mashed Potato Cups are the best way to use leftover mashed potatoes. Mixed with cheese, eggs and a few other ingredients, you load them into a muffin tin and poof, you've got finger food mashed potatoes!
Instructions
Preheat oven to 400 degrees. Lightly coat a muffin tin with cooking spray.

In a large mixing bowl, blend together 2 cups mashed potatoes, eggs, 3/4 cup cheddar cheese, scallions, crumbled bacon, fine sea salt and white pepper.

Spoon into muffin tins. Bake for 20 minutes. Remove, evenly top Mashed Potato Cups with remaining 1/4 cup cheddar cheese. Return to oven for 2-3 minutes or until cheese has melted.

Remove and serve immediately. Mashed Potato Cups should pop out of muffin tins easily with a fork.

If you've tried this recipe, come back and tell us how it was!
Nutrition
Calories:
122
kcal
,
Carbohydrates:
8
g
,
Protein:
5
g
,
Fat:
7
g
,
Saturated Fat:
3
g
,
Cholesterol:
43
mg
,
Sodium:
188
mg
,
Potassium:
147
mg
,
Vitamin A:
145
IU
,
Vitamin C:
8.3
mg
,
Calcium:
75
mg
,
Iron:
0.4
mg