Instant Pot Whole Chicken is an easy recipe that everyone can enjoy. With a simple cooked chicken, you can make yourself a main dish or cooked chicken for multiple other recipes!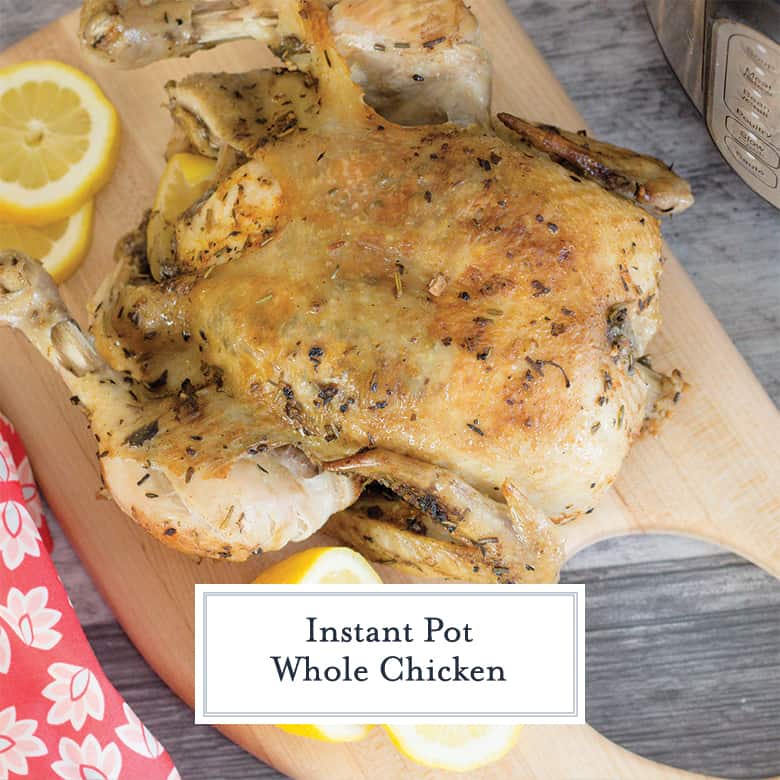 If you've ever wanted to make your own super juicy whole chicken at home, well let me step you through the process because it's super simple and so tasty.
You will find that you love to make a whole chicken right in your Instant Pot or Pressure Cooker because of how easy it truly is.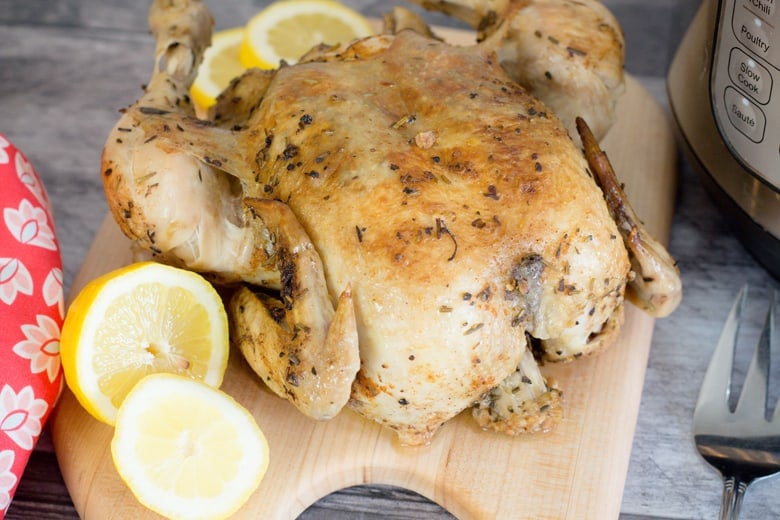 Using cooked chicken to meal prep can reduce a lot of time and stress in the kitchen. The reduction of dirty dishes is also a great plus. Another one of my favorites is Ninja Foodi Pot Roast.
How Long to Cook a Chicken in the Instant Pot
For every pound of chicken, cook 6 mins. A 3lb whole chicken would need to cook for 18 mins, 4lbs for 24 minutes and 5lbs for 30 minutes. Each will require a 15 minute natural release.
Pro Tip: Whole Chickens can vary in size and weight so naturally the cooking time will also vary but use this easy to follow tip to determine the perfect pressure cooking time.
As long as you can follow along with that simple rule of thumb, you can have a perfectly cooked chicken every time.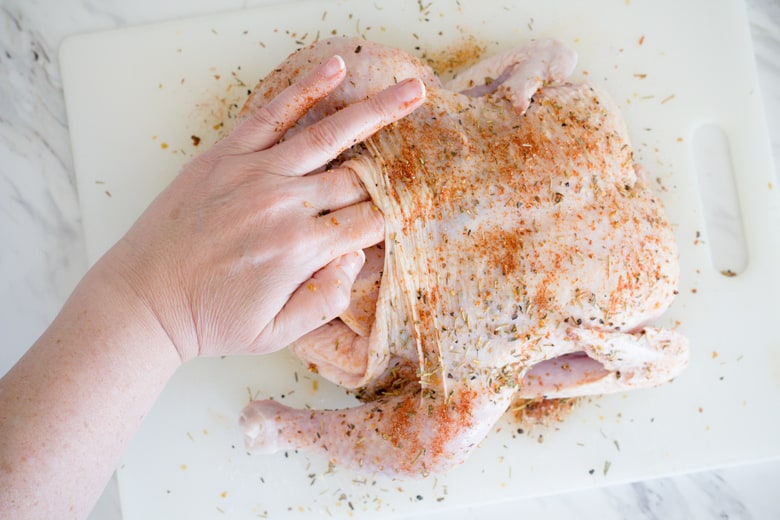 I mean, you keep reading about all of these great reasons to cook a chicken in the Instant Pot. Why not get started as soon as possible and put Instant Pot Whole Chicken on the menu this week?
Fun Fact: A Whole Chicken costs less per pound than individual parts of a chicken. Save yourself a few dollars and cut it up yourself. Boneless Skinless Chicken Breasts can cost upwards of $5 per pound where a whole chicken often costs less than $1 per pound.
Of course, making this recipe tonight could still be a possibility. Especially if you're waiting until the last minute to cook dinner. So many of us, myself included do this!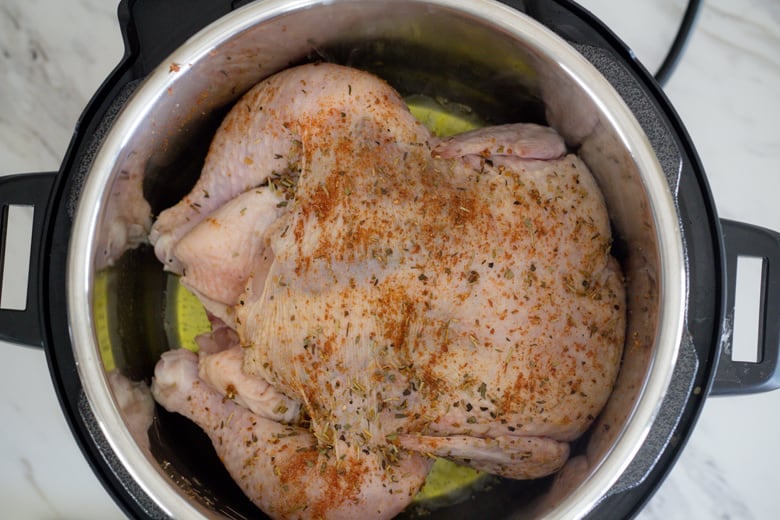 Thankfully with a whole cooked chicken, it always looks like you have it together. No one will suspect that dinner was a last minute thought.
You really don't need much to make an easy Instant Pot Whole Chicken. Once you check out the recipe card below you'll see for yourself. As long as you have an Instant Pot and a raw whole chicken you're golden!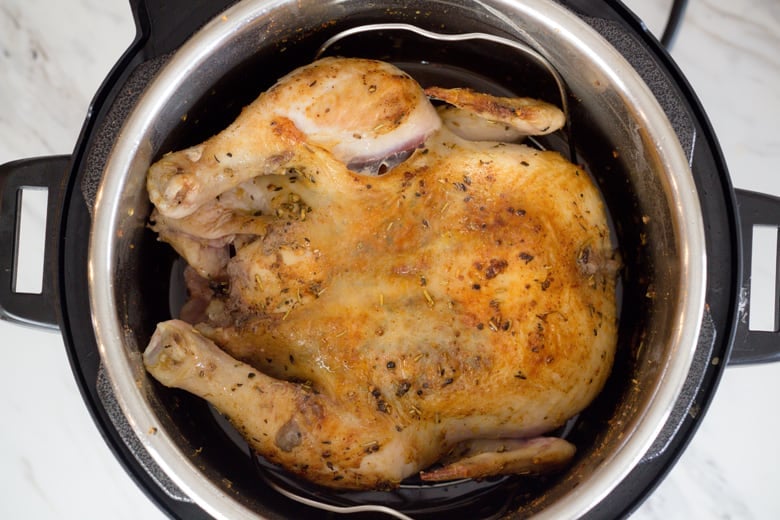 Browning Your Instant Pot Whole Chicken
You do not need to brown your chicken prior to putting it in the Instant Pot. Understand that when cooking a whole chicken in the Instant Pot will not produce a crispy skin.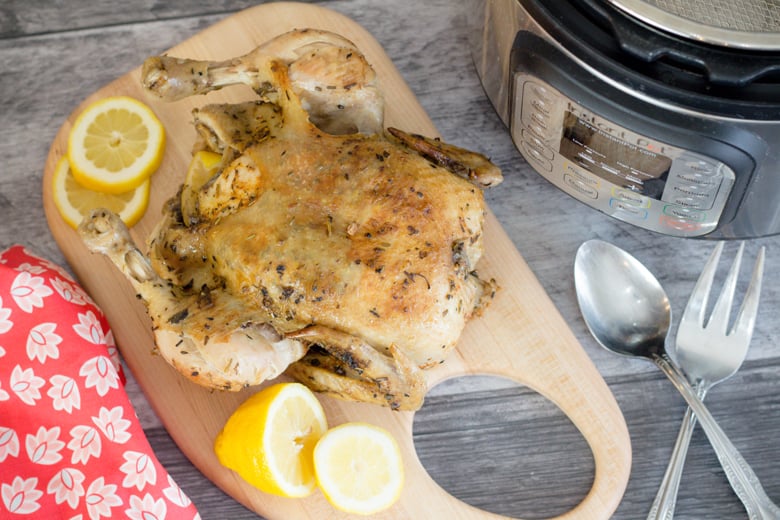 Browning a chicken before cooking does add table appeal for serving. It only takes a few minutes and I personally prefer to brown and sear in those seasonings.
Chicken Seasoning
When you season a chicken, you might be surprised to find that it isn't that difficult. Seasoning a chicken is pretty similar to seasoning any other meat. Much like a roast or steak it doesn't hurt to over season a little. This is mainly due in part to a lot of the seasoning coming off during the cooking process.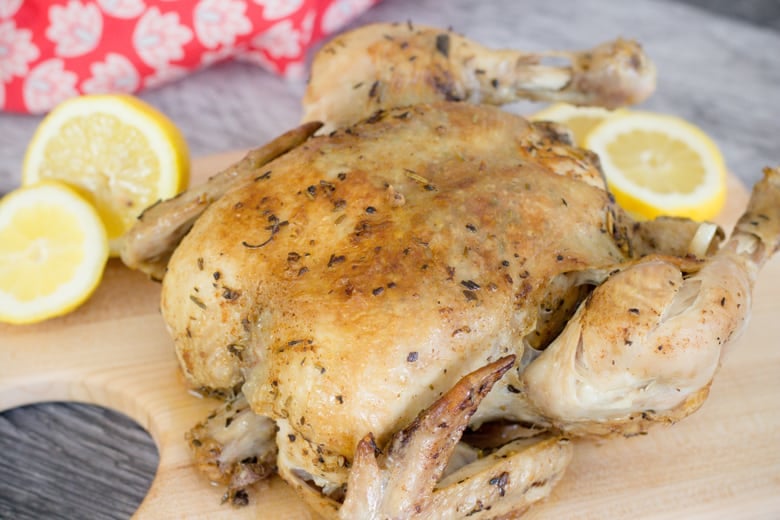 The natural juices of the meat will help to wash off some of the seasonings. Not only that, but if your food is over seasoned for your liking, you can tone it down later. By adding a gravy, sauce, cream or mix of mild flavors on your plate you can offset it.
Keep in mind there's a difference between over salting and over seasoning. It's a little harder to recover from too much salt, although not impossible. You would still want to find ways to reduce the overwhelming and get creative before serving.
Ingredients
Truthfully, you don't need much to make a whole chicken in the Instant Pot. The most important ingredients to make sure you have are:
a chicken
chicken broth (but you can also use water)
seasonings
lemon
olive oil
Brining Your Chicken
You can absolutely brine your chicken first! You can even marinate your chicken before cooking, too. This is a great way to add flavor and seal in all the good juices.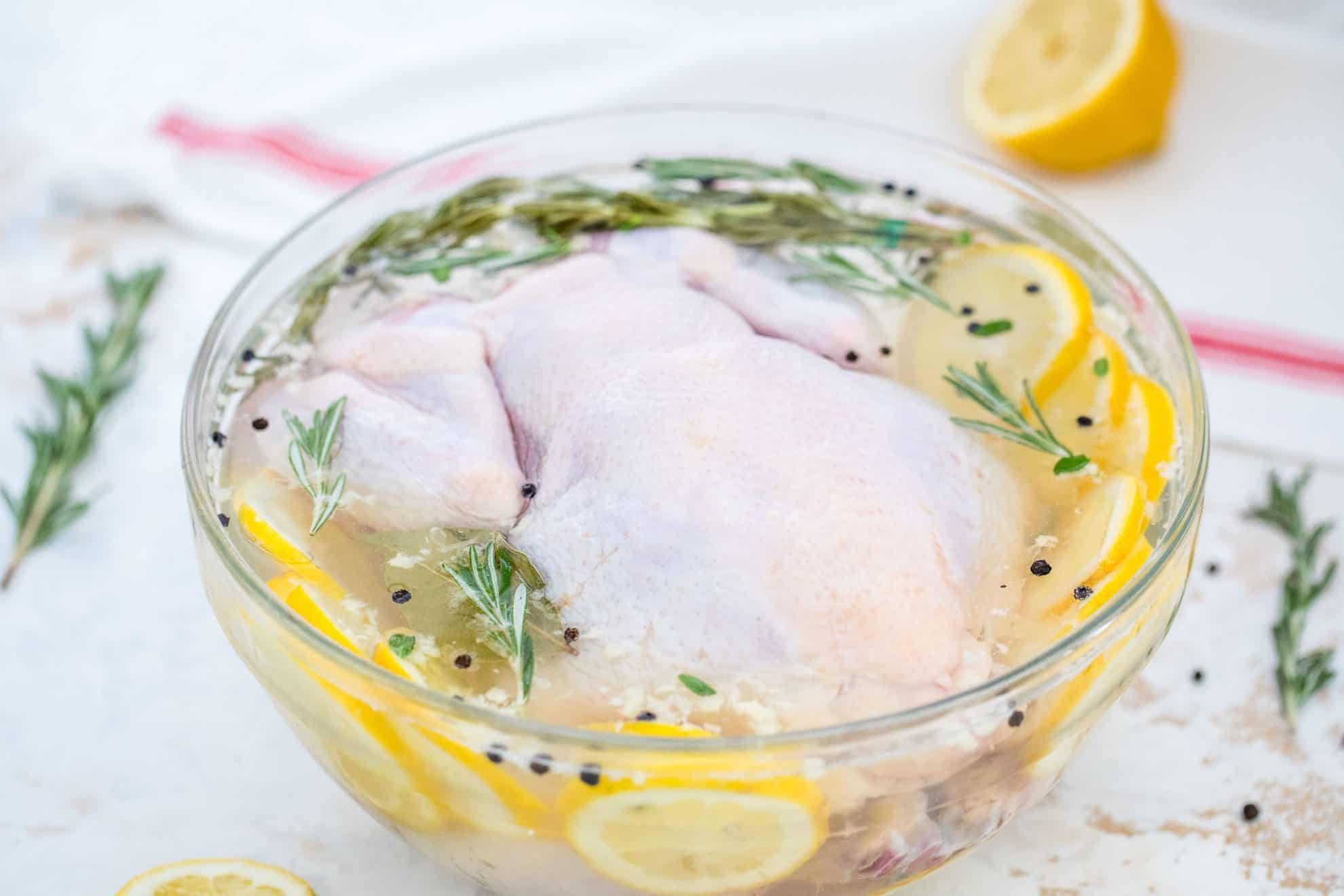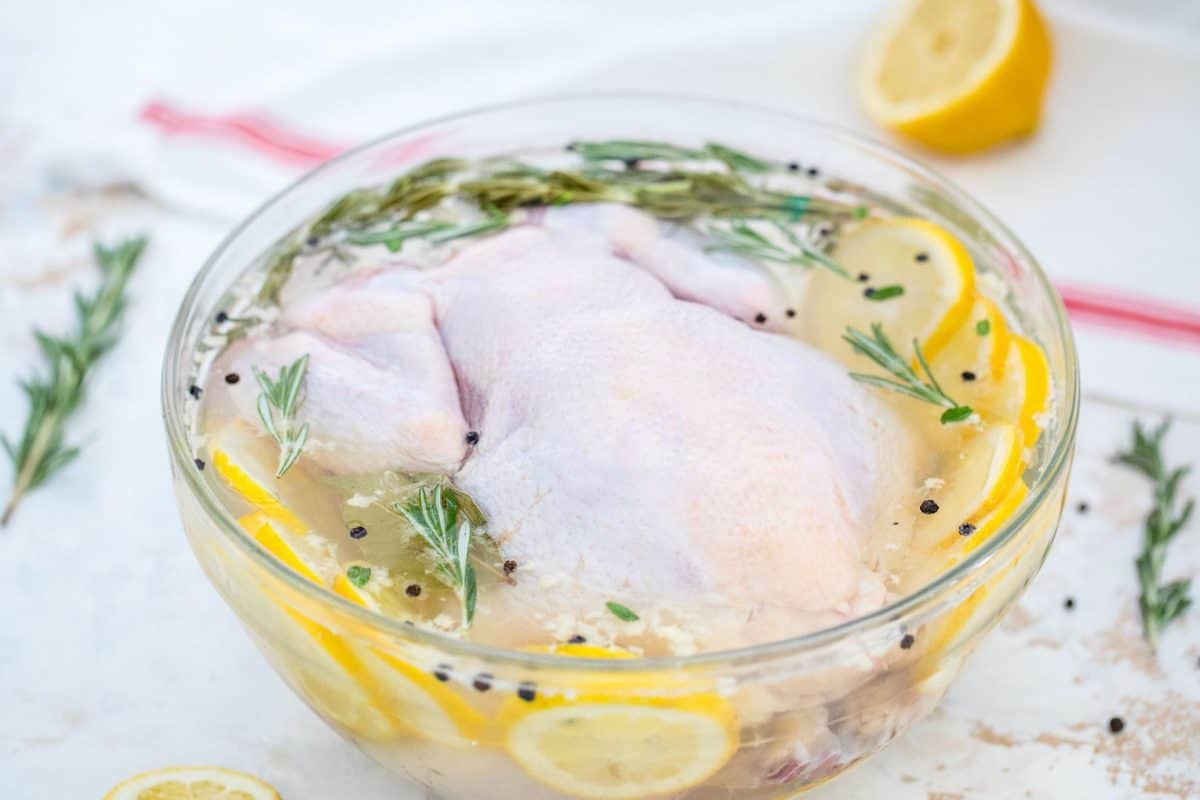 You can choose between wet brine, dry brine, or no brine. Either way, your chicken will taste great.
Natural Pressure Release
Natural Pressure Release is the release of the pressure from your pressure cooker. That valve that you adjust at the beginning of the cooking process seals air in the appliance.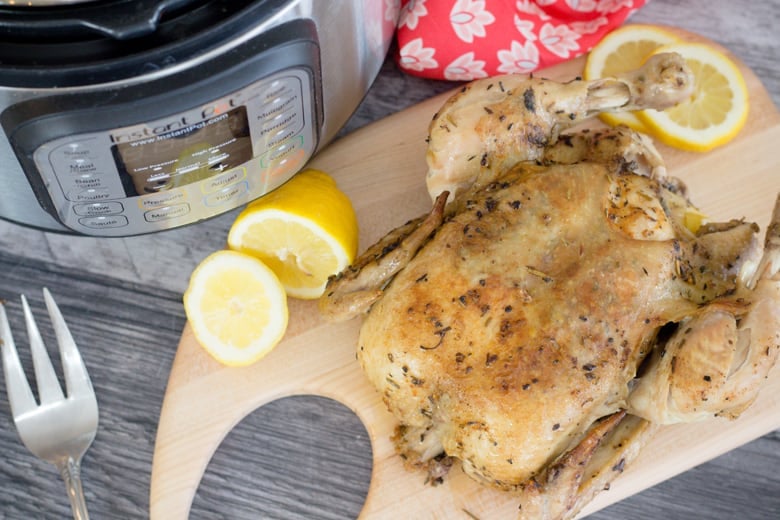 This air builds to pressure and is what helps it to cook faster. Then, you can turn the valve to release the pressure or have it release naturally. Your recipes will usually tell you which is the best method for that particular recipe.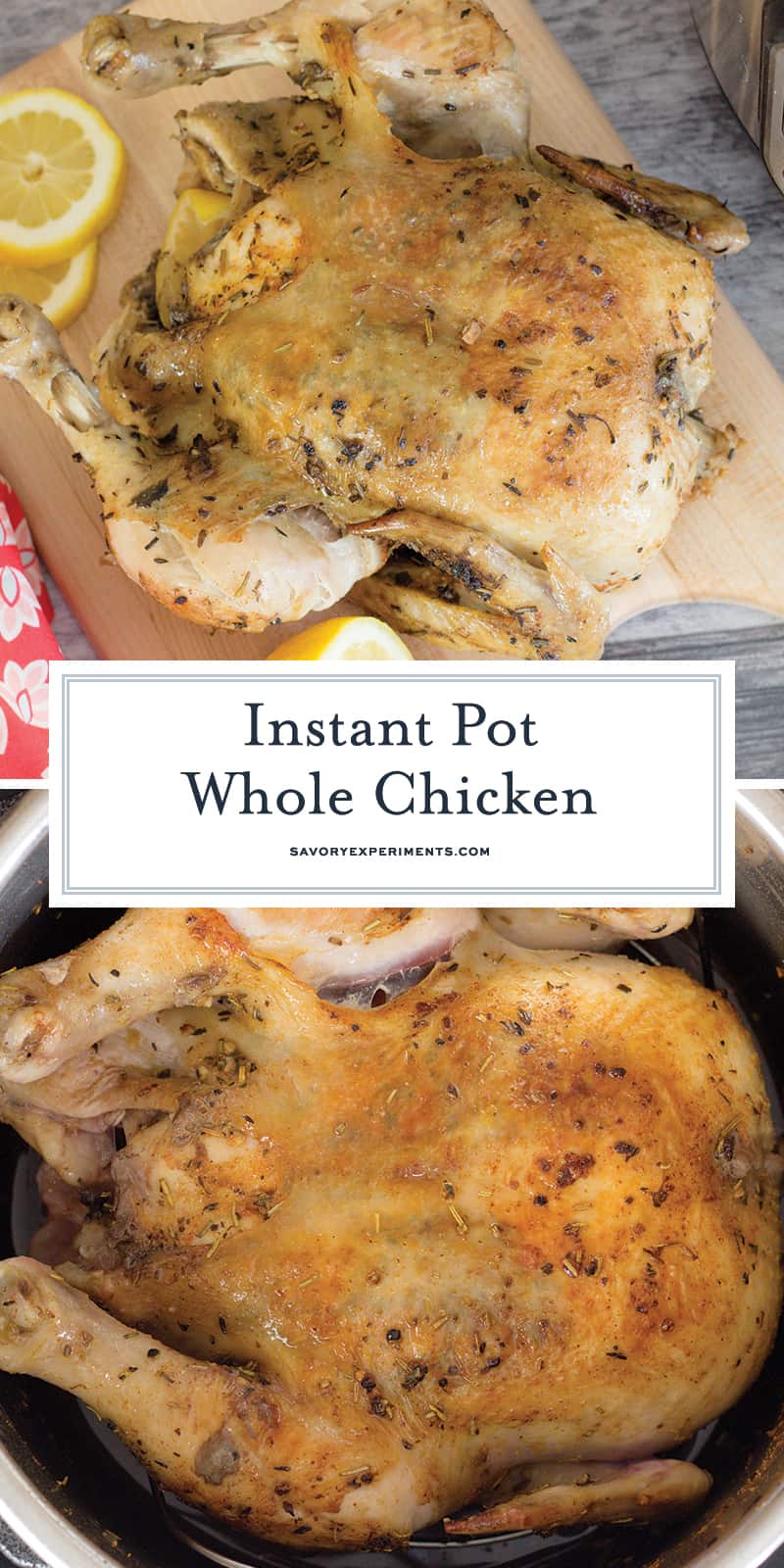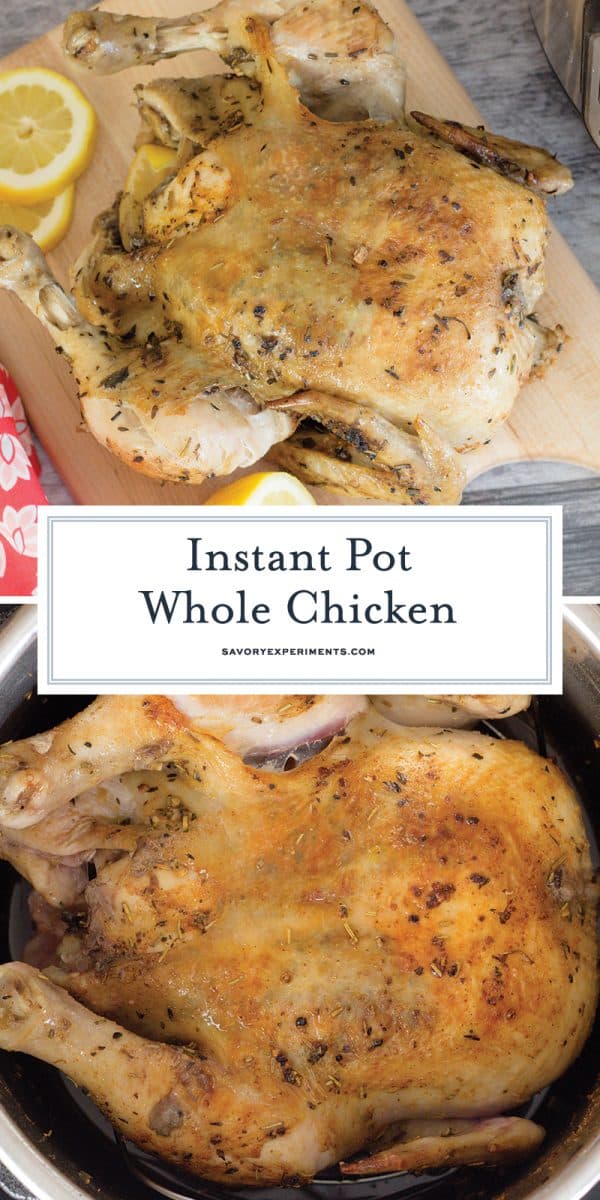 Recipes to Make with a Whole Chicken
Like buying a rotisserie chicken at the store, you can also use your IP chicken to do the same. Here are a few recipes.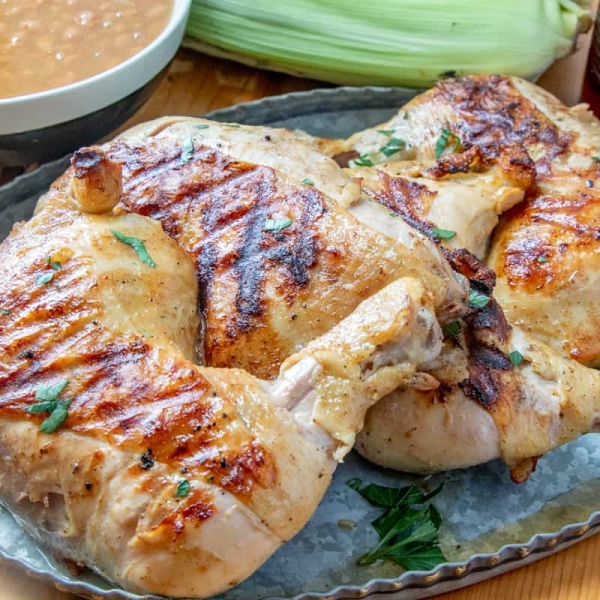 Fireman Chicken
Fireman Chicken, also known as Cornell Chicken BBQ, is a classic BBQ chicken marinade that originated in upstate New York, but is making its way through the states!
View this recipe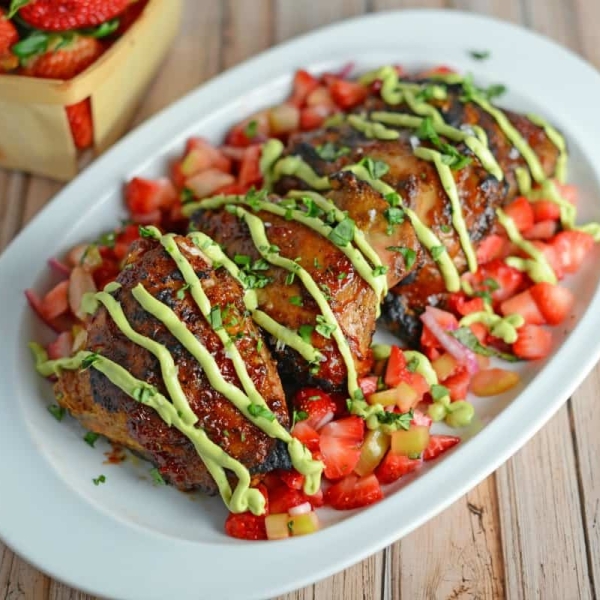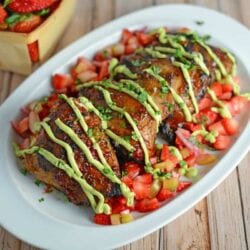 Strawberry BBQ Chicken
Strawberry BBQ Chicken is a unique take on your classic BBQ Chicken recipe! Tangy strawberry BBQ Sauce pairs with fresh Strawberry Salsa and a cooling avocado cream sauce.
View this recipe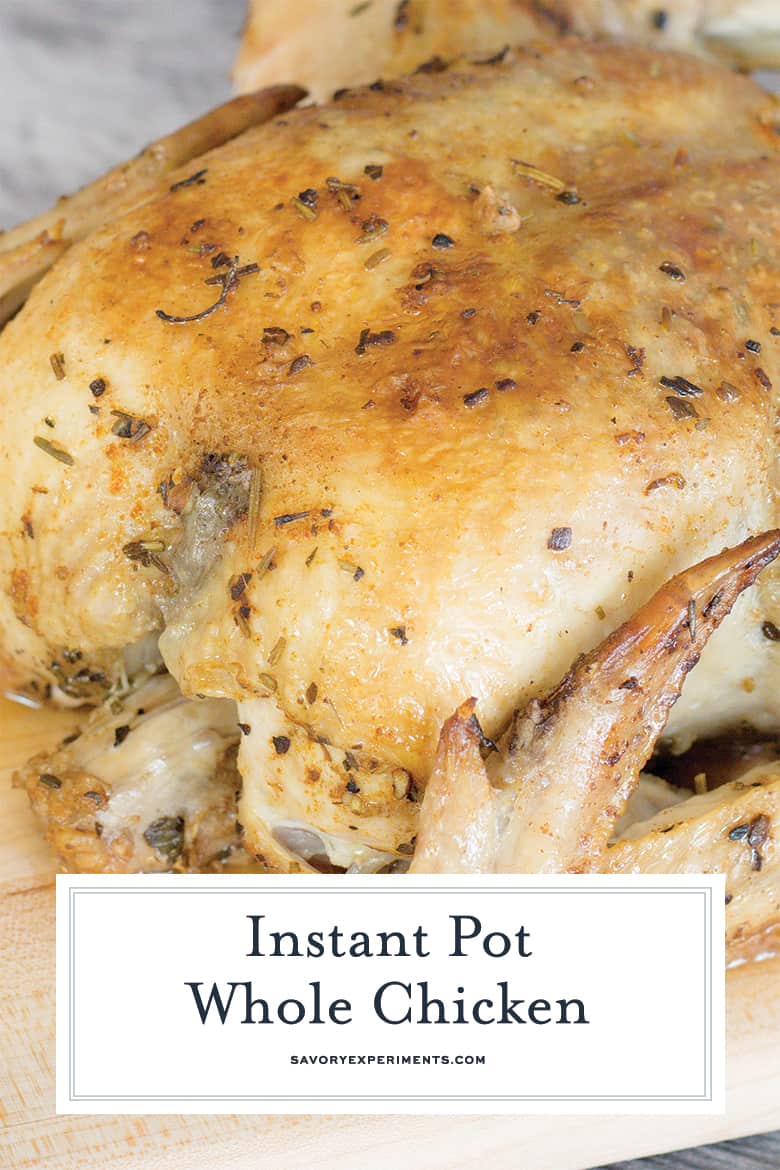 Equipment
Instant Pot– I liked and use Instant Pot, but you can use any brand of pressure cooker. Also be mindful that each pot brand is slightly different and cooking can be impacted by this or the the size of your cooker. Check out our getting started guide and our pressure cooker high altitude guide and calculator.
Wood cutting board – wood won't dull your knives like plastic and if treated properly, has natural antimicrobial properties.
Good knife – Global is my favorite! They are worth the price, I promise. I am kind of obsessed with them and store them tucked away so no one else can use them. Including hubby. Hands off my good stuff!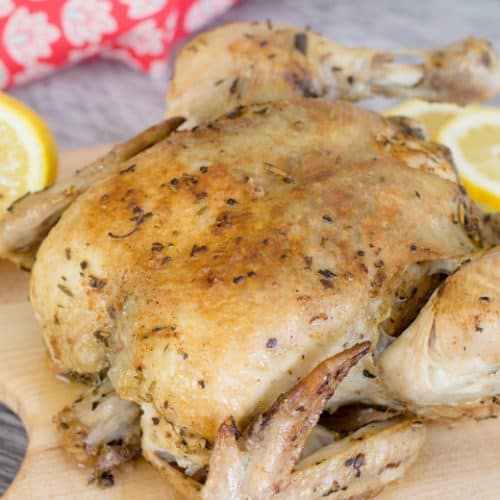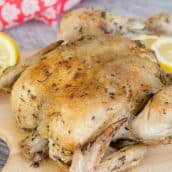 Instant Pot Whole Chicken
Instant Pot Whole Chicken is so EASY! With a simple cooked chicken, you can make yourself a main dish or cooked chicken for multiple other recipes!
Instructions
Rinse chicken and remove giblets from inside cavity. Rinsing the cavity out is also a good idea.

Using a paper towel, pat the chicken dry.

In a small bowl combine salt, pepper, garlic salt and Italian seasoning and mix.

Place 1/3 the seasonings on one side and with your hand spread evenly around.

Flip chicken over and season other side with 1/3 of the seasonings.

Carefully lift skin on breasts and place remaining seasoning under skin. You may need to break the membrane but can easily get seasonings over entire breasts.

Set Instant Pot or Pressure Cooker to Saute and wait until it reads hot.

Add whole chicken to Instant Pot and sear for 4-5 minutes per side.

After chicken has been browned, turn off Instant Pot.

Remove chicken and add water or chicken broth and scrape up any stuck bits off bottom of pot. Add lemon wedges to the cavity of the chicken.

Place Chicken breast side up on trivet and place chicken back in pressure cooker.

Set Pressure Cooker to 6 minutes per pound of chicken and allow for a 15 minute Natural Pressure Release.

Remove Chicken and let sit for 5 minutes before serving.

Chicken should reach internal temperature of 165 degrees for proper consumption.

If you've tried this recipe, come back and let us know how it was!
Nutrition
Calories:
580
kcal
,
Carbohydrates:
5
g
,
Protein:
41
g
,
Fat:
44
g
,
Saturated Fat:
11
g
,
Cholesterol:
163
mg
,
Sodium:
2695
mg
,
Potassium:
537
mg
,
Fiber:
2
g
,
Sugar:
1
g
,
Vitamin A:
823
IU
,
Vitamin C:
22
mg
,
Calcium:
58
mg
,
Iron:
3
mg