Baked Acorn Squash Recipe
If you were ever wondering how to bake an acorn squash, then this is the recipe for you. In under an hour you will have the perfect fall side dish on your table, and a house smelling of Autumn!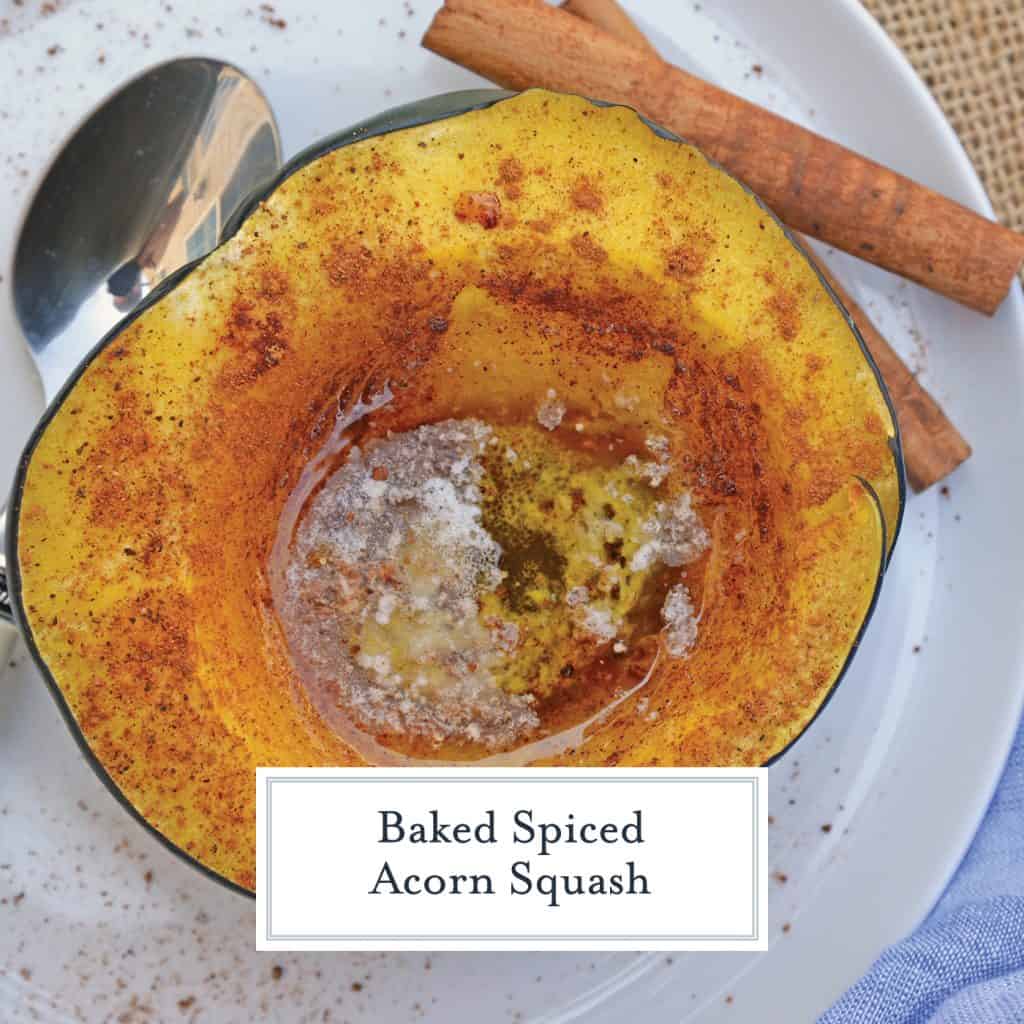 Fall has arrived and with it an abundance of winter squashes and gourds. Acorn, butternut and spaghetti squash seemed to have all gained fame in the last few years.
The creative preparations are countless and all a delicious way to add color and vegetables to your dining table. Baked Acorn Squash is one of my favorites for its flavor and simplicity.
Imagine my surprise when my husband spent the weekend at his hunting camp and brought home acorn squash instead of a goose or venison! Surprise, yes, disappointment, no.
A big thanks goes out to our neighbors Joni and Brain for sending these home for me to prepare!
Acorn squash is great because the shelf life is literally all winter. As long as they are kept in a cool, dry and low light place, they can last for months. I typically limit mine to about 1 month on my counter top.
However they are so darn easy cook and tasty, why wait that long? Below is the most basic of basic preparations for a Baked Acorn Squash.
The variations on seasonings is endless and, as I am sure you can surmise, I will be posting some of them throughout the winter!
Have you ever thought "how do I cut acorn squash?" Well I'm here to tell you how! First start off by giving the outside a good wash to get any dirt off, next you want to cut the squash in half lengthwise.
Then using a scoop or sturdy spoon scoop out all of the seeds and stringy pulp. Viola, you've done it!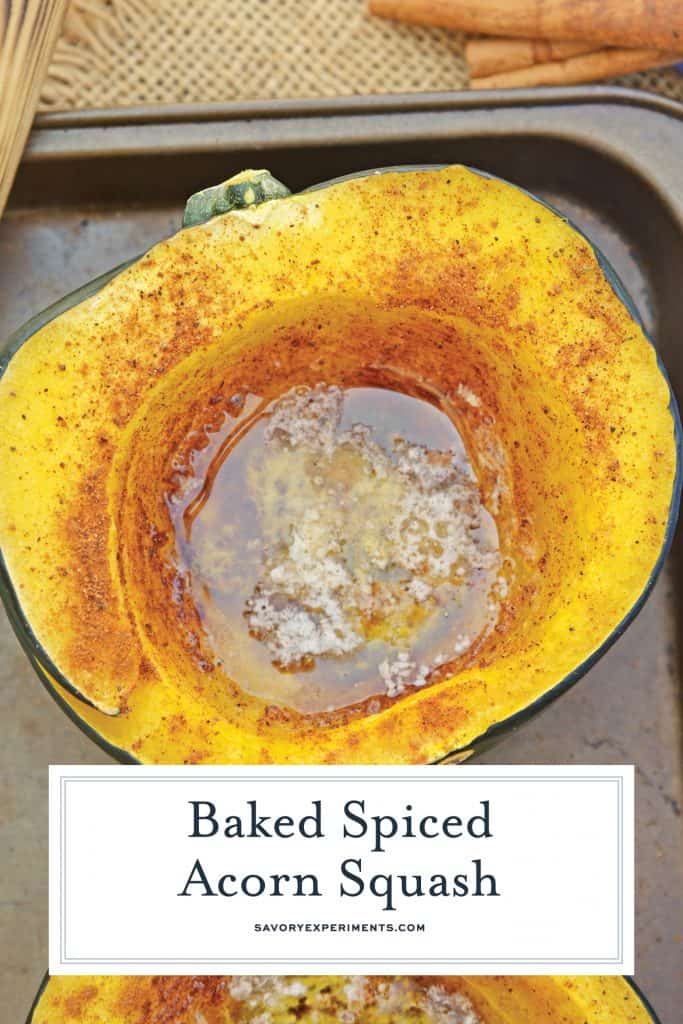 Many recipes use acorn squash cut into slices or even pretty scalloped rings, but the more cutting required, the less inclined I am to do it. These suckers are hard to cut!
It is fun to serve a whole side, and easy to boot. You can even drain out the butter mixture, leaving behind the spices, and use the acorn squash half as a salad bowl. The perfect (and pretty) fall salad.
If you loved this Roasted Acorn Squash recipe, be sure to check out these other easy fall recipes:
Apple Fritters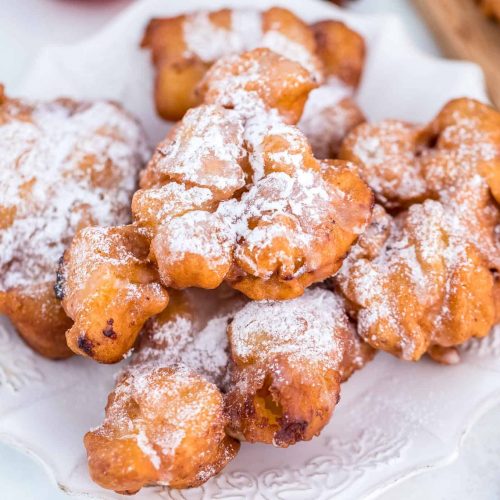 Homemade Apple Fritters have never been easier than with this apple fritter recipe! Surrounded by a cakey batter and drizzled with glaze, they're perfectly sweet and delicious!  
Easy Pumpkin Pie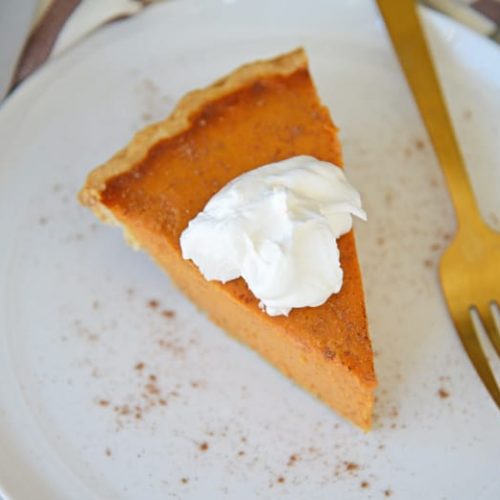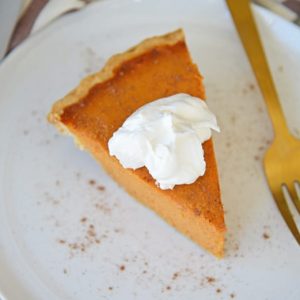 This Easy Pumpkin Pie is just perfect for Thanksgiving! Perfectly creamy and delicious, this pumpkin pie recipe is perfection!This Easy Pumpkin Pie is just perfect for Thanksgiving! Perfectly creamy and delicious, this pumpkin pie recipe is perfection!
Questions you might have about how to make acorn squash:
How do you cut an acorn squash? Much like carving a pie pumpkin or melon, use a sharp knife and start on one side of the stem. Cut around the squash and up the other side. Pull it apart with your hands.
For this recipe, you only need halves, but if you are cubing or cutting into slices, continue from here just like you would a melon.
Can you eat the skin of acorn squash? It is surely edible, it just isn't that pleasant. The skin is tough to chew and leathery.
It gets softer the longer you cook it, however it is totally acceptable to just eat the flesh and leave the skin behind.
Can you eat acorn squash seeds? Yes! Just like pumpkins seeds, you can prepare acorn squash seeds. See my recipes for Salty Roast Pumpkin Seeds or Ranch Pumpkin Seeds and simply sub the type of seeds.
How long does acorn squash last? Not cut, it can last a few weeks. However, after cut and raw, try to use it within 4 days.
How do I know my acorn squash is bad? It could have an unpleasant odor, blemishes or marks that weren't there when purchased, or if you cut it open, it is slimy or grey.
CONNECT WITH SAVORY EXPERIMENTS!

Be sure to follow me on social media, so you never miss a post!

Facebook | Twitter | Youtube
Pinterest | Instagram

Get our FREE 8 Day E-Course on How to Be a Better Home Cook. Sign up HERE!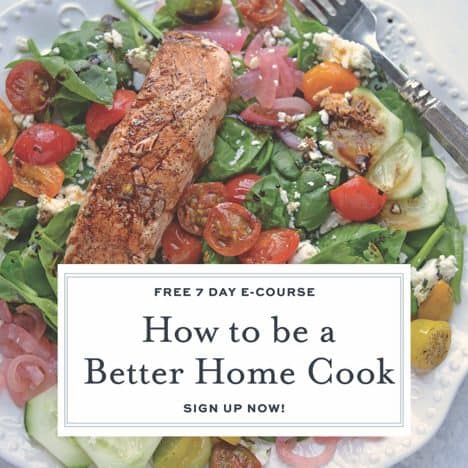 Print Recipe
Roasted Acorn Squash
Roasted Acorn Squash is baked to soft perfection with butter, maple syrup and spices. The perfect fall side dish.
Instructions
Preheat oven to 400 degrees. Find a deep dish that will snugly fit both halves of acorn squash, propping them both upright.

Cut acorn squash in half. Clean out seeds and stringy membranes. Place in dish, cut sides up. Score the insides of the squash with a sharp knife.

Place 1 tablespoon salted butter, 1 tablespoon dark brown sugar, 1 teaspoon maple syrup and one dash of nutmeg in each acorn squash halve.

Fill the deep cooking dish with water 1/3 up the sides of the acorn squash. Cover with aluminum foil to create steam in the dish.

Roast for 30 minutes covered and then remove aluminum foil, cooking for an additional 15 minutes. Insides of the acorn squash should be soft and mushy.

Now you have two choices, you can remove the meat from the insides of both squash halves and place in one bowl or you can serve each half to the table top and use it as a bowl. Enjoy!

If you've tried this recipe, come back and let us know how it was!
Nutrition
Calories:
251
kcal
|
Carbohydrates:
38
g
|
Protein:
1
g
|
Fat:
11
g
|
Saturated Fat:
7
g
|
Cholesterol:
30
mg
|
Sodium:
110
mg
|
Potassium:
747
mg
|
Fiber:
3
g
|
Sugar:
15
g
|
Vitamin A:
1140
IU
|
Vitamin C:
23.7
mg
|
Calcium:
89
mg
|
Iron:
1.5
mg