This smothered pork chops recipe combines pan-seared pork chops with a rich onion gravy that's full of flavor. Our entire family can't get enough of it — it's one of my best comfort food recipes.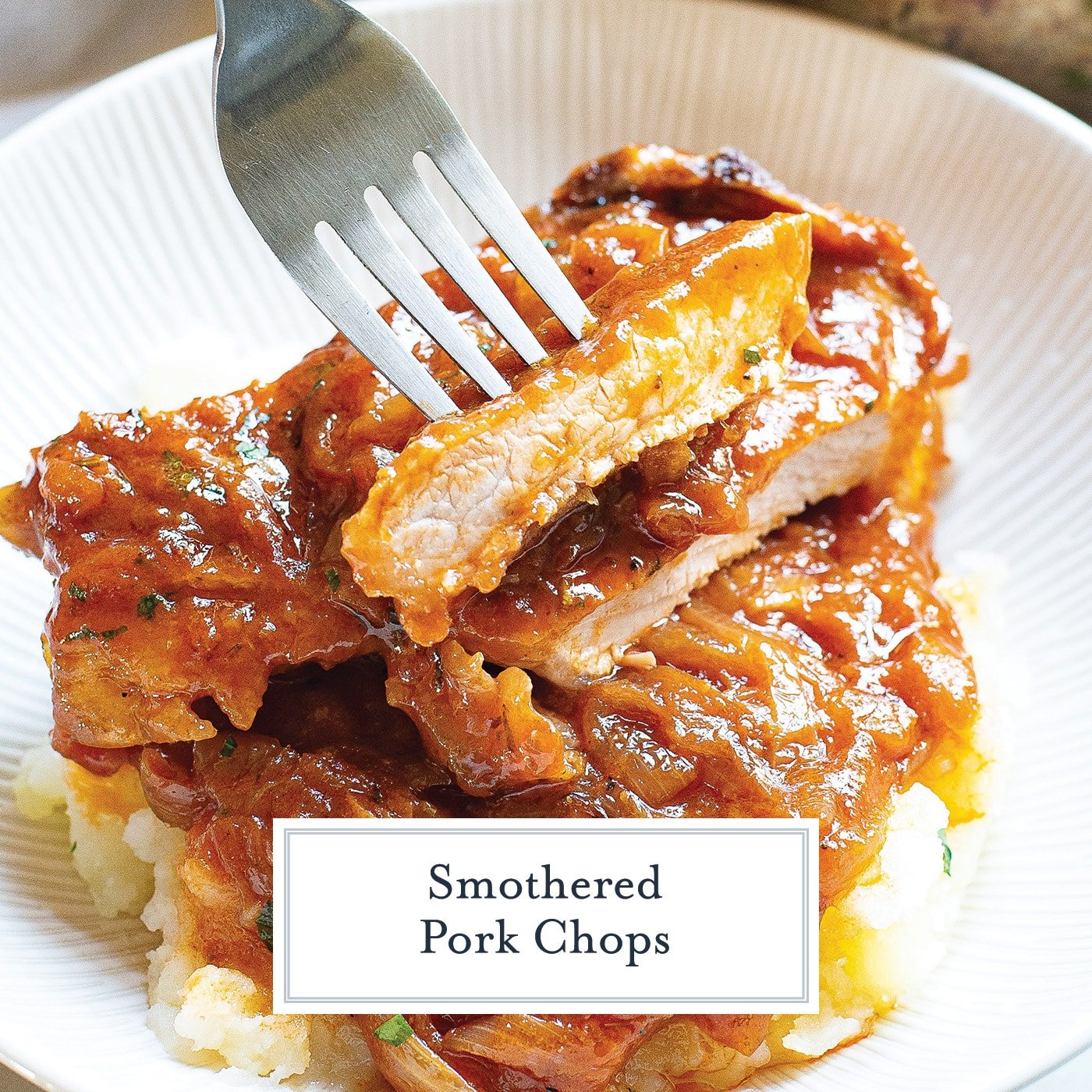 If you are hesitant to cook pork chops because you're plagued by memories of tough or rubbery chops from childhood, let me put those fears to rest. This recipe makes it easy to make tender and juicy pork chops that will make you forget about those pork chops of the past.
The next time you're looking for an easy dinner idea, consider this one. It may just become one of your favorite pork chop recipes.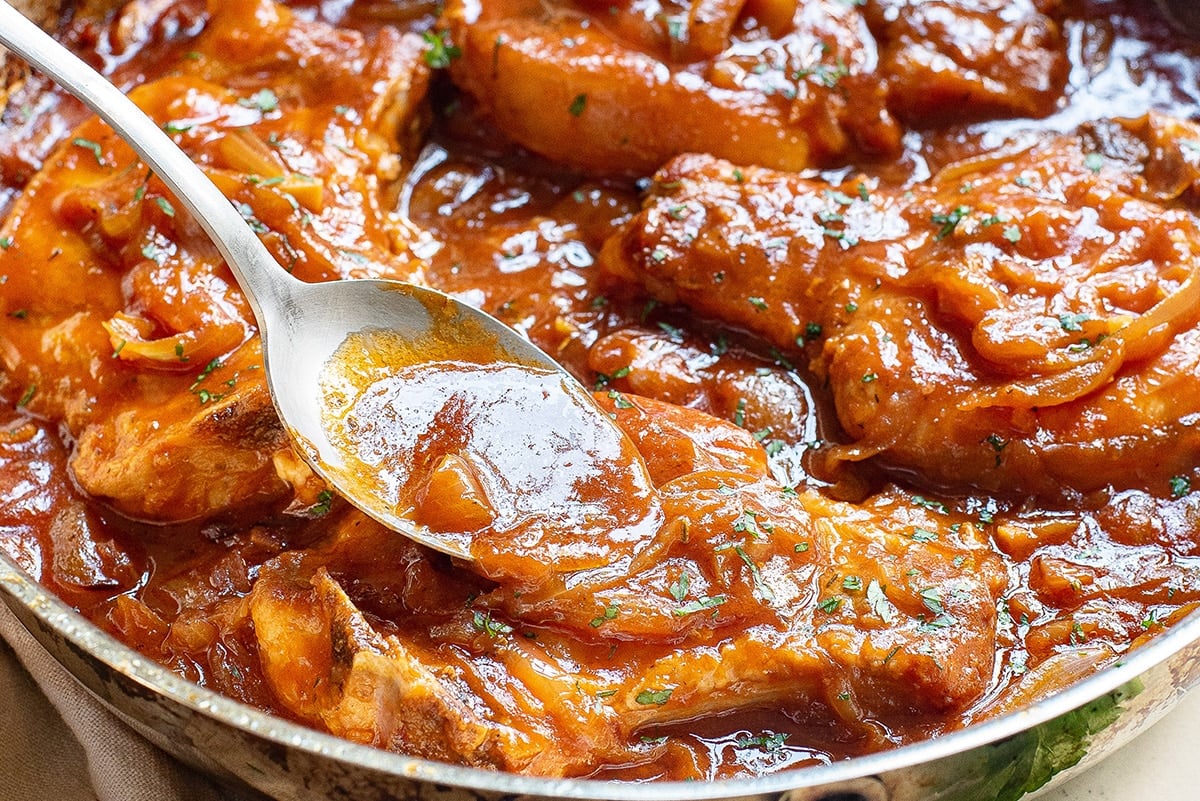 Why You'll Love Smothered Pork Chops
There are so many reasons to fall in love with these simple pork chops.
Easy: The ingredients are all easy to find at the grocery store and the recipe comes together quickly.
Saucy: A flavorful sauce helps to create layers of flavor while also keeping the chops juicy.
Tender: Using bone-in 1-inch thick chops, keeping a careful eye on the temperature, and serving them in the sauce results in the most moist pork chops that are packed full of flavor.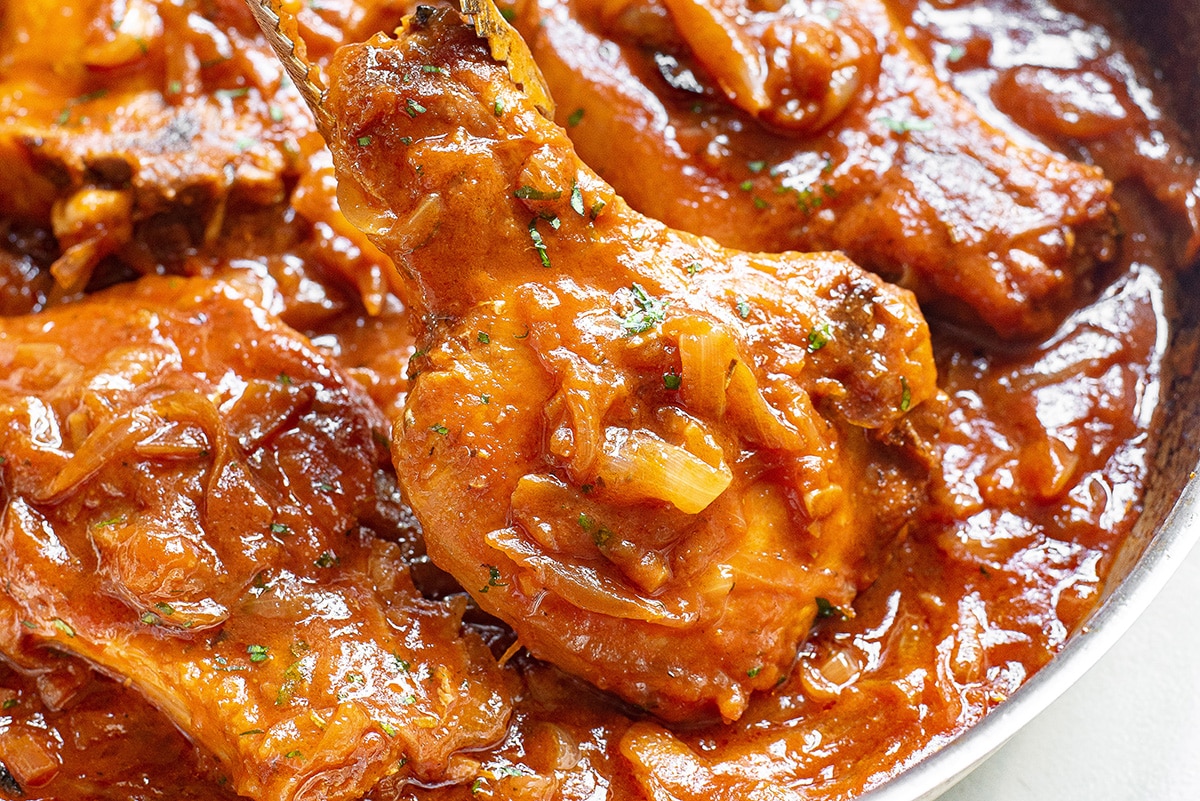 Ingredients
Bring these basic ingredients together for one of the best pork chop recipes you'll ever make.
Bone-in pork chops: Using bone-in chops, instead of boneless pork chops, helps to ensure they turn out juicy and tender.
Coarse kosher salt: Salt brings out the natural flavors of the pork chops and helps to tenderize the meat.
Ground black pepper: Adding a touch of fresh black pepper adds a subtle spiciness.
Extra virgin olive oil: The olive oil helps the pork chops to sear and brown.
Large white onions: The browned onions complement the pork chops with their sweet and savory flavor.
Minced garlic cloves: Garlic adds a bold, garlicky flavor that pairs well with the richness of the dish.
Dried thyme: Thyme imparts warmth and earthiness to the dish. You can also use fresh thyme if you have it handy.
Tomato paste: Tomato paste adds a concentrated depth of tomato flavor and just a touch of tanginess to the dish.
Cumin: Cumin is warm and aromatic, giving the sauce even more deep flavor.
Apple cider vinegar: The acidity of apple cider vinegar balances the sauce richness and adds brightness to the dish.
Honey: While optional, a drizzle of honey can balance out the flavors and add a slight sweetness. Agave nectar can also be used.
Low-sodium beef broth: The beef broth helps to create a flavorful sauce. Low salt lets you control the saltiness.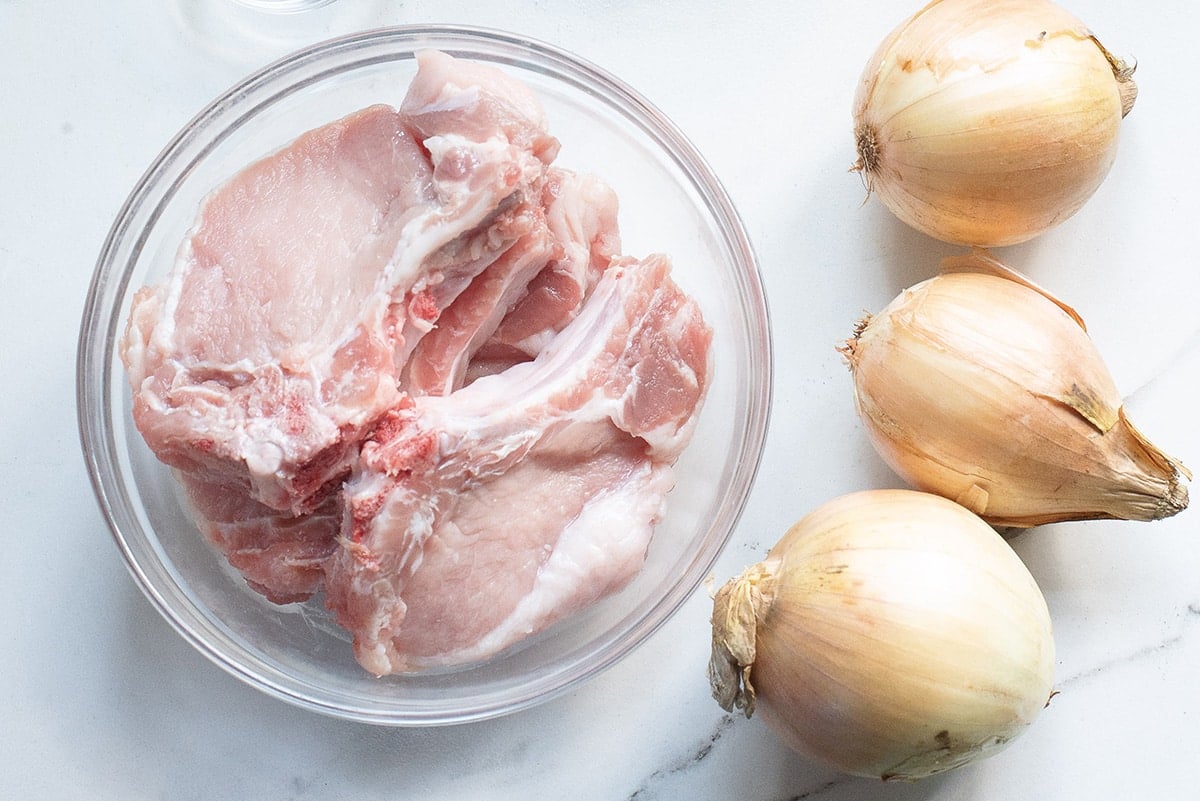 How to Make Smothered Pork Chops
Once you prepare these easy pork chops, you might make them a part of your regular meal rotation.
Season. Generously season both sides of dry pork chops with salt and pepper. Making sure the surface is dry will allow them to get a nice sear and build brown, which translates to flavor.
Sear. Add the seasoned pork chops in a single layer to a large cast iron skillet (or other oven-safe pan, like stainless steel) that has been pre-heated and drizzled with oil, if needed. Get a good sear on each side until golden brown. They will not be fully cooked.
Remore. Place pork chops on a covered plate to keep warm.
Make Gravy. Saute the sliced onions in the same large skillet until browned. Add the remainder of the ingredients and cook briefly, stirring to combine. Be sure to scrape the bottom of the pan to incorporate flavor from the browned bits of the pork chops and browned onions.
Combine. Add the pork chops back to the skillet with the sauce before placing in a pre-heated oven (or follow directions for finishing on the stovetop).
Bake. Bake until the broth is reduced by half.
Rest. When the pork chops have reached the desired internal temperature on a meat thermometer, remove from the oven, allow to rest briefly, then serve.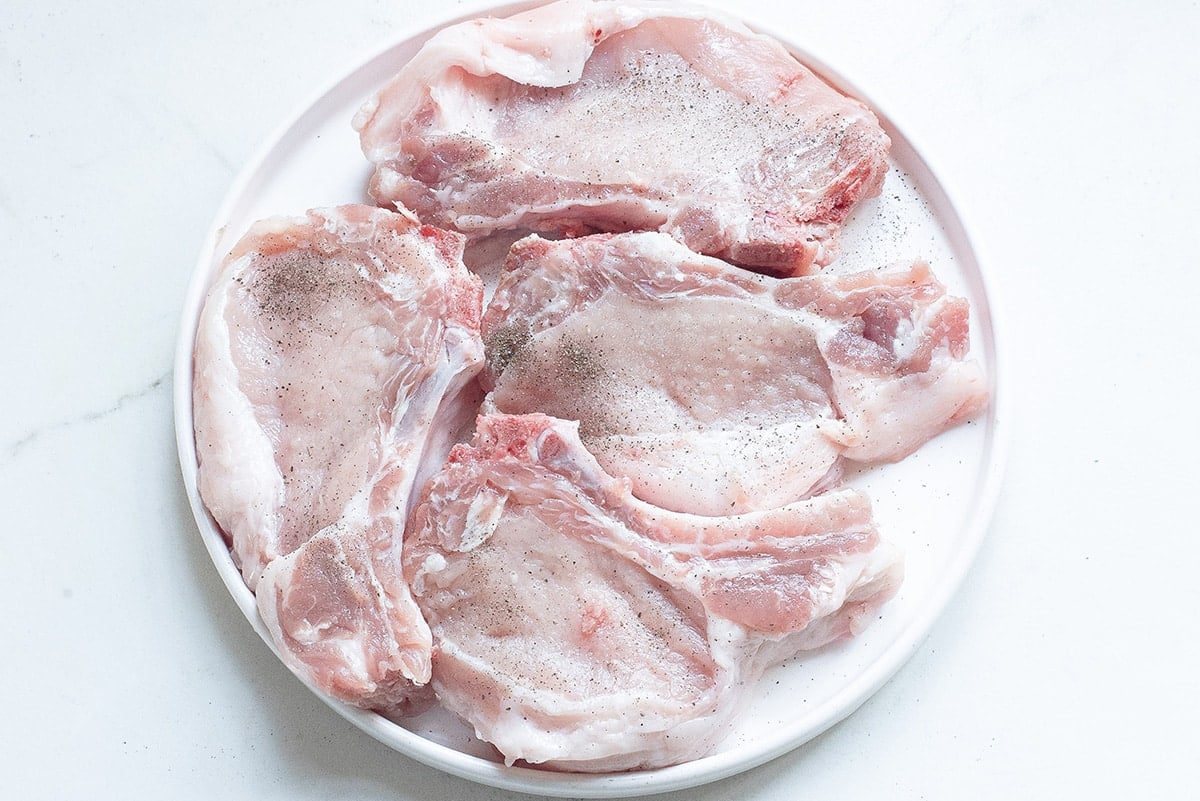 What to Serve with Braised Pork Chops
These easy, tender pork chops pair well with equally simple sides. Starches like brown or white rice, mashed potatoes, egg noodles, or cheesy quinoa are all perfect pairings — and a hearty bread is great for sopping up sauce.
For a low-carb side dish, try serving these flavorful chops over mashed cauliflower or alongside green beans, Brussels sprouts, pan-fried broccolini, or creamed spinach.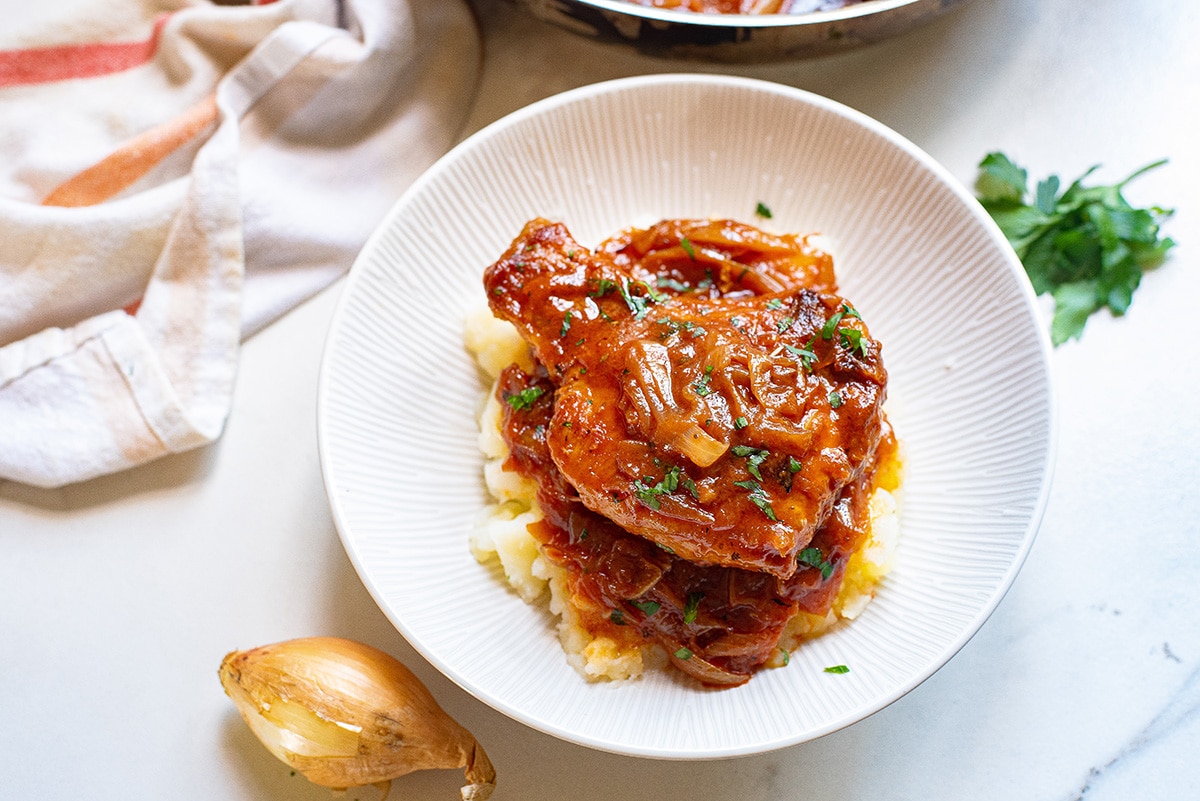 Variations
There are a variety of ways to change up this easy smothered pork chop recipe.
Meat: Try using bone-in chicken or turkey instead of the pork. Or, for a meatless version, use portobello caps or firm tofu.
Broth: Instead of beef stock, try using chicken broth for a different flavor profile.
Oil: Swap out the olive oil for another neutral flavored oil like avocado oil or canola oil.
Cream: For a creamy gravy, try adding heavy cream or whole milk. You can also use a corn starch slurry to thicken the sauce.
Garlic: Instead of mincing the garlic, use store-bought minced garlic or garlic powder.
Vegetables: Add other veggies to the sauce — fresh mushrooms work particularly well.
Heat: To add a little kick to the sauce try adding chili powder or crushed red pepper flakes.
Stove: Lower the heat to low and cover with a lid. Cook for 45-55 minutes until pork chops are tender.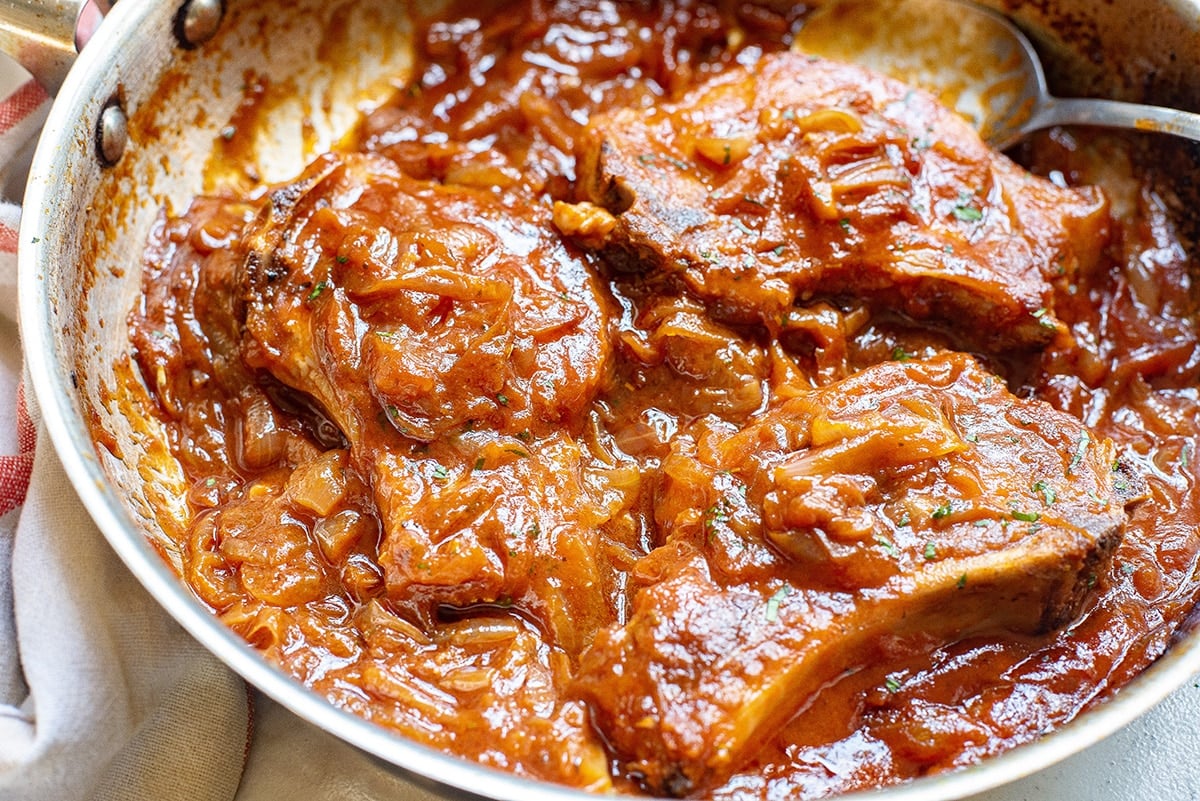 Storage
Once the smothered pork chops are cooled to room temperature, you can easily store them, making this a great recipe for meal prepping.
Refrigerator: Store in the refrigerator in an airtight container for up to 5 days.
Freezer: Store in the freezer for up to 1 month.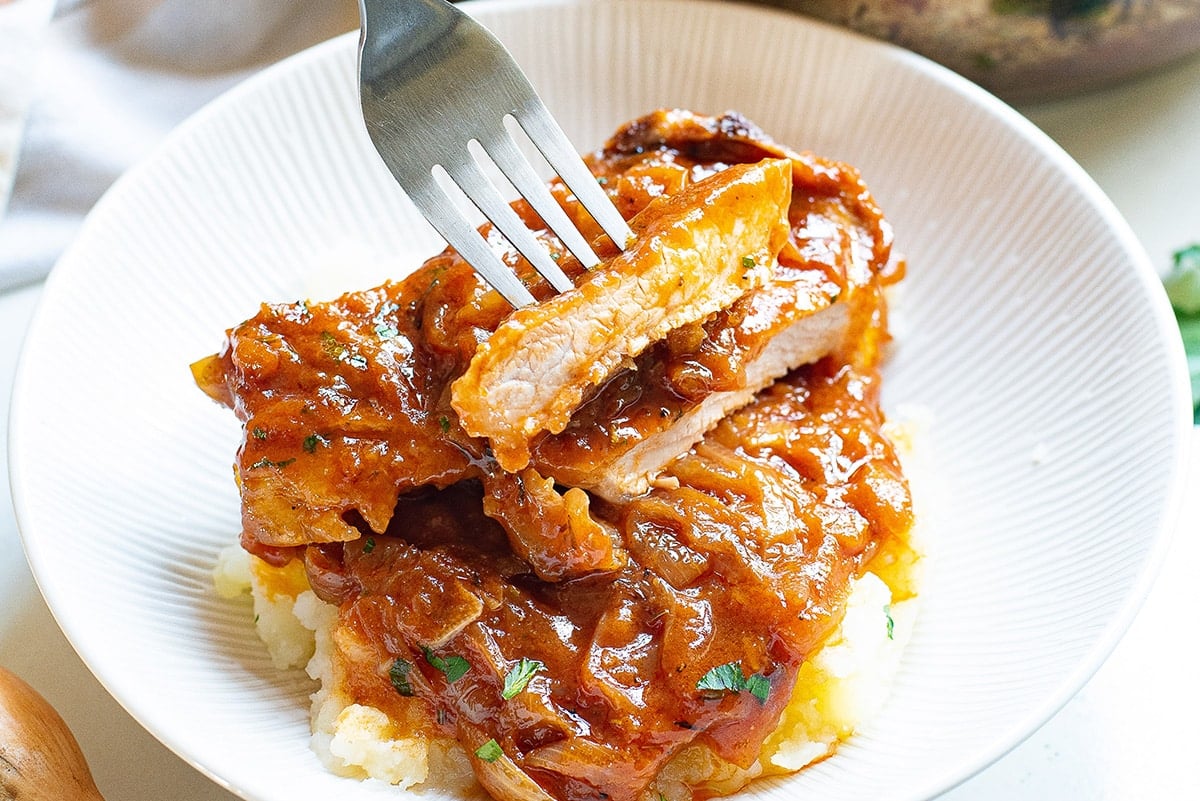 Common Questions About Smothered Pork Chops
How do I cook pork chops that are tender?
Getting a cut that is just the right thickness is key to ensuring that your pork chops are tender — about 1 inch thick is ideal. Also, be sure to not cook over the desired internal temperature to avoid tough pork chops.

Using bone-in chops is also guaranteed to help preserve the tenderness of the pork chops (rather than using a boneless chop). Additionally, allowing the pork chops to rest after cooking will help them to be juicy and tender when served.
Which sauce goes well with pork?
While we love the balanced sauce in this recipe, you can serve the pork with lots of other sauces, too. Try honey mustard, mustard cream, or your favorite style of BBQ sauce.
Can pork chops be a little pink?
Yes, pork chops can have a pink color. Contrary to when we were younger, it's not necessary to cook pork chops to 160 degrees Fahrenheit — in 2011, the USDA lowered the temperature to 145 degrees Fahrenheit instead.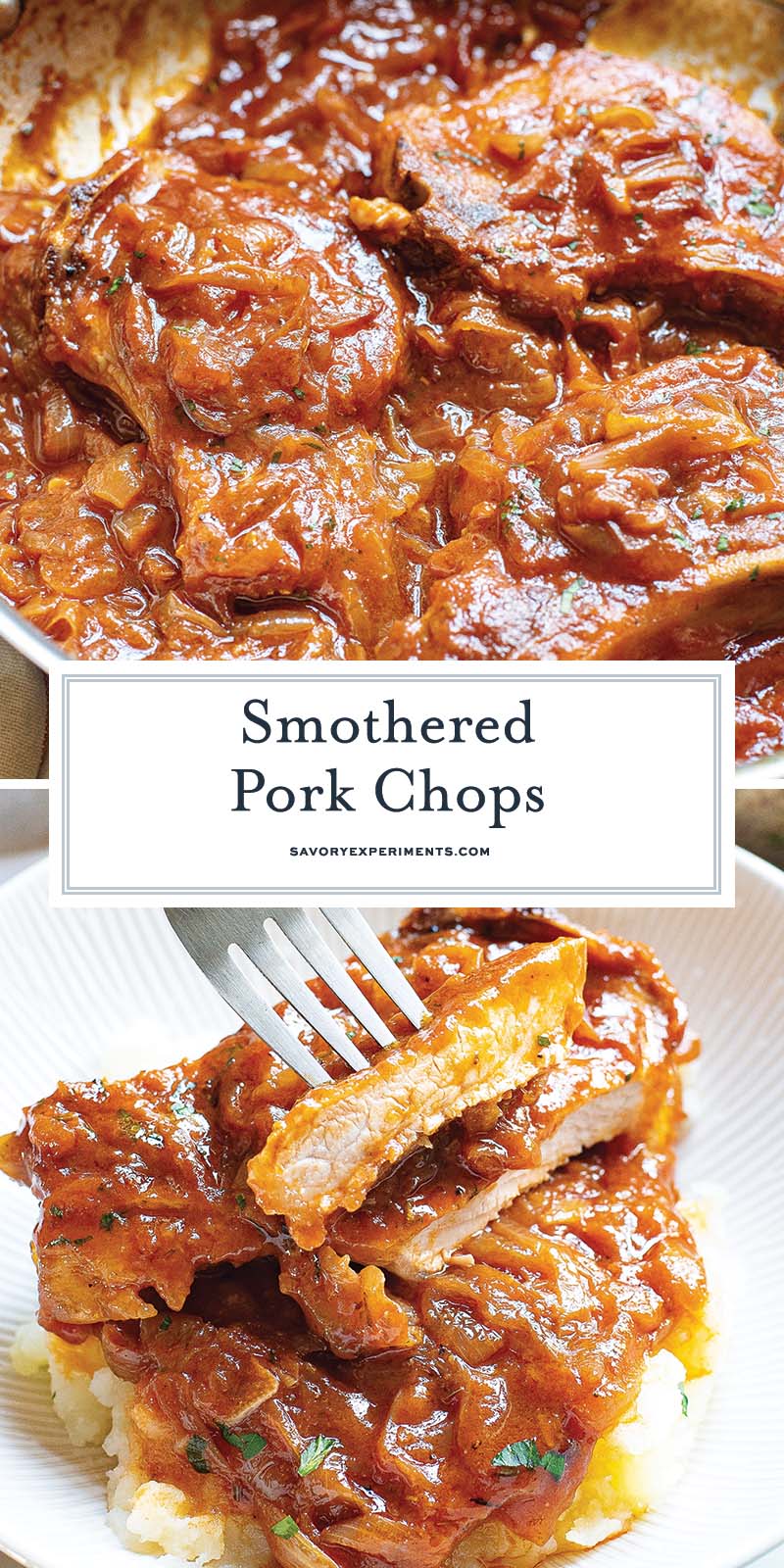 More Pork-Based Recipes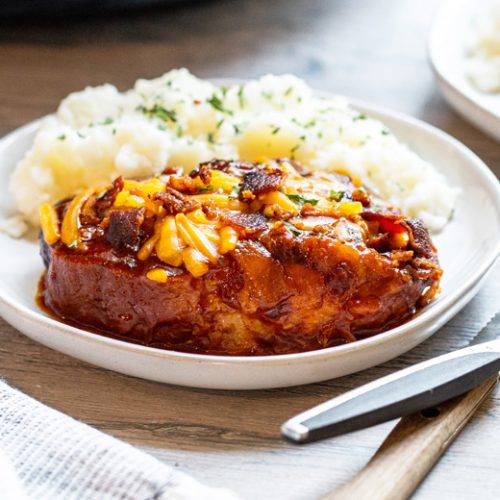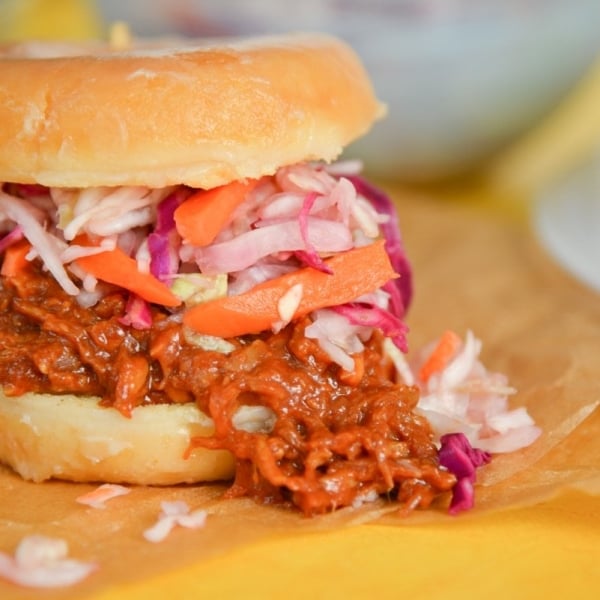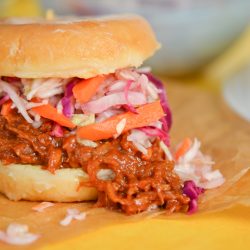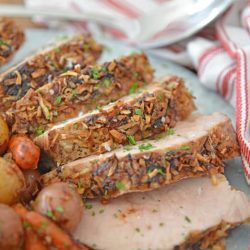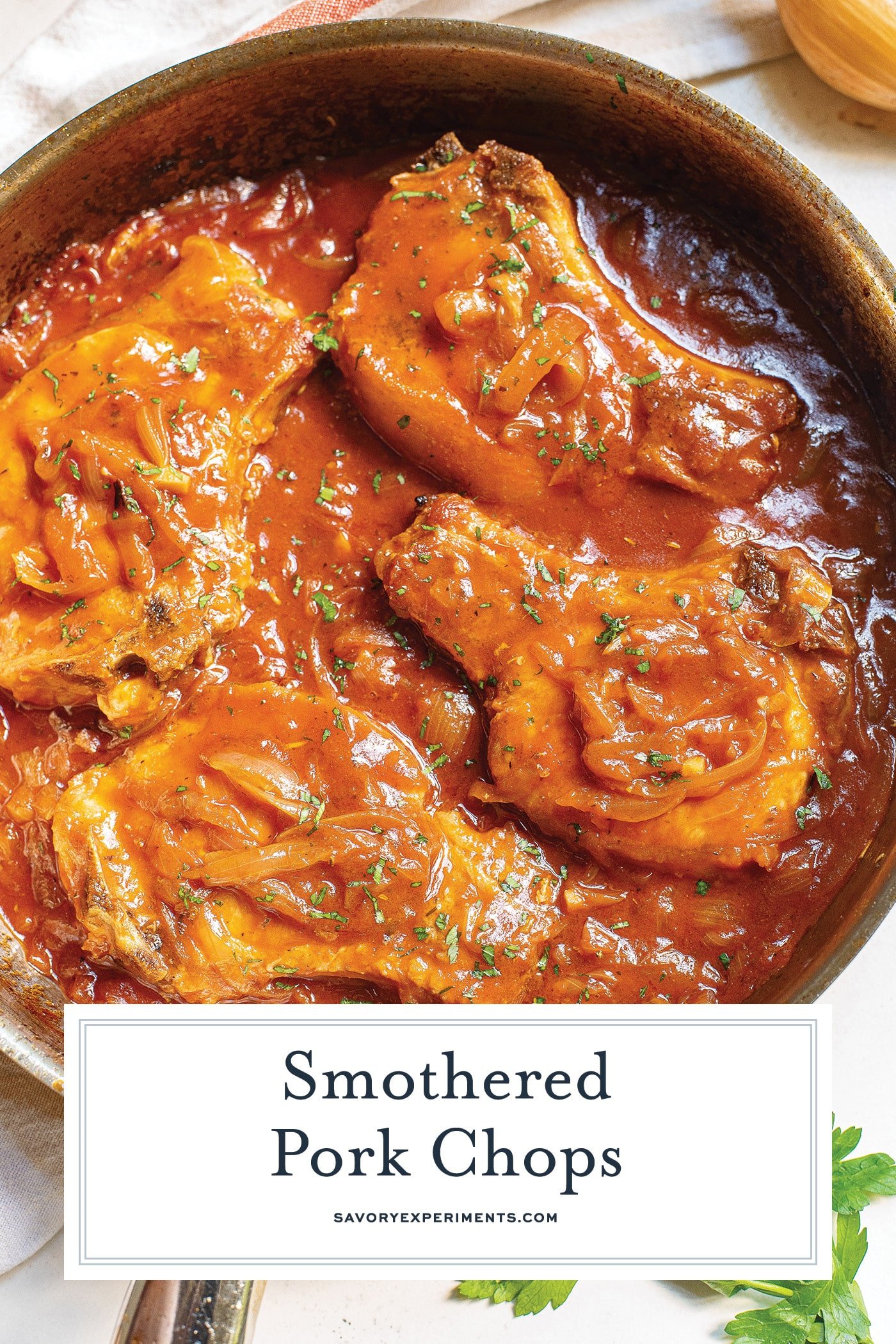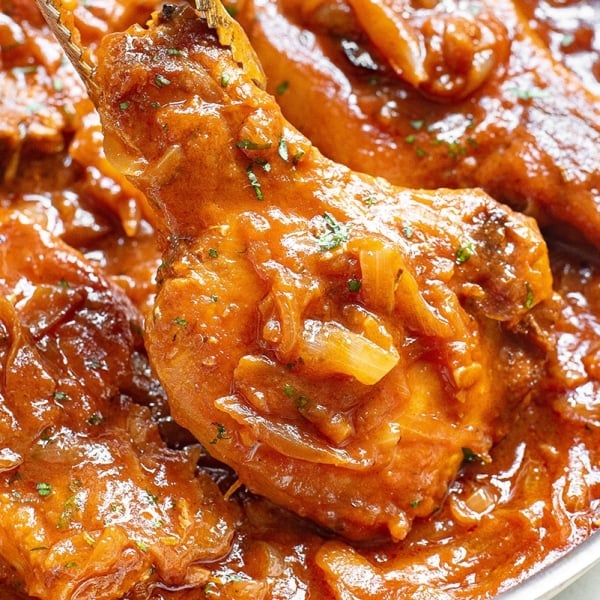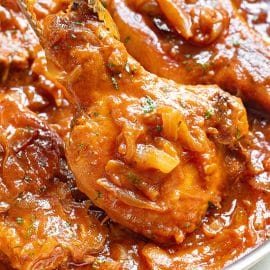 Smothered Pork Chops
These Smothered Pork Chops combine pan-seared pork chops with a rich onion gravy that's so flavorful — it's the best comfort food recipe!
Instructions
Preheat the oven to 400°F.

Season the pork chops with the salt and pepper on both sides.

Heat the oil in a large, oven-safe skillet (cast iron works great!) over medium-high heat. Add the pork chops in a single layer and sear for about 3 minutes per side, until golden brown. Transfer to a plate and cover to keep warm.

Add the onions to the skillet and cook for 5-10 minutes, until browned and fragrant.

Stir in the garlic, thyme, tomato paste, cumin, and broth. Add the apple cider and honey, if using. Cook for 2 minutes.

Return the pork chops to the skillet. Transfer to the oven and bake, uncovered, until the broth is reduced by half, about 45-55 minutes. Alternatively, you can finish cooking on the stove: Reduce heat to low, cover with a lid, and cook for about the same amount of time, until pork chops are tender. Pork chops should reach an internal temperature of 145°F.

If you've tried this recipe, come back and let us know how it was in the comments or star ratings!
Nutrition
Calories:
86
kcal
,
Carbohydrates:
11
g
,
Protein:
3
g
,
Fat:
4
g
,
Saturated Fat:
1
g
,
Polyunsaturated Fat:
0.4
g
,
Monounsaturated Fat:
3
g
,
Cholesterol:
1
mg
,
Sodium:
784
mg
,
Potassium:
371
mg
,
Fiber:
2
g
,
Sugar:
5
g
,
Vitamin A:
86
IU
,
Vitamin C:
7
mg
,
Calcium:
37
mg
,
Iron:
1
mg