Don't you want to be the person they are searching for when someone at the BBQ asks "who made the potato salad?" I do…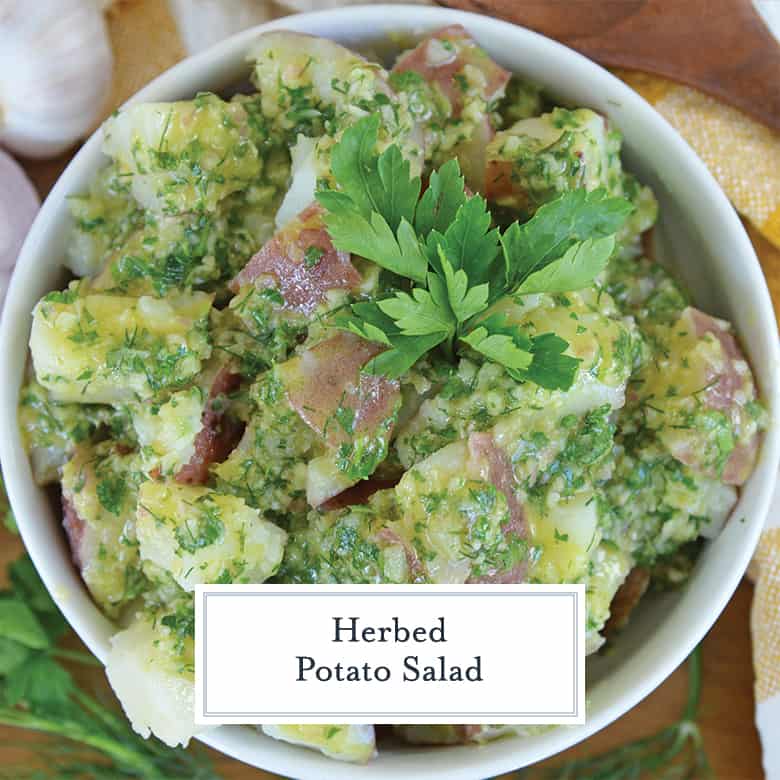 Herbed Potato Salad is one of my favorite go-to recipes. It is simple, fresh and can be served hot or cold. Plus, I love potatoes.
If someone asked me what food I could eat for the rest of my life, it would be potatoes. They are a blank canvas waiting to be painted. And this canvas is painted with fragrant and delicious fresh herbs and garlic.
Herbed Potato Salad
Potato salads are one of those quintessential picnic foods, but there is actually a little finesse to making them and they don't always look picture perfect.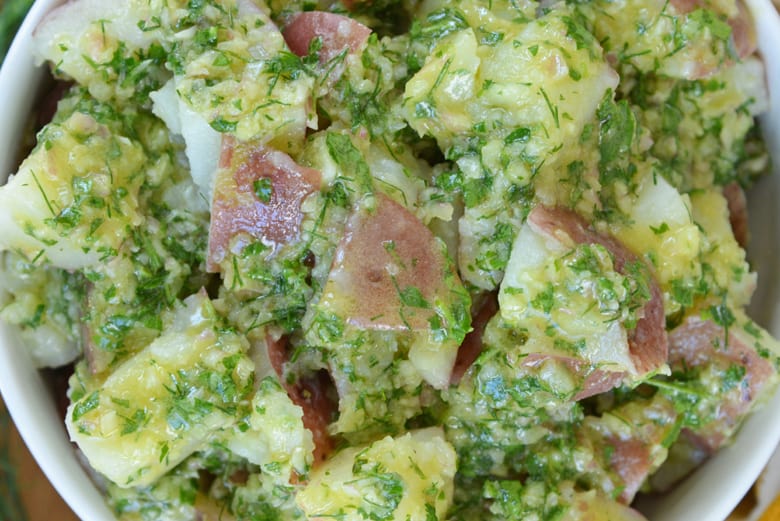 If we are being 100% honest here, most of the images you see of perfectly sliced and cubed potatoes are parboiled (only partially cooked) so when they are tossed, they don't dent and lose their shape.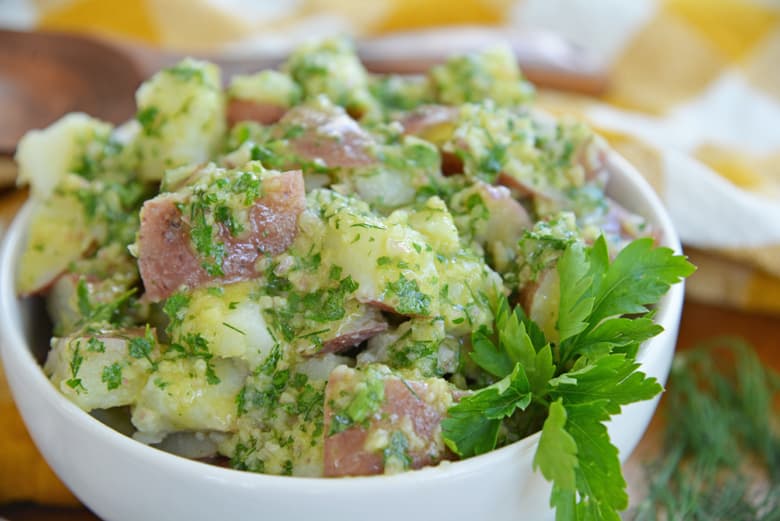 The photos here are real- the starchy parts of the potato have come off a bit while tossing- I don't expect them to hold their shape. And you know what, that is OKAY! I prefer soft potatoes to hard ones anyhow.
Best Potatoes for Potato Salad
Different potatoes have different starch levels and therefore some are better for different types of recipes, like Russets for baked potatoes or mashed potatoes and red for potato salad.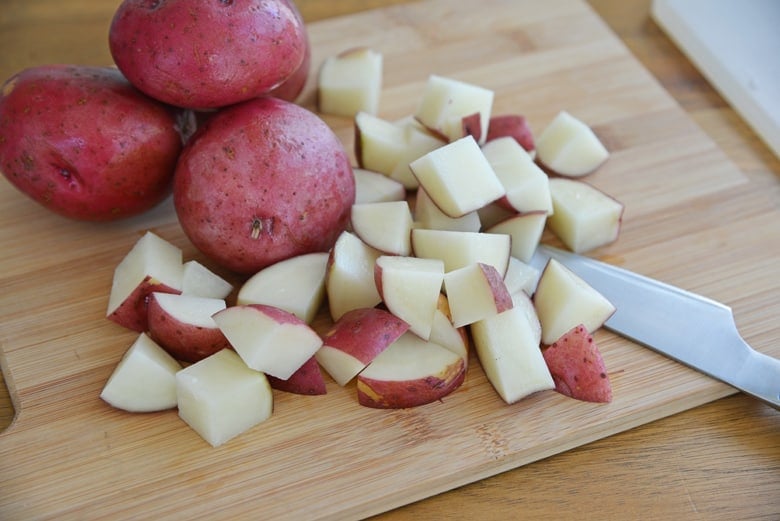 Red potatoes are waxy instead of starchy, which makes them ideal. Yellow fin and Yukon gold potatoes are also good picks.
Since these potatoes all have relatively thin skins that are easy to chew, it is purely personal preference whether you peel them or not.
No Mayo Potato Salad Dressing
I adore this dressing. It has no mayo and if you make a double, or even triple, batch, you can also use it to marinate chicken, pork or seafood and as a salad dressing.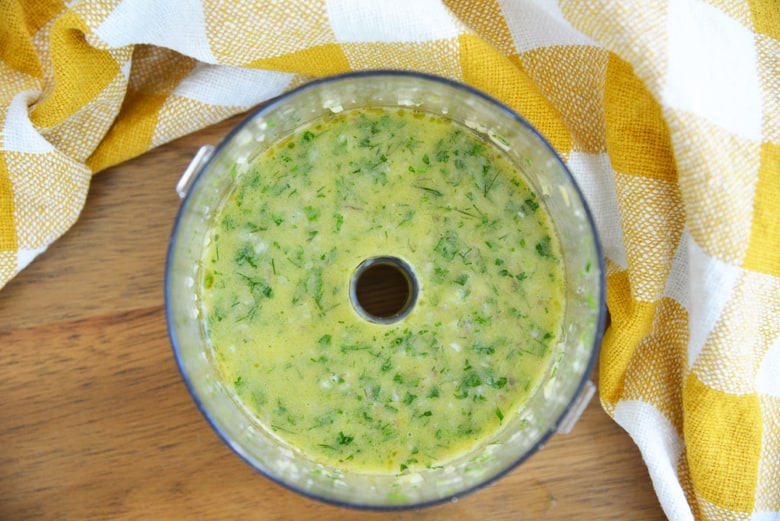 It is made from leftover herbs. All the odds and ends in your vegetable crisper, even the stalks, are welcome. What you won't find are the typical grandma style ingredients like dill pickles, relish, celery seed, garlic powder or onion powder. Nope, fresh and real for this bad boy.
You don't have to use the exact herbs or amounts in my recipe, just wing it! Although some general amounts are listed…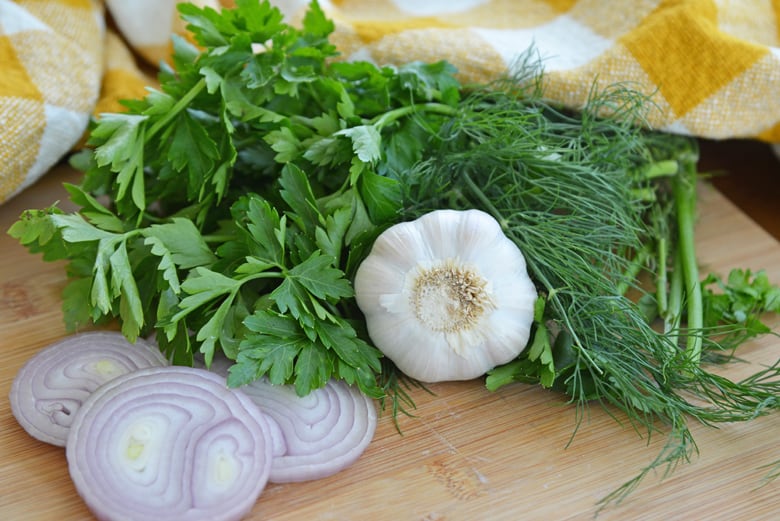 Here is what we included:
shallot (or red onion)
garlic
Italian flat parsley
dill
cilantro (can be omitted)
white wine vinegar
extra virgin olive oil
Dijon mustard (to help emulsify)
salt & pepper, if desired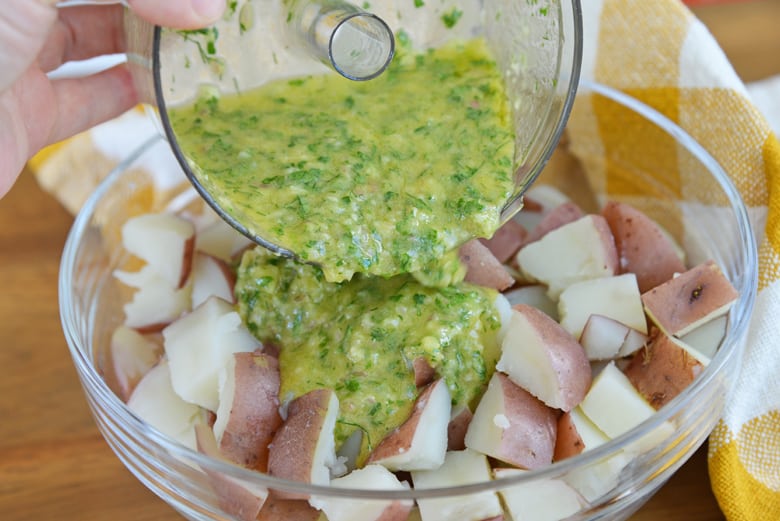 This is my favorite recipe for a classic potato salad recipe, if that is what you are on the hunt for!
Healthy Potato Salad
Listen, I struggle to call anything healthy these days consider everyone is on a different diet. What I can say is that this has less calories and fat than a traditional creamy potato salad.
Full of antioxidant rich herbs with a light, tangy dressing, you'll be hard pressed to find someone who doesn't like Herbed Potato Salad. Vinegar adds zing while fresh herbs balance out the flavors.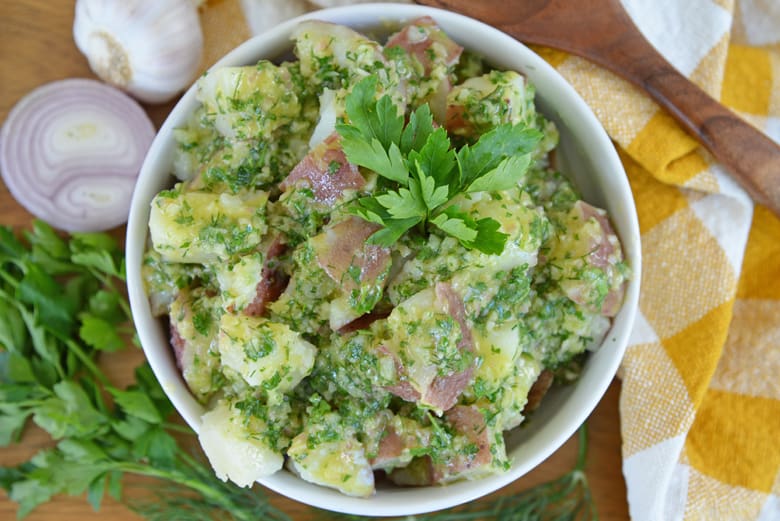 This potato salad recipe is also vegan since it uses no animal products or mayo. Mayo is not dairy, but it is an animal byproduct since it is made from eggs.
Make Ahead and Freezing
It is a made-ahead dish. While it doesn't take much time at all to prepare, it can be (and tastes better) made up to 24 hours in advance. It lets all the flavors marry.
It can be served chilled, room temperature or even hot. Do allow it to come to temperature slightly so the olive oil has time to soften.
However, I do not recommend freezing this one. Things come out a little grainy and soggy.
What to Serve With
I first made this recipe on a trip to Turks and Caicos along with my Oven BBQ Salmon. Add a leafy green salad and you meal is all set in under 20 minutes. BAM!
But some of my other favorites include grilled lemon pepper chicken, BBQ Ribs on the grill and Turkey Zucchini Boats.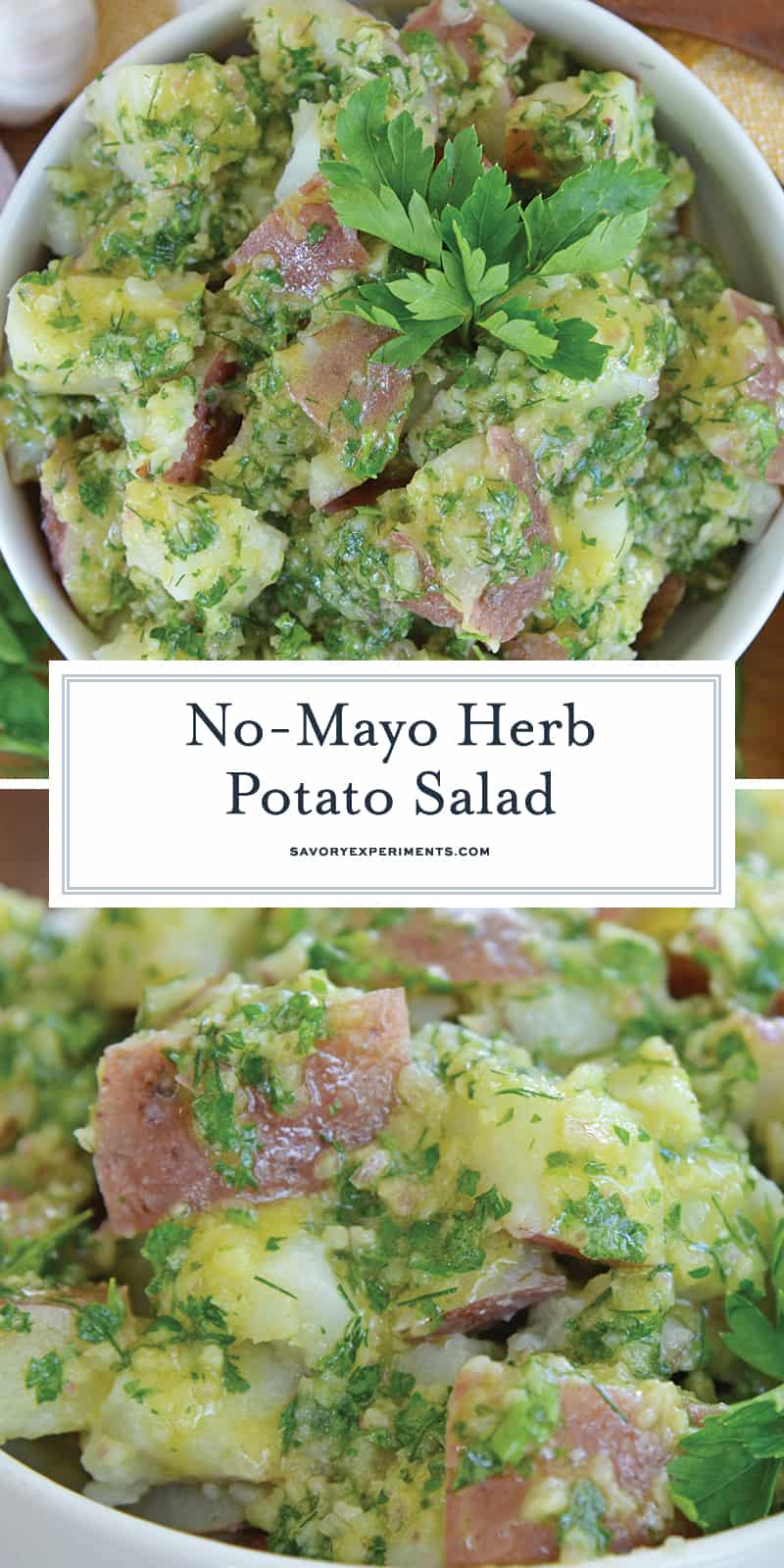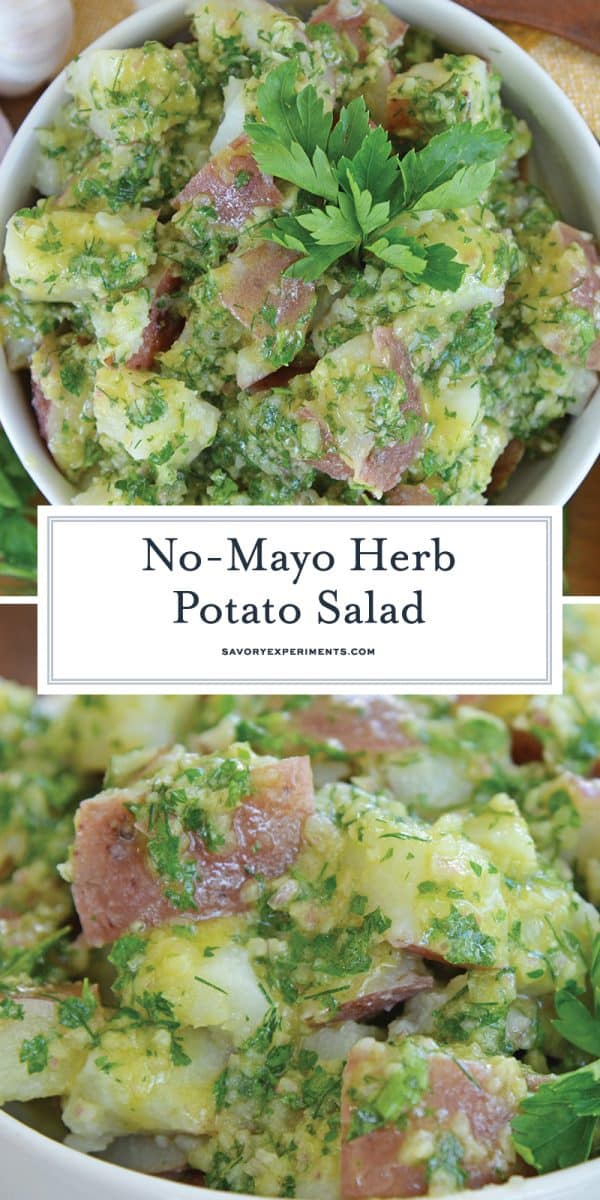 What You'll Need:
Wood cutting board – wood won't dull your knives like plastic and if treated properly, has natural antimicrobial properties.
Good knife – Global is my favorite! They are worth the price, I promise. I am kind of obsessed with them and store them tucked away so no one else can use them. Including hubby. Hands off my good stuff!
Good Extra Virgin Olive Oil– A good olive oil will taste like, well, olives, while a poorly made one will taste like vegetable oil. Gross. While people tend to favor Italian and Greek olive oils, I prefer to buy mine domestically.
There are some great ones out there from all over the world, but the reporting of ingredients isn't always the same and you could find that your super expensive olive oil was actually cut with vegetable oil.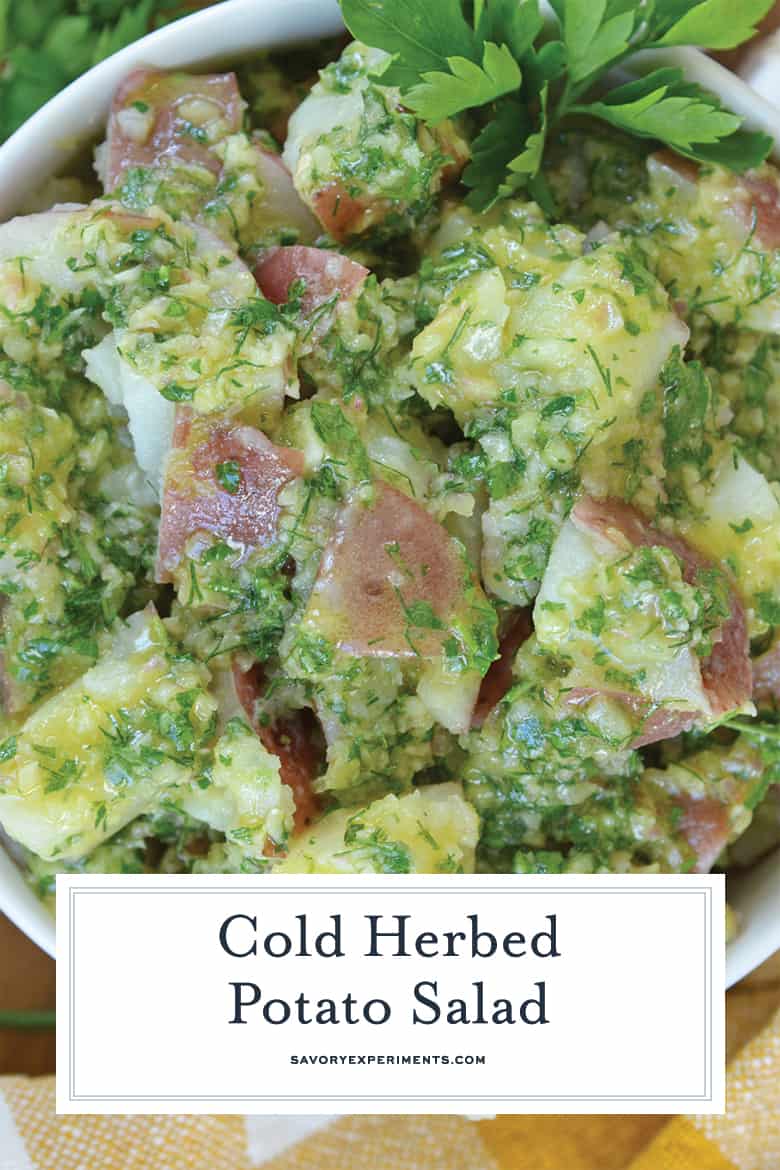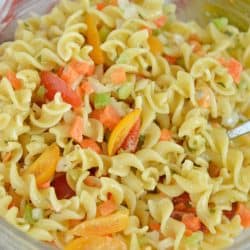 Ranch Pasta Salad
You won't go back to regular pasta salad after you've tried this delicious Ranch Pasta Salad recipe! It's easy to make with simple ingredients!
View this recipe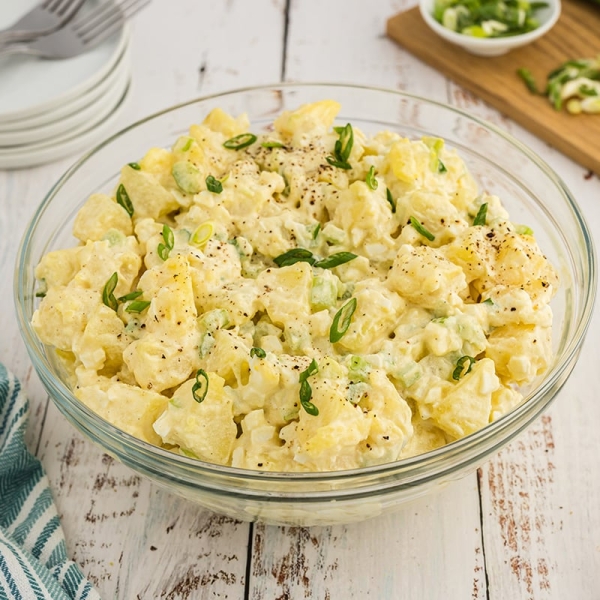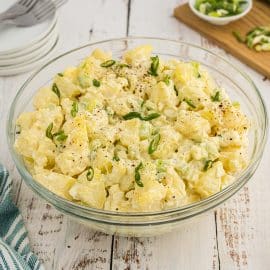 Classic Potato Salad
Classic Potato Salad is the perfect potluck side dish that is great year-round. Calling for seven ingredients, this old fashioned potato salad recipe is easy to make and share.
View this recipe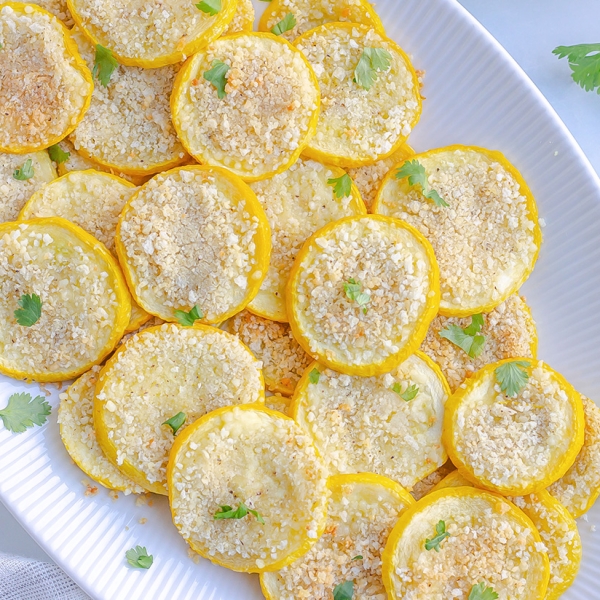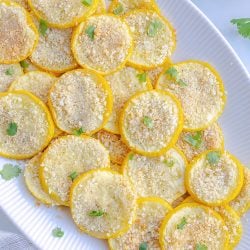 Crispy Parmesan Baked Squash Recipe
Sliced squash topped with seasoned bread crumbs and parmesan cheese. The perfect easy summer side dish for nearly any meal.
View this recipe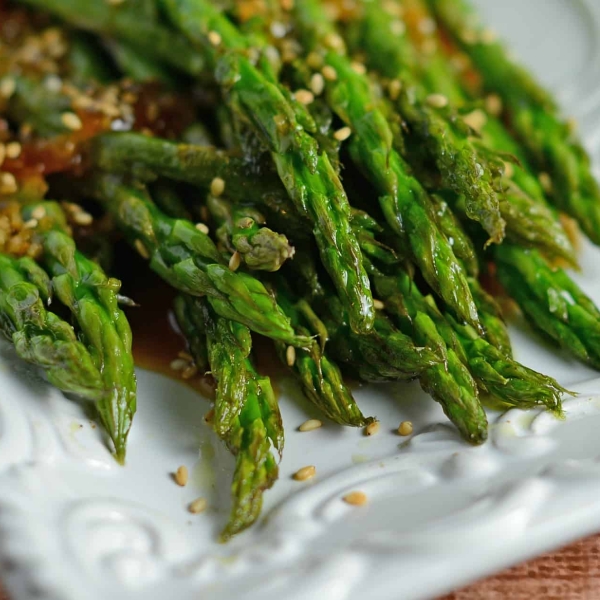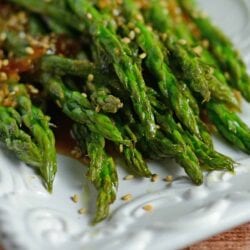 Roasted Asparagus with Apricot Sauce
Roasted Asparagus with Apricot Sauce is an easy recipe for asparagus in the oven. The best asparagus side recipe out there!
View this recipe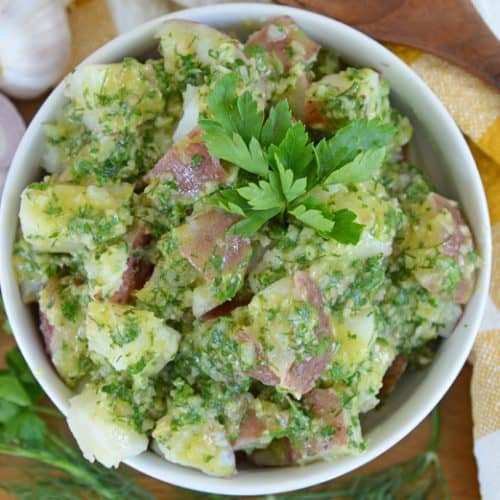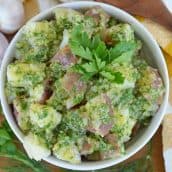 Herbed Potato Salad Recipe
Herbed Potato Salad is mayo-free potato salad recipe that uses fresh herbs and mild white wine vinegar to add tangy flavor. Served chilled at your summer gathering!
Instructions
In a large pot, boil water for potatoes. When at a rolling boil, add and cook until easily pierced with a fork, about 10-15 minutes depending on size and power of your burner.

Drain potatoes and rinse with cold water. Allow to cool before tossing with dressing.

In a mini food processor, pulse together olive oil, herbs, shallot, garlic, Dijon mustard, white wine vinegar and kosher salt.

If you've tried this recipe, come back and let us know how it was in the comments or ratings.
Notes
For creamy Herbed Potato Salad, fold in 1 cup of good quality mayonnaise at the end.
If you don't have a mini food processor, chop all ingredient well and whisk together.
Cold potatoes won't break as easily as hot potatoes. You can even chill them in the fridge before tossing in dressing.
Nutrition
Calories:
218
kcal
,
Carbohydrates:
41
g
,
Protein:
5
g
,
Fat:
3
g
,
Saturated Fat:
1
g
,
Cholesterol:
7
mg
,
Sodium:
1789
mg
,
Potassium:
1025
mg
,
Fiber:
5
g
,
Sugar:
2
g
,
Vitamin A:
285
IU
,
Vitamin C:
48.6
mg
,
Calcium:
37
mg
,
Iron:
2.3
mg