This is the perfect side dish! You can forget about that boring regular broccoli and replace it with this tasty Crunchy Baked Broccoli, a great pairing for any meal.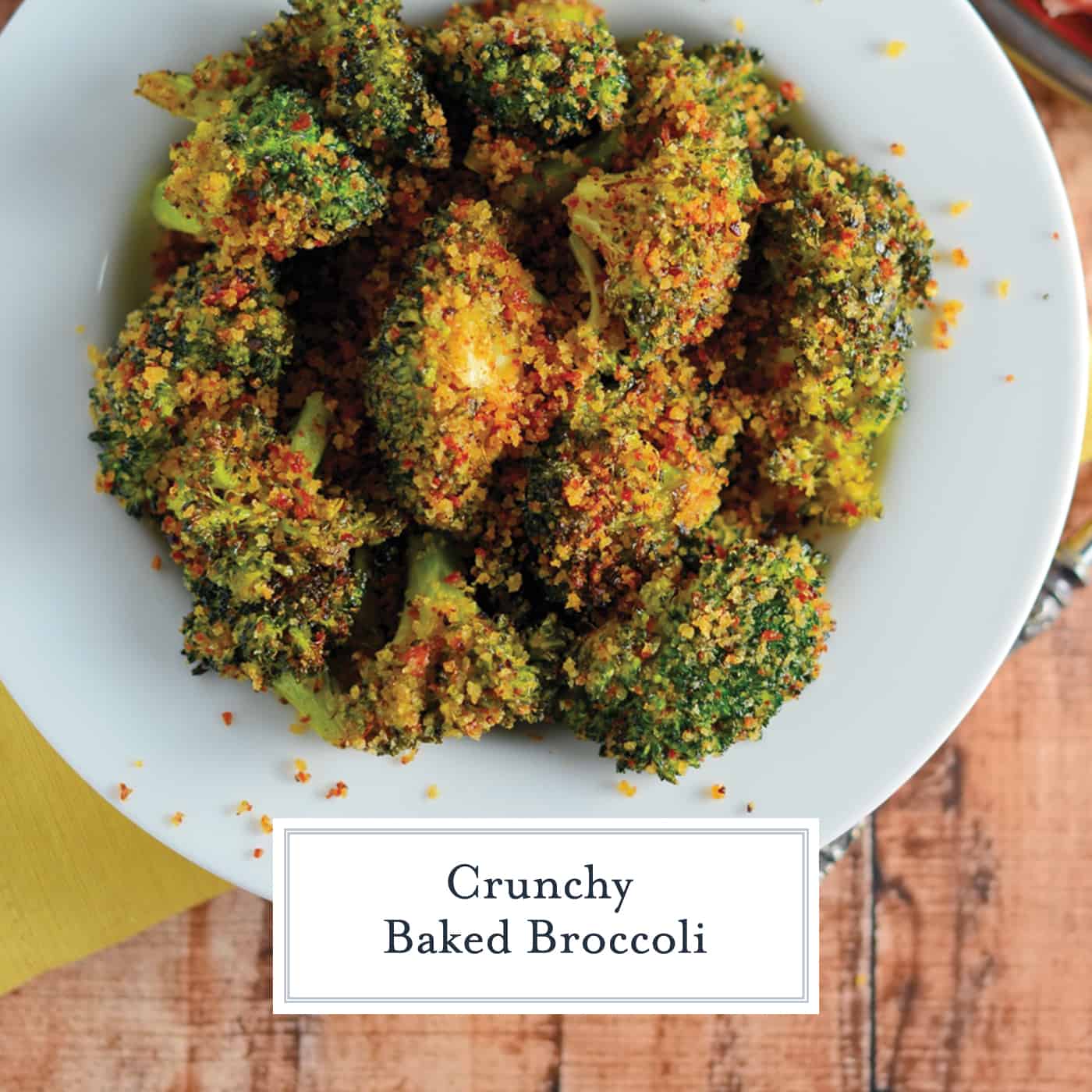 Crunchy baked broccoli is tossed in a crisp, tangy mix with two secret ingredients that will make this broccoli recipe your favorite side dish!
Crunchy Baked Broccoli has multiple level of flavor and texture in just 30 minutes. Are you ready for the secret on how this crunch gets so zesty?
You know how I feel about bacon… it makes everything better? Well pepperoni is in the same category. In Crunchy Baked Broccoli, pepperoni, panko, garlic salt and pepper is pulsed in a small food processor to a uniform size.
How does it stick? Even more vinegary tang with Dijon mustard! Are you starting to imagine how Crunchy Baked Broccoli tastes? GOOD. I can't wait to hear how much you like it.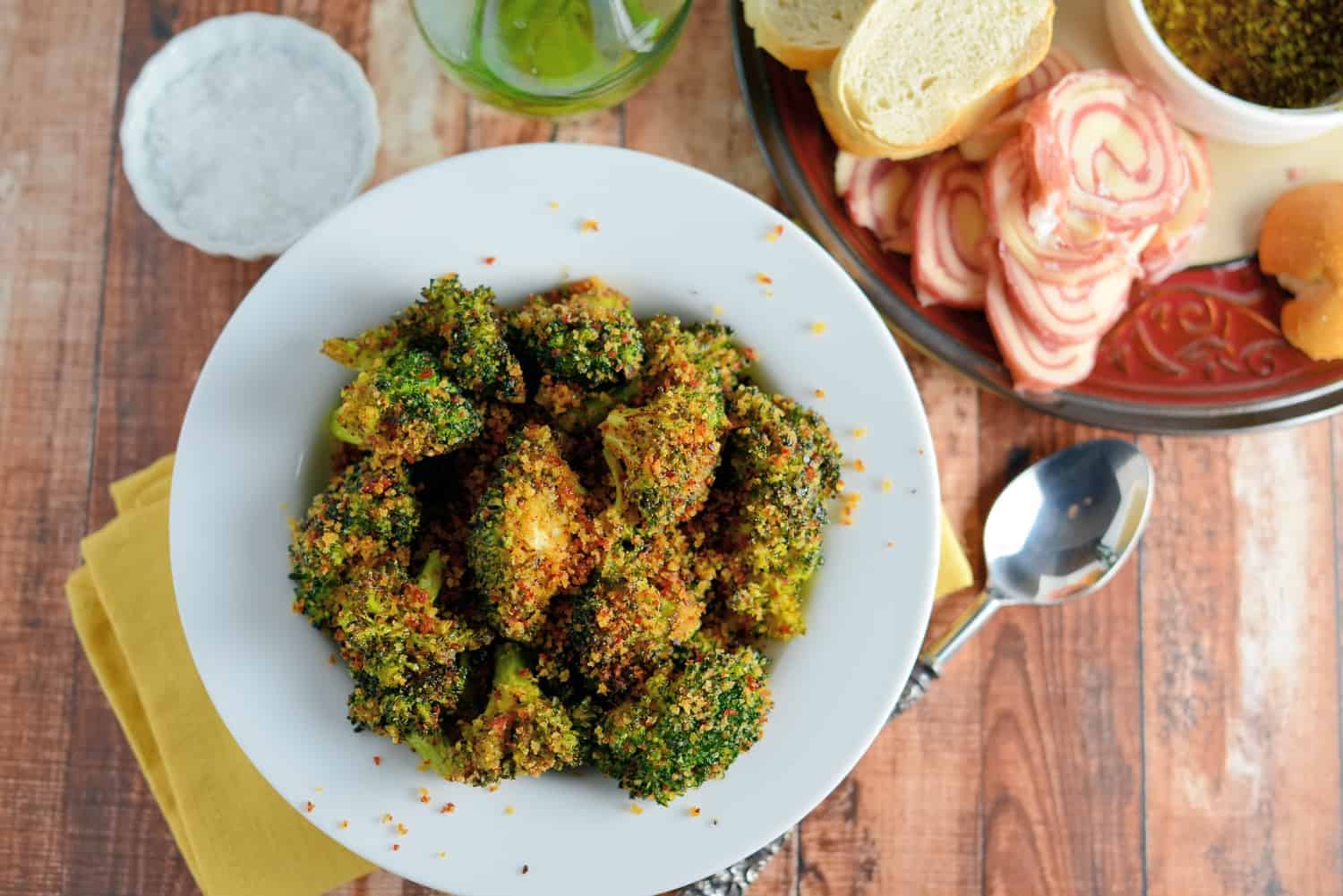 Everyone knows how to make broccoli, it seems silly to even think about it having a particular process. You have your heads of broccoli that you trim to florets and wash up really nice.
Then you choose how you want to cook it. You can steam it, roast, or bake them like in this recipe.
There are so many different types of broccoli recipes out there but this is my favorite. It has so much flavor, I could eat it with everything! I'm sure your family will love it too!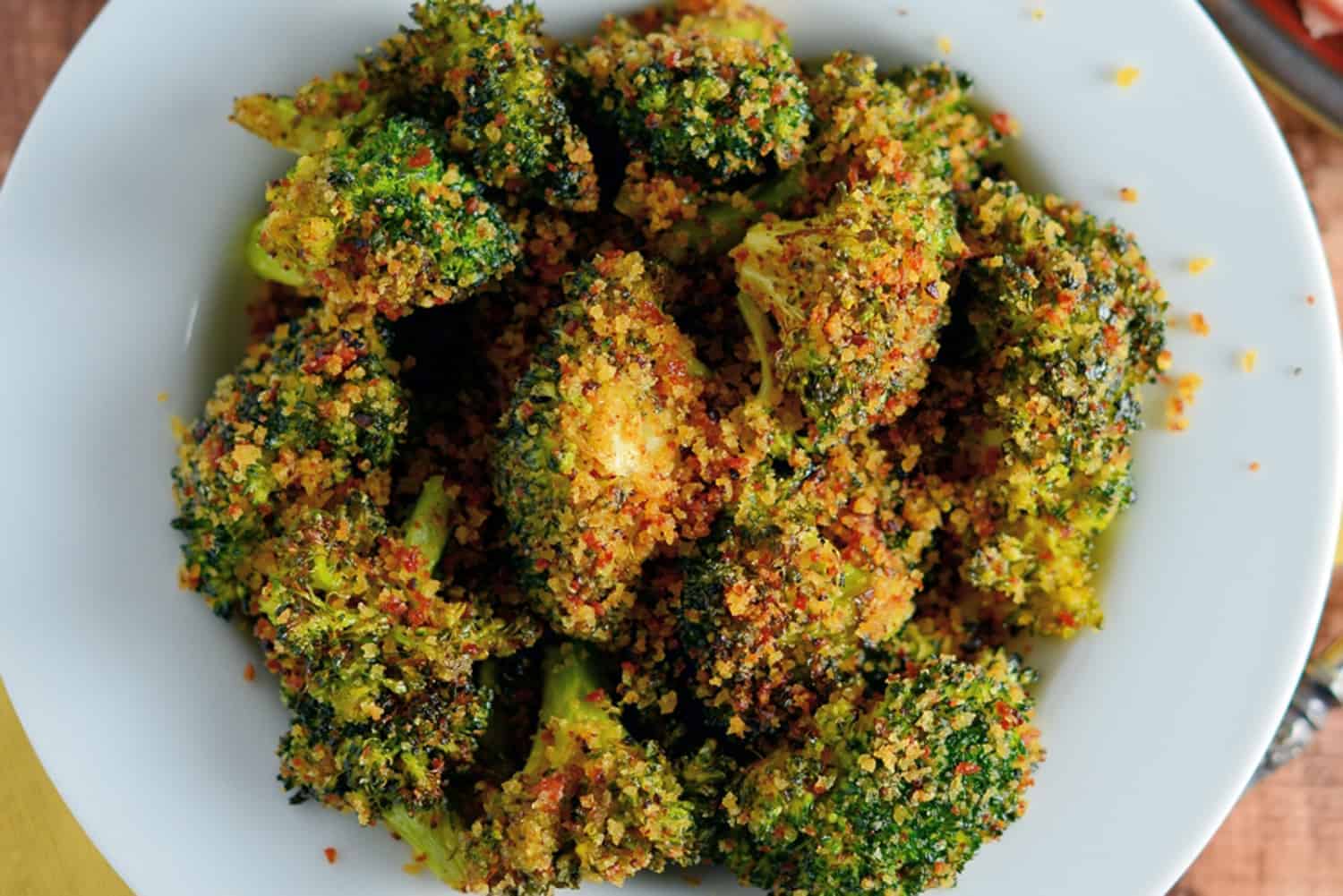 Check out some of these other broccoli recipes: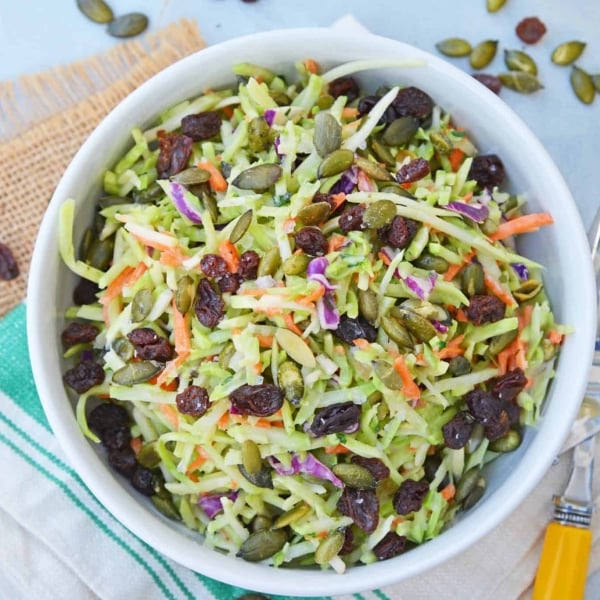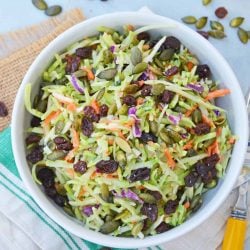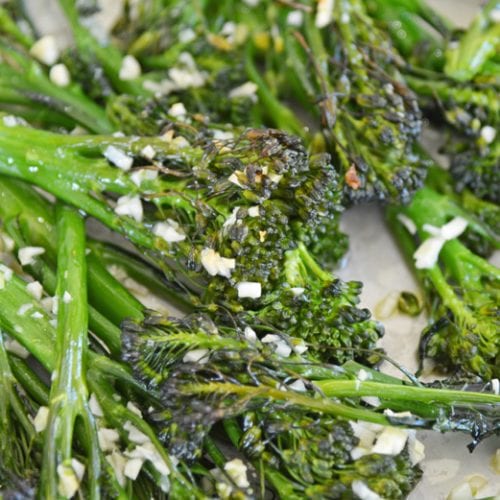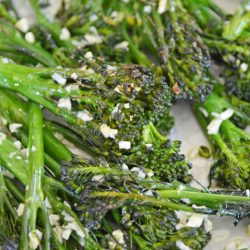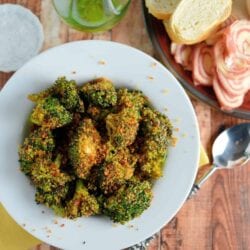 Broccoli Cheddar Bites
Broccoli Cheddar Bites are pizza dough stuffed with cheddar shreds, broccoli and topped with garlic butter sauce.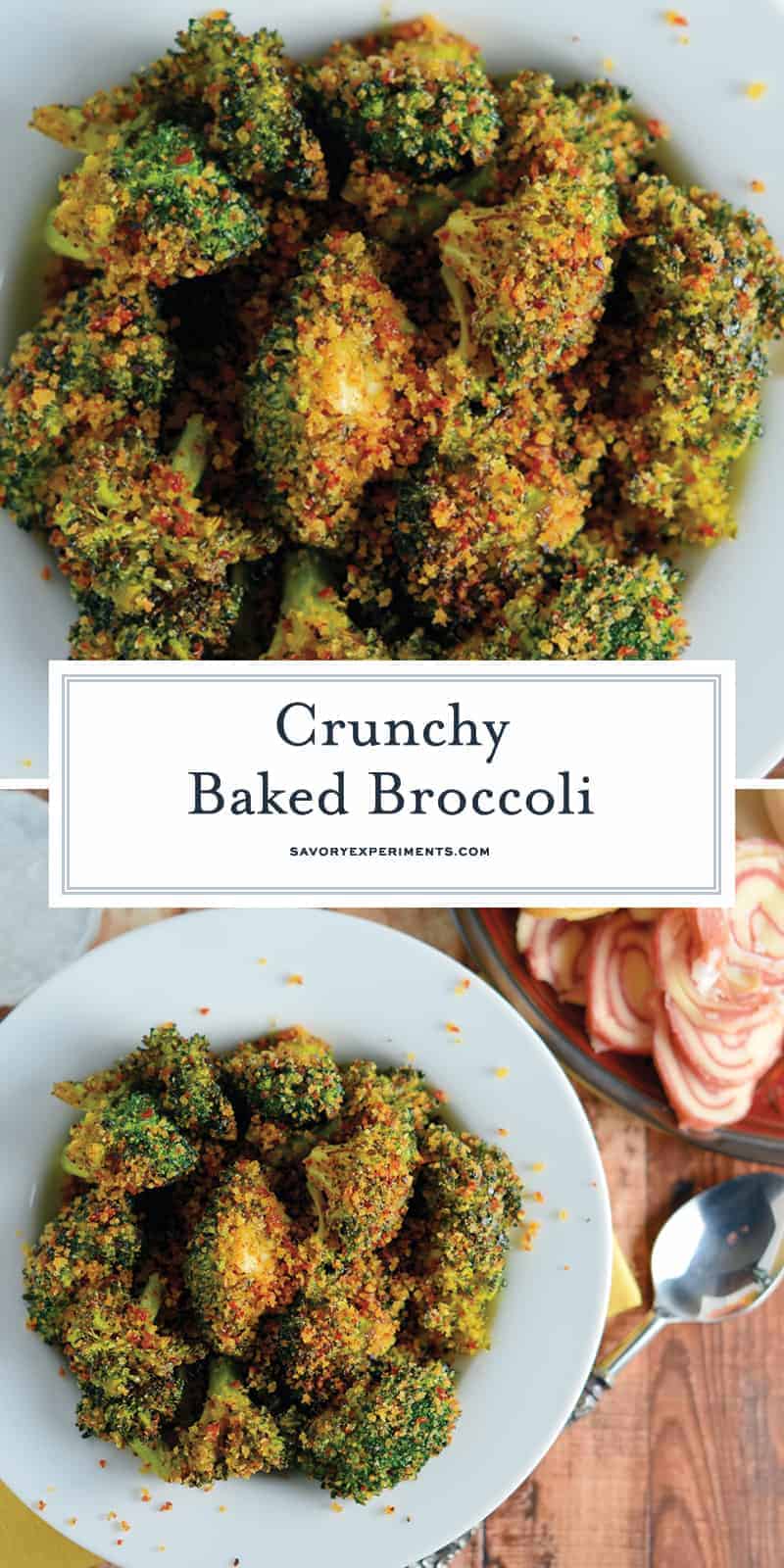 Tools for making crispy broccoli:
Mini Food Processor– I use this thing daily! It is by far my most used kitchen appliance, it is small and I throw all the parts into the dishwasher, well except the base and cord, of course!
Good Extra Virgin Olive Oil– A good olive oil will taste like, well, olives, while a poorly made one will taste like vegetable oil. Gross. While people tend to favor Italian and Greek olive oils, I prefer to buy mine domestically.
There are some great ones out there from all over the world, but the reporting of ingredients isn't always the same and you could find that your super expensive olive oil was actually cut with vegetable oil.
Rimmed Baking Sheet– another kitchen staple! You'll use this for prep work, roasting and much more. I have 7 at my house.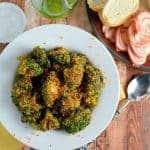 Crunchy Baked Broccoli Recipe
Crunchy Baked Broccoli Recipe- baked broccoli tossed in a crunchy, tangy mix with 2 secret ingredients that will make this broccoli recipe your favorite side dish recipe.
Instructions
Preheat oven to 425 degrees.

Lay broccoli in a single layer on a rimmed baking sheet, tossing in 2 tablespoons light virgin olive oil. Place in oven for 10 minutes, ends should start to char, but broccoli will hold its shape.

In a small food processor combine pepperoni and garlic. Pulse until the mixture has made small bits. Add panko and a light seasoning of fine sea salt and freshly ground pepper before pulsing a few more times to combine and all pieces are relatively similar size.

Meanwhile, heat 2 tablespoons light extra virgin olive oil in a medium skillet over medium-low heat. When oil is hot add panko mixture. Stir for about 5 minutes or until mixture is crisp and olive oil as been absorbed. Remove from heat and set aside.

In a large mixing bowl, smear Dijon mustard around the sides. This prevents it from clumping to one piece when you toss it. Add broccoli, tossing to lightly coat in mustard, then toss in panko mixture and return to rimmed baking sheet.

Bake for an additional 5 minutes, remove and serve.

If you've tried this recipe, come back and let us know how it was!
Nutrition
Calories:
349
kcal
,
Carbohydrates:
37
g
,
Protein:
13
g
,
Fat:
18
g
,
Saturated Fat:
3
g
,
Cholesterol:
5
mg
,
Sodium:
481
mg
,
Potassium:
1034
mg
,
Fiber:
9
g
,
Sugar:
6
g
,
Vitamin A:
1895
IU
,
Vitamin C:
271.4
mg
,
Calcium:
191
mg
,
Iron:
3.6
mg