Slow Cooker Chicken Tacos are great for those days that you know are going to be super busy but you still want to come home and have dinner as a family. Everything gets tossed in the crock pot and cooks all day until you're home and ready to eat it!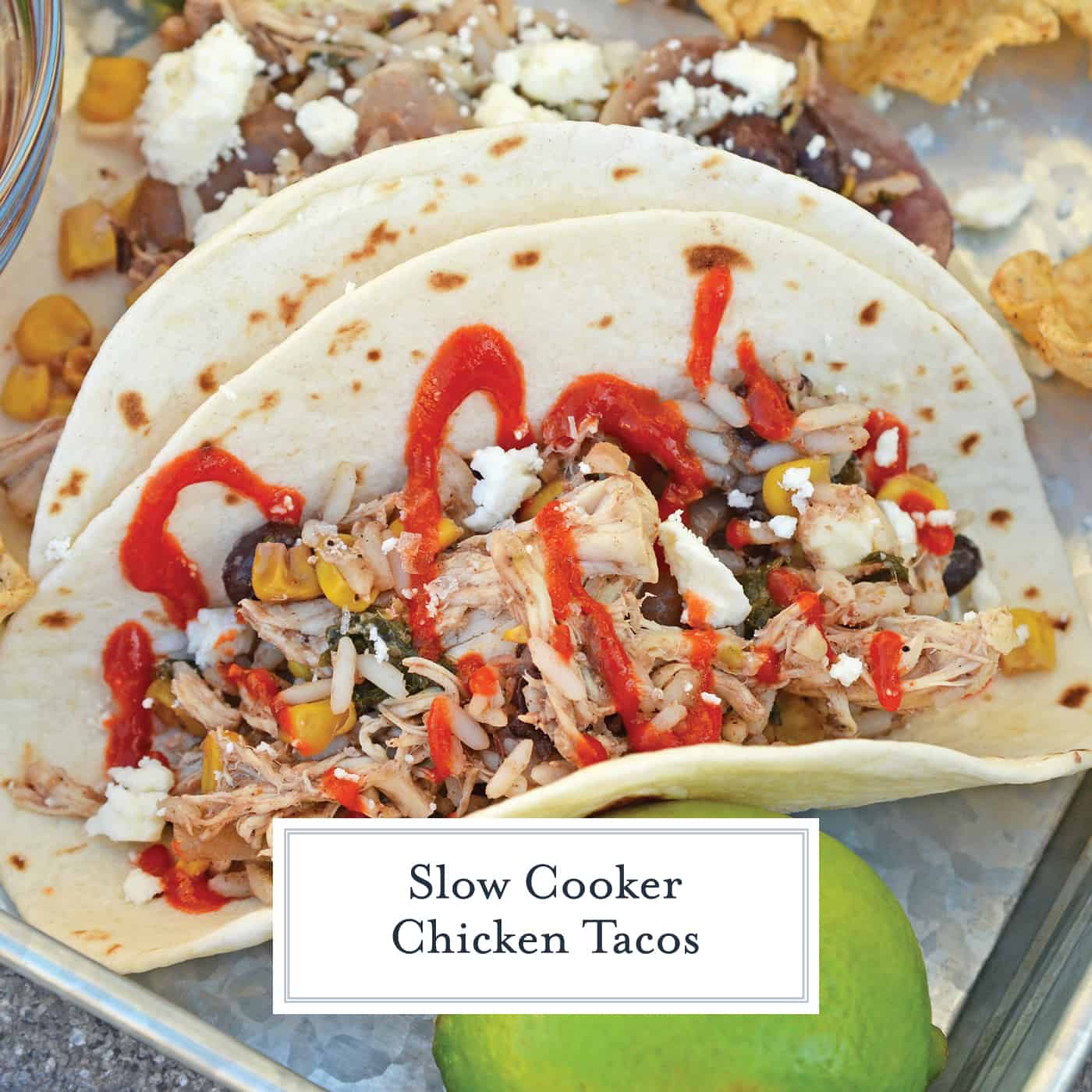 Slow Cooker Chicken Tacos only take 10 minutes to throw in the crockpot. Delicious shredded chicken tacos in a jiffy!
About a week ago I polled my readers on Facebook to see if they preferred tacos to burritos. I think the proof was in the numbers when an overwhelming number of individuals responded back with a strong "TACOS!!!!" Pulled chicken tacos, to be more specific.
I also know that my fellow foodies love a good chicken crock pot recipe, so Slow Cooker Chicken Tacos were born. For obvious reasons, they were actually called Cilantro Lime Chicken Tacos in their beginning. Since, they have become a favorite, and staple, in our home.
Taco Tuesday is nearly a national, weekly holiday, at this point, so you have to have some fabulous tacos recipes in your repertoire, don't you agree?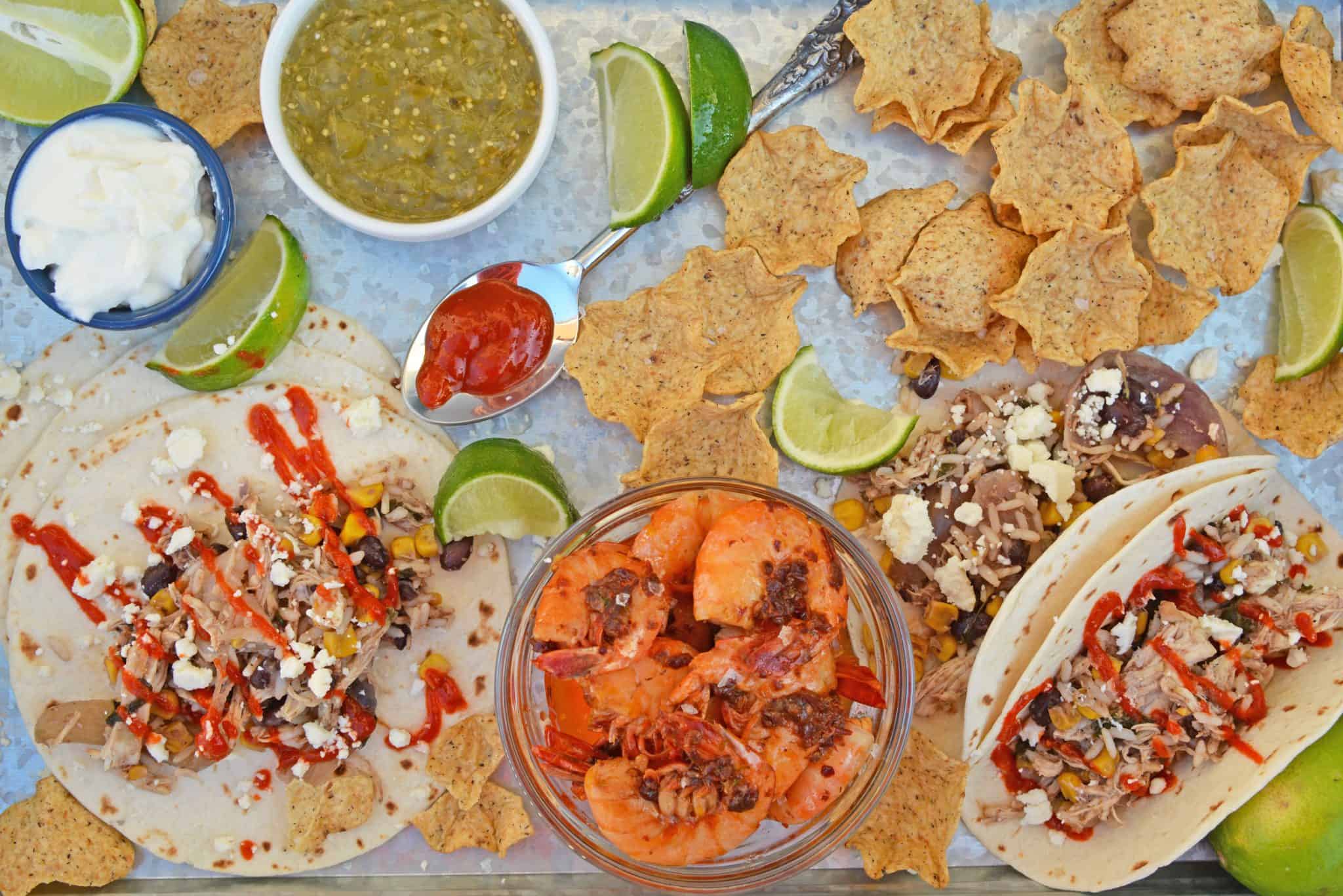 Slow Cooker Chicken Tacos are perfect for any family who loves good flavor, but also loves to save time. All your ingredients get dumped in the crock pot to simmer on low all day, marrying the delicious spices and flavors.
It only takes 10 minutes to throw all of the ingredients into the pot. No browning meat, or expensive chopping. None of that nonsense, it goes against my core slow cooker values that it should be faster and easier.
My mornings are super hectic, as I am sure yours are as well. So keep in mind that you can combine all the ingredients in the slow cooker the night before. Top it with the lid, throw it in the fridge and in morning just plop it in the pot and set it on low.
Shredded chicken tacos are also great for potlucks and other parties. Just prep ahead of time and have it ready to go for your guests. Even better just throw a taco party because everyone would come to that. I mean, who would say no to a taco bar?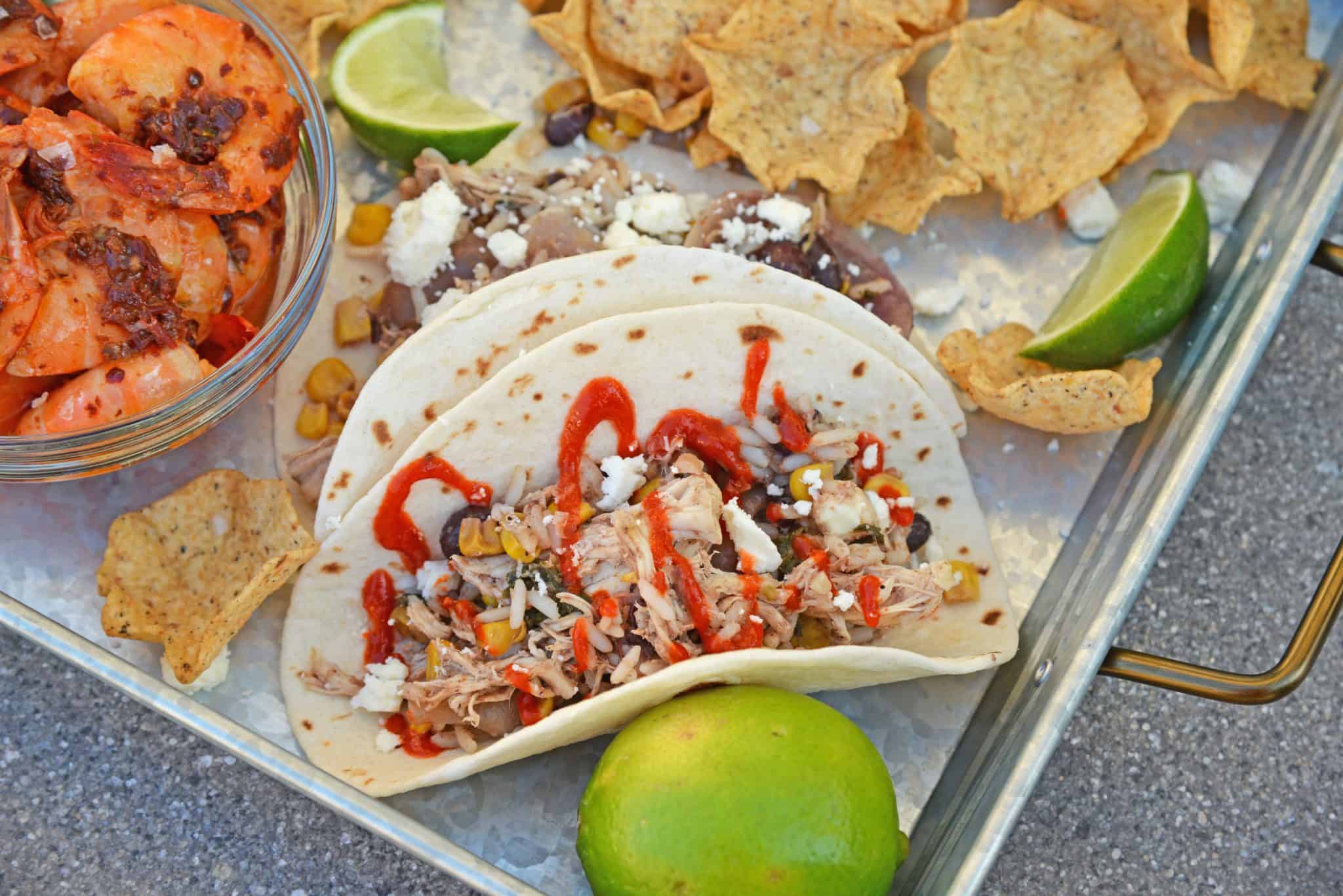 Don't forget to have all your toppings ready to go to load up your slow cooker chicken tacos. Here are a few of my favorite taco toppings:
Fresh lime wedges
Sriracha
Crumbled queso fresco
I also use soft flour tortillas with this recipe, but if you're a hard taco kind of person then feel free to use those instead. Corn tortillas are acceptable as well.
PRO TIP: For parties, get small tortillas, corn or flour. These are known as street tacos and easier to manage and eat as finger food.
This crock pot taco recipe is also perfect for a taco salad. Use a crunchy tortilla bowl or just a big bowl of leafy greens. I love it with Romaine lettuce and a little hot sauce; it doesn't even need salad dressing!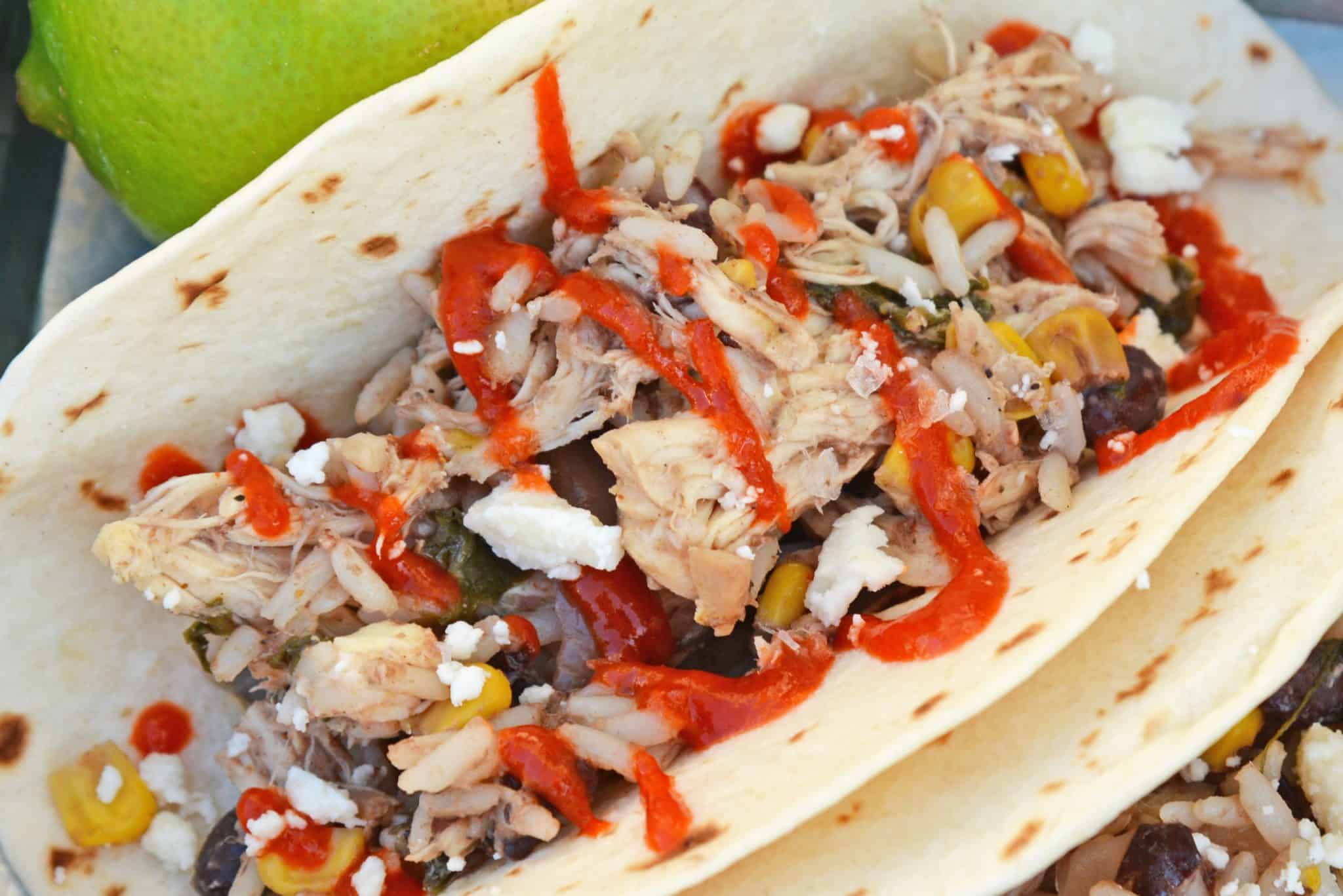 More taco recipes: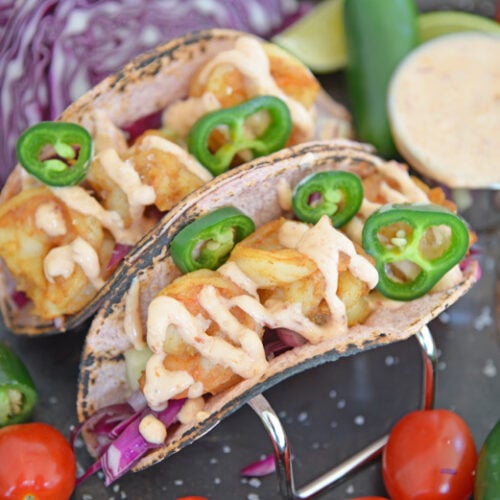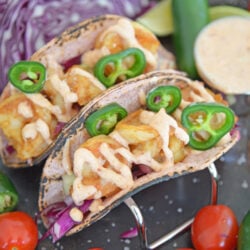 BOMB Shrimp Tacos
Easy shrimp tacos don't get any better than these Shrimp Tacos with Cabbage Slaw! Taco Tuesday will never be the same! Full of fresh flavor and seasoning!
See The Recipe!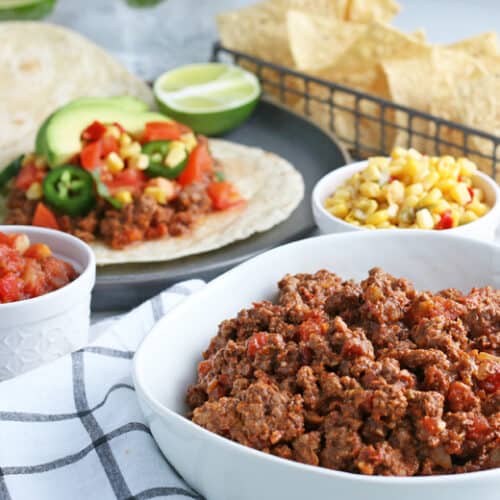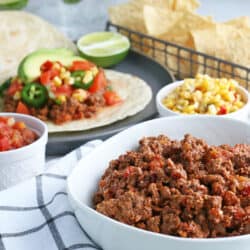 Crockpot Taco Meat
Making taco meat for a crowd has never been easier than this Crock Pot Taco Meat recipe! Only 3 ingredients, set it and forget it!
See The Recipe!
Tools for making Slow Cooker Chicken Tacos:
Slow Cooker – You'll need one to make this recipe! You can also use the slow cooker function on your Instant Pot.
Wood cutting board – wood won't dull your knives like plastic and if treated properly, has natural antimicrobial properties.
Good knife – Global is my favorite! They are worth the price, I promise. I am kind of obsessed with them and store them tucked away so no one else can use them. Including hubby. Hands off my good stuff!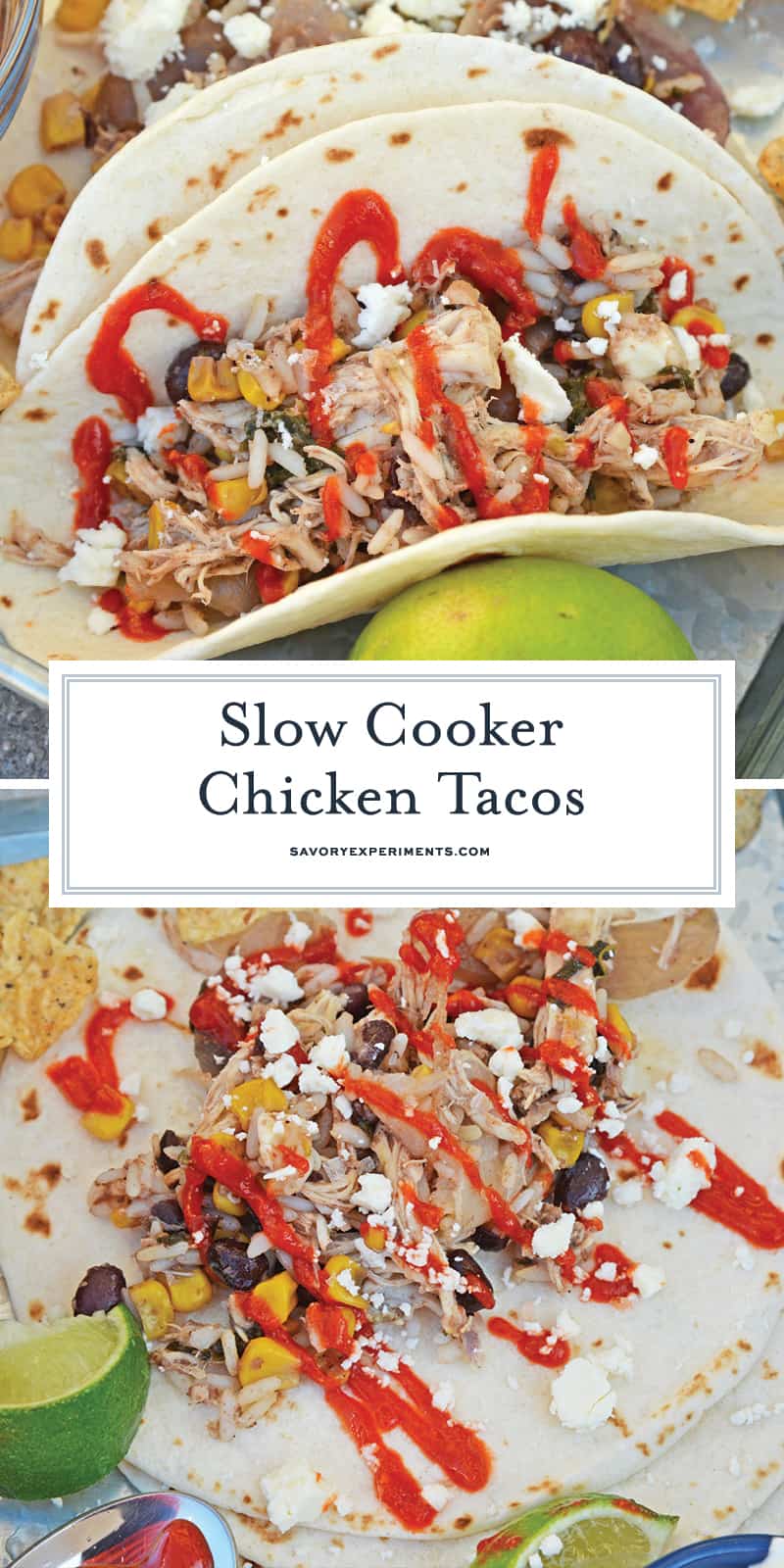 Questions you might have about how to make chicken tacos:
What salsa goes best with soft chicken tacos? These pulled chicken tacos can use any salsa recipe you like. They are also flavorful enough to not really need a salsa if you prefer to not use one.
Salsas don't have to be hot or spicy. In fact, the word salsa just means chopped up produce. Here are a few of my favorites:
Can I use chicken thighs for this slow cooker chicken taco recipe? You sure can use boneless chicken thighs instead of boneless skinless chicken breasts for crockpot tacos. In fact, I might actually prefer the dark meat of chicken thighs. Use the same 1.5 pounds and trim them of excess fat.
Can you make these chicken tacos with cream cheese? The original recipe does not call for cream cheese, but you can 1/2 cup at the very end to make super creamy shredded chicken.
Can I cook this recipe on high? You can cook it on high for 3 hours instead of low for 6. It will actually cook even faster if you cut the chicken into smaller pieces. Just make sure they are no longer pink before shredding. Cooking times may vary.
Are these healthy chicken tacos? It really depends on your definition of healthy and your portion sizes. I am not a registered dietitian. What I will say is that they are loaded with fresh wholesome ingredients and a lean protein. But after you add tortillas and cheese, I suppose things can get a bit wonky.
If you wanted to make this into a lower carb recipes, you can make a chicken taco bowl (sans a tortilla) or even use the shredded chicken mixture to top a leafy green salad.
Can I free shredded chicken? After making the shredded chicken mixture, you can freeze it in an airtight container for up to 4 months.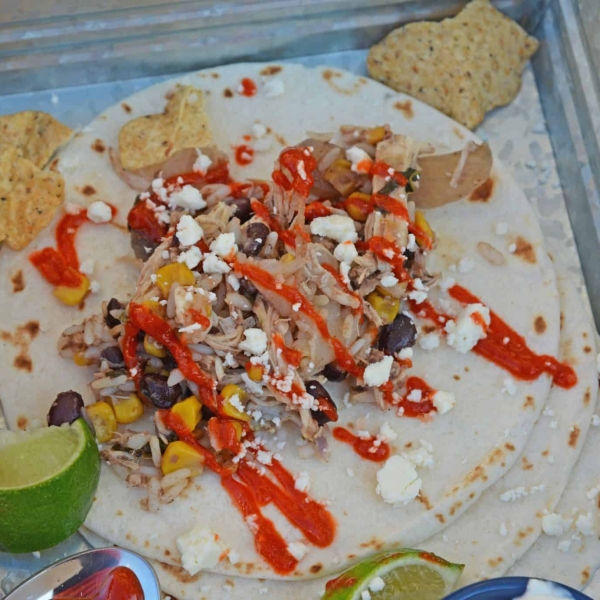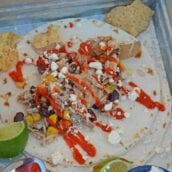 Slow Cooker Chicken Tacos
Slow Cooker Chicken Tacos only take 10 minutes to make in the crock pot! Just set it and forget it for a delicious dinner!
Instructions
Combine chicken breasts, lime juice, cilantro, corn, garlic, red onion black beans, cumin, fine sea salt, black pepper, chile powder and chicken stock in a slow cooker.

Thirty minutes before serving, remove chicken and shred. Return to slow cooker with instant rice, stir well, cover and continue to cook for 15 minutes.

Using a slotted spoon, fill flour tortillas, top with a spritz of fresh lime juice, Sriracha, salsa verde and queso fresco.

If you try this recipe, make sure to come back and let us know how you liked it.
Nutrition
Calories:
571
kcal
,
Carbohydrates:
53
g
,
Protein:
55
g
,
Fat:
14
g
,
Saturated Fat:
5
g
,
Cholesterol:
130
mg
,
Sodium:
934
mg
,
Potassium:
1217
mg
,
Fiber:
9
g
,
Sugar:
1
g
,
Vitamin A:
480
IU
,
Vitamin C:
7.8
mg
,
Calcium:
225
mg
,
Iron:
4.4
mg