My pork loin roast recipe is simple, but so delicious. You can set up your pork loin in the slow cooker and forget about it, come home to the perfect dinner recipe!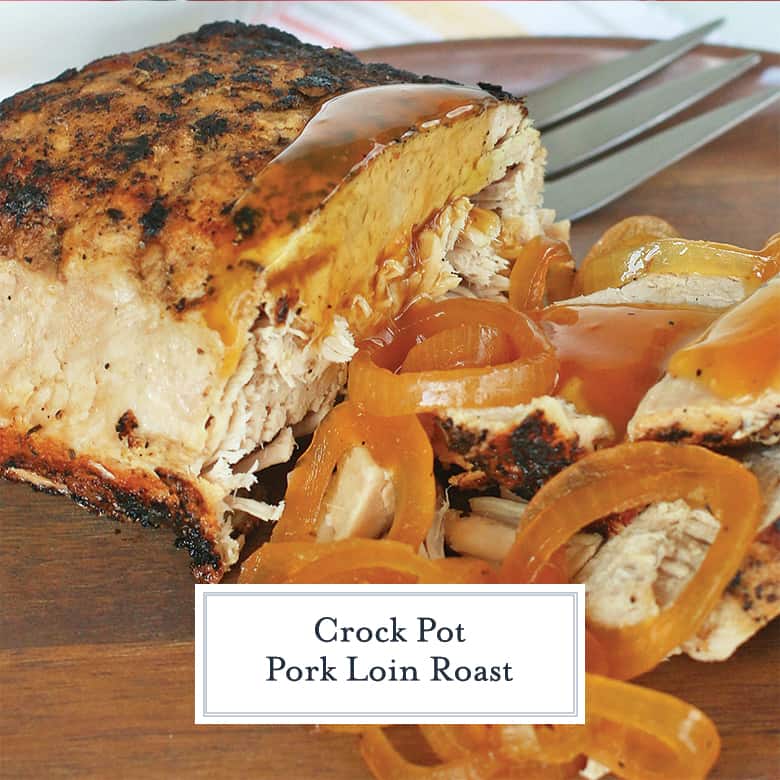 Pork Loin Crock Pot Recipe
Pork loin is a large cut of meat from the back of the animal. It is relatively inexpensive, very flavorful, and lends itself perfectly to recipes like this one for slow cooker pork loin.
Our family loves cooking pork of all kind, but pork loin is one of our favorites. And when you serve it with a side of mashed potatoes… it's perfection.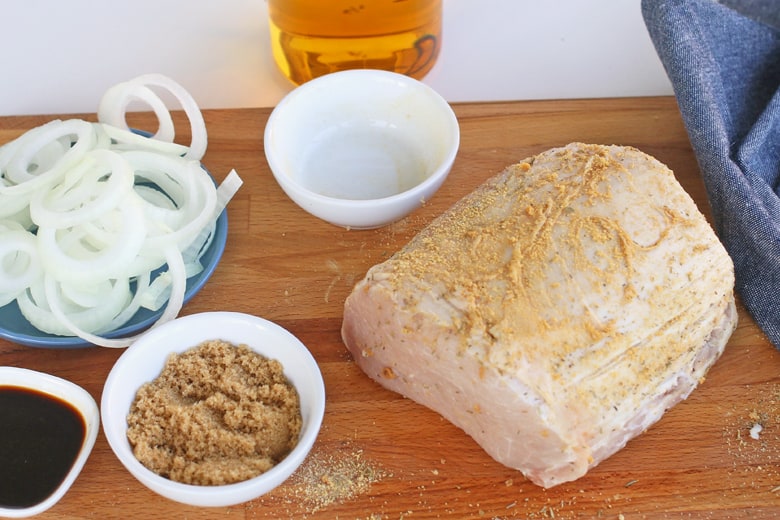 How to Make Pork Loin in the Crock Pot
Because it is made in the slow cooker, it is ideal meal for busy weeknights. Also, making lean cuts of meat in the crock pot seals in juices, helping to keep it moist while cooking it at a consistently low temperature.
FACT: Pork loin and pork tenderloin are two different cuts of meat. Loin is thicker, wider and shorter. Tenderloin is longer and thinner.
To start making this recipe, you will first combine the garlic powder ginger, thyme, salt and pepper in a small bowl. Mix those ingredients until fully combined.
Next, you will want to rinse the pork loin, and then pat dry with a paper towel. This helps to get rid of any external debris that might be on the pork, but also helps the spice mixture to stick.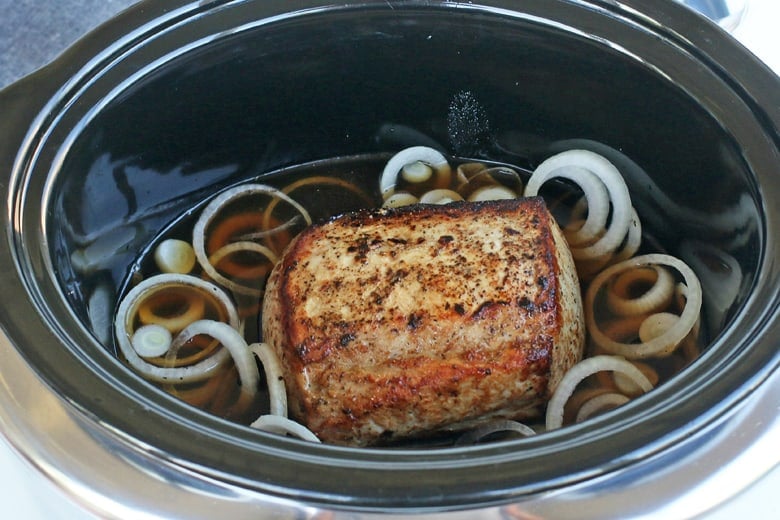 Once rinsed and patted dry, rub the seasoning mixture all over the pork loin. Be sure to use all of the seasoning for maximum flavor potential.
After seasoning the meat, heat vegetable oil in a large skillet over medium high heat. Sear the pork on all sides until it is golden brown. This should take about one to two minutes per side.
PRO TIP: Searing and browning creates acidity and changes the flavor profile. Many think this step can be skipped, but it really is important for developing flavor and nice back on the meat.
Once golden brown on all sides, remove the pork from the skillet and add to the slow cooker. For extra flavor, slice up onion to add as well.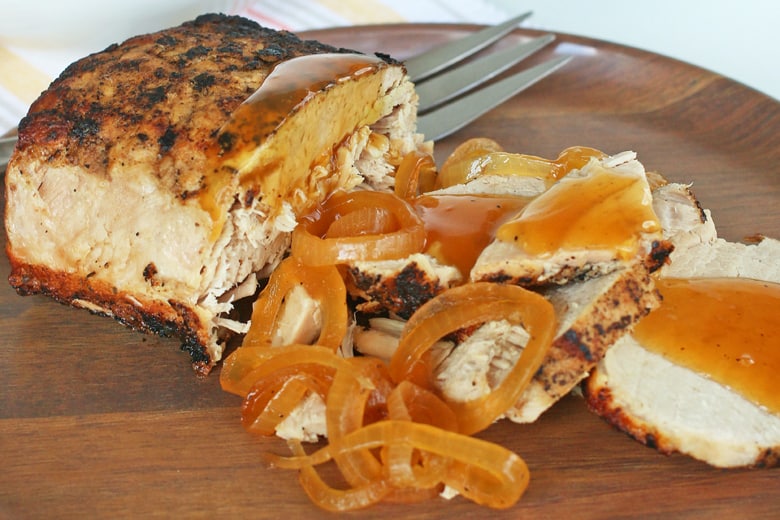 Best Sauce for Pork Loin
Next, we'll work on the sauce. It's a simple mixture of apple juice, Worcestershire sauce and brown sugar. If you'd like, you can also add a little bit of soy sauce for an umami essence.
PRO TIP: The FDA recommendation for cooked pork is 145 degree internal temperature.
After making the sauce, pour it into the crock pot over the pork. Cover and cook for a period of time about 4-6 hours on low, or 1-2 hours on high.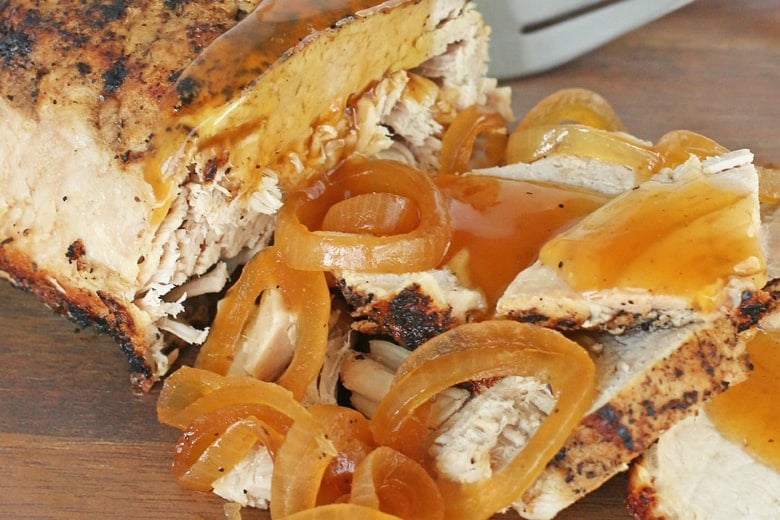 After your pork loin is cooked, you can use the seasoned juices to create a delicious gravy. It's made easy using a simple trick with cornstarch.
After the pork is finished cooking, pour the juices into a small pan and bring to a simmer. While that's simmering, whisk together cornstarch and water.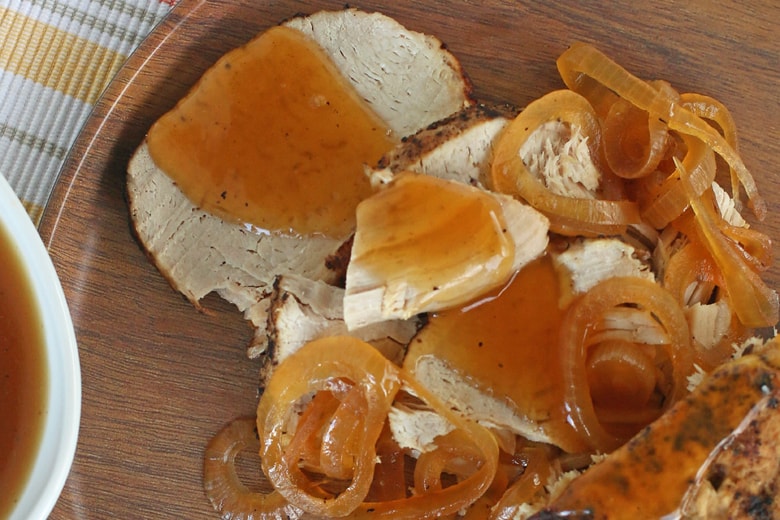 Once fully combined, pour the cornstarch mixture into the simmering juices. Whisk constantly until the gravy reaches your desired consistency.
And there you have it. A delicious gravy to top not only your pork, but perfect for mashed potatoes, too!
Tips for making the perfect pork loin roast:
My pork loin in slow cooker recipe calls for about 2 pounds of meat. You can size this according to your needs. Make more if you have a big crowd to feed, less if it's just you, etc.
Cooking veggies with your pork loin roast is a great idea! Just leave them in large chunks so that they don't cook down to mush during the long slow cooking process. Carrots, potatoes, and even celery are great options. Other root veggies will roast nicely with your pork loin as well.
This recipe is for a pork loin, not a pork tenderloin so keep that in mind when selecting your cuts of meat. They are actually very different, more on that below.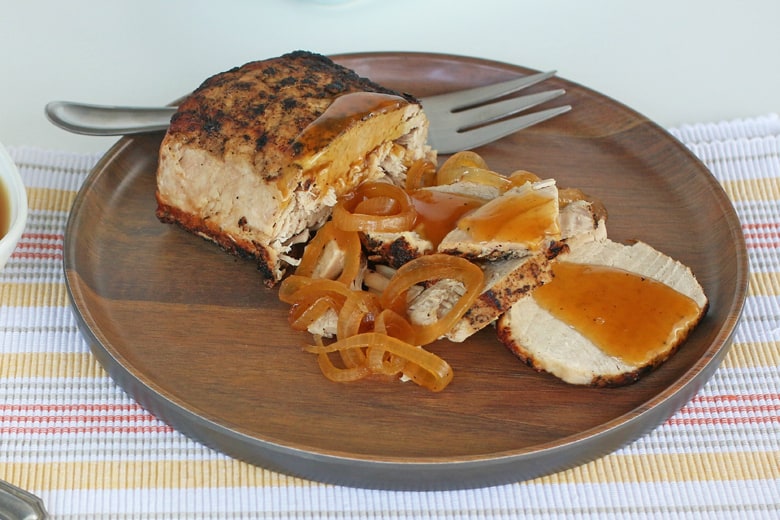 Pork Loin Vs. Pork Tenderloin
What is the difference between a pork loin and slow cooker pork tenderloin?
There's a lot of difference actually. They are similar only in name. They are not even from the same area of the animal!
A tenderloin is small, thin, and should be cooked over relatively high heat and quickly. Pork loin, which is what we want here, is larger and looks more like a roast.
Pork loin is almost always slow roasted. It lends itself nicely to smoking and grilling methods as well.
Pork tenderloin runs alongside the backbone of a pig while the pork loin is from the back of the animal.
The two should not be used interchangeably in recipes because they have very different cooking needs! When you overcook pork tenderloin it gets not only dry but also tough and little flavorless.
I prefer to use pork loin when roasting or slow cooking because it can handle the long, low temperature cooking times without drying out and becoming tough and chewy.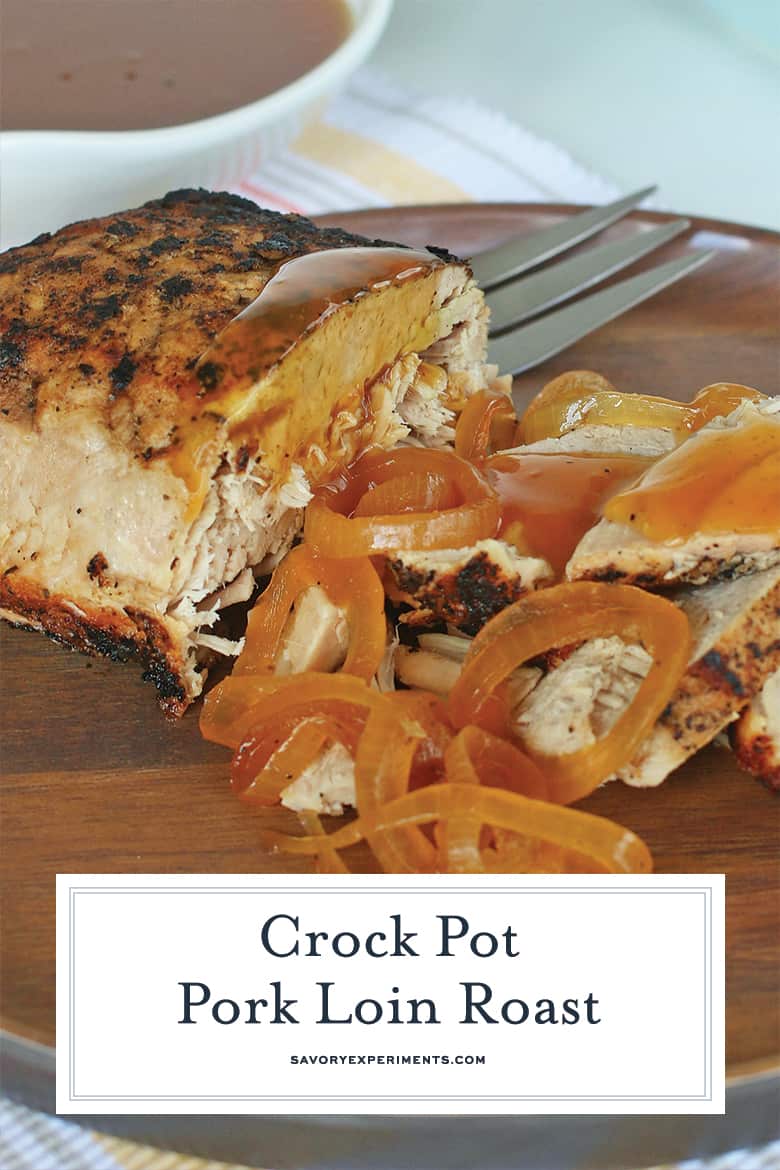 Searing Before Cooking
Why do we sear the pork loin before it goes into the Crock Pot?
Searing any kind of meat before you roast it or slow cook it helps to lock in the juices and therefore the flavors.
We sear the pork loin before it is roasted to allow more complex flavors to develop and to keep the meat from drying out during the cooking process.
You can choose not to sear your pork before it goes into the slow cooker, that is up to you. It doesn't take too long so I wouldn't recommend skipping it but just know that you won't be completely ruining the recipe if you choose not to sear your meat before you begin.
Oven Instructions
Do I have to make this pork loin roast in the slow cooker?
No, of course not. You can make your pork loin roast however you want to…but if it were me, I'd always make pork loin in the slow cooker.
Pork loin in the Crock Pot always comes out so much better. It's more tender, juicy, and full of flavor.
Prepare the same way (browning on the stove), place into a casserole dish and cover tightly with aluminum foil or a fitted lid. Preheat oven to 350 degrees. Bake, covered for 1-2 hours, depending on the size of your roast.
Meat should register at 145 degrees. Remove to rest and then prepare gravy.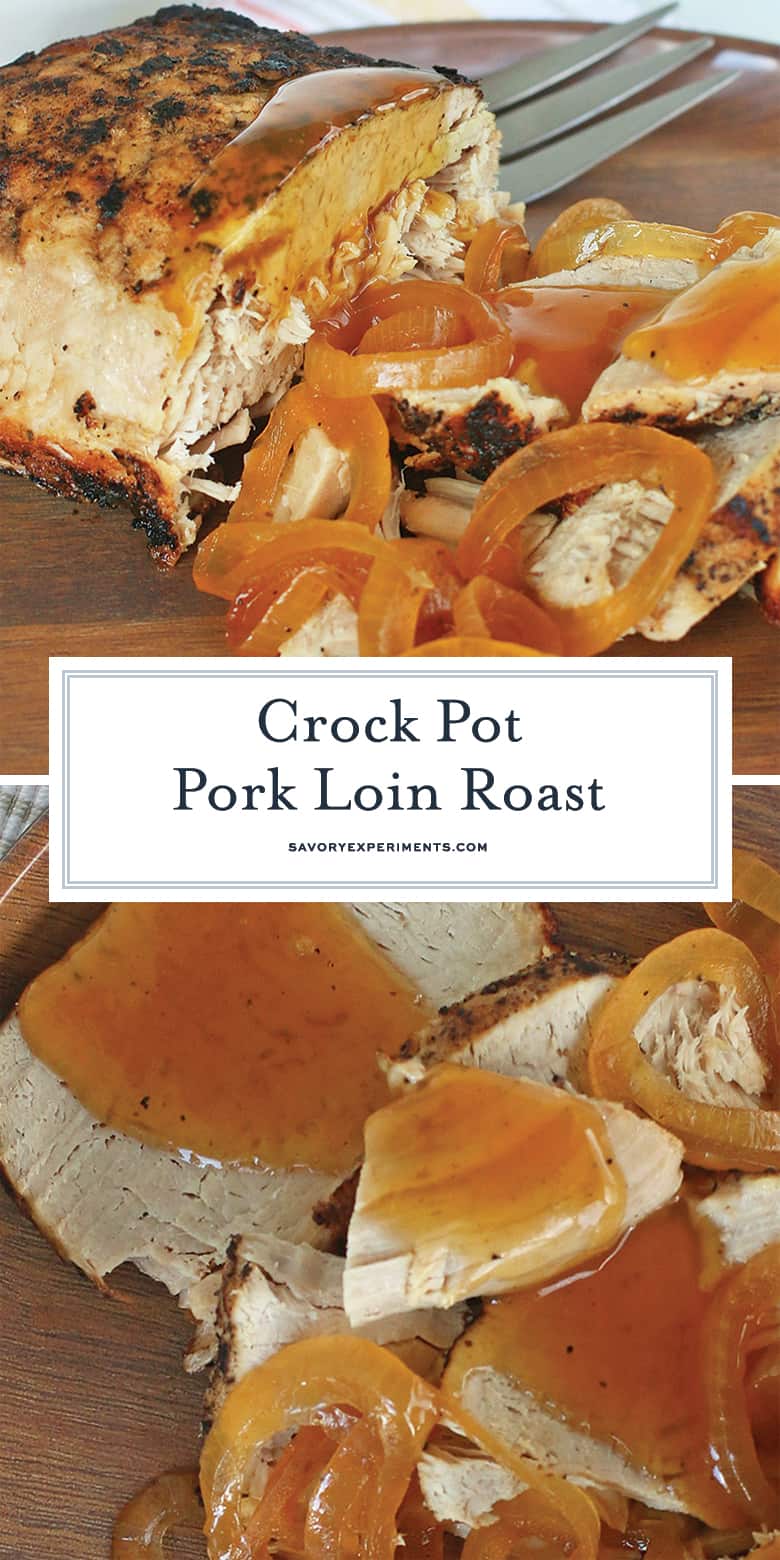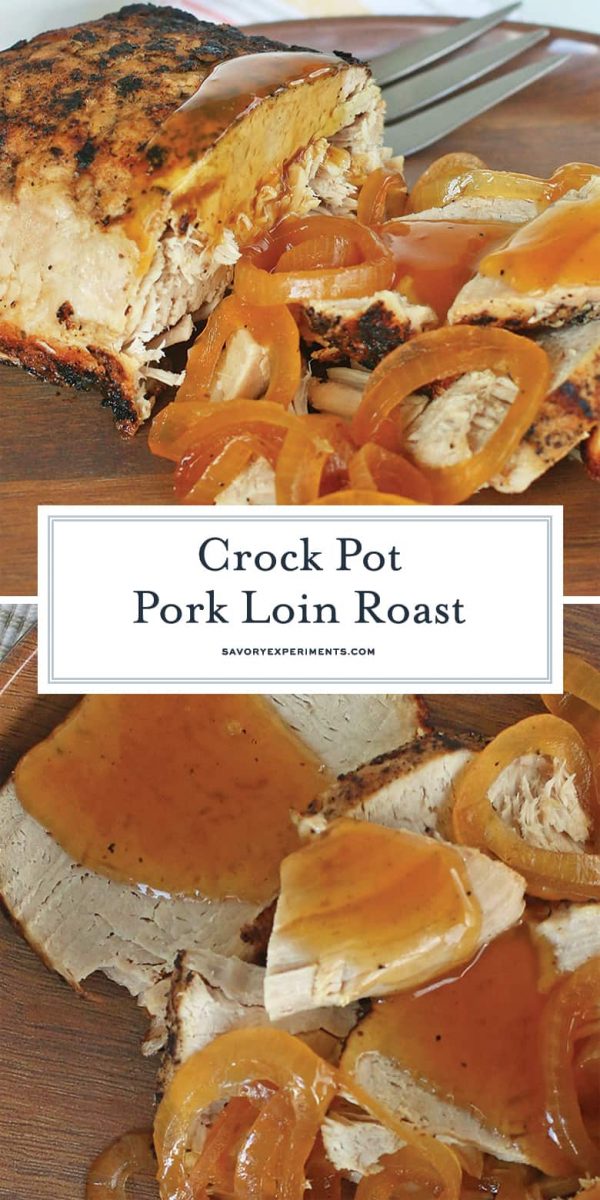 Honey Balsamic Instant Pot Pulled Pork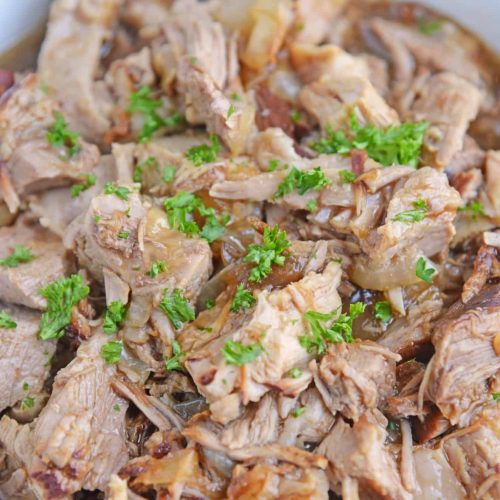 Honey Balsamic Instant Pot Pulled Pork is a pressure cooker pulled pork recipe using sweet and Asian flavors resulting in a super delicious sandwich. Ready in just 90 minutes!
Crock Pot Pork Chops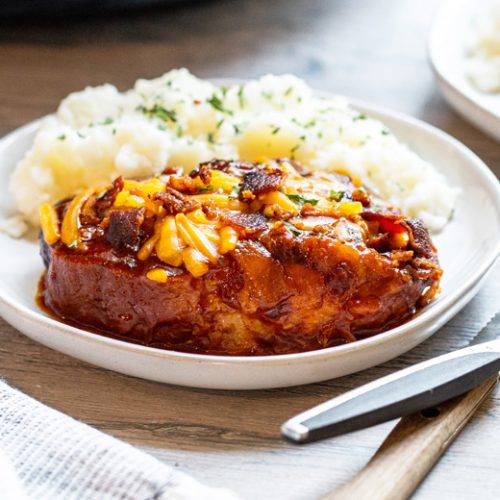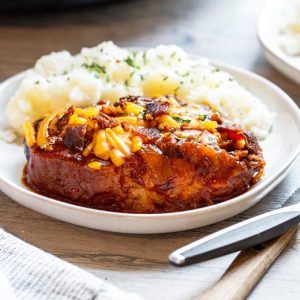 These Crock Pot Pork Chops are the perfect family dinner. Super tender, cooked in BBQ sauce and a special spice rub, then smothered with bacon and cheese!
Pressure Cooker Carnitas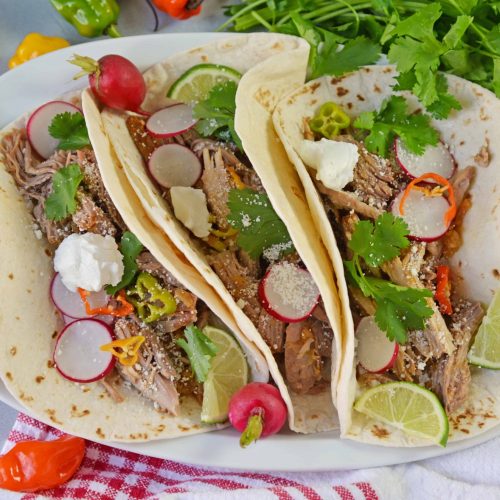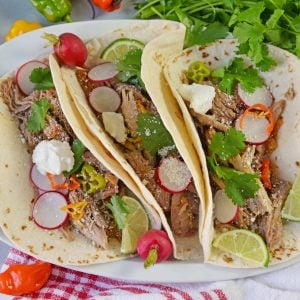 Pressure Cooker Carnitas are an easy pressure cooker recipe for shredded pork with Mexican flavors. Perfect for making the perfect soft taco!
CONNECT WITH SAVORY EXPERIMENTS!

Be sure to follow me on social media, so you never miss a post!

Facebook | Twitter | Youtube
Pinterest | Instagram
Get our FREE 8 Day E-Course on How to Be a Better Home Cook. Sign up HERE!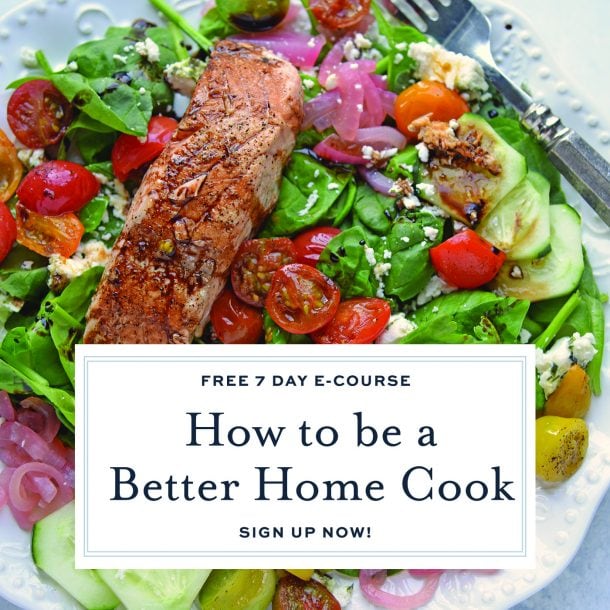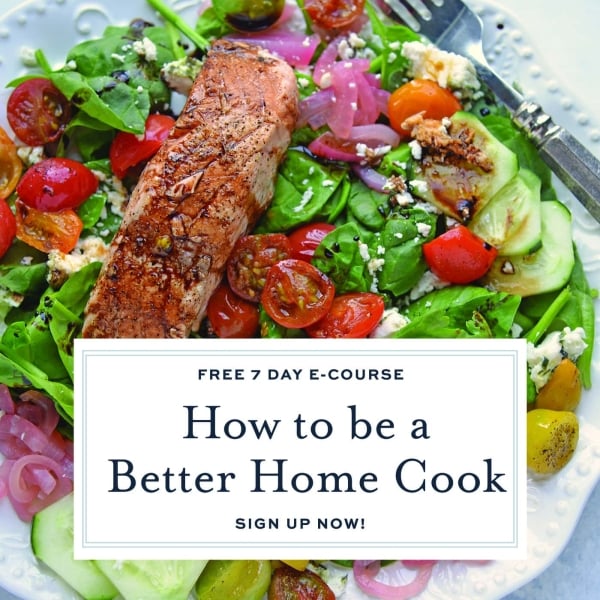 Crock Pot Pork Loin Roast
This savory crock pot pork loin is made extra special with its' own onion gravy. Use our slow cooker recipe for a delicious weeknight family meal.
Instructions
Rinse pork loin and dab dry with a paper towel.

Combine garlic powder, ginger, thyme, Kosher salt and ground black pepper in a small bowl.

Rub spice mixture into pork loin.

Heat vegetable oil in a large skillet over medium-high heat.

Sear pork on each side until golden brown, 1-2 minutes per side.

Remove from pan and add to slow cooker.

Add sliced onions to slow cooker.

In a medium bowl combine apple juice, Worcestershire Sauce and brown sugar, whisk to combine. Pour over pork.

Cook on low for 4-6 hours, or on high for 1-2 hours. Test with meat thermometer for 145 degrees.

Remove pork from slow cooker and tent with foil to keep warm.

Pour juices into small saucepan and bring to simmer.

Combine cornstarch and water until smooth, slowly add to saucepan, whisking constantly to make gravy.

Slice pork, add gravy on top or serve on the side.

If you've tried this recipe, come back and let us know how it was!
Nutrition
Calories:
305
kcal
|
Carbohydrates:
21
g
|
Protein:
34
g
|
Fat:
9
g
|
Saturated Fat:
4
g
|
Cholesterol:
95
mg
|
Sodium:
294
mg
|
Potassium:
698
mg
|
Fiber:
1
g
|
Sugar:
13
g
|
Vitamin C:
2
mg
|
Calcium:
24
mg
|
Iron:
1
mg