My crock pot pork loin roast recipe is simple, but so delicious. You can set up your pork loin in the slow cooker and forget about it, come home to the perfect dinner recipe! It's an easy recipe, but sure to be a family favorite- even for your picky eater!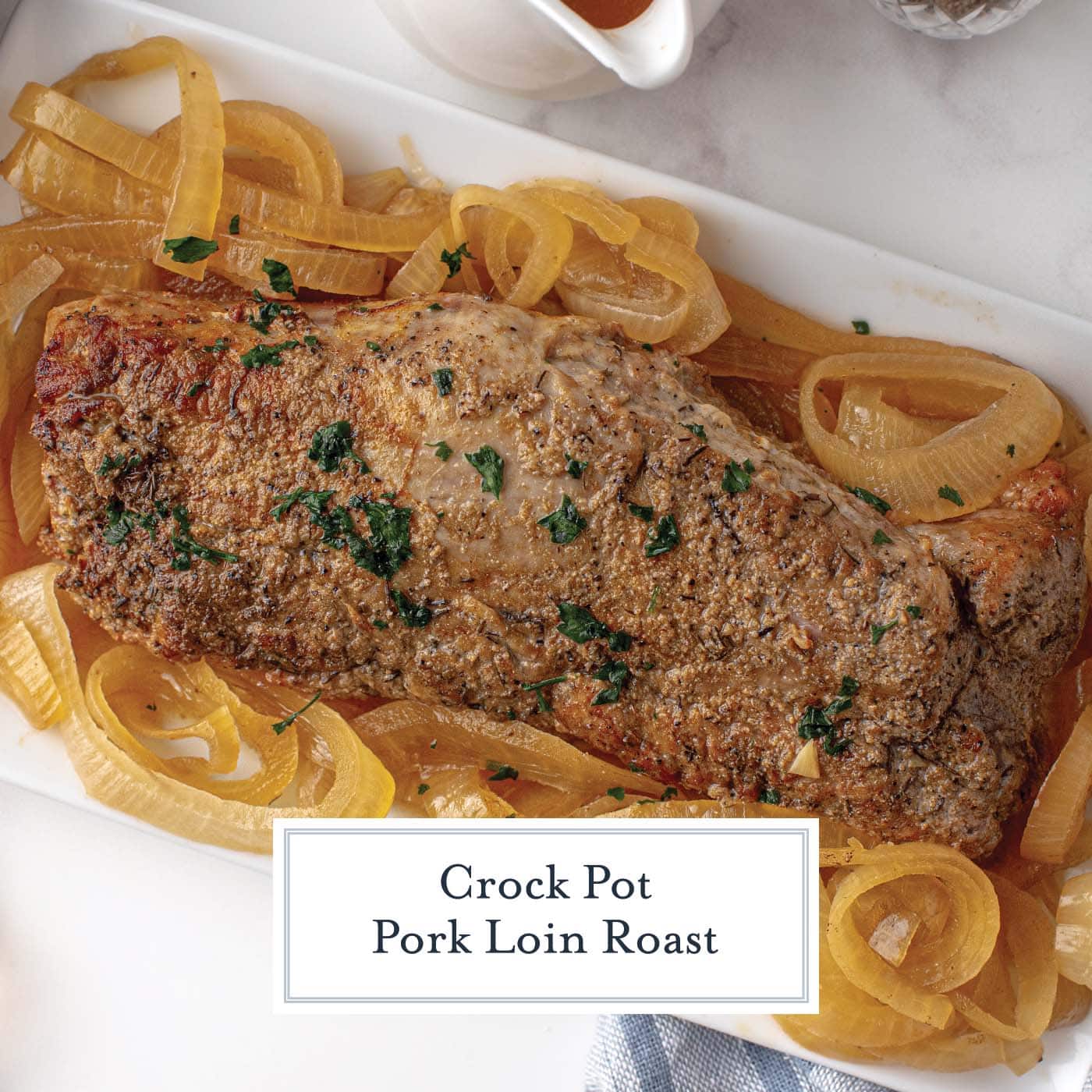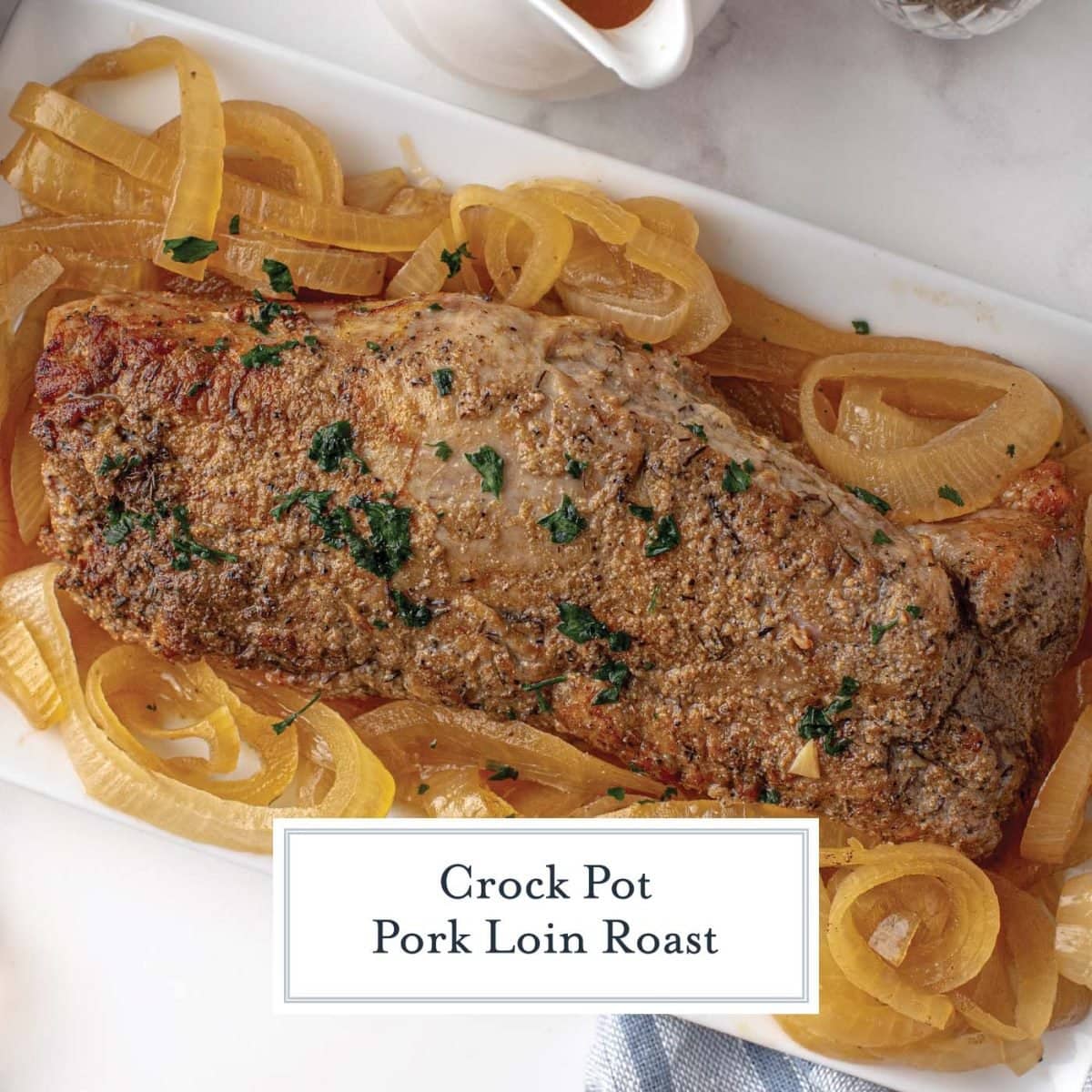 Our whole family loves cooking pork of all kinds, but pork tenderloin recipes are one of our favorites. And when you serve it with a side of mashed potatoes… it's perfection.
Pork Loin vs Pork Tenderloin
Pork loin is a large, long cut of meat from the back of the animal. It is a little flat and varies in size based on the size of the animal. It is relatively inexpensive, very flavorful, and lends itself perfectly to recipes like this one- low and slow with a lot of moisture.
Pork tenderloin and pork loin are often used interchangeably and most people don't realize there is a main difference, but there is.
The tenderloin also comes from the back, right along the backbone, and is long, but is smaller, more cylindrical, and naturally more tender. Most tenderloins are only about 1 pound, but many are tied together to form a large bundle that might resemble a loin.
You can use either for this recipe, but we do suggest it is a full 2 pounds or more (preferably closer to 3 pounds), so if you opt for tenderloins, go ahead and tie two together using butcher's twine so they are about the same thickness.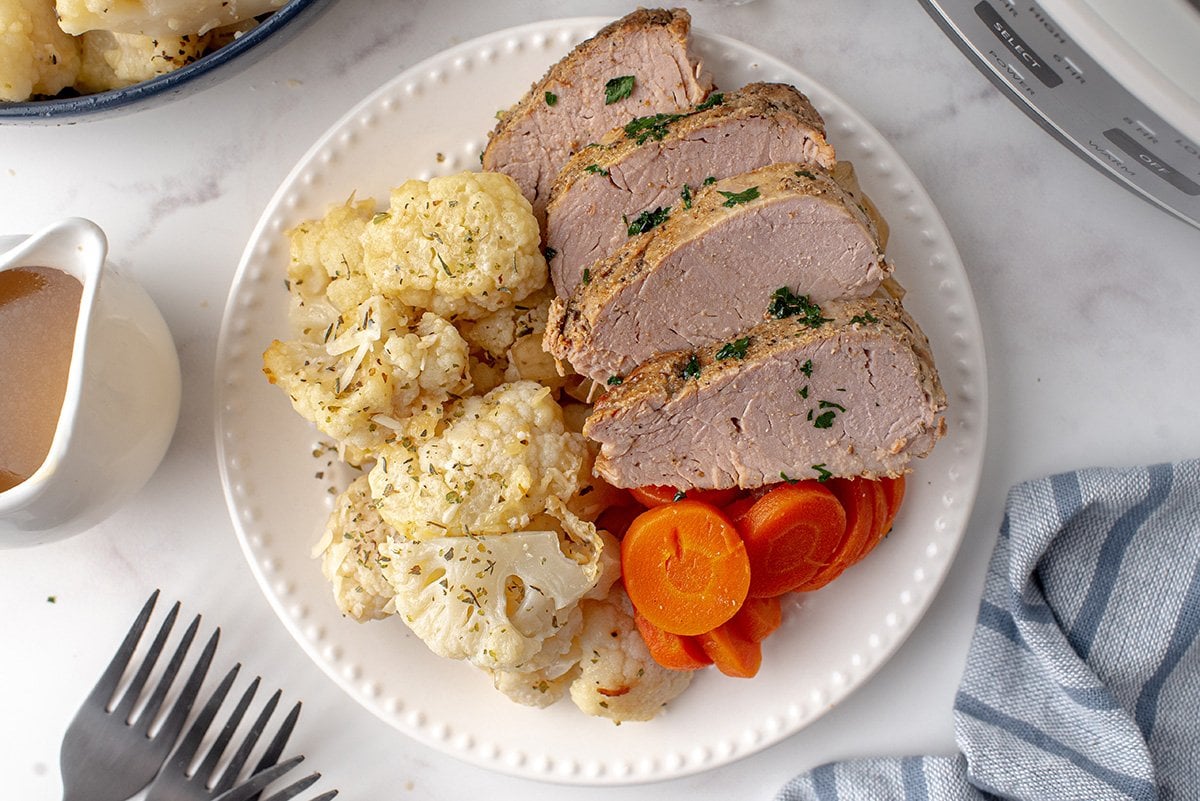 Ingredients
The simple ingredients for this slow cooker pork loin recipe are easily found at any grocery store. Aside from the cut of meat itself, the rest of the ingredients are generally kitchen staples.
Boneless Pork Loin – Or two smaller tenderloins tied together as discussed above.
Seasonings – I use a combination of garlic powder, ground ginger, dried thyme, coarse Kosher salt, ground black pepper
Oil – I recommend using vegetable oil instead of olive oil since it has a higher smoke point and it's used for browning.
Apple juice – some recipes I've seen call for apple cider vinegar, but I like the sweetness to help balance unami and acidic flavors.
Worcestershire Sauce – Worcestershire adds a bold richness that few sauces can offer. A little goes a long way.
Brown sugar – following along with the "sweet" element, the brown sugar also gives a rich flavor to your pork.
Yellow Onion – The onion helps to flavor not only the crockpot pork roast, but the sauce that it cooks in too! Yellow Spanish onions or white onions can be used.
Cornstarch – When mixed with water, it creates a cornstarch slurry which is used to help thicken the sauce, otherwise it will be soupy.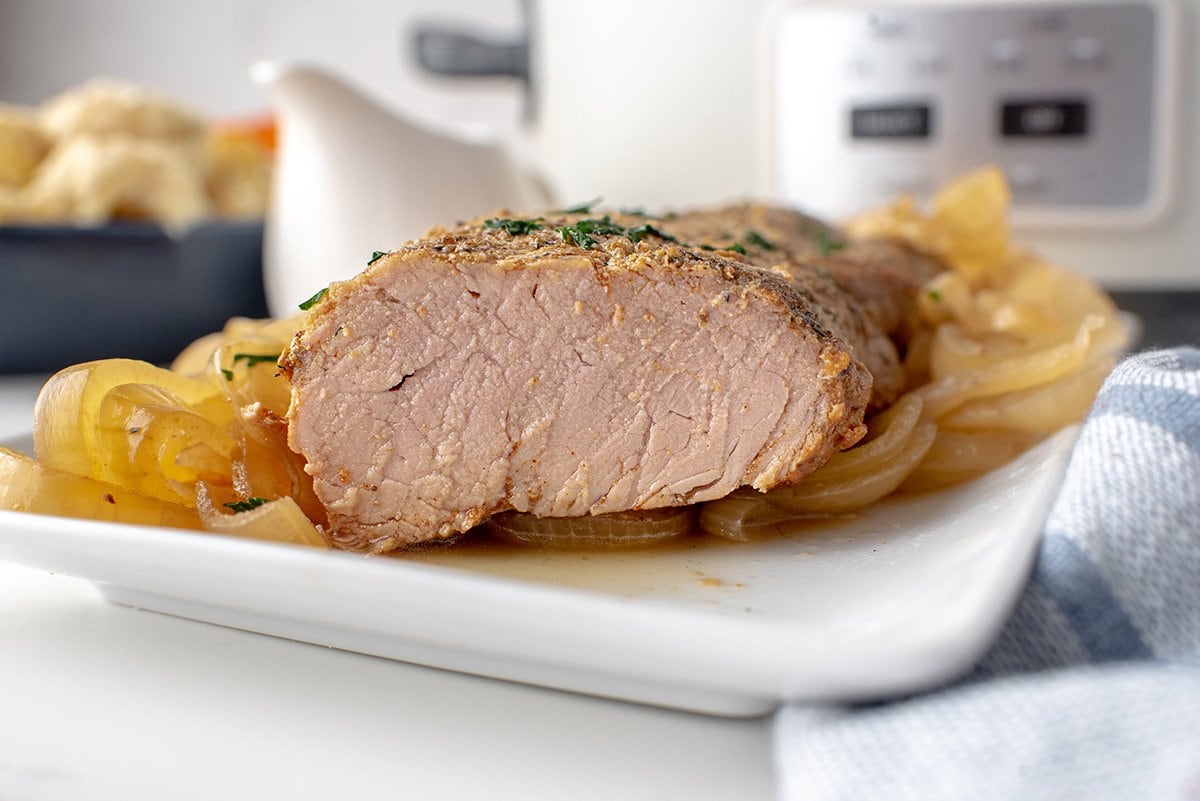 How to Make Pork Loin in the Crock Pot
Because it is made in the slow cooker, it is an ideal meal for busy weeknights. Lean cuts of pork are also well suited because the crockpot seals in juices, helping to keep it moist while cooking at a consistently low temperature.
Combine the seasonings in a small bowl.
Rinse the pork, and then pat dry with a paper towel. Having a super dry piece of meat will ensure we get a good brown, it also helps the spice mixture stick.
Once rinsed and patted dry, rub the seasoning mixture all over the pork loin. Be sure to use all of the seasonings for maximum flavor potential.
Heat vegetable oil in a large skillet over medium-high heat. Sear the pork on all sides until it is golden brown. This should take about one to two minutes per side. Browning is a step that so many people skip, but I implore you to do this. It deepens the natural flavors of the pork, this is called the Maillard reaction. This will also directly impact the richness of the gravy.
Once golden brown on all sides, remove the pork from the skillet and add to the bottom of the slow cooker. Place sliced onion over the roast and then add the liquids and brown sugar, spooning a little over the top.
Slow cook for 4-5 hours. The cooking time will depend greatly on the size of your roast. A smaller roast might need a few minutes shy of 4 hours, while a large roast needs closer to 5. Check the internal temperature using an instant read thermometer. Pork should be 135°F at the time you remove it from the slow cooker. Carry over cooking will increase the internal temp to 145°F while resting.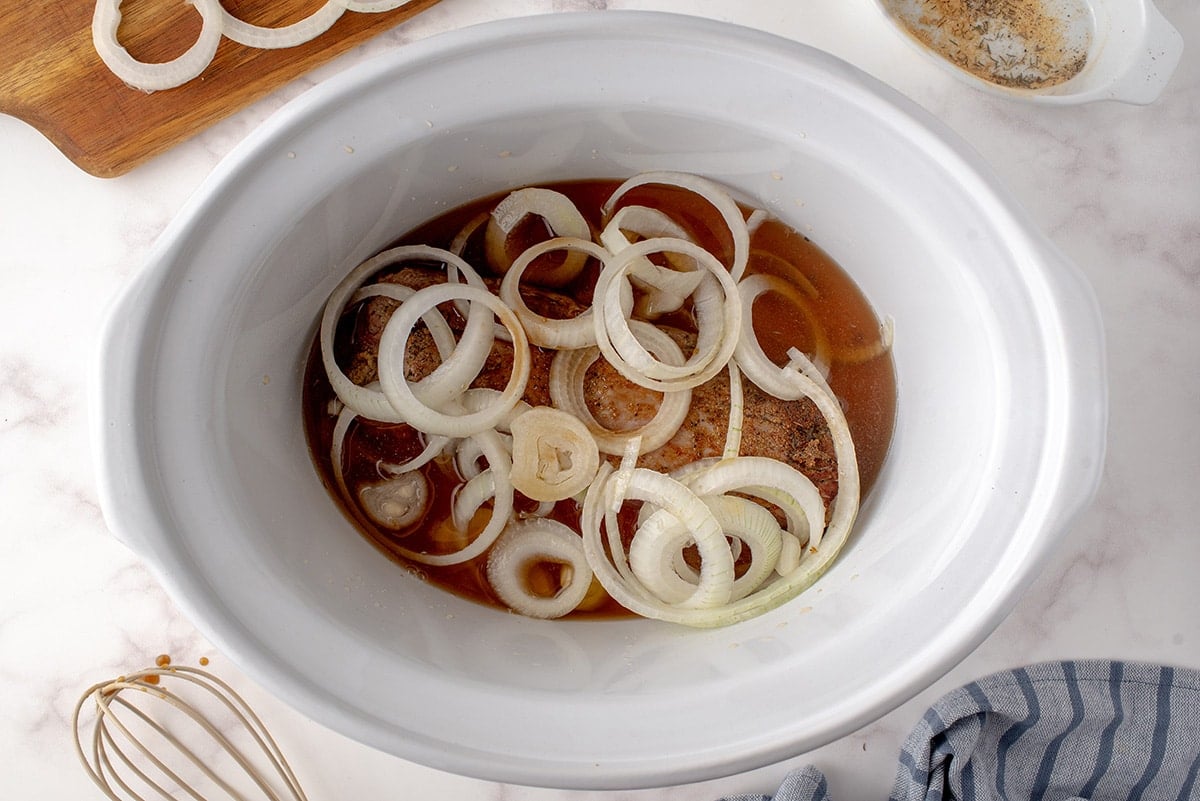 Best Sauce for Pork Loin
Next, we'll work on the sauce, which is really a gravy. It's a simple mixture of apple juice, Worcestershire sauce and brown sugar. If you'd like, you can also add a little bit of soy sauce for an umami essence. You could even add a little BBQ sauce or lemon juice if you'd like.
Pour the juices through a fine-mesh sieve to remove any bits or chunks. These don't hurt anything, but I like a smooth gravy.
Transfer into a small pan and bring to a low simmer. Whisk together the cornstarch and water (called a cornstarch slurry.)
Once fully combined, whisk the cornstarch mixture into the simmering juices. Reduce or remove from heat and whisk constantly until the gravy reaches your desired consistency. It will continue to thicken as it is removed from heat, so wait a few minutes to decide if it is the correct texture.
And there you have it. A delicious gravy to top not only your pork, but perfect for mashed potatoes, too!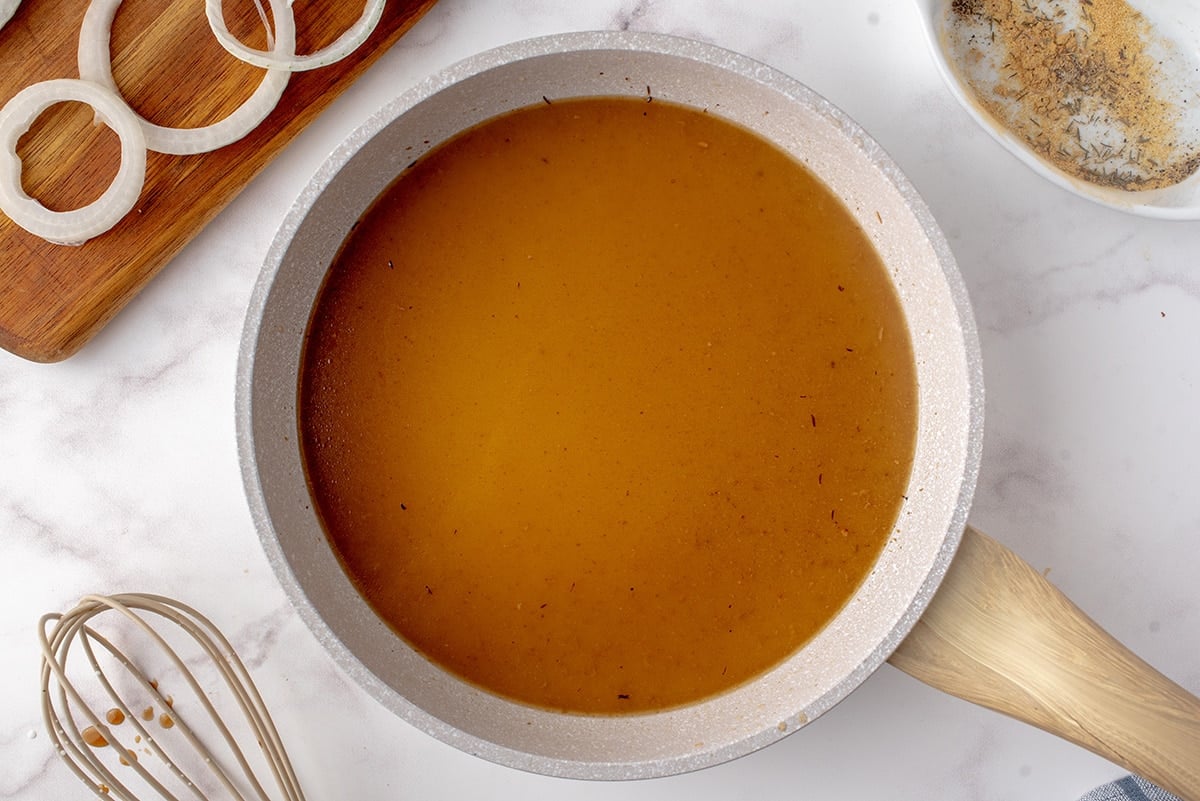 Tips for making the perfect pork loin roast:
My pork loin in slow cooker recipe calls for about 2 pounds of meat. You can size this according to your needs. Make more if you have a big crowd to feed, less if it's just you, etc.
Cooking veggies with your pork loin roast is a great idea! Use hearty veggies and leave them in large chunks so that they don't cook down to mush during the long slow cooking process. Carrots, potatoes, and even celery are great options. Other root veggies will roast nicely and help to flavor the broth that will become the gravy.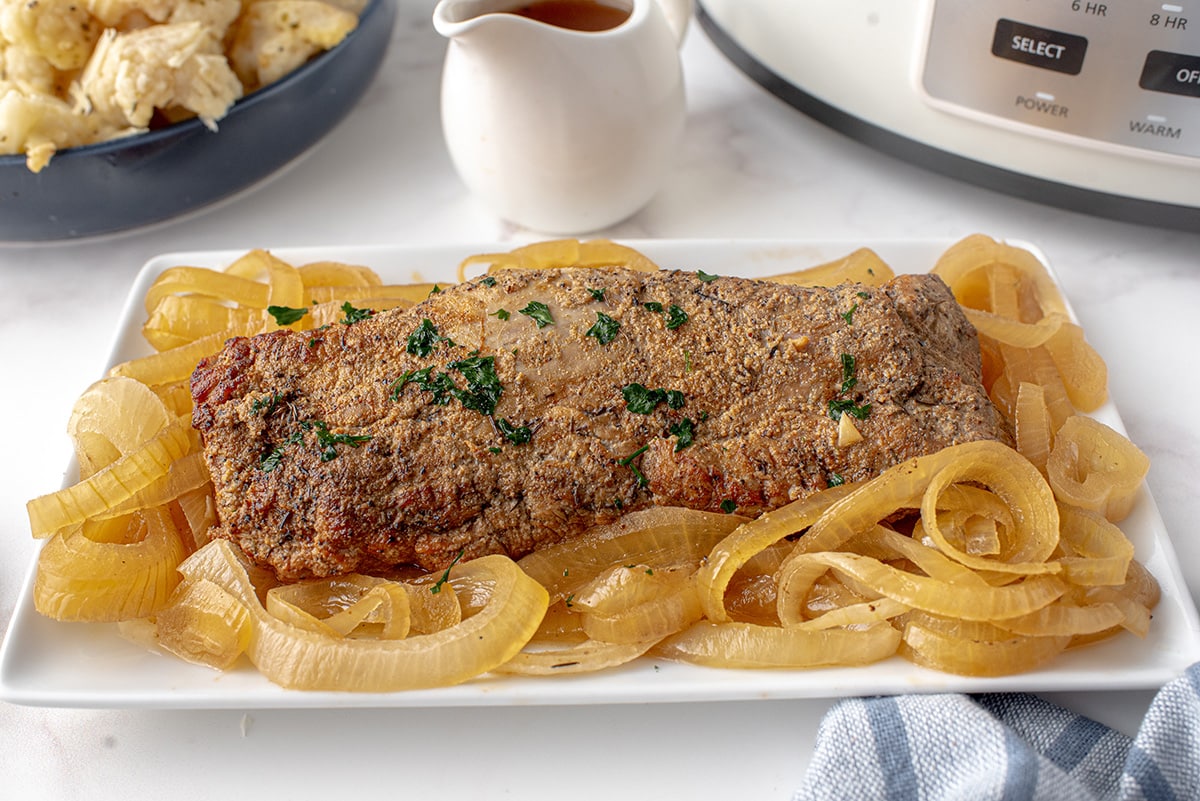 Oven Instructions
You can make your pork loin roast however you want to…but if it were me, I'd always make pork loin in the slow cooker.
To make in the oven, prepare the same way (browning on the stove), place into a casserole dish and cover tightly with aluminum foil or a fitted lid. Preheat oven to 350°F. Bake, covered for 1-2 hours, depending on the size of your roast.
Meat should register at 145°F, so make sure to use a meat thermometer to check it. Remove to rest and then prepare the gravy.
I wouldn't recommend making it in the Instant Pot. The best way to get a juicy pork loin roast is to cook it low and slow. Neither of which the instant pot do.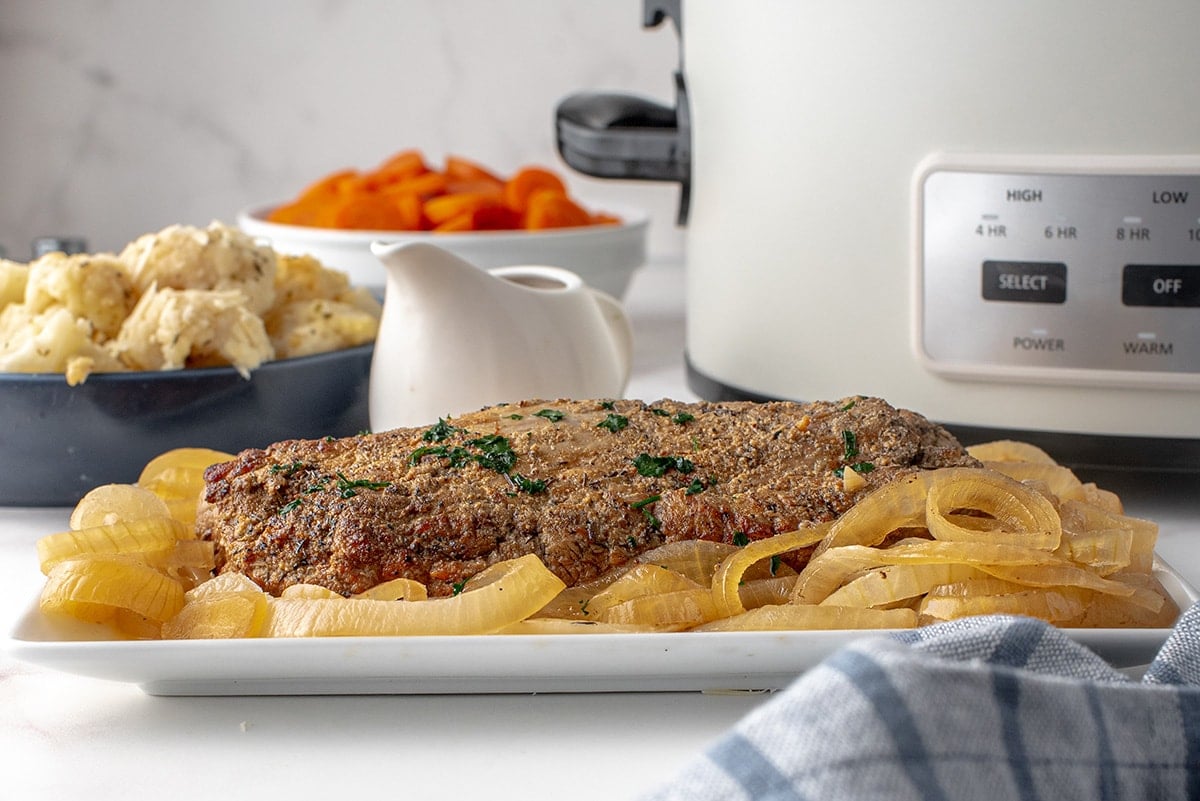 What to Serve it With
If you need some inspiration on what to serve with your slow cooker pork loin roast, I'll list some of my favorites below: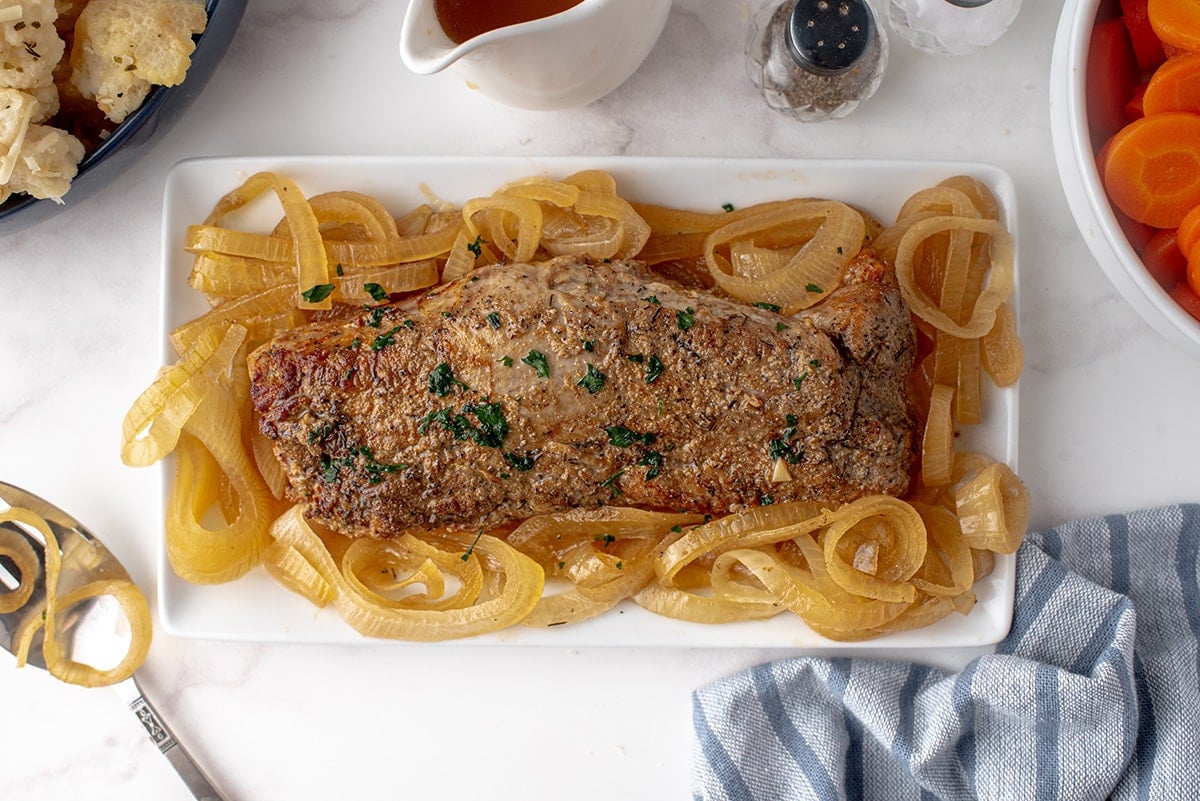 Storage, Reheating and Freezing
Storage: If you have any leftover pork loin, just store it in an airtight container in the refrigerator for up to five days.
Reheating: To reheat it, you can warm it up in the oven on low heat. Just enough to warm it through, but not continue cooking it.
Freezing: Pork loin roast can be frozen after being cooked. Thaw in the fridge and then reheat.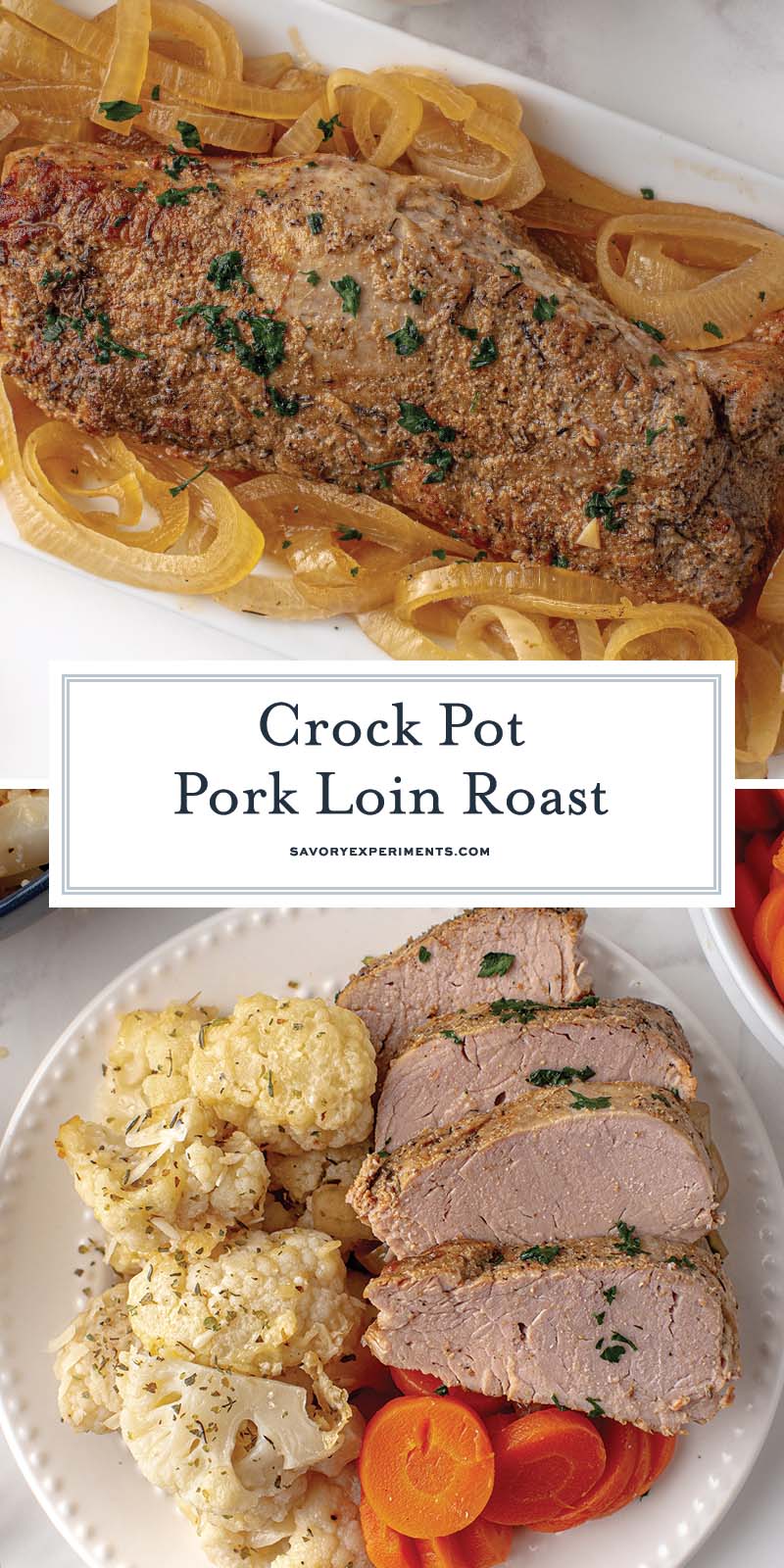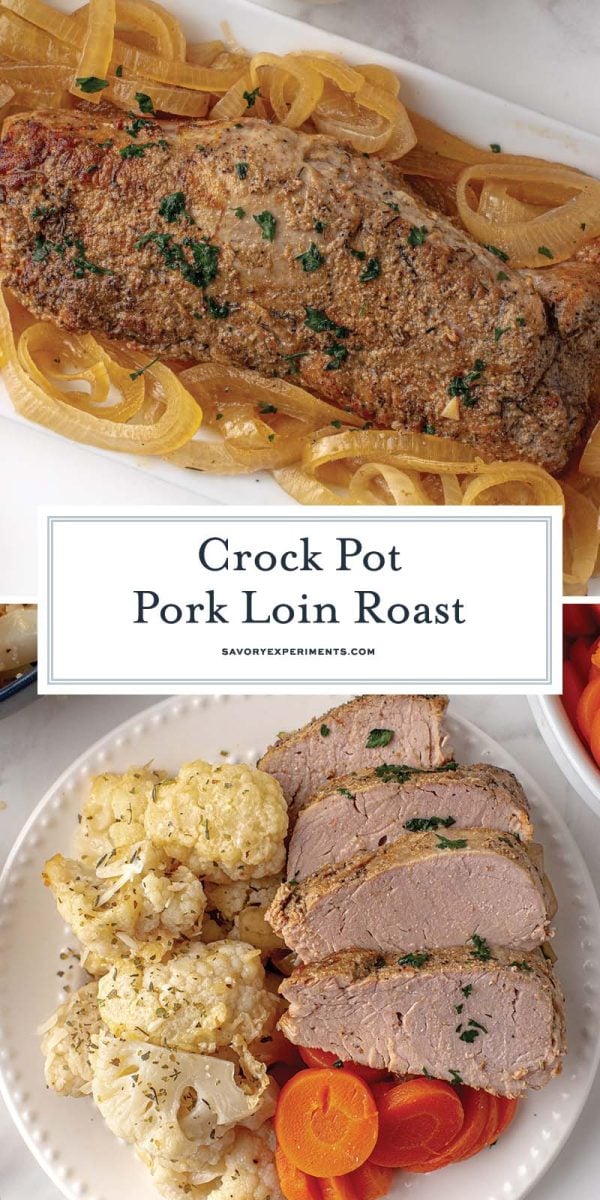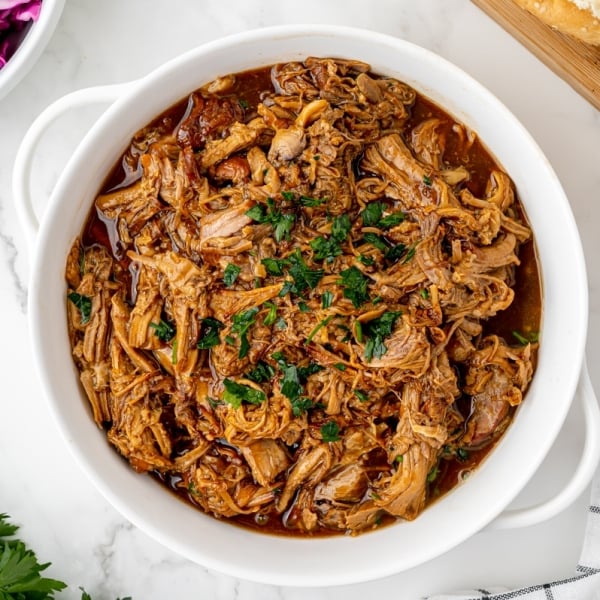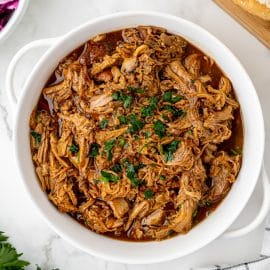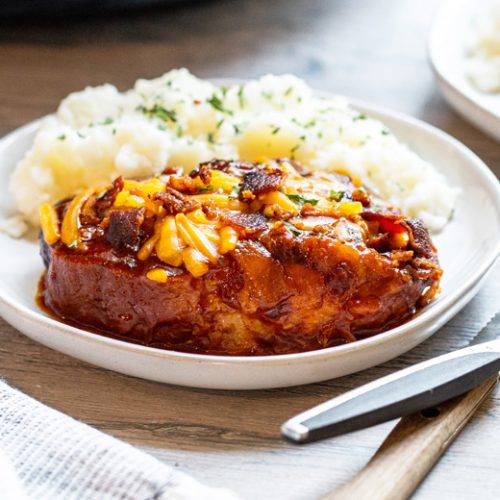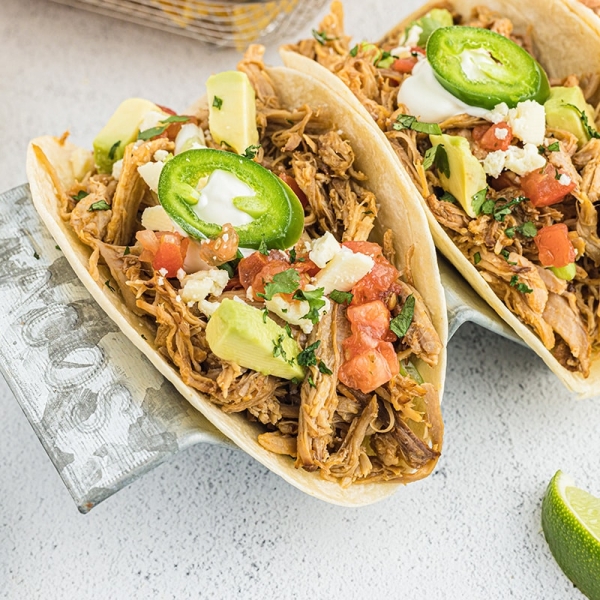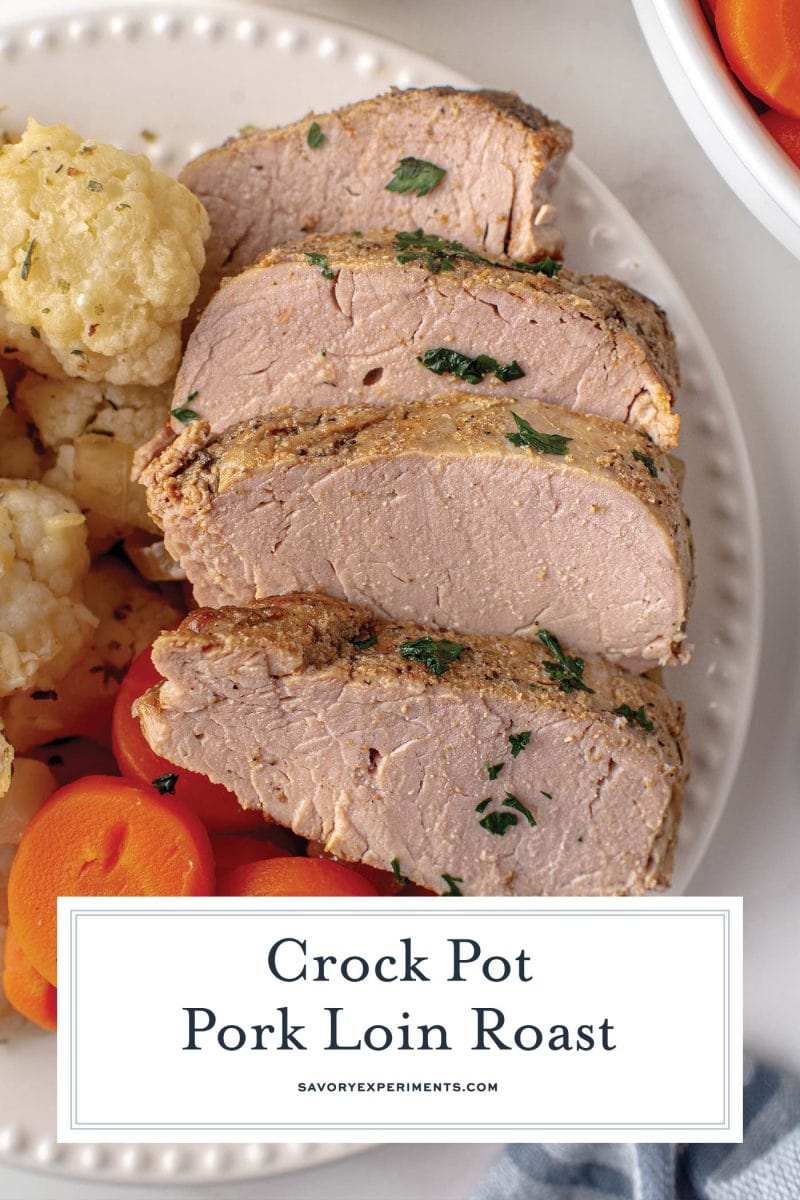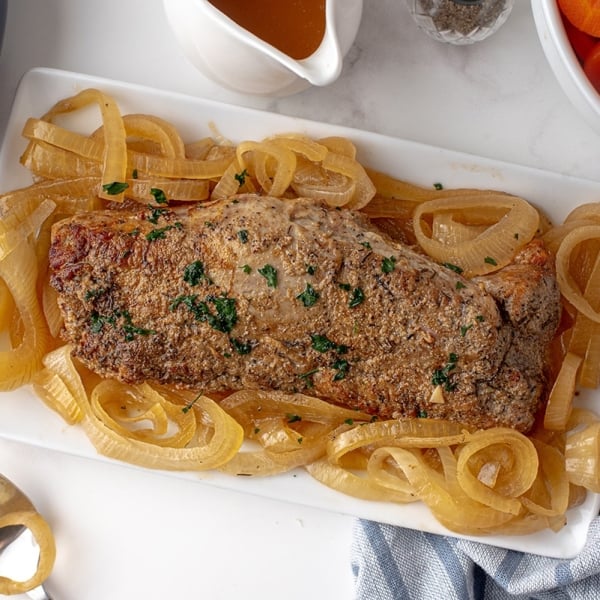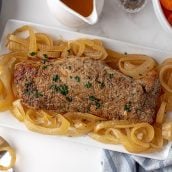 Crock Pot Pork Loin Roast
Use your slow cooker to make a tender pork loin roast. Serve with onion gravy and mashed potatoes for a hearty comfort meal.
Instructions
Rinse the pork loin and dab dry with a paper towel.

Combine the garlic powder, ginger, thyme, Kosher salt and pepper in a small bowl. Rub the spice mixture into pork loin.

Heat vegetable oil in a large skillet over medium-high heat. Sear pork on each side until golden brown, 1-2 minutes per side.

Transfer the pork loin into the slow cooker and top with the sliced onions.

In a medium bowl combine the apple juice, Worcestershire Sauce and brown sugar. Pour over the pork roast.

Cook on low for 4-5 hours. Test with an instant read thermometer for 135°F.

Remove the pork and tent with foil to keep warm while resting. Meanwhile, prepare the gravy.
Onion Gravy:
Pour juices through a fine-mesh sieve to remove any large pieces, reserving onions for serving. Transfer liquid into small saucepan and bring to a low simmer.

Combine the cornstarch and water until smooth (slurry), slowly add to saucepan, whisking constantly to make gravy. Remove from heat.

Slice the pork and top with reserved onions and gravy.

If you've tried this recipe, come back and let us know how it was in the comments or ratings.
Nutrition
Calories:
305
kcal
,
Carbohydrates:
21
g
,
Protein:
34
g
,
Fat:
9
g
,
Saturated Fat:
4
g
,
Cholesterol:
95
mg
,
Sodium:
294
mg
,
Potassium:
698
mg
,
Fiber:
1
g
,
Sugar:
13
g
,
Vitamin C:
2
mg
,
Calcium:
24
mg
,
Iron:
1
mg