Fruit based, Mango Salsa, is a versatile and zesty condiment. Pair with any type of cracker or chip and you have yourself a fiesta fit for a Caribbean vacation!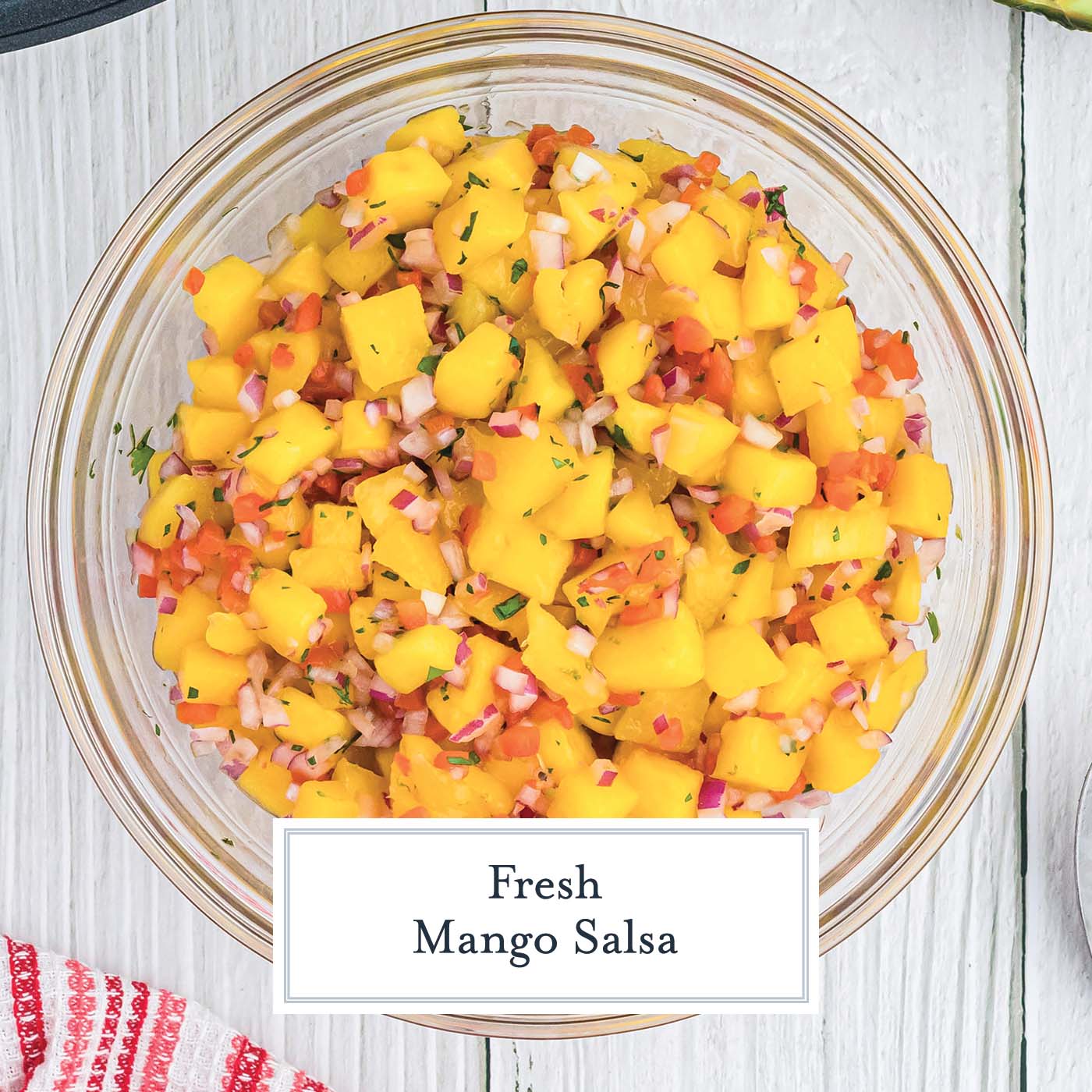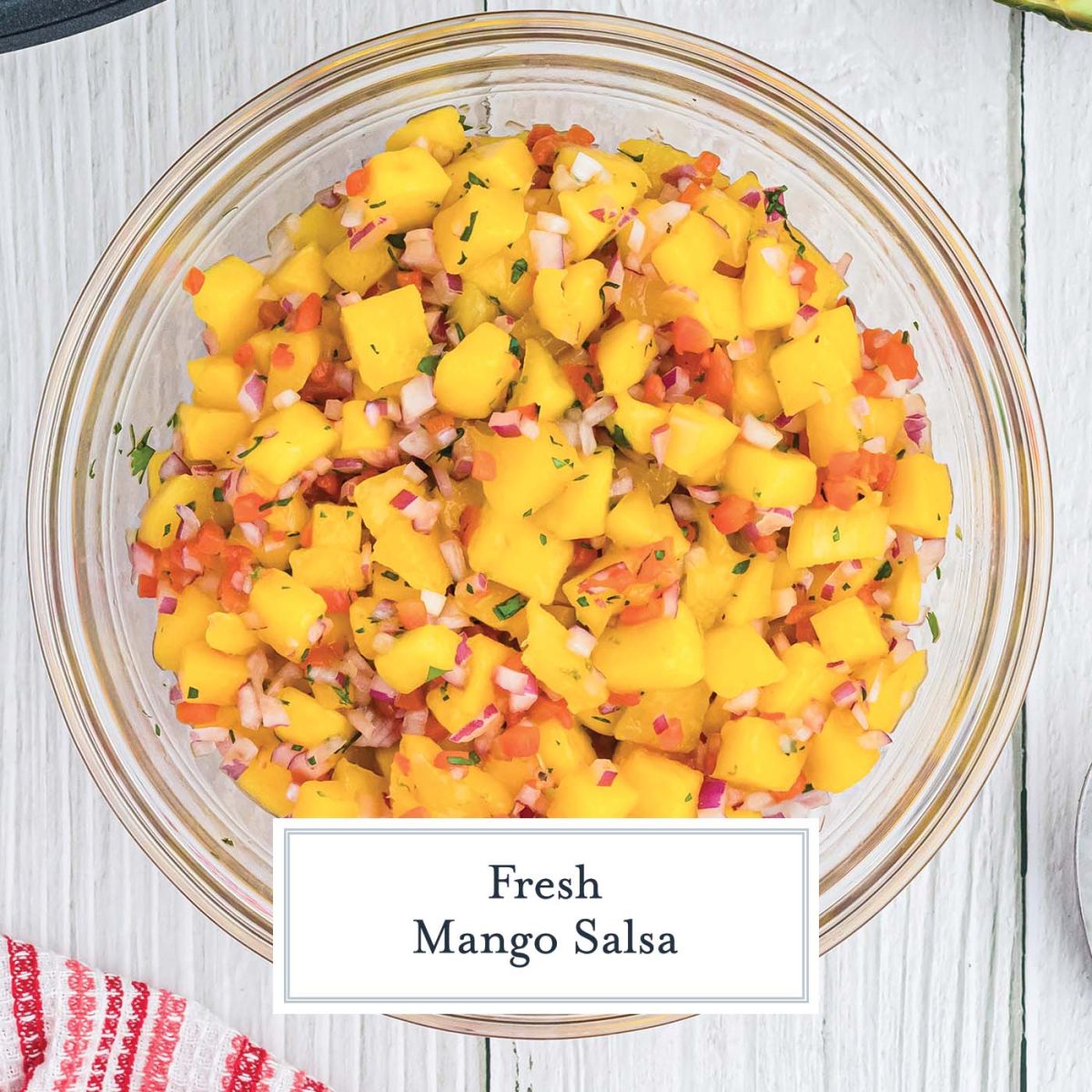 Juicy mango, red onion, roasted red bell pepper and cilantro all tossed with tangy lime juice makes this colorful dip also a healthy one.
What is Salsa?
What does salsa mean? Salsa just means sauce. Any sauce, really. Which means it can totally be a fruit salsa. And mango salsa can also be substituted in nearly any other recipe that calls for salsa.
The only constant with salsas is that there is acidity. For this homemade salsa, that is the lime juice. Salsa doesn't have to be the red tomato kind. Expand your salsa horizons!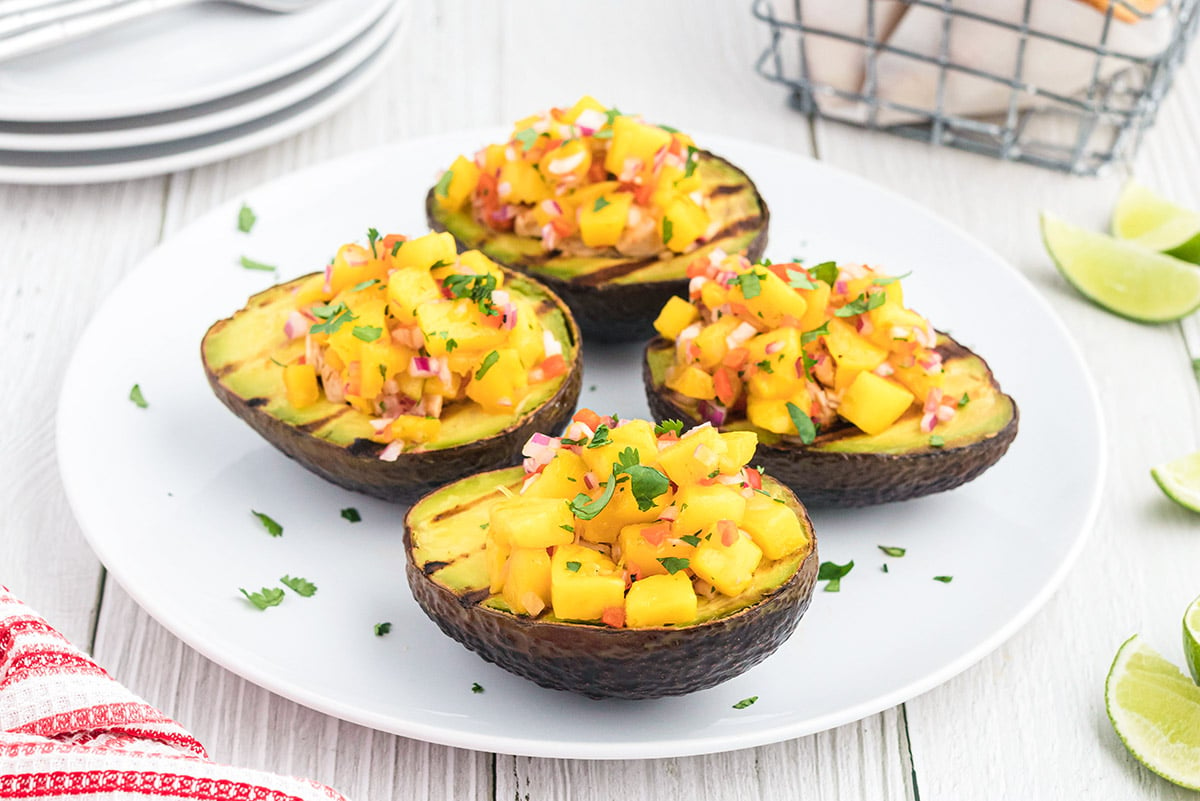 How to Make Mango Salsa
Grab the ingredients you need, but know that all of the amounts, and even the ingredients with the exception of mango, are easily adjusted.
Ripe Mangoes– You can either use fresh mango or canned mango. I would suggest against frozen mango for this particulate recipe because it holds a lot of water.
Red onion- This adds bite, but make sure they are minced or shredded so the flavor is evenly distributed throughout the mix.
Roasted red pepper- These flamed roasted beauties add smokiness and juiciness.
Cilantro– There is just a small amount, but if you feel the need to increase it, please do so.
Fresh lime juice & lime zest– Nothing beats fresh when it comes to citrus and juice and zest provide different flavors, so use both for a balanced mix.
Coarse kosher salt- Just a small dash of salt will amplify and complement all of the fresh flavors.
To make mango salsa, just combine all of the ingredients in a bowl and toss to combine.

Make it Spicy
Can I make spicy salsa? Of course! You can add 1 hot pepper to the mix. Jalapeno, ghost pepper or habanero are your best bets for even heat.
Now make sure you have gloves before you go chopping…
Say what? Non powdered latex gloves are another one of my kitchen essentials. Anytime I chop a hot pepper (jalapeno, serrano, habanero), you risk the oils permeating your skin and it BURNS!
Touch anything else, God forbid your eyes, and you will be in some real pain! Avoid all of this by throwing on some latex gloves without powder. Unless you are allergic to latex, of course.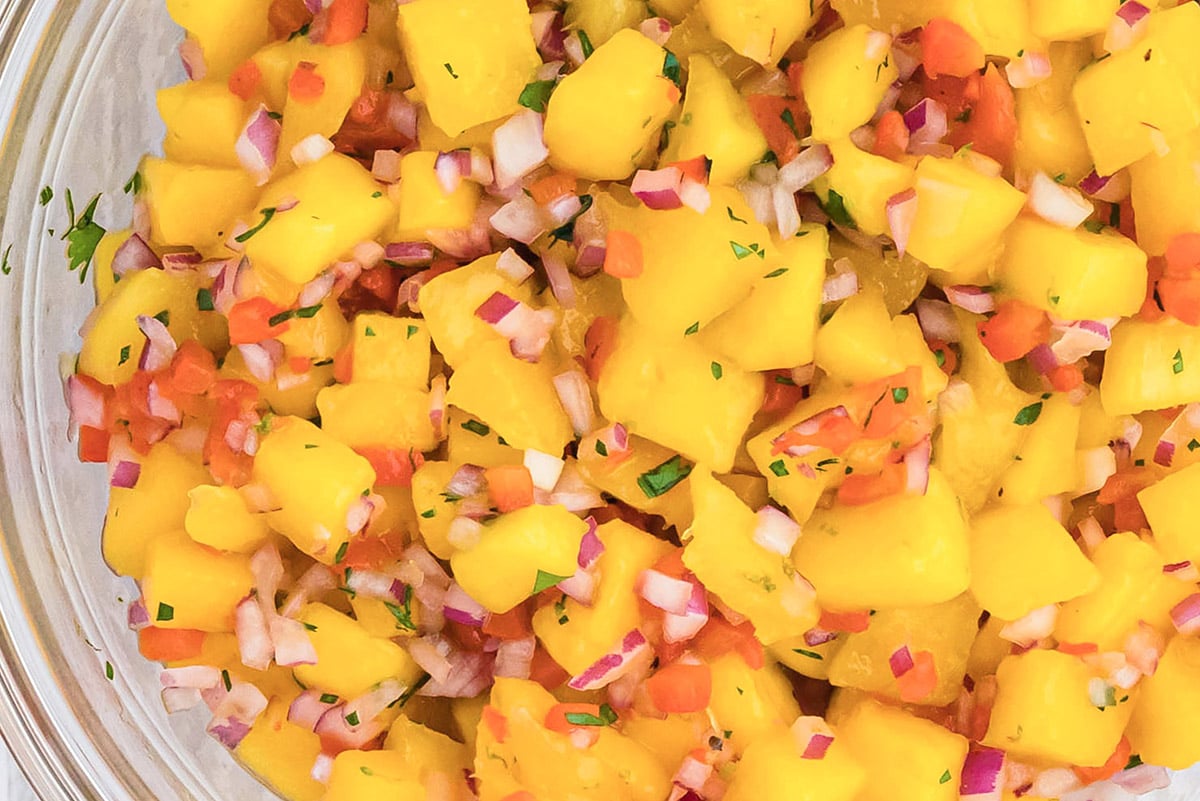 And if you don't follow my advice and do end up with the burning skin, soak them in milk, the higher fat content the better!
You can also use plastic wrap for plastic baggies. Protect your hands at all costs!
How to Pick a Mango:
Squeeze the mango. It should be a little squishy, but not hard and not super soft.
Look for the least blemished skin.
Smell near the stem, if should have a fruit aroma.
How to cut a mango:
Stand the mango on a wood cutting board stem end down and cut out 1/4 inch away from the center to avoid the seed.
Firmly push down to separate the mango flesh from the seed.
Using a sharp knife, cut into cubes, like an avocado, while still in the skin.
Either scoop out cubes or flip skin "inside out" to peel out of the skin.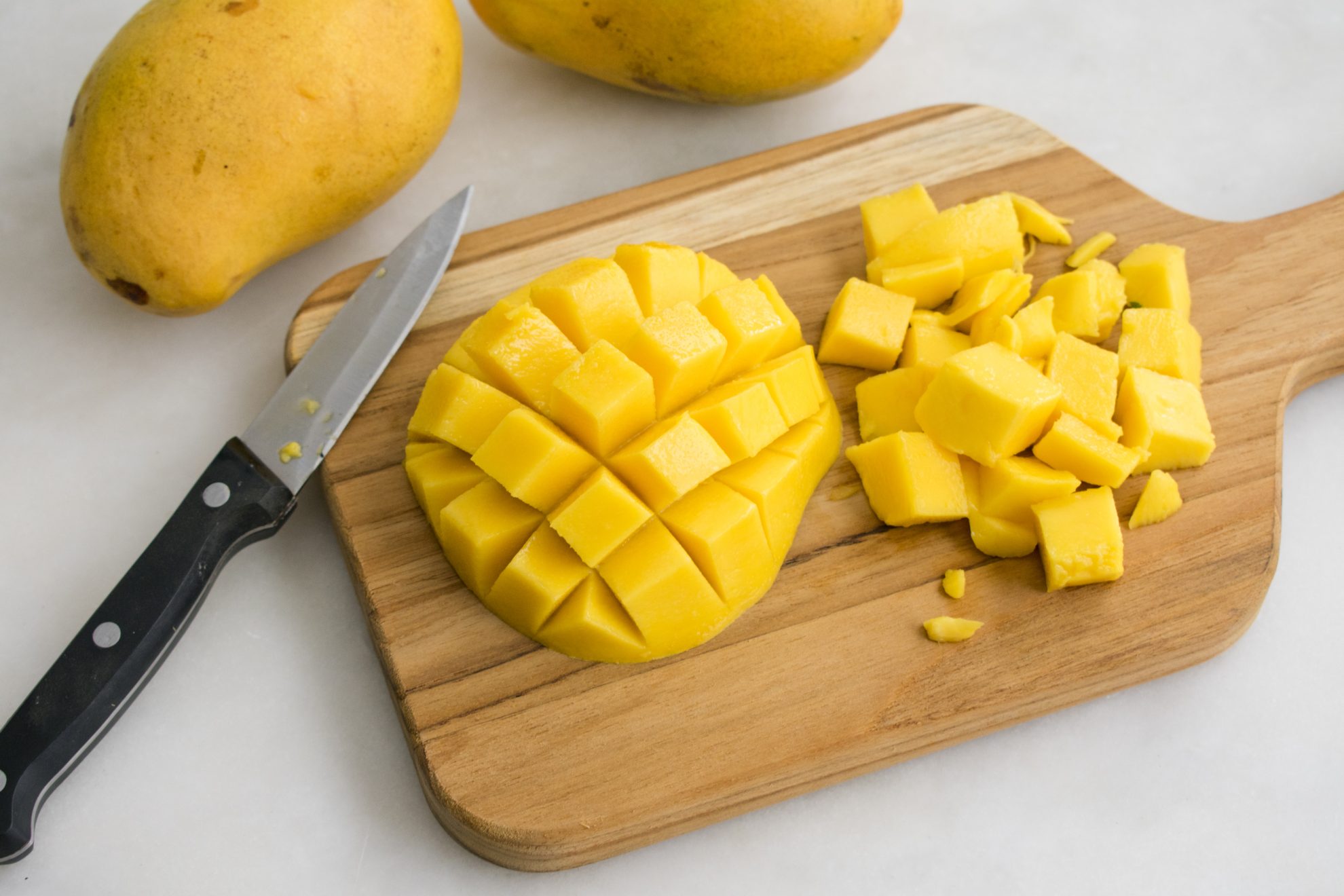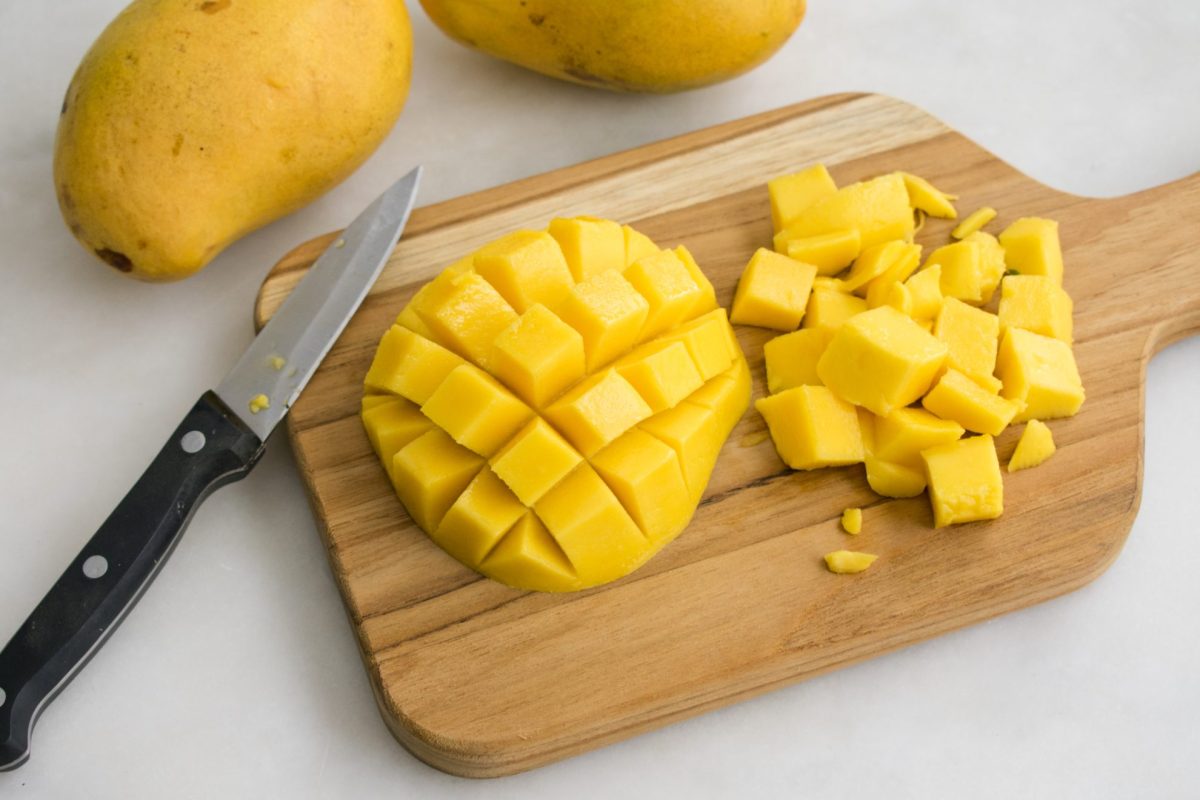 MANGO FACT: A mango has one long, flat seed in the center of the fruit.
What to Serve Mango Salsa On
Fresh Mango Salsa is a fruity salsa recipe perfect for serving with tortilla chips or even on top of grilled chicken, steak or seafood. It's also awesome on BBQ pork tacos , fish tacos and nachos. Top onto burrito bowls, inside wrapped burritos
Personally, I like to pair mine with salty Tortilla Chips and over grilled chicken breast. But Mango Salsa goes well with so many other things too, you might want to make two batches- it makes a great snack.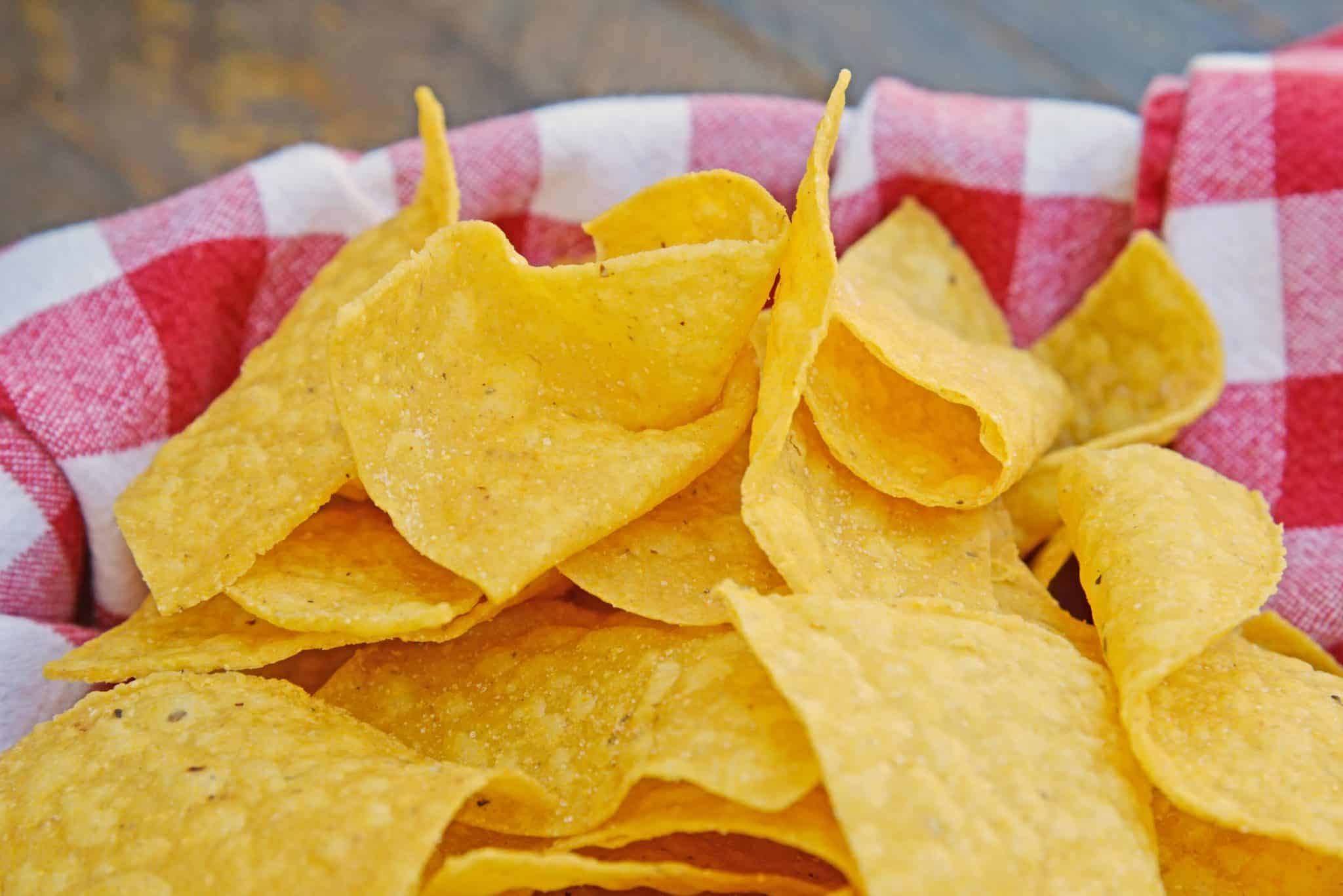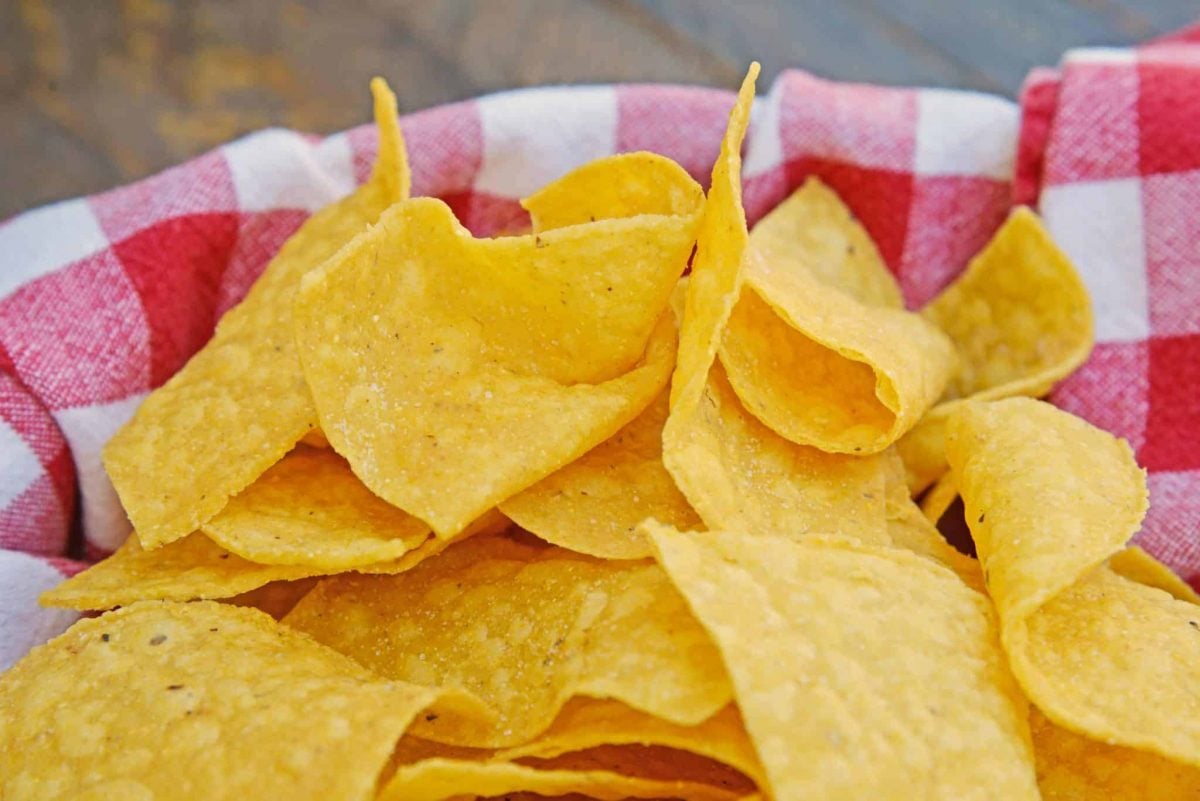 Storage & Make-Ahead
Can I freeze mango salsa? Technically you can, but it won't defrost well. Mango salsa ingredients have high water contents, so when thawed, they go limp and floppy.
How long does mango salsa last? If kept in an airtight container in the fridge, about 5 days, but it will start losing its body after 2 days.
Can I make mango salsa ahead of time? You sure can, but I wouldn't suggest more than 24 hours before it starts to lose its shape.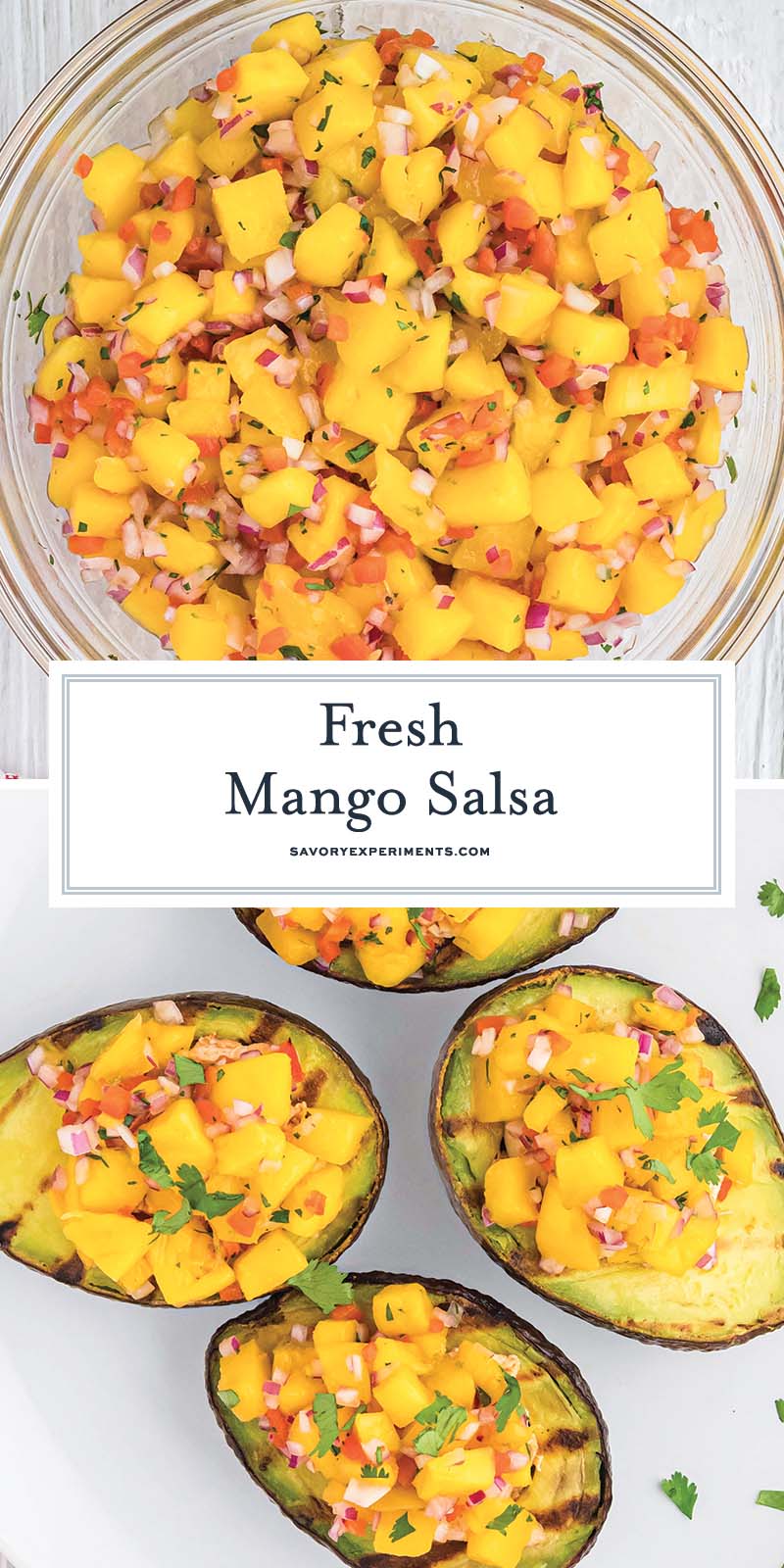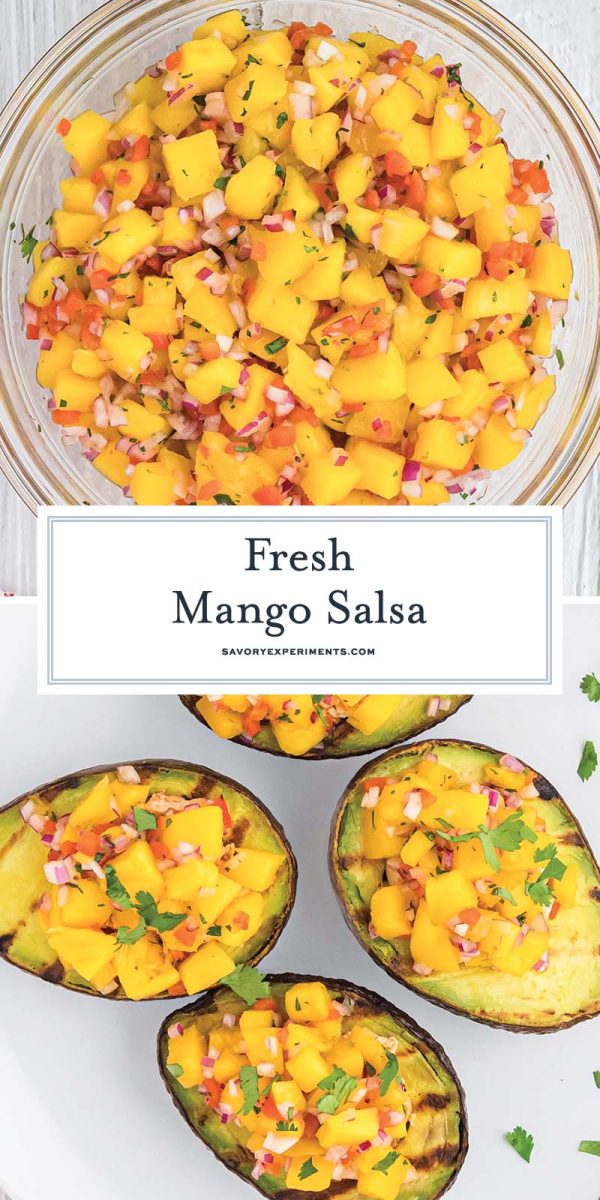 More salsa recipes to try: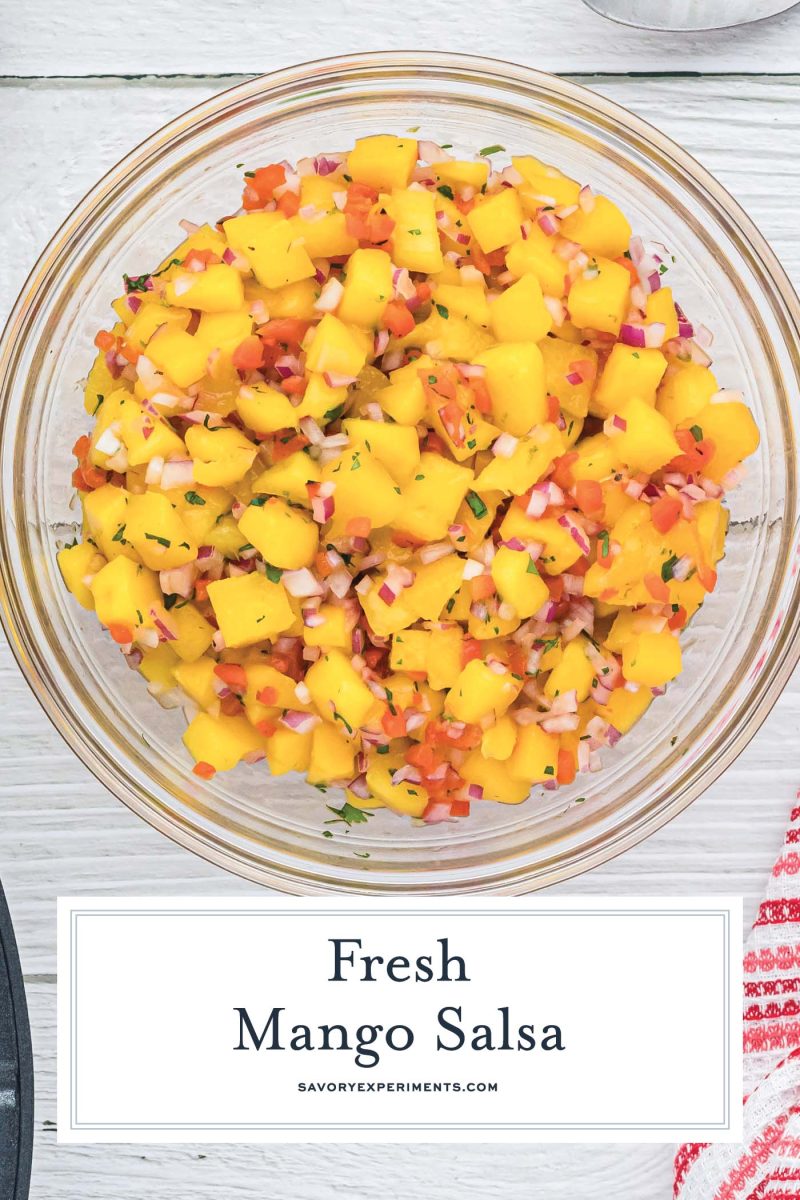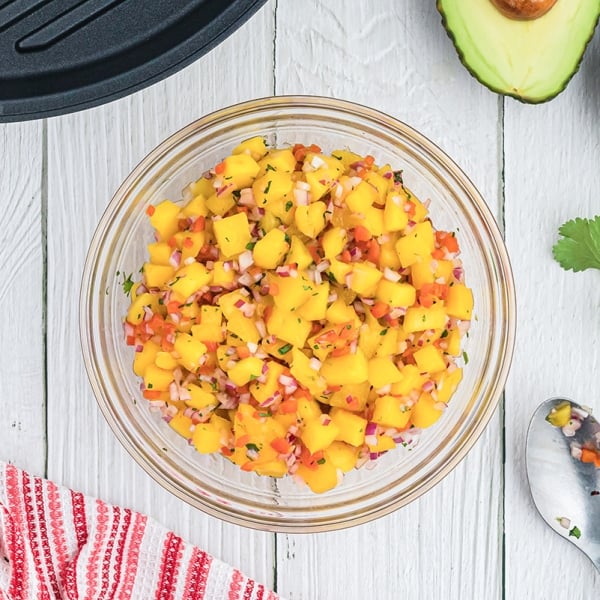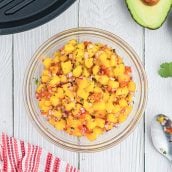 Mango Salsa
Fresh Mango Salsa is a fruity salsa recipe perfect for serving with tortilla chips or even on top of grilled chicken, steak or seafood. Perfect for BBQs and potlucks.
Instructions
In a medium bowl, toss together the mango, red onion, roasted red pepper, cilantro, lime juice, lime zest and salt.

If you've tried this recipe, come back and let us know how it was in the comments or star ratings!
Nutrition
Calories:
45
kcal
,
Carbohydrates:
11
g
,
Sodium:
82
mg
,
Potassium:
135
mg
,
Fiber:
1
g
,
Sugar:
9
g
,
Vitamin A:
745
IU
,
Vitamin C:
28.5
mg
,
Calcium:
12
mg
,
Iron:
0.1
mg