With juicy pineapple, spicy jalapenos, red bell peppers and lime juice, you can't go wrong with this easy Pineapple Salsa. It has the perfect amount of spicy and sweet for a refreshing before-dinner snack or appetizer.
If you are looking for an easy homemade salsa recipe, this pineapple salsa is it! It is perfectly sweet and spicy and makes the best summer snack!
What is your favorite part of eating at a Mexican restaurant? Of course I love the margaritas (who doesn't??) and the main entrees are always fabulous, but the real reason I go is for the salsa!
I love how each restaurant has their own unique recipe. From spicy to mild, and chunky to smooth, I like them all! Sweet and spicy is the bomb.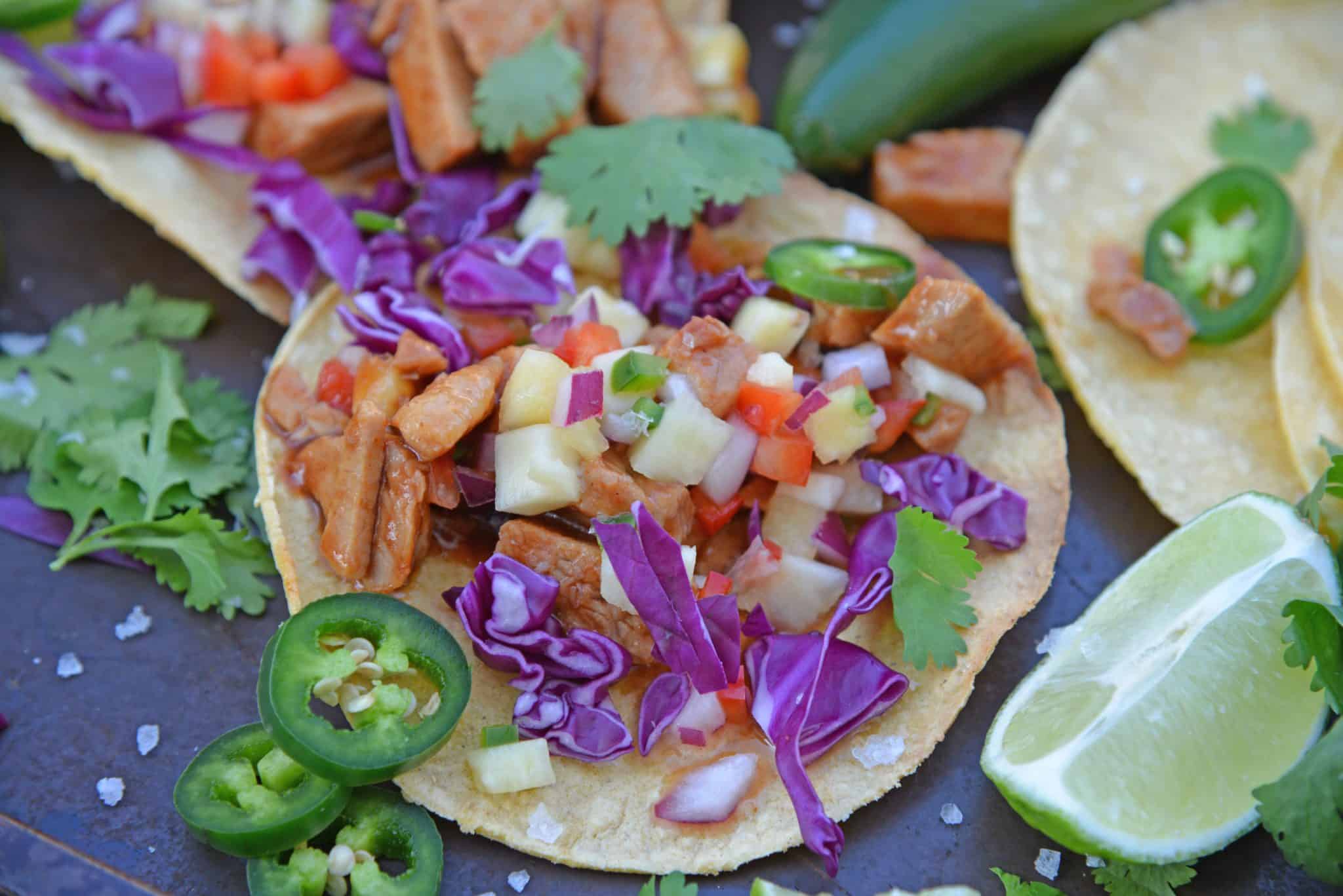 Tortilla chips and salsa is one of my favorite snacks, whether at a Mexican restaurant or at home. It is quick, easy, and full of delicious flavor. I almost always have all of the ingredients in my pantry, so when I'm looking for something to snack on, salsa is usually my go to.
I love a good savory salsa, like my 3-Minute Salsa. The flavor combination of tomatoes, cilantro, onion and lime juice is one that can not be beat. But fruit salsas are often overlooked.
However, if you have never tried one, a SWEET salsa is great, too! Not only can you eat it with chips, but you can also use it to top your favorite dinner, like chicken, for a flavor that is out of this world.
What does salsa mean? Salsa just means sauce. Any sauce, really. The only constant with salsas is that there is acidity. For this pineapple salsa, that is the lime juice.
This particular pineapple salsa has all of the staple ingredients of a traditional salsa: red bell pepper, red onion, jalapeno and lime juice. The difference is swapping out the tomatoes for pineapple.
The sweet and juicy pineapple helps to tame the spicy jalapenos and provides the perfect balance of flavor. You can absolutely use canned pineapple for this easy recipe, but I recommend using fresh pineapple.
Also, letting it marinate for a few hours before serving really helps to enhance the flavors of all of the ingredients. But don't allow it to marinate too long, or else the ingredients start to lose their body and become limp.
Do you have a favorite salsa recipe? If so, share it with me in the comments! Then grab some chips and a margarita and dig (or dip!) right in!

More salsa recipes: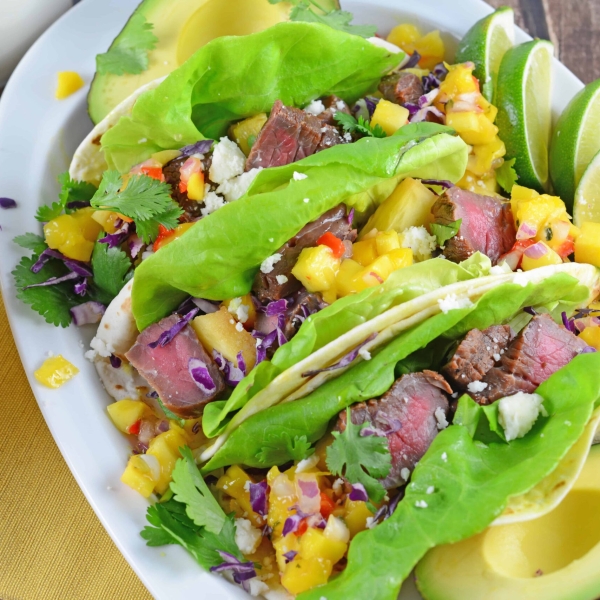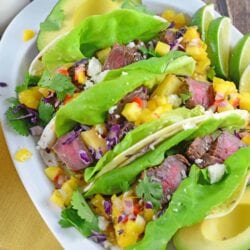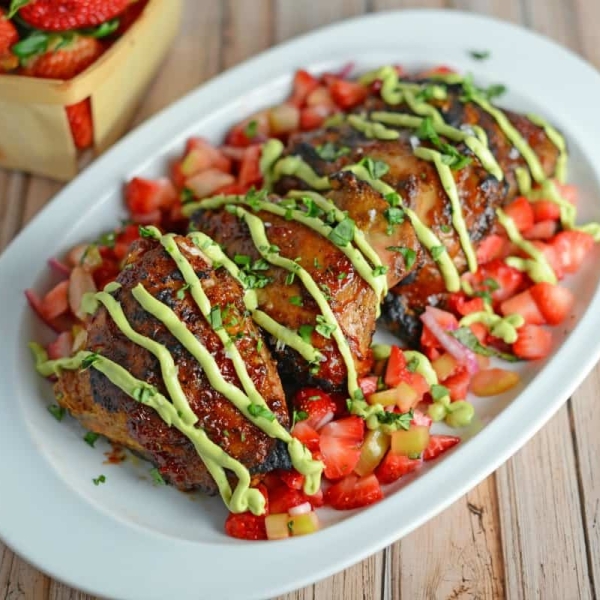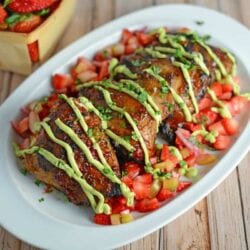 Strawberry BBQ Chicken
Strawberry BBQ Chicken is a unique take on your classic BBQ Chicken recipe! Tangy strawberry BBQ Sauce pairs with fresh Strawberry Salsa and a cooling avocado cream sauce.
See The Recipe!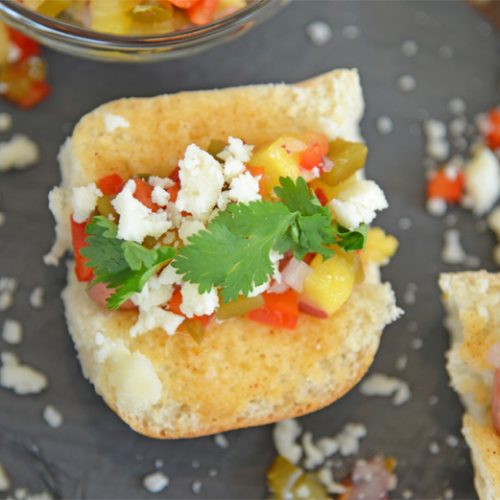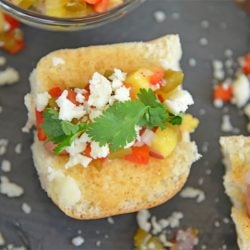 Tools for making this Pineapple Salsa:
Wood cutting board – wood won't dull your knives like plastic and if treated properly, has natural antimicrobial properties.
Good knife – Global is my favorite! They are worth the price, I promise. I am kind of obsessed with them and store them tucked away so no one else can use them. Including hubby. Hands off my good stuff!
Latex gloves-
use these for chopping jalapenos and save yourself from burning hands!
Questions you might have about how to make Pineapple Salsa:
Can I freeze pineapple salsa? I don't suggest freezing this one. The ingredients are too watery and will thaw to be limp and flavorless.
Can I make pineapple salsa ahead of time? I encourage you to make this at least 1 hour ahead of time to let the flavors marry, but make it too far in advance and the liquids will leach out leaving your pineapple salsa ingredients limp.
Is does still taste good and will take several days for the batch to be totally lifeless.
How long does pineapple salsa stay good? I would say it is best on the first day, but loses its luster by the fourth day.
How do I store pineapple salsa? It is best stored covered in an airtight container on the refrigerator.
How long can pineapple salsa stay out? The CDC recommends about 2 hours. There aren't any ingredients that are prone to foodborne illness, but there is still a slim chance.
If you are serving it at a party and are outdoors, I recommend setting your bowl of salsa in a larger bowl filled with ice to keep it cool.
What else can I serve this salsa with? This juicy salsa recipe tastes great on nearly all grilled meats, especially shrimp, chicken or fish. You can also use it to top a tropical salad or tacos, like my BBQ Pork Tacos.
How do I change the spice level? Simply add more or less jalapeno. If you want really spicy, try using a habanero pepper or something even hotter on the Scoville Scale, a scale rating heat on chile peppers.
Pineapple Salsa
If you are looking for an easy homemade salsa recipe, this pineapple salsa is it! It is perfectly sweet and spicy and makes the best summer snack!
Instructions
Combine all ingredients in a medium bowl.

Cover and allow to marinate for 1-8 hours.

If you've made this recipe, come back and let us know how it was!
Nutrition
Calories:
28
kcal
,
Carbohydrates:
7
g
,
Sodium:
1
mg
,
Potassium:
73
mg
,
Sugar:
4
g
,
Vitamin A:
250
IU
,
Vitamin C:
37.2
mg
,
Calcium:
5
mg
,
Iron:
0.1
mg