Tacos! It doesn't have t be Taco Tuesday to eat tacos! Tropical Beef Tacos are nice little mix up from the traditional beef, cheese, and mango salsa.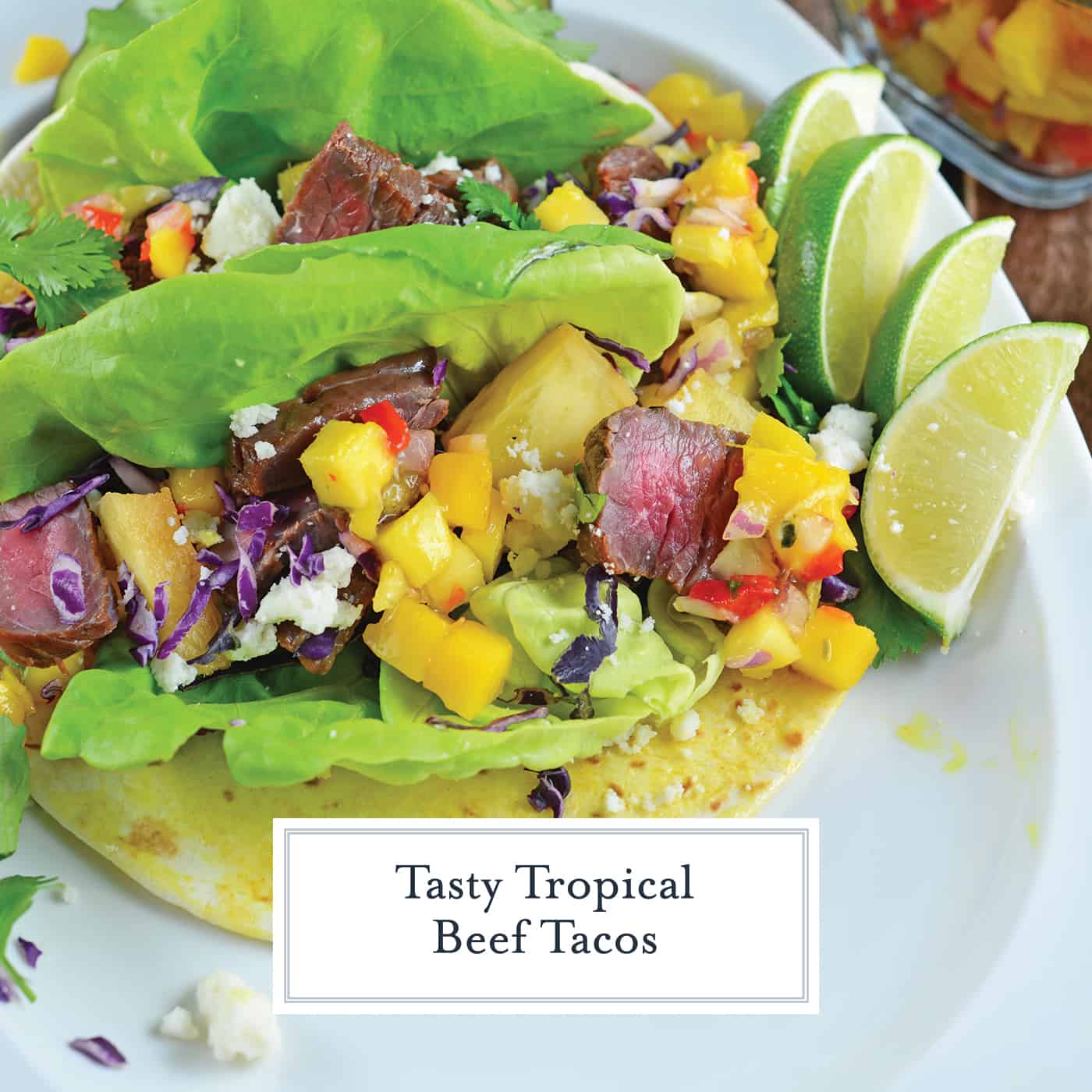 Tropical Beef Tacos use seasoned strip steak with mango salsa and queso fresco. Plus one secret for out-of-this-world tacos!
This taco recipe is also known as a street taco. Why? Because tacos, which are wildly popular in Mexico, aren't generally served in a sit-down restaurant like you find them here in the states. They are served roadside out of food trucks.
So just like we termed "Street meat", they have termed "street taco". A walking meal in a shell!
Tacos in the states are either soft or hard shelled, also known as crunchy tacos, but in Mexican you'll rarely find a hard shell. In fact, you'll rarely find a flour tortilla. They are all made from corn tortillas.
It can be challenging to find a good, thin corn tortilla in the states without making one yourself, so my family typically prefers flour tortillas at home. The problem is, they lack flavor and substance.
Corn tortillas in Mexican are made by hand so all of the oils are retained. The masa is soaked in limestone bowls with water to infuse it with flavor before grinding.
They are then cooked on a hot stone top. None of that happens with processed, packaged corn tortillas. And quite frankly, I don't have time to make my own!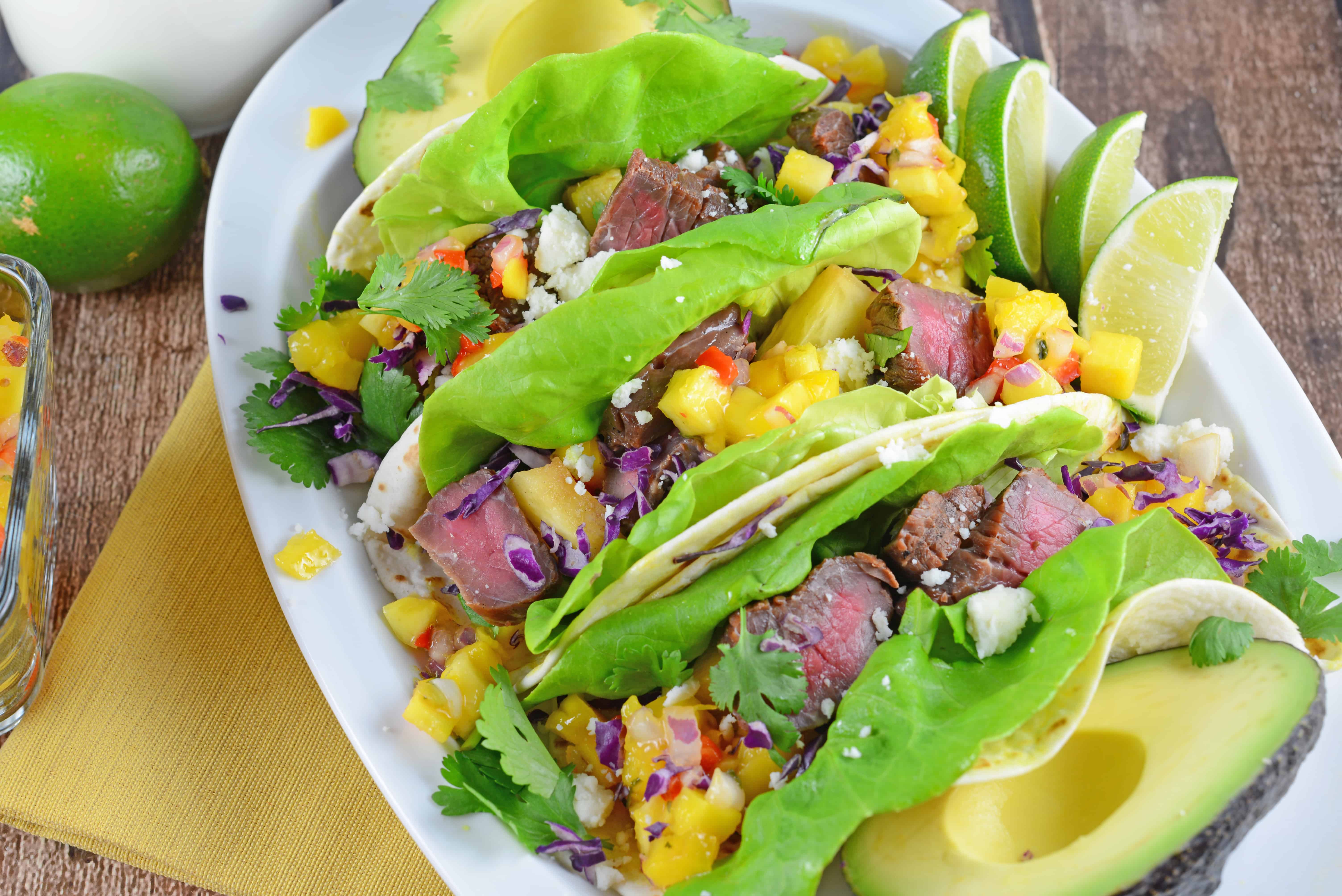 This is where my taco secret comes into play. To add extra flavor to your tropical beef tacos, mix spices, for these turmeric and cumin, with vegetable oil and baste directly onto the tortilla.
The baste not only adds flavor, but helps the tortilla stay soft. These are soft tacos, after all! You can do this to flour tortillas to add flavor, but also to corn tortillas to amplify the flavor!
These are tropical tacos so they need some tropical flavors. Mango salsa can be made ahead of time and stored in an airtight container for 3-4 days. Use leftovers (if there are any) to top a salad or serve over grilled shrimp or chicken!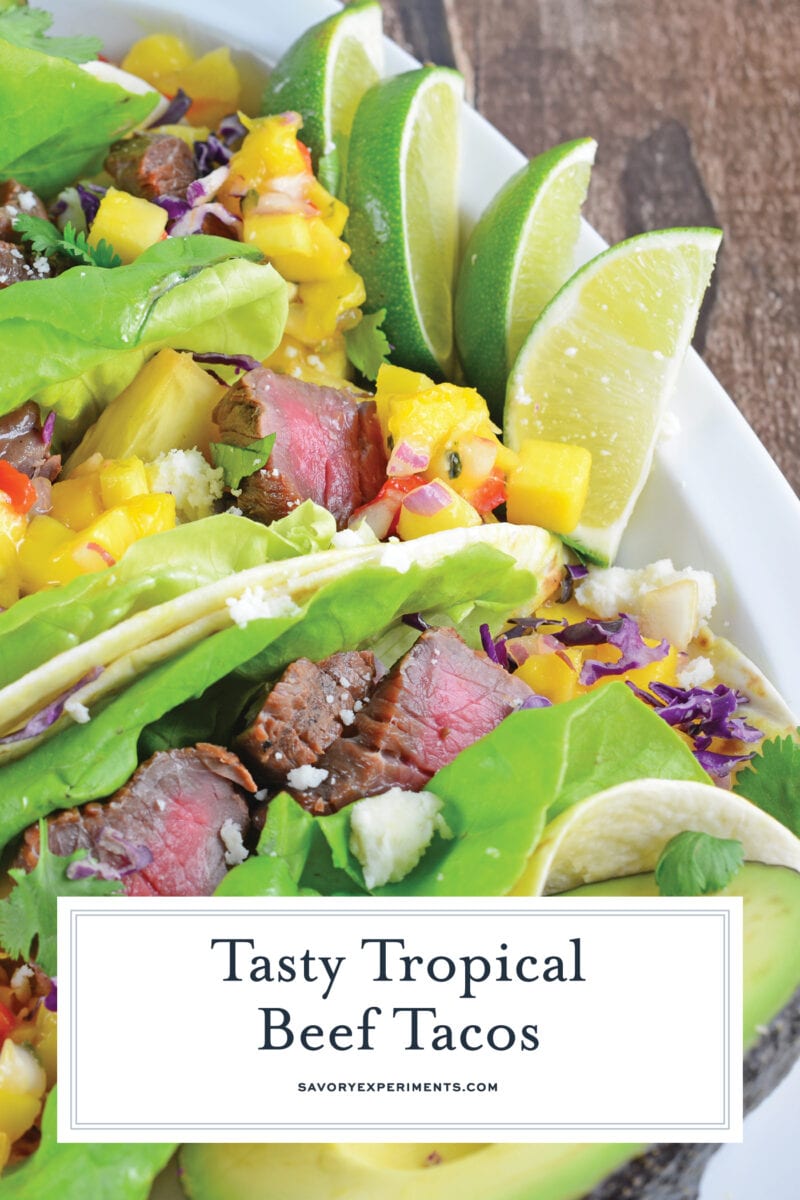 The last tidbit of info for you taco eating pleasure is actually a questions What type of taco eater are you? Do you tilt the taco to get it into your mouth or do you tilt your head?
In Mexican, they have a saying "bow to the taco". True taco eaters hold the taco upright and tilt their head, not the other way around. So enjoy, and bow to your taco!
If you like homemade tacos, also check out my: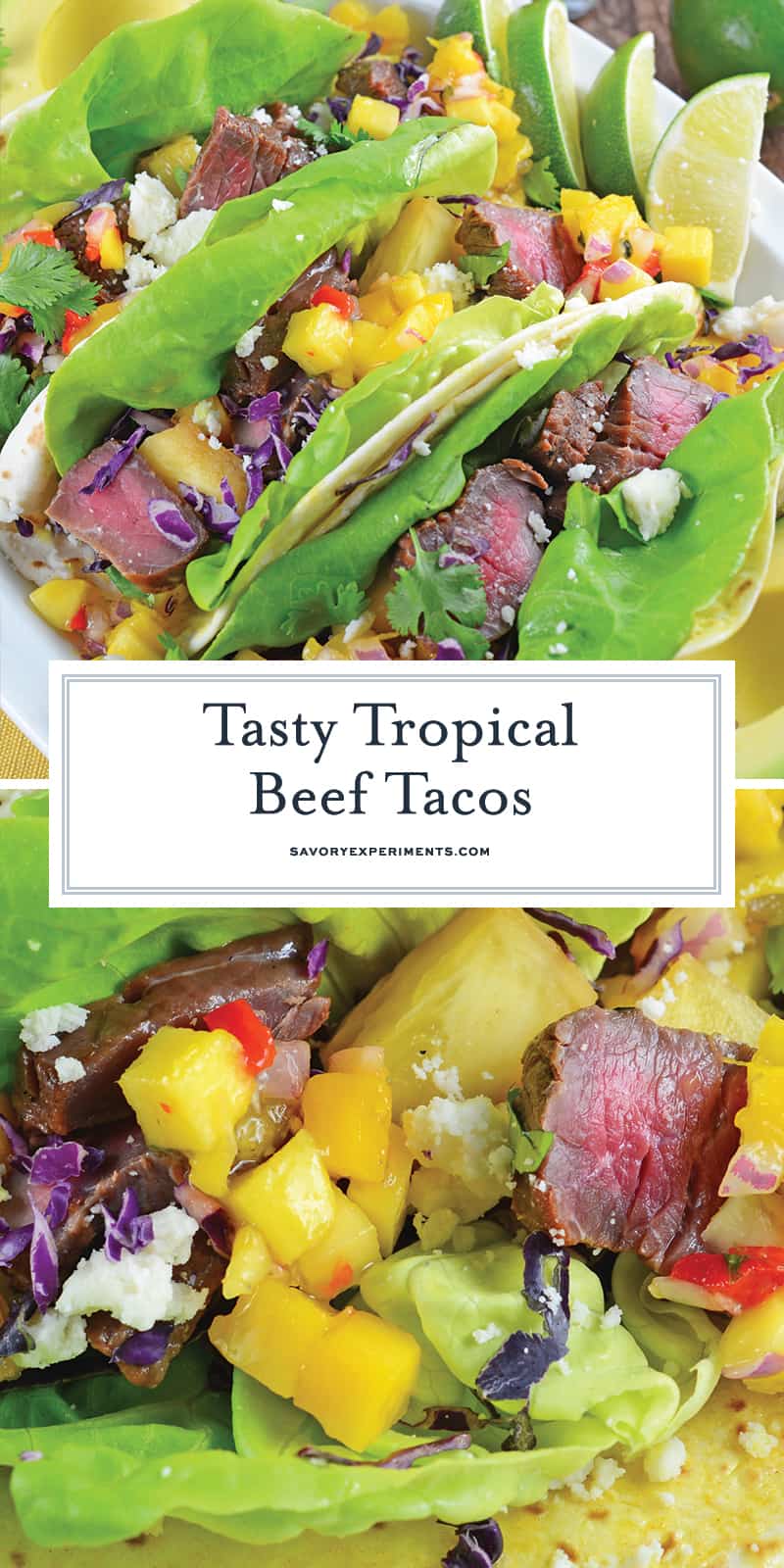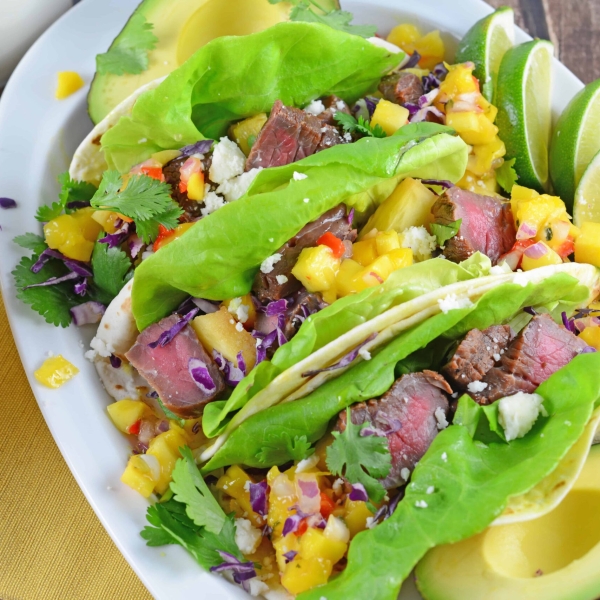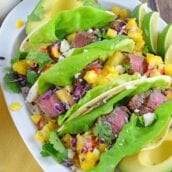 Tropical Beef Tacos
Tropical Beef Tacos use seasoned strip steak with mango salsa and queso fresco. Plus one secret for out-of-this-world tacos!
Instructions
Heat oven to 300 degrees. Wrap tortillas in aluminum foil. Set aside.

In a small bowl, whisk together vegetable oil, turmeric and cumin. Set aside.

Trim NY strip of any large pieces of fat. Season well with fine sea salt and freshly ground pepper. You can either grill your steak or cook it on the stovetop. For stove top, heat a large, seasoned cast iron skillet over high heat until almost smoking. Place NY strip in pan, searing on each side for 3-4 minutes for medium rare. For grilling, preheat grill to medium-high and grill on direct heat for 3-4 minutes on each side.

Remove and allow to rest for 5 minutes. Thinly slice against the grain.

Meanwhile, heat tortillas in the oven for 5 minutes. Remove and baste each on just one side with vegetable oil and spice mixture.

To assemble, place a leaf of Bibb lettuce over the side of tortilla that was basted. Top with 2-3 thin slices of beef, 1 tablespoon of mango salsa, a generous pinch of red cabbage and sprinkle of queso fresco.

If you've tried this recipe, come back and let us know how it was!
Nutrition
Calories:
221
kcal
,
Carbohydrates:
18
g
,
Protein:
10
g
,
Fat:
11
g
,
Saturated Fat:
6
g
,
Cholesterol:
27
mg
,
Sodium:
510
mg
,
Potassium:
276
mg
,
Fiber:
1
g
,
Sugar:
3
g
,
Vitamin A:
375
IU
,
Vitamin C:
7.1
mg
,
Calcium:
96
mg
,
Iron:
1.8
mg