Baked Chicken Enchiladas use store bought rotisserie chicken rolled in tortillas, a delicious homemade enchilada sauce and gooey cheese for the best easy dinner recipe ever!
Can you really go wrong with a seasoned shredded chicken mixture, shredded cheese, melty cheese and sour cream?
Psst… the answer is no.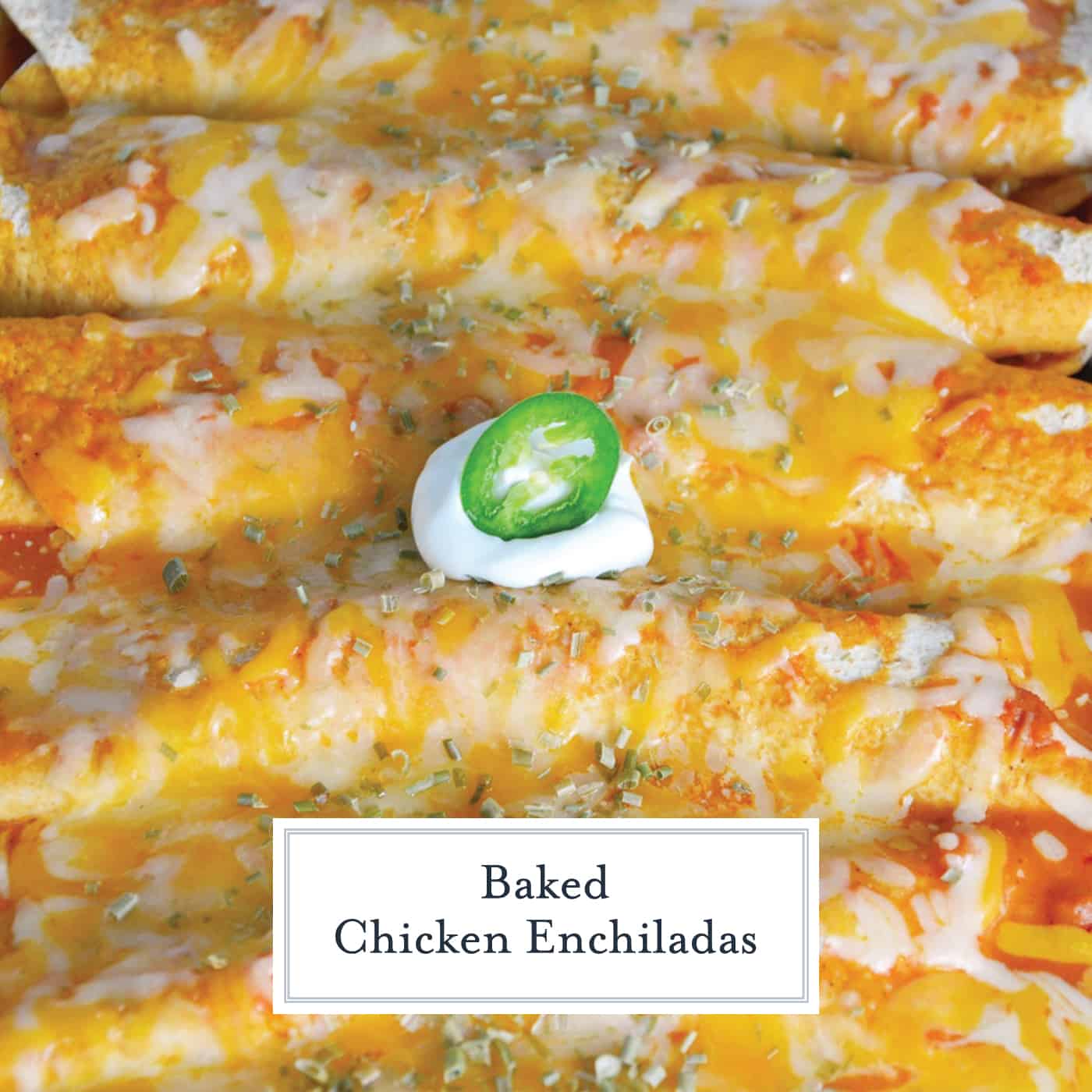 Baked Chicken Enchiladas is a savory, quick recipe that can work any day of the week. Recipes with precooked rotisserie chicken make dinner a snap!
The enchilada. A Mexican tradition dating back to Mayan times, I figured it was only appropriate to make Baked Chicken Enchiladas on December 21st, 2012… the day the Mayan calendar was supposed to run out.
The good news is that the world didn't end so you will have plenty of time to try this recipe for enchiladas.
Traditional enchiladas use corn tortillas to wrap small fish and then smother them with a chili sauce.
However I like a giant enchilada and have trouble finding corn tortillas that large, so I sometimes opt for flour. My husband also prefers flour.
If we are being totally honest, I just love Mexican food. Anything a little spicy and smothered in a chile sauce with cheese, topped with sour cream.
YES, PLEASE!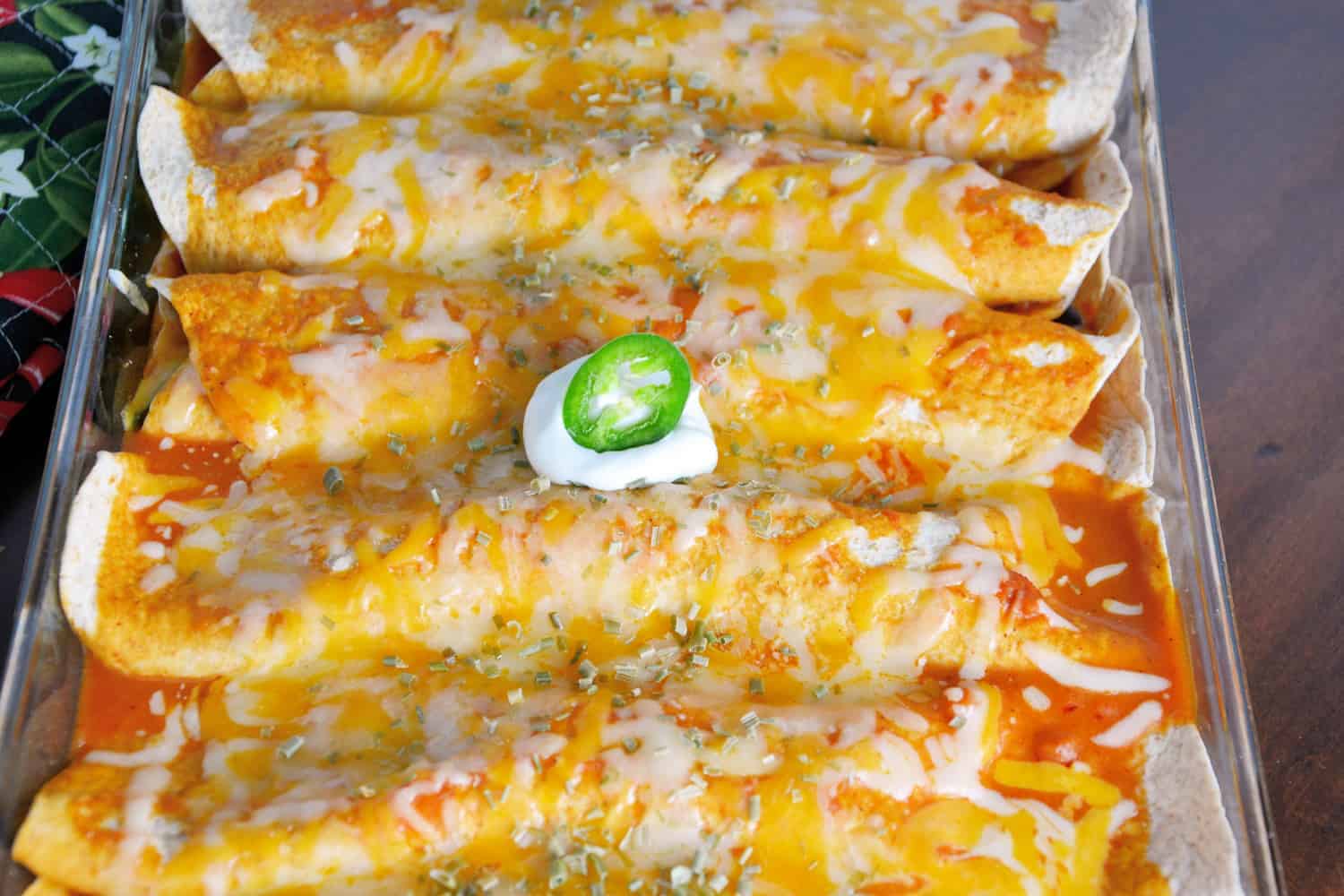 Yes, enchilada purists and those who are making authentic Mexican food, I realize this is more of a wet burrito, but alas, you can use corn tortillas too! Please don't leave me nasty comments about how I should be ashamed.
Lacey says: "These were amazing. Big hit with my family! Thanks for sharing!"
I am not ashamed, these darn enchiladas, also known as smothered burritos, are delicious regardless of what type of tortillas you use.
And while we are on the subject, I'm not wrapping small fish either, so I guess this recipe is a total abomination!
I will not hang my head in shame. I will hold it high and eat CHICKEN ENCHILADAS!
Today's enchilada recipes range greatly. This chicken enchilada bake is no exception, using an easy Homemade Enchilada Sauce with a kick.
Black beans will fill you up and spinach will give you your leafy greens for the day. I love hiding vegetables in delicious, cheese covered foods.
PRO TIP: If you do make special versions you can mark them with a toothpick.
The stuffing for enchiladas can be modified easily without any change in cooking time. I had a guest who did not care for black beans, so I kept them out of the main mixture.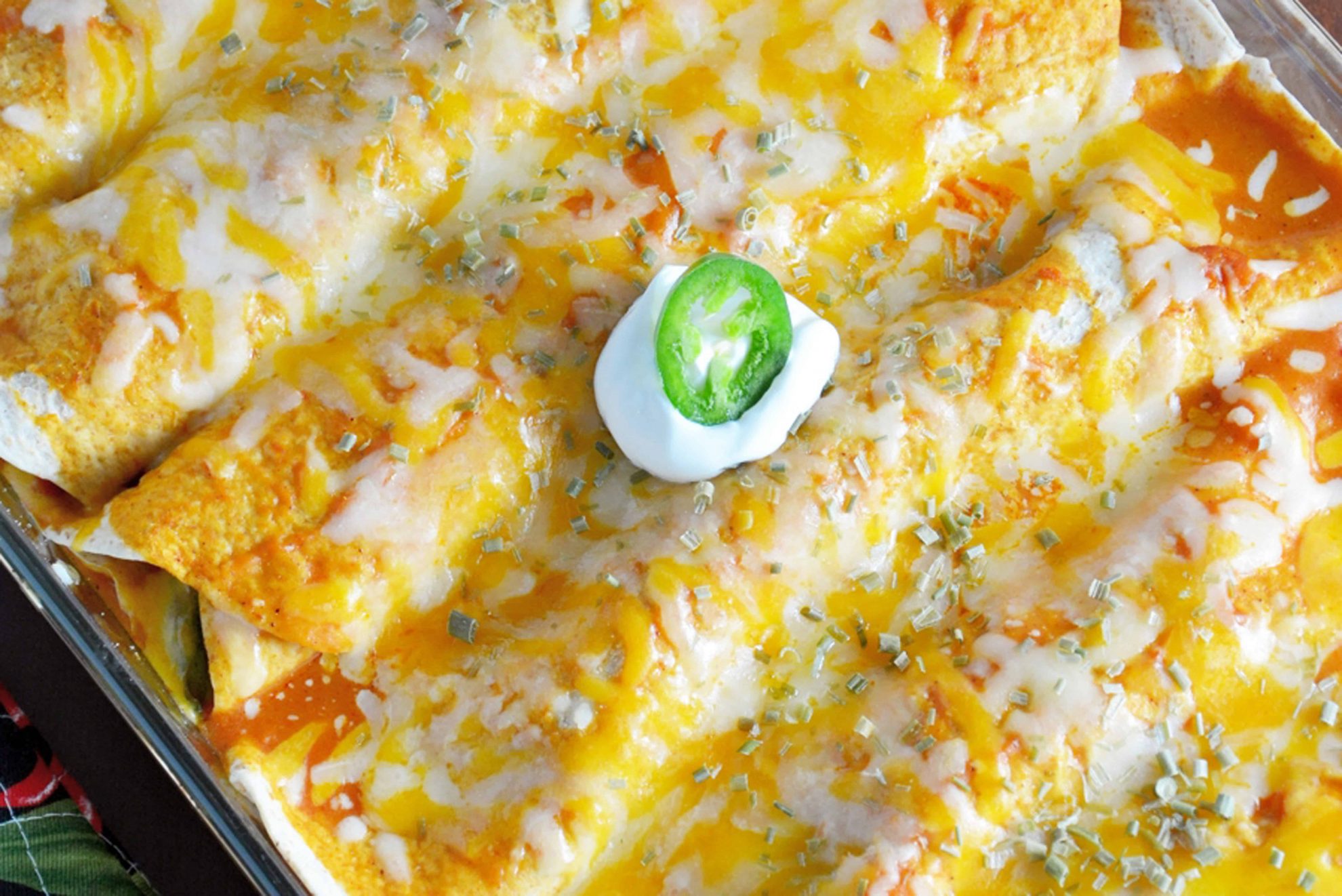 Because I was cooking for others I kept my homemade enchilada sauce mild, but if you like it sweat beading, nose running spicy then feel free to add chili powder to taste.
You can also check out my green enchilada sauce or make half red and half green for Christmas style enchiladas.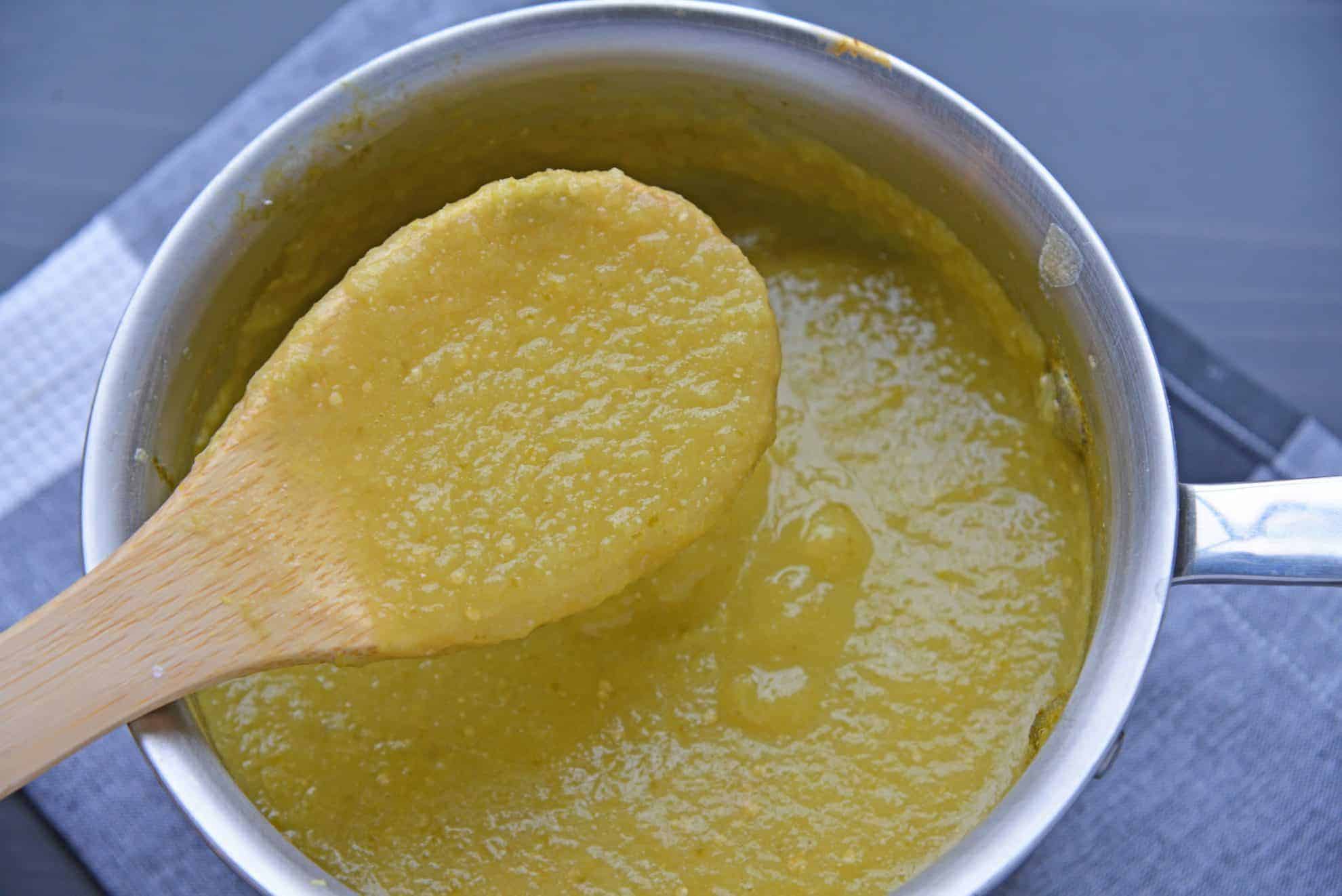 Make Spinach, Black Bean and Chicken Enchiladas with my restaurant style Mexican Rice for a wonderfully full meal!
Sandra F. says: "Mmmm…I needed a good recipe for this."
If you enjoyed this Rotisserie Chicken Enchiladas recipe, check out some of these other easy Mexican inspired dishes: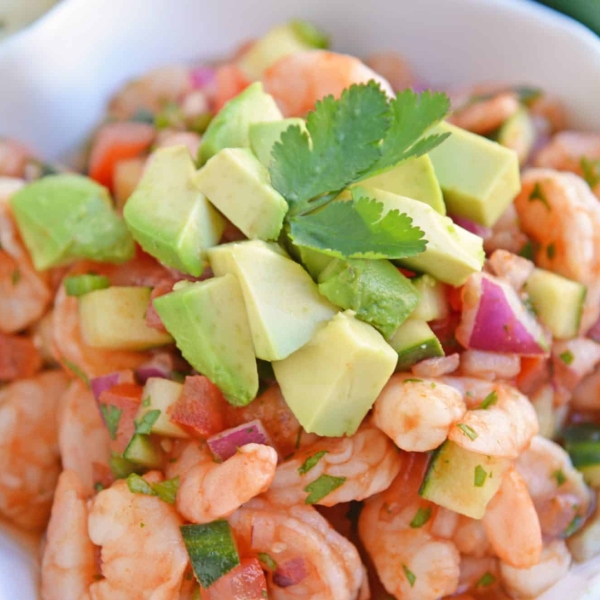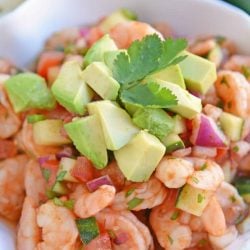 Mexican Shrimp Cocktail
Mexican Shrimp Cocktail is an easy recipe made with shrimp, fresh vegetables, tomato juice and hot sauce for a spicy version of your favorite classic. Top with avocado and serve with tortillas chips or saltine crackers.
View this recipe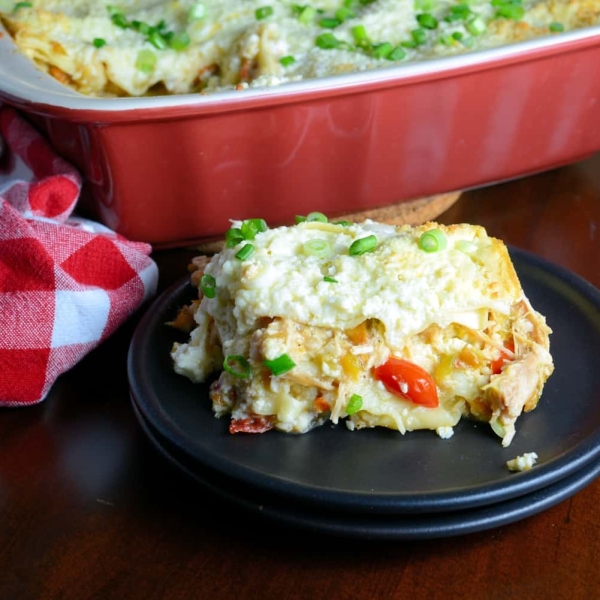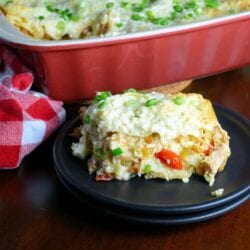 Green Chile Chicken Lasagna
Green Chile Chicken Lasagna is make-ahead and freezer friendly meal layering no-bake lasagna noodles with shredded chicken, spices, green chiles and lots of cheese!
View this recipe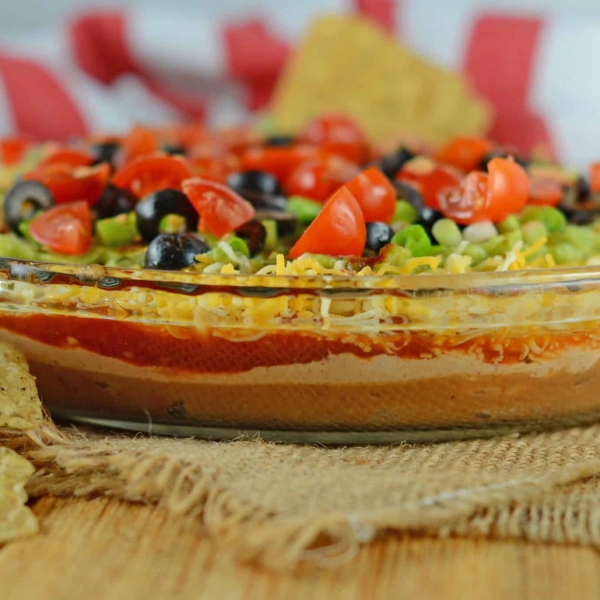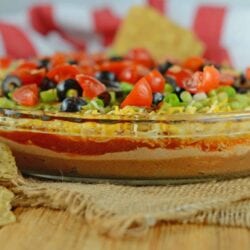 7 Layer Dip
Easy party appetizers don't get much easier than this 7 layer dip! It takes chips and dip to a whole new level with refried beans, guacamole and sour cream!
View this recipe
Tools for making Baked Chicken Enchiladas:
9 x 13 Glass Baking Dish– an absolute essential for any kitchen! Use it for baking, marinating or storing. Get one with a lid, you'll thank me later.
Mixing Bowls– make sure to check out my article on Using the Right Mixing Bowl, you'd be surprised how many people aren't!
Heavy Bottom Frying Pan– this will be one of your most used kitchen tools. Having something that is heavy bottom will distribute heat better and prevent burning whether you are using an electric or gas range.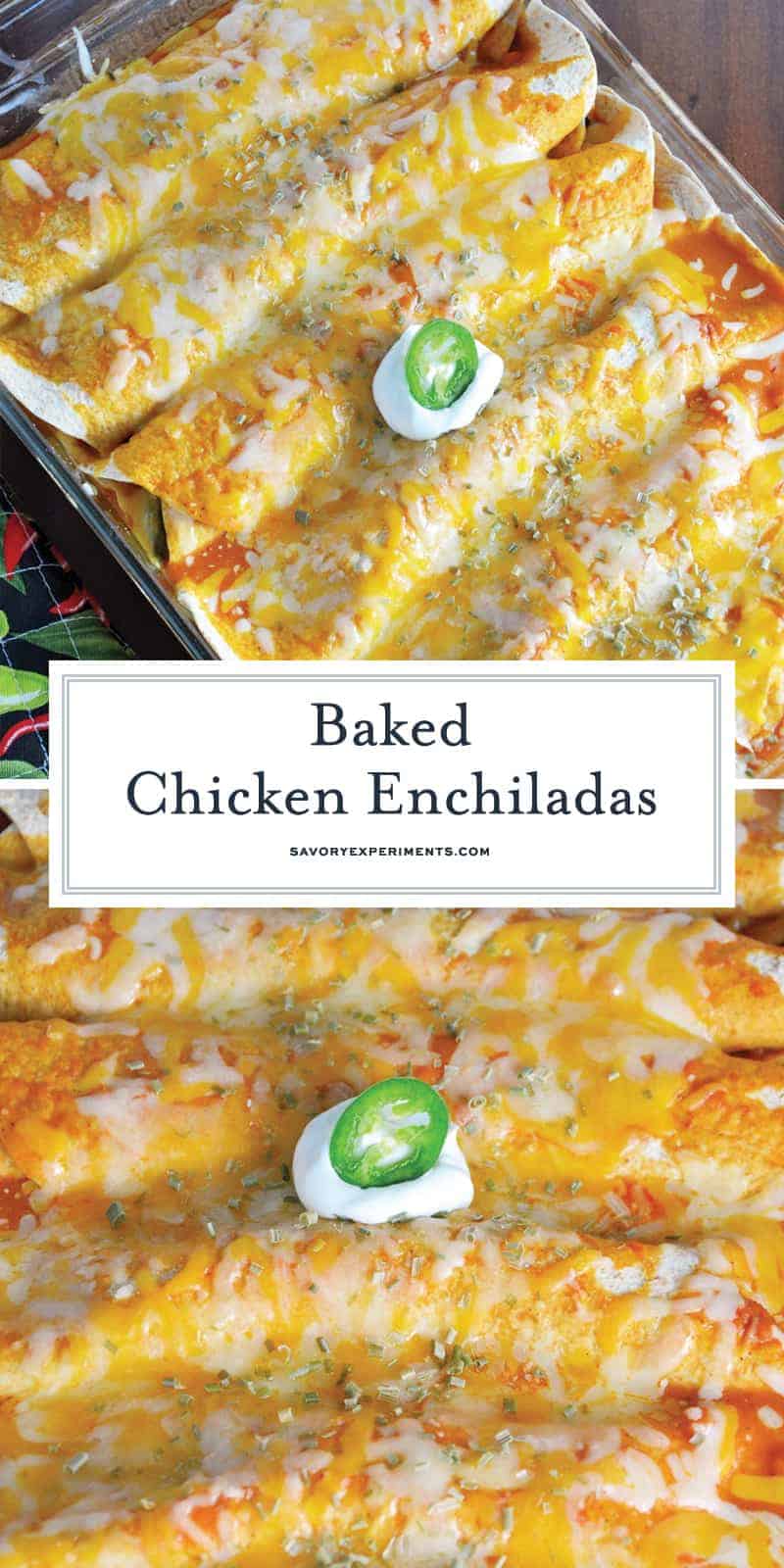 Questions you might have about Smothered Enchiladas:
Can you freeze enchiladas? You sure can! Package them in an airtight container and freeze for up to 3-4 months. If they are in a deep freezer, they can last 6-7 months.
Are chicken enchiladas spicy? They can be! If you make your own enchilada sauce you can make them as spicy or mild as you like.
The store bought brands usually have a label to tell you how spicy they are.
If you like the heat, add fresh jalapenos or habaneros to mix or top with with crushed red pepper flakes!
Are chicken enchiladas low carb or keto friendly? Tortillas, whether they are corn tortillas or flour tortillas, are not low carb or keto friendly.
Can I make them with corn tortillas? Sure! As stated above, traditional enchiladas are made with corn tortillas, my family just happens to prefer flour. Which, are yes, technically a smothered burrito.
Can I make these chicken enchiladas ahead of time? Yes, you sure can! In fact, I had these tonight and I made them two nights ago.
Cover and bake for an additional 10-15 minutes so the insides have time to reheat from being chilled. I wouldn't make them ahead for more than 2 days.
How do I make chicken enchiladas with white sauce? Typically the white sauce is just a white queso sauce or a crema mexicana. Omit red enchilada sauce and add one of these two.
Do I have to use chicken? By all means, no! Omit it and double the amount of cheese, veggies and beans for vegetarian enchiladas. You can use shredded or ground beef or turkey, too!
Can I use chicken breasts instead of rotisserie chicken? The only reason I use pre cooked chicken is that it is faster, but if you want to bake boneless skinless chicken breasts and chop or shred them, be my guest.
What else can I add? The possibilities are endless! Here are a few ideas:
Corn
Green chilies
Cilantro
Pinto beans
Shredded lettuce (to the top after cheese is melted)
Jalapenos
Avocado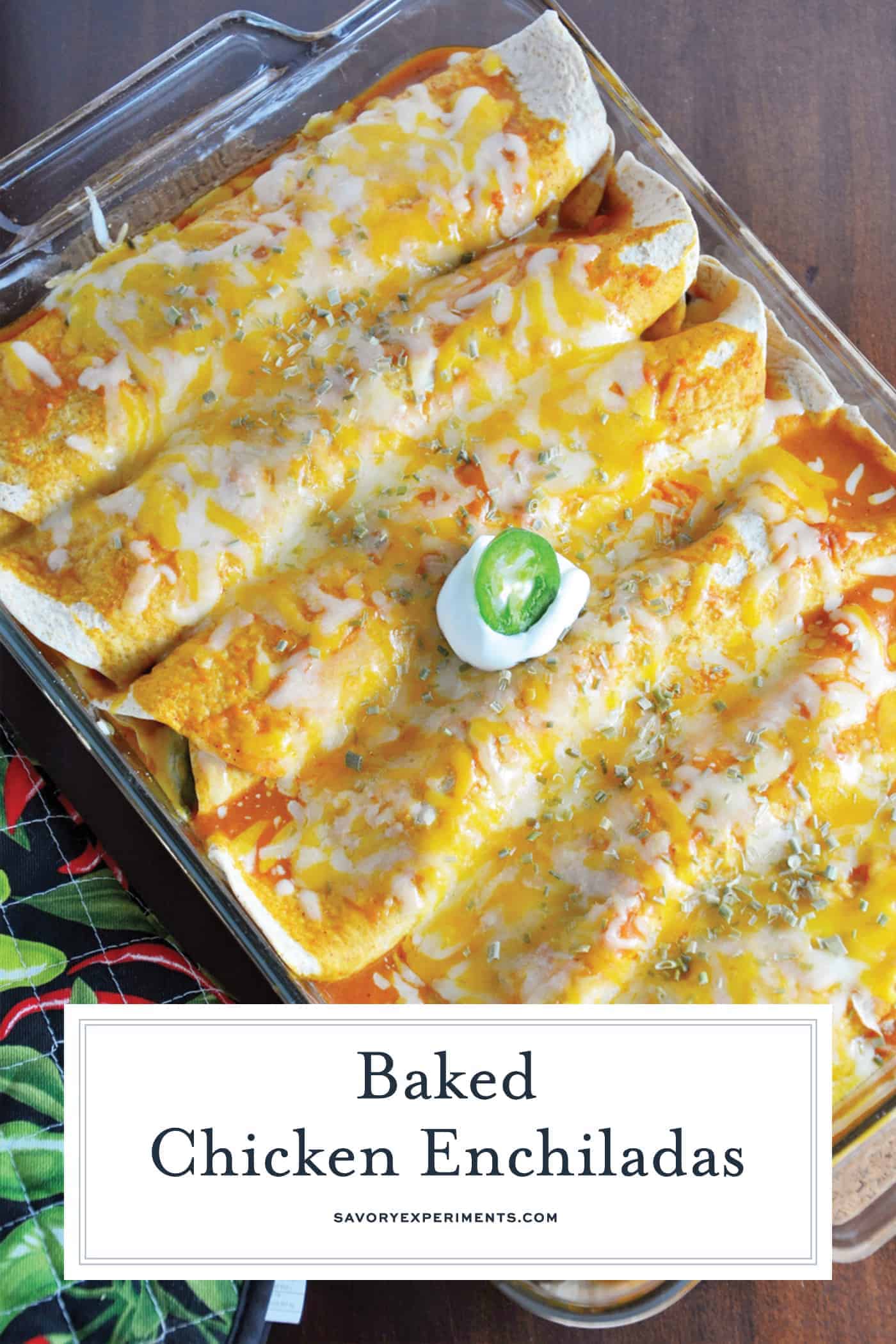 If you have any questions, please free free to ask and of course, come back and let us know how they were.
Serve your delicious homemade enchiladas with a refreshing bottle of beer and some salty tortilla chips and salsa. They can also be used to pick up any leftover sauce and cheese left on the plate!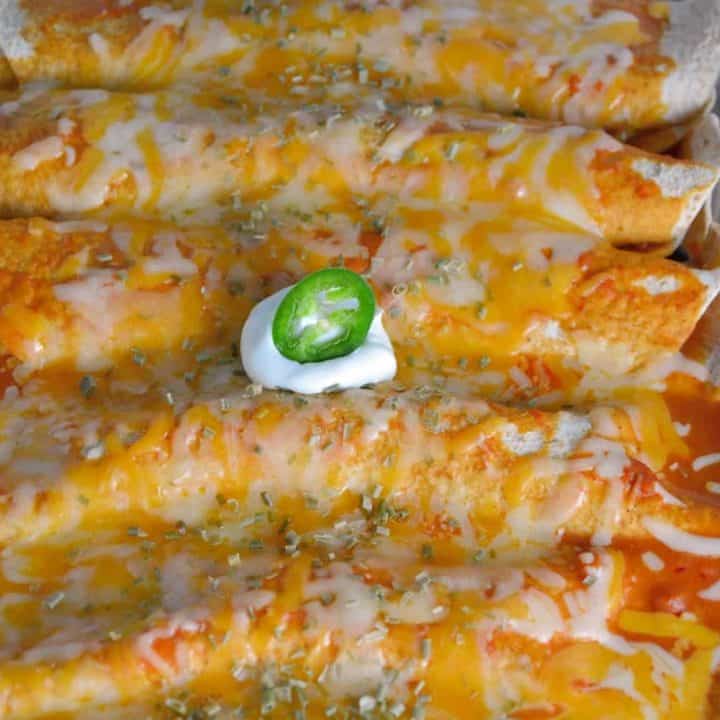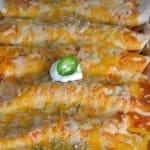 Chicken Enchiladas
These Chicken Enchiladas are rolled in flour tortillas, covered in a delicious homemade sauce and smothered in gooey cheese! Using pre-made rotisserie chicken makes them ready in a snap!
Ingredients
2

cups

Enchilada Sauce

3

ounce

fresh baby spinach

15

ounce

can black beans

, drained and rinsed

3/4

cup

frozen corn kernels

thawed

1 1/2

cups

shredded chicken

, **see note

1/3

cup

cilantro

, coarsely chopped

2

teaspoon

cumin

4

cups

Mexican cheese blend

, shredded

8

medium whole wheat tortillas

1

cup

sour cream
Instructions
Heat 1 tablespoon extra virgin olive oil in a

medium skillet

. Add spinach and continue to toss until it wilts and reduces (approximately 1 minute). Remove and spoon ingredients to a large

mixing bowl

.

Add black beans through cumin to wilted spinach. Add 3 cups shredded Mexican cheese blend.

Preheat oven to 375 degrees and set up a work area to roll your enchiladas. These work best in a baking dish with high sides that they will fit snugly into. This recipe makes 8, however they are plump suckers, so a

regular 9×13

baking dish will only hold 6. I suggest working out the logistics before you start rolling.

Spoon a very small amount of sauce into the bottom of each baking dish to prevent sticking. Just enough to lightly cover the surface. Lay out a medium whole wheat tortilla on your work surface. Measure out approximately 1/2-3/4 cup filling. Enough to make it a stuffed enchilada, but little enough that you will be able to roll it with both ends overlapping to secure it.

Continue with remaining tortillas, fitting them snugly into the baking dish(s) of choice. Evenly pour sauce over the tops. Any exposed tortilla will get brittle and dried out while cooking. Depending on the size you may not need all of the sauce. You want enough to cover, but not to pool at the bottom.

Top enchiladas with remaining 1 cup of shredded Mexican cheese blend. Place in oven for 20 minutes.

Remove and allow to cool for 3-5 minutes before using a large spatula to serve. Top with a dollop of sour cream. Enjoy!

If you've tried this recipe, please come back and let us know how it was!
Notes
For shredded chicken there are a couple of choices. Frozen strips, thawed and then shredded work well. A rotisserie chicken does the trick too. Left over chicken, grilled or lightly seasoned is perfect. On this occasion I had none of the above, so I baked two medium chicken breasts in the oven and then shredded them after they cooled.
Nutrition
Calories:
459
kcal
,
Carbohydrates:
31
g
,
Protein:
26
g
,
Fat:
25
g
,
Saturated Fat:
13
g
,
Cholesterol:
88
mg
,
Sodium:
1417
mg
,
Potassium:
367
mg
,
Fiber:
5
g
,
Sugar:
6
g
,
Vitamin A:
1010
IU
,
Vitamin C:
3.1
mg
,
Calcium:
459
mg
,
Iron:
3.2
mg