Why are they BOMB Shrimp Tacos? I honestly don't know… for some reason when I was asked to describe them that was the adjective that I felt through my bones and it just stuck.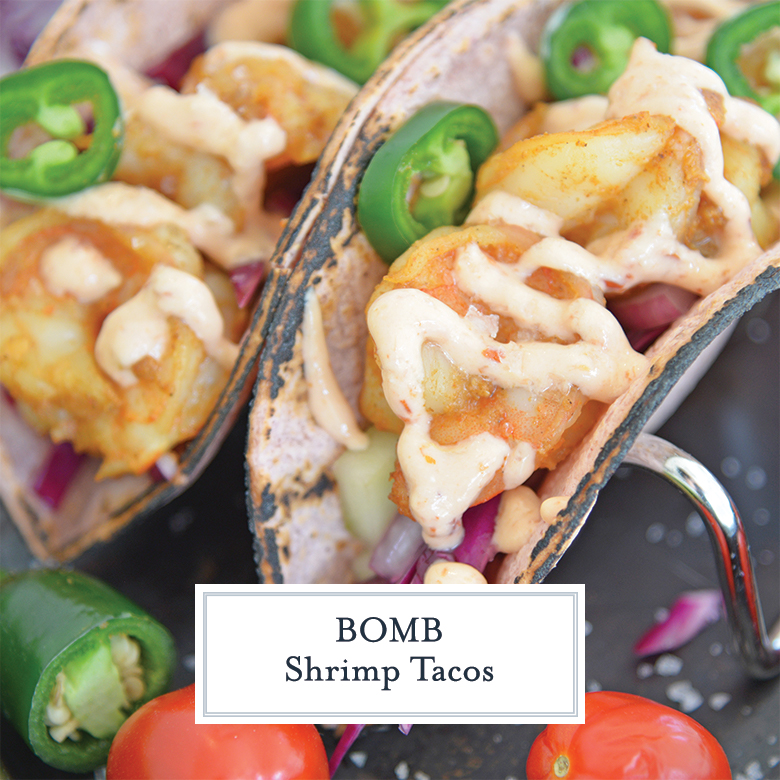 Easy shrimp tacos don't get any better than these Shrimp Tacos with Cabbage Slaw! Taco Tuesday will never be the same!
If you don't already know… I am a little wonky. But in a good way 🙂

We enjoy tacos any night of the week in our house. No need to wait for Taco Tuesday to enjoy their deliciousness.
But in our years of creating different taco variations and concoctions, there are a few things I've come to realize I like about tacos. And that helped me to make the best shrimp tacos recipe ever!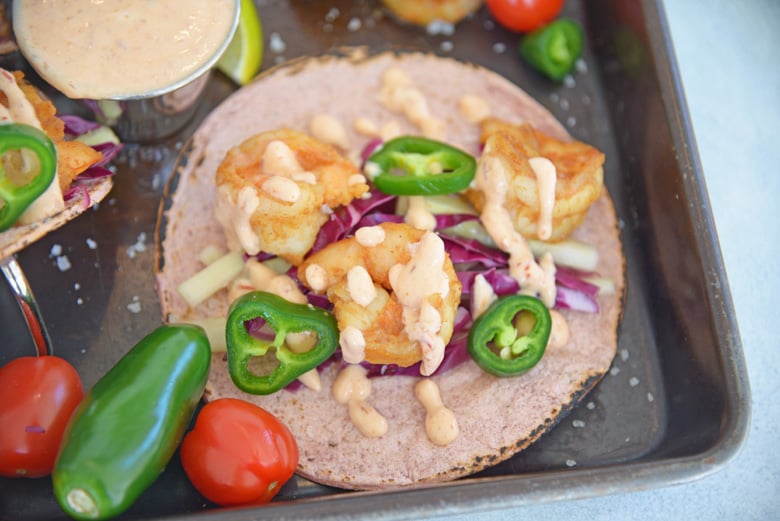 The main thing being that I like a mix of hot ingredients, like the meat, and fresh cool ingredients like slaw or fruit.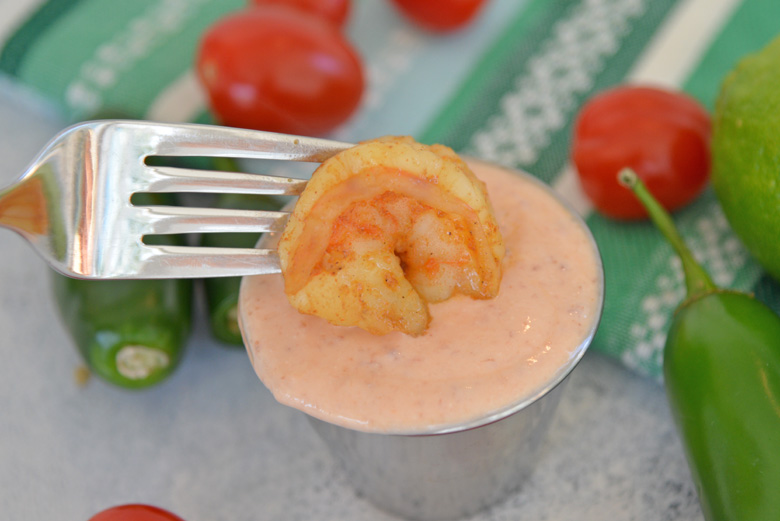 Slaw doesn't have to be creamy, in fact one of my most popular recipes is an oil and vinegar slaw. To pair with the succulent shrimp and sweet and spicy sriracha sauce, I wanted crisp and fresh produce.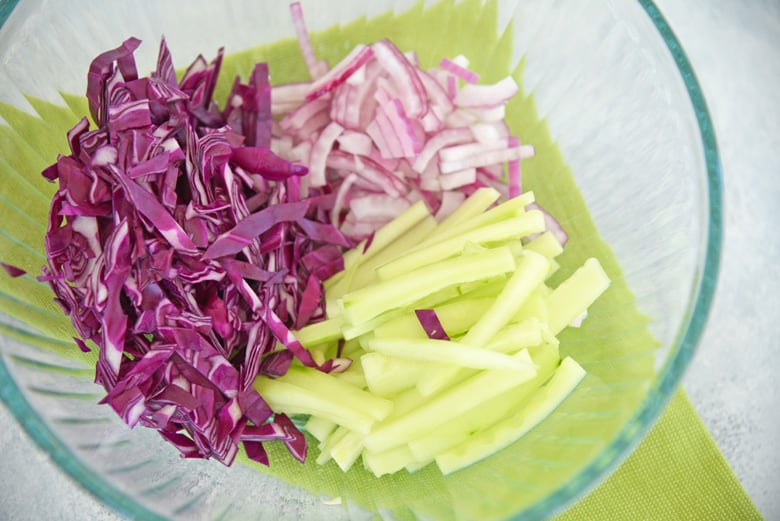 While these are easy shrimp tacos, I also like the idea of cutting the fresh ingredients into different shapes instead of just plain chopping. Basic dicing is so last year.
It takes a little extra time to julienne, or cut a cucumber into "matchsticks" but it is worth it from an aesthetic and texture perspective.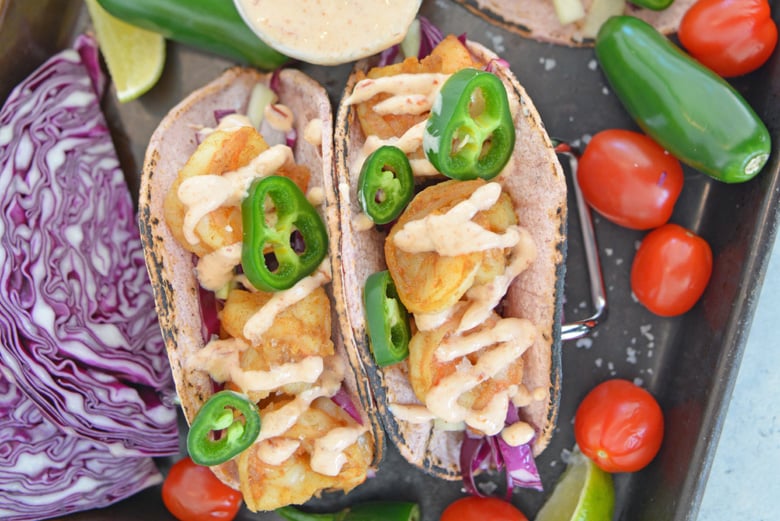 The term matchstick cut comes from the shape- the vegetables are cut into about the size and length of an old school, wood matchstick.
How to julienne a cucumber- cutting a cucumber into matchsticks
Place your cucumber on cutting board.
Cut off and discard ends.
Peel the cucumber using a vegetable peeler, if desired.
Cut into 4 inch pieces. Usually 2-3 sections.
Cut these in half and then cut into small, matchstick looking pieces lengthwise.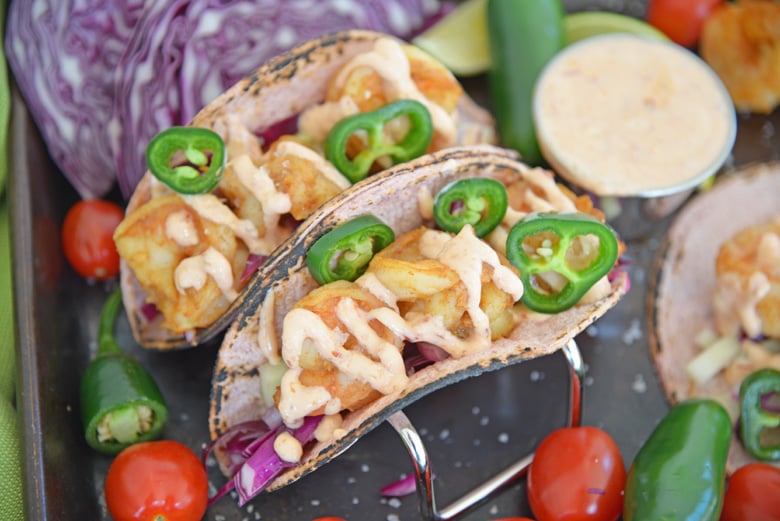 How do I cook the perfect shrimp?
Raw shrimp varies in color from greyish to light pink. As it cooks, the protein turns opaque and nearly all will be a vibrant pink color.
Shrimp cook quickly in about 2-3 minutes per side depending on the size. Overcooking your shrimp might make them rubbery or dry.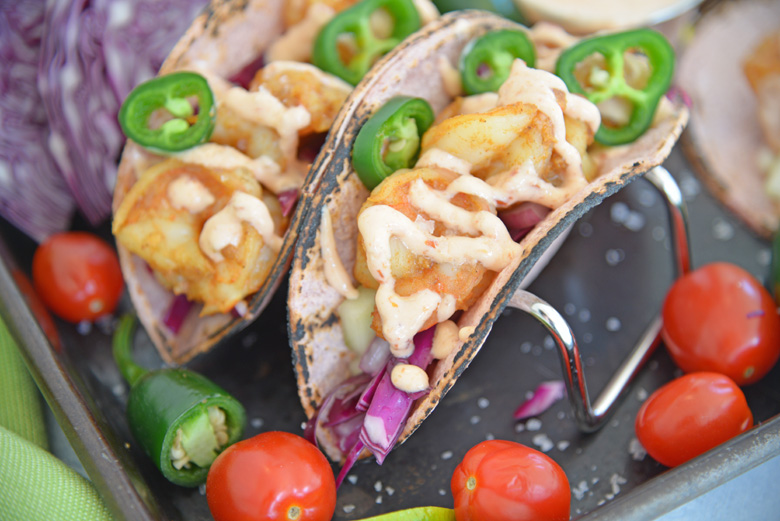 The shrimp should curl up into a loose "C" shape when properly cooked. If they get to an "O" then they are overcooked.
PRO TIP: Use shrimp that is already peeled and deveined to save time in the kitchen. If your shrimp is frozen, make sure it is fully thawed before cooking!
You can use either corn or flour tortillas, but I suggest getting the small ones, sometimes called street tacos. Nearly all tortillas are best warmed. Some corn tortillas need a double layer since they tend to be a little more fragile.
Frozen or fresh shrimp are acceptable, but if you use frozen, make sure it is thawed all the way before cooking otherwise your shrimp might not cook evenly.
You can even do crunchy shrimp by making air fryer breaded shrimp.
Lastly, no your eyes aren't deceiving you. These tacos use pink tortillas. They were special for breast cancer awareness month and colored with beet juice.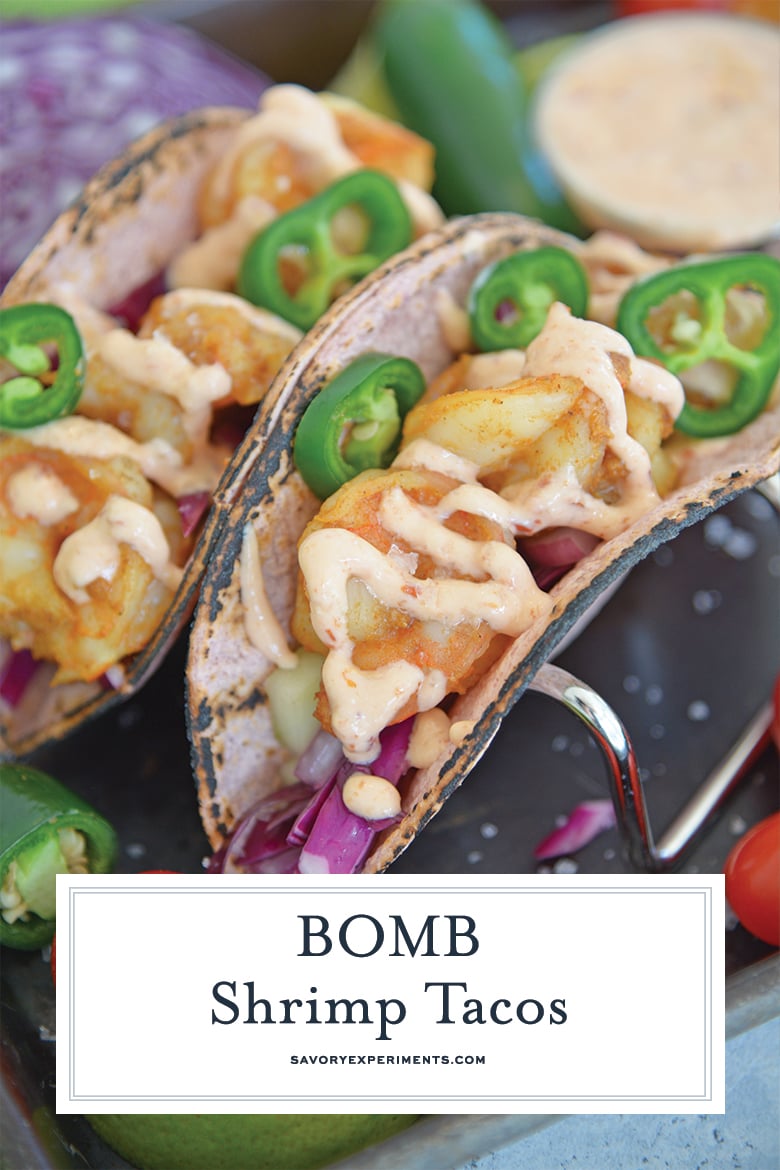 How to store and reheat shrimp tacos
To Store. Shrimp is always best fresh, so I highly recommend making this day-of and not ahead. But if you have leftovers, itcan be stored in the refrigerator for up to 3 days in an airtight container.
Keep the slaw separate and store the same way. Slaw might lose its crunch.
To Reheat. You can easily microwave it or heat i quick on the stovetop, but it tends to dry out and be a little rubbery. Add a teaspoon of oil to reheat and add back moisture. Alternately, you can use cold shrimp on salads.
Questions you might have about how to make shrimp tacos:
Can I use Kosher or fine sea salt for both?
You can, but adjust accordingly. Kosher salt has larger crystals that take a long time to dissolve in the mouth and also add crunch. The salty flavor takes longer to absorb into a recipe.
A tablespoon of kosher salt will actually contain fewer salt crystals than a tablespoon of fine sea salt, but will be less salty.
Are shrimp tacos spicy?
The shrimp aren't by themselves aren't that spicy. The sour cream sauce is what brings the (balanced) heat. I did this because my daughter, while she tolerates some heat, isn't quite ready for Sriracha yet.
How do I make these even spicier?
Here are a couple ideas for making these sweat-beading-on-your-nose shrimp tacos.
Raw or jarred jalapenos
Hot sauce
Sprinkle with crushed red pepper flakes
Add 1 teaspoon chile powder to shrimp marinade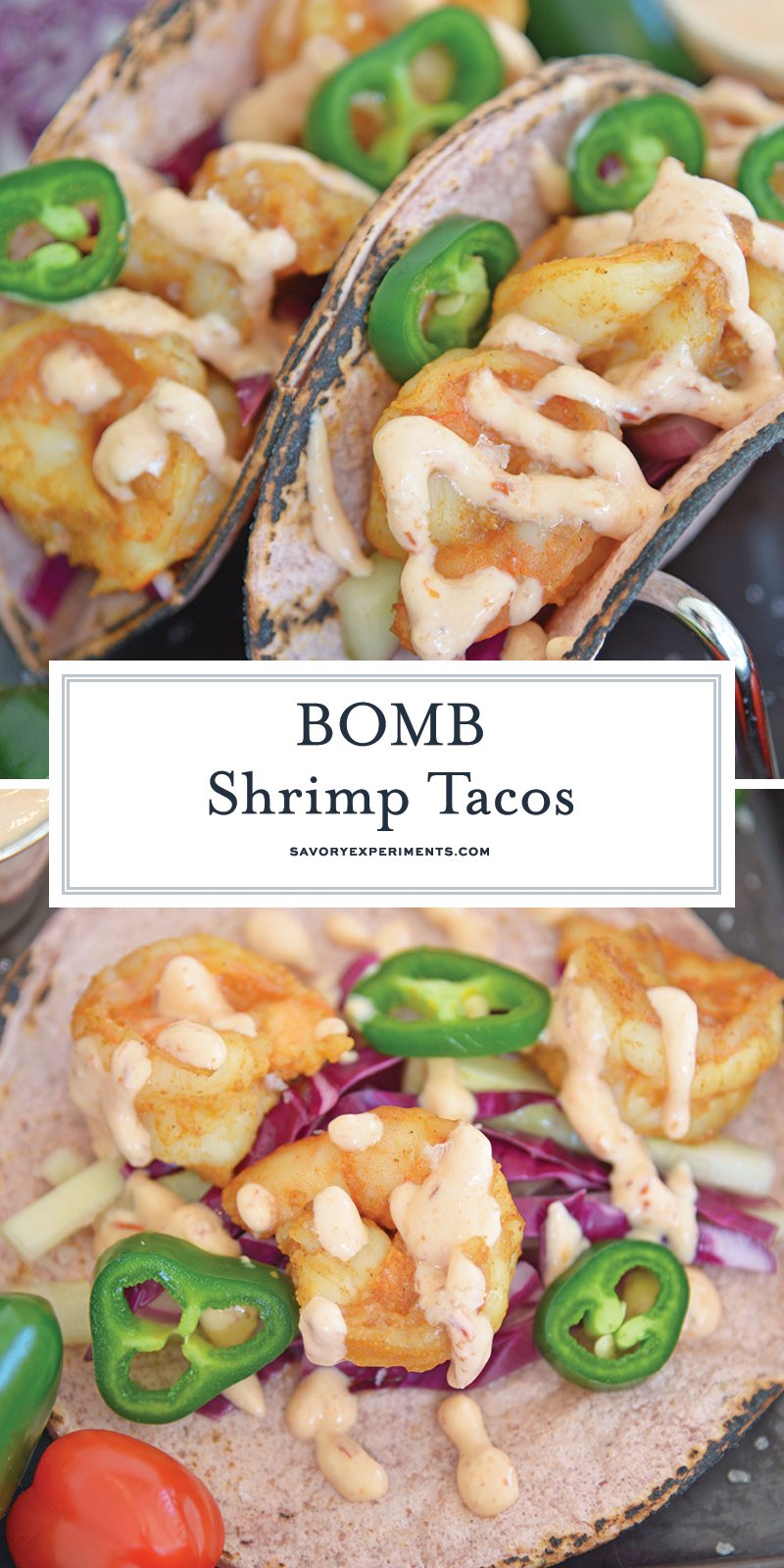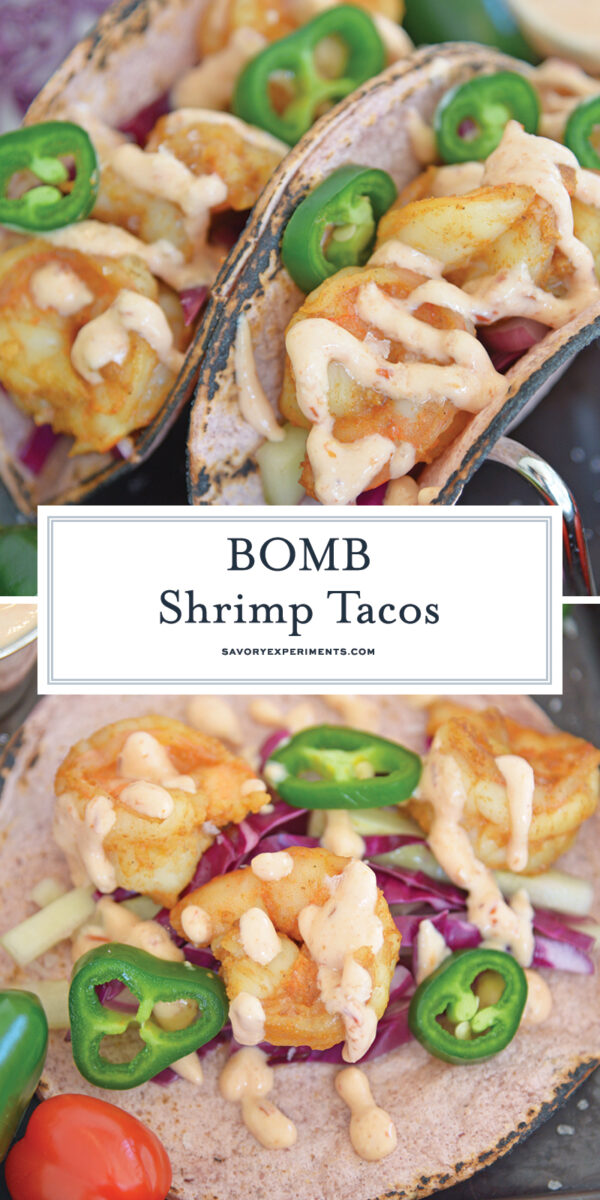 Other taco recipes you might love:
If you love shrimp as much as I do, check out these other shrimp recipes: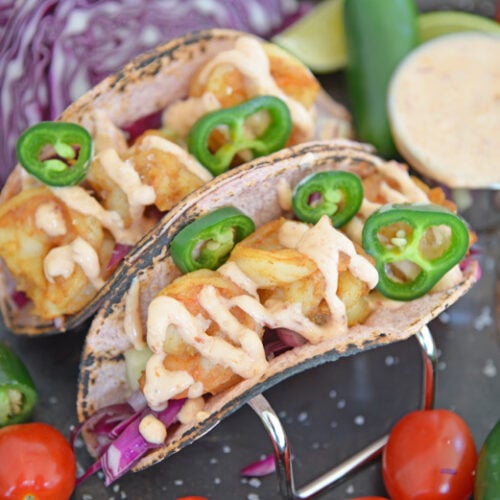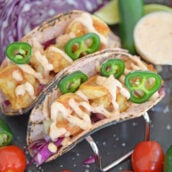 BOMB Shrimp Tacos
Easy shrimp tacos don't get any better than these Shrimp Tacos with Cabbage Slaw! Taco Tuesday will never be the same! Full of fresh flavor and seasoning!
Instructions
In a medium bowl or plastic bag, combine garlic powder, onion powder, white pepper, cumin, smoked paprika, fine sea salt and shrimp. Massage gently and then allow to marinate for 20 minutes up to 4 hours.

Heat oil in a large skillet over medium heat. When hot, add shrimp.

Cook for 2-3 minutes on each side until shrimp make a loose "C" shape. Remove from heat.

While shrimp are marinating, combine all ingredients for the slaw including red cabbage, red onion, cucumber, apple cider vinegar, sugar and Kosher salt. Toss to combine and set aside until ready to assemble.

Te assemble, place 2-3 shrimp in each tortilla, top with slaw, jalapeno slices, a spritz of lime juice and dollop of sweet Sriracha sour cream.

If you've tried this recipe come back and let us know how it was!
Nutrition
Calories:
167
kcal
,
Carbohydrates:
5
g
,
Protein:
24
g
,
Fat:
5
g
,
Saturated Fat:
3
g
,
Cholesterol:
286
mg
,
Sodium:
1471
mg
,
Potassium:
211
mg
,
Fiber:
1
g
,
Sugar:
2
g
,
Vitamin A:
495
IU
,
Vitamin C:
19
mg
,
Calcium:
179
mg
,
Iron:
3
mg