These aren't your average slider sandwiches. Nope. They aren't even your average BBQ chicken sandwich. They are the best little mini sandwiches you will ever sink your teeth into!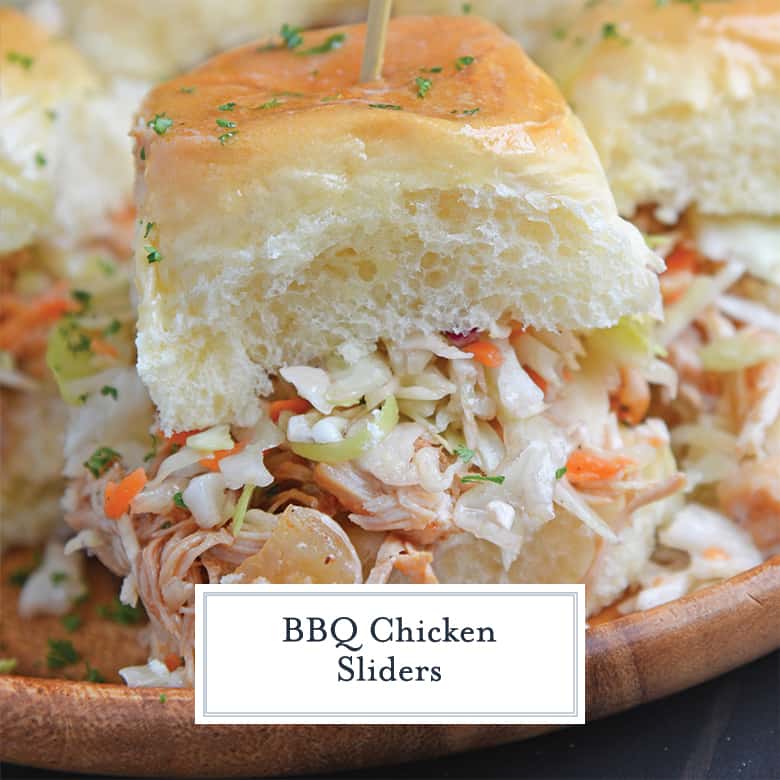 BBQ Chicken Sliders are made with 5 unique layers making them go above and beyond any other sandwich recipe. Fabulous for parties, potlucks and game day and can be served hot or room temperature!
Layered flavors create sophistication and intrigue in meals. One note tastes can be nice, like a buffalo chicken wing, but sometimes you want to really WOW your friends and family with something that they "just can't put their finger on".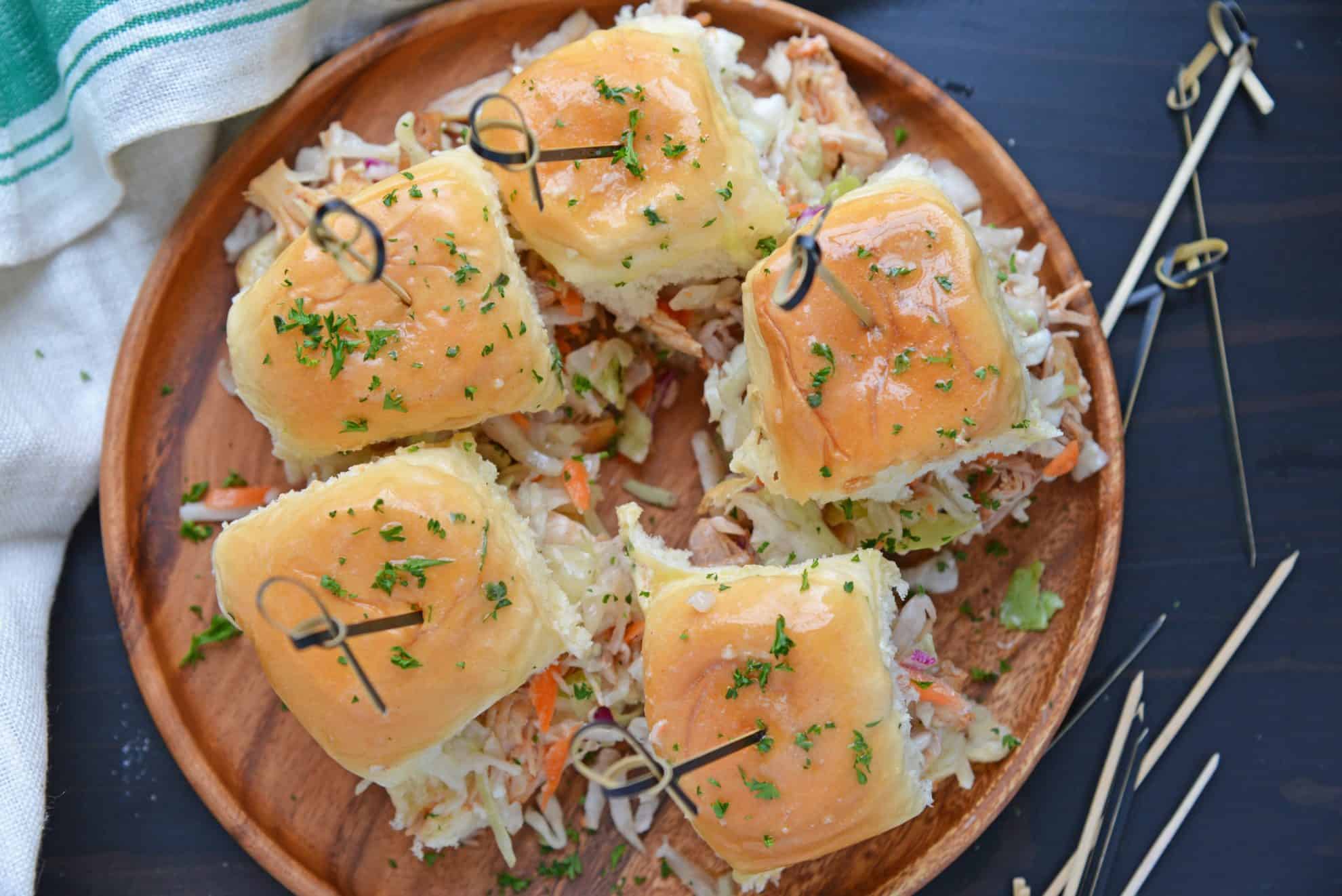 Well, here you go. BBQ Chicken Sliders are that delish. Simple enough that even the picky eaters will take one, but complex enough that your foodie friends will beg you for the recipe and rave over your kitchen prowellness.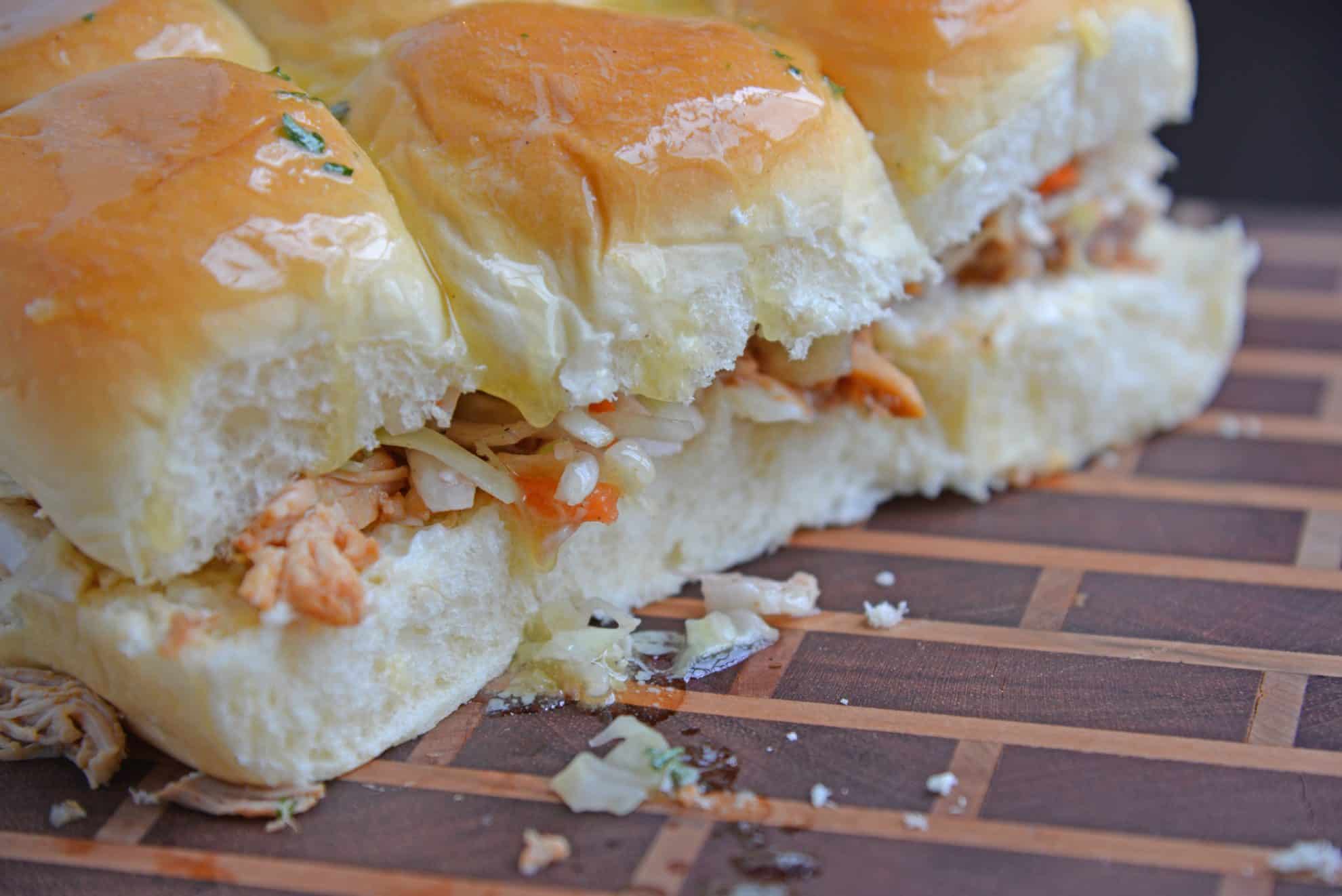 And let's face it, you can't go wrong with sliders, especially when they are on light, fluffy King's Hawaiian Rolls. A touch of sweet and so much yum, I eat them alone sometimes. I even put together a whole roundup of nothing but sliders made with hawaiian rolls!
Here we go, what makes these BBQ Chicken Sliders different….
LAYER 1 – Layer one is the bread. Nothing too surprising here. I used King's Hawaiian Rolls.
No, this is not a sponsored post, I genuinely like the rolls. I also like that they come in a connected loaf. Instead of making 12 individual sandwiches, I make one BIG sandwich and then cut them into twelves.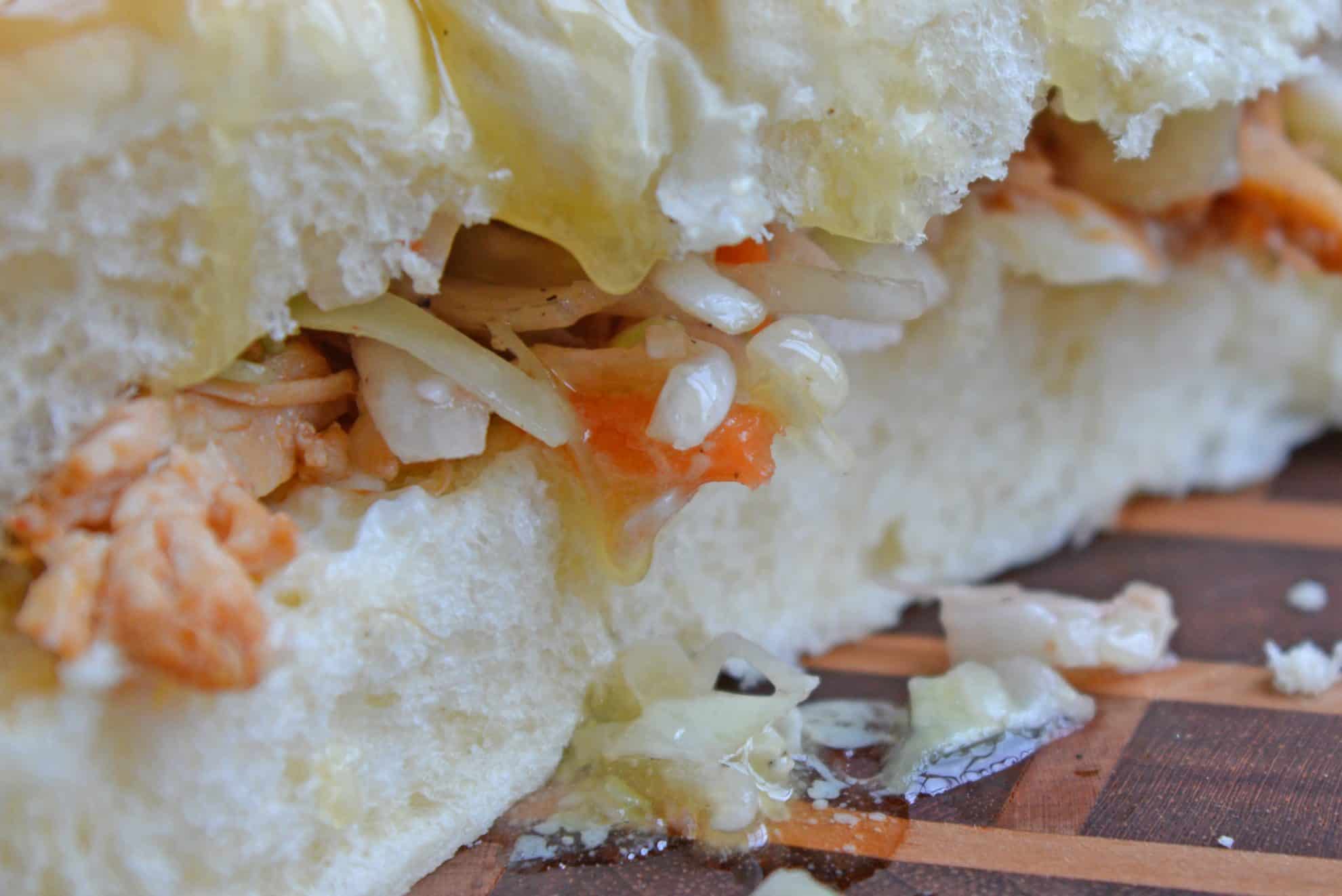 I know some of your are wondering about these pictures though…. I did only use a segment of 6 for the photos because it was easier to photograph. Have no fear, the other 6 were made (and devoured) in the same fashion.
PRO TIP: I like using Hawaiian Rolls, but feel free to use any slider roll you fancy.
LAYER 2- The second layer is a quick and easy Garlic Aioli. Some folks just use mayonnaise, which I like to make from scratch or not use any mayo at all. I like to think sauces, even a basic BBQ or amped up ketchup, really takes food to the next level.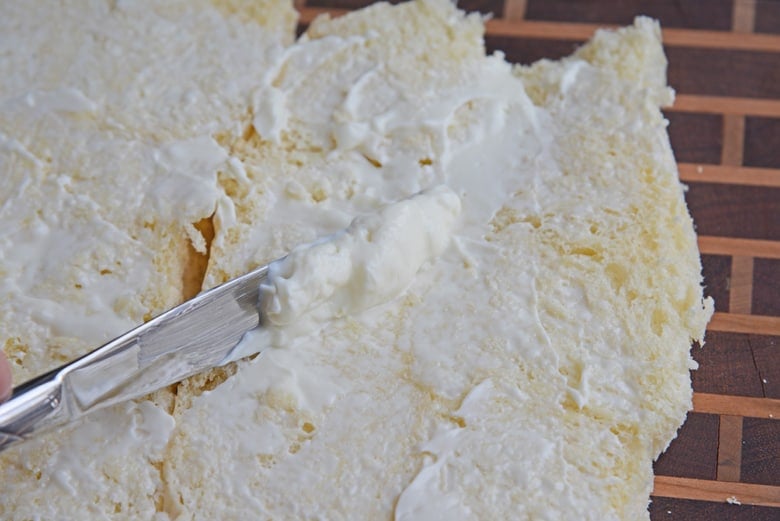 If my garlic aioli isn't up your alley, you can also try using my Lemon Herb Aioli. A little fresher using fresh herbs and tangy lemon juice.
PRO TIP: Also add pickled red onion or raw red onion for another punch!
LAYER 3– BBQ Chicken mixture isn't the most adventurous or surprising of the elements consider these are BBQ Chicken Sliders, but I will say the actual chicken recipe I used it AH-mazing.
I made this BBQ chicken in the crockpot, but you can also make it in the Instant Pot (learn how here) or buy it premade. The different between my homemade BBQ Chicken and store bought is that it isn't already covered in BBQ sauce.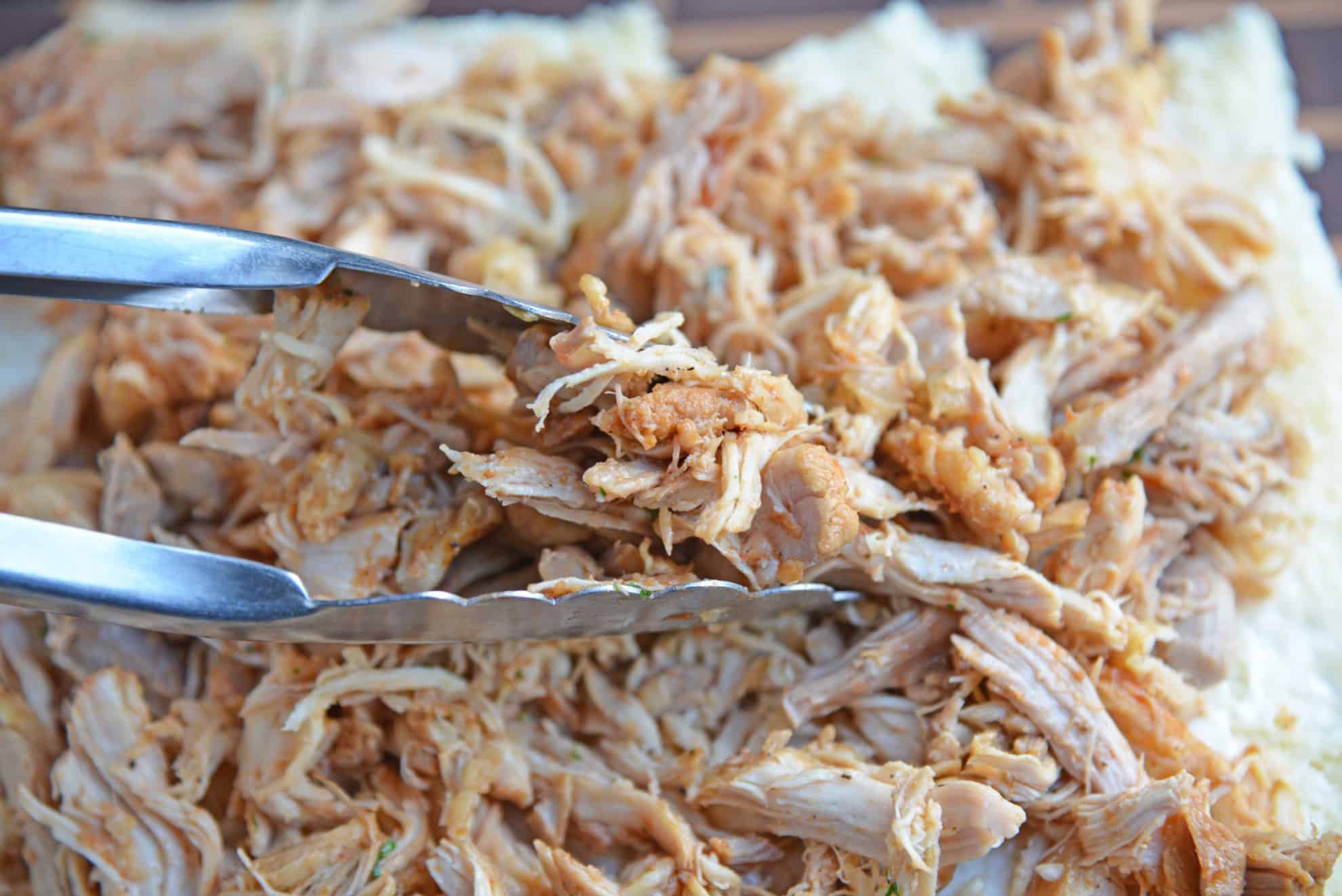 Homemade BBQ sauce is another trick to make your BBQ Chicken Sliders really stand out. My basic BBQ Chicken Recipe uses some seasoning and liquid to help keep the chicken moist and fork-tender, but not so much that it can't pair with any BBQ sauce, sweet or spicy, you want to smear on it.
I would hesitate to use any barbecue sauce with a brown sugar base, they might be too sweet. Instead use something with a subtle heat.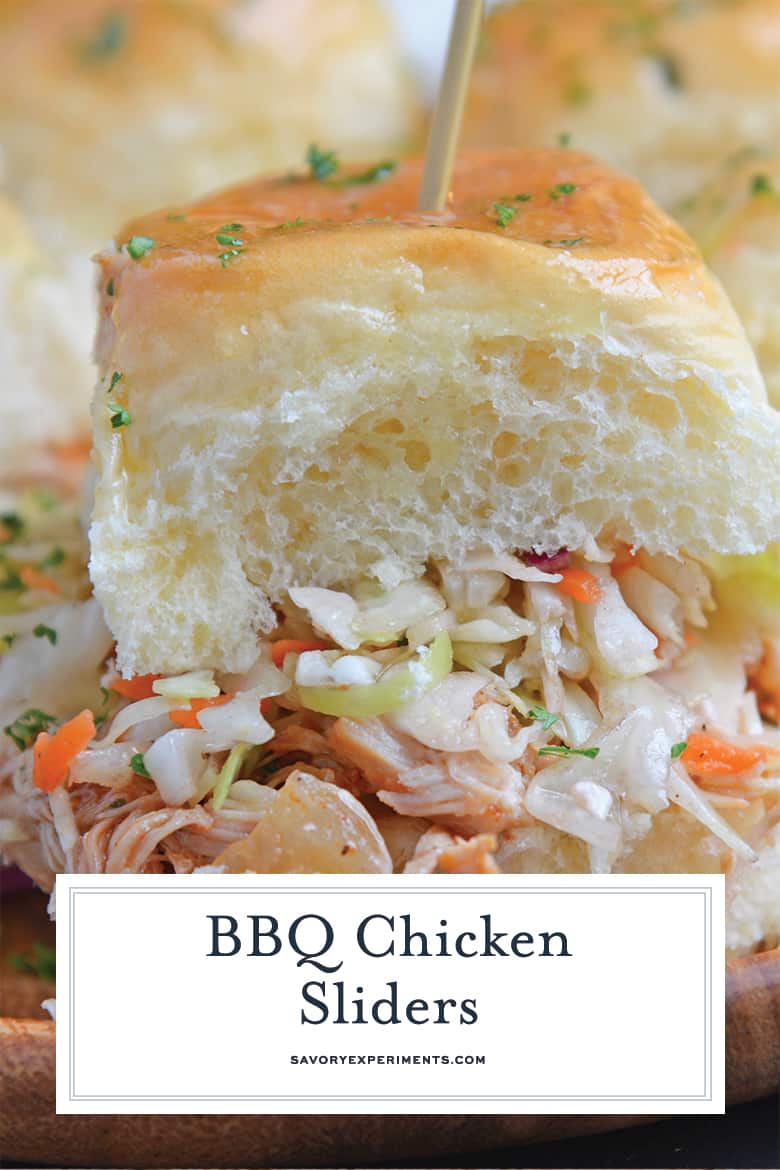 Here are my favorite BBQ Sauce Recipes:
For parties, I keep my BBQ Chicken Sliders bare from sauce and serve BBQ sauce on the side.
PRO TIP: If you don't feel like making your own shredded chicken, pick up a rotisserie chicken at the store and shred it!
LAYER 4– Coleslaw is another ingredient that might not be surprising, but I put way too much thought into the type of coleslaw I used. Oil and Vinegar Coleslaw is flavorful and adds some zing with red wine vinegar, but also has a sweet afternote.
It isn't overwhelming like some creamy coleslaws can get and this also prevents the beautiful rainbow of colors from being whited out.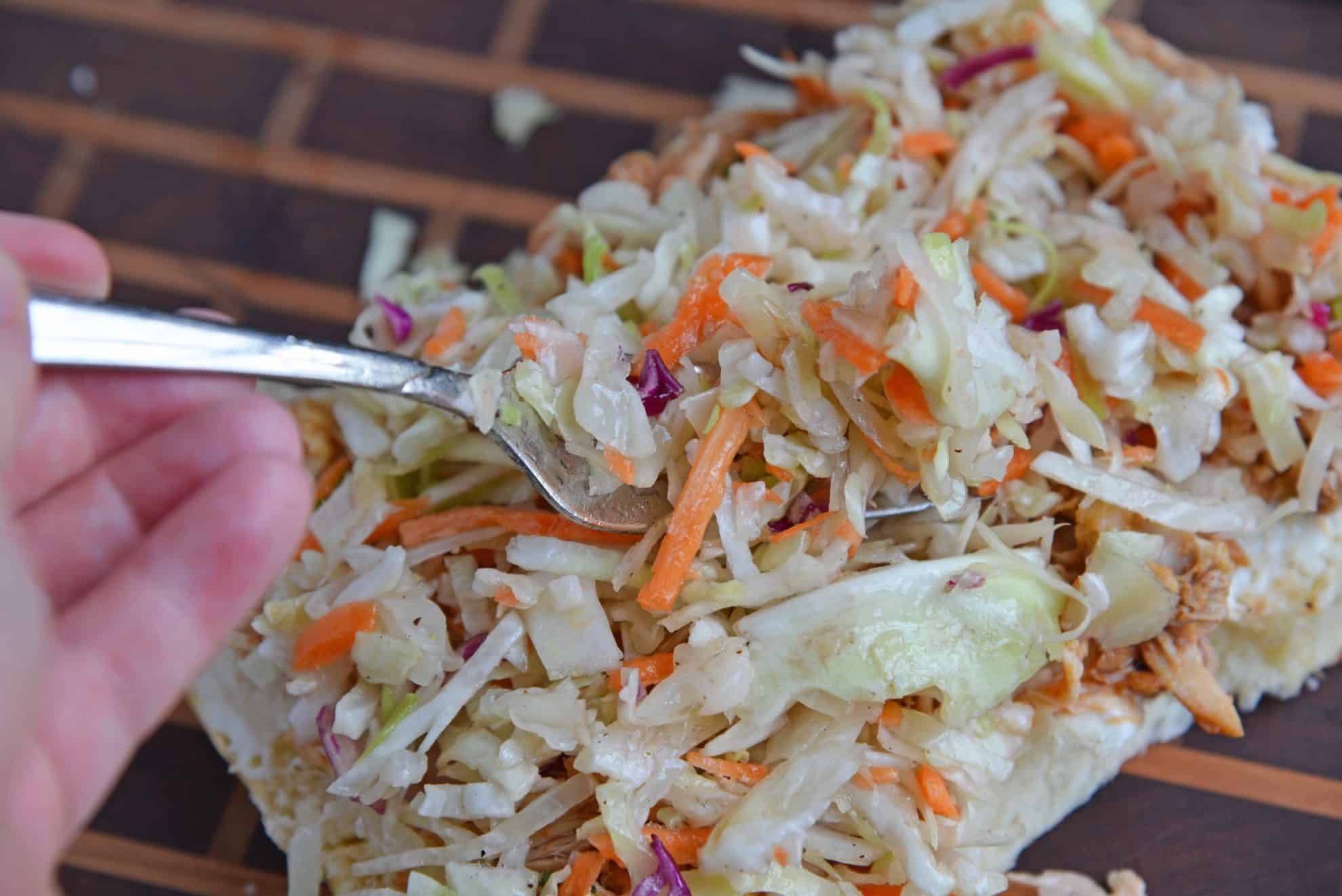 I also like using my Yogurt Pineapple Coleslaw. A little lighter in texture, yogurt is an excellent substitute for mayo in coleslaw. Since these slider sandwiches already have a layer of aioli, they don't need more mayo. Red Cabbage Slaw is also a good pick.
LAYER 5– This is what really takes these over the edge! I got the ideas from my Ham and Cheese Sliders, a pretty common recipe in which they are baked with a buttery topping.
BBQ Chicken Sliders aren't baked, in fact they can be served hot or room temperature, but that doesn't mean I still can't slather them in melted butter!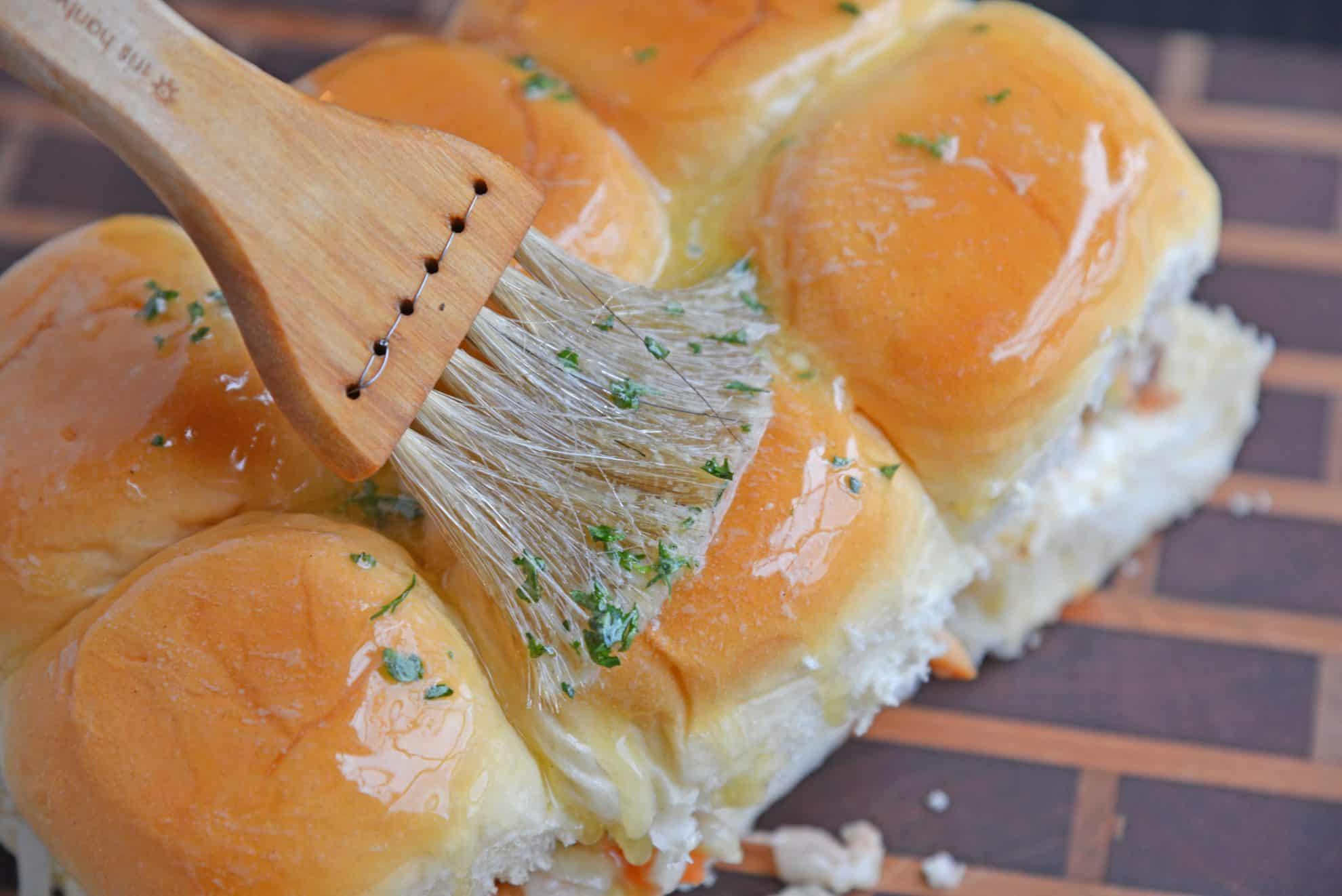 Not just any melted butter. Melted butter whisked with Dijon mustard, white pepper and parsley. Oh, so delicious!
Now that you know all of my secrets for the most amazing BBQ Chicken Sliders around, make yourself some and let me know how they are in the comments!
If you liked this easy party appetizer recipe, check these out:
Tools for making BBQ Chicken Sliders:
Wood cutting board – wood won't dull your knives like plastic and if treated properly, has natural antimicrobial properties.
Good knife – Global is my favorite! They are worth the price, I promise. I am kind of obsessed with them and store them tucked away so no one else can use them. Including hubby. Hands off my good stuff!
Silicone Basting Brush– The best way to slather sauces and marinades without losing your precious sauce to the a traditional hair pastry brush. And easier to clean!
Questions you might have about how to make BBQ Chicken Sliders:
Can I make sliders ahead of time? You can make all of the elements ahead of time, but I would wait to assemble them until you are ready to serve so the bread doesn't get mushy.
How long can I leave BBQ Chicken Sliders out? I wouldn't leave them out for more than 2 hours.
Can I freeze BBQ Chicken Sliders? Not assembling, but you can freeze the BBQ Chicken and bread separately. Mayo-based items and cabbage don't freeze well, so the aioli and slaw will need to be made fresh.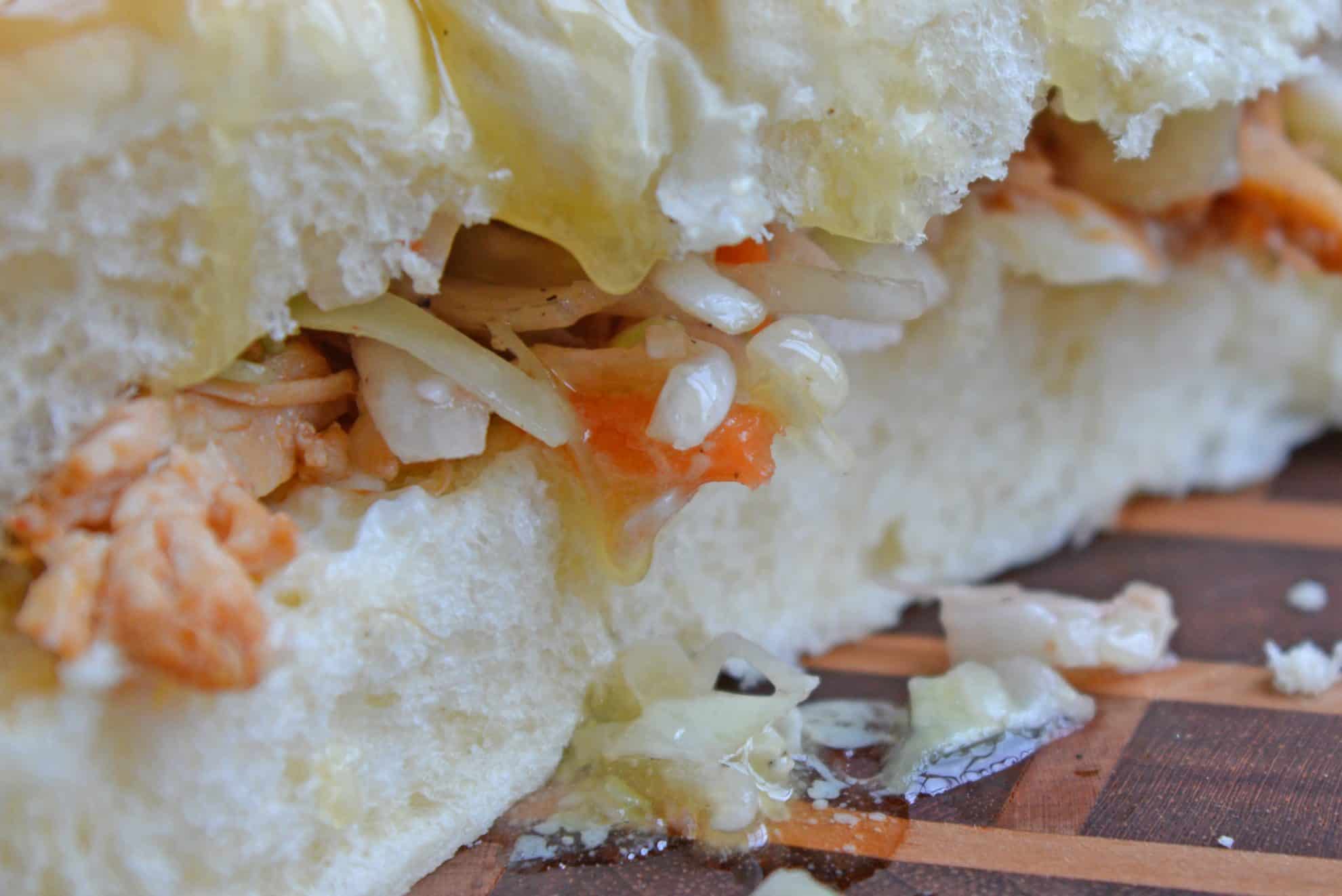 I don't want to make my own BBQ Chicken, what do I do? You can just pick up a rotisserie chicken at the grocery store, shred it and mix it with about 2 tablespoons of your favorite BBQ sauce.
Will they still taste good without aioli? Yes! You can really leave off any one element of these layered sliders and they will still taste amazing. Don't get too skimpy though, you need some of the elements to have flavor!
Can I make these with pulled pork? Sure! You can even use my super easy Instant Pot Pulled Pork or Honey Balsamic Pulled Pork recipes!
Can I add cheese? Be my guest. I would think a nice cheddar or mozzarella cheese would pair nicely, but use whatever you'd like!
Do I have to use BBQ Chicken? Nope- as long as you cook chicken and use the other elements, any type will do.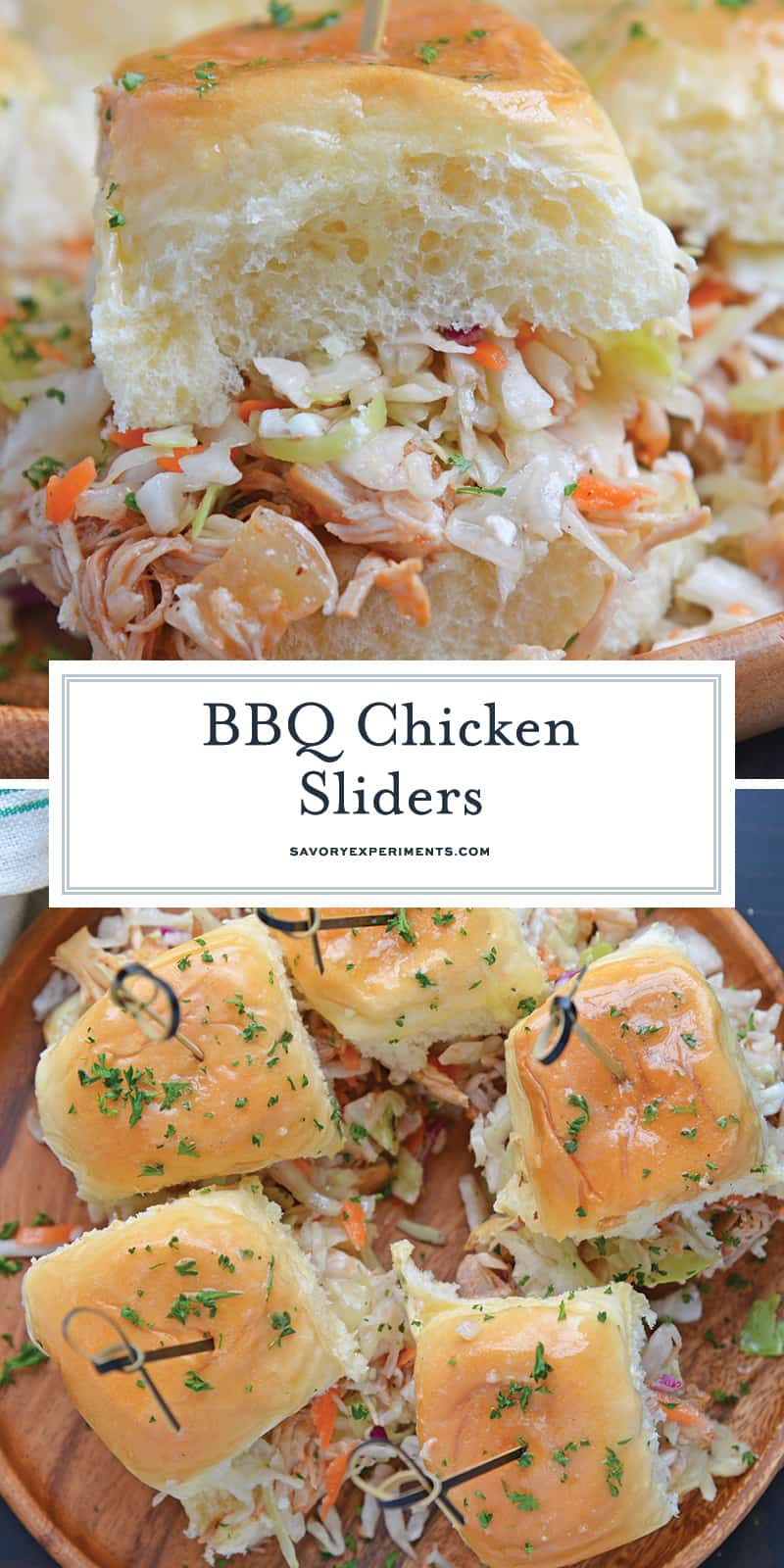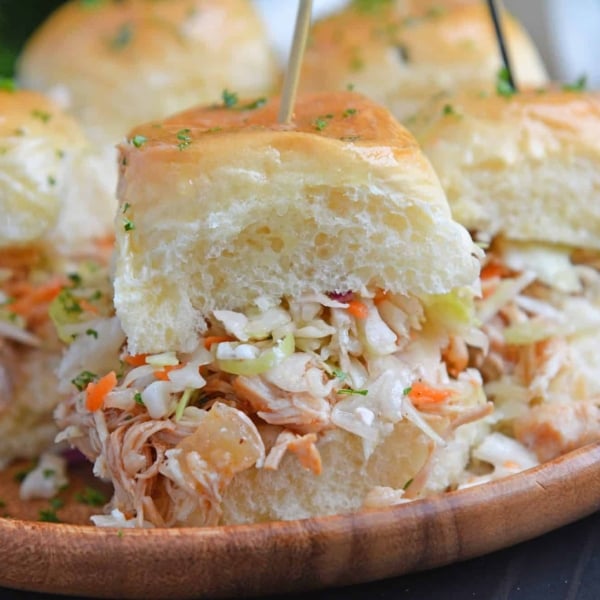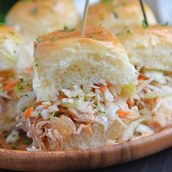 BBQ Chicken Sliders
BBQ Chicken Sliders are made with 5 unique layers making them go above and beyond any other sandwich recipe. Fabulous for parties, potlucks and game day and can be served hot or room temperature!
Instructions
Using a serrated knife, cut Hawaiian rolls in half.

Toast lightly under low broil.

The sauces will do better with a nice, toasty roll, but you can choose to skip this step if you'd like. Slather garlic aioli on the bottom rolls in a thin layer.

Combine shredded chicken with BBQ sauce. Top with shredded BBQ Chicken.

Top with Oil and Vinegar Coleslaw.

Put the tops of the Hawaiian rolls back on.

Whisk together melted butter, Dijon mustard, white pepper and dried parsley flakes.

Baste butter over the tops of your BBQ Chicken Slider Sandwiches.

Cut into individual sandwiches and serve.

If you've tried this recipe, come back and let us know how it was!
Nutrition
Calories:
174
kcal
,
Carbohydrates:
17
g
,
Protein:
5
g
,
Fat:
9
g
,
Saturated Fat:
3
g
,
Cholesterol:
21
mg
,
Sodium:
93
mg
,
Potassium:
40
mg
,
Fiber:
1
g
,
Sugar:
3
g
,
Vitamin A:
150
IU
,
Vitamin C:
1.8
mg
,
Calcium:
30
mg
,
Iron:
1
mg