These Italian Sausage Sandwich Sliders are a game changer. Layered with flavor. they are a crowd pleaser perfect for parties or a light lunch.

These Italian Sausage Sandwich Sliders are easy to prepare and even easier to eat. Featuring grilled sausage and Hawaiian rolls, they are sure to impress.
It's time sliders got the gourmet treatment. Flavorful grilled sausage patties are paired with zippy shallots, sweet roasted red peppers, and Dijon mustard and piled high on pillowy-soft, buttery King's Hawaiian Rolls. The best slider sandwiches!
Throw out the old, boring slider recipes. Mini burgers, chicken sandwiches and ham and cheese sliders are so yesterday. Although I still love them and make them regularly… And then sausage is associated with grilled peppers and onions!
Hawaiian slider rolls are key! King's Hawaiian Rolls are addictive because of their fluffy texture and their subtle sweetness not to mention sturdy enough to pack with lots of fillings.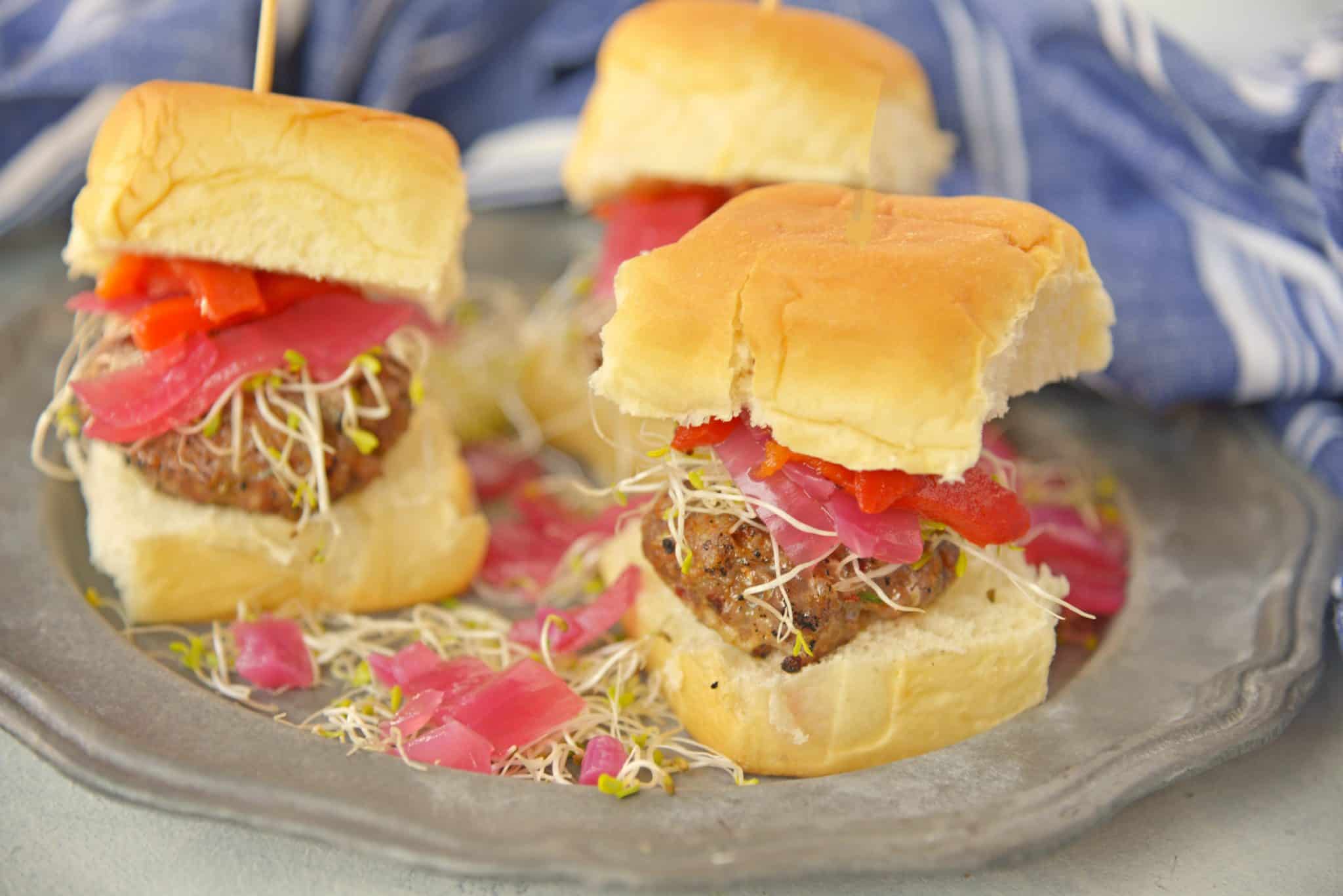 If these Sausage Sliders seem a little labor intensive, there are a few shortcuts you can take to cut down on time in the kitchen. Although I will assure you they are worth the time.
If you do not want to make your own patties, you can buy pre-made sausage links. My preference is either mild or hot Italian sausage. Before cooking them, remove the casings and work to shape them into patties.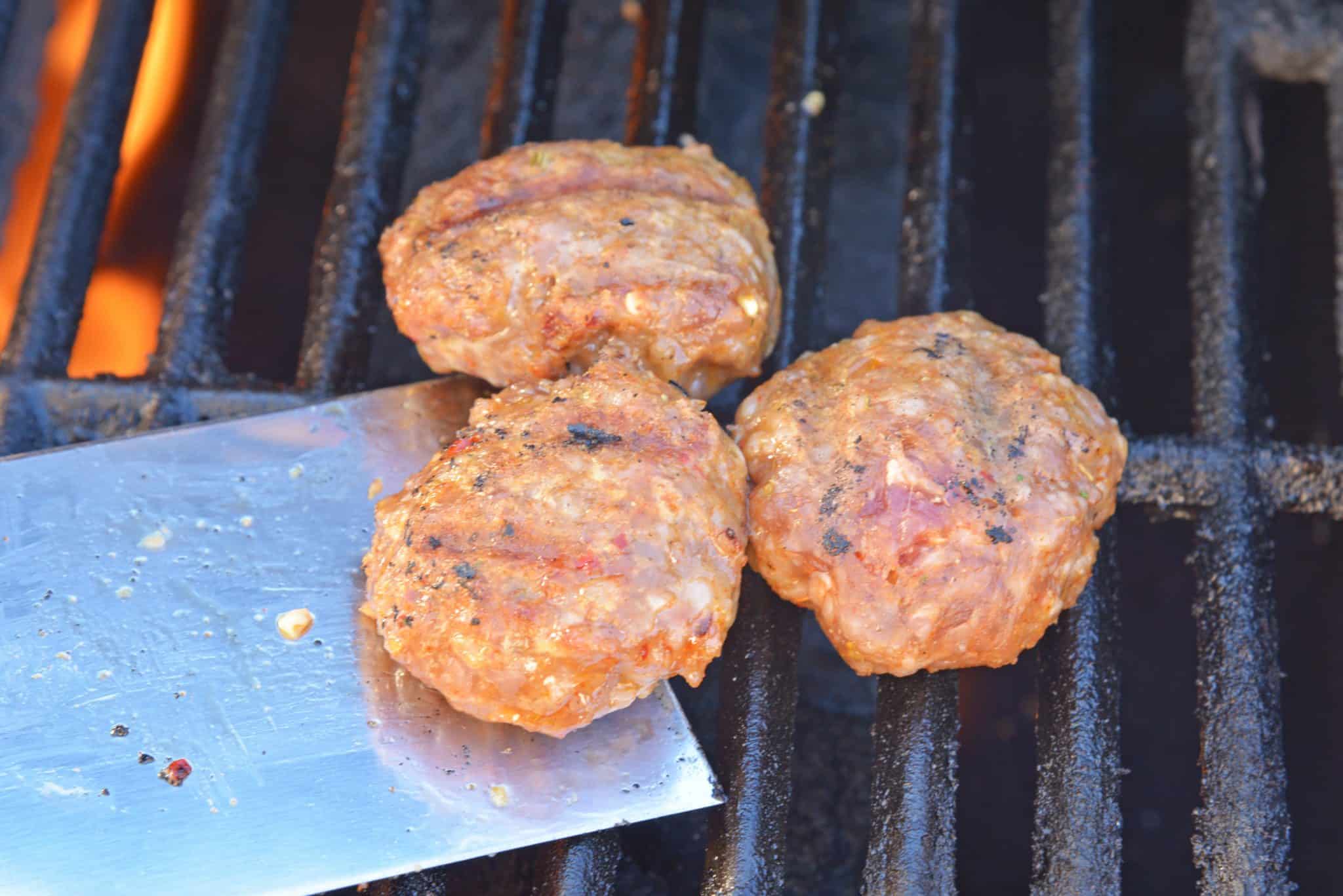 For the roasted red peppers, you can easily buy bottled. I planned on making these on the grill, but a ridiculously windy thunderstorm thwarted that plan. I opted to cook them in a well-seasoned cast iron skillet instead.
Don't skimp on making Quick Pickled Red Onions. They are so worth it!
All of these elements can be made ahead of time making you the hostess with the mostess on serving day! However you do it, these little Italian Sausage Sandwich Sliders are worth a little extra TLC.

To great flavor, grill your sausage over indirect heat for approximately 15 minutes. Pork needs to reach an internal temperature of 145 degrees to be safe to eat. And don't forget to let it rest before you assemble your sandwiches!
Baked Sliders
Can you make these sausage sandwiches in the oven? You sure can!
Preheat oven to 350 degrees. Bake for 20 minutes or until internal temperature reaches that same 145 degrees. You'll lose a little flavor from not having char, but the other toppings will make up for it!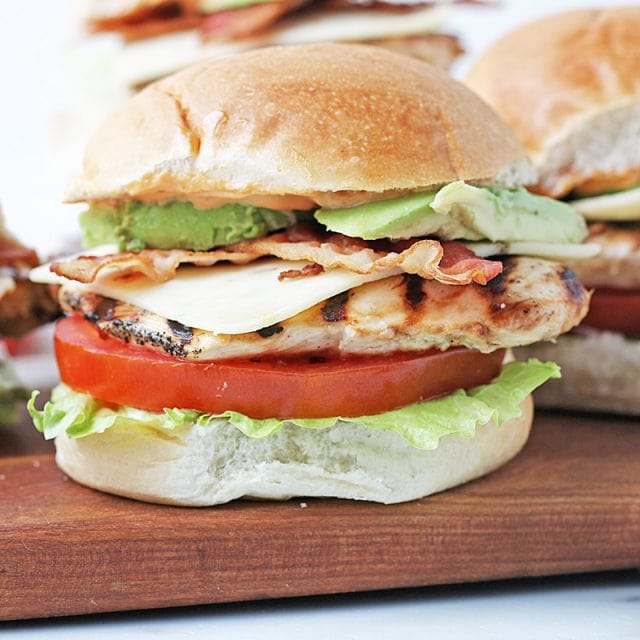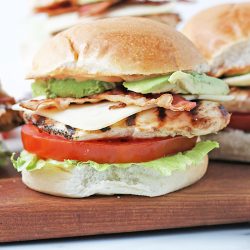 Spicy Chicken Sandwich
This is the best Spicy Chicken Sandwich you will ever taste! Piled high with bacon, cool avocado, spicy chipotle aioli, pepper jack cheese and crisp lettuce.
View this recipe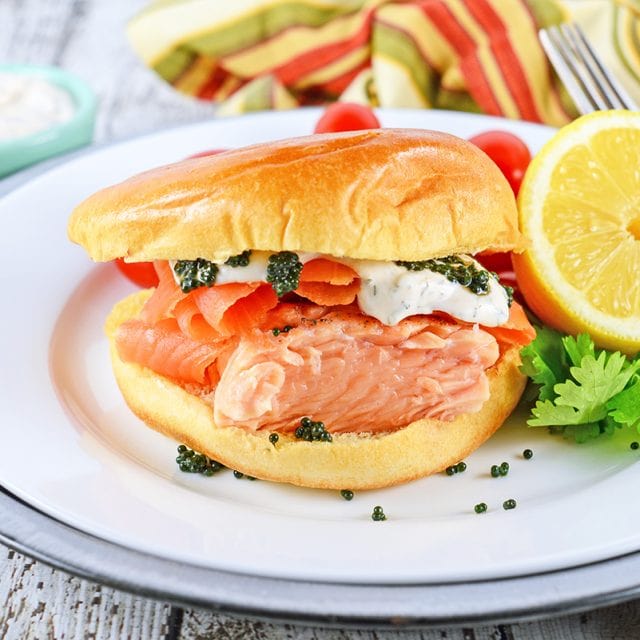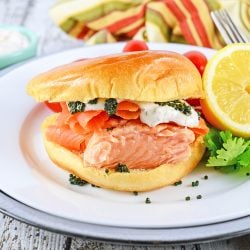 Ultimate Salmon Sandwich Recipe
The Ultimate Salmon Sandwich is the best salmon sandwich because it uses two types of salmon with dilled sour cream and caviar on a buttery brioche roll.
View this recipe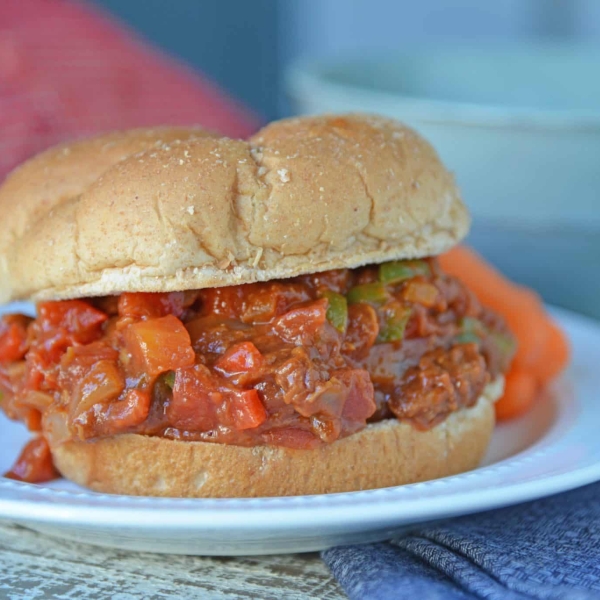 Easy BBQ Pulled Pork Sandwich Recipes
This semi-homemade Pulled Pork Sandwich is a quick and easy kid friendly option! It's an easy pulled pork recipe that will be ready in just 15 minutes!
View this recipe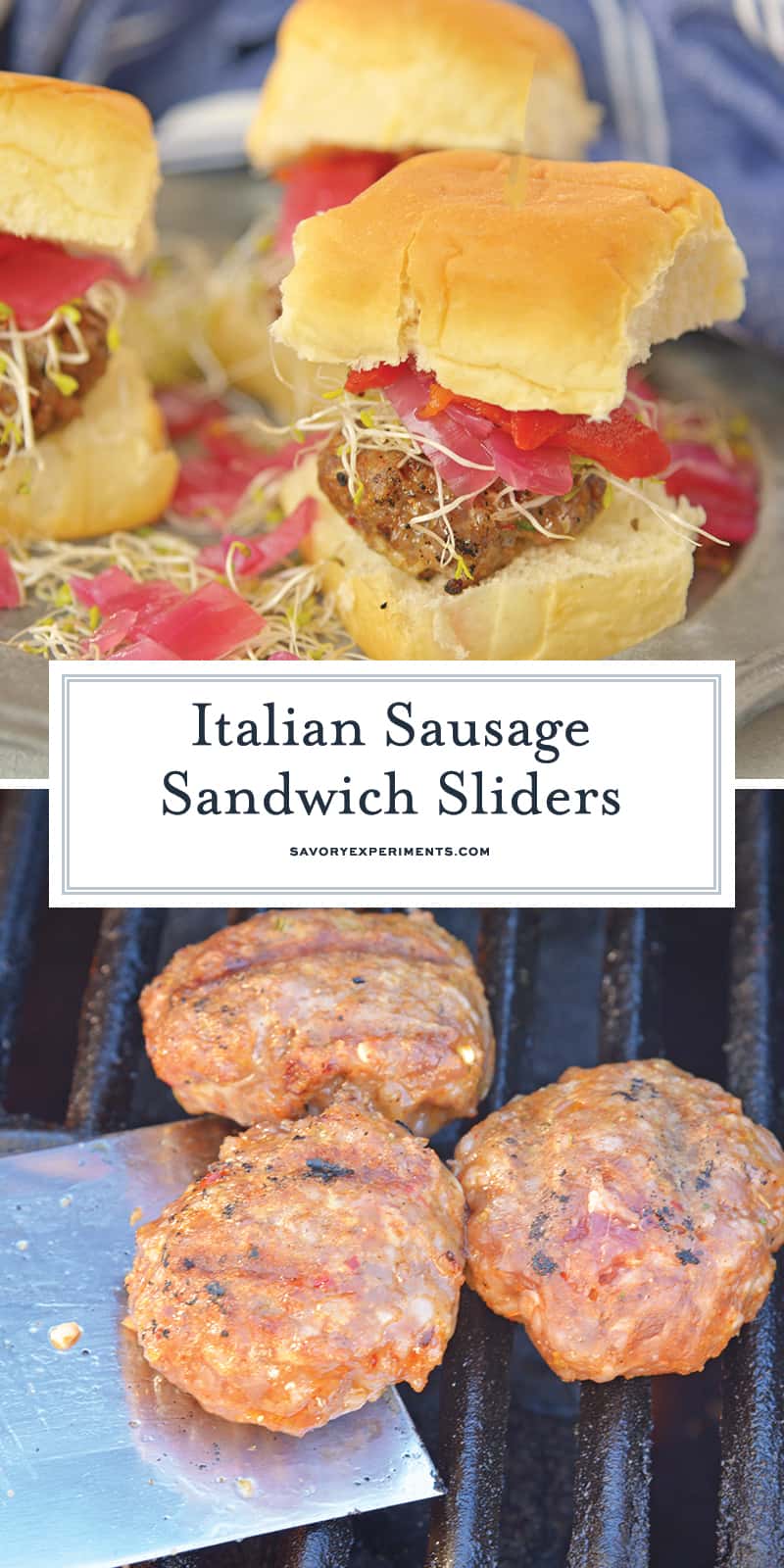 Tools for making slider sandwiches:
Mixing Bowls– make sure to check out my article on Using the Right Mixing Bowl, you'd be surprised how many people aren't!
Grill Tools
– If you have a grill, then you need grill tools!
Wood cutting board – wood won't dull your knives like plastic and if treated properly, has natural antimicrobial properties.
Good knife – Global is my favorite! They are worth the price, I promise. I am kind of obsessed with them and store them tucked away so no one else can use them. Including hubby. Hands off my good stuff!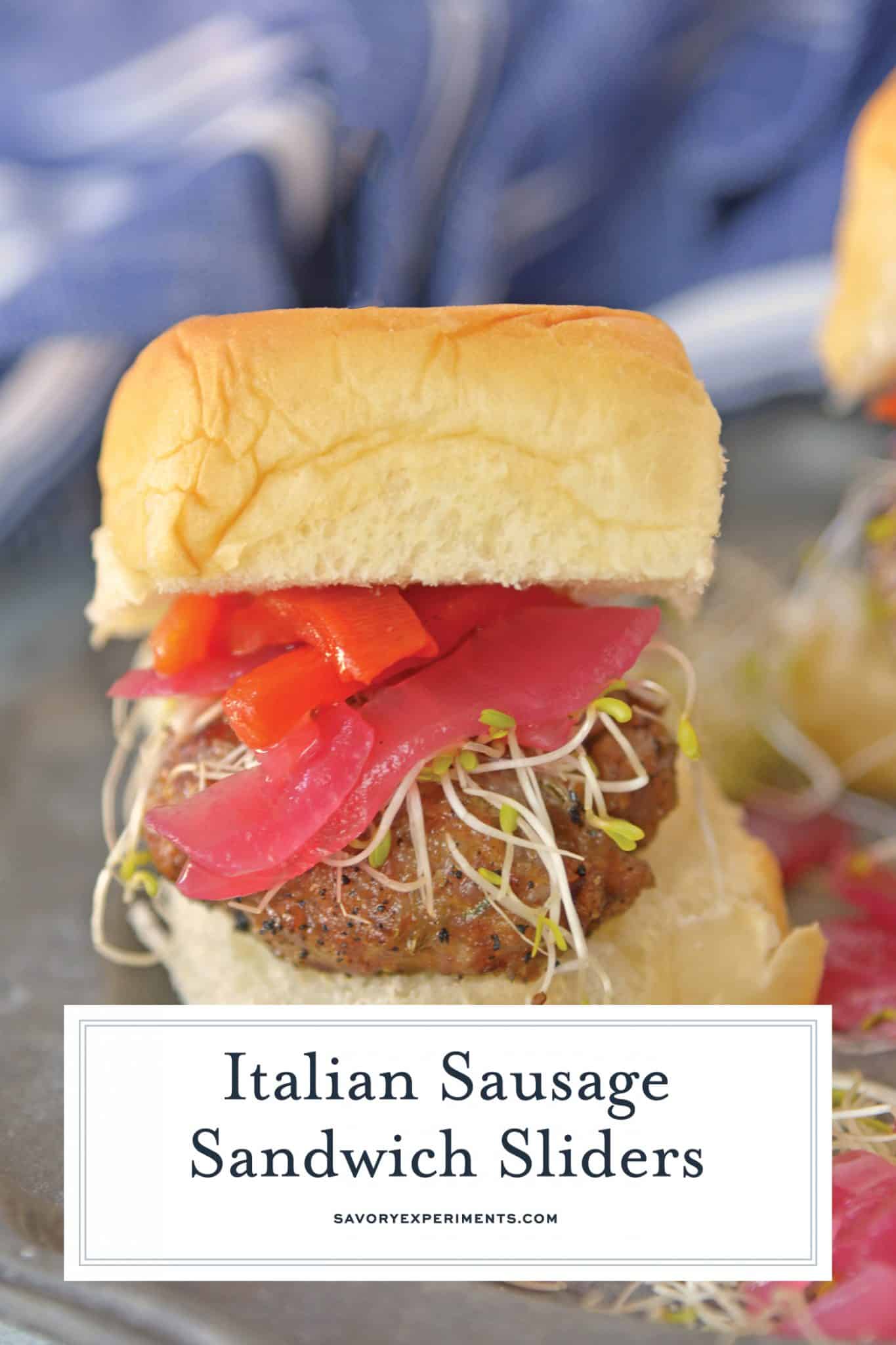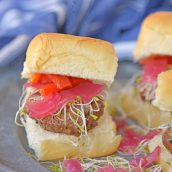 Italian Sausage Sandwich Sliders
A unique combination of flavors all nicely packed on a King's Hawaiian Roll.
Instructions
By hand, blend together ground pork, onion powder, garlic powder, cayenne pepper, ground white pepper, crushed red pepper, paprika, oregano, bread crumbs and egg yolk.

Meanwhile, simmer sliced shallots in cider vinegar and water over medium heat in a small sauce pan. Remove and strain when they are soft, approximately 10 minutes.

Form into 12 2-inch patties. Arrange in a single layer on a plate, cover, and chill for at least 30 minutes, but up to 24 hours.

When you are ready to cook, prep and heat a large skillet or cast iron skillet over medium heat. Cook on each side for 5-7 minutes or until pork reaches an internal temperature of 145 degrees.

Assemble sliders on slider rolls with one sausage patty, a dollop of Dijon mustard, roasted red peppers, pickled red onion, and alfalfa sprouts.
Nutrition
Calories:
199
kcal
,
Carbohydrates:
16
g
,
Protein:
9
g
,
Fat:
10
g
,
Saturated Fat:
4
g
,
Cholesterol:
53
mg
,
Sodium:
153
mg
,
Potassium:
112
mg
,
Sugar:
4
g
,
Vitamin A:
140
IU
,
Vitamin C:
1.8
mg
,
Calcium:
11
mg
,
Iron:
0.5
mg