Vinegar Coleslaw Recipe
Homemade coleslaw is a staple for many family tables during the summer months. Perfect for BBQs, parties and of course, coleslaw for pulled pork. Although pulled pork at our house happens year round.

Vinegar Coleslaw is a healthy coleslaw recipe using a no mayo coleslaw dressing including vinegar, oil and salt and pepper.
I don't really care for super saucy, creamy coleslaw recipes. I want to be able to taste the fresh cabbage slaw, still get a snap and also taste whatever else I am eating, typically BBQ. Heavily mayo-ed up coleslaw overpowers those flavors.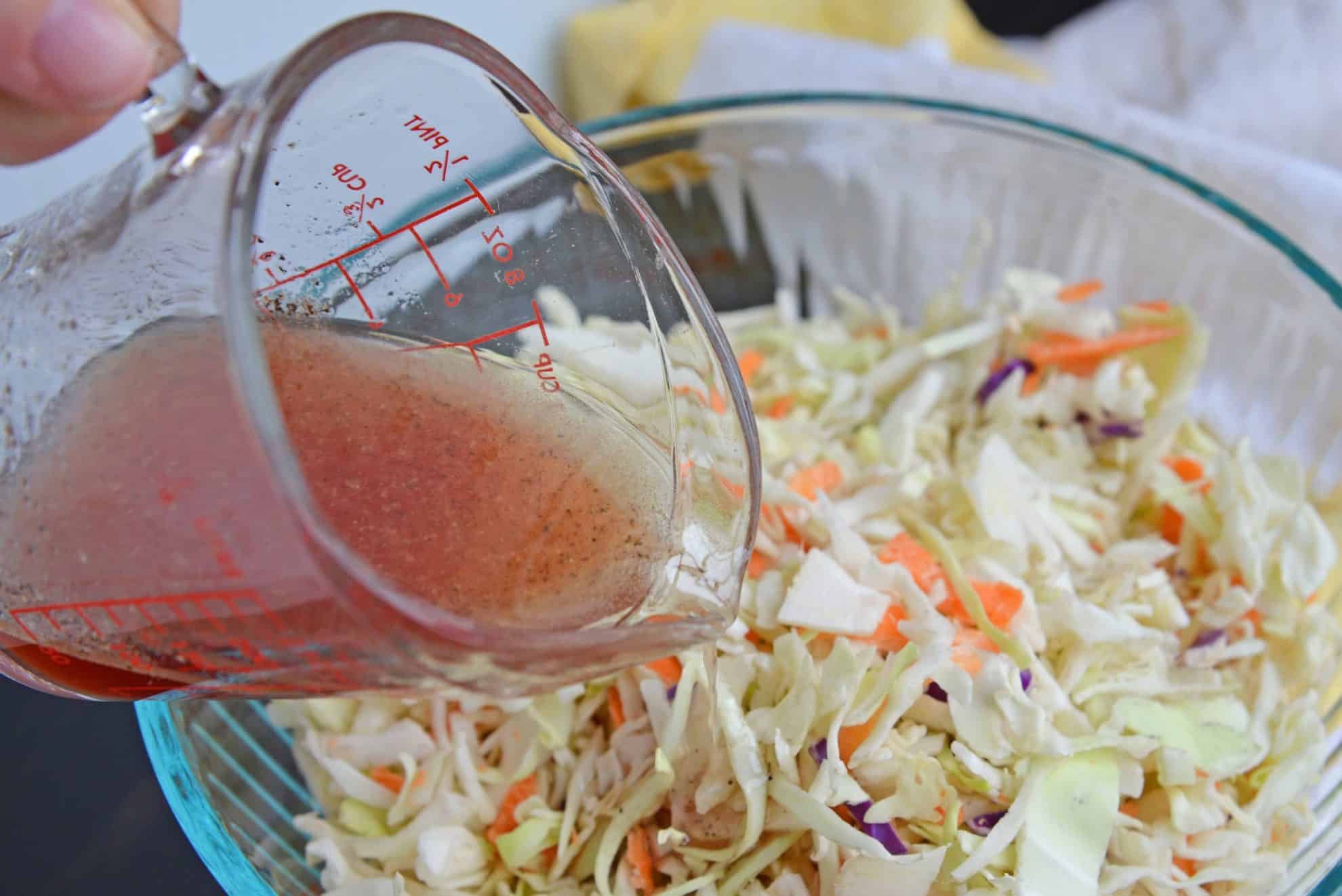 My two best coleslaw recipes not only taste better, but are are also better for you. Don't get me wrong, I'm not counting the calories and I haven't gone all keto on you, but if the recipe you like is also healthier for you, embrace it!
These two homemade coleslaws are of course, Vinegar Coleslaw and also my Yogurt Pineapple Coleslaw. Both no mayo coleslaw using basic ingredients.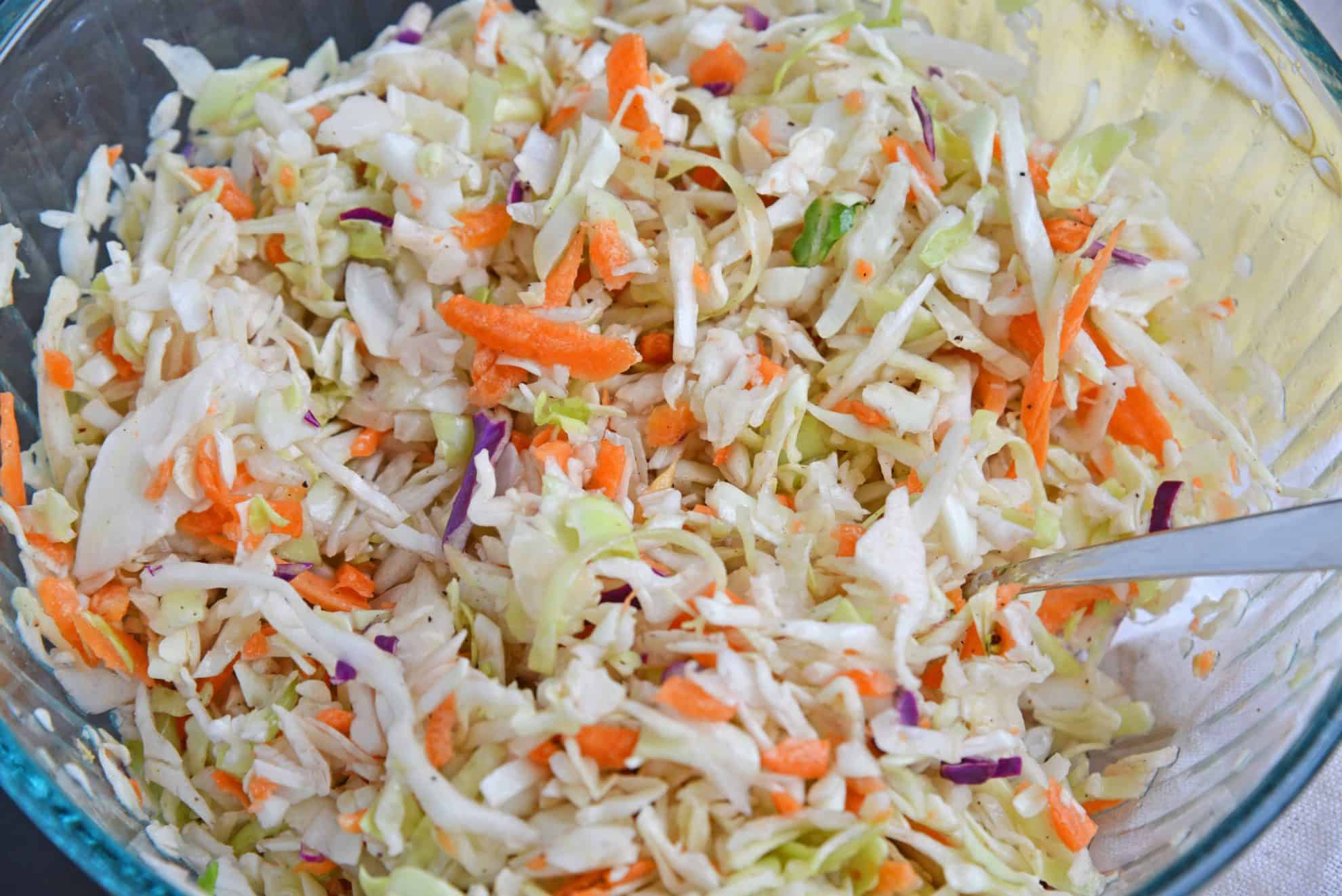 You can shred your own veggies, but buying a pre shredded slaw mix is a shortcut I am willing to take. Use whatever blend you like and either shredded or chopped, this coleslaw dressing works well for either variety.
Use red cabbage, green cabbage, carrots or even kale and broccoli for your coleslaw ingredients. I am a fan of colorful food and since you aren't using a super creamy mayonnaise coleslaw dressing, you won't be covering up those vibrant colors!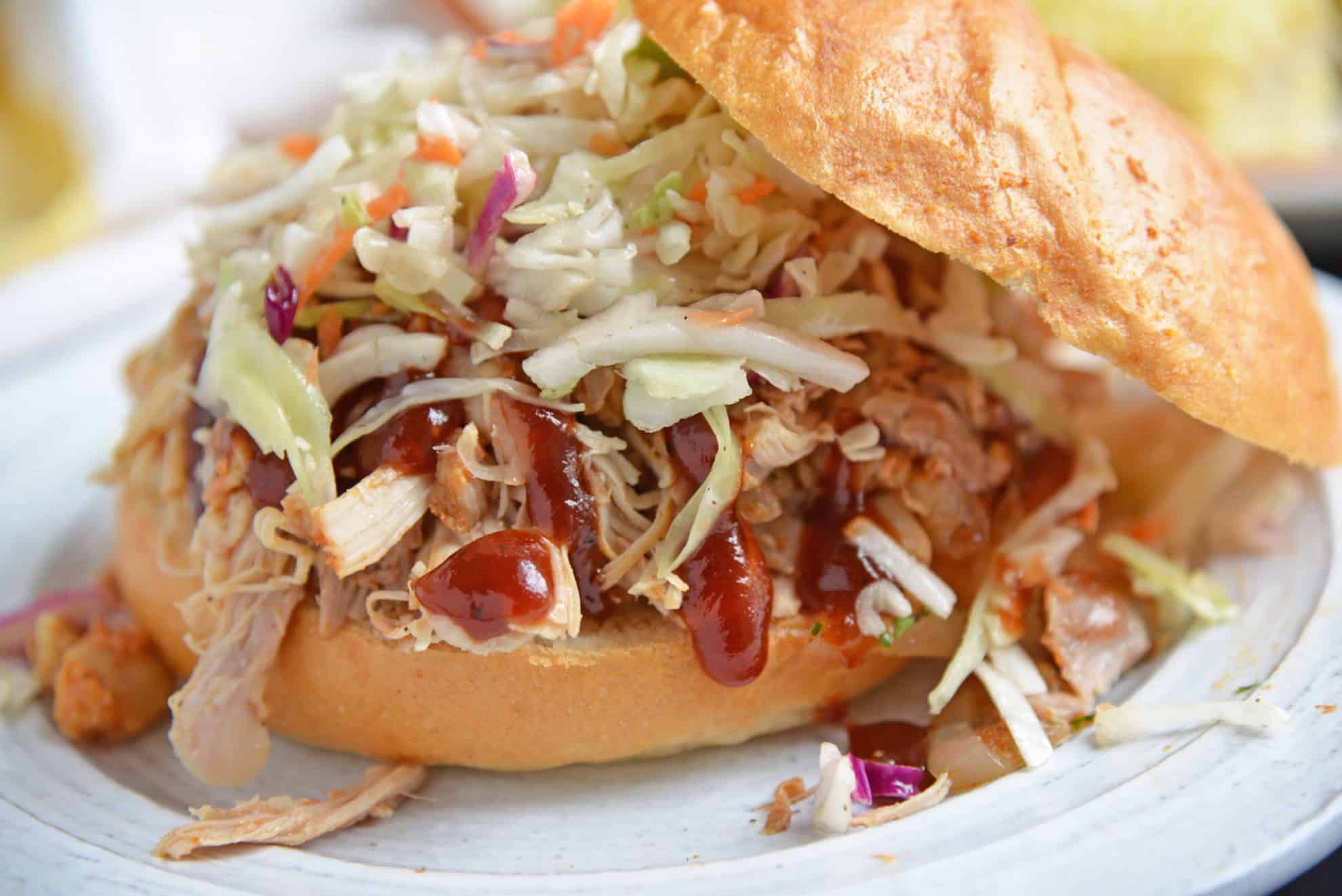 While a 14 ounce bag of cabbage mix might seem like a lot, it isn't. After marinating in the vinegar coleslaw dressing, the water will start to leach out of the vegetables and then will deflate, leaving you with a much smaller bowl of coleslaw.
You do want to allow for a minimum of an hour of marination time. The sugar needs to dissolve and the flavors marry before this makes a really good slaw. You can marinate it for up to 24 hours before it starts to get mushy.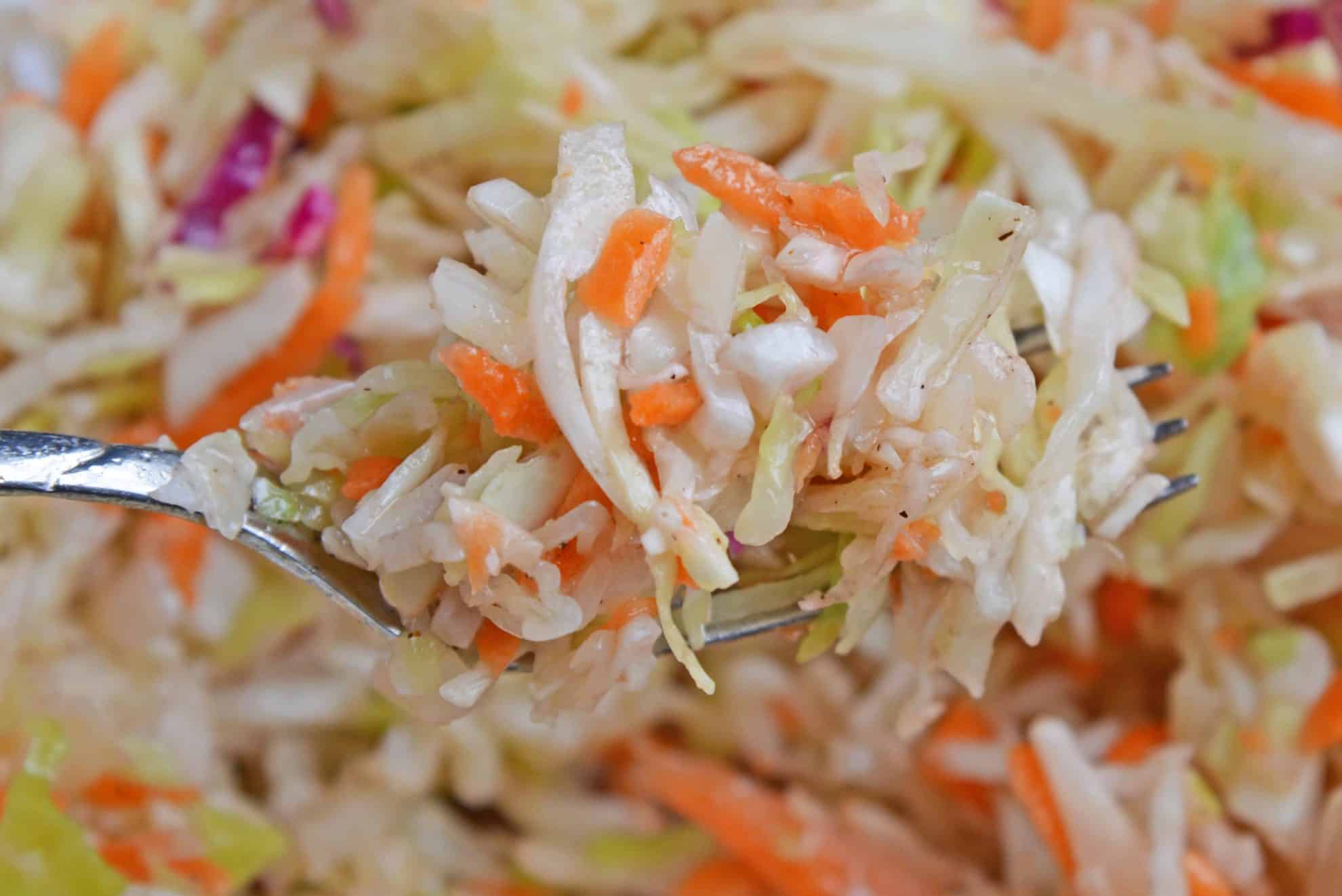 If you liked this easy side dish, check these out:
Tools for making the best coleslaw recipe:
Plastic Mixing Bowls
– make sure to check out my article on Using the Right Mixing Bowl, you'd be surprised how many people aren't! Make sure to not use metallic mixing bowls!
Whisks– I buy whisks in multiple sizes. You never know which one you will need.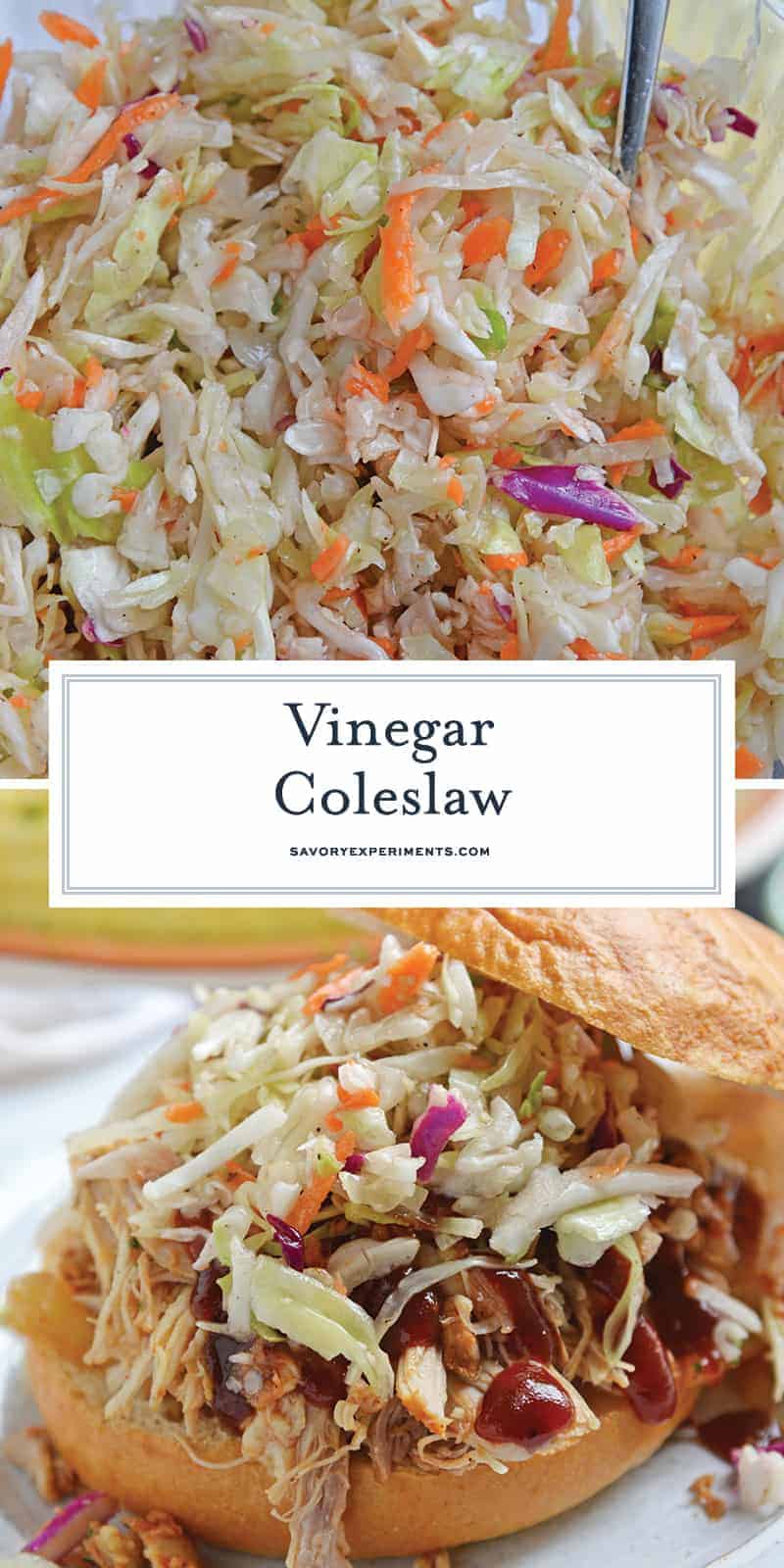 Questions you might have about how to make coleslaw:
Can you freeze coleslaw? Like most leafy greens, coleslaw doesn't freeze well. There is too much water content so after you thaw, it will just be mushy and lack flavor.
Is coleslaw healthy? I've said it before and I'll say it again, it really depends on the recipe and your definition of healthy. I would consider this recipe to be fairly healthy since it is keto, gluten-free and low calorie.
Can I use a different vinegar for this coleslaw dressing? The beauty of coleslaw ingredients is that you can easily change them and it is really difficult to totally mess it up. Try using champagne vinegar or apple cider vinegar to mix it up.
You can even change the type of oil. Vegetable oil works fine, but a light olive oil can also taste fabulous, as can flavor infused olive oils.
How long does coleslaw last? When refrigerated, coleslaw lasts about 3 days. Longer than that and starts to get all mushy and gross.
Can coleslaw sit overnight? Yes! In fact, it tastes better when it sits a little longer!
Vinegar Coleslaw is a healthy coleslaw recipe using a no mayo coleslaw dressing including vinegar, oil and salt and pepper. Click to Tweet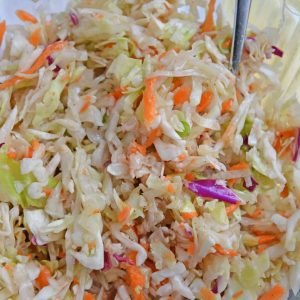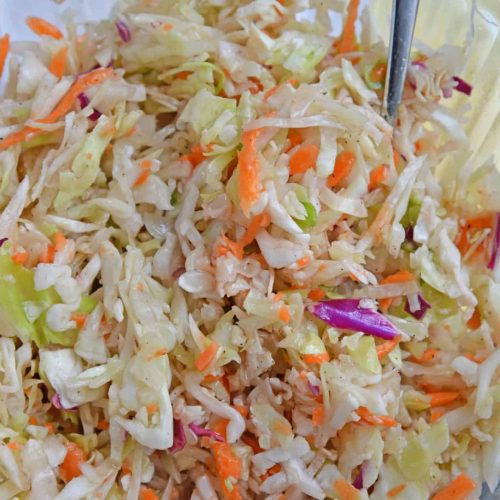 Vinegar Coleslaw
Vinegar Coleslaw is a healthy coleslaw recipe using a no mayo coleslaw dressing including vinegar, oil and salt and pepper.
Keyword:
coleslaw dressing, coleslaw recipe, coleslaw vinegar, homemade coleslaw
Ingredients
14

ounces

coleslaw mix

1/3

cup

red wine vinegar

3

tablespoon

vegetable oil

1

teaspoon

Kosher salt

1/2

teaspoon

ground black pepper

2

tablespoons

sugar
Instructions
In a small mixing bowl or measuring cup, whisk together red wine vinegar, vegetable oil, kosher salt, black pepper and sugar until sugar and salt dissolves. This step is important so that you don't get grainy bits of undissolved sugar or salt in your coleslaw.

Pour over coleslaw mix. Toss well. I find that using forks works best for coleslaw.

Cover and refrigerate for 1-24 hours. If you remember to toss it every few hours, great, if not, it will be fine.

Drain excess liquid before serving. The cabbage will lose its water, so you will have more liquid than you started with. This is normal.

If you've tried this recipe, come back and let us know how it was!
Nutrition Facts
Vinegar Coleslaw
Amount Per Serving
Calories 71
Calories from Fat 45
% Daily Value*
Total Fat 5g 8%
Sodium 300mg 13%
Potassium 84mg 2%
Total Carbohydrates 5g 2%
* Percent Daily Values are based on a 2000 calorie diet.