Homemade Mayo is easier than ever to make! This blend mayonnaise recipe uses just a few ingredients to whip up a fresh batch of rich, creamy mayo that will taste loads better than any store bought brand and give you the control over the quality of oil used and salt added.
Do you know how easy it is to make homemade mayonnaise? SO EASY! Make my blender mayonnaise with 3 ingredients and 3 minutes today!
Fact: I don't like mayonnaise. I know, I know! I'll only eat it if it is generously masked by other flavors, like a Spinach Dip, so I don't know it is actually mayo. Until… I started making my Blender Mayonnaise.
There is something about eggs and oil sitting on a shelf unrefrigerated in the grocery store that really freaks me out. Most don't seem to have much flavor either, which makes me beg the question: WHY???
Why are we using this stuff? Just to add moisture to a sandwich so isn't too dry? I don't know what skeeves me out more, jarred mayo or canned tuna fish. Both are just unnatural.
Much like my Blender Butter, I find that making homemade mayonnaise is much more satisfying and tasty. So simple that even my niece and nephew help me make it, all you need is a blender or a really strong whisking arm.
But first, let's discuss…what is mayonnaise? I hear so many folks who have been eating it for years gawk at the ingredients and then are equally surprised that mayo is not dairy.
FACT: Mayo contains no dairy. Eggs are NOT dairy!
In its most basic form, mayonnaise is made with eggs, oil and salt. The beauty of making your own mayonnaise is that you can control two of these factors.
You need eggs, otherwise it isn't mayonnaise, but you can choose the type of oil and amount of salt added. What type of oil do you use in mayonnaise?
Most commercial mayonnaise is made with vegetable oil or soybean oil. You might see some made with olive oil as well.
Other oils used include:
Safflower Oil
Canola OIl
Grape Seed Oil
Peanut Oil
Sunflower Oil
Avocado oil
I find that using a good, quality olive oil adds the most flavor and richness.
A Good Extra Virgin Olive Oil will taste like, well, olives, while a poorly made one will taste like vegetable oil. Gross. While people tend to favor Italian and Greek olive oils, I prefer to buy mine domestically.

There are some great ones out there from all over the world, but the reporting of ingredients isn't always the same and you could find that your super expensive olive oil was actually cut with vegetable oil.
For aiolis and spreads, it also that lends to a darker hue (pictured), but for a recipe that calls for baking or blending it in a dip, I might use a vegetable oil.
It is also cheaper if you are making a huge batch. Depending on what flavors you add, you might not want something with an overwhelming base flavor, so a cheaper oil blend might be your best bet.
You can even get crazy and use specialty flavored oils like lemon
, basil
or blood orange
! *Mind Blown*
Salts can also be changed up. I highly discourage the use of regular table salt, also known as iodized salt. Iodized salt can give it a metallic flavor.
I prefer to use a flat Kosher salt or Maldon Sea Salt. It not only emphasizes the flavor, it will help to preserve your mayo.
After the base mayonnaise recipe, you can now flavor to your liking. The most popular for mayonnaise recipes are lemon juice, Dijon mustard and fresh herbs.
Store in an airtight container
in the refrigerator for up to a week!
Don't underestimate the importance of a good blender. Frozen drinks and smoothies will the correct consistency and fit through a straw
and soups and salad dressings will be super smooth. I'm in love with my Blendtec
and I know it will last me a lifetime!
In order to get the perfect emulsification, you want to have the egg yolks on a high speed and add the oil in a thin stream while it blends. Likewise, if you choose to do this by hand, you will need to whisk constantly while you pour.
If you like making your own condiments, check these out: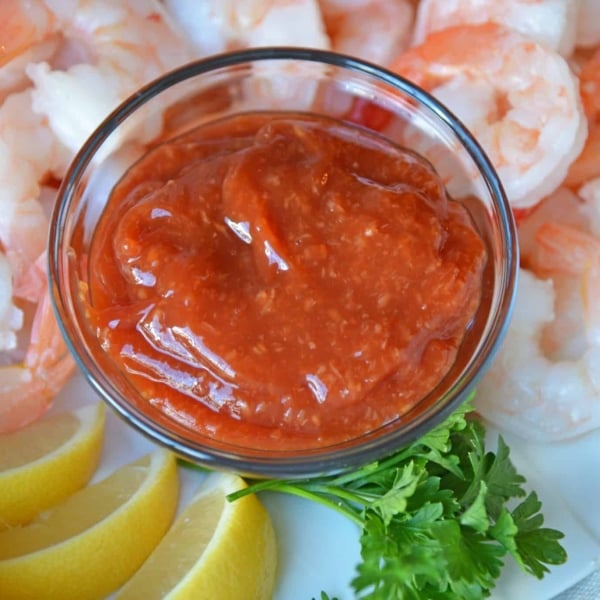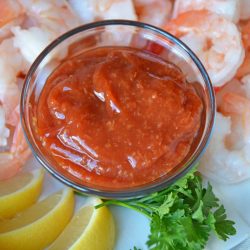 Best Cocktail Sauce
Classic Cocktail Sauce is more than just ketchup and horseradish. Come see how to make a spectacular, restaurant quality sauce in just 5 minutes!
See The Recipe!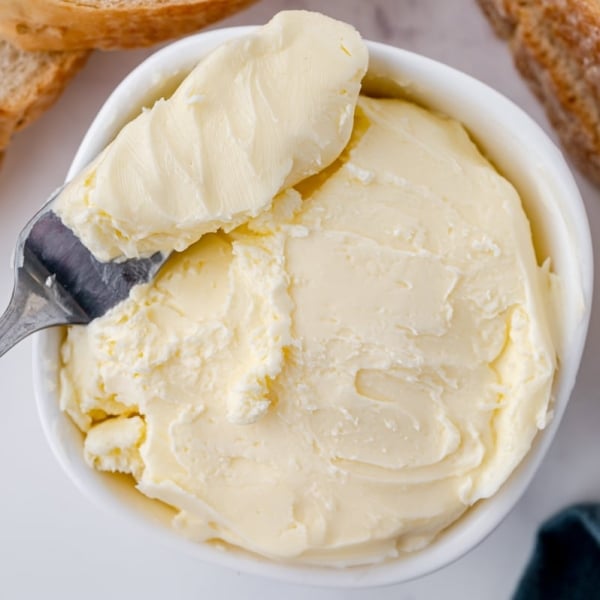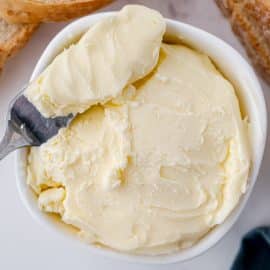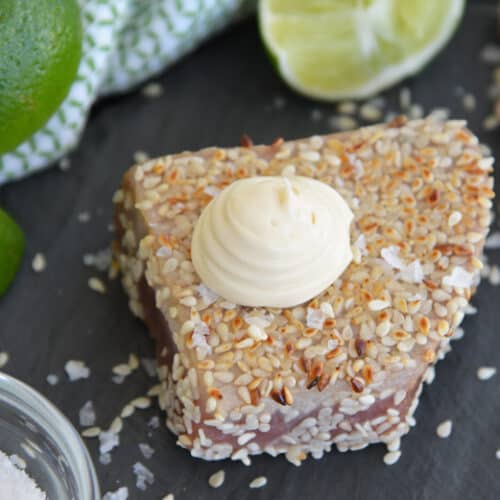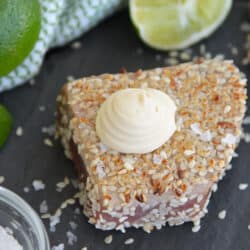 Wasabi Aioli Sauce
With only 3 simple ingredients, you can make this EASY Wasabi Aioli! Great as a dipping sauce, a sandwich spread or even alongside sushi!
See The Recipe!
Questions you might have about how to make mayonnaise at home:
How long does blender mayonnaise last? Since it isn't packed with preservatives, it won't last as long (and not at room temperture) like store bought does. I keep mine up to 1 week.
Keep in mind that you will be making smaller batches, unless you need a big batch. Keep your homemade mayo covered and refrigerated.
Is mayonnaise gluten free? Make sure to check your individual ingredients just to make sure, but generally speaking, eggs, oil and salt are gluten free.
Is mayonnaise keto? I am not a keto expert, but as far as I know about the diet, mayo is allowed. Someone correct me if I am wrong.
Is mayo the same as aioli? Ugh, I hate this question. Yes and no. In the states, aioli is usually just a fancy mayo; mayo base with other flavors blended in.
However, aioli translates to "garlic and oil" and is usually emulsified with egg. If you are looking for some tasty and easy aioli recipes, check out my ongoing list of 12+ aioli recipes!
Does mayonnaise have raw eggs? Technically, yes, however most commercial mayos are made with heat treated eggs, also known as pasteurized eggs.
You can also find pasteurized eggs in your grocery store. These are considered safe to eat raw or at low temperatures, however there is always a risk when eating raw or undercooked foods.
Can I freeze mayonnaise? I do not recommend freezing mayonnaise.
I don't have a blender, can I make it by hand? You can, but it takes some serious arm power to emulsify the blend. Feel free to give it a whirl…. or whisk. I crack myself up.
You can also try using a food processor or immersion blender.
Blender Mayonnaise
Do you know how easy it is to make homemade mayonnaise? SO EASY! Make my blender mayonnaise with 3 ingredients and 3 minutes today!
Ingredients
1/2- 3/4

cup

oil of your choice*

Sprinkle sea salt

Add ins :

optional

1

teaspoon

lemon juice

1

teaspoon

Dijon mustard

1/4

teaspoon

white or black ground pepper
Instructions
Place egg yolks into the blender and beat on high for 1-2 minutes or until color starts to lighten.

With blender running, start to VERY slowly drizzle in oil. Amounts will vary, so what you are paying attention to is SOUND. You will very noticeably hear the sound change from sloppy and wet to thick and creamy.

At this time sprinkle in your desired amount of salt. Don't worry, you can fold in more later if you wish. Give it another quick whirl to blend.

If you've tried this recipe, come back and let us know how it was!
Notes
Oil amounts will vary greatly based on the size of your egg yolks and the type and thickness of oil you are using. Instead of focusing on measurements, focus on the SOUND the mayo is making in the blender to know you have the correct amount.
Nutrition
Calories:
359
kcal
,
Carbohydrates:
1
g
,
Protein:
5
g
,
Fat:
36
g
,
Saturated Fat:
7
g
,
Cholesterol:
390
mg
,
Sodium:
74
mg
,
Potassium:
39
mg
,
Vitamin A:
520
IU
,
Vitamin C:
2
mg
,
Calcium:
46
mg
,
Iron:
1
mg