Looking for an easy BBQ pulled chicken? Instant Pot BBQ Chicken is the easy shredded chicken recipe you are looking for!

Instant Pot BBQ Chicken makes two pounds of shredded BBQ chicken in just 9 minutes! Perfect for making sandwiches, nachos, quesadillas, salads and more!
If you thought making BBQ chicken in a crockpot was quick and easy, you've got another thing coming with this Instant Pot BBQ Chicken Recipe!
Most BBQ chicken recipes that aren't actually made on the grill just take some chicken, slather it in bottled BBQ sauce and cook it. Wham, bam, thank you, ma'am.
My pulled chicken is slightly more sophisticated, but not that much more challenging to make.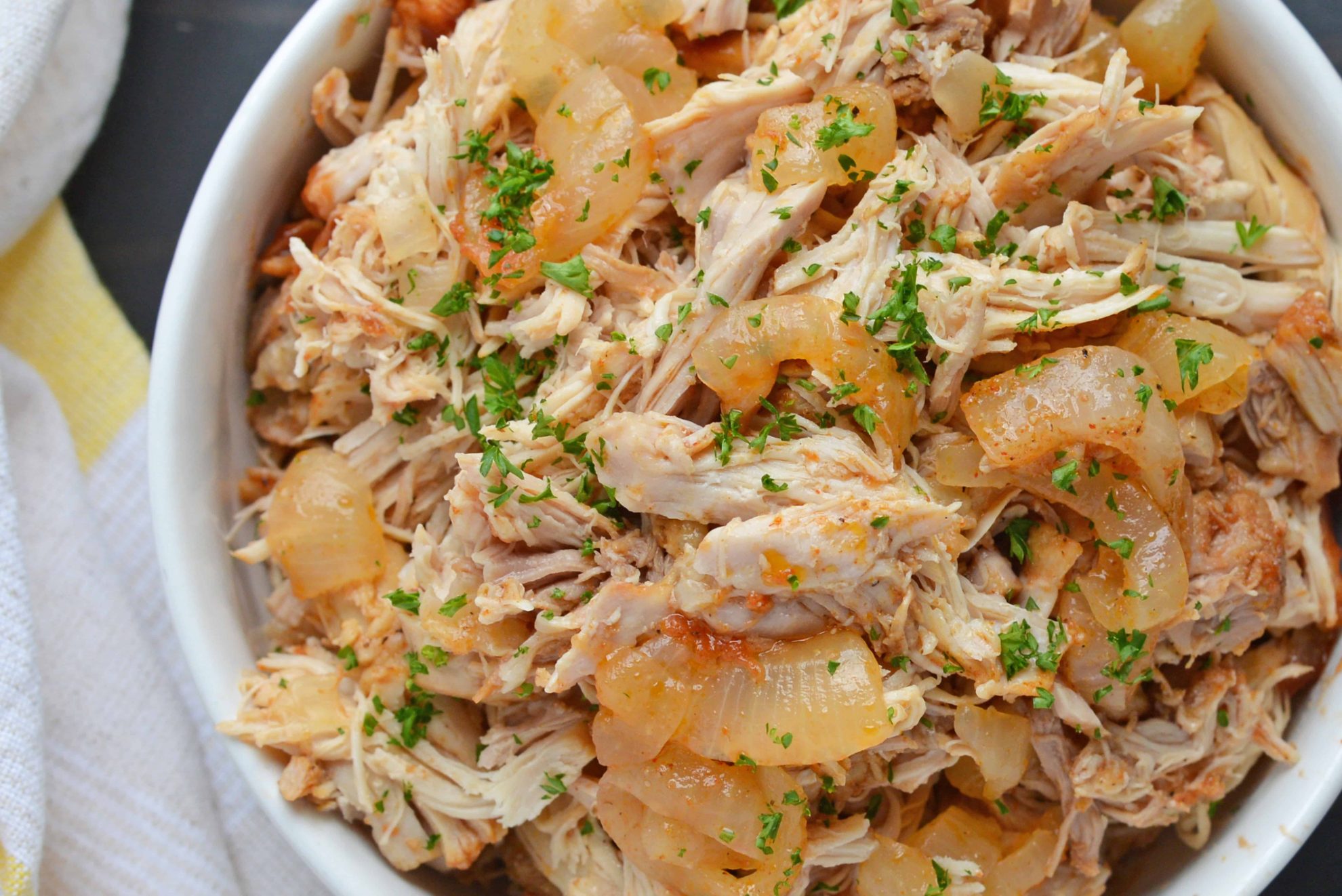 Instead of using a bottle barbecue sauce, I use a simple spice mixture while the chicken cooks. Paprika, cumin, Kosher salt, ground black pepper, garlic powder, ketchup and apple cider vinegar make up this basic BBQ sauce.
Then after cooking, I layer it with my favorite flavorful BBQ Sauce. Layering flavors offers an elevated BBQ flavor even though we are just making a super easy chicken recipe.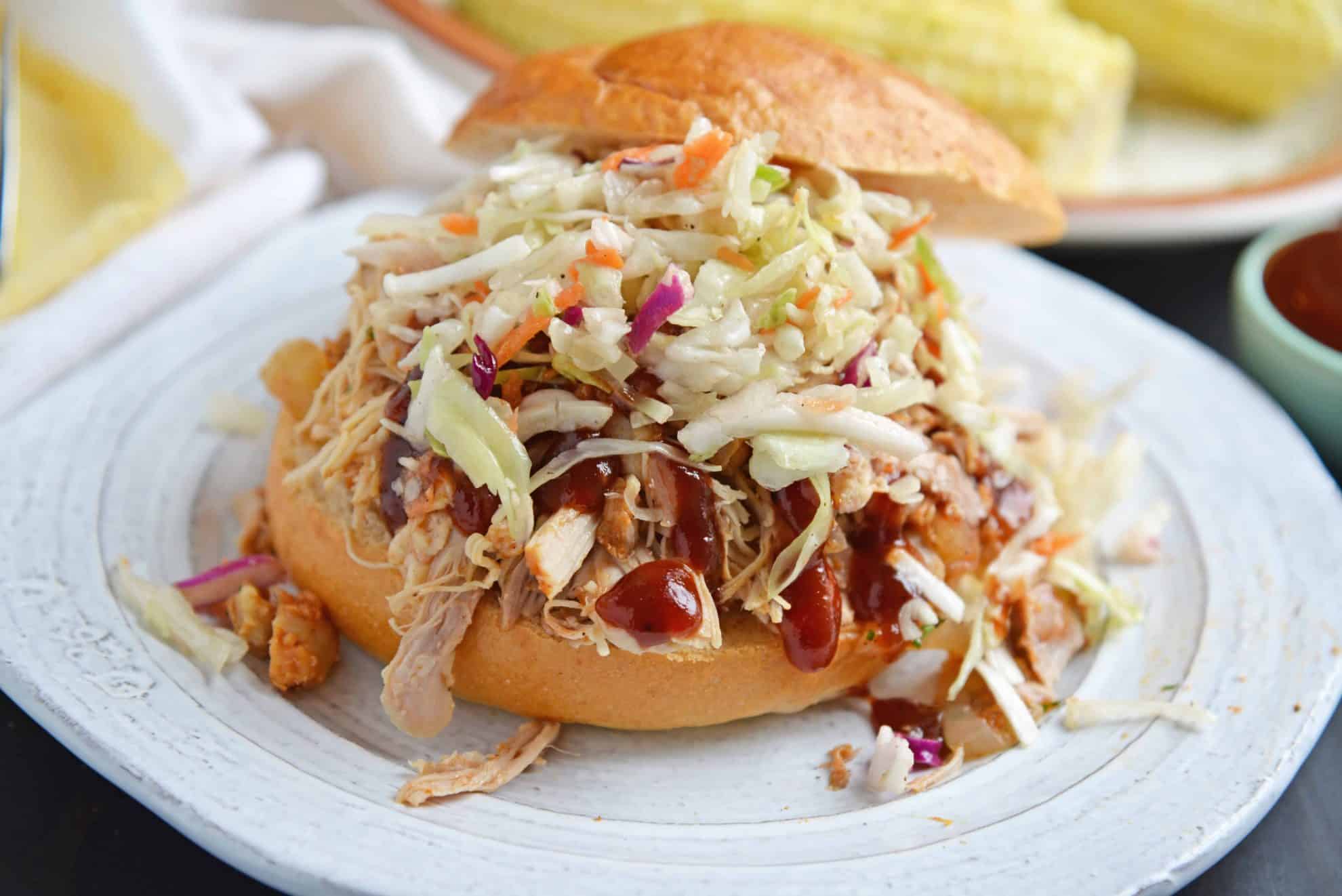 Feel free to use your favorite bottled BBQ sauce, Sweet Baby Rays is always popular, or make your own. BBQ sauce freezes well, so when I do make a one of my homemade barbeque sauces, I always make a double or even triple batch.
It freezes well for up to 6 months in an airtight plastic bag, so it doesn't even take up much room in my freezer. Here are my favorite BBQ sauce recipes: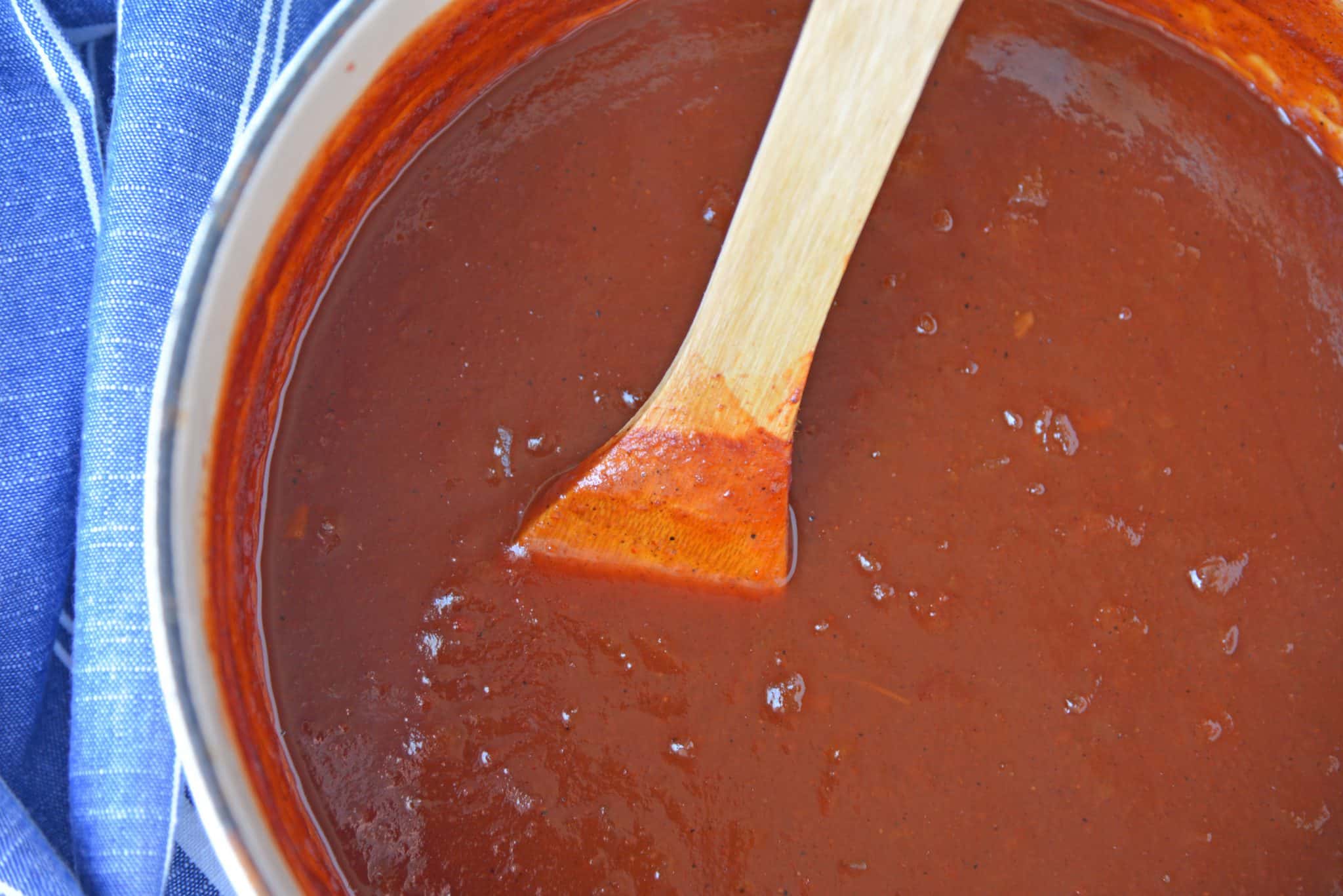 You might also ask why I use chicken thighs instead of the popular boneless, skinless chicken breasts. The answer is easy. They taste better! Chicken thighs have a lot more flavor and juicer meat than chicken breasts, which have the tendency to get dry even in the Instant Pot.
You will need to use a slotted spoon just to get them out of the pot and then they will shred easily. If you don't feel like shredding by hand you can always throw all of the chicken into a stand mixer fitted with the paddle attachment in a just a few moments, you'll have perfectly shredded chicken.
Just don't let is mix too long or else it will get mushy.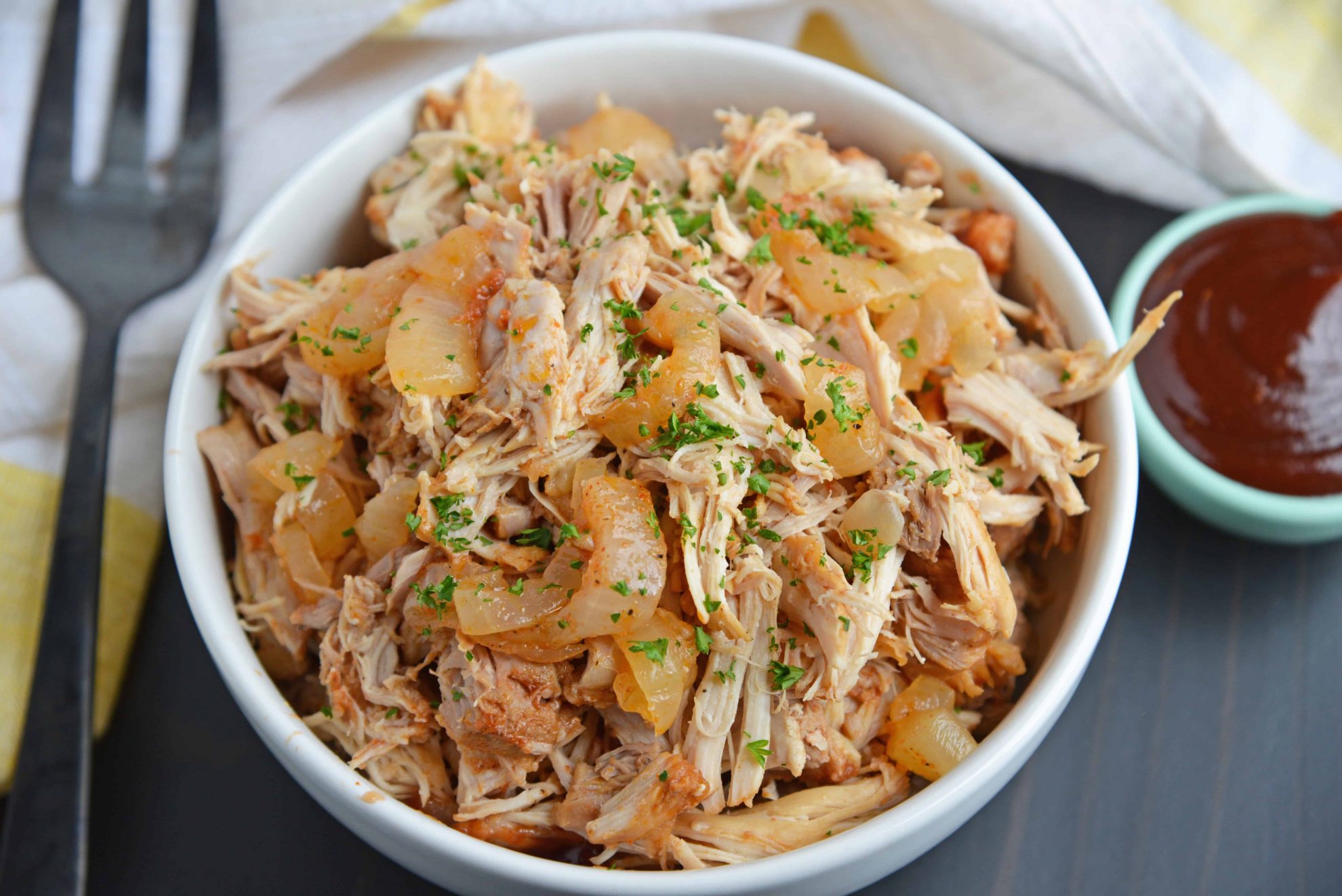 This especially applies to leftover BBQ chicken. BBQ chicken breast need to be drown in sauce to be tender when reheated, while chicken thighs don't need much of anything. There also isn't too much different in fat and calories if you trim off the large pieces of fat before cooking.
The Instant Pot is the last trick to this BBQ chicken recipe. Making Instant Pot BBQ Chicken will soon become one of your favorite go-to recipes for many reasons, but the main one being its ease.
Pressure cooking chicken also helps it to stay tender and moist no matter the recipe or cut.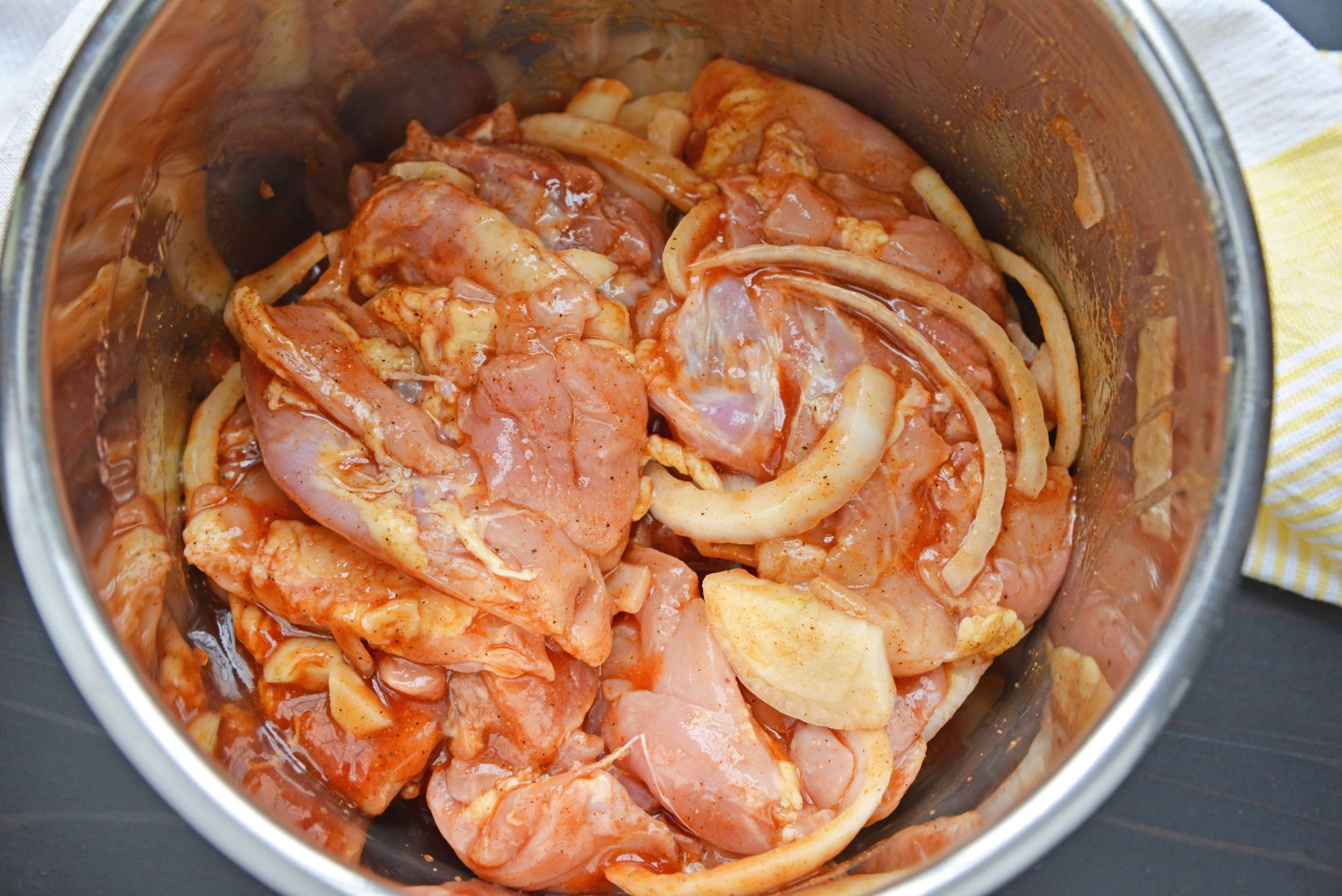 If you'd like to add your own spin to the Instant Pot BBQ Chicken recipes, these are some of my favorite variations. Add 1 teaspoon of crushed red pepper flakes or just red pepper (cayenne) if you like it hot, hot, HOT!
Add jalapenos, fresh or pickled, fresh minced garlic or even hot sauce. If you like your BBQ chicken sweeter, you can add additional molasses or brown sugar to counteract the heat.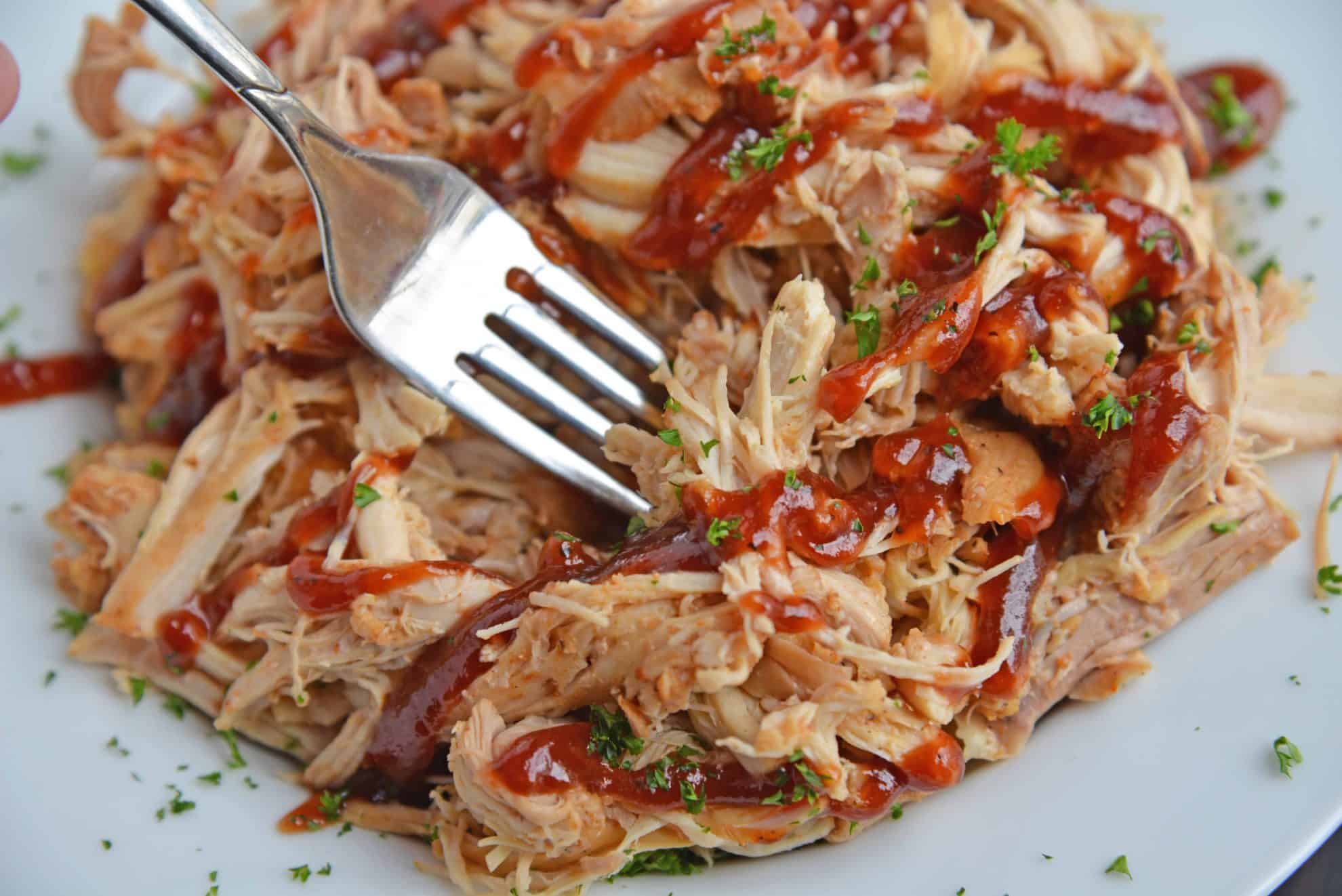 Side dishes to serve with barbeque chicken: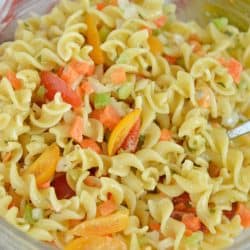 Ranch Pasta Salad
You won't go back to regular pasta salad after you've tried this delicious Ranch Pasta Salad recipe! It's easy to make with simple ingredients!
See The Recipe!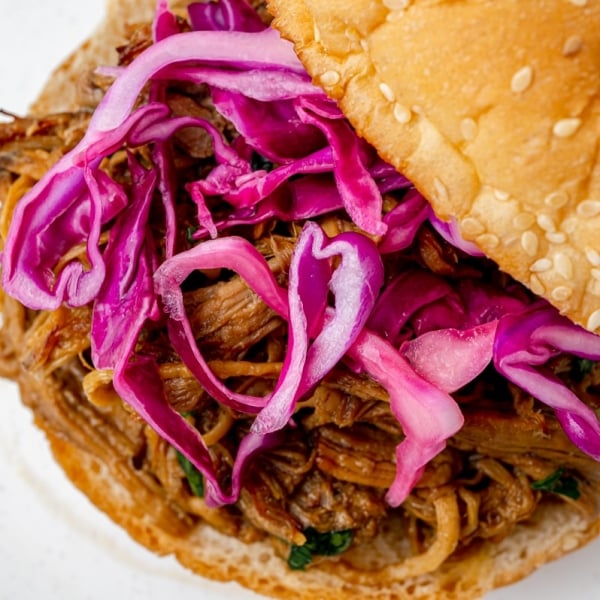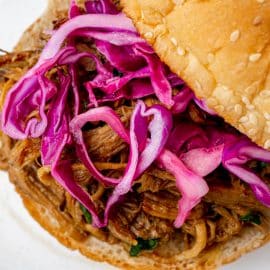 Red Cabbage Slaw
Red Cabbage Coleslaw is an easy coleslaw recipe that pairs well with any BBQ recipe. A no mayo coleslaw that can be made ahead and stays good at room temperture.
See The Recipe!
Tools for making Instant Pot BBQ Chicken:
Slotted Metal Spatula– Your slow cooker BBQ chicken will be so tender, you won't need tongs or a fork to get it out. Your best bet it with a slotted metal spatula.
Instant Pot
– this is an Instant Pot recipe, so if you don't have one, grab one. You'll be glad you did! Also read my Instant Pot Basics before you get started!
The 6 quart is a standard size, but many people prefer to upgrade to the 9 quart which is closer in size to a standard slow cooker. The 6 quart is better for family weeknight meals.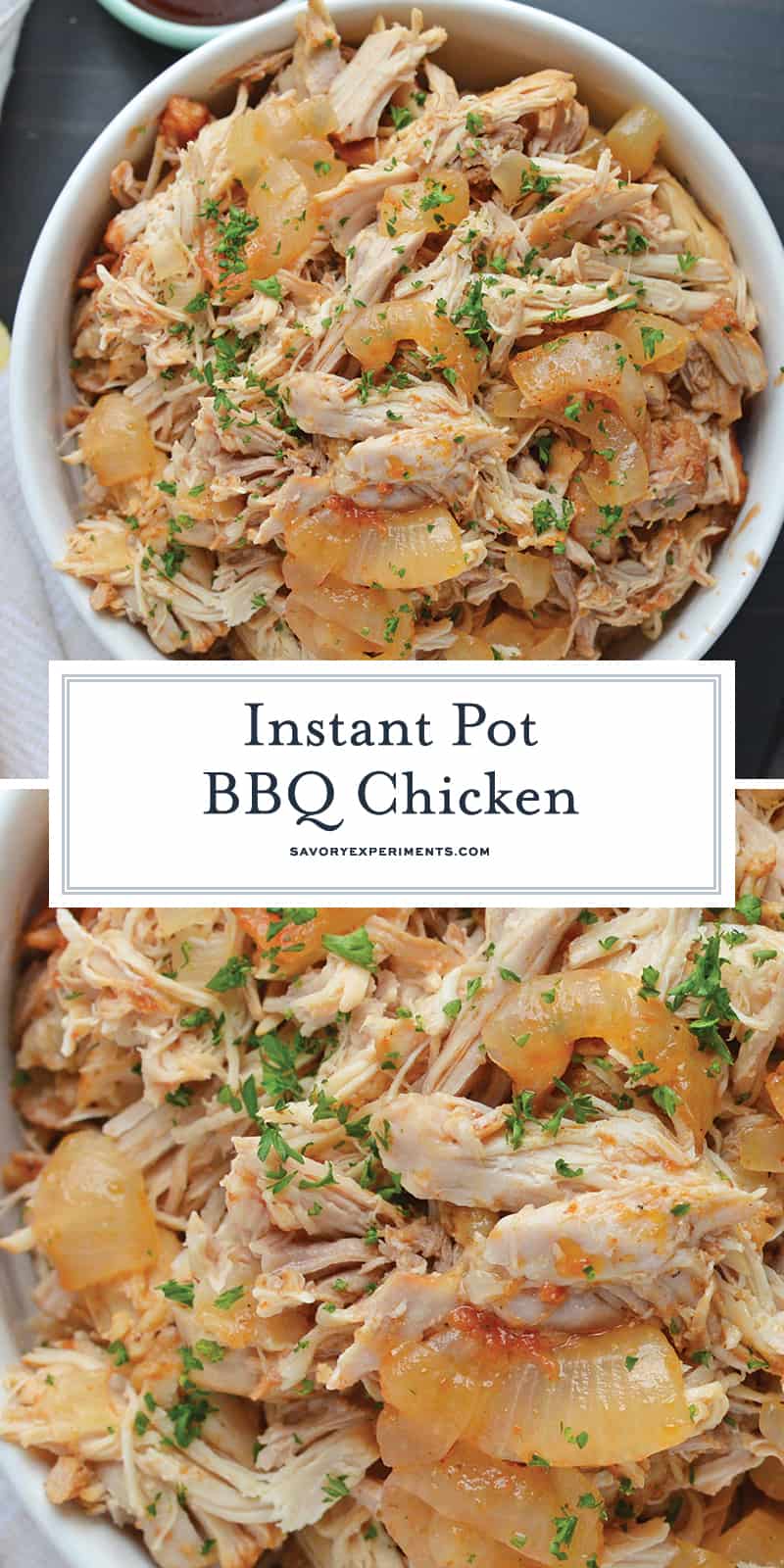 Questions you might have about how to make Instant Pot BBQ Chicken:
Can I use chicken breasts for BBQ chicken? You surely can! I prefer to use chicken thighs for the reasons above, but you can use breasts if you prefer. Use the same two pounds of chicken.
Can you freeze BBQ Chicken? Yep! Place your shredded BBQ chicken in an airtight container or plastic bag, removing any excess air. Keep frozen for up to 3-4 months.
Is instant pot BBQ chicken keto? Nope- not a chance! The base recipe uses sugar and ketchup. If you'd like, you can use a keto approved BBQ Sauce instead, but then you don't really need this recipe either, huh?
Can I make this BBQ chicken recipe ahead of time? You sure can! Reserve some of the liquid and reheat it in the crock pot. The reserved liquid will help it stay moist. Using chicken thighs versus chicken breasts will also help prevent drying.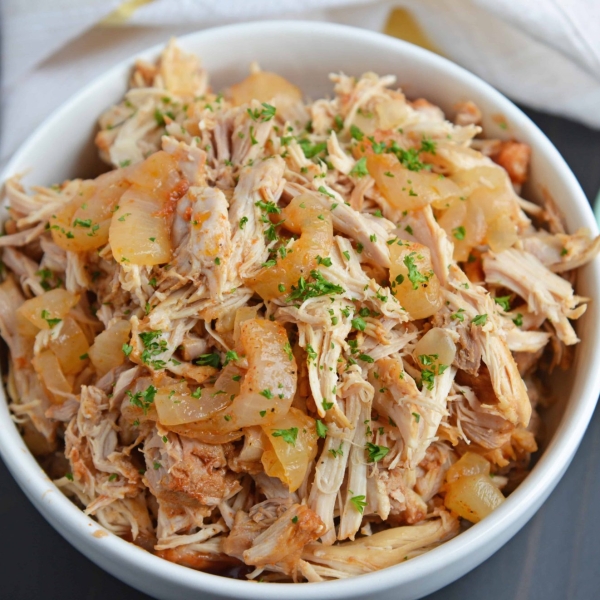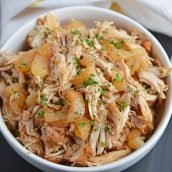 Instant Pot BBQ Chicken
Instant Pot BBQ Chicken makes two pounds of shredded BBQ chicken in just 9 minutes! Perfect for making sandwiches, nachos, quesadillas, salads and more!
Instructions
Add chicken thigh fillets, sweet onion, light brown sugar, paprika, cumin, Kosher salt, ground pepper and garlic powder to the inner pot of the Instant Pot. Stir to coat fully.

In a small mixing bowl, whisk together ketchup, apple cider vinegar, worcestershire sauce and water. Pour over chicken.

Set on manual pressure high for 8 minutes. It will take about 5-10 minutes to come to pressure.

Allow for 5 minutes natural pressure release. Release remaining pressure quickly. Remove chicken using a slotted spoon, then shred with two forks.

Discard all but 1/4 cup liquid from Instant Pot. Toss shredded chicken, favorite BBQ sauce and reserved liquid.

Serve however you'd like!

If you've tried this recipe, come back and let us know how it was!
Nutrition
Calories:
467
kcal
,
Carbohydrates:
32
g
,
Protein:
25
g
,
Fat:
25
g
,
Saturated Fat:
6
g
,
Cholesterol:
148
mg
,
Sodium:
1895
mg
,
Potassium:
555
mg
,
Fiber:
1
g
,
Sugar:
25
g
,
Vitamin A:
605
IU
,
Vitamin C:
2.4
mg
,
Calcium:
44
mg
,
Iron:
2.1
mg