Is your favorite part of a dirty martini the blue cheese stuffed olives on top? If so, you're going to love this easy New Year's Eve recipe!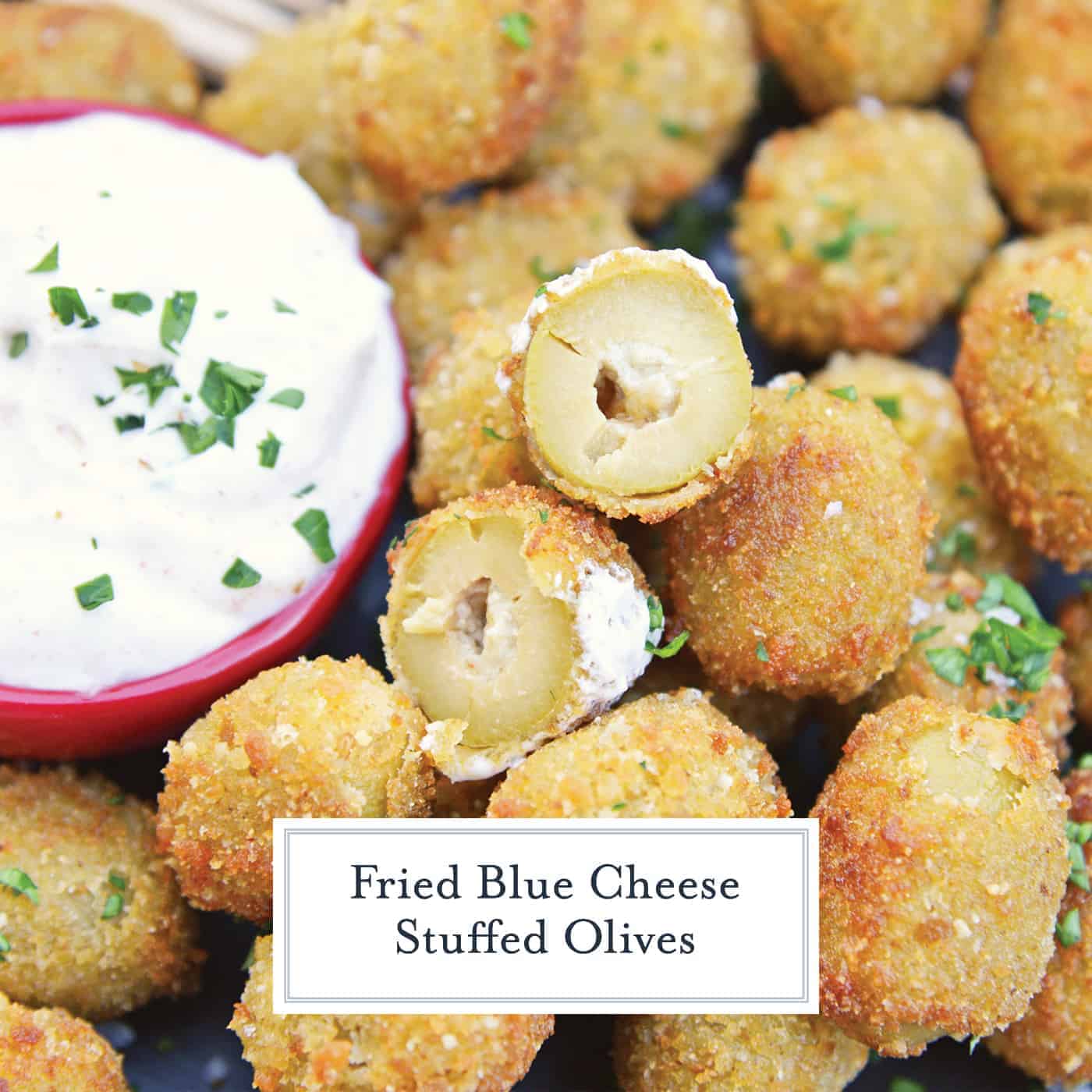 Fried Blue Cheese Stuffed Olives are a fun twist on classic stuffed olive recipes and make an easy appetizer, perfect for New Year's Eve or any other celebration.
Fried Blue Cheese Stuffed Olives…I know, I know. Half of you are probably shaking your head right now going '…what?" but I'm pretty sure this recipe is going to take off because it is genius and super delicious!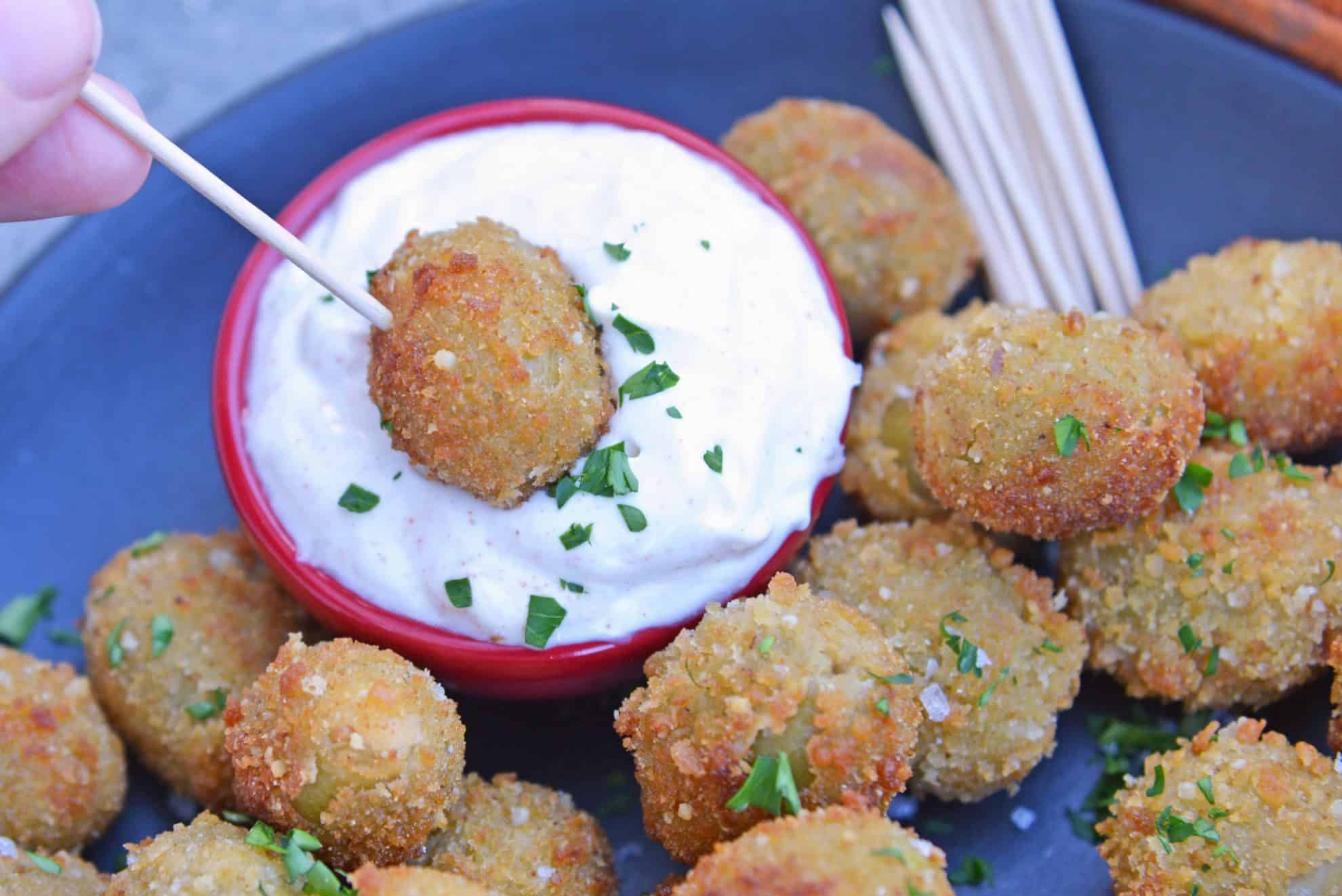 Of all the New Year's Eve recipes I've been trying out, this one is by far my favorite. Maybe it stems from my general love of blue cheese stuffed olives but I swear my friends are as obsessed with them as me.
This easy appetizer recipe starts with blue cheese stuffed olives. I bought the kind from the store in a jar but if you're feeling ambitious, you can buy large unpitted olives and stuff them with blue cheese yourself. I was just trying to keep things simple and easy.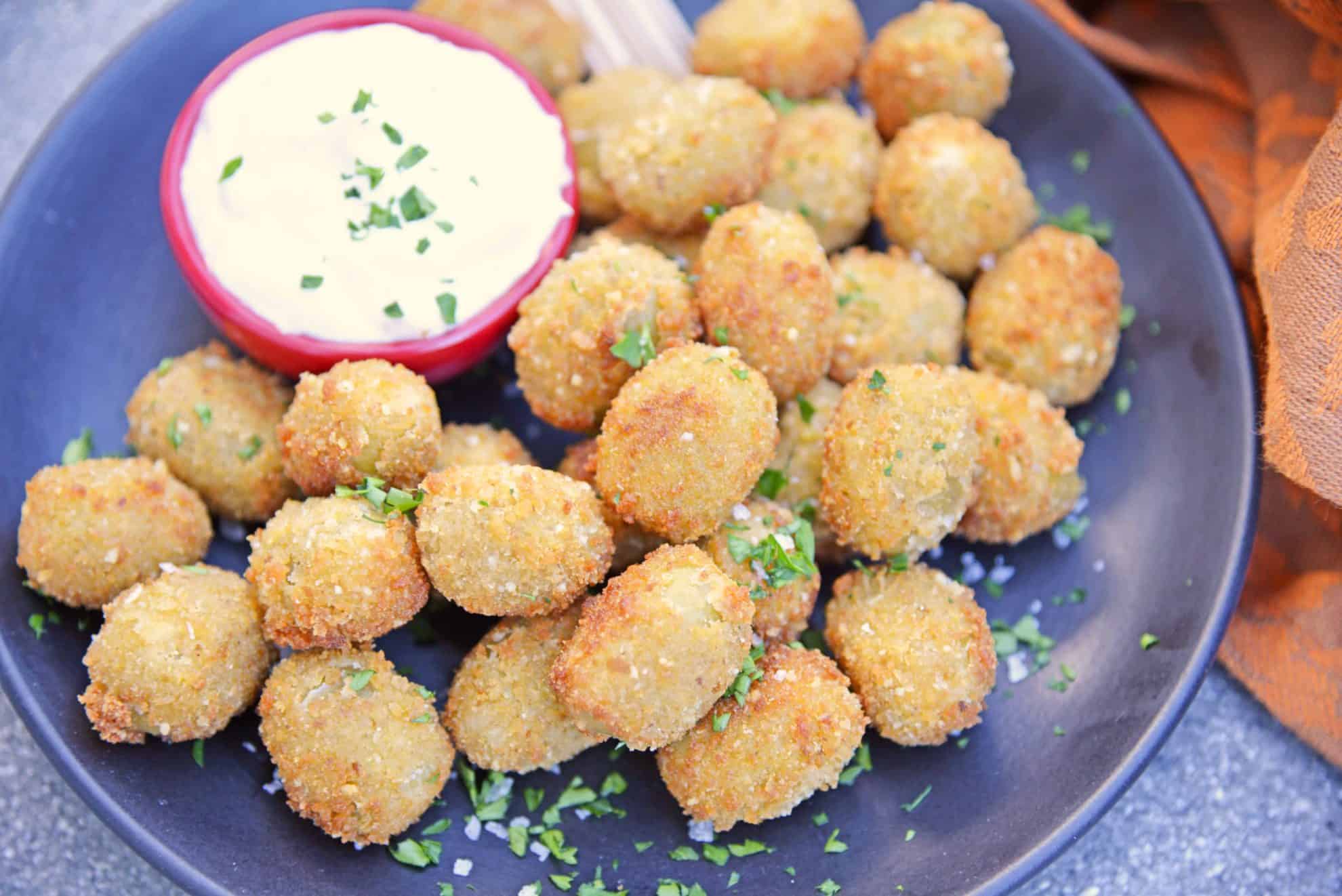 Either way, be sure to drain the olives and dry them before continuing with the recipe. The brine on the olives will stop the batter from sticking,
For extra flavor, I added paprika and salt to the flour. The paprika truly gives these an extra stuffed olives a kick of flavor and pulls it all together.
Before frying these, they do need to freeze for an hour. Otherwise, they'll turn into mush and the cheese will completely melt.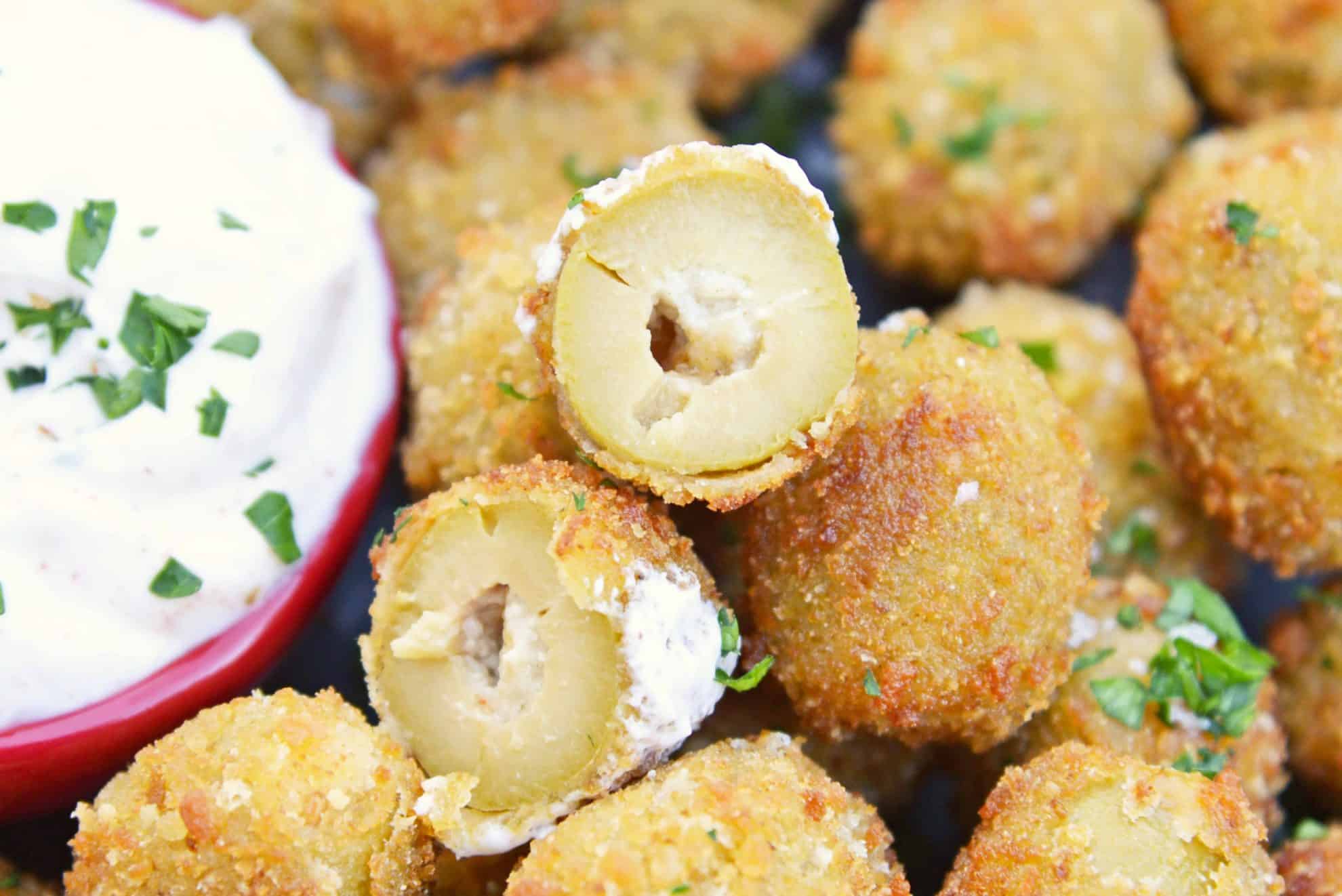 Serve Fried Blue Cheese Stuffed Olives as an appetizer or even on top of your favorite salad. You can even make them ahead and they are a freezer friendly appetizer.
When serving these as an easy appetizer recipe, I also whip up an easy sour cream dip with paprika. While other recipes include a garlic aioli, I found the paprika perfectly compliments the olive flavor and the sour cream keeps it from getting too spicy. My dirty martini salad dressing is also a fun favorite.
These will be one of my New Year's Eve recipes this year and I've already made them twice in preparation. Everyone who has sampled them – including those who claim not to like olives – love them so far.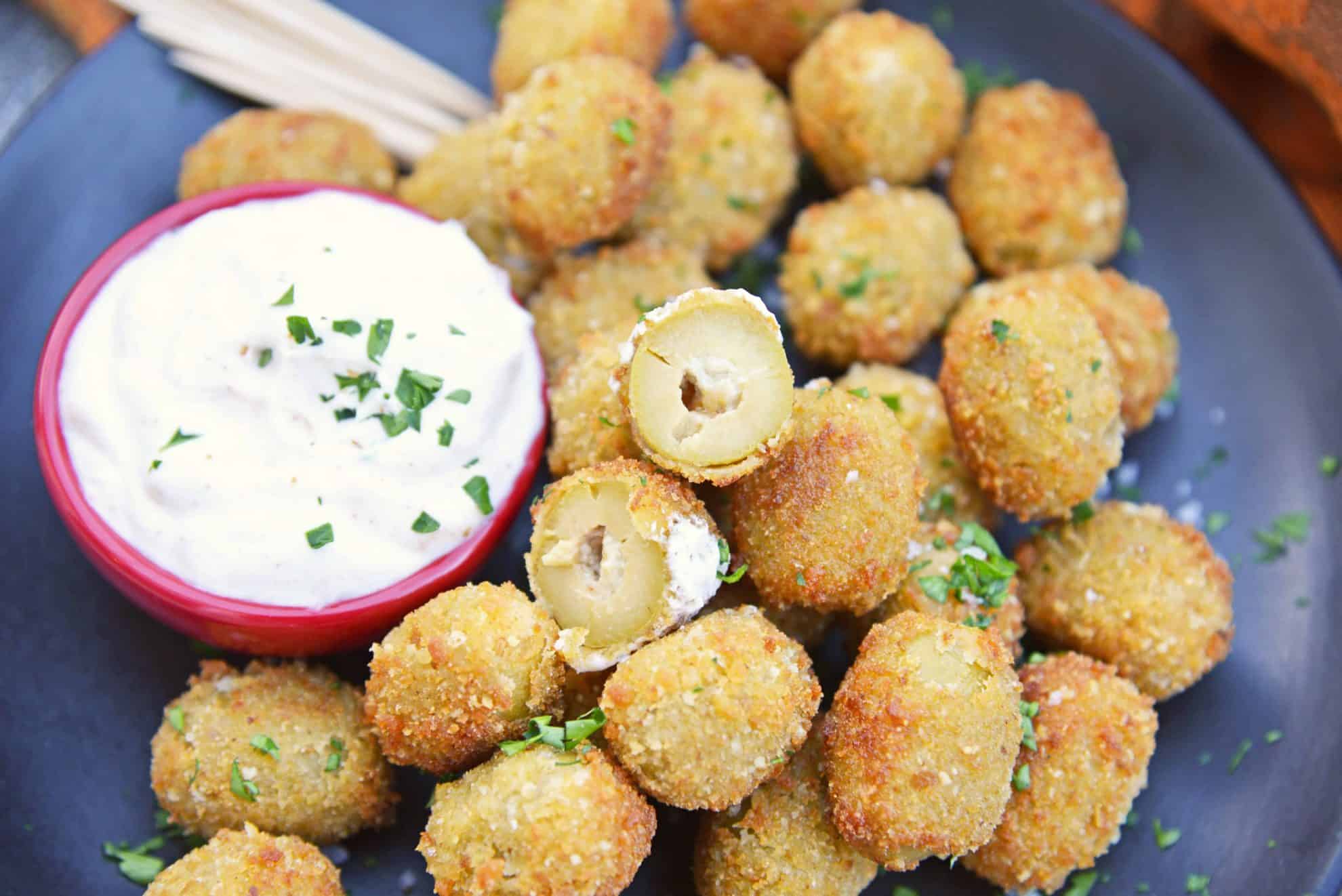 They're one of my new favorite easy appetizer recipes! Basically, I just want to stand by the appetizer table and shove these Fried Blue Cheese Stuffed Olives into my mouth all night long.
While I prefer them hot, my friends also like them room temperture. Your choice!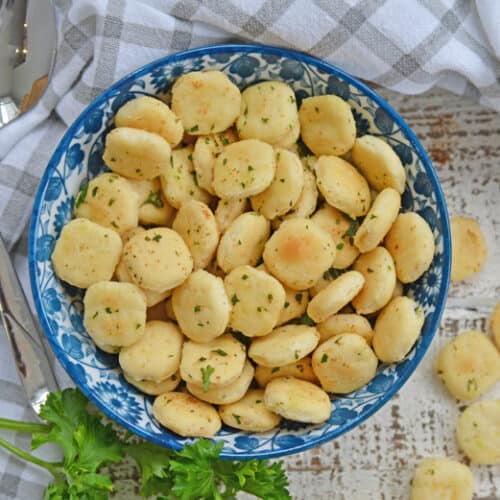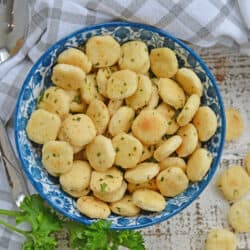 Ranch Oyster Crackers
Ranch fanatics will fall in love with these EASY Ranch Oyster Crackers! With butter, ranch seasoning and crackers, you have yourself a delicious snack!
See The Recipe!
Ranch Meatballs
With simple ingredients and 35 minutes, you can make these delicious EASY Ranch Meatballs for dinner! A great way to spice up your spaghetti and meatballs!
See The Recipe!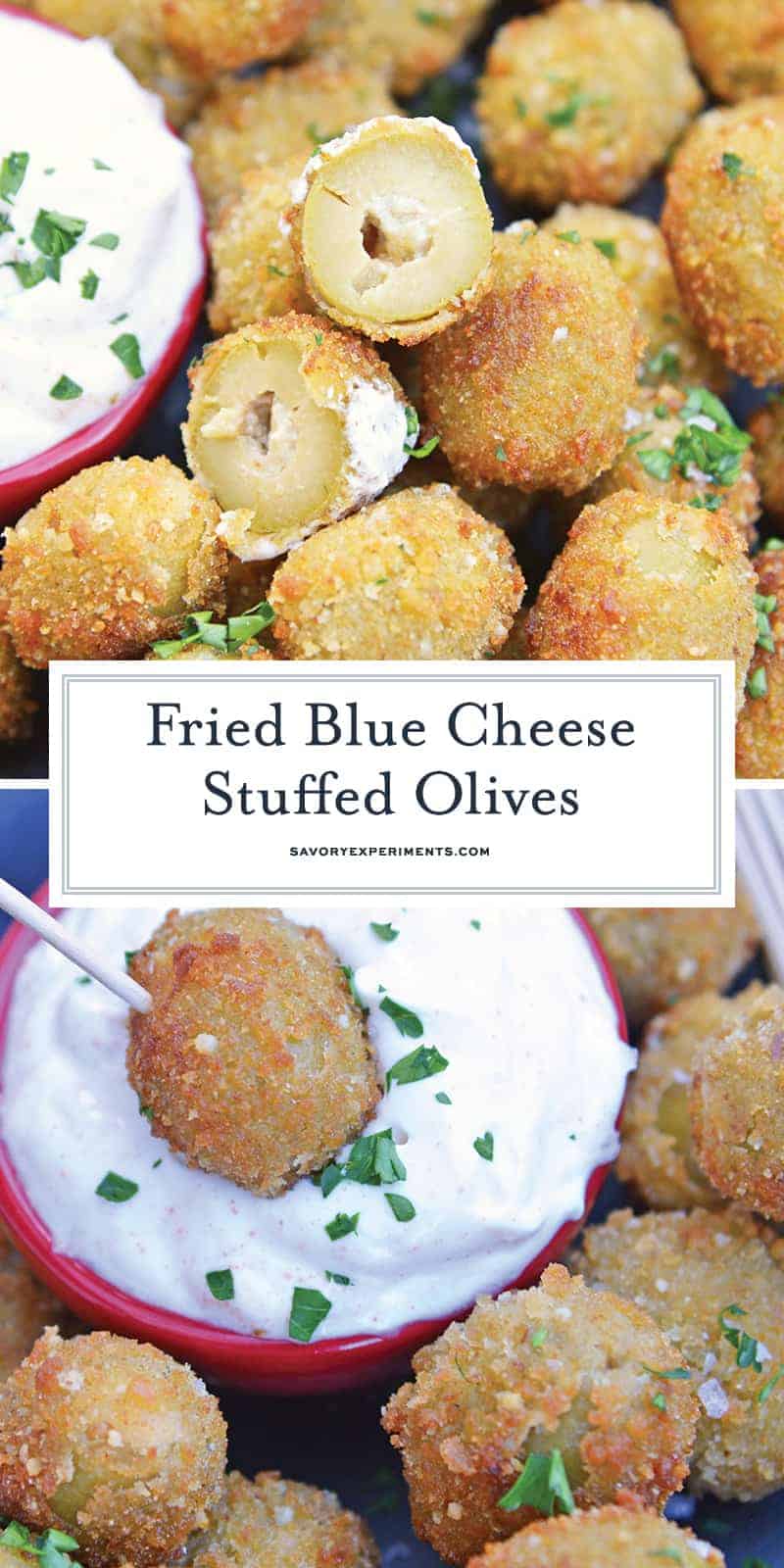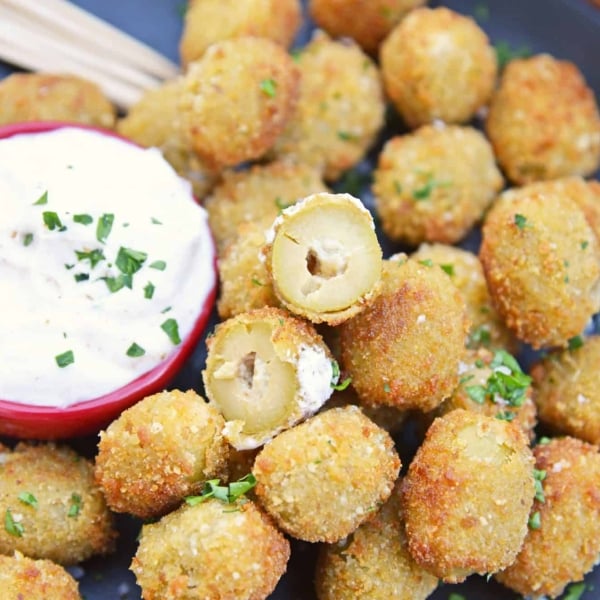 Fried Blue Cheese Olives
Fried Blue Cheese Stuffed Olives will become your favorite New Year's Eve recipe. But, this easy appetizer recipe is perfect for all occasions!
Equipment
Heat Resistant Rubber Spatula
Instructions
Drain olives well and dab dry with a paper towel.

In a small bowl, combine flour, smoked paprika and fine sea salt. In another, lightly beaten egg and in the third, plain plain bread crumbs.

Dredge olives in the flour mix, then egg and finally plain bread crumbs.

Place in a freezer friendly container. Make sure olives are not touching one another and layers are separated by parchment or wax paper.

Freeze for a minimum of one hour.

In a medium saucepan, heat vegetable oil. Depending on the size you your pan, you might not need the whole 4 cups. Just fill it to about 1 -2 inches of oil. Heat over medium high heat.

Working in batches and using a metal spatula or fry spoon, lower olives into the hot oil. Do not crowd the pan, olives should not touch.

Fry for about 3 minutes, turning to brown.

Remove to a paper towel lined plate to drain. If desired, you can keep them in the oven on a "warm" setting or 200 degrees.

Before serving, mix sour cream with smoked paprika for sauce.

Serve hot.

If you've tried this recipe, come back and let us know how it was!
Nutrition
Calories:
259
kcal
,
Carbohydrates:
30
g
,
Protein:
6
g
,
Fat:
12
g
,
Saturated Fat:
6
g
,
Cholesterol:
37
mg
,
Sodium:
605
mg
,
Potassium:
104
mg
,
Fiber:
2
g
,
Sugar:
1
g
,
Vitamin A:
370
IU
,
Vitamin C:
0.2
mg
,
Calcium:
73
mg
,
Iron:
2.1
mg