Is your favorite part of a dirty martini the blue cheese stuffed olives on top? If so, you're going to love this easy New Year's Eve recipe!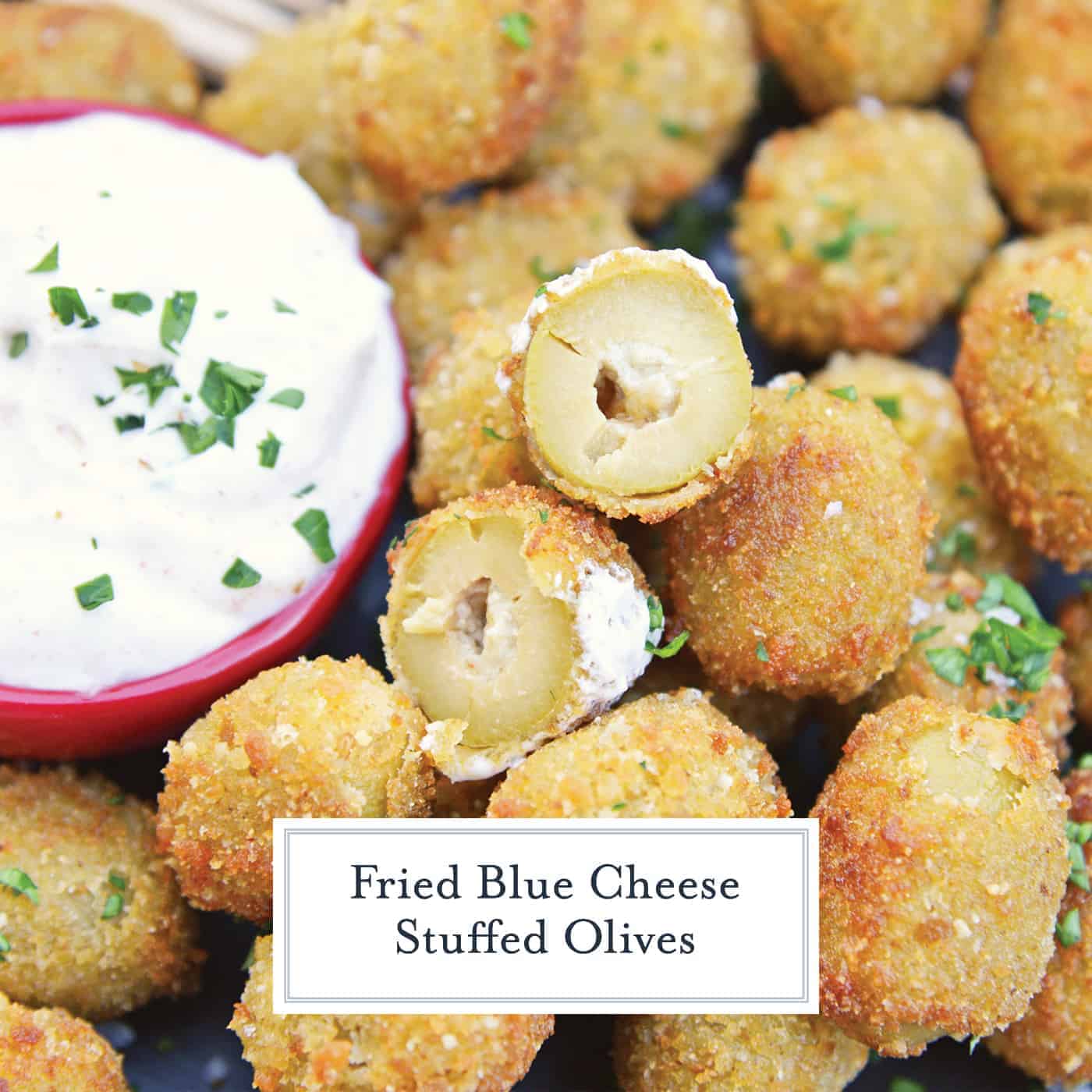 Fried Blue Cheese Stuffed Olives are a fun twist on classic stuffed olive recipes and make an easy appetizer, perfect for New Year's Eve or any other celebration.
Fried Blue Cheese Stuffed Olives…I know, I know. Half of you are probably shaking your head right now going '…what?" but I'm pretty sure this recipe is going to take off because it is genius and super delicious!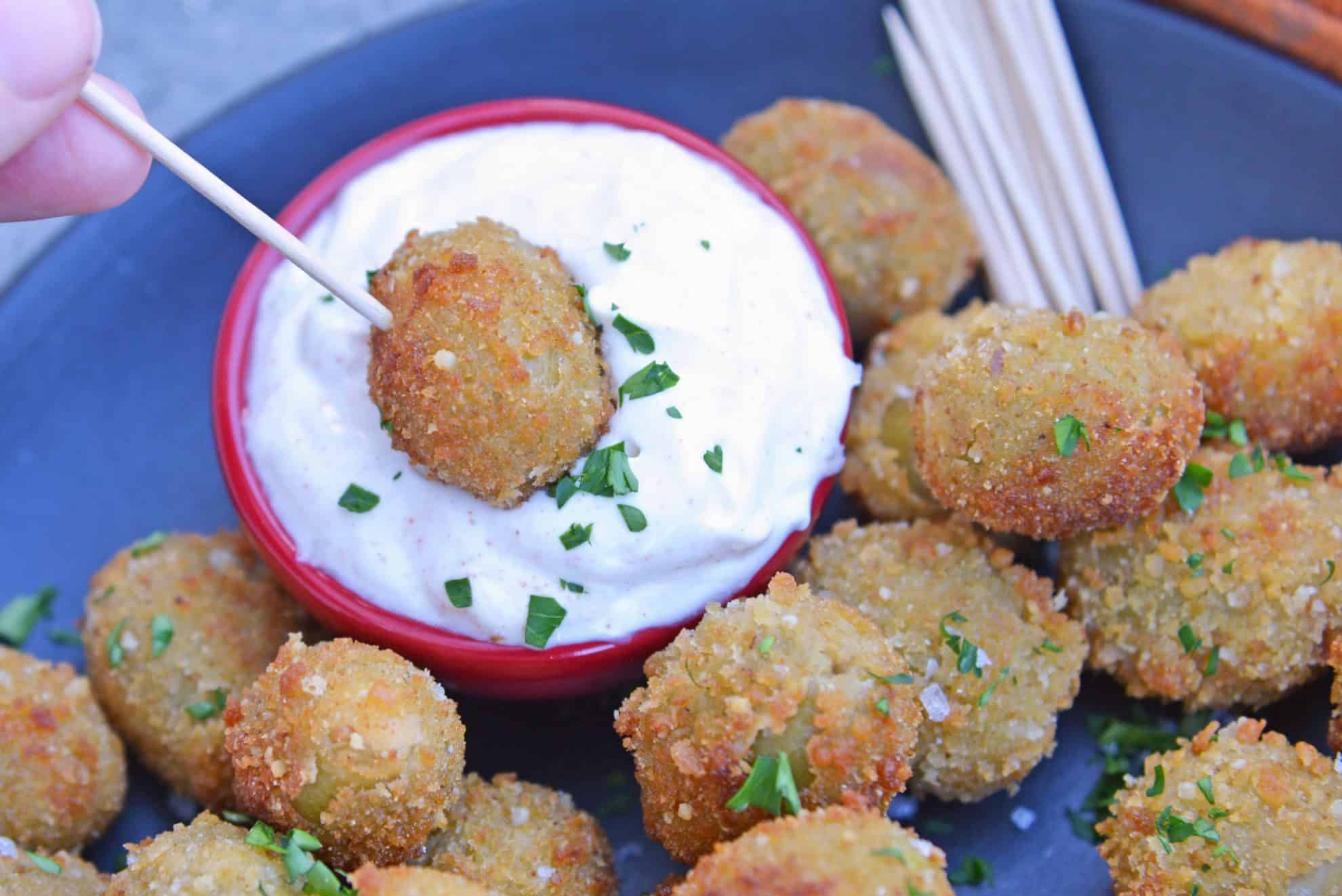 Of all the New Year's Eve recipes I've been trying out, this one is by far my favorite. Maybe it stems from my general love of blue cheese stuffed olives but I swear my friends are as obsessed with them as me.
This easy appetizer recipe starts with blue cheese stuffed olives. I bought the kind from the store in a jar but if you're feeling ambitious, you can buy large unpitted olives and stuff them with blue cheese yourself. I was just trying to keep things simple and easy.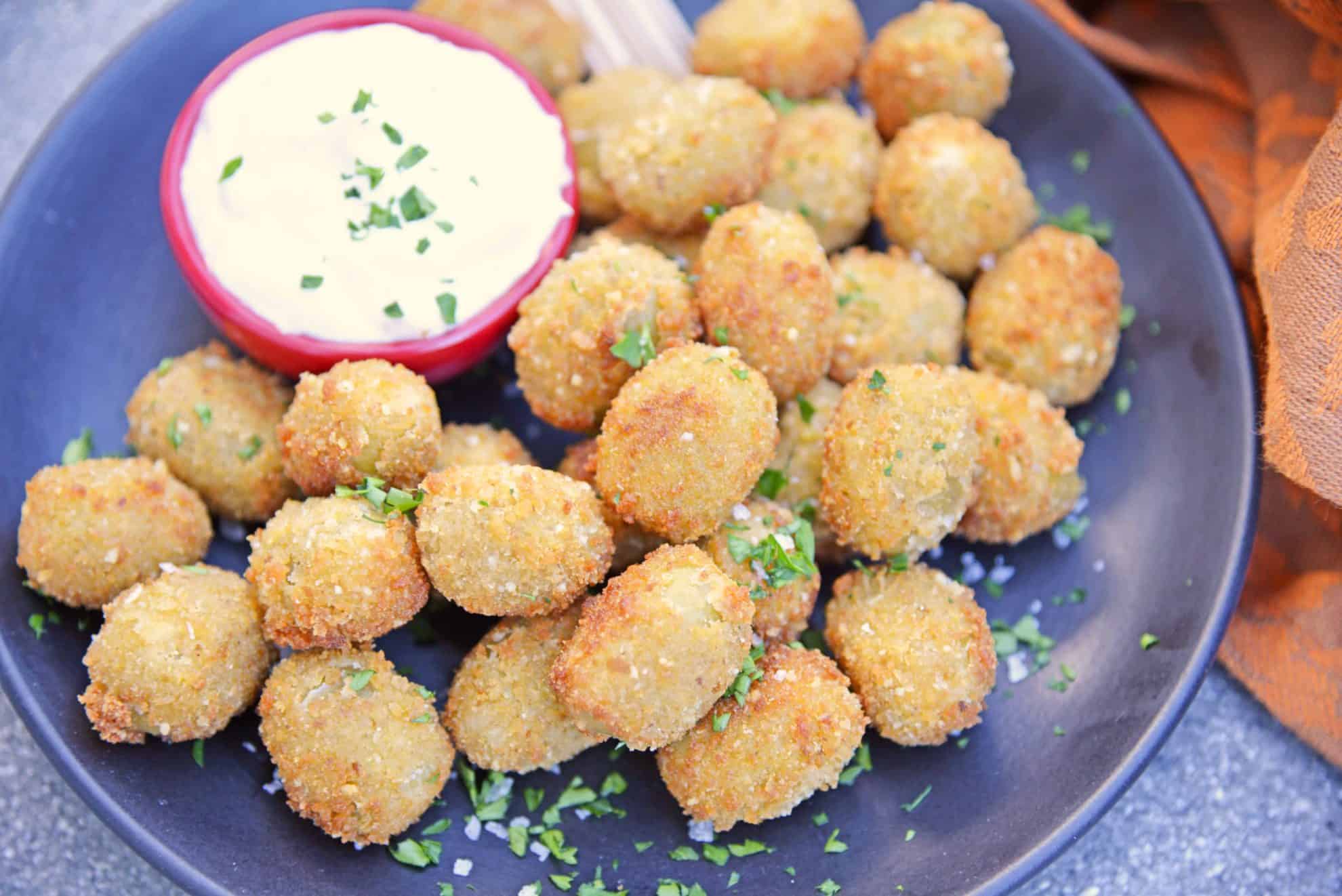 Either way, be sure to drain the olives and dry them before continuing with the recipe. The brine on the olives will stop the batter from sticking,
For extra flavor, I added paprika and salt to the flour. The paprika truly gives these an extra stuffed olives a kick of flavor and pulls it all together.
Before frying these, they do need to freeze for an hour. Otherwise, they'll turn into mush and the cheese will completely melt.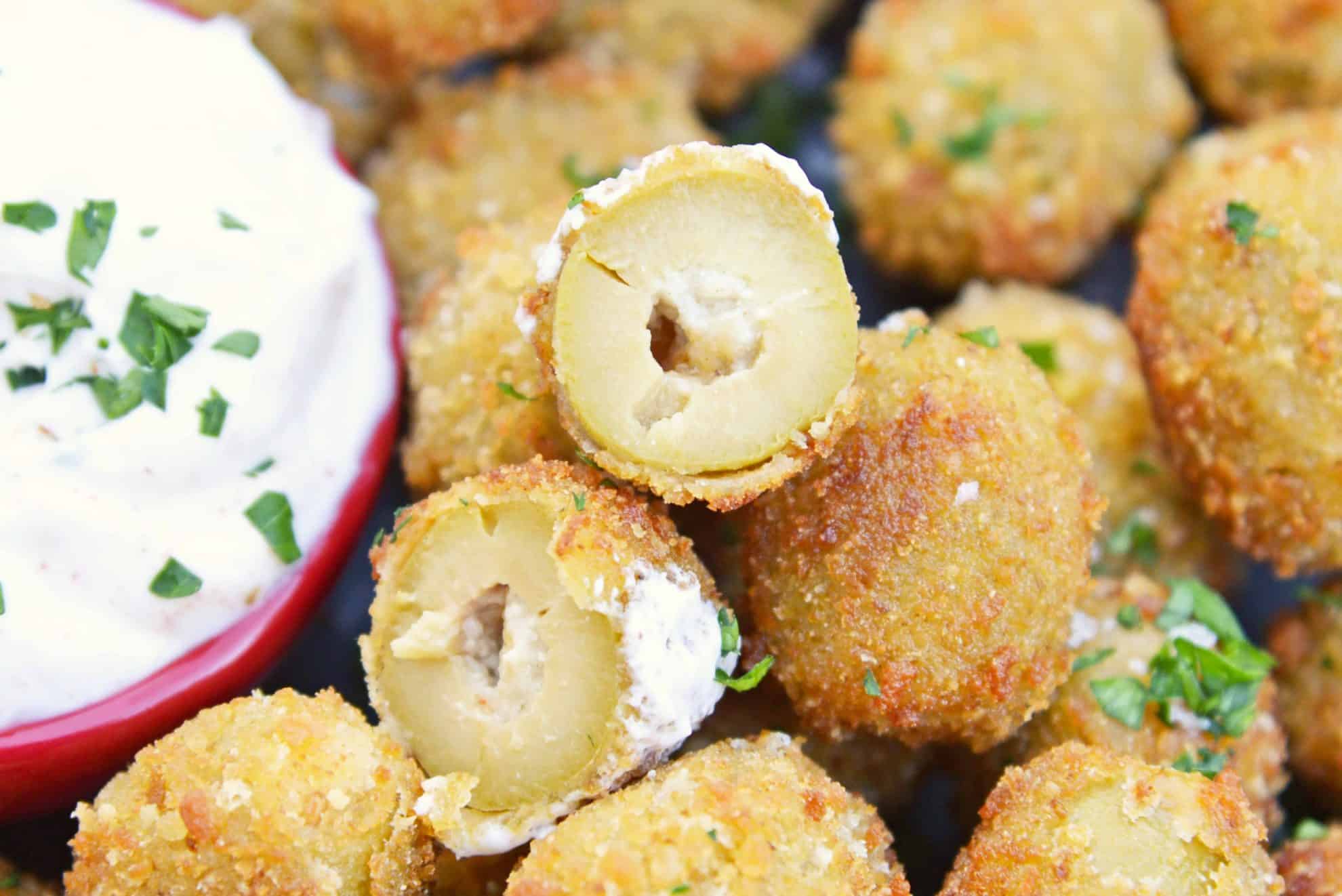 Serve Fried Blue Cheese Stuffed Olives as an appetizer or even on top of your favorite salad. You can even make them ahead and they are a freezer friendly appetizer.
When serving these as an easy appetizer recipe, I also whip up an easy sour cream dip with paprika. While other recipes include a garlic aioli, I found the paprika perfectly compliments the olive flavor and the sour cream keeps it from getting too spicy.
These will be one of my New Year's Eve recipes this year and I've already made them twice in preparation. Everyone who has sampled them – including those who claim not to like olives – love them so far.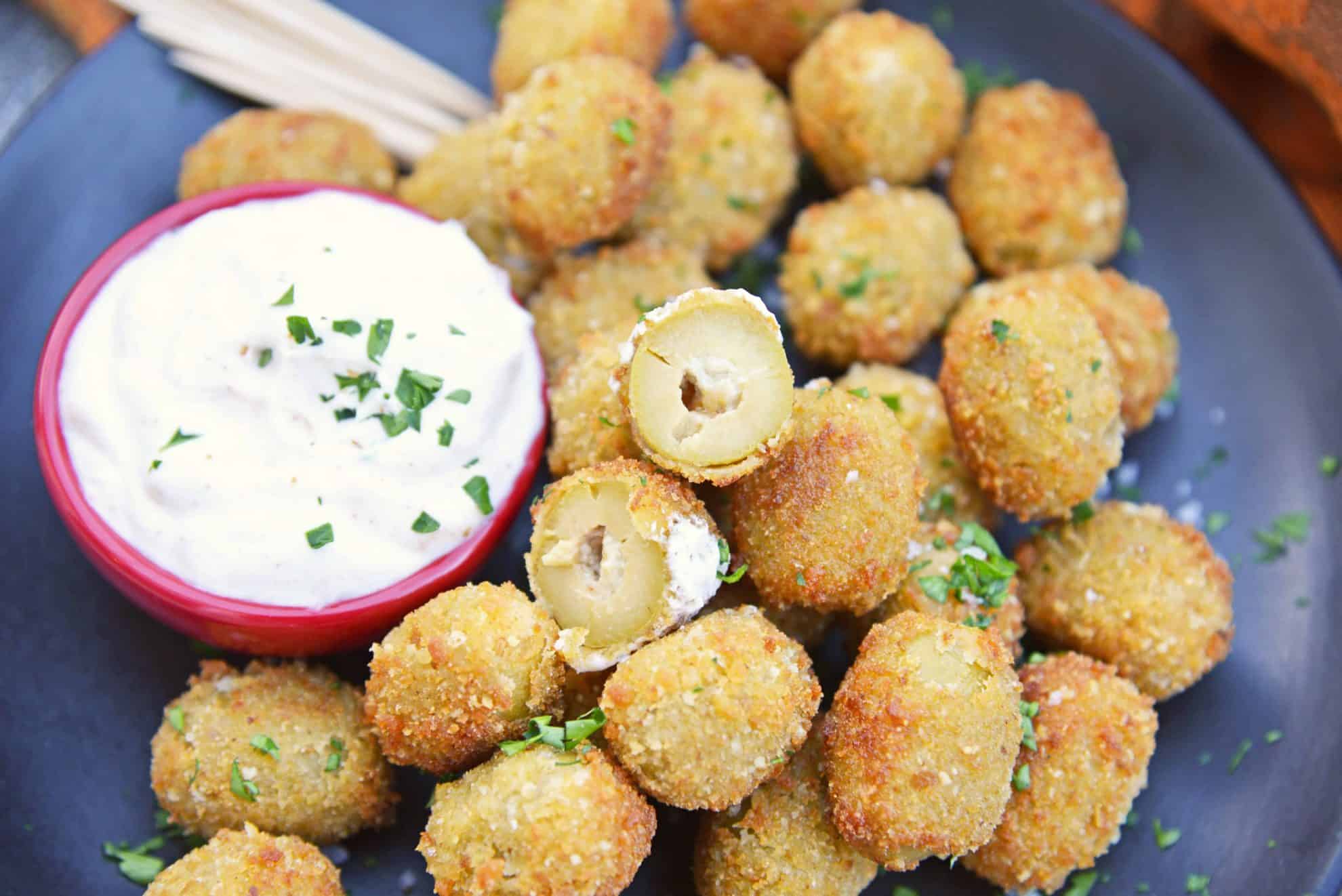 They're one of my new favorite easy appetizer recipes! Basically, I just want to stand by the appetizer table and shove these Fried Blue Cheese Stuffed Olives into my mouth all night long.
While I prefer them hot, my friends also like them room temperture. Your choice!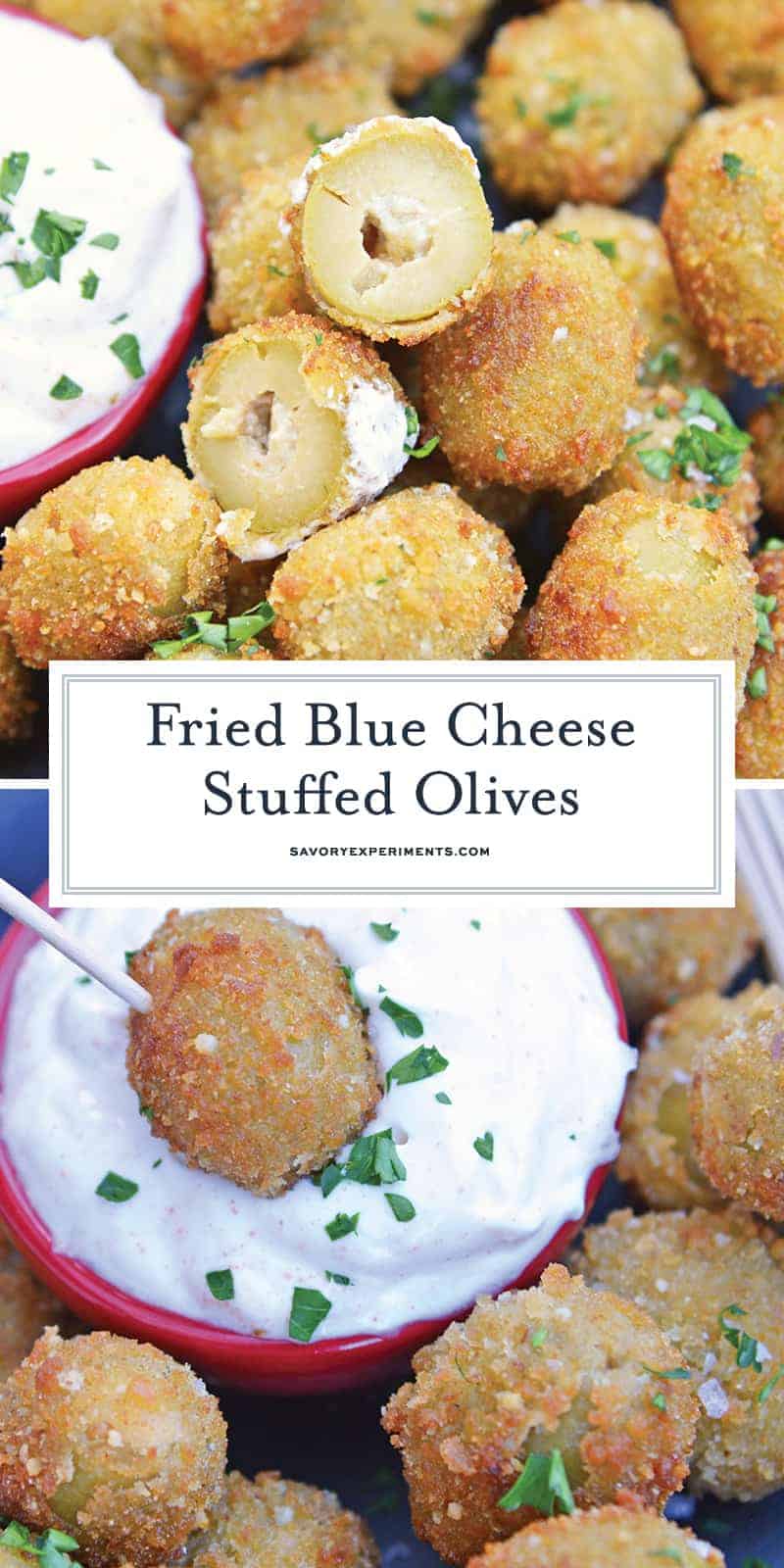 ---
---