If you're of a certain age you might remember the old Big Mac jingle that started with: Two all-beef patties, special sauce, lettuce, cheese, pickles, onions on a sesame seed bun.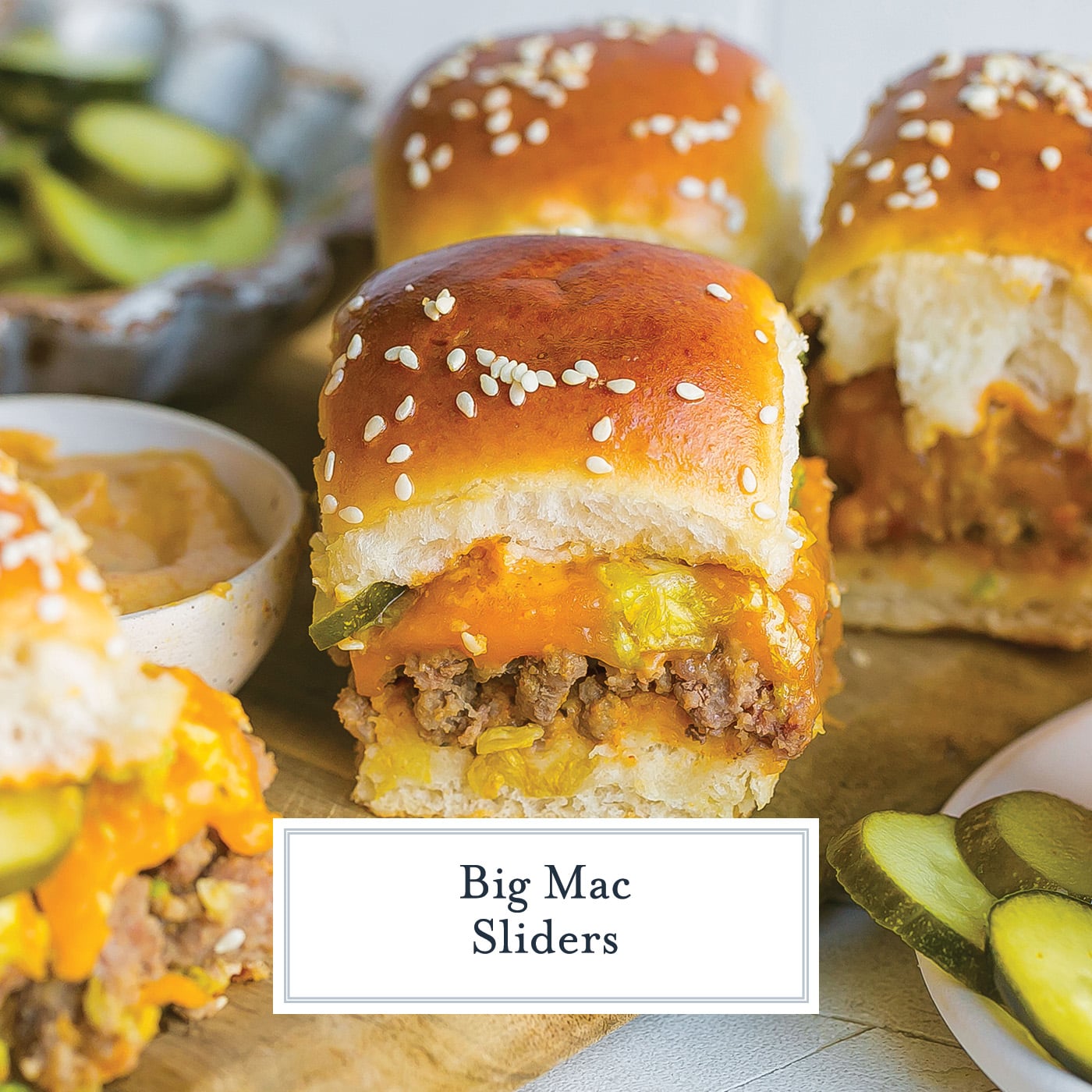 It's a classic, just like the iconic, delicious McD's burger — that's why I had to recreate it in an easy form with these simple Big Mac sliders.
Fast Food Favorite
Everyone has their fast food favorites. Over the last several years, there have been the chicken wars that created quite a division around fast food sandwiches — but there's one simple fast food sandwich that (nearly) everyone comes back to: McDonald's Big Mac.
If you're looking to impress guests at your next casual get-together, throw this easy slider version of a Big Mac in the oven and watch people swarm to the serving platter. There's nothing quite as comforting and delicious as a nostalgic favorite and this one will definitely hit the spot.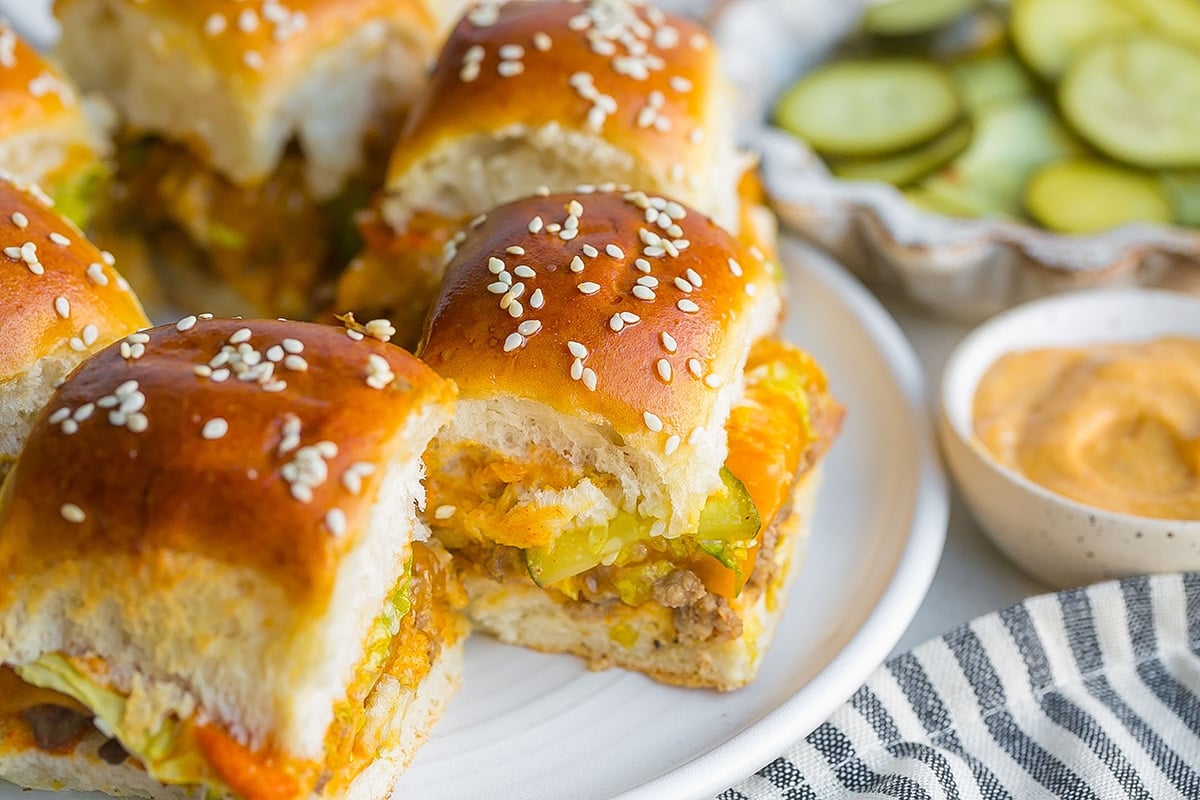 Why You'll Love Copycat Big Mac Sliders
If you love the original McD's Big Mac you're going to be a huge fan of these mini Big Macs.
Classic – This simple dish is a close replica of the classic flavor you'd get from the burger we all love.
Easy– No patting together burgers or cooking individually is necessary. Just pile that ground beef on and add all the toppings before baking.
Convenient – Since you can make it in a big batch it's perfect for parties and game day.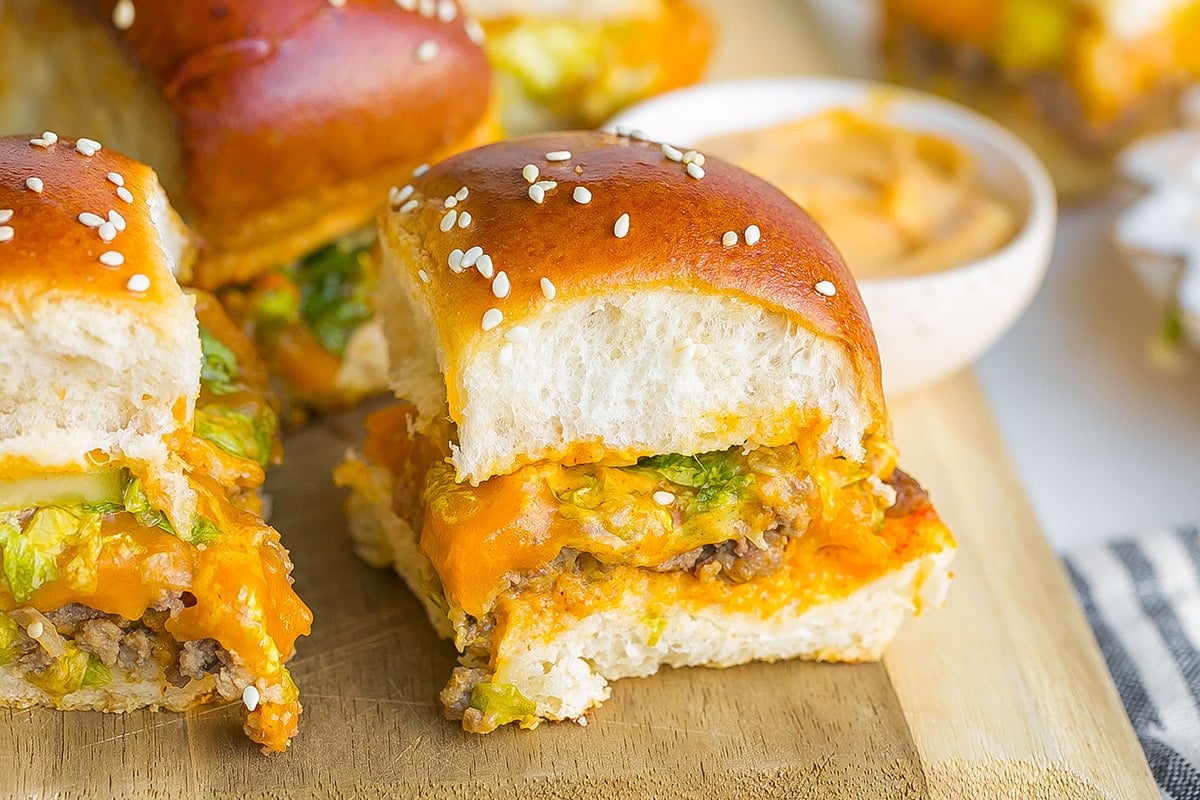 Ingredients
Lots of the ingredients to make the mini slider version of this classic burger are already in your pantry. The ones that aren't are easy enough to grab at the local grocery store or farmers market.
Burgers
Lean ground beef – Using lean ground beef will minimize the need to drain excess grease. Of course you can use ground turkey or ground chicken too.
Yellow or white onion – Dice the pieces so that they're very small.
Salt – Typical fine sea salt will work well for this.
Black pepper – Just shake it from your table shaker.
Garlic powder – No need to get fancy with mincing garlic — powder will do the trick.
Onion powder – Just grab this pantry staple and shake it in.
American or sharp cheddar cheese – We like using deli-sliced American cheese slices but cheddar will work, too.
Shredded lettuce – It can't be like the classic without lettuce that's shredded. Buy it already prepared at the store or just grab some iceberg lettuce and slice it up.
Sliced pickles – Dill are the preferred variety for this but you can use bread and butter if it's your personal preference.
Salted Butter – Melt the butter in the microwave in intervals so that it's easy to brush on top of the bread.
Sesame seeds – These are optional but they add the classic flair and flavor to the sliders.
Slider buns or Hawaiian rolls – Choose whichever you prefer (or is available) for your big mac sliders. Plain dinner rolls will work, too.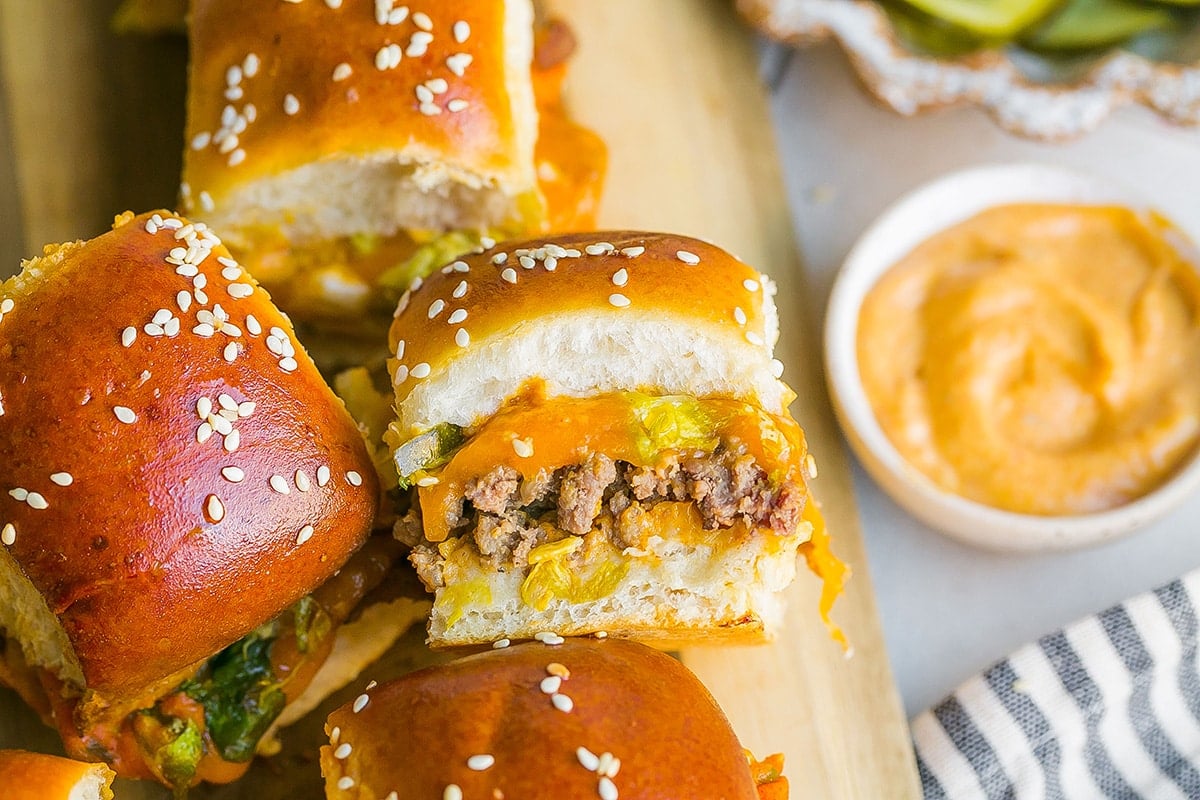 Sauce:
Mayonnaise – Use whichever brand you prefer, but to stick to classic flavors avoid any that are sweet.
Relish – Grab your favorite jar of sweet relish to make this sauce.
Mustard – Standard yellow mustard is all you need.
Paprika – This adds a touch of sweetness, peppery flavor, and color.
Ketchup – No need to be picky about the brand — just use what you have, or your favorite variety.
Onion powder – Grab this staple from your pantry or find it in the spice section.
Garlic powder – Of course you need garlic flavor. Add it with this.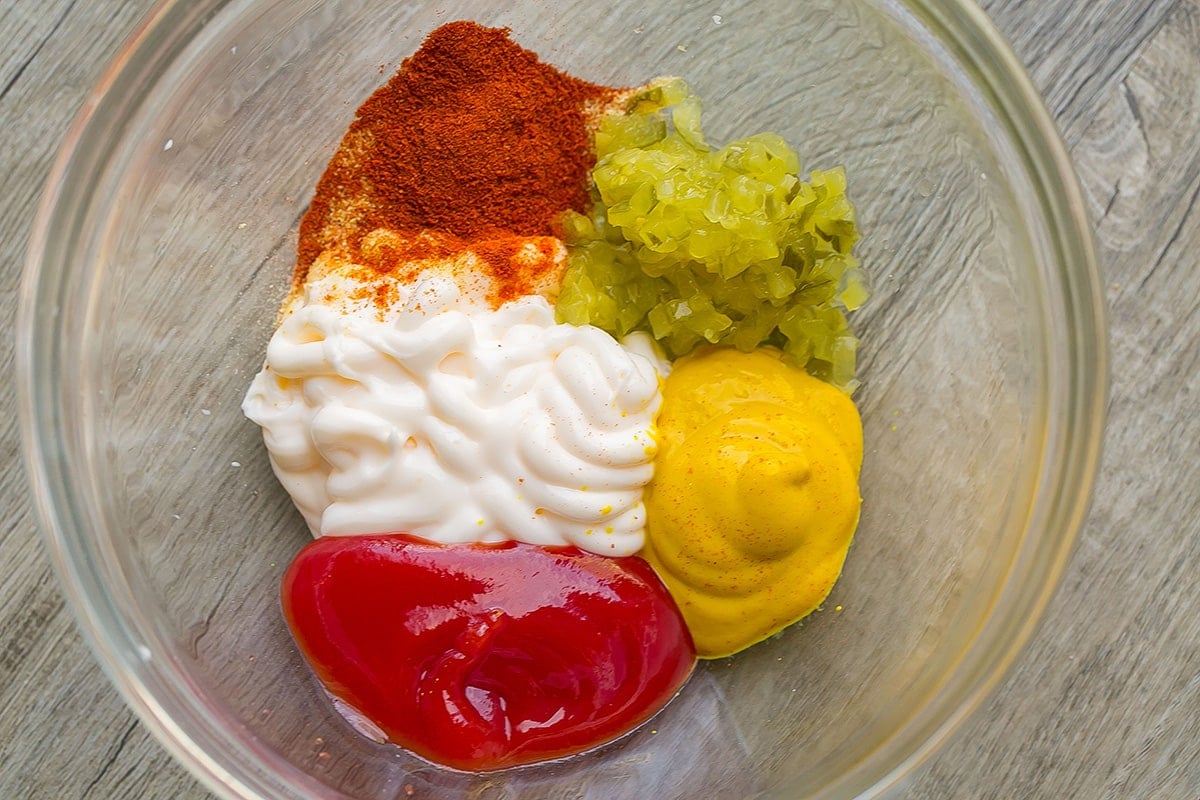 How to Make this Big Mac Slider Recipe
In just a few quick steps you'll have a pan full of delicious, easy big mac sliders that everyone will want to scarf.
Brown Beef. After preheating a large skillet, add ground beef, half of the diced onion, salt, pepper, garlic powder, and onion powder. Brown the beef completely.
Prep Rolls. With a serrated knife, cut the attached rolls in half lengthwise (do not separate) and place the bottom buns in a prepared baking dish or on a baking sheet. Using a serrated knife will easily cut the bread without squashing it down.
Make Sauce. Place all of the Big Mac sauce ingredients in one mixing bowl and mix until completely combined. Generously spread the sauce onto the bottom of the sliced rolls.
Assemble the Sliders. Spoon the cooked ground beef mixture onto the rolls and top with sliced cheese, lettuce, and pickles. Top the beef mixture with a small amount of sauce before adding the top buns.
Baste. Use a brush to apply the melted butter to the top of the buns and sprinkle with sesame seeds.
Cook. Place in a preheated oven and bake until the cheesy is melty and the sliders are hot.
Cool. Allow to cool briefly before cutting and serving.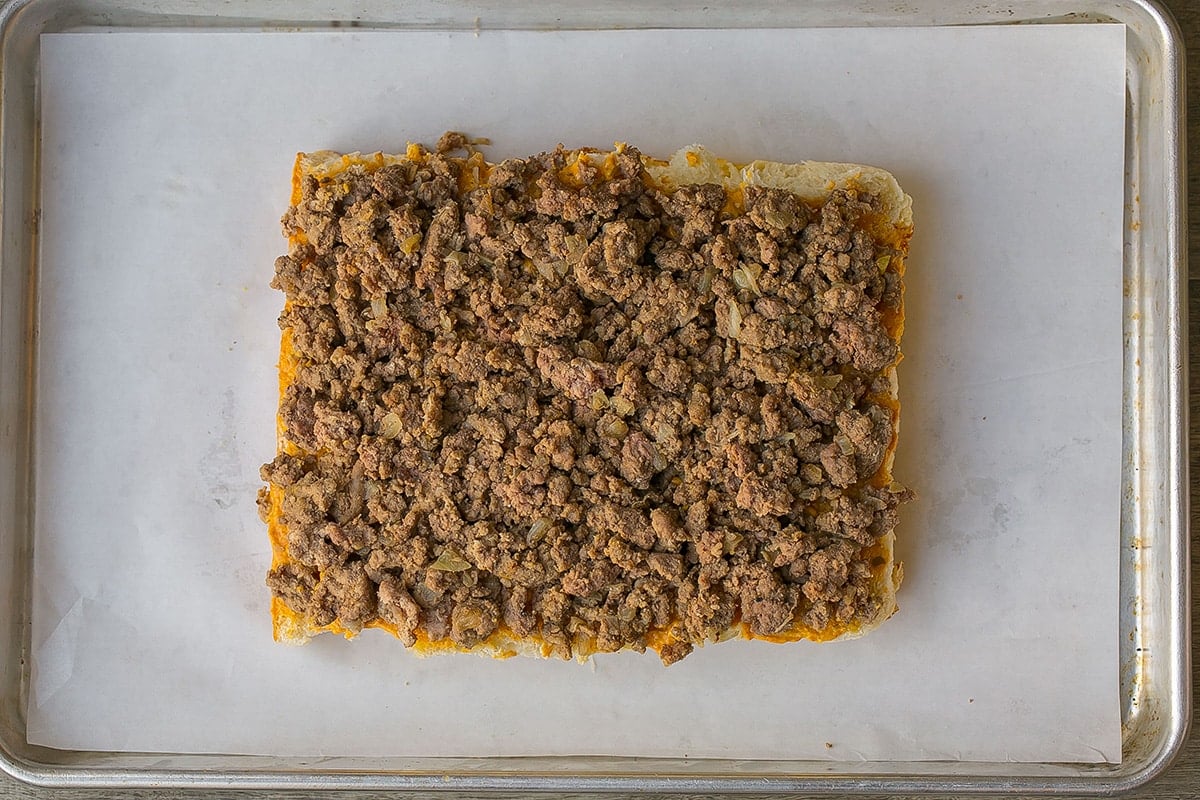 What to Serve with Mini Big Mac Sliders
You can absolutely serve anything from potato chips to tater tots but the absolutely natural choice to serve with sliders that are replicating a Big Mac is a plate full of crispy french fries. Go traditional with air fryer french fries or dress them up and make ranch bacon cheese fries, parmesan truffle fries, or garlic cheese fries.
You can also mix sweet fries with your savory burgers by offering up brown sugar cinnamon sweet potato fries. Or, whip up a tasty veggie alternative with zucchini fries.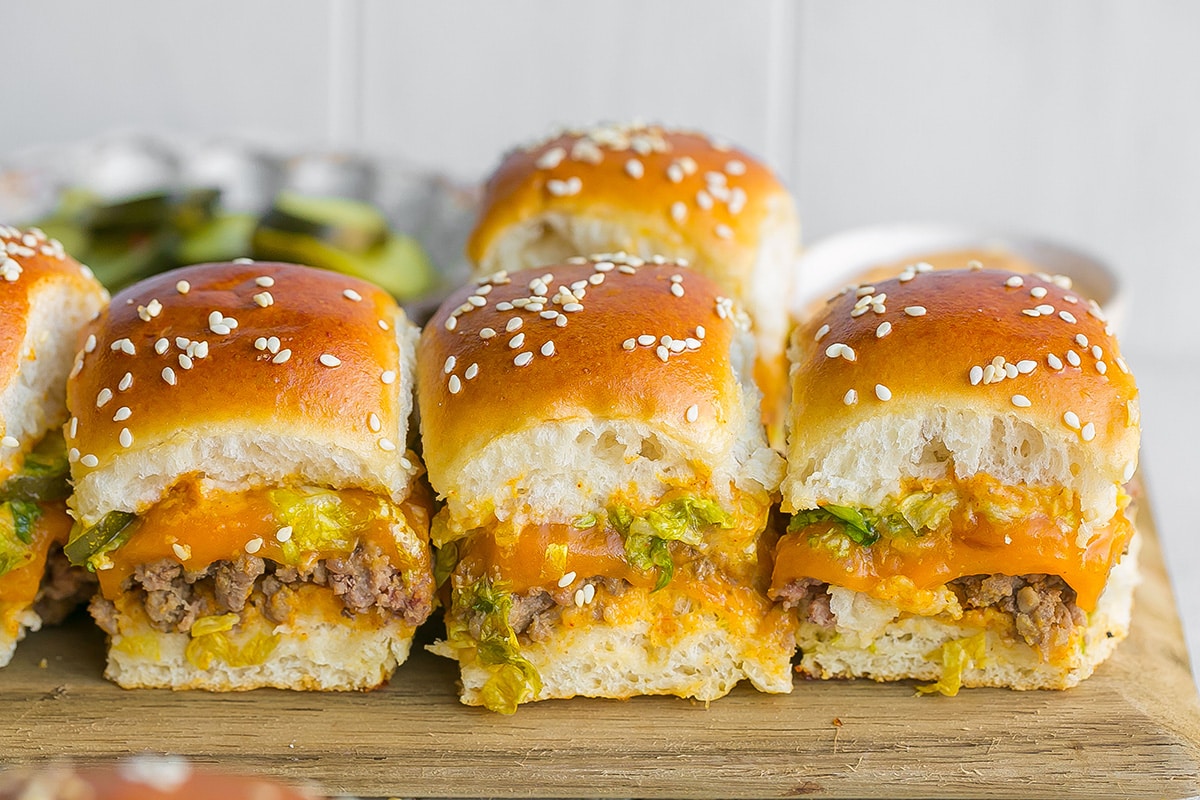 Big Mac Sliders Variations
We like to keep these semi-copycat types of recipes simple so they taste close to the original but you can put your own creative spin on things.
Meat – Use any other ground meat from ground pork to ground chicken or ground turkey or sausage. You can also use your favorite plant-based alternative.
Dressing – Instead of all of the other ingredients in the sauce, mix some Thousand Island dressing or French dressing into the mayonnaise for a similar sauce.
Seeds – Sesame seeds are traditional but you can use poppy seeds, too.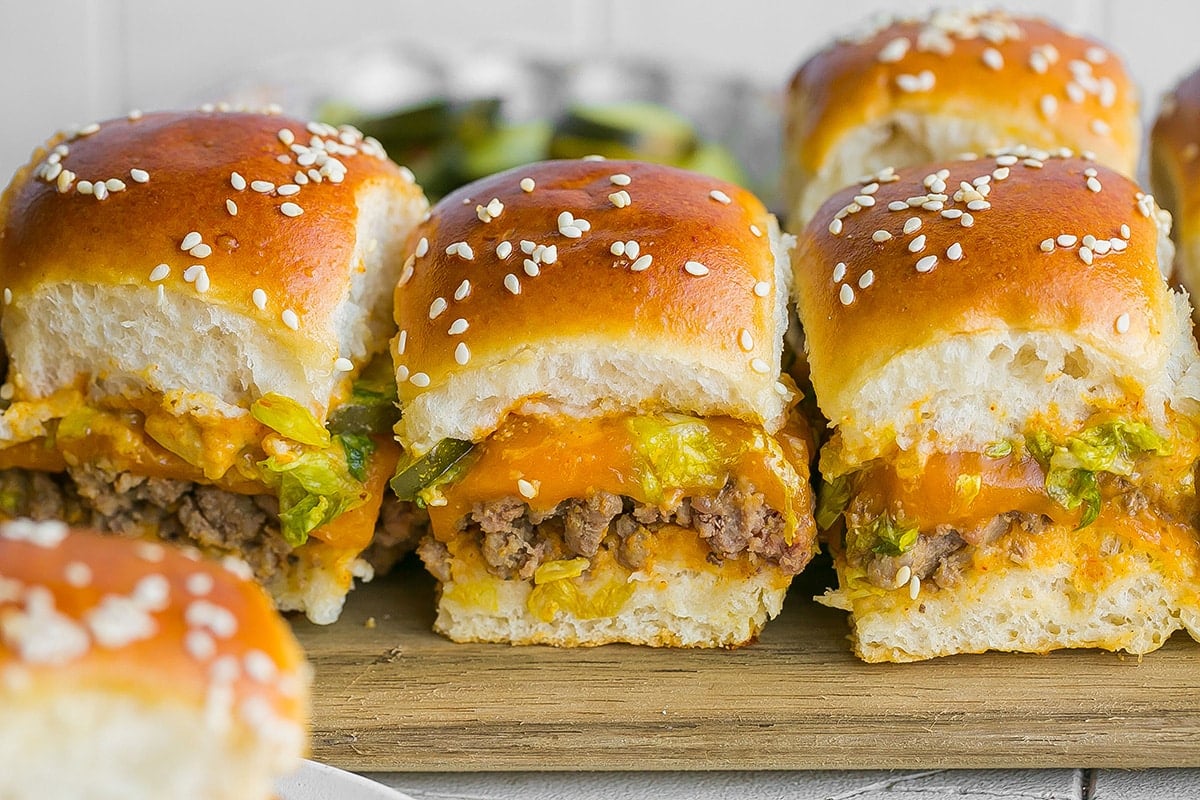 Storage and Freezing
Make the meat ahead and then reheat before preparing the sandwiches. Keep it refrigerated for up to 24 hours in an airtight container.
Refrigerator: You can store leftover Big Mac sliders in the fridge for 2-3 days wrapped in plastic wrap or aluminum foil or kept in an airtight container or ziploc bag.
Freezer: We do not recommend freezing Big Mac sliders.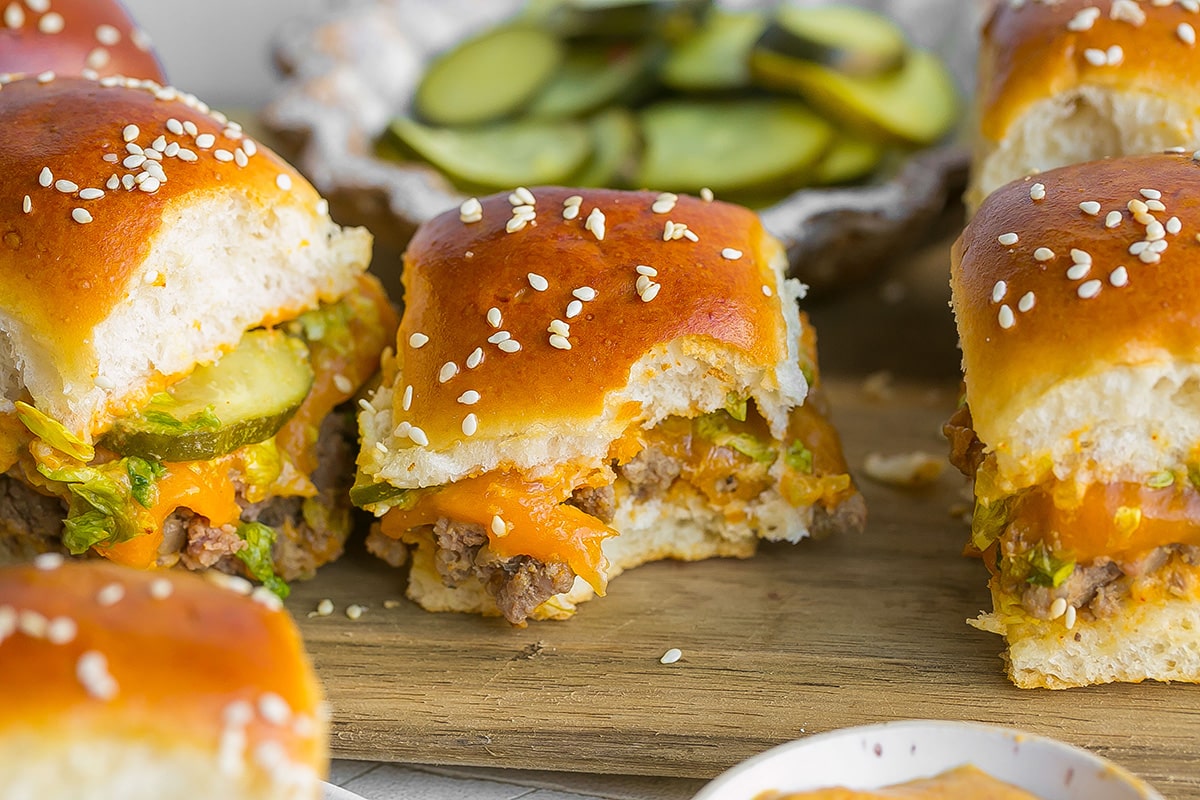 Common Questions About Big Mac Sliders
Is Thousand Island dressing the same as Big Mac Sauce?
Nope! These two are different though they have similar flavors.
Are sliders just mini burgers?
Sliders in the U.S. have become known as really any small version of a sandwich. Whether it's burgers, pulled pork, or any other popular sandwich, they can be recreated in a smaller form as a slider.
Does Hidden Valley Secret Sauce taste like Big Mac Sauce?
The rumor is, according to online reviews, that this is a solid copycat version of McD's special sauce that you can buy at major stores like Walmart. Feel free to swap our sauce recipe out for it and let us know.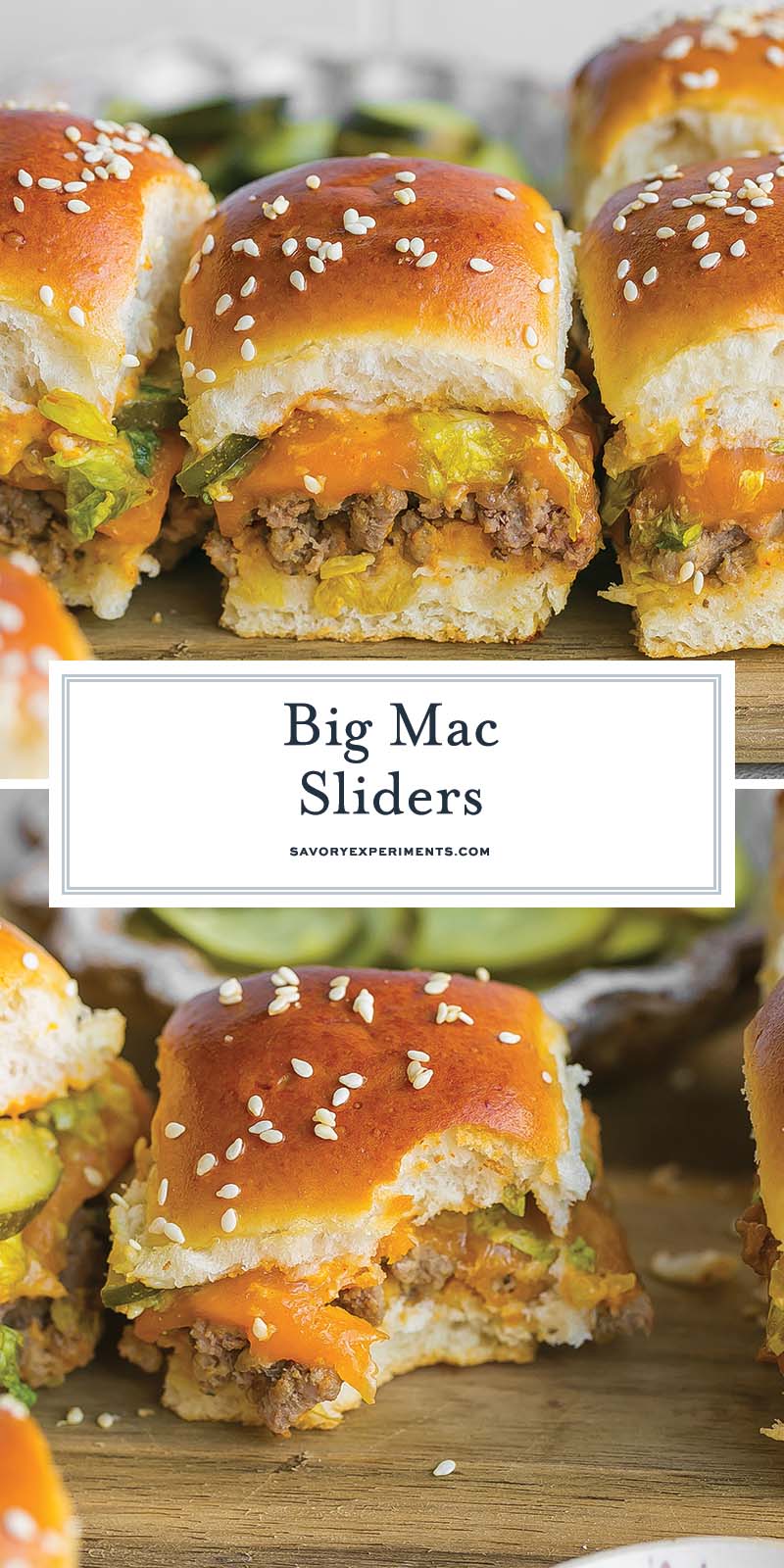 Other Fun Sandwiches and Sliders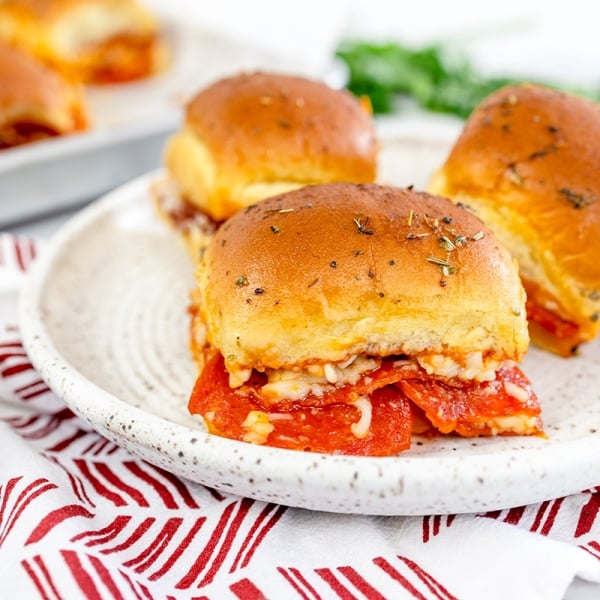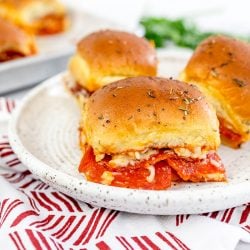 Pizza Sliders
Cheesy Pizza Sliders are easy to make with just 4 ingredients and the best for parties. Loved by kids and adults!
See The Recipe!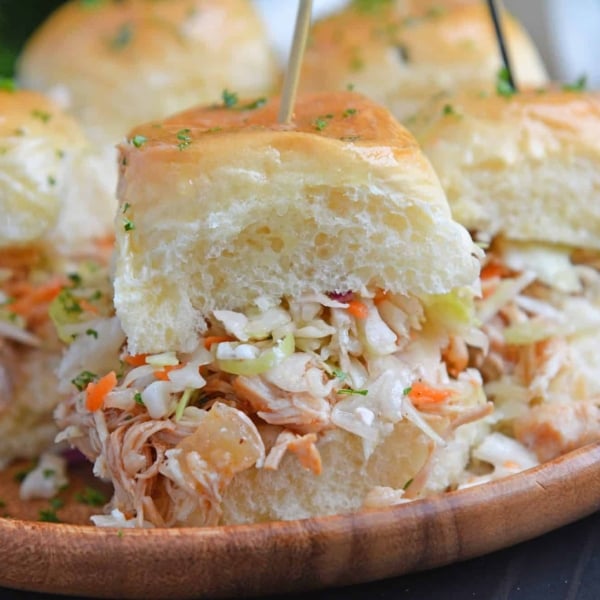 BBQ Chicken Sliders
BBQ Chicken Sliders are made with 5 unique layers making them go above and beyond any other sandwich recipe. Fabulous for parties, potlucks and game day and can be served hot or room temperature!
See The Recipe!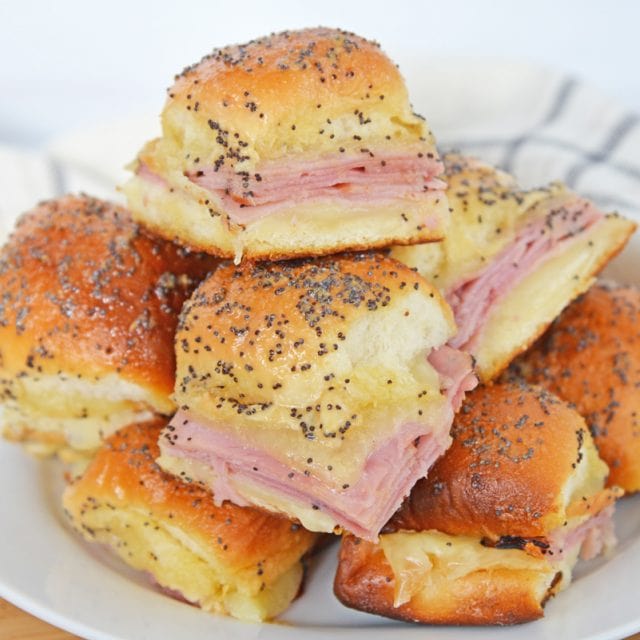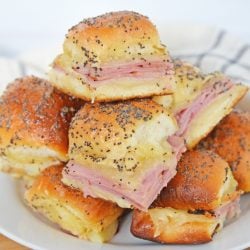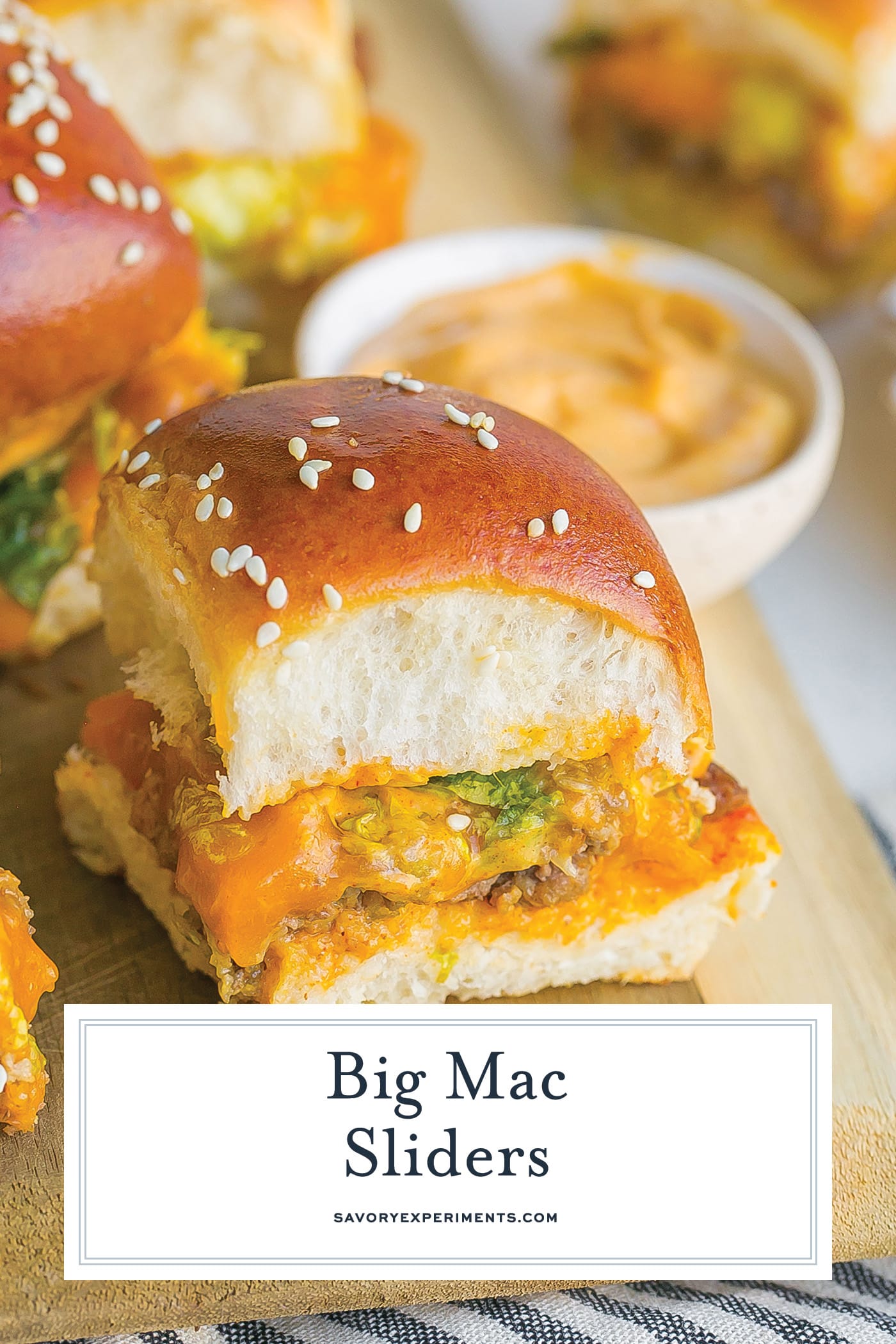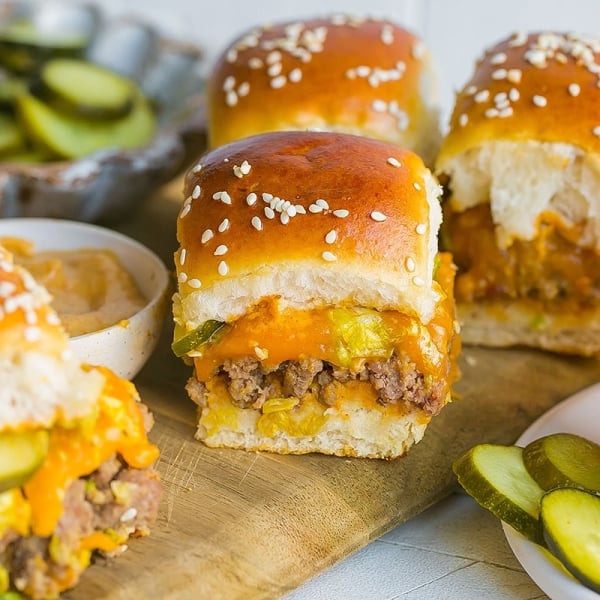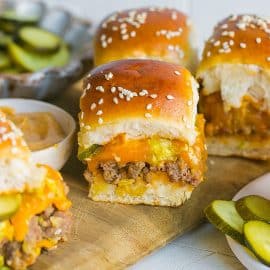 Big Mac Sliders
These easy Big Mac sliders combine all of the flavors and textures of the classic McDonald's burger in a simple recipe great for a crowd!
Instructions
Preheat the oven to 350°F. In a large pan on medium-heat, add the ground beef, half of the diced onion, salt, pepper, garlic powder, and onion powder. Cook until the beef is no longer pink and cooked through, about 5-7 minutes.

Carefully cut the rolls in half lengthwise with a serrated or sharp knife. Set aside.

In a small bowl, combine the mayo, relish, mustard, ketchup, onion powder and garlic powder and mix. Spread half of the sauce on the bottom layer of the rolls.

Top with the cooked beef, sliced cheese, lettuce, and pickles. Drizzle the remaining sauce on top and place the top half of bread rolls on the sliders.

Brush the melted butter on top of the sliders and then top with sesame seeds (optional).

Bake the sliders for 10-15 minutes or until the cheese has melted. Let sliders cool for a few minutes and then cut into 12 sliders.

If you've tried this recipe, come back and let us know how it was in the comments or star ratings.
Nutrition
Calories:
139
kcal
,
Carbohydrates:
3
g
,
Protein:
8
g
,
Fat:
10
g
,
Saturated Fat:
4
g
,
Polyunsaturated Fat:
2
g
,
Monounsaturated Fat:
3
g
,
Trans Fat:
0.3
g
,
Cholesterol:
35
mg
,
Sodium:
535
mg
,
Potassium:
157
mg
,
Fiber:
1
g
,
Sugar:
1
g
,
Vitamin A:
283
IU
,
Vitamin C:
1
mg
,
Calcium:
121
mg
,
Iron:
1
mg