Every home cook should have a Classic Deviled Egg recipe in their repertoire. Basic ingredients include hard boiled eggs, of course, mustard, vinegar, salt, pepper and nothing more.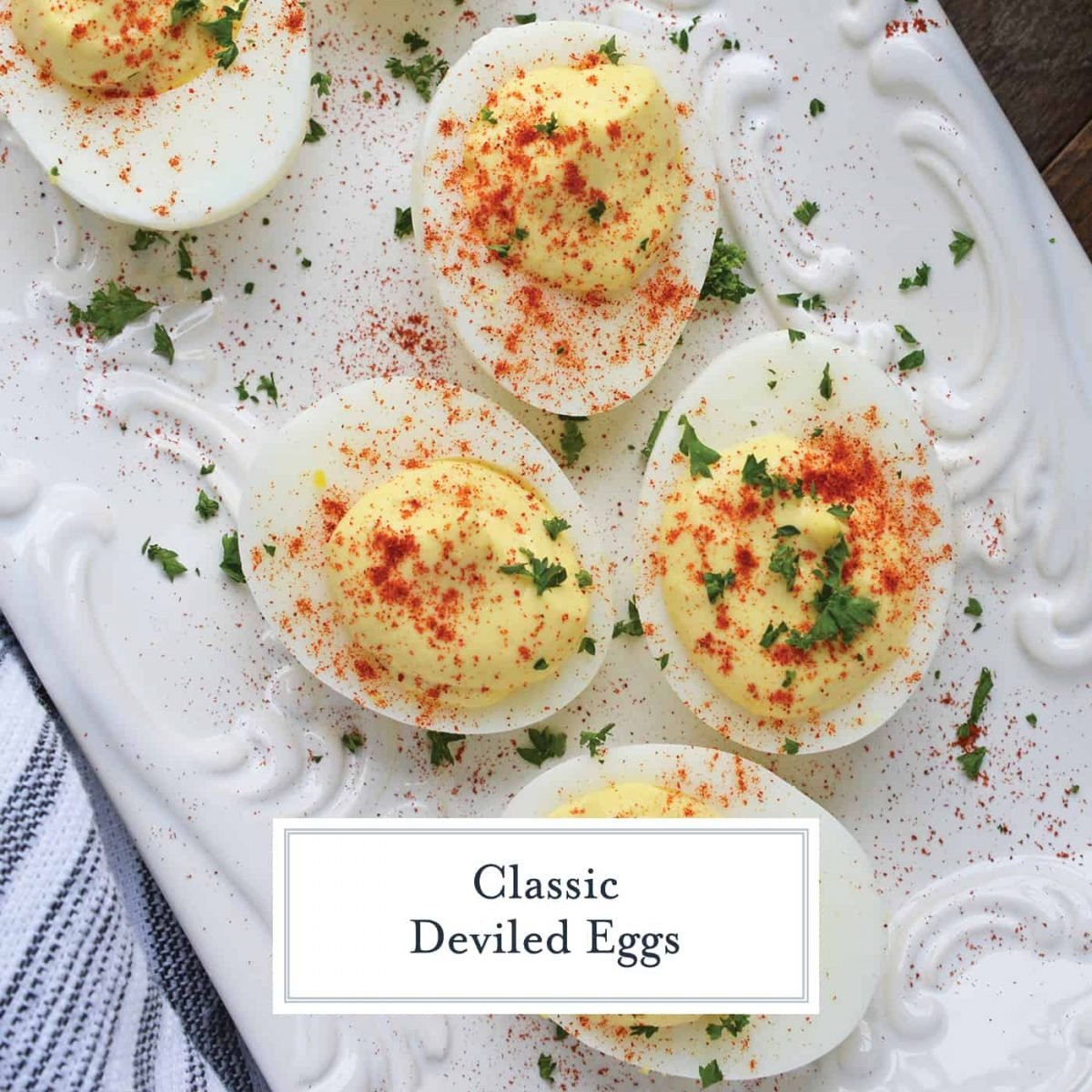 This is southern Classic Deviled Egg recipe. An easy, make ahead appetizer using hard boiled eggs and just a handful ingredients.
Oh, deviled eggs. Can you beleive I didn't start making them or eating them until I was an adult? I'm not even sure why, but the smell, the look… everything about them turned me off.
But now I'm in love and the multitude of ways they can be prepared never leaves me bord. But before you go getting all fancy, you should be able to prepare a basic deviled egg.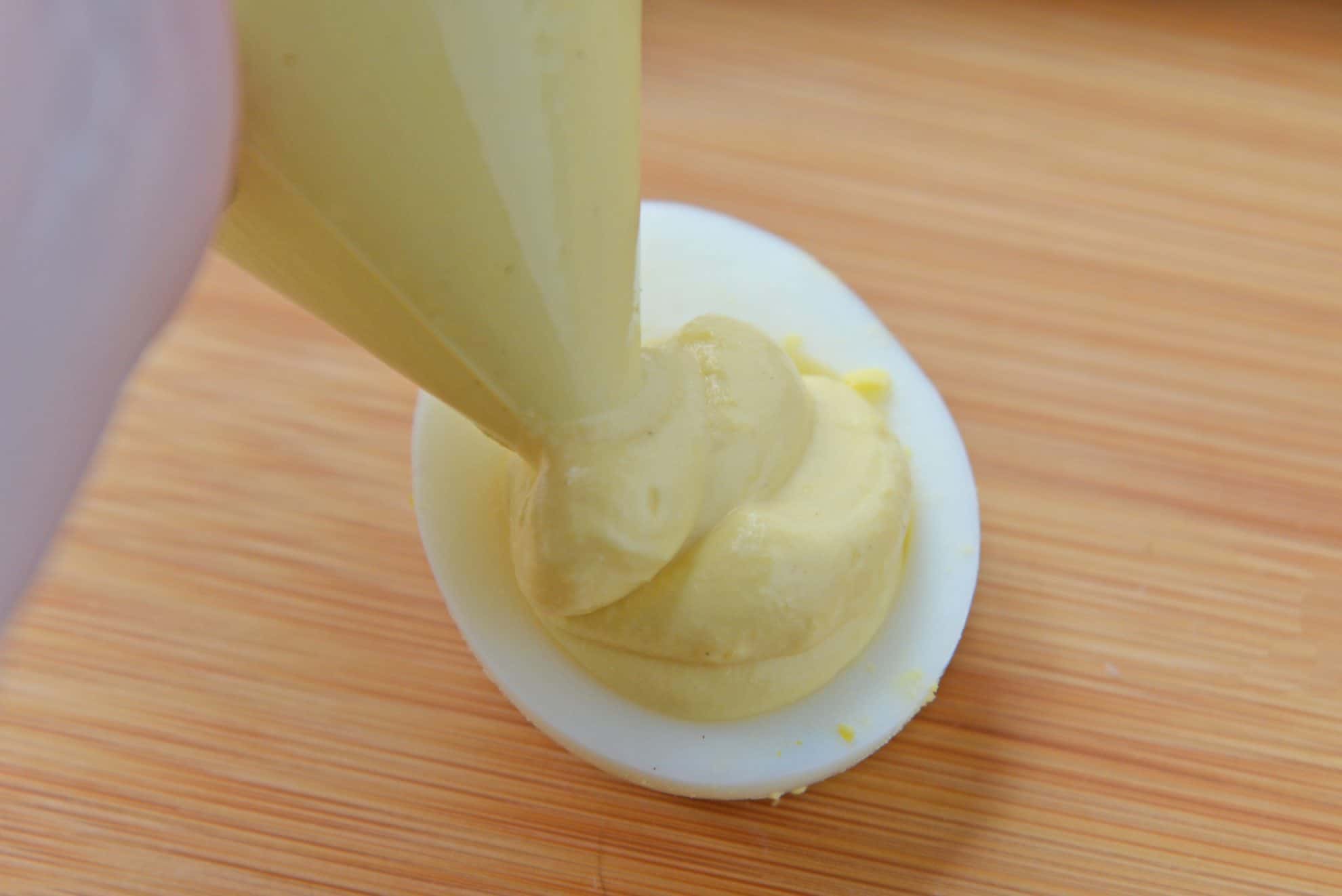 Basic deviled eggs ingredients include mayonnaise, mustard, vinegar, salt, pepper and smoked paprika. The biggest issue with perfect deviled eggs starts with the actual egg.
PRO TIP: Hard boiled eggs can be the most difficult part of making this recipe. Lucky for you, I have 3 foolproof ways to make them! Here are instructions on how to make hard boiled eggs on the stove, in the oven, the Instant Pot and now the Air Fryer!!
The next way to customize your eggs is with the creamy base. Most people use mayonnaise, some Miracle Whip, but I like to use a plain Greek yogurt or even mashed avocado.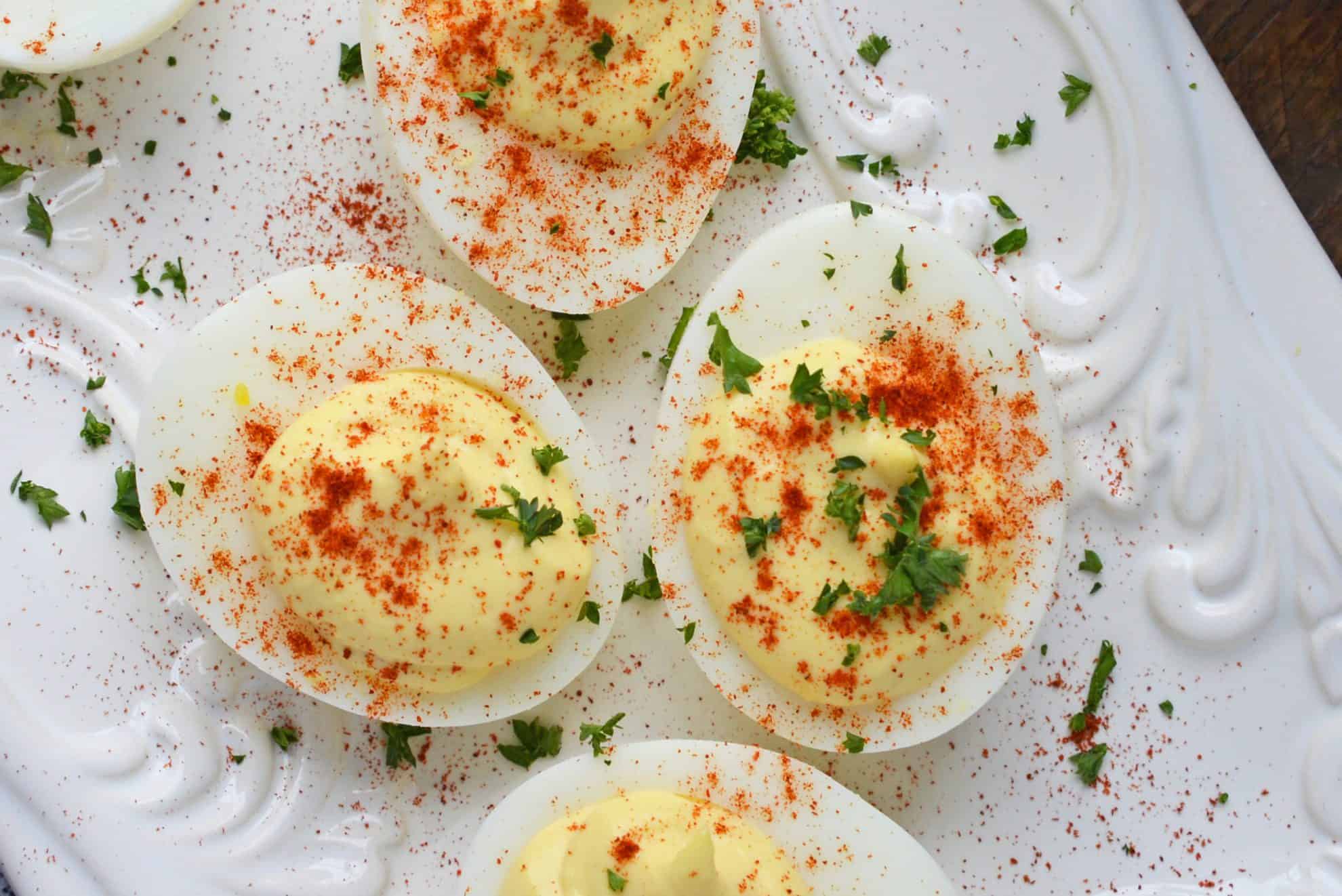 I also hit on the key word here: CREAMY. The most common problem with deviled egg filling is that it is lumpy and clumpy.
Here are my best tips on how to get smooth and creamy deviled egg mix:
ONE. Mix egg yolks before adding any other ingredients. Use a cheese grater, a ricer or a a potato masher to get egg yolks as fine and smooth as you can.
TWO. Add other ingredients slowly, starting with mayonnaise or other creamy base. If you add watery ingredients first, then it just flops around and never fully creams.
THREE. Use an electric mixer or stand mixer. No matter what you say, hand and arm strength will never beat a small machine.
FOUR. While it seems tempting, don't overmix. It tends to get gummy.
FIVE. Beyond the egg yolk, you will be adding another creamy texture. Most people add bottled mayonnaise, but homemade mayonnaise is SO much better.
Other options include plain yogurt, avocado, creme fraiche and some people even use freshly whipped cream.
Next, add some fun! Basic yellow mustard is fine, but Dijon, a horseradish, spicy mustard, brown, beer, wine laced or even honey Dijon will give your eggs some edge.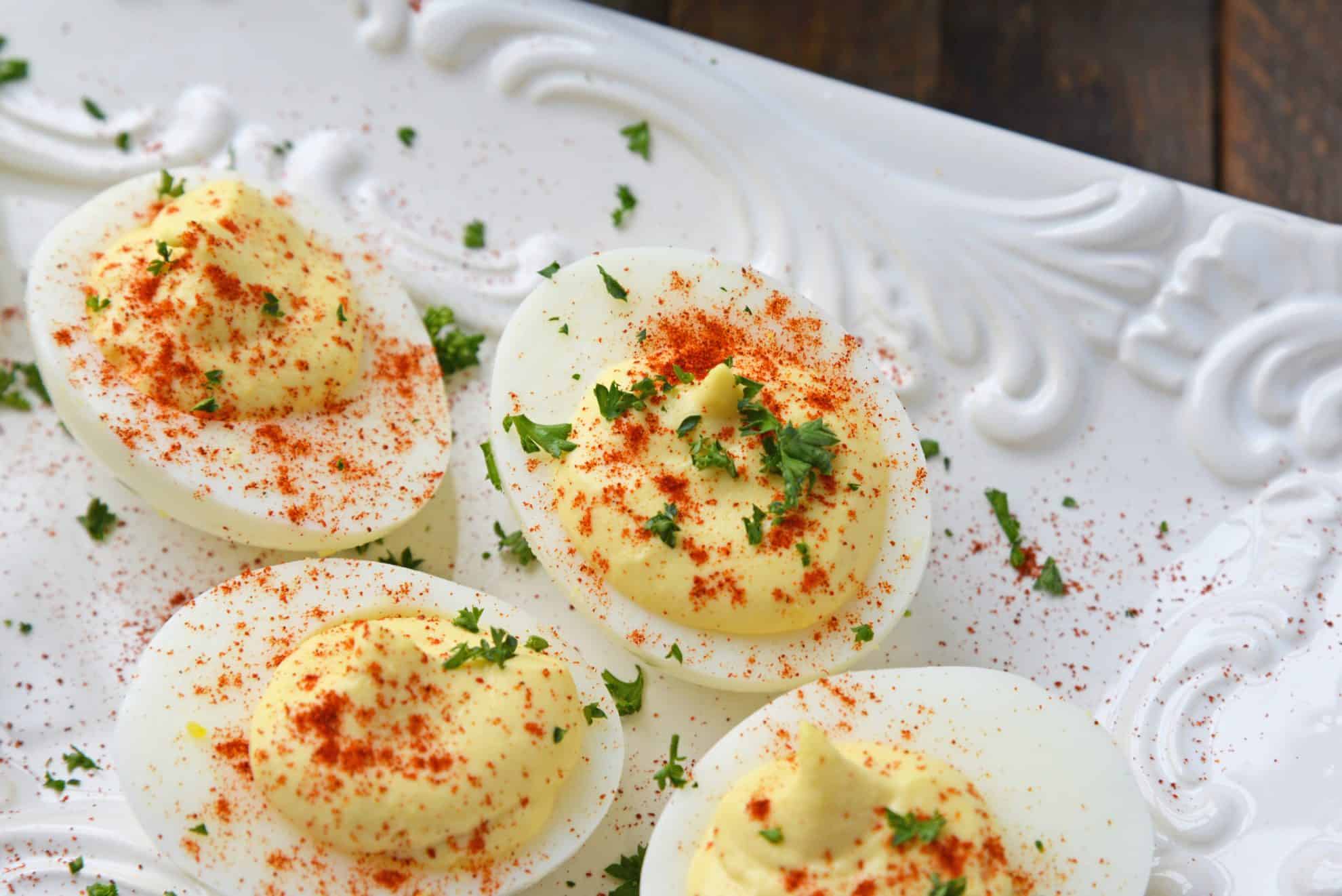 Add some crunch to your deviled eggs. Bacon, chives, whole grain mustard, seasoned bread crumbs will all add that texture.
Make sure to add them to the top only and right before serving so they don't get soggy.
Garnish with variety and color. Savory jams, minced herbs and even smoked salmon or caviar will all give your deviled eggs an edge.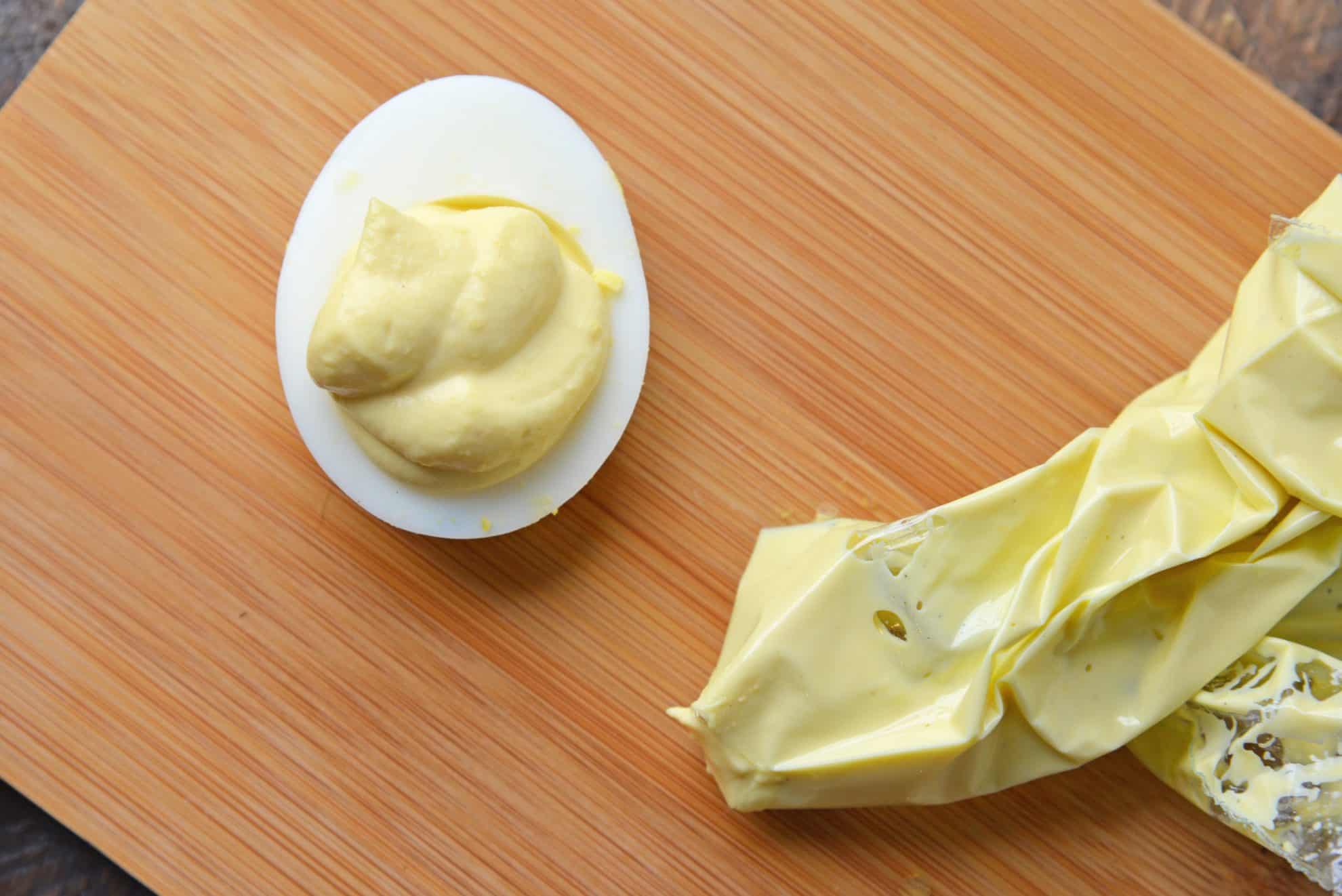 Paprika is the most customary and pretty, but I do recommend using a smoked paprika to get the most flavor. What is the difference between regular paprika and smoked paprika?
Plain paprika is just crushed dried chilies (mostly mild), while smoked paprika uses chilies that are smoked with oak, dried and then crushed. This lends a much stronger and earthy flavor and scent.
PRO TIP: Don't use the sprinkle function on the spice jar. For even, non-clumping sprinkling, rub between your palms to get out any big clumps, then sprinkle from 8-10 inches above. Don't worry about getting some on the plate, it adds character.
After making these pretty one-bite beauties, you'll want to make sure they are displayed properly.
You can invest in a nice deviled egg platter or you can use any platter you'd like and make sure they stay put by slicing off a small piece of the whites so they lay flat or even using a dab of precious filling as glue.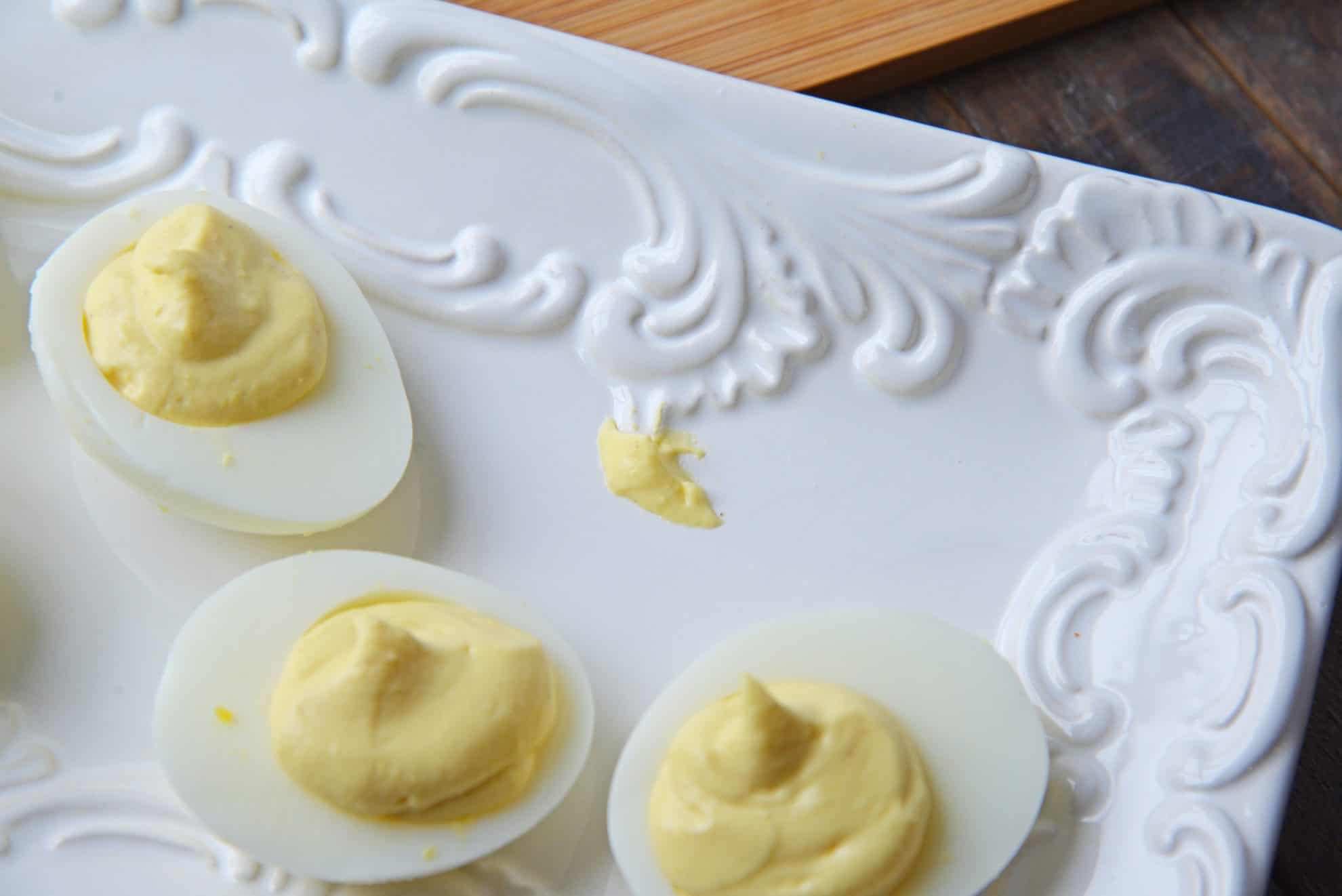 You can also try cutting them sideways inside of lengthwise.
Next, you'll need to fill the whites. You can use a small scoop, spoon, pastry bag or even just a plastic bag with the corner snipped off. use just the snip or even a decorative tip.
Use a variety of cuts, toppings and fillings to make a colorful deviled egg serving plate!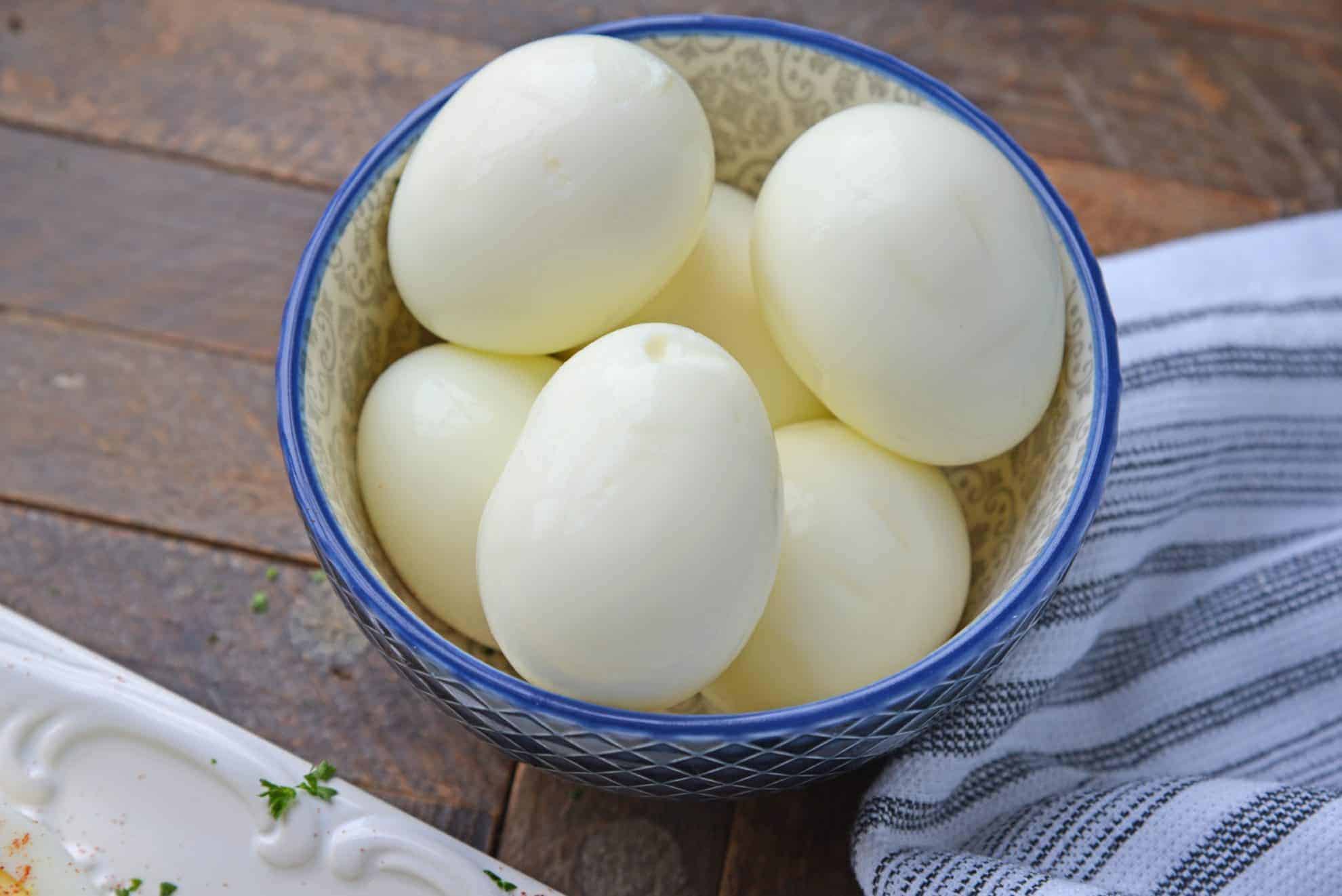 Have leftover Deviled Eggs? Make my Deviled Egg Macaroni Salad!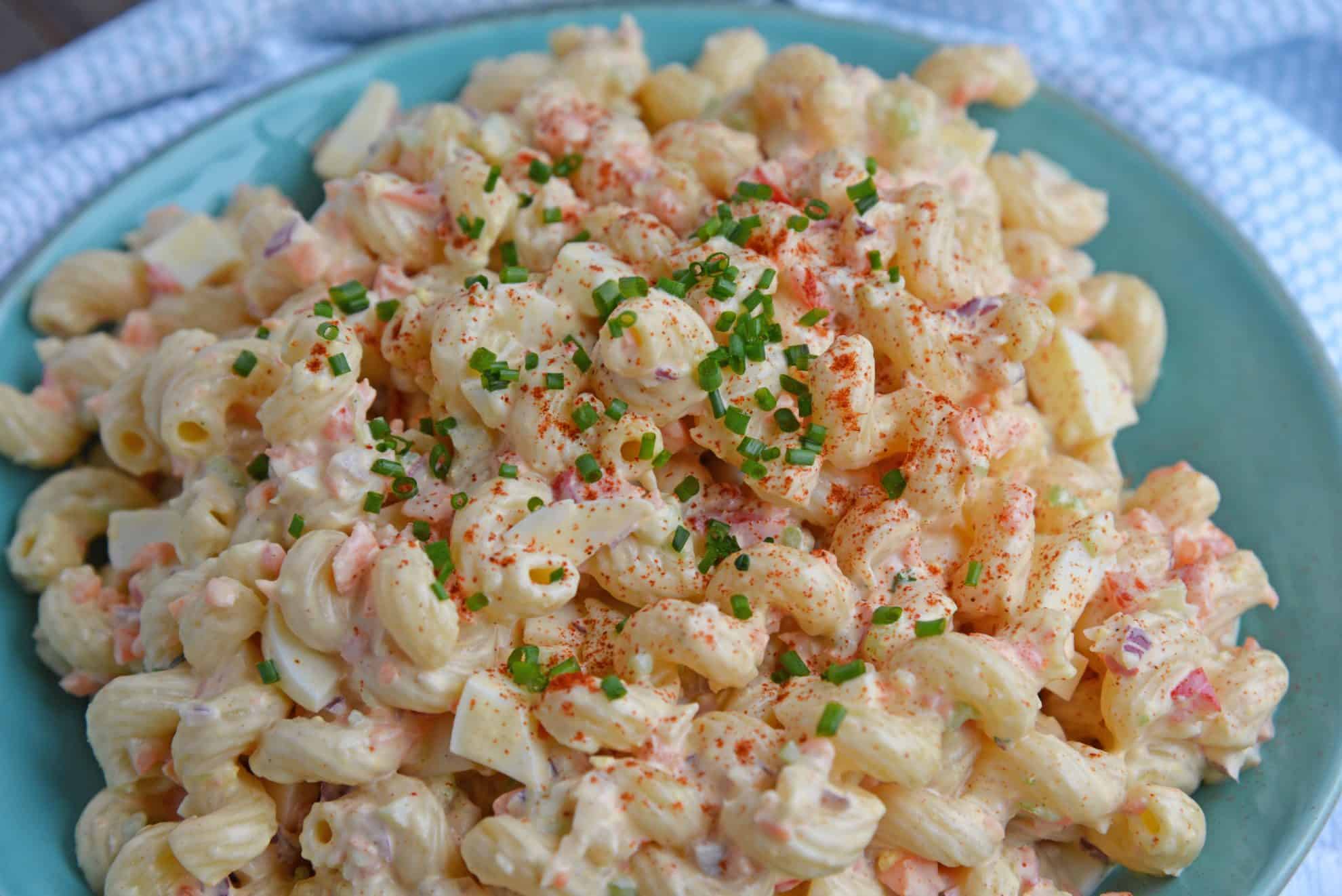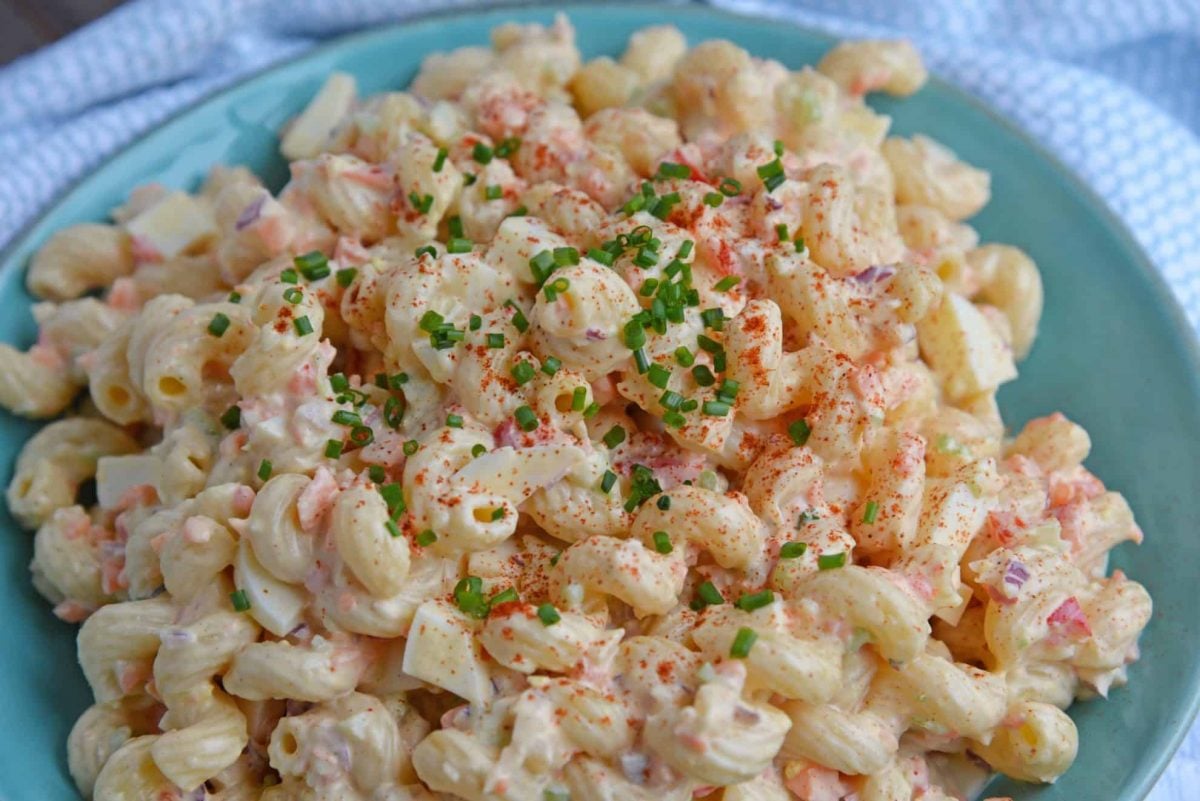 You might also enjoy these recipes: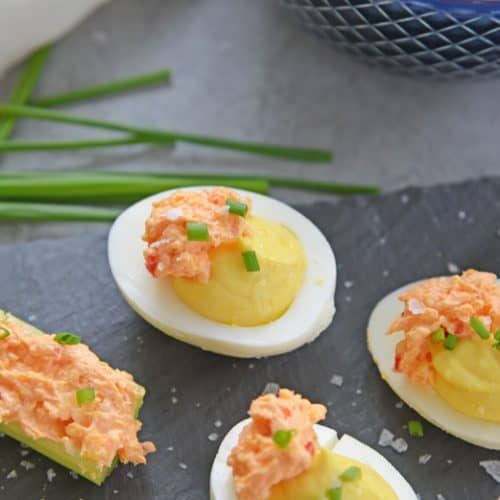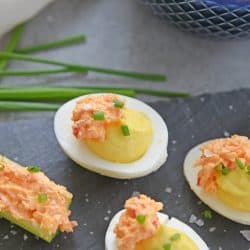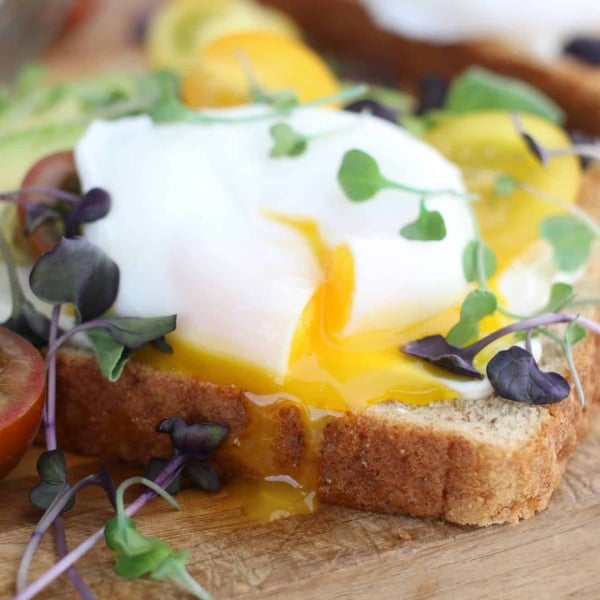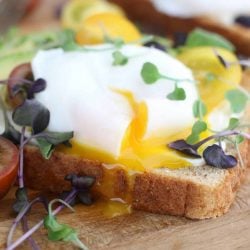 How to Poach an Egg
Poached eggs aren't difficult and can actually be done easily at home. It's time to break free and start making these eggs right in the comfort of your own kitchen.
See The Recipe!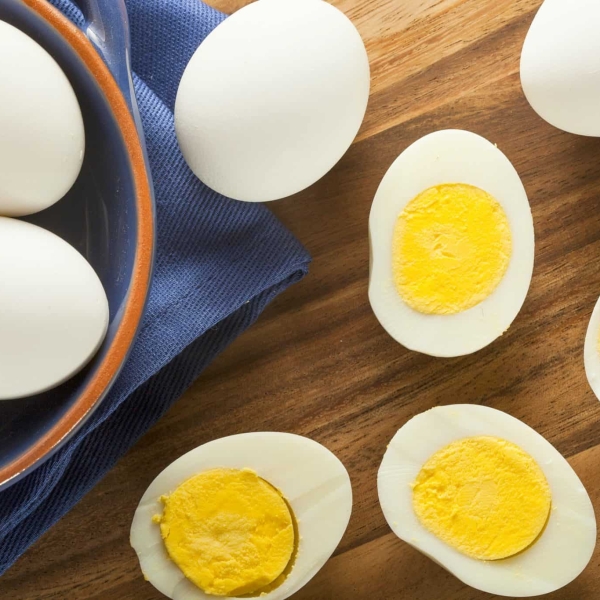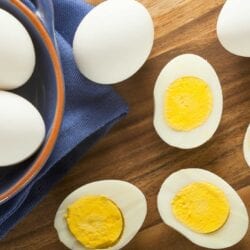 Instant Pot Hard Boiled Eggs
For perfect hard boiled eggs every time, you have to try these Instant Pot Hard Boiled Eggs. Making eggs in the Instant Pot is the easiest way to get the best, easy-to-peel hard boiled eggs you've ever had!
See The Recipe!
Tools for making deviled eggs:
Stand Mixer– I lived for years without one and I can tell you with 100% confidence that life with one is easier and it is worth the investment. After grating the yolks, I find using a stand mixer to be the best way to cream them out even further.
Deviled Egg Serving Tray– You can use a fancy deviled egg serving tray, cut a small piece off the bottom to make them flat or pipe out a smidge of deviled egg filling onto the serving platter to stick your egg too.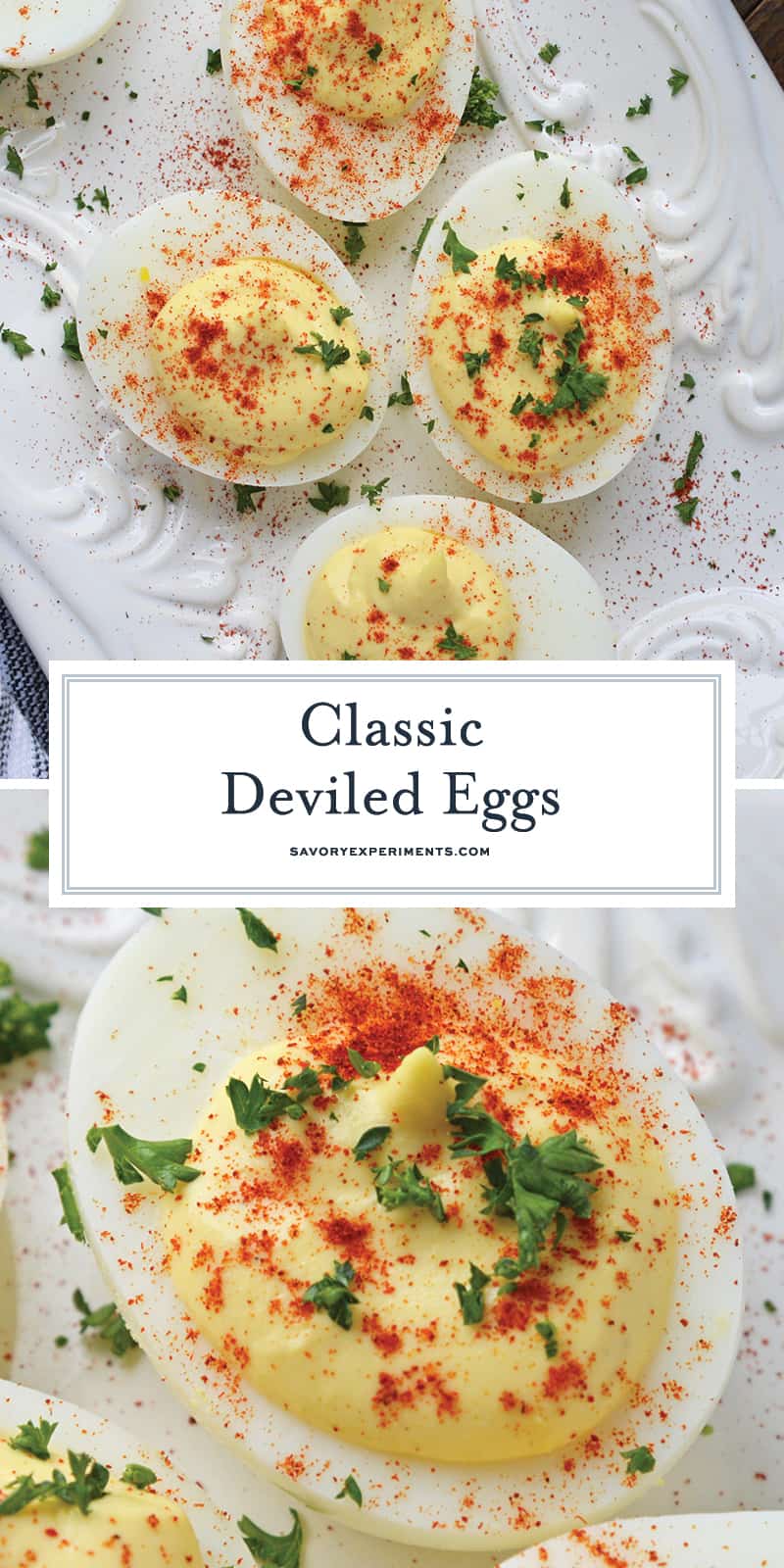 Questions you might have about how to make deviled eggs:
What is if my deviled egg filling is too watery or loose? Add instant mashed potatoes! It is my secret weapon. Shh… you don't have to tell anyone!
Can you freeze deviled eggs? I don't recommend freezing deviled eggs.
Are deviled eggs gluten free? I can't speak for all deviled eggs, but this particular recipe is gluten free.
Are deviled eggs keto friendly? I am no keto expert, but from what I know, this is a keto deviled egg recipe.
Are deviled eggs diary free? This is a dairy free deviled egg recipe. Mayonnaise is commonly thought to be dairy for some reason, but it is made from emulsified oil and eggs, neither of which are dairy products.
Can deviled eggs be made ahead of time? You can make boil the eggs, make the deviled egg filling and prep your garnishes the night before, but I highly recommend waiting until it is time to serve to assemble them.
How long can deviled eggs sit out at room temperature? This brings up an interesting debate. Some people prefer their deviled eggs to be very chilled and other like ones that are more room temperature.
However, according to the CDC, you should only leave them out of the refrigerator for up to 2 hours.
How long do deviled eggs stay good? You can store deviled eggs in your refrigerator for up to 4 days.
How did deviled eggs get their name? Deviled foods got their name for providing heat or spice. The paprika made them "deviled" however most paprike is pretty mild in flavor.
How many deviled eggs should I plan per person? Keep in mind that each egg will produce two deviled eggs. Some people won't eat any at all, but others will eat more than a typical serving. I like to prepare 2-3 per person.
Can I make deviled eggs without mustard? You can omit the Dijon mustard, but it does add some of the flavor. I recommend compensating with other spices and flavors to make sure your deviled eggs aren't bland.
What relish do you use for deviled eggs? The short answer is any relish you want! Sweet pickle relish or a dill, doesn't matter. The only thing that matters is what you want to eat.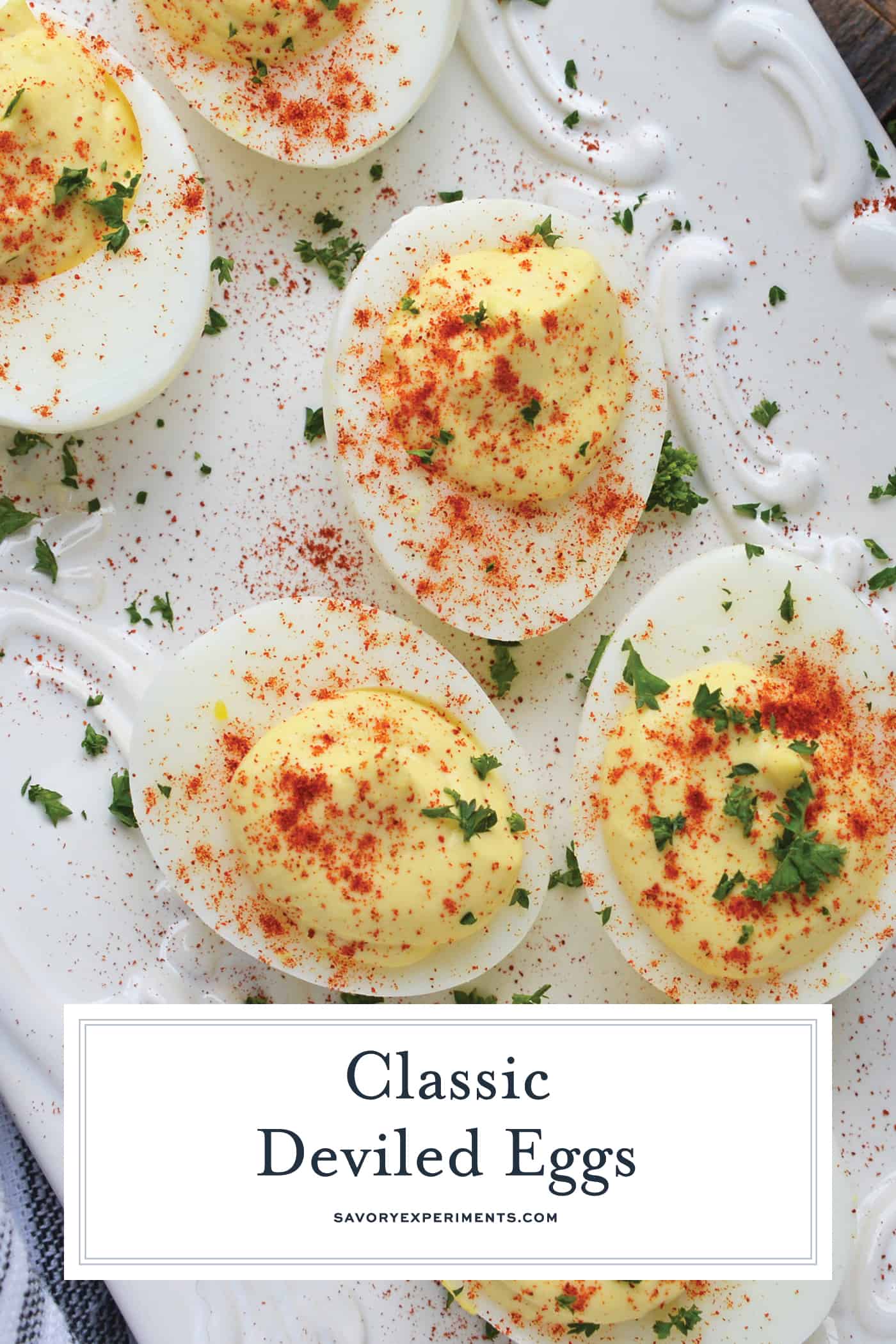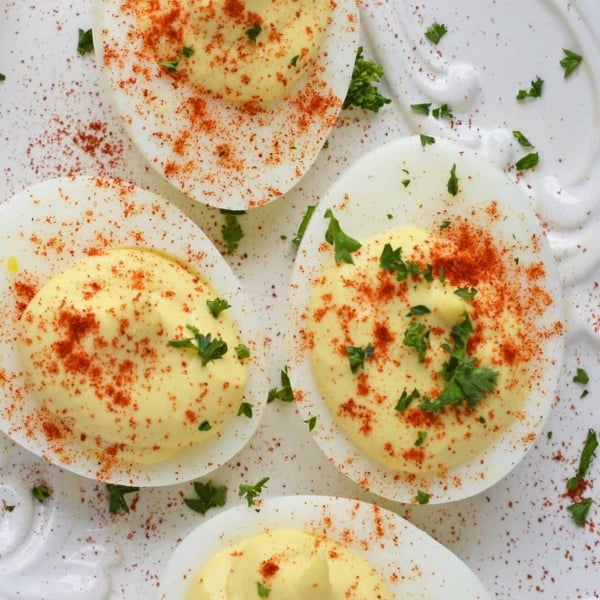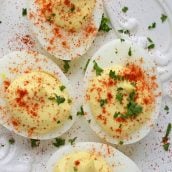 Classic Deviled Eggs
This is southern Classic Deviled Egg recipe. An easy, make ahead appetizer using hard boiled eggs and just a handful ingredients.
Instructions
Cut your hard boiled eggs in half, either lengthwise or widthwise. Using a spoon, remove egg yolks and place them in a separate bowl.

Make egg yolks as smooth as possible using a ricer, potato masher, grater or just a fork.

Using a stand mixer or electric hand mixer, slowly add mayonnaise, whipping between each addition.

When fully incorporated, add white vinegar, Dijon mustard, Kosher salt and white pepper.

Fill egg whites as desired.

Top with smoked paprika and minced parsley for garnish. Refrigerate until ready to serve.

If you've tried this recipe, come back and let us know how it was!
Nutrition
Calories:
70
kcal
,
Protein:
3
g
,
Fat:
6
g
,
Saturated Fat:
1
g
,
Cholesterol:
95
mg
,
Sodium:
89
mg
,
Potassium:
31
mg
,
Vitamin A:
130
IU
,
Calcium:
13
mg
,
Iron:
0.3
mg