This recipe originally appeared on Real Housemoms, where I am a contributor.
Achieving a Crispy Baked Buffalo Wing can be a challenging process. And as hubby reminded me, creating a crispy fried buffalo wing can be tricky too.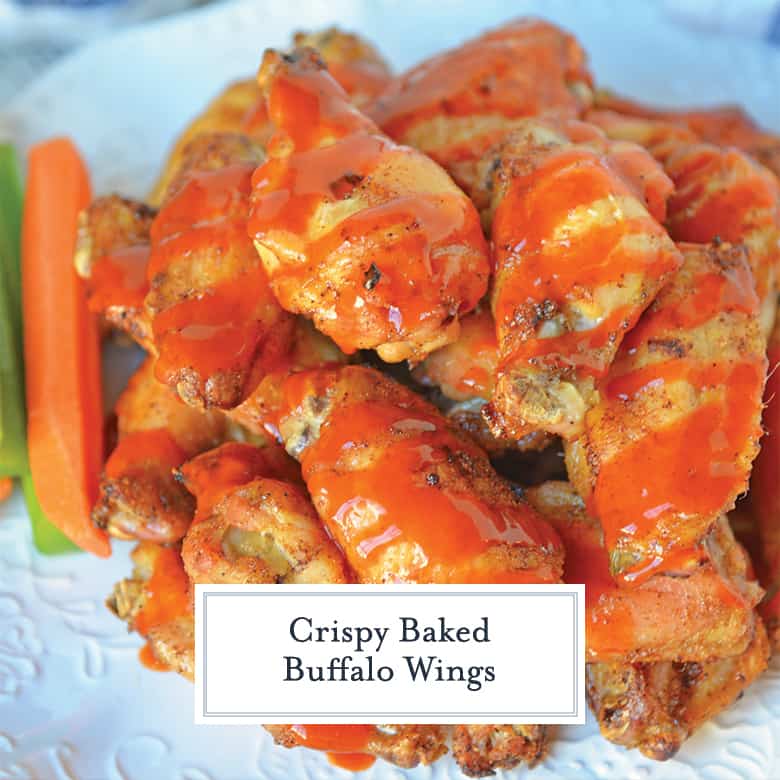 Crispy Baked Buffalo Wings are easier to make than you think. Only 5 ingredients, a simple buffalo sauce and the trick for seriously crispy wings!
Through the years of wing tasting I've found that finding the perfect crispy chicken wing isn't as easy as one would think. In my quest to find the perfect crispy baked chicken wing I decided to do my research first.
The first step is knowing the difference between a naked wing and a breaded wing. Naked wings do not have any type of breading or batter, using only the skin to make up the crunch.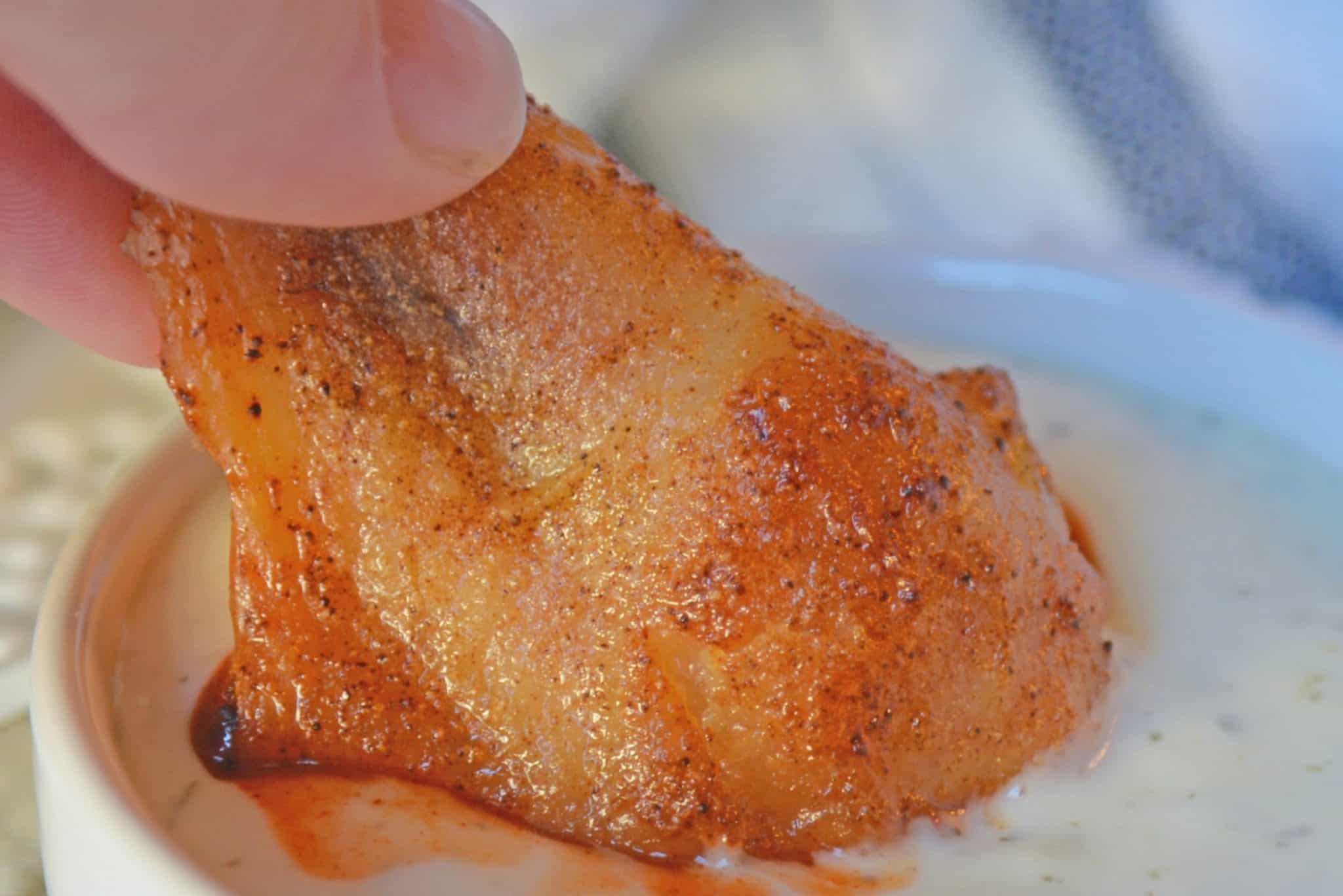 Something like Shake-n-Bake would be a breaded wing, while traditional wings do not.
I had a hunch that the brilliant J. Kenji López-Alt had already tackled the case of crispy wings. It seemed like the type of task that was right up his alley. I happened to be right!
And in the rest of my research I quickly found that most other crispy baked buffalo wing recipes also followed his exact instructions. Why recreate the wheel? Am I right?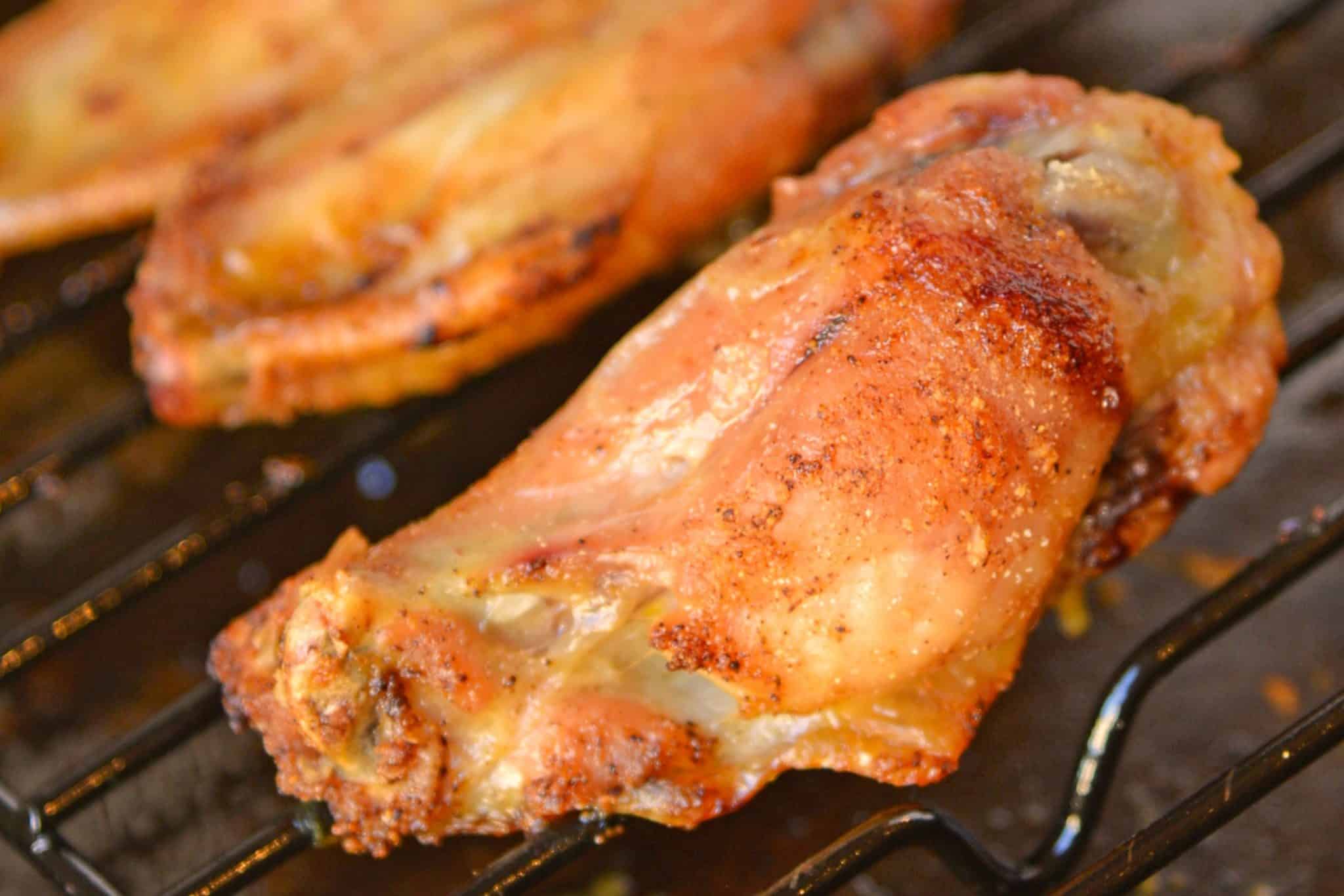 The trick isn't much of a trick at all, more common sense. Using the same technique as to make super crispy skin on a whole roasted chicken or turkey, you need to allow the skin to dry out prior to baking which can be done several ways.
Lastly, there is the technique used to make crispy duck. This involves boiling water and pouring it over the chicken. Basically you are creating a burn, tightening the skin, which dehydrates, but also partially cooks the chicken. This isn't my favorite techinque for chicken.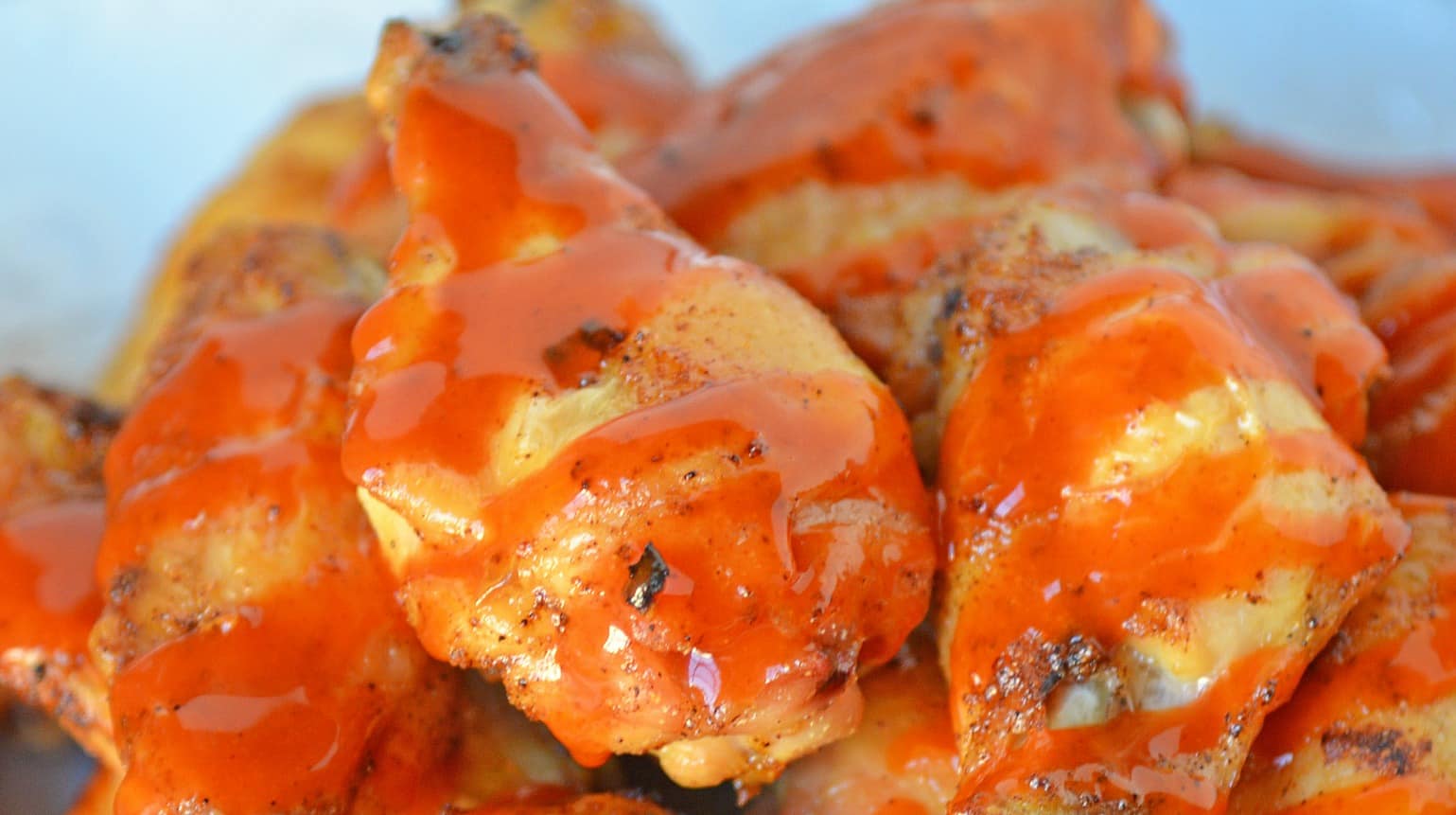 Ways to dry out chicken:
Blotting- blotting with a paper towel.
Cold drying- placing chicken in the refrigerator and allowing to dry.
Salting- well salting the chicken and allowing to sit, then shaking off excess salt.
Salt + Baking Soda – Together, they don't need to be shaken off.
Personally, I like the combination of cold drying and salt and baking soda. To throw my own spin on the recipe, I also made a basic dry rub before baking. Onion and garlic powder with chili powder make the best simple and flavorful mix.
In fact, that these crispy baked buffalo wings don't even need sauce. But I am sauce person, so that isn't negotiable. Just call me saucey. Haha!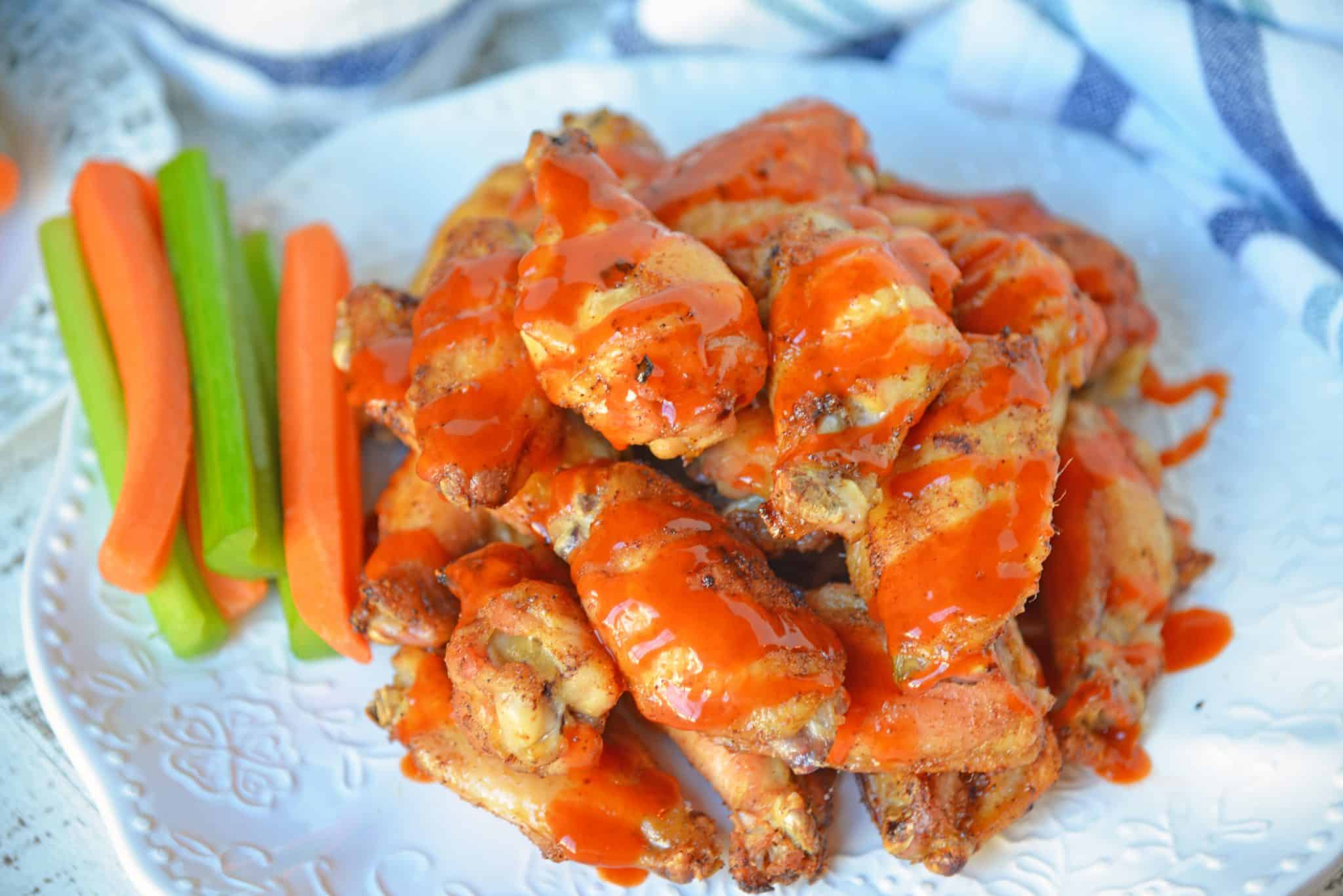 Buffalo sauce is another recipe often over thought. The experts at Anchor Bar, the birthplace of the buffalo wing, will tell you that the best sauce is best in its simplicity.
Hop over to my buffalo wing sauce recipe to hear about how I went on a date with Uncle Jesse from Full House at the Anchor Bar. True Story!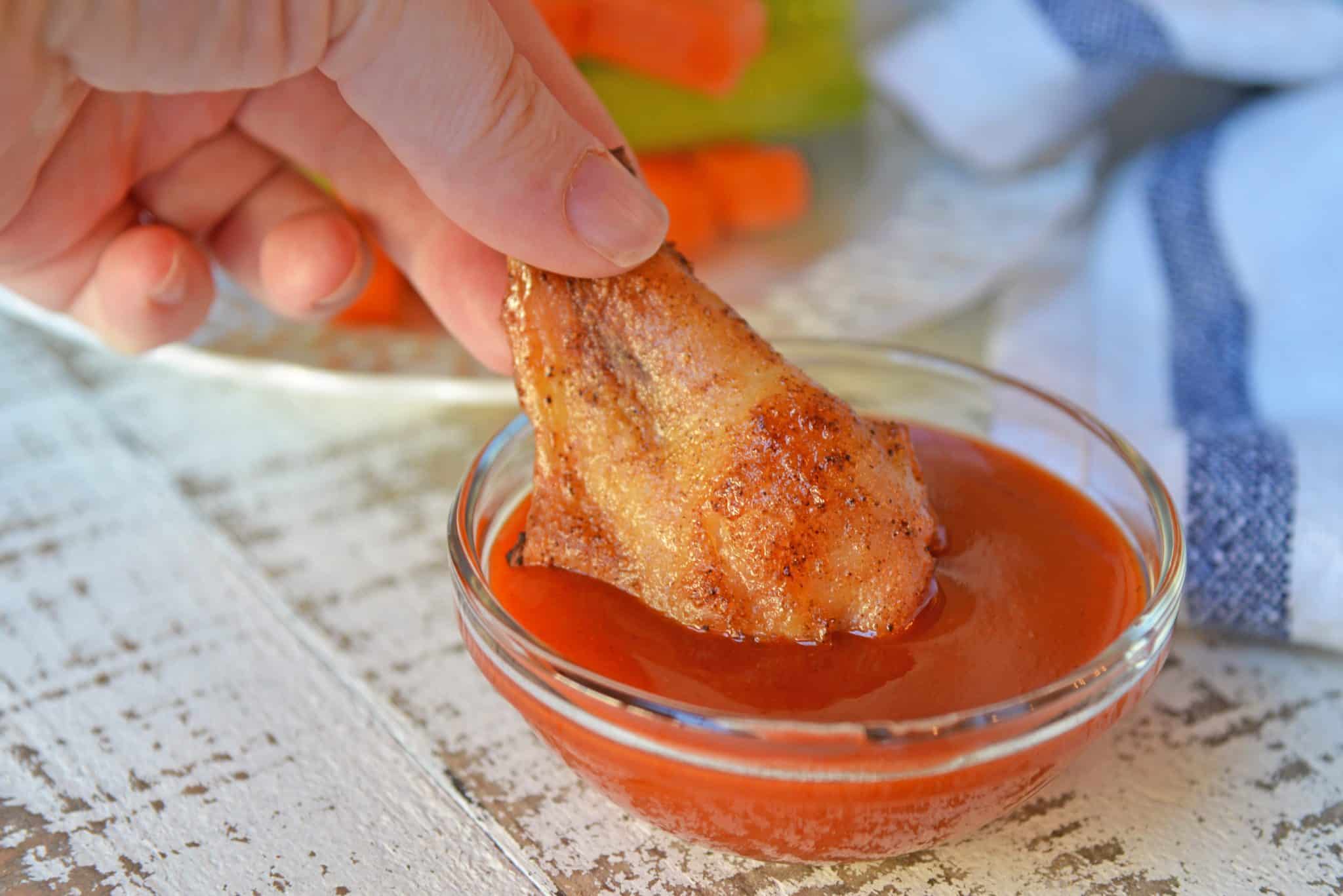 The last trick for super crispy baked buffalo wings is to bake them on a broiler pan or wire rack on a rimmed baking sheet. This allows heat to circulate all the way around the wing and fat or liquid to drip off. No pools to sog up the batch.
You can also try making super crispy wings in the air fryer!
Dipping Sauces for Wings
Some people don't dip their wings at all, but if you want to dip them, here are a couple of crowd favorites.
If you like this wing recipe, check out this others: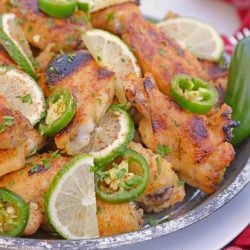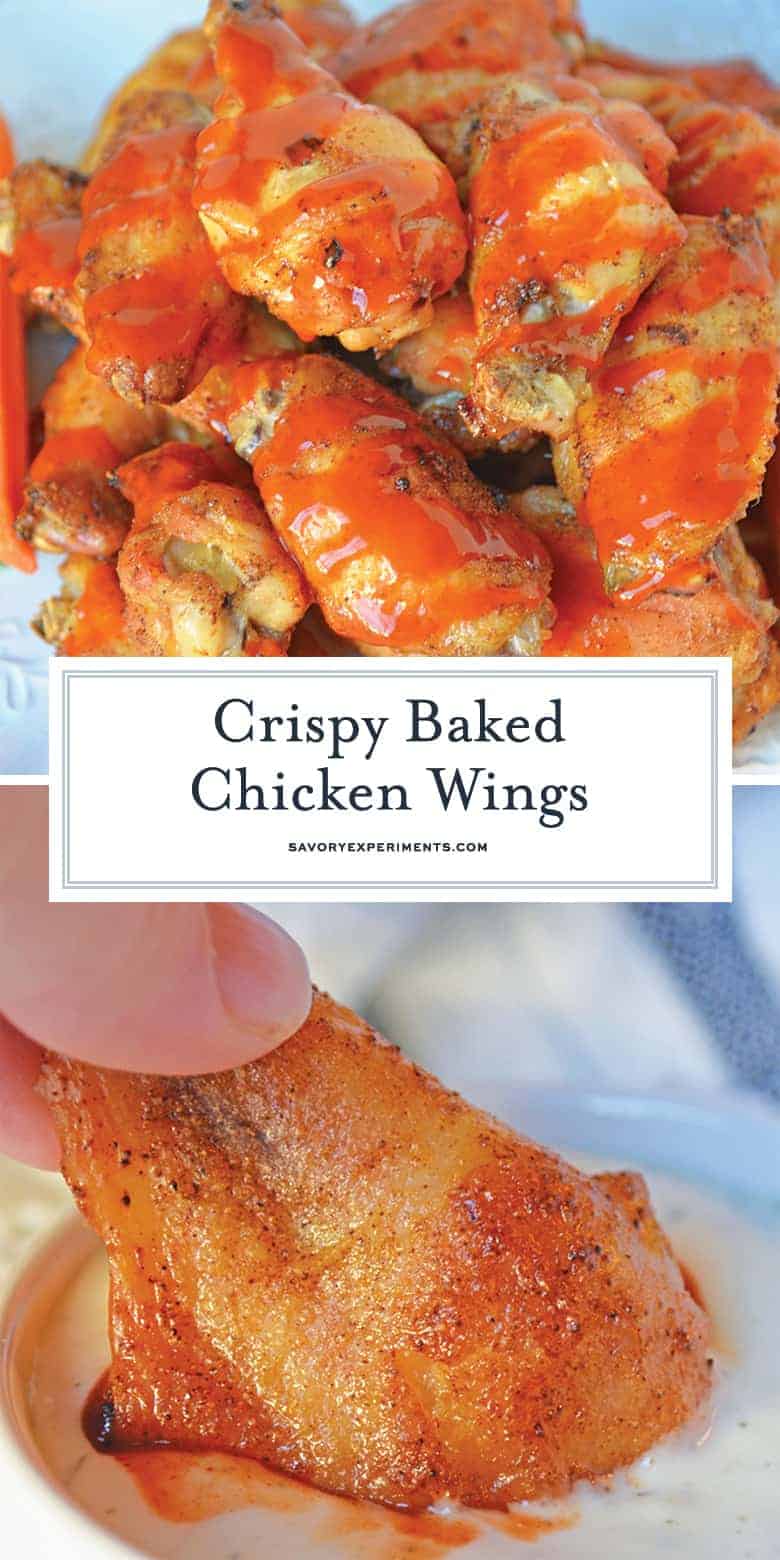 Tools for making Crispy Baked Buffalo Wings:
Rimmed Baking Sheet– another kitchen staple! You'll use this for prep work, roasting and much more. I have 7 at my house.
Cooling Racks– use this over the rimmed baking sheet to create a makeshift broiler pan, but with more grates.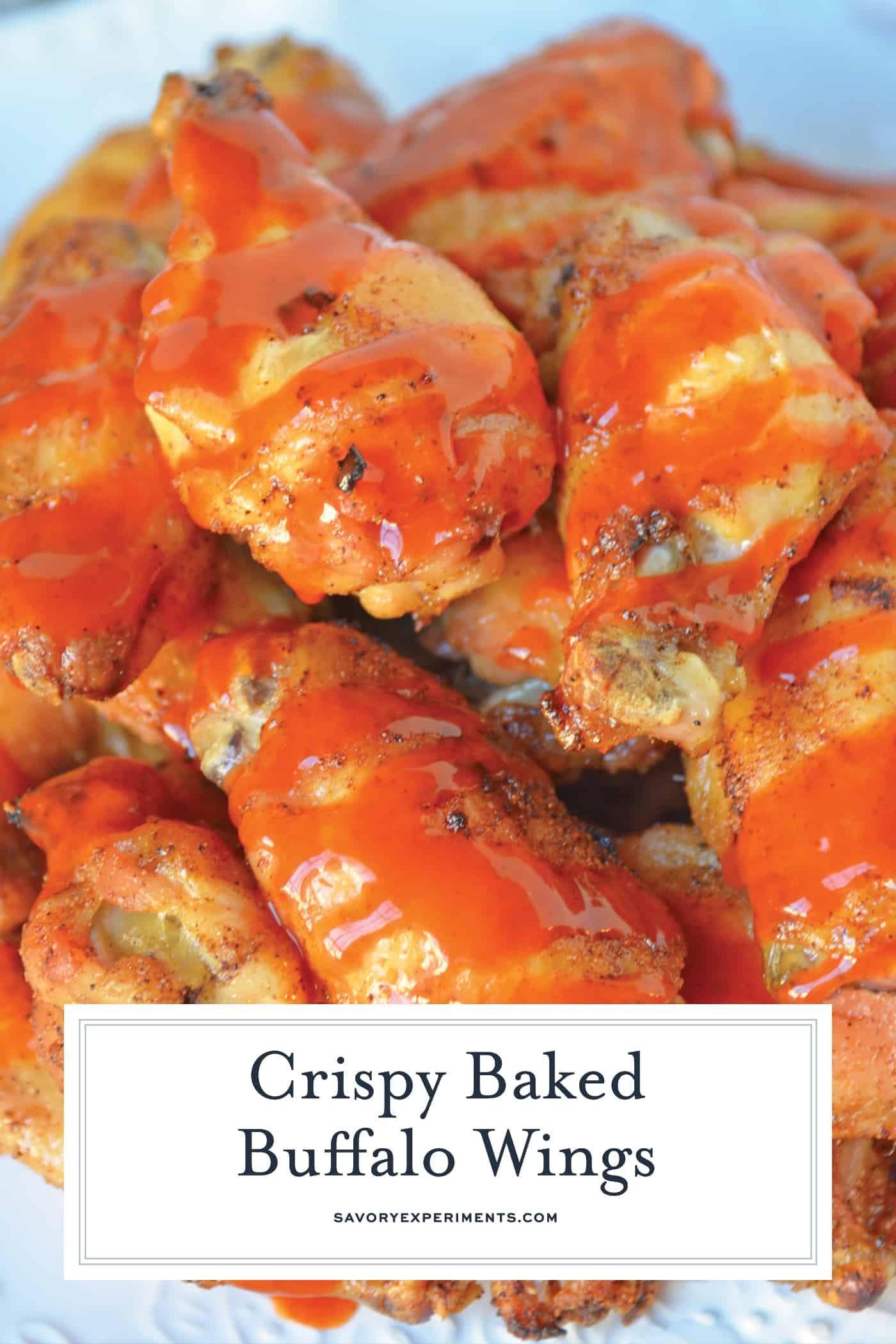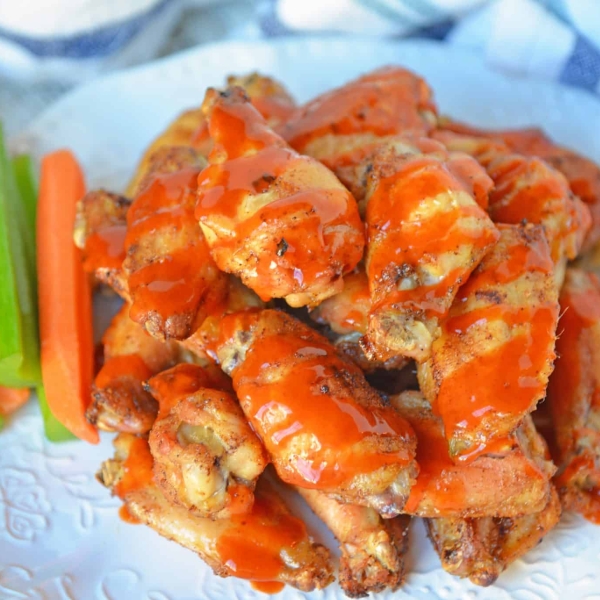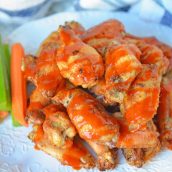 Crispy Baked Buffalo Wings
Crispy Baked Buffalo Wings are easier to make than you think. Only 5 ingredients, a simple buffalo sauce and the trick for seriously crispy wings!
Instructions
Rinse chicken and pat dry. In a large mixing bowl, toss chicken with baking soda Kosher salt. Arrange in a single layer and place, uncovered, in the refrigerator for 12-24 hours.

When ready to bake, preheat oven to 450 degrees. Prepare a broiler pan or place a wire rack on top of a rimmed baking sheet to allow fat and liquid to drip off.

In a small bowl, mix together garlic and onion powder and chili powder. Toss with dried chicken wings.

Arrange in a single layer on wire rack. Bake for 15 minutes. Remove, turn each wing and return to oven for an additional 15 minutes.

Remove and either toss crispy baked buffalo wings in Homemade Buffalo Sauce or serve on the side for dipping.
Nutrition
Calories:
281
kcal
,
Carbohydrates:
2
g
,
Protein:
22
g
,
Fat:
19
g
,
Saturated Fat:
5
g
,
Cholesterol:
94
mg
,
Sodium:
3648
mg
,
Potassium:
228
mg
,
Vitamin A:
330
IU
,
Vitamin C:
1.1
mg
,
Calcium:
19
mg
,
Iron:
1.3
mg