Looking for a new and unique appetizer? Fried Ravioli has been hitting the food trend scene heavy in restaurants and now you can make your own at home!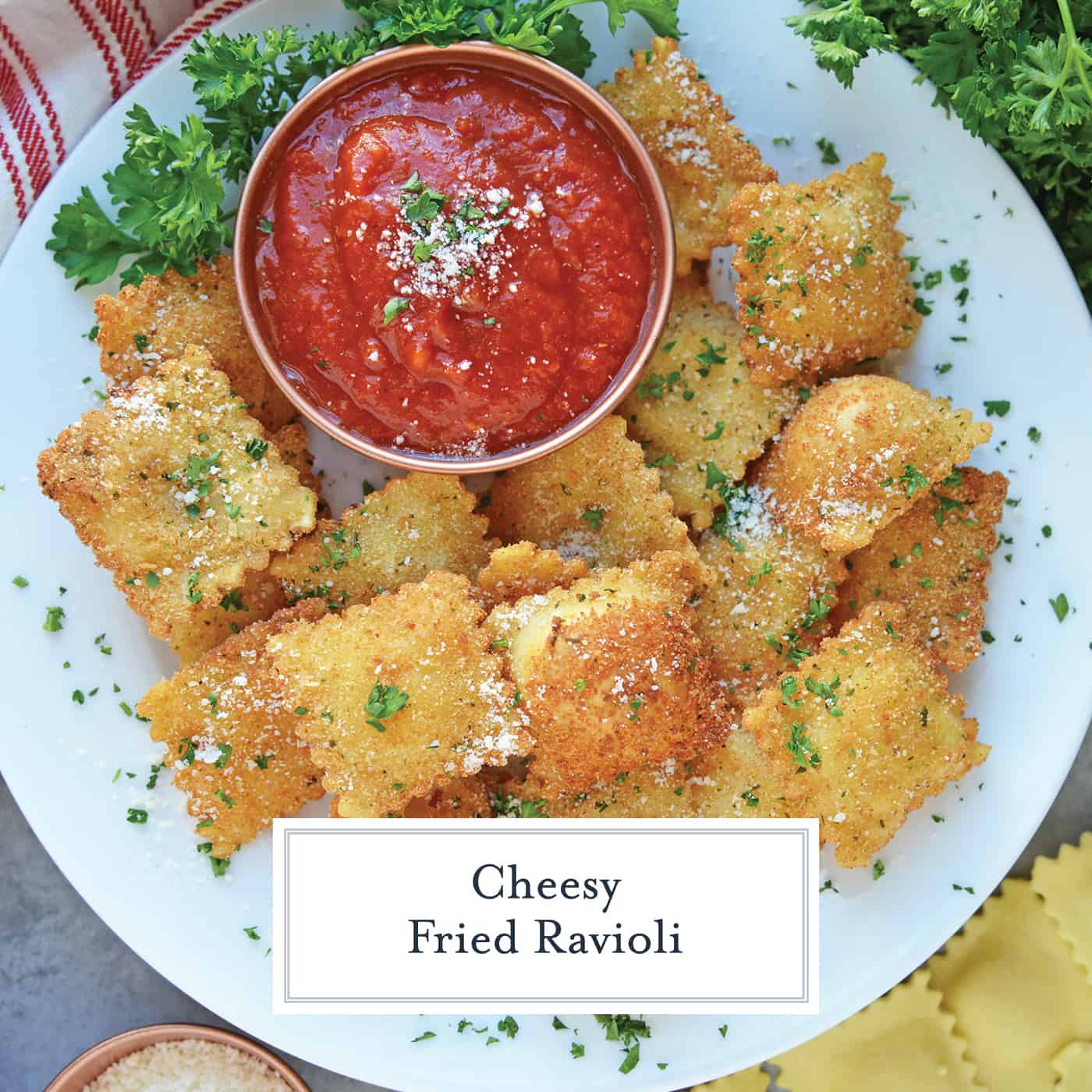 Fried Ravioli are fresh raviolis lightly breaded and flash fried for a crunchy outside and gooey cheese inside. Serve with marinara sauce or creamy Italian dressing.
Get ready for your new "most requested" appetizer, snack or sometimes even entree… Fried Ravioli!!!
Although Toasted Ravioli seems to be a new recipe, rumor has it that was created in the 1940s at a pasta house back in St. Louis.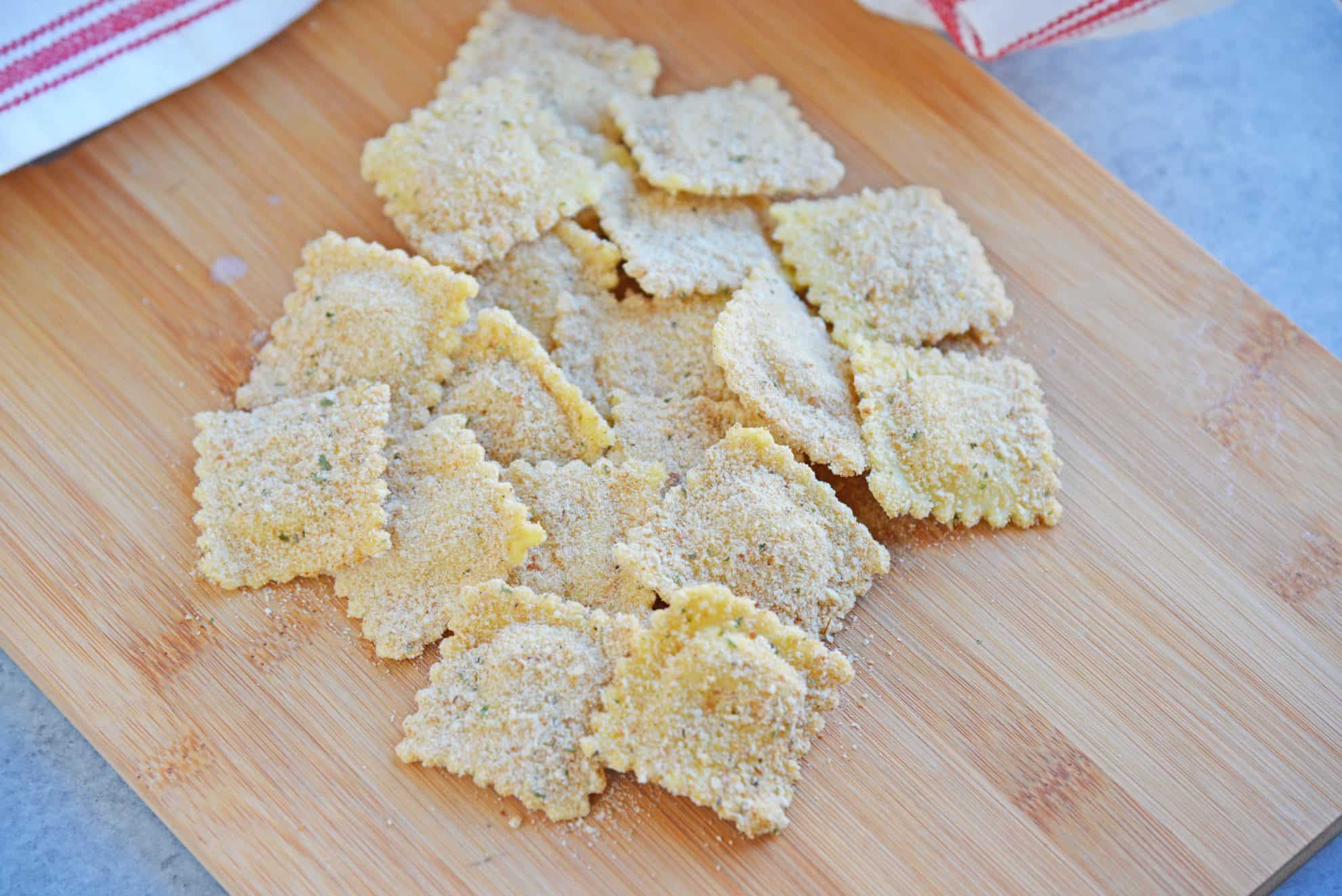 I prefer using fresh pasta for my fried ravioli. When you thaw frozen, it gets a little soggy and the cheese inside might not melt all the way. The goal here is a crunchy, crispy fried ravioli, not mushy one.
Pan frying is also the way to go in my book. You can deep fry ravioli, but the amount of time, mess and oil it takes to get the whole production ready is disproportionate to the amount of time they actually need to cook, which is less than 5 minutes.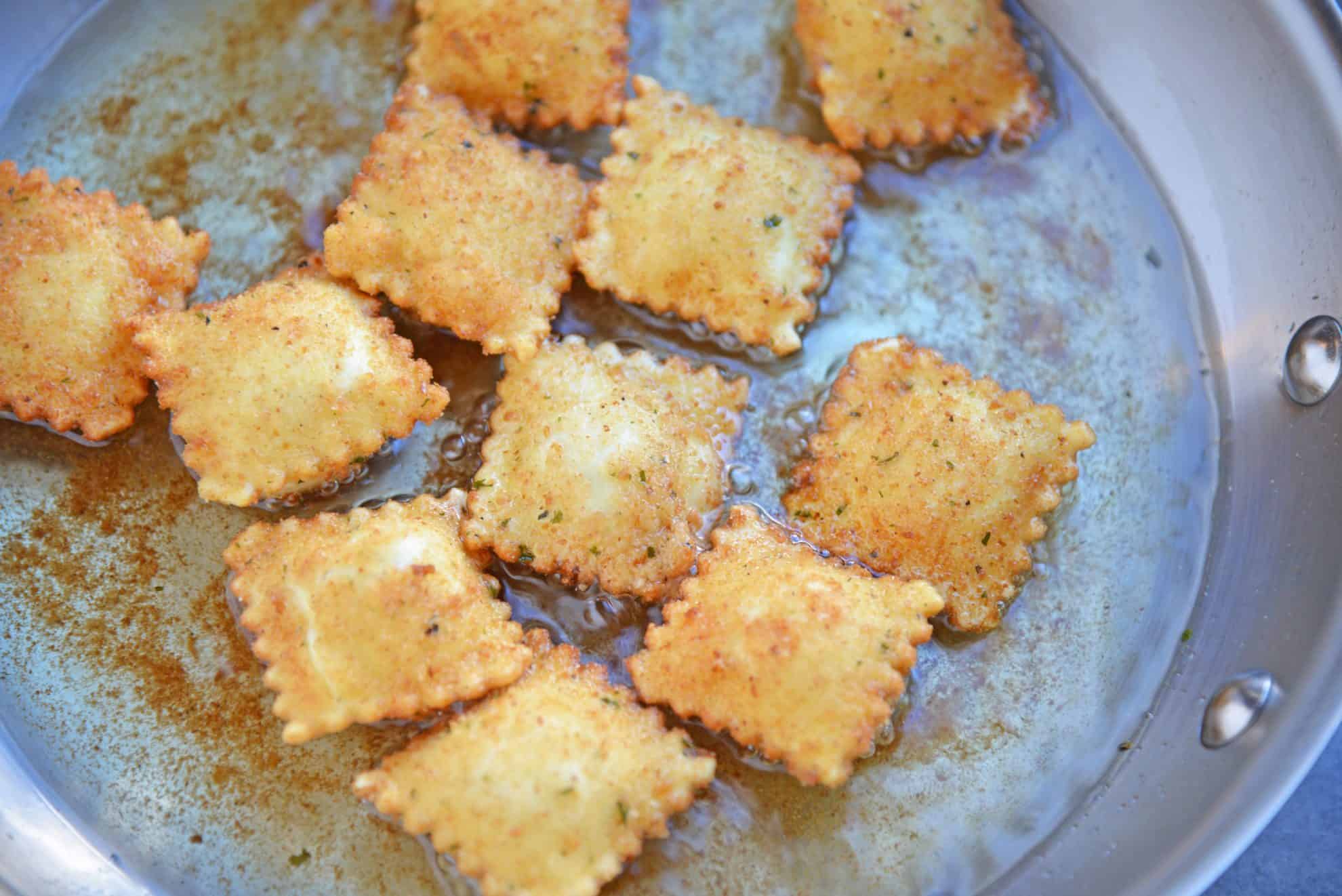 Pan frying is about 2 minutes on each side, just enough to get a toasty brown. The inside is already cooked, so you are good to go there.
I find that 2 eggs whites and 1 tablespoon whole milk works best for adhering bread crumbs. This isn't a recipe where it needs to be thick and fully coated, just enough to add a double crunch to the fried pasta dough.
Some use only eggs, only milk and Giada even uses buttermilk. If you don't have one of the ingredients you are fine to omit or substitute as long as there is something wet to make it sticky. You can even use water in a pinch.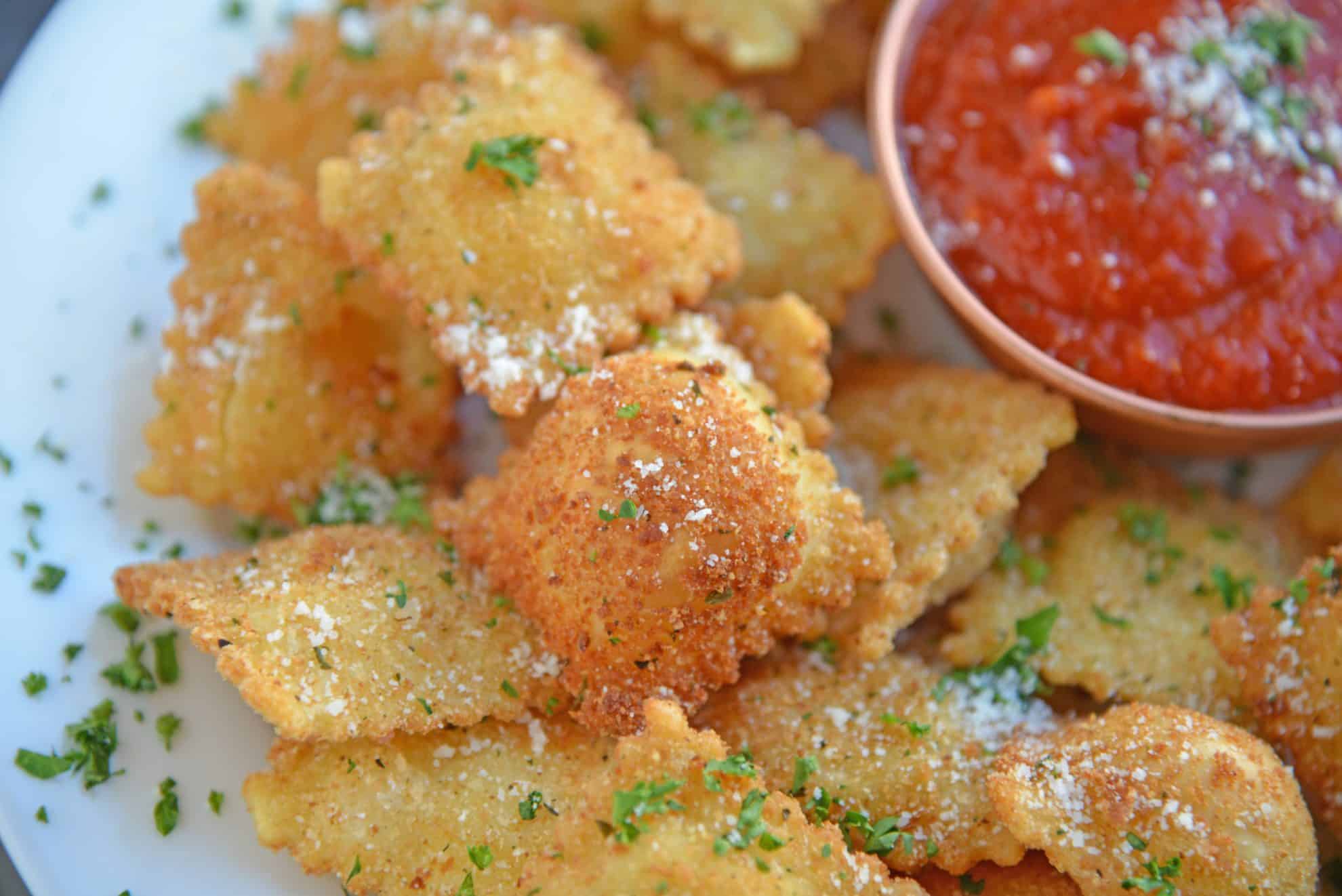 Use any flavor of ravioli you want. Cheese ravioli is by far my favorite, but for fancy occassions lobster or crab ravioli is super special. If you can find the pretty striped tuxedo ones, even better!
I prefer my cheesy fried ravioli to be served piping hot when the cheese is still gooey, but hubby actually likes his to be a little cooler, if not room temperature.
The moral of the story being that if they sit for a little while at a party or something, it isn't the end of the world. They still taste good!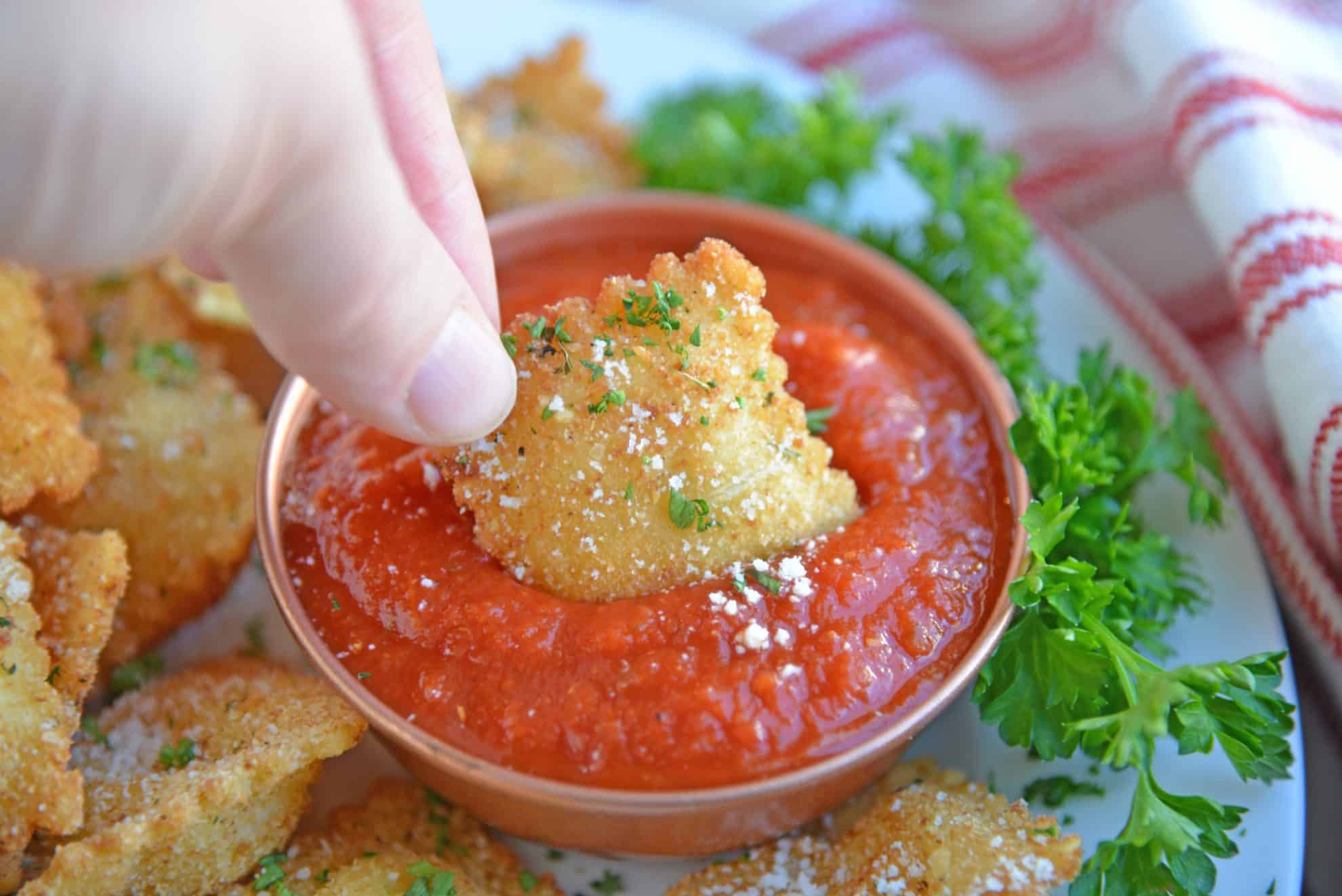 Most fried ravioli are served with a side of marinara sauce, like the recipe suggests, but I also like to serve it with a side of Creamy Italian Dressing, either homemade or bottled with work fine.
Lastly, before I get stoned for stating these are Italian, I would like to clarify that they are a very American-Italian dish. You probably won't find fried ravioli in Italy. At least we didn't when we were there.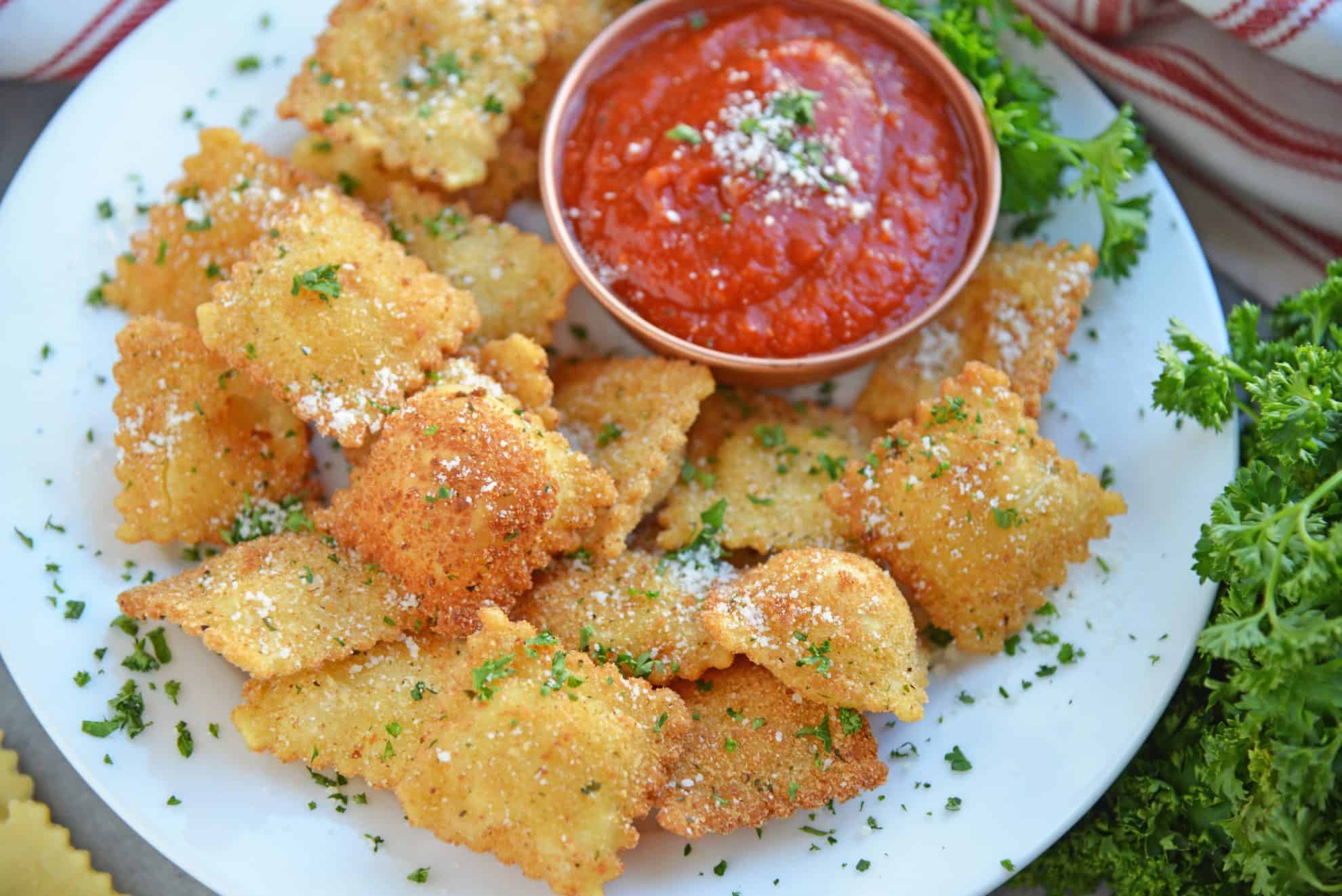 However, since the ingredients, especially the ravioli are Italian in heritage, is seems wrong to not label it Italian.
If you liked this easy Italian Appetizer, here are a few more you might enjoy:
Pizza Logs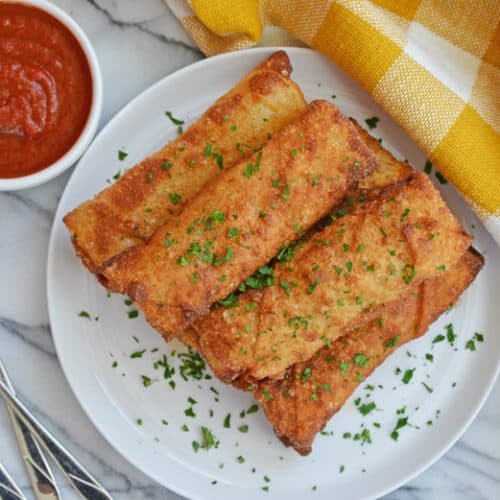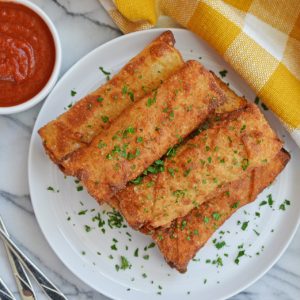 Crispy egg roll wrappers stuffed with gooey mozzarella cheese and zesty pepperoni, fried to a golden brown and dipped in marinara sauce.
Fried Blue Cheese Olives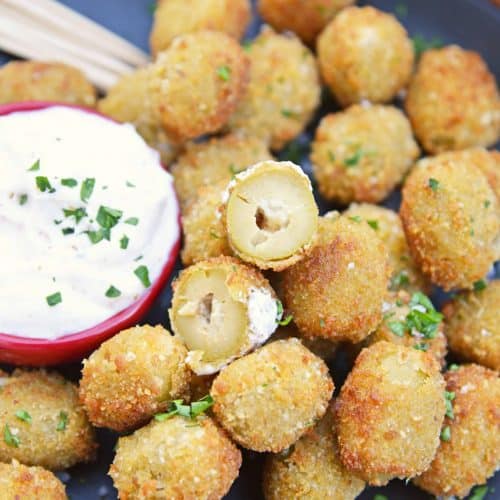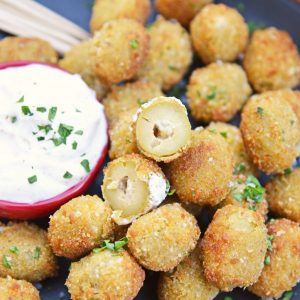 Fried Blue Cheese Stuffed Olives will become your favorite New Year's Eve recipe. But, this easy appetizer recipe is perfect for all occasions!
Tomato Bruschetta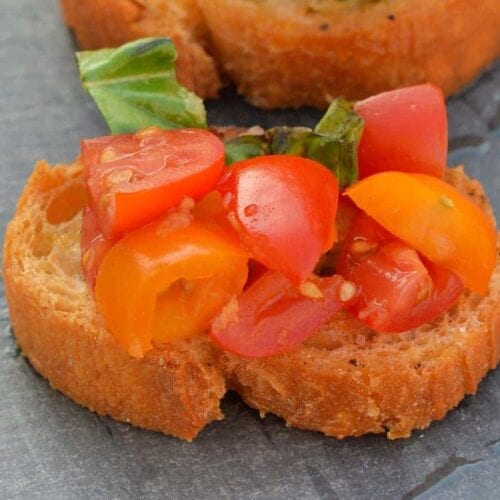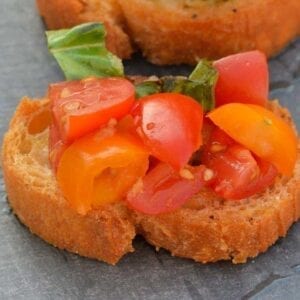 This Tomato Bruschetta recipe is a classic no cook appetizer that can be ready in as little as 20 minutes using fresh tomatoes, basil and garlic.
Tools for making Toasted Ravioli:
Pie Plates– I think every kitchen should have at least three shallow dishes or pie plates for the process of breading and frying. You can also bake pies in them! Hehe.
Slotted Metal Spatula– I like these best for frying because they can withstand very high temperatures, the fine mesh means I can fish out any remaining batter that might be burning and they don't stick to things easily.
Heavy Bottom Frying Pan– this will be one of your most used kitchen tools. Having something that is heavy bottom will distribute heat better and prevent burning whether you are using an electric or gas range.
Cast Iron Skillet– It took me a long time to get on the cast iron bandwagon and I am sorry I waited so long. They are a work horse in the kitchen and so worth the extra preparation and cleaning.
You can read up on my How to Clean Cast Iron and How to Season Cast Iron to answer some of your burning cast iron questions!

Questions about how to make Fried Ravioli:
Can I substitute parmesan cheese for pecorino romano cheese? Yes! If you prefer or just have Parmesan on hand, by all means use it! You can even omit the extra cheese if you wish.
Do I have to use canola oil? Nope, you can your vegetable oil or another oil if you please, however I find that canola oil has the least oily taste for such a lightly fried dish.
Peanut oil and olive oil leave behind too much of their own taste overwhelming the flavor of the ravioli.
Can fried ravioli be made ahead of time? While technically, yes you can make it ahead of time, I suggest any fried food be made right before serving unless you intend to serve it room temperture.
The whole process of frying loses its crunch and luster when reheated in the microwave or oven.
Can I make fried ravioli from homemade ravioli? You sure can! And I applaud you for making ravioli from scratch. Since I use fresh ravioli, just pick up the recipe from the beginning and you'll be fine.
Can I make fried ravioli using frozen ravioli? You can, but the texture will be a bit different. See recipe notes.
What are deep fried ravioli dipping sauces? Most people use marinara sauce, but you can also eat them plain or dip them in a creamy Italian dressing.
Can you bake fried ravioli? You sure can cook fried ravioli in the oven, but you will lose a little bit of the crunch factor. To bake breaded ravioli, place on a parchment lined baking sheet (preferably rimmed so they don't slide off) and bake at 300 for 10 minutes.
Fried Ravioli are fresh raviolis lightly breaded and flash fried for a crunchy outside and gooey cheese inside. Serve with marinara sauce or creamy Italian dressing.
---
---
Cheesy Fried Ravioli
Fried Ravioli are fresh raviolis lightly breaded and flash fried for a crunchy outside and gooey cheese inside. Serve with marinara sauce or creamy Italian dressing.
Instructions
Whisk together egg whites and whole milk in a shallow dish or pie plate.

Place bread crumbs, fine sea salt and ground black pepper in a separate shallow dish or pie plate.

Before starting to bread your ravioli, prepare about 1/2 inch of canola oil in a large heavy bottom frying pan or cast iron skillet. Heat over medium-high heat.

Toss individual ravioli pieces in egg white mixture then bread crumbs. Set aside on a plate until ready to fry. They will not be fully coated, this is okay.

Working in batches, place ravioli in hot oil, frying until lightly browned on one side, approximately 2 minutes, then flipping and repeating on the other side.

Using a slotted spoon, remove to a paper towel lined plate or a cooling rack so any excess oil can drain.

Place on a serving plate, topping with pecorino romano cheese and serving with a side of warmed marinara sauce. You can also garnish with parsley, if desired.

If you've tried this recipe, come back and let us know how it was!
Notes
You can use frozen ravioli, but allow it to fully thaw before breading and frying. Do not boil.
Nutrition
Calories:
266
kcal
|
Carbohydrates:
32
g
|
Protein:
10
g
|
Fat:
10
g
|
Saturated Fat:
2
g
|
Cholesterol:
24
mg
|
Sodium:
761
mg
|
Potassium:
130
mg
|
Fiber:
2
g
|
Sugar:
3
g
|
Vitamin A:
125
IU
|
Vitamin C:
2
mg
|
Calcium:
59
mg
|
Iron:
5.6
mg