Quick Garlic Aioli is one of my favorite condiments. It is easy to prepare and really takes a meal from ho-hum to uber excellent.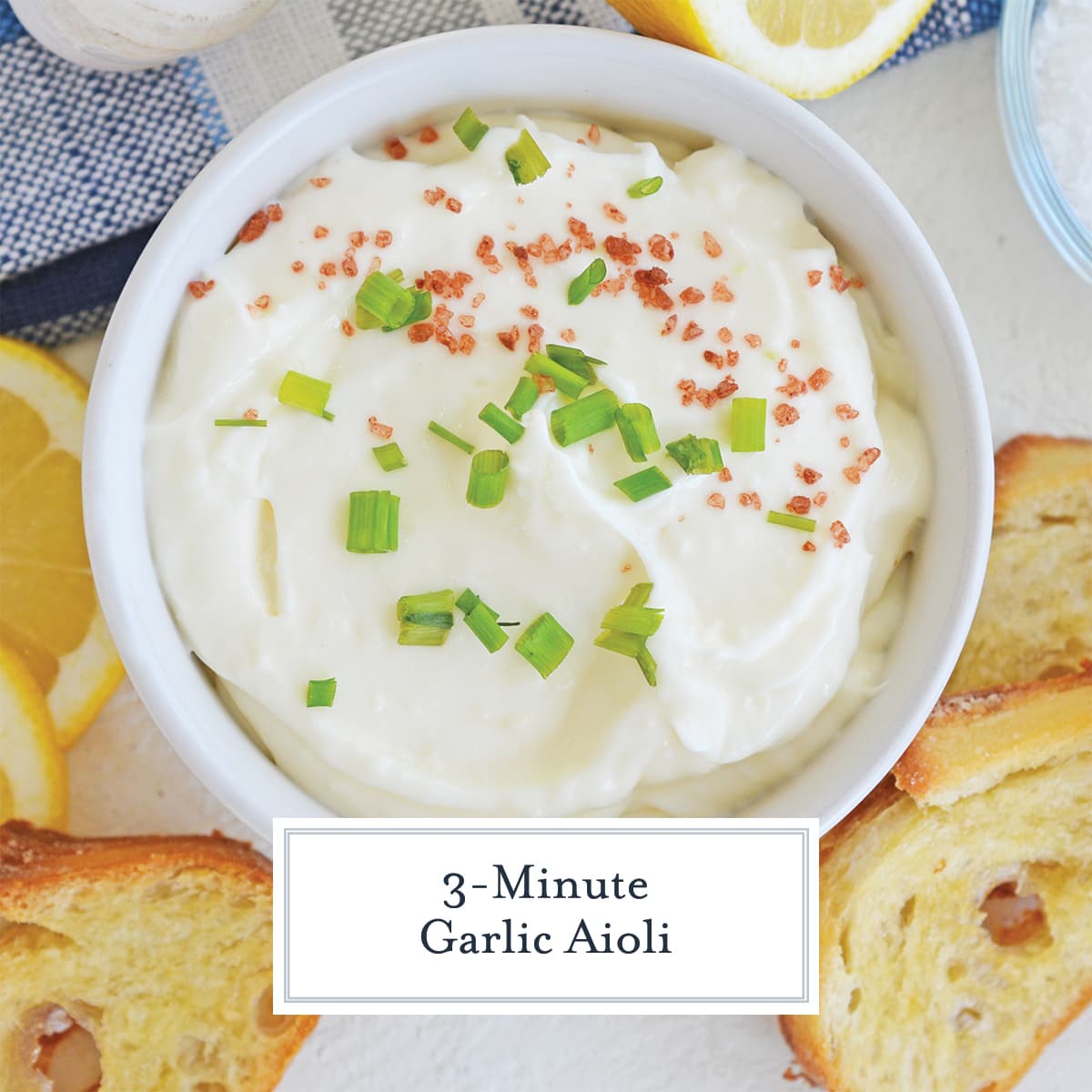 In fact, sauces are what commonly separate the most extravagant of chef prepared meals from those made in your home kitchen.
Some might call it cheating, others might even say it isn't actually an aioli, but I beg to differ. It is just a good, solid easy recipe full of garlic flavor.
Serving Sauces
Seriously, think about it. What draws you into the menu items you are contemplating? Nearly every single one will be paired with a sauce and sometimes the sauce or condiment is more alluring than the actual dish.
I find when cooking at home and especially when I have guests, having a compound butter, dipping sauce or fabulous au jus can elevate the meal to "one of the best they have ever had!"
Plus, the word aioli is just fancy. It's French, ya know?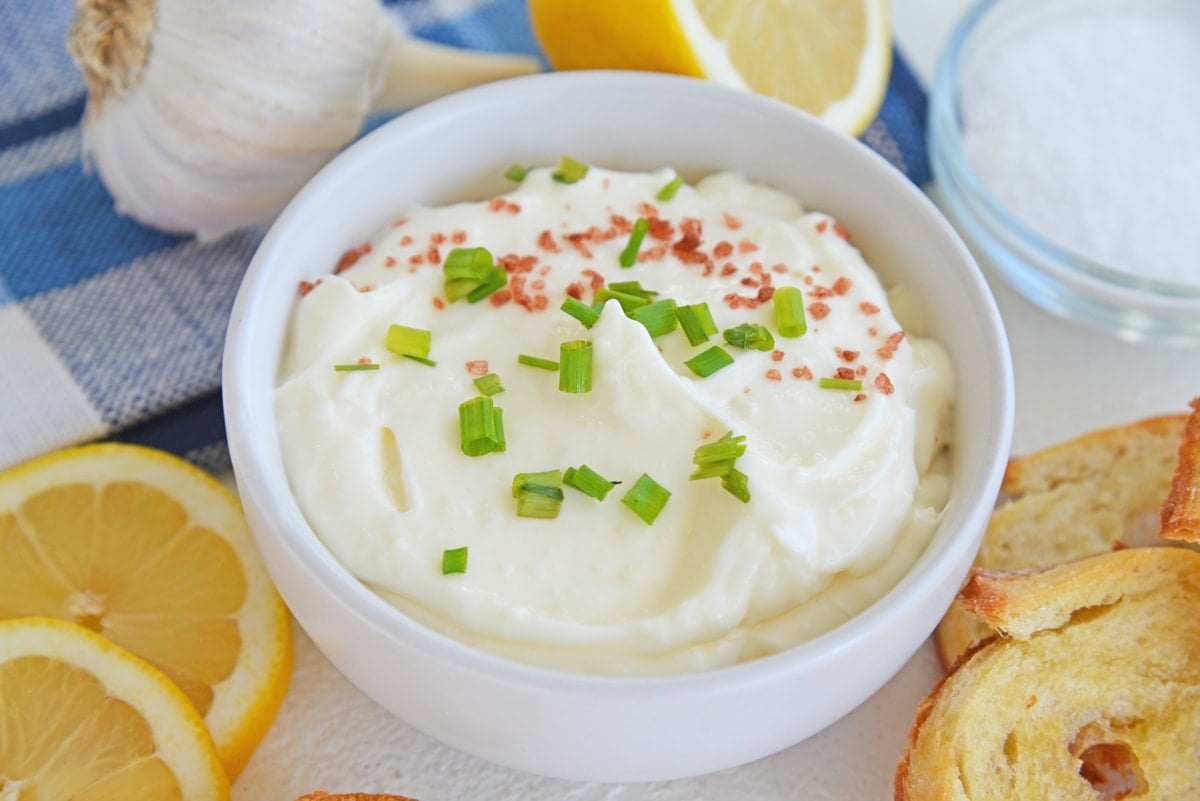 Aioli Vs. Mayonnaise
What is the difference between aioli and mayonnaise? Not much. They are both egg based, but mayonnaise uses a neutral oil like vegetable oil and aioli uses olive oil.
So that means that the olive oil based mayonnaises are actually aioli.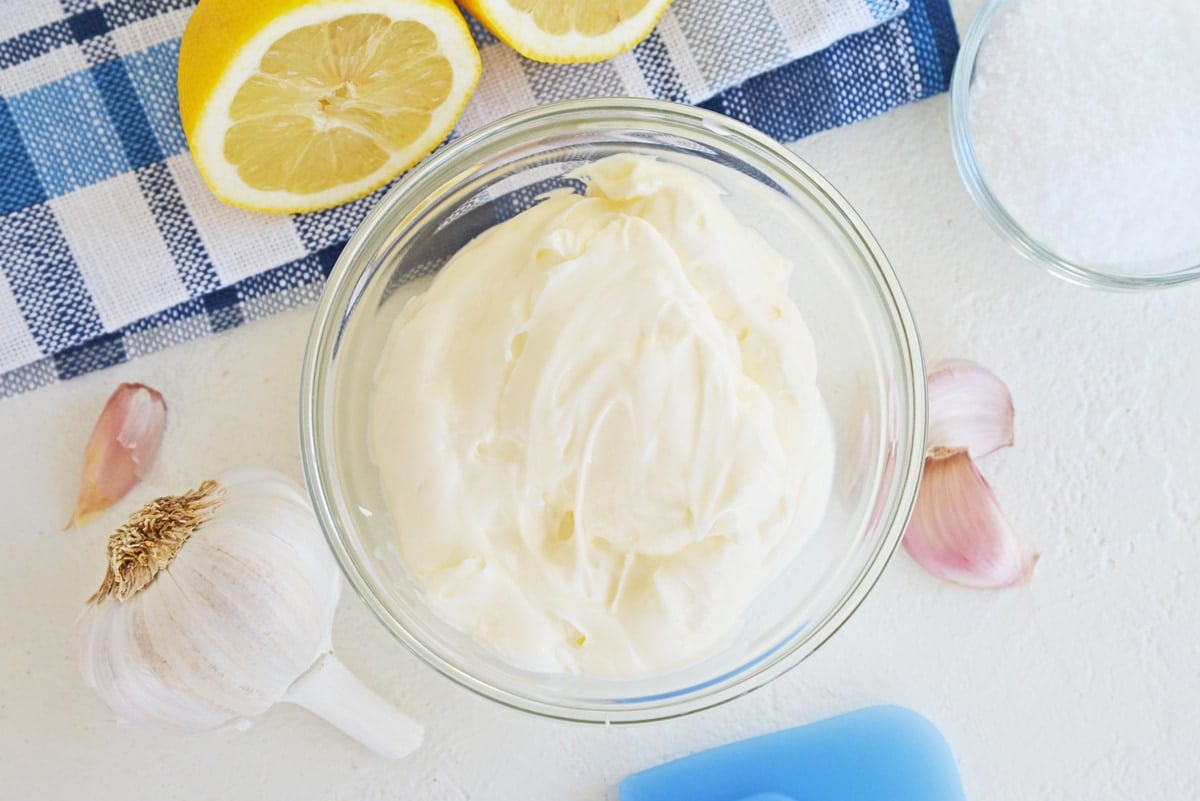 Homemade Mayonnaise
The best part is that condiments and sauces, like my quick garlic aioli, can be made in just a few minutes and usually ahead of time. While I like to make my own mayonnaise, you can surely use a store bought mayo. I'd stick with actual mayo though and shy away from Miracle Whip.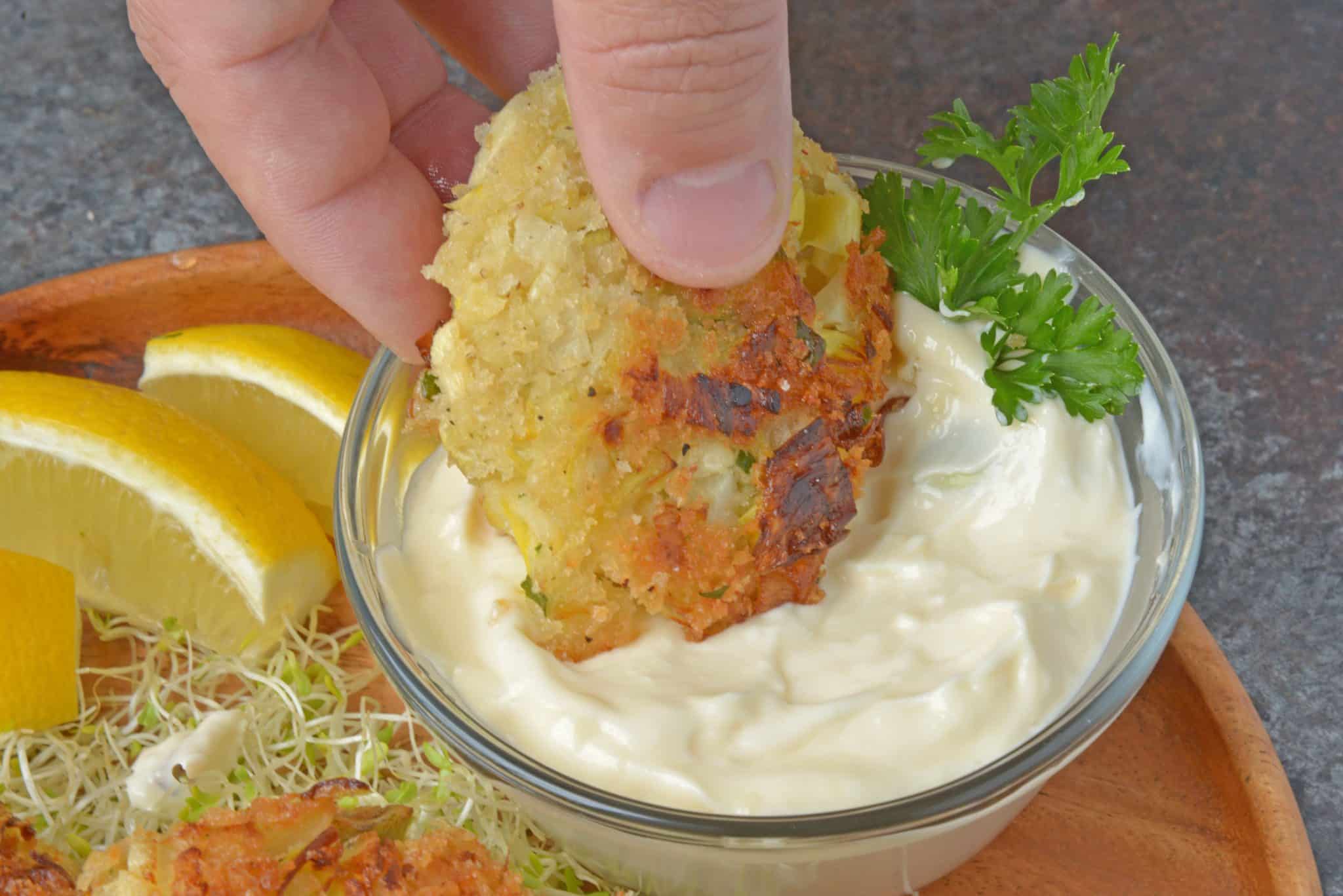 If you've never made your own mayonnaise, this is the time to try! Homemade mayonnaise is SO easy to make, you'll be amazed. And the flavor is vastly different, rich and decadent.
Olive Oil
You can adjust the salt levels, even adding lemon if you wish, which is also indicative of aioli. The taste of your aioli will really depend on the type of olive oil you use.
I keep two types in my kitchen: the cheaper light extra virgin (still a decent quality) for using in recipes and frying and the good stuff. The more expensive, serve-on-its-own stuff that is olive nectar. THIS is what you need for the base of a good garlic aioli.
Garlic Aioli Sauce
Other than the mayo, which is perhaps more important that the garlic, the only other thing you need is salt. Use real garlic, none of that pre-chopped stuff in a jar that has muted flavor.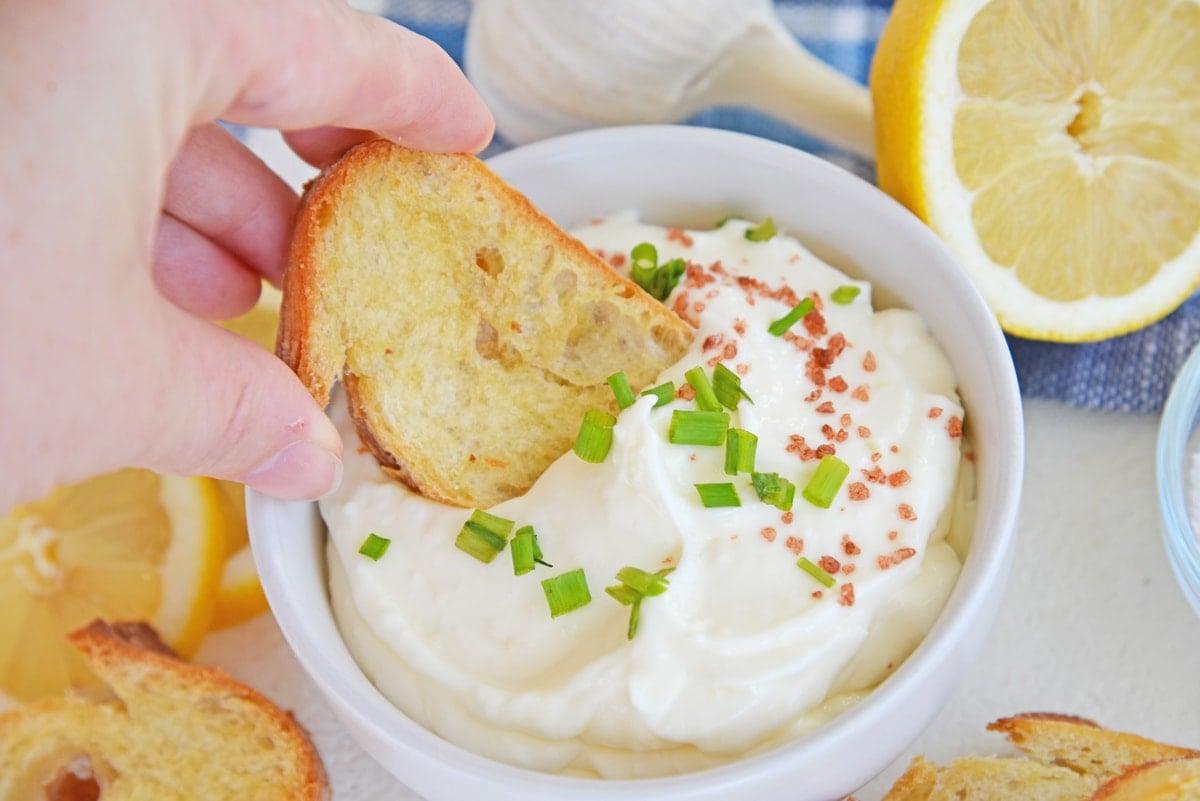 I don't mind mine being a little coarse with texture. In fact, after a few whirls in the food processor it is fairly smooth, but if you want a really smooth sauce try this.
Finely mince garlic cloves.
Soak in 2-3 tablespoons of lemon juice for 20 minutes.
Press liquids through a fine mesh sieve.
You'll get all the garlicky goodness without the whole pieces, but it will also take a little more time.
You can also change it up with Worcestershire sauce, cayenne pepper, Dijon mustard, swap out raw garlic for roasted garlic or add ground black pepper.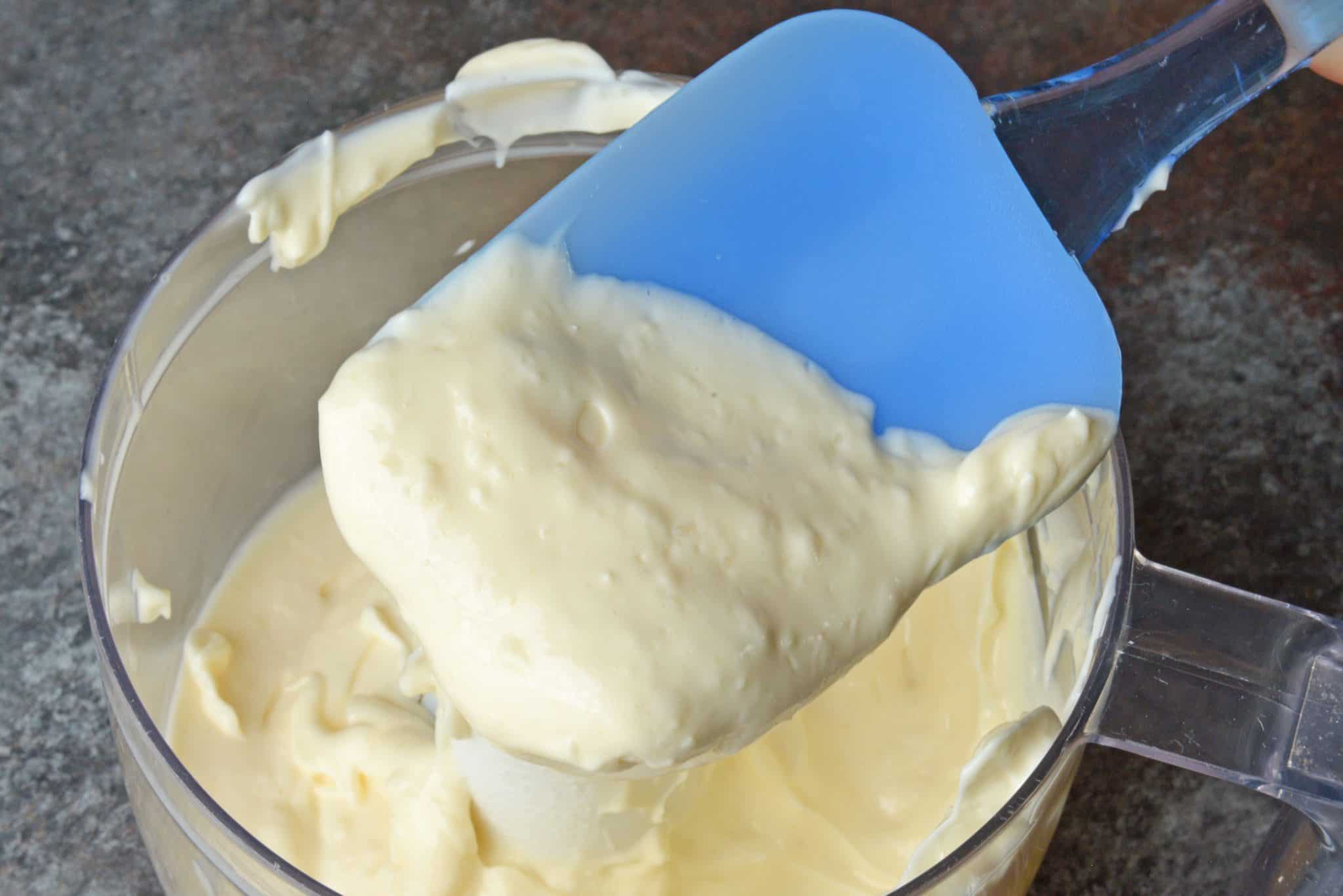 Don't Forget The Salt!
For salt, I use Maldon Sea Salt. If you read Savory Experiments with any regularity, you know I'm obsessed with it. I even have a travel case that comes with me to give assistance to under seasoned dishes at restaurants.
I'm a wacko, I know. But really, any salt, other than iodized salt, will work.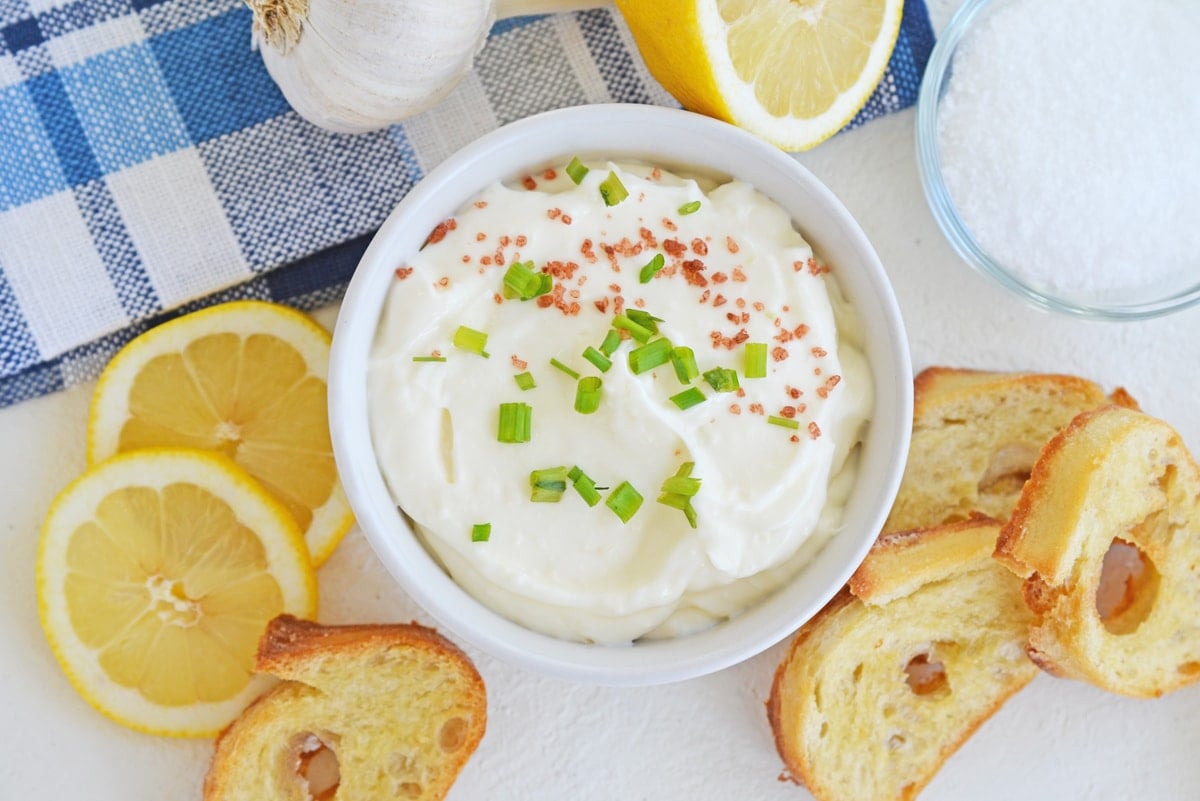 You can even get fancy and use a black
or pink sea salt
!
Serving
What can I put garlic aioli on? What don't you serve is really the question!
Serve it with roasted or grilled veggies, as a dipping sauce for French fries or sweet potato fries, on crostini as a topping for chicken or crab cakes, even use it as a sandwich spread.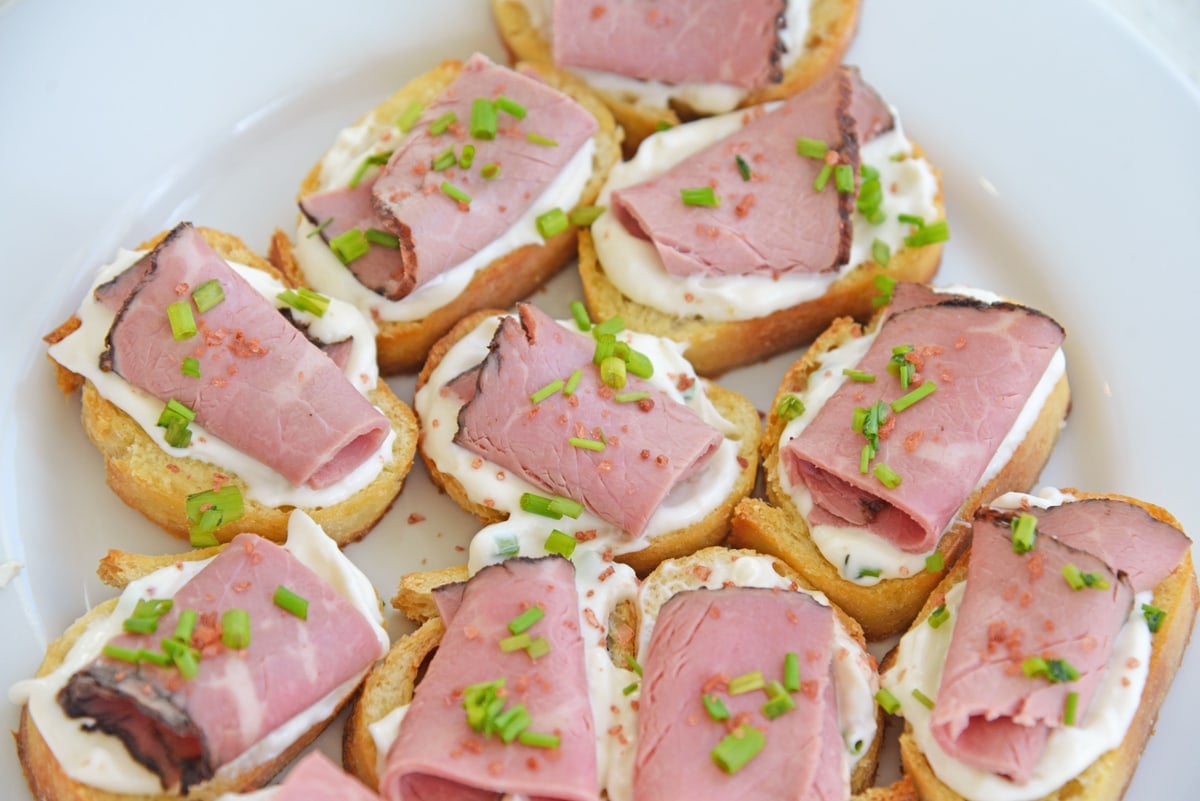 My favorites are probably for Air Fryer Brussels Sprouts, Hearts of Palm cakes and Blue Cheese Stuffed Fried Olives.
Serving & Storage
For plating, you can serve your aioli in small ramekins or scoop it into a plastic baggie and snip one corner, creating a makeshift pastry bag and "pipe" it onto your dish in a artful way. This works best with a really chilled sauce or even throw it in the freezer for a few minutes to get it nice and tight.
Keep it in an airtight container in the fridge for up to two weeks.
I do not recommend freezing.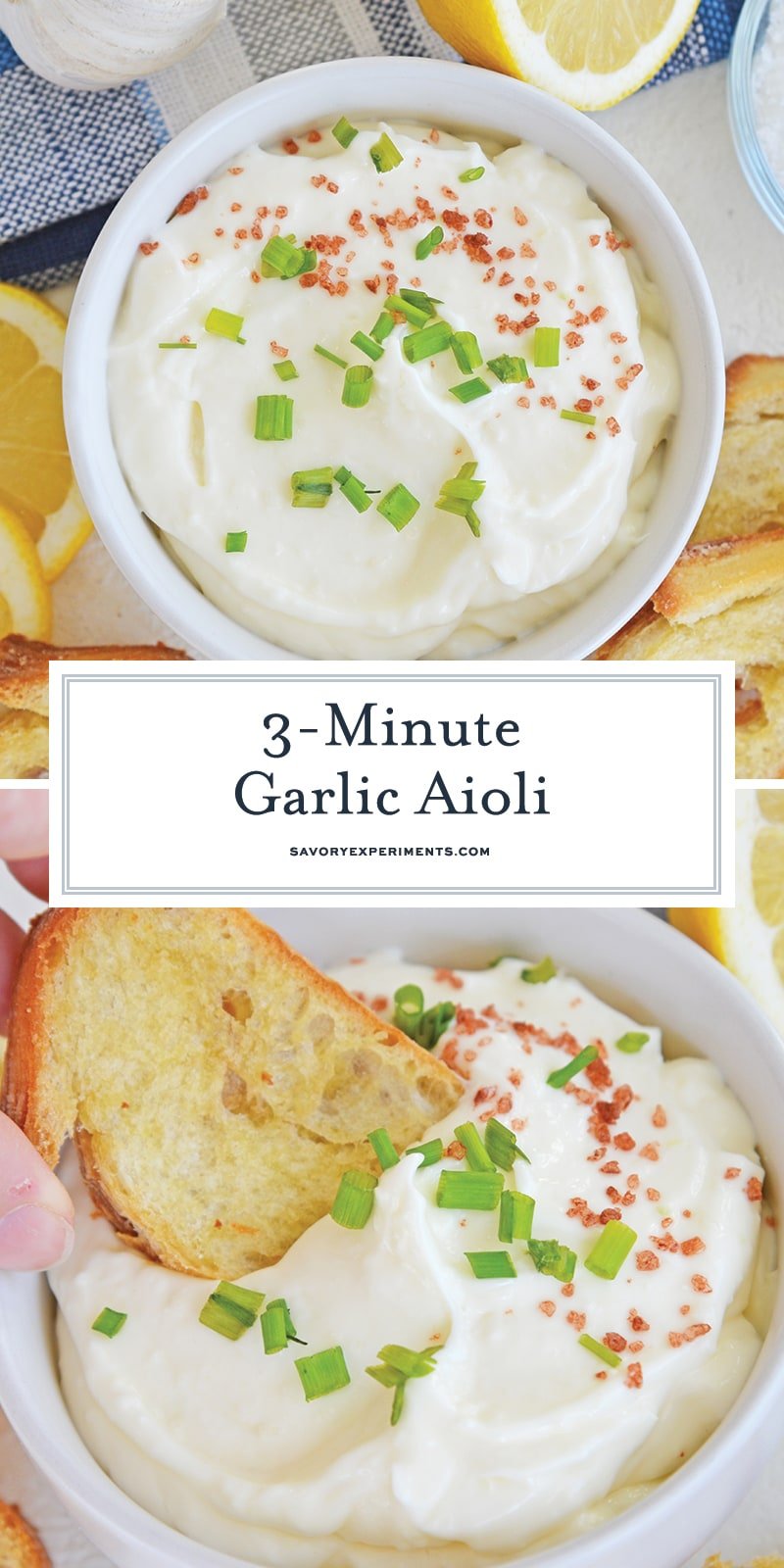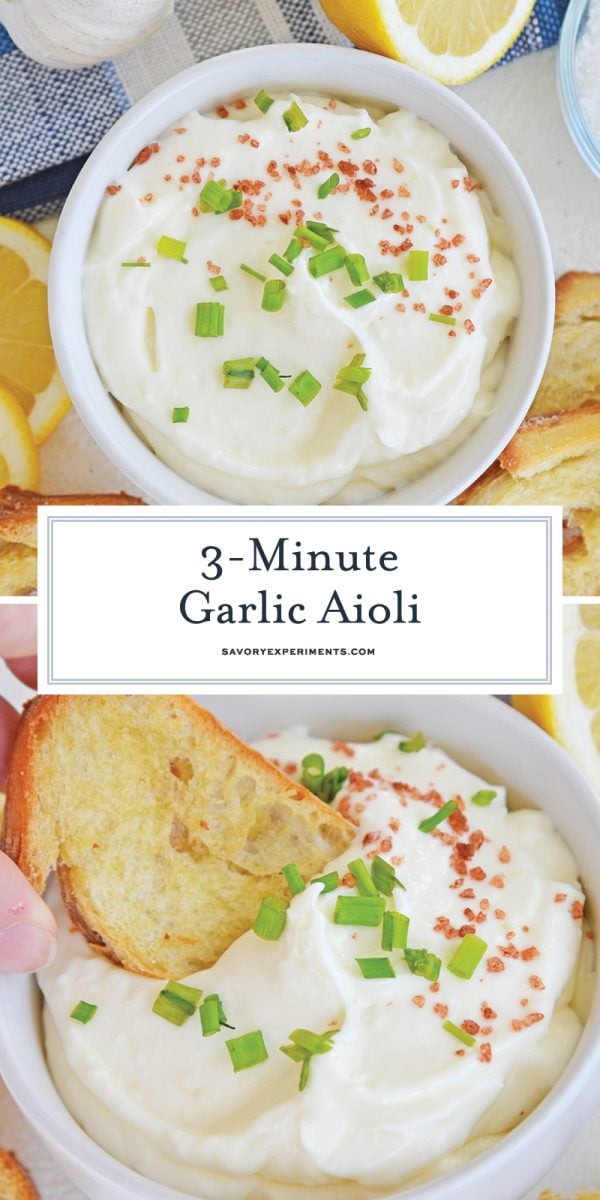 More Common Questions
Does aioli have raw egg?
Yes and no… yes, the base is typically egg or just egg yolks, but these days it is common for most eggs to be pasteurized and this already heat treated for safety. Look for this on packaging.
Is aioli just garlic mayonnaise?
Yes and no, there is a much more detailed response above (in case you are skimming).
Can I freeze aioli?
I do not recommend freezing any mayonnaise based sauce.
Tools You'll Need
Good Extra Virgin Olive Oil– A good olive oil will taste like, well, olives, while a poorly made one will taste like vegetable oil. Gross. While people tend to favor Italian and Greek olive oils, I prefer to buy mine domestically.
There are some great ones out there from all over the world, but the reporting of ingredients isn't always the same and you could find that your super expensive olive oil was actually cut with vegetable oil.
Mini Food Processor– I use this thing daily! It is by far my most used kitchen appliance, it is small and I throw all the parts into the dishwasher, well except the base and cord, of course!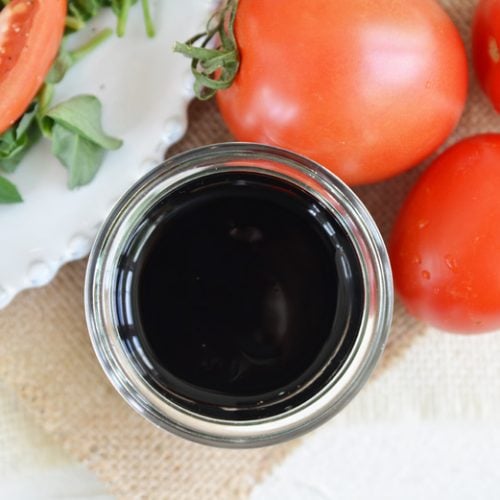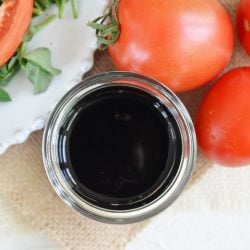 Balsamic Reduction Sauce
How to make a balsamic reduction sauce just like the restaurants! Tastes like 15 year aged balsamic, but cheap and made in 15 minutes with only 3 ingredients.
See The Recipe!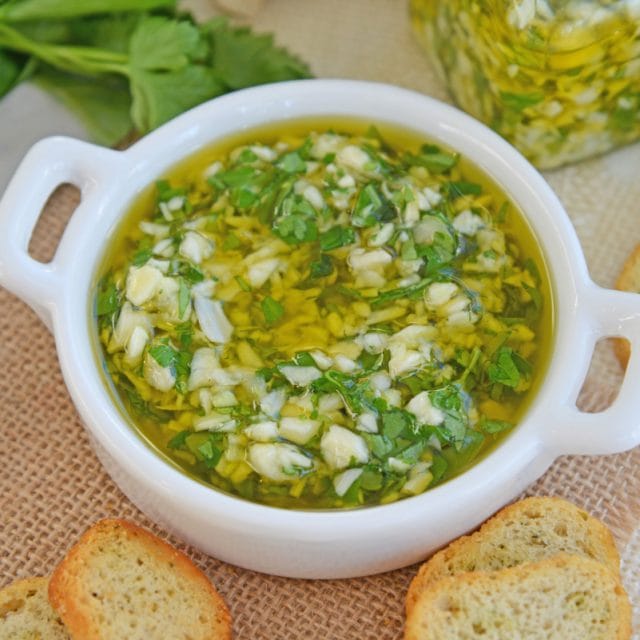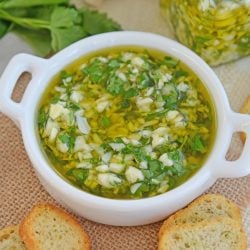 Garlic Relish
Whether you spread it on a sandwich, dip warm bread into it or use it to top a steak, this Garlic Relish is so delicious and full of flavor!
See The Recipe!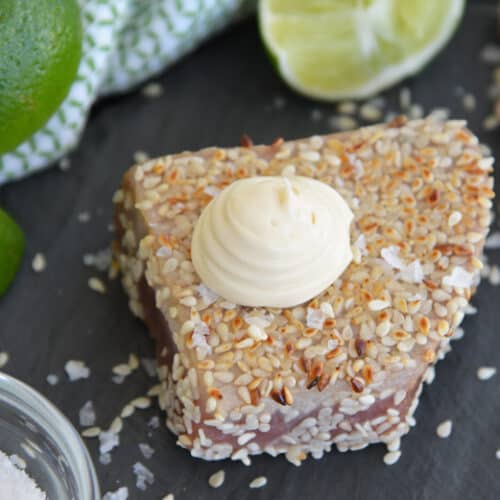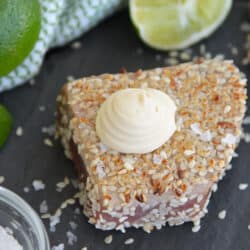 Wasabi Aioli Sauce
With only 3 simple ingredients, you can make this EASY Wasabi Aioli! Great as a dipping sauce, a sandwich spread or even alongside sushi!
See The Recipe!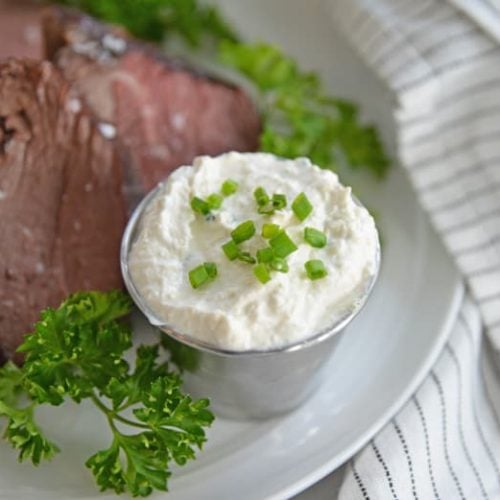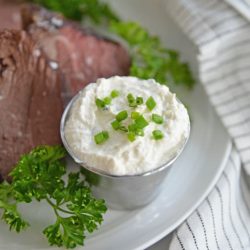 Creamy Horseradish Sauce
Creamy Horseradish Sauce comes together in less than 5 minutes with a sour cream base, tangy horseradish, this is a winner that will rival any steak sauce!
See The Recipe!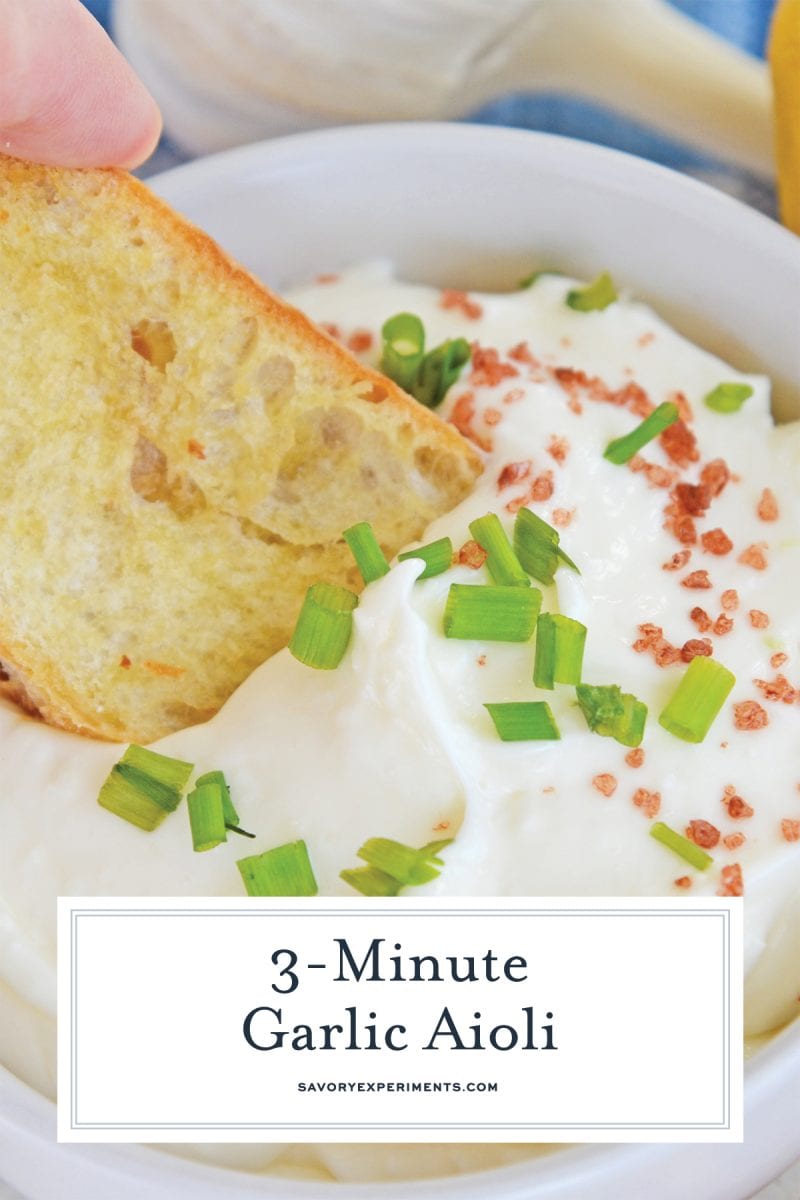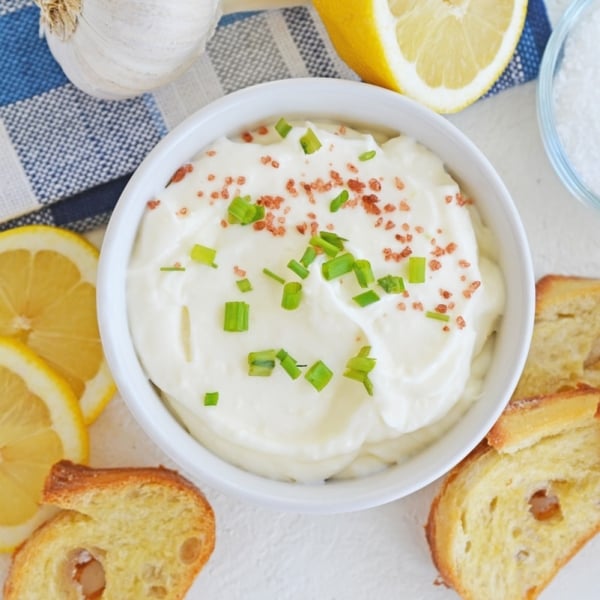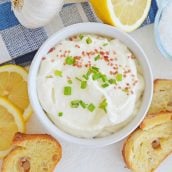 Quick Garlic Aioli
Quick Garlic Aioli is one of the easiest ways to punch up any dish or meal. Make this simple sauce in less than 5 minutes!
Instructions
Combine mayonnaise, lemon juice and salt to garlic and blend until smooth.

Keep in an airtight plastic container in the refrigerator for up to 2 weeks.

If you've tried this recipe, come back and let us know how it was in the comments or ratings.
Nutrition
Calories:
154
kcal
,
Carbohydrates:
1
g
,
Protein:
1
g
,
Fat:
17
g
,
Saturated Fat:
3
g
,
Cholesterol:
9
mg
,
Sodium:
142
mg
,
Potassium:
8
mg
,
Sugar:
1
g
,
Vitamin A:
15
IU
,
Vitamin C:
1
mg
,
Calcium:
3
mg
,
Iron:
1
mg