Mexican Shrimp Cocktail is a blend of Texas Caviar, traditional Shrimp Cocktail and shrimp ceviche. A spicy, tomato based blend of shrimp, vegetables and citrus marinade. In Spanish, it is known as coctel de camarones.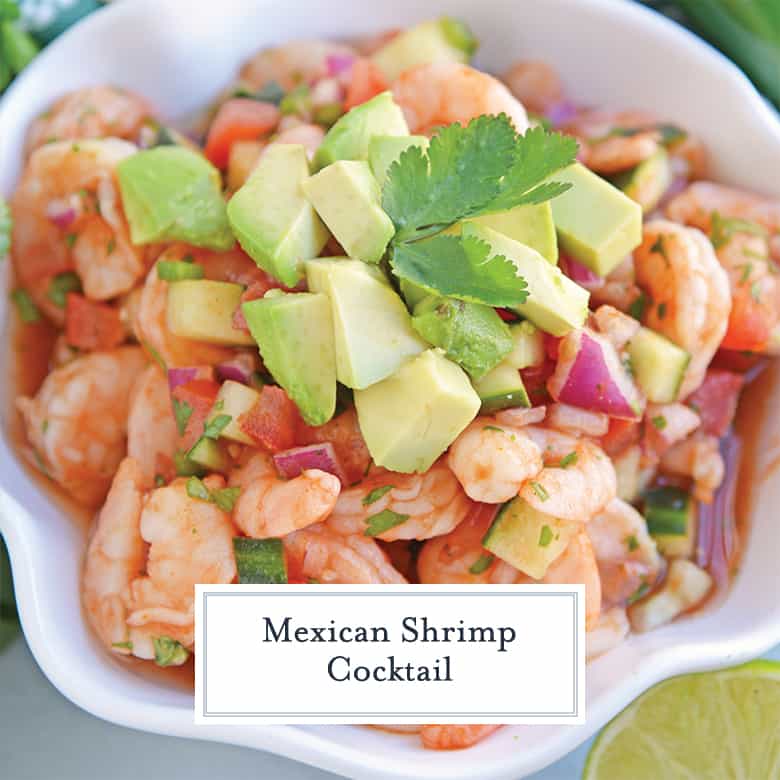 Mexican Shrimp Cocktail is an easy recipe made with shrimp, fresh vegetables, tomato juice and hot sauce for a spicy version of your favorite classic. Top with avocado and serve with tortillas chips or saltine crackers.
Recipes for Mexican Shrimp Cocktail range greatly. Some include canned tomatoes, celery, cucumber, red onion, cilantro, jalapeno, lime juice and many more interesting ingredients.
Mine is a traditional Mexican food version.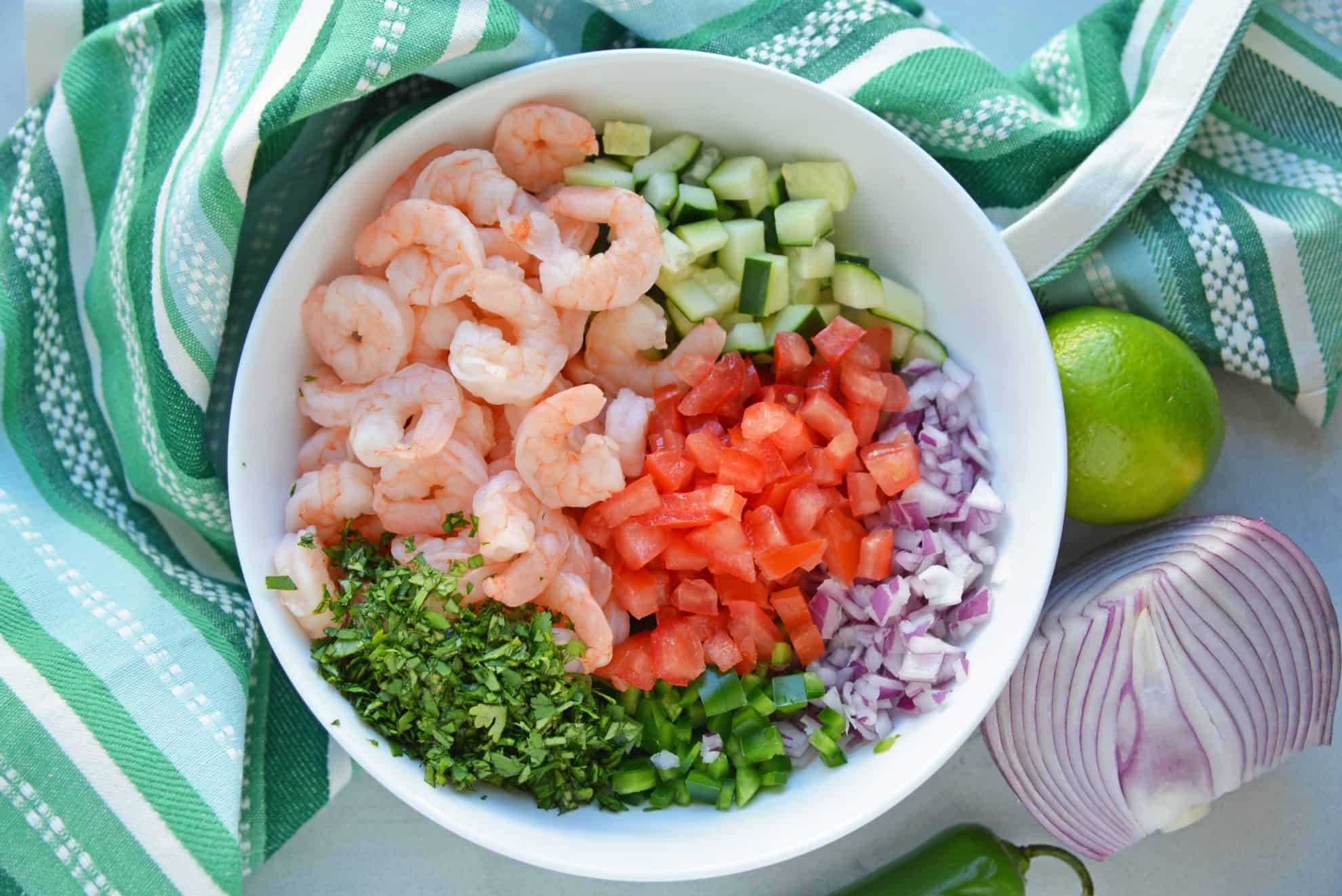 You can easily omit cilantro, as many have an aversion to it, tasting like soap or dirt. I actually don't like celery for this recipe. I find that cucumber provides enough crunch and refreshing flavor that celery isn't necessary.
Some recipes dice the shrimp, but I like to leave mine whole, but use small enough shrimp that they are still bite-sized. You can use a larger shrimp and choose to chop it or leave it whole.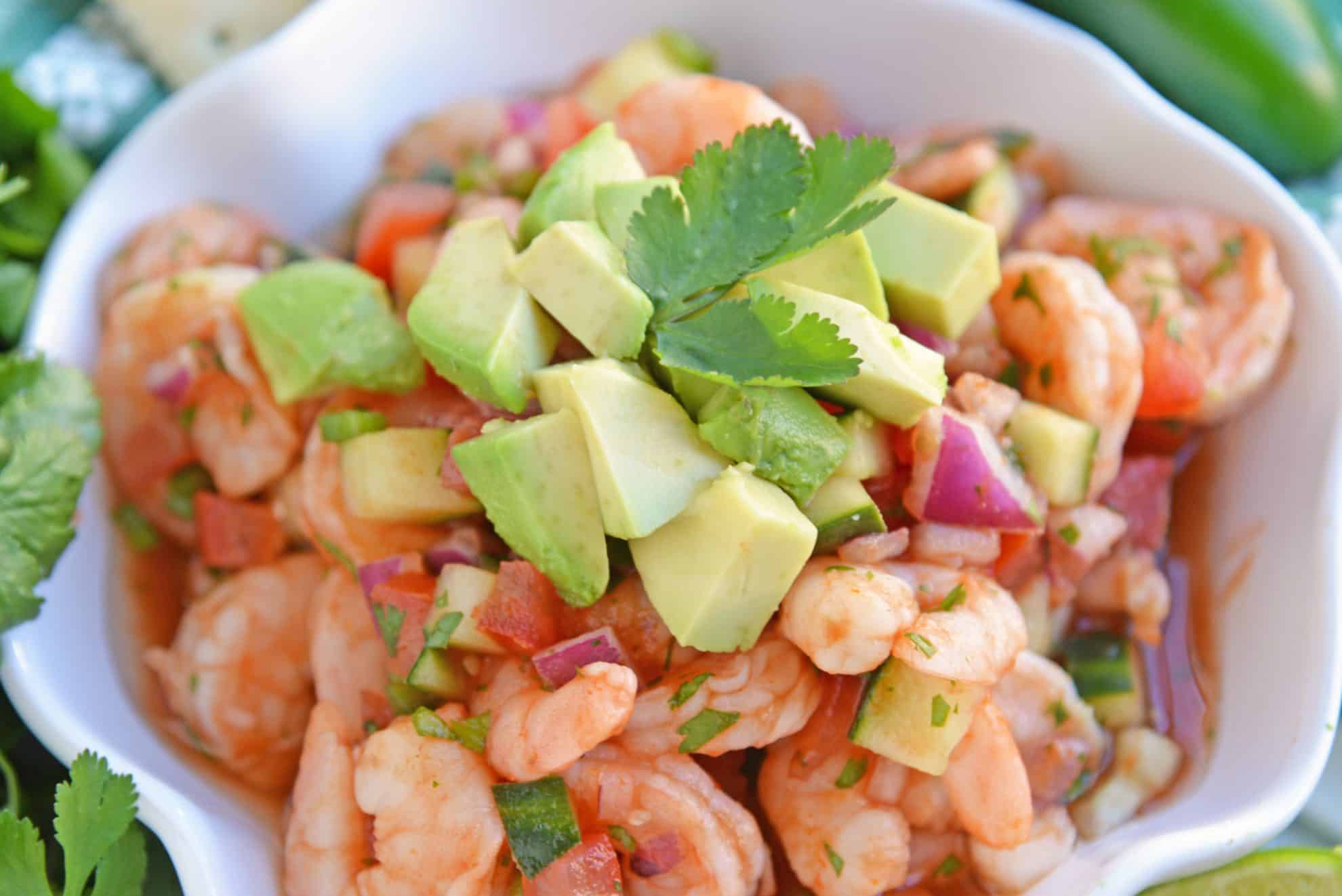 It really depends on the event. You can even use the mini, shrimp salad size shrimp to serve as a dip.
PRO TIP: Use fresh lime juice, not bottled. As soon as it is juiced, it starts to lose potency.
Shrimp cocktail recipes use ketchup– lots of ketchup. It's like having your cocktail sauce in the shrimp. I add a little to thicken up my broth, but overall, I prefer to use tomato juice and less ketchup.
You can use straight up tomato juice or get all fancy and add V8 or Clamato juice. Clamato juice is tomato juice mixed with clam juice and also makes a fabulous cocktail. Mix it up even more by choosing the heat: hot and spicy or regular.
Because of this fabulous tomato sauce base, you don't even need cocktail sauce!
PRO TIP: If you are buying raw shrimp and cooking them, steam them in a large pot until they turn pink and curl slightly.
Chilling mutes flavors, so two of the boldest flavors, hot sauce and salt, will be added right before serving. Avocado just oxidizes, browns and can get all mushy.
Here I actually look for an avocado that is barely ripe or still slightly hard. Wait to chop your avocado until just ready to serve.
Mexican shrimp cocktail is traditionally served on saltine crackers, much like crab cakes. A salty vessel to get your Mexican Shrimp Cocktail from point A to point B without taking away from the delicious flavors. You can also use tortilla chips.
For me, the avocados really make the dip. I seriously love AVOCADO!
Here are some tips on how to choose the best avocado!
ONE. Don't judge by color, judge by texture. Avocados will vary in the hue of green, so don't rely solely on the color. A deep green doesn't necessarily mean that it is overly ripe or bad.
TWO. Do judge by texture. Take it in the palm of our hand and gently squeeze. Ripe, ready-to-eat fruit will be firm but will yield to gentle pressure. If you are planning to eat your avocado the next day (or days after) pick a fruit that it is a little more firm.
THREE. While you shouldn't judge on overall color, do look for blemishes or discoloration on some spots.
FOUR. Even taking these steps, sometimes you still cut into an avocado and see brown. This is unavoidable and just part of the avocado game.
FIVE. If you do pick an overly ripe fruit, you can ripen it faster by putting it in a brown paper bag. They release a gas called ethylene, a natural hormone that promotes ripening.
PRO TIP: To ripen even faster, add more to the same bag. More fruit = more ethylene.
Mexican shrimp cocktail can be served in individual cups for a sit down dinner or event, or in a bowl as a dip.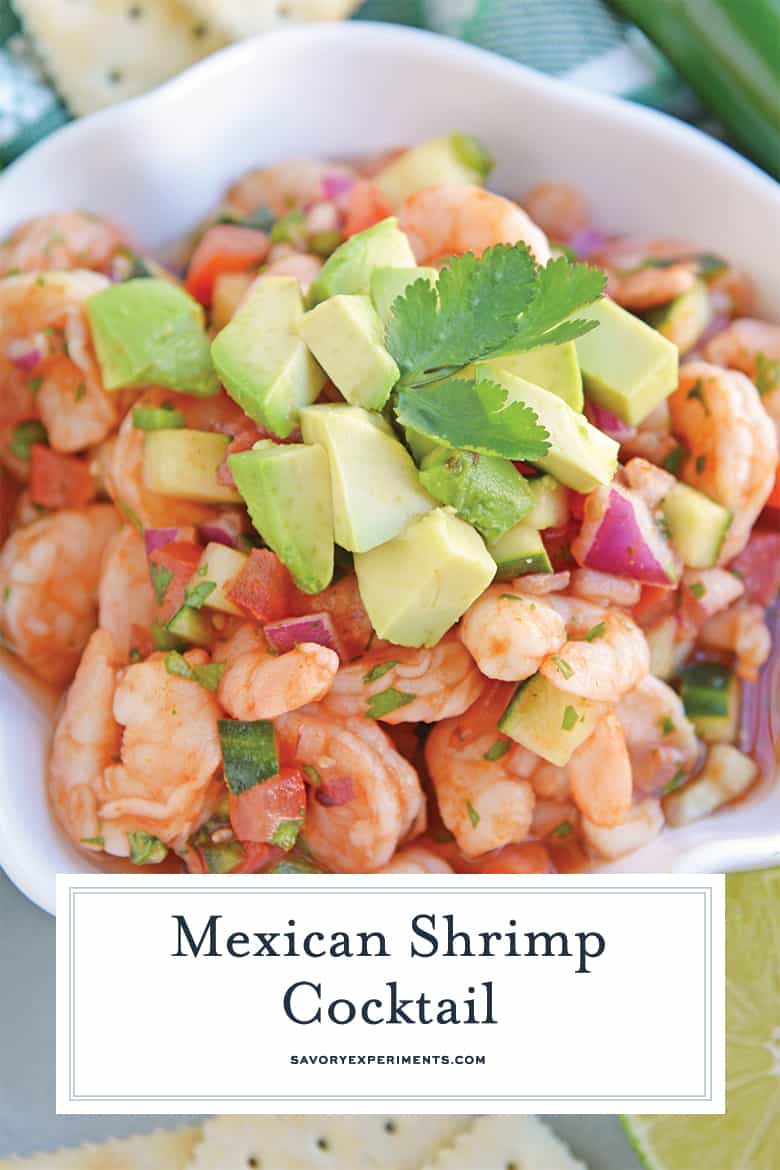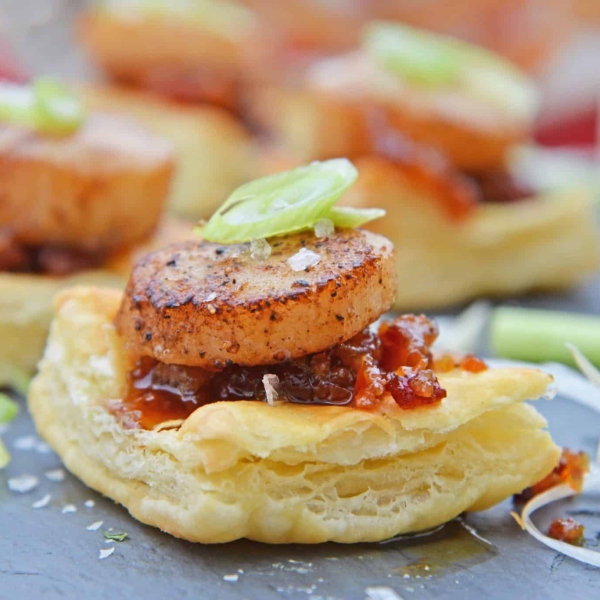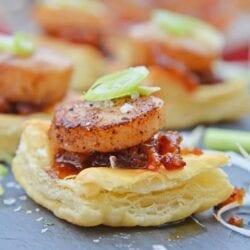 Bacon Jam Scallops
Bacon Jam Scallops are a play on classic bacon wrapped scallops, only using sweet and salty bacon jam with scallions and flaky puff pastry!
See The Recipe!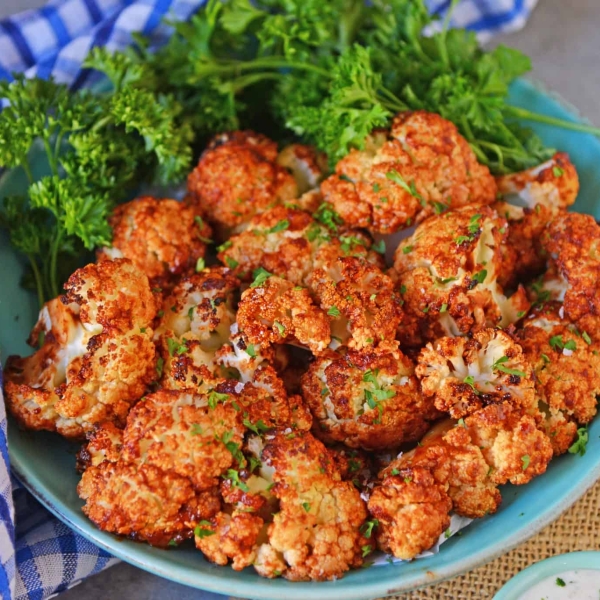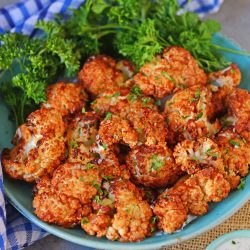 Tools for making this shrimp cocktail recipe:
Wood cutting board – wood won't dull your knives like plastic and if treated properly, has natural antimicrobial properties.
Good knife – Global is my favorite! They are worth the price, I promise. I am kind of obsessed with them and store them tucked away so no one else can use them. Including hubby. Hands off my good stuff!
Mixing Bowls– make sure to check out my article on Using the Right Mixing Bowl, you'd be surprised how many people aren't!
Non Powdered Latex Gloves – Say what? Non powdered latex gloves are another one of my kitchen essentials. Anytime I chop a hot pepper (jalapeno, serrano, habanero), you risk the oils permeating your skin and it BURNS! Touch anything else, God forbid your eyes, and you will be in some real pain!
Avoid all of this by throwing on some latex gloves without powder. Unless you are allergic to latex, of course. And if you don't follow my advice and do end up with the burning skin, soak them in milk, the higher fat content the better!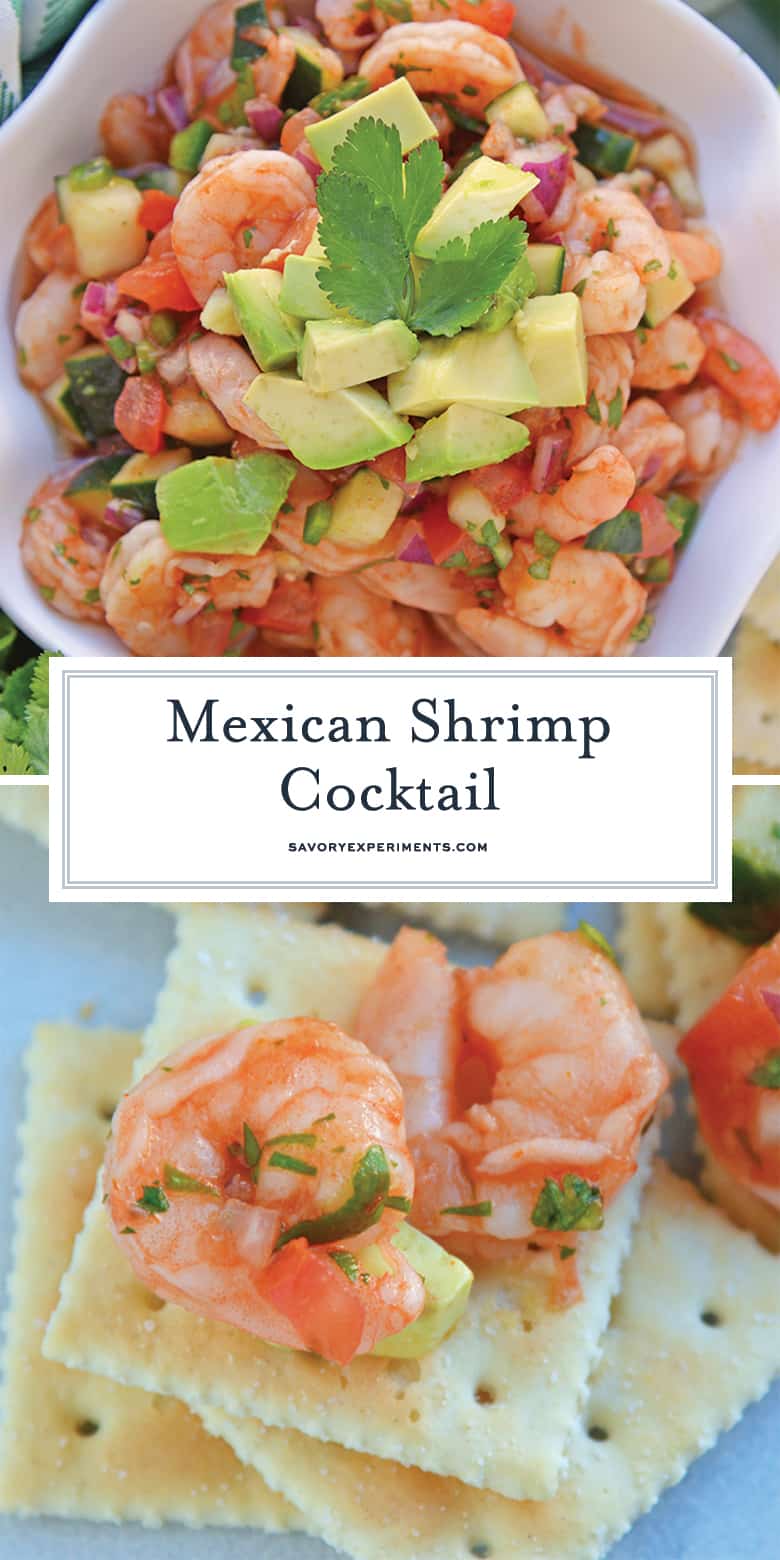 Questions you might have about how to make Mexican shrimp cocktail:
Can I omit the cilantro? Yes! Omit the cilantro and you'll still be just fine.
Are the shrimp cooked? Yes. PLEASE COOK YOUR SHRIMP!!!! The recipe calls for cooked shrimp.
What size shrimp should I use? You can use whatever size shrimp you'd like, as long as it equals 1 pound. Large shrimp or super small shrimp (that won't really require chopping) are all fine. I advise getting whatever is on sale.
Can I use frozen shrimp? Frozen shrimp are totally acceptable, just make sure they are thawed, drained and blot them well with a paper towel so they don't have any excess water.
How long can Mexican shrimp cocktail be left out? CDC recommendations suggest no longer than 2 hours.
How long does this shrimp cocktail stay good? I would say no longer than 3 days in refrigerator due to the yogurt and seafood ingredients.
Is this a low carb shrimp recipe? Yes! This is a gluten free shrimp salad that is also low carb… if you use a low carb and low sugar ketchup and use something other than crackers or chips.
Can this recipe be frozen? No. I don't suggest freezing this recipe.
Also make this into my Mexican Cream Cheese Shrimp Dip!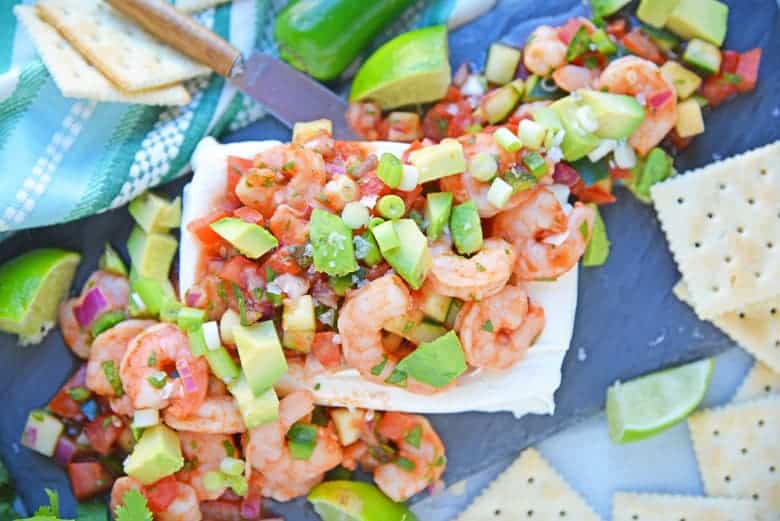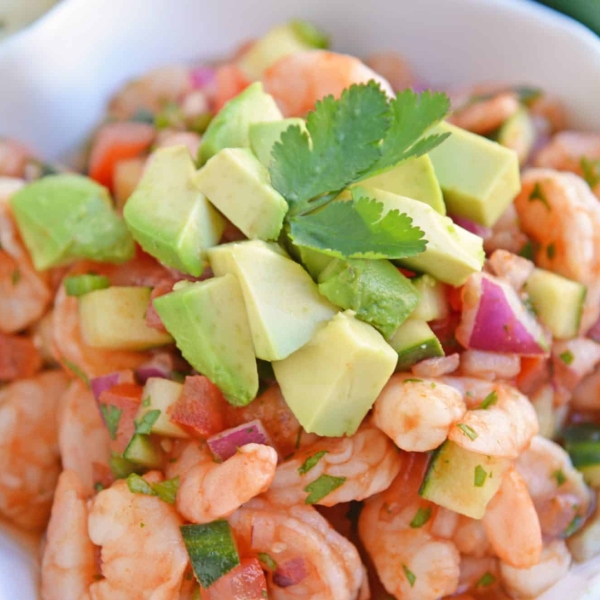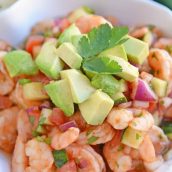 Mexican Shrimp Cocktail
Mexican Shrimp Cocktail is an easy recipe made with shrimp, fresh vegetables, tomato juice and hot sauce for a spicy version of your favorite classic. Top with avocado and serve with tortillas chips or saltine crackers.
Instructions
Combine cooked shrimp, red onion, cucumber, tomatoes, cilantro and jalapeno in a mixing bowl. Toss to combine.

In a separate bowl, whisk together lime, tomato juice, ketchup, hot sauce and Kosher salt.

Pour tomato mixture over fresh veggies, toss gently to combine.

Cover and refrigerate for 1-24 hours.

Toss to refresh when ready to serve. You can drain excess liquid or keep it.

Top with freshly chopped avocado and saltine crackers or tortilla chips.

If you've tried this recipe, come back and let us know how it was!
Notes
Nutrition does NOT include saltine crackers or tortilla chips.
Nutrition
Calories:
114
kcal
,
Carbohydrates:
6
g
,
Protein:
12
g
,
Fat:
4
g
,
Cholesterol:
142
mg
,
Sodium:
813
mg
,
Potassium:
306
mg
,
Fiber:
2
g
,
Sugar:
2
g
,
Vitamin A:
390
IU
,
Vitamin C:
16
mg
,
Calcium:
93
mg
,
Iron:
1.5
mg