With a delectably moist crumb and warm spices and flavors, this old-fashioned Applesauce cake is one of those delicious cakes that you'll want to make over and over again!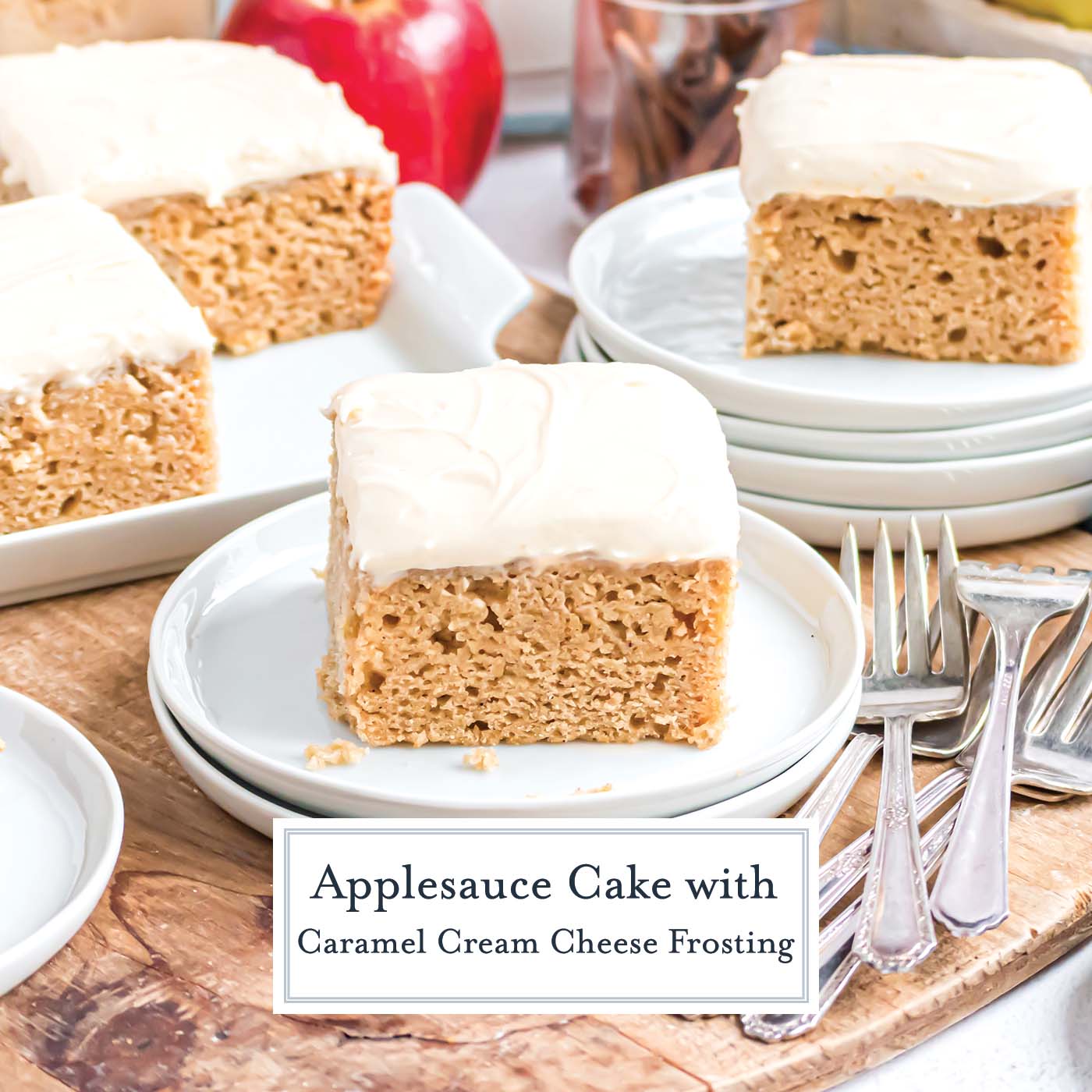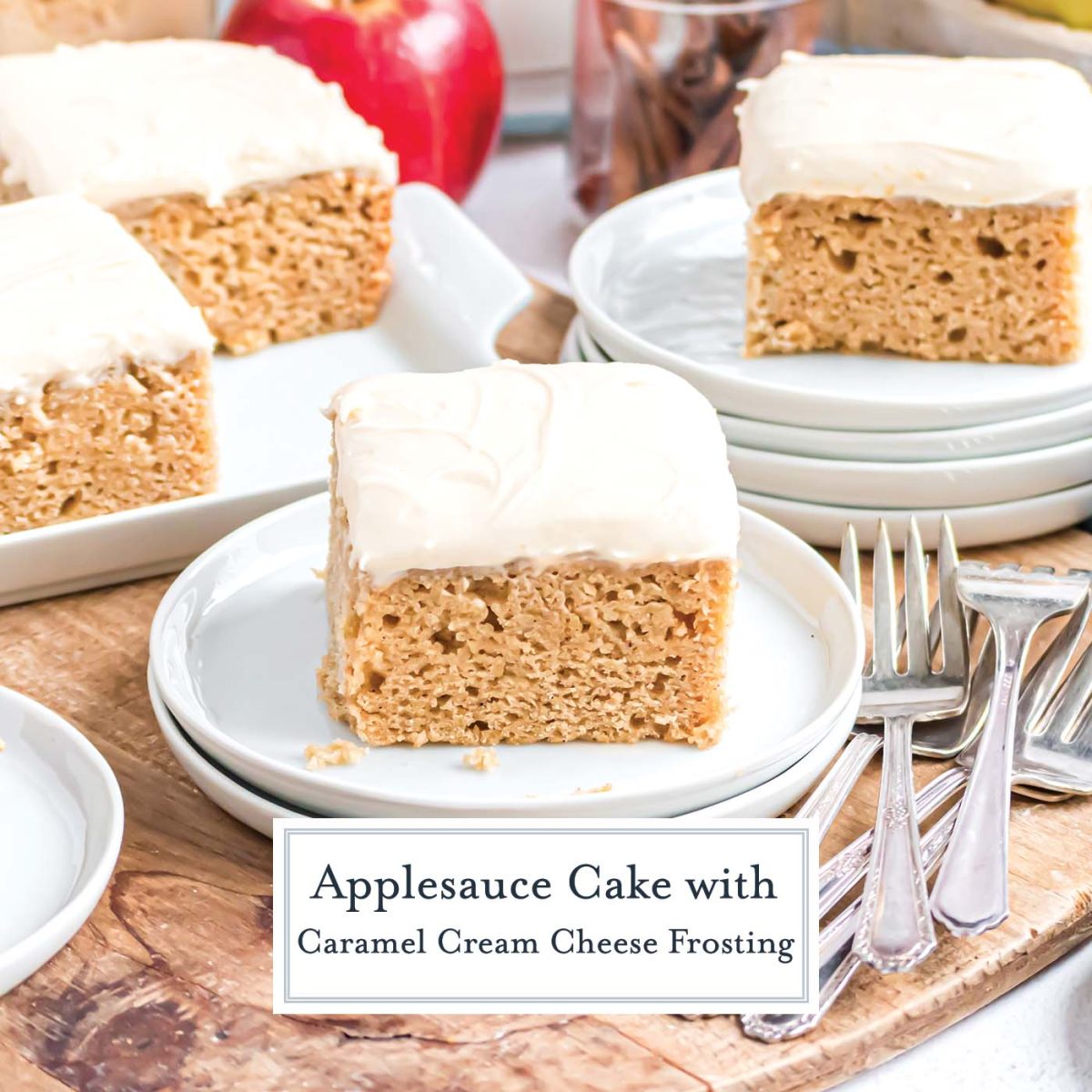 Applesauce is a known substitute in baking to make things a bit healthier. It's often used in place of vegetable oil to make a lighter, moist cake.
After making my own batch of homemade applesauce, I tried my hand at adding it to baked goods. These Applesauce Cookies were a hit, and now we are using it in this easy applesauce cake both as an oil substitute and the star flavor!
Why Does Applesauce Work in Cake?
It sounds kind of odd, but it works as a "fat" and also a leavener, meaning it helps it rise.
We didn't omit all of the other fats in this one, but we did reduce the amount generally needed. Fats create a rich and moist crumb.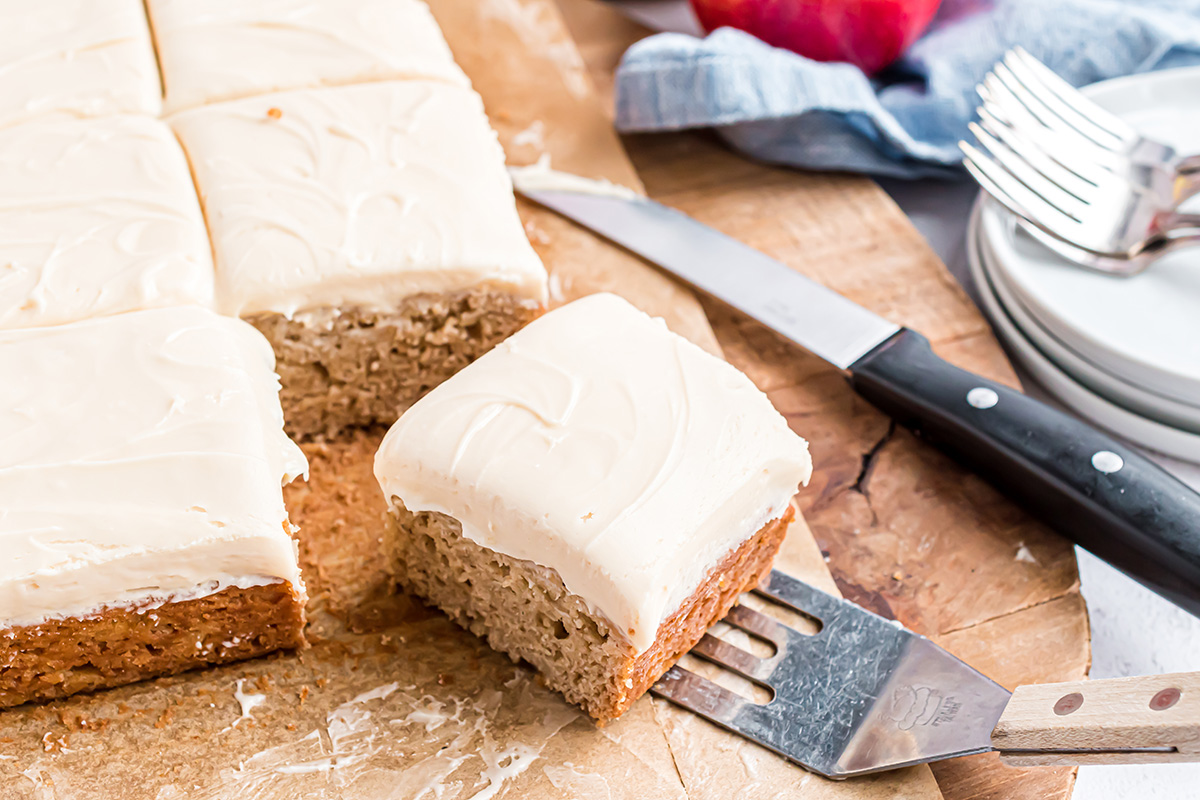 The role of a leavener is to help something rise. Applesauce has oodles of water in it and that water, when heated, creates steam. The steam makes all of those happy little pockets in your cake, which in turn makes it taller. We still used a small amount of baking powder and soda to reach this cake's height potential.
Applesauce Cake Ingredients
Butter – When baking, I always opt for using unsalted butter. It allows me to control the amount of salt in the recipe. If salted butter is all you have on hand, just cut the Kosher salt back or omit it all together.
Sugar – We use granulated white sugar to provide a little extra sweet to this homemade cake.
Brown sugar – I prefer to use light brown sugar for this applesauce cake recipe. The flavor is lighter and less pungent than dark brown sugar. Molasses can easily overrun the other flavors.
Applesauce – You can always make your own applesauce using my homemade applesauce recipe. But store bought works just as well! If using store bought, go for unsweetened applesauce unless you want a really sweet cake. You can even try using pear sauce or cranberry apple sauce instead of applesauce
Vanilla extract – vanilla extract is just a great way to balance and round out the flavors of a lot of baked goods.
Flour – I use all-purpose flour in this recipe because it's what I usually have on hand. Anything to make it easier!
Baking powder – This acts as a leavening agent for baked goods. It helps to provide a lighter texture in this cake.
Baking soda – The bubbles that baking soda releases in a cake give a light and airy texture.
Salt – I love using coarse Kosher salt whenever possible. But again, if you are using salted butter be sure to cut the amount in half or omit it completely and if you are using a fine salt grain, cut the amount in half, at least.
Spices – For this cake, we are using a combination of warm spices: ground cinnamon, nutmeg, ginger and allspice. Together they provide a warm, comforting flavor.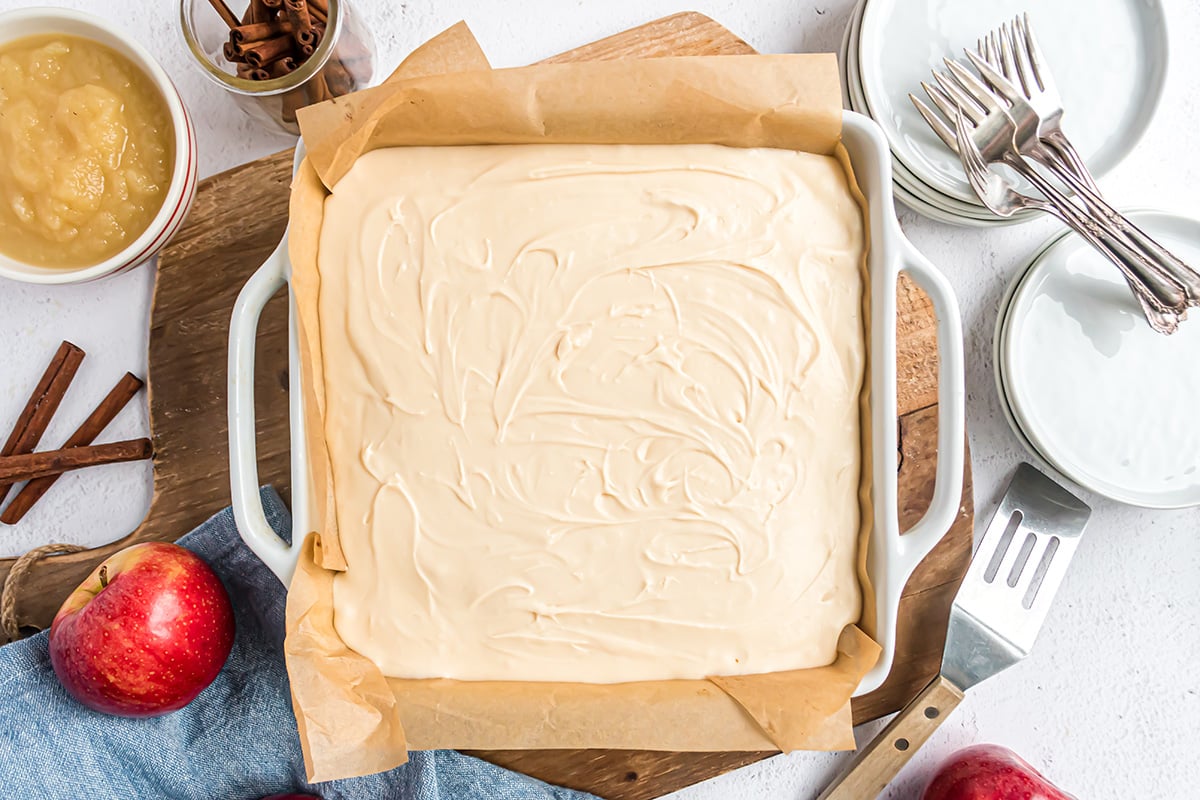 Caramel Cream Cheese Frosting
Yeah, yeah, yeah- we didn't use applesauce to cut back on sugar and then top it with an amazingly creamy frosting did we? Yep… we did and now I'm singing :sugar, do, do, do, do, aw honey honey" in my head. LOL.
Cream cheese – To top this delicious applesauce cake, we are using a cream cheese frosting. And you can't have that without using cream cheese as the base! Reduce fat cream cheeses aren't as dense and might require less powdered sugar to thicken to the correct consistency.
Butter – We need a little bit of butter for the base of this frosting as well. Again, use unsalted here.
Caramel sauce – Is there any better flavor combination than caramel and apple? Using caramel sauce or grab some at the store.
Powdered sugar – This helps to provide an element of sweet to our frosting. Powdered sugar is always used in frostings because of it's fine texture. No one likes a grainy frosting.
Heavy cream – We need a bit of liquid to thin out our frosting. Use at your discretion based off of how thin or thick you like your frosting. The thickness of your caramel sauce will also play a part in how much you need. Add sparingly to avoid going too much in the soupy direction.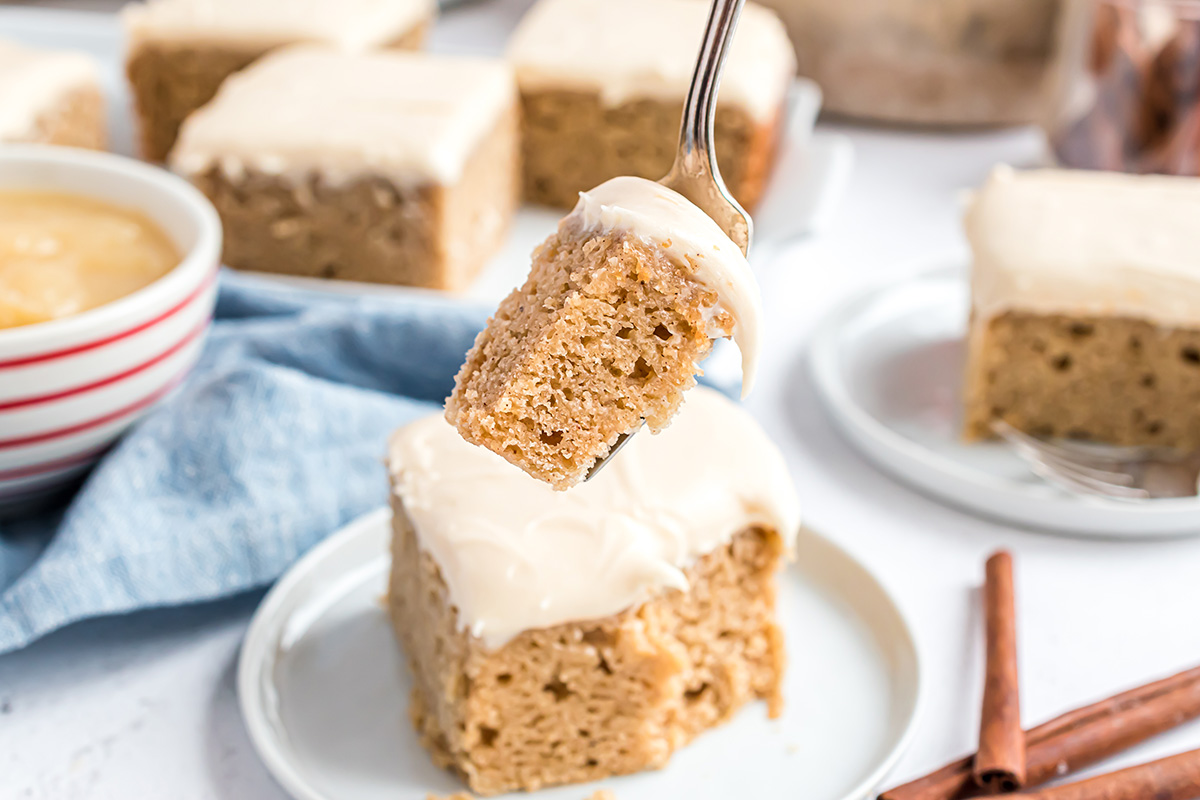 How to Make
Making this is easy and fairly standard as far as cake baking goes.
Heat the oven and prepare a square pan (8×8 or 9×9) by lining with parchment paper. This sponge tends to stick a little, so using parchment gives you the best bet on nice clean squares. It also lets you take the whole cake out to a pretty cake stand or plate instead of serving straight from the pan.
In a large bowl cream together the butter and sugars. Add the applesauce and vanilla once light and fluffy.
Sift together the dry ingredients and then add the flour mixture to the wet ingredients. Don't skip the sifting! This ensures all of the dry ingredients are evenly distributed and you won't end up with salty or flat pockets.
Transfer batter to the prepared pan and bake until it passes the toothpick test to ensure the center of the cake is completely cooked. Of using an 8×8 pan, this could be a few minutes longer since the cake it slightly thicker.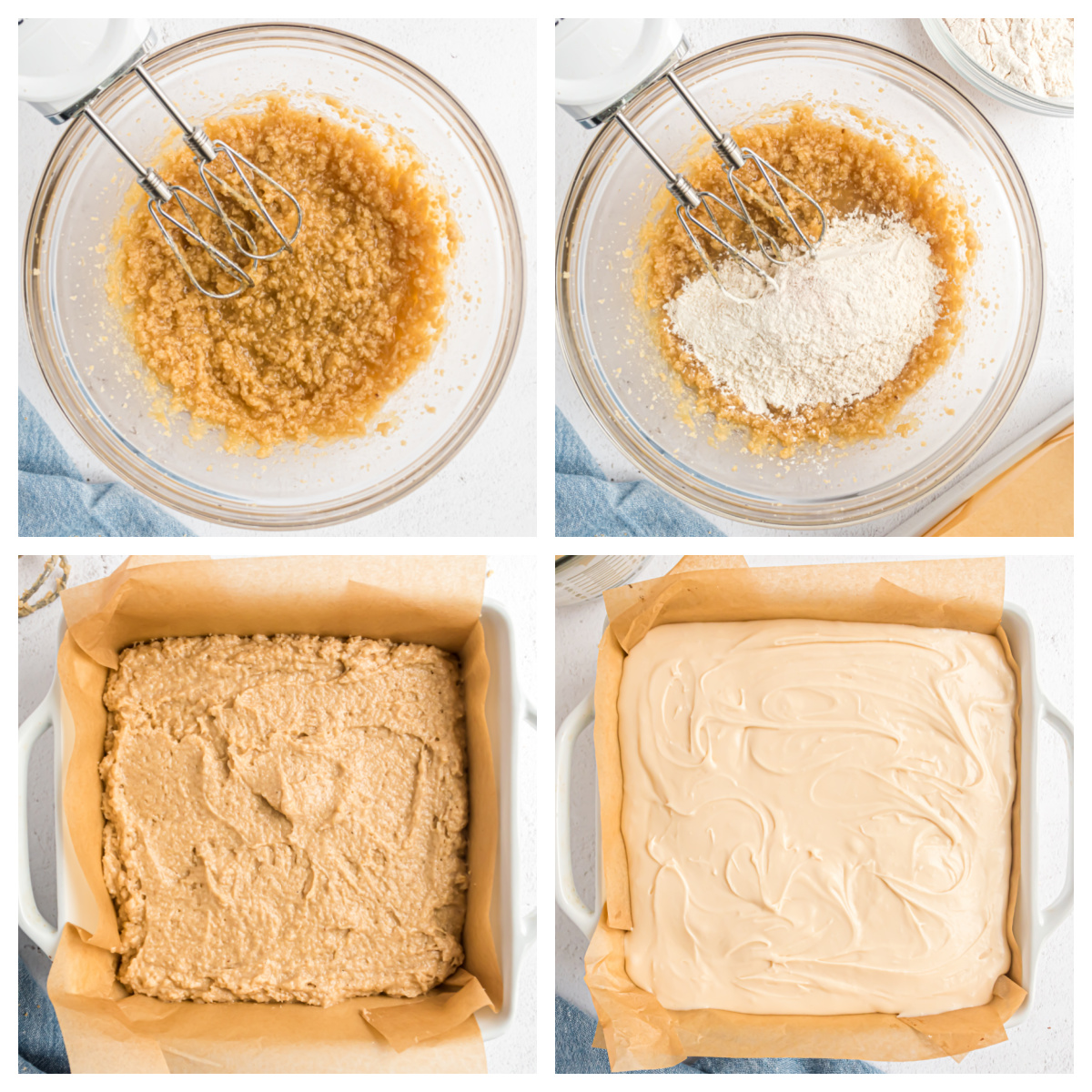 Remove from oven and allow to cool on a wire rack completely before frosting.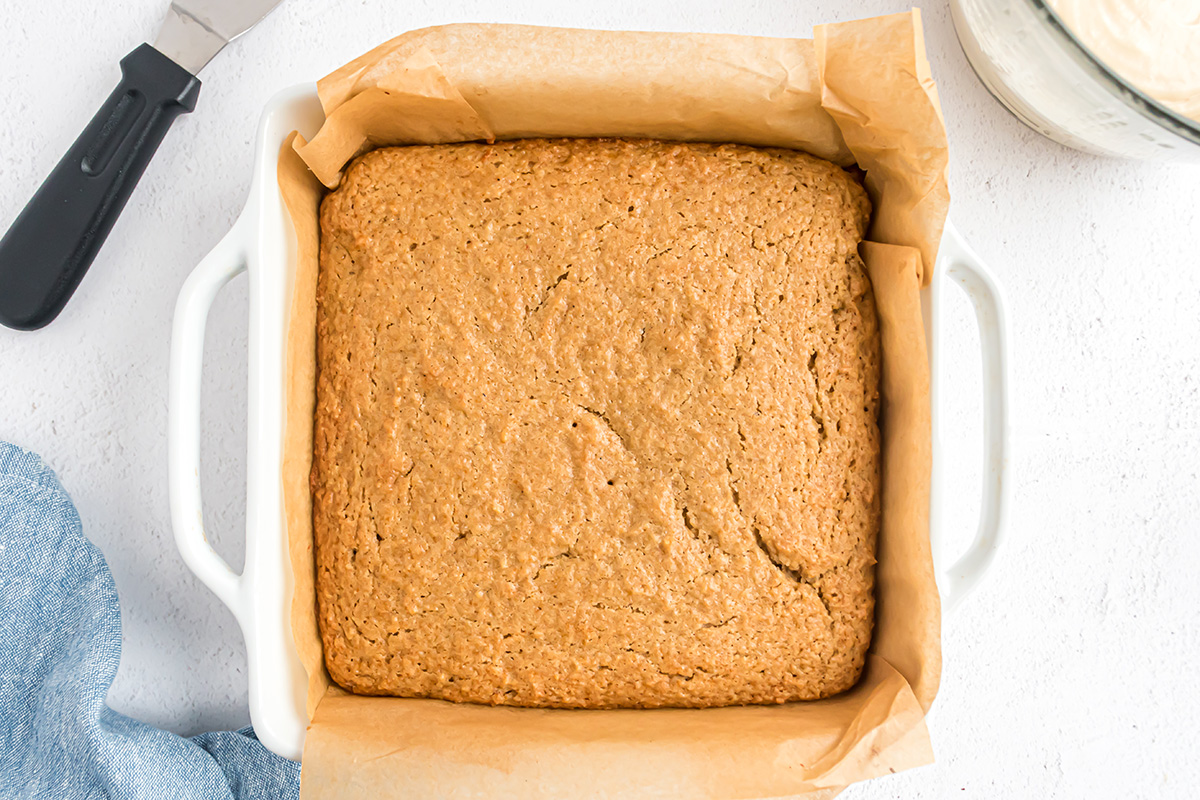 In the meantime, beat the cream cheese and remaining butter for the frosting until light and fluffy.
Add the caramel, powdered sugar and salt and beat until no lumps remain. Then add in the heavy cream until desired consistency has been reached. Add slowly so you don't run into a thin frosting that needs more powdered sugar. We've all been there!
Variations and Storage
There are lots of flavors that combine well with apple, so feel free to branch out!
Frosting– Instead of the caramel frosting, swap with maple syrup. Or add cinnamon to the frosting to make cinnamon cream cheese frosting. Cinnamon and apple are the perfect match.
Add-Ins– If you'd like to add a little more fruit to your applesauce cake, try adding 1 cup of fresh apple chunks or raisins to the cake batter.
Garnish– Try adding some fresh apples slices on top of the cake or using freshly ground cinnamon.
Frosting Free– This cake has so much flavor on it's own that it doesn't require icing. Simply dust with powdered sugar or slather it with apple butter.
Serve it With- I like mine best with a scoop of vanilla ice cream and a cup of coffee or tea.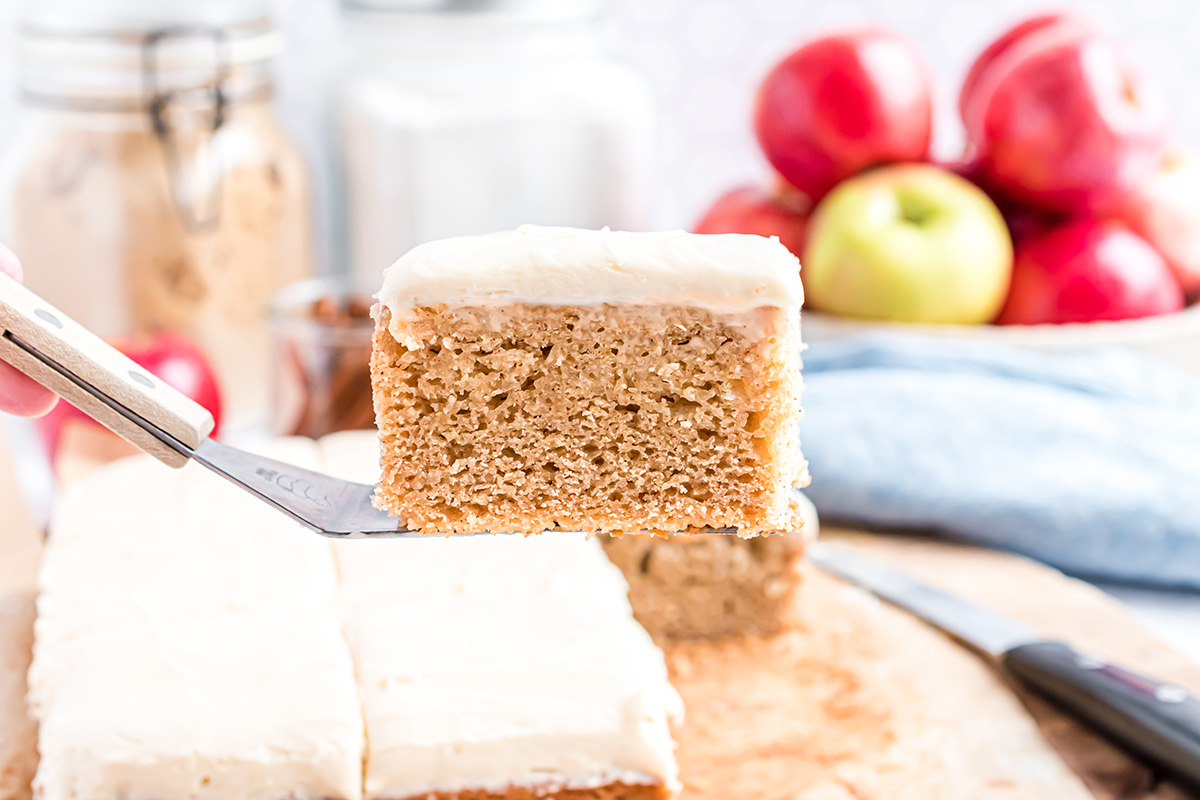 Storage & Freezing
You can store your leftover cake in an airtight container in the refrigerator. Because of the dairy in the cream cheese, I don't recommend storing it at room temperature, although it can be done. Most cream cheeses are pasteurized and don't present an immediate problem.
This cake is freezer friendly before being frosted. But I will say I froze a few individual pieces and they thawed fine.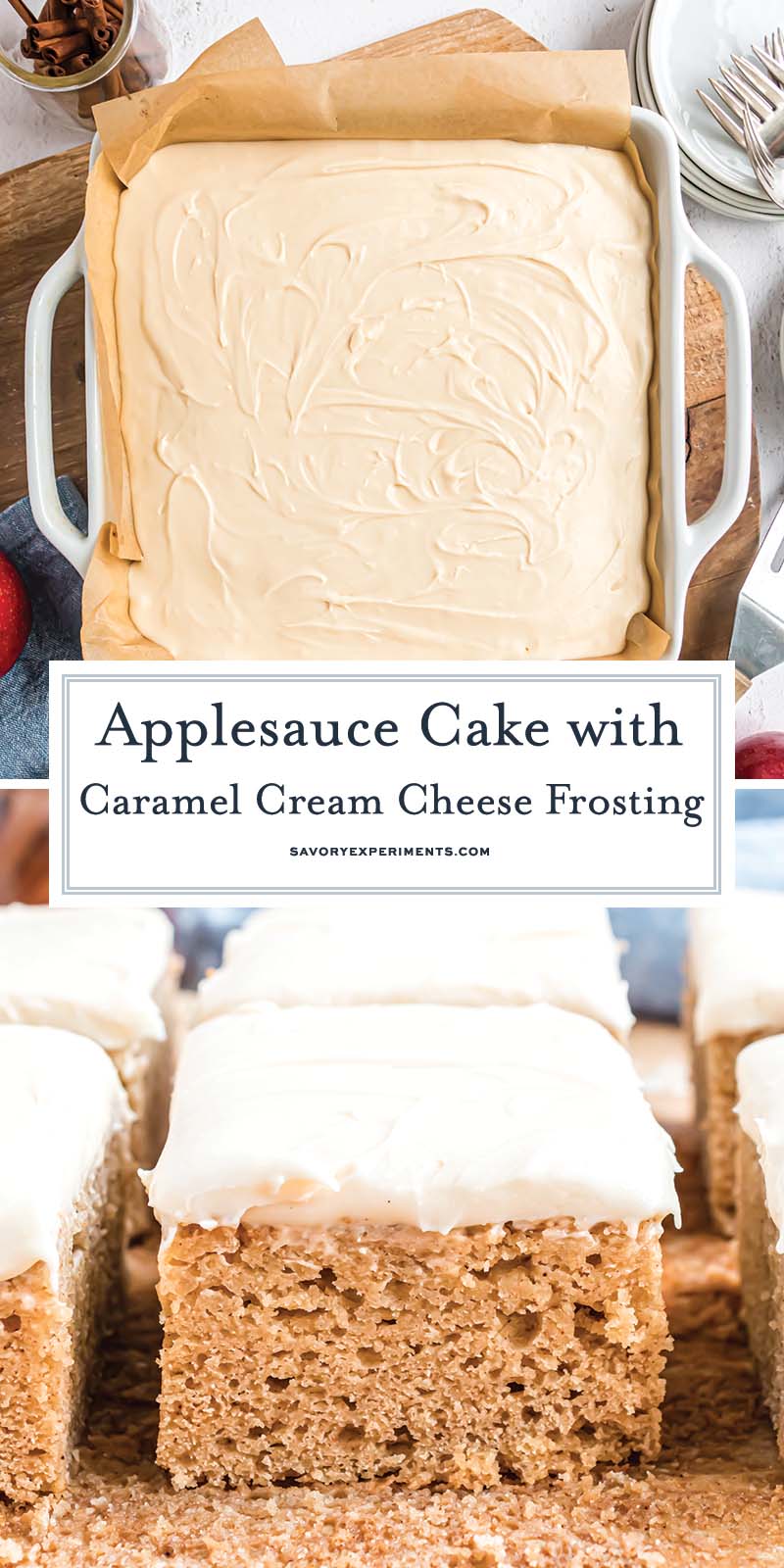 More delicious desserts to try: