Starbucks Pumpkin Bread, formerly known as Starbucks Pumpkin Pound Cake, is a flavorful and moist bread (or cake) perfect for chilly fall weather.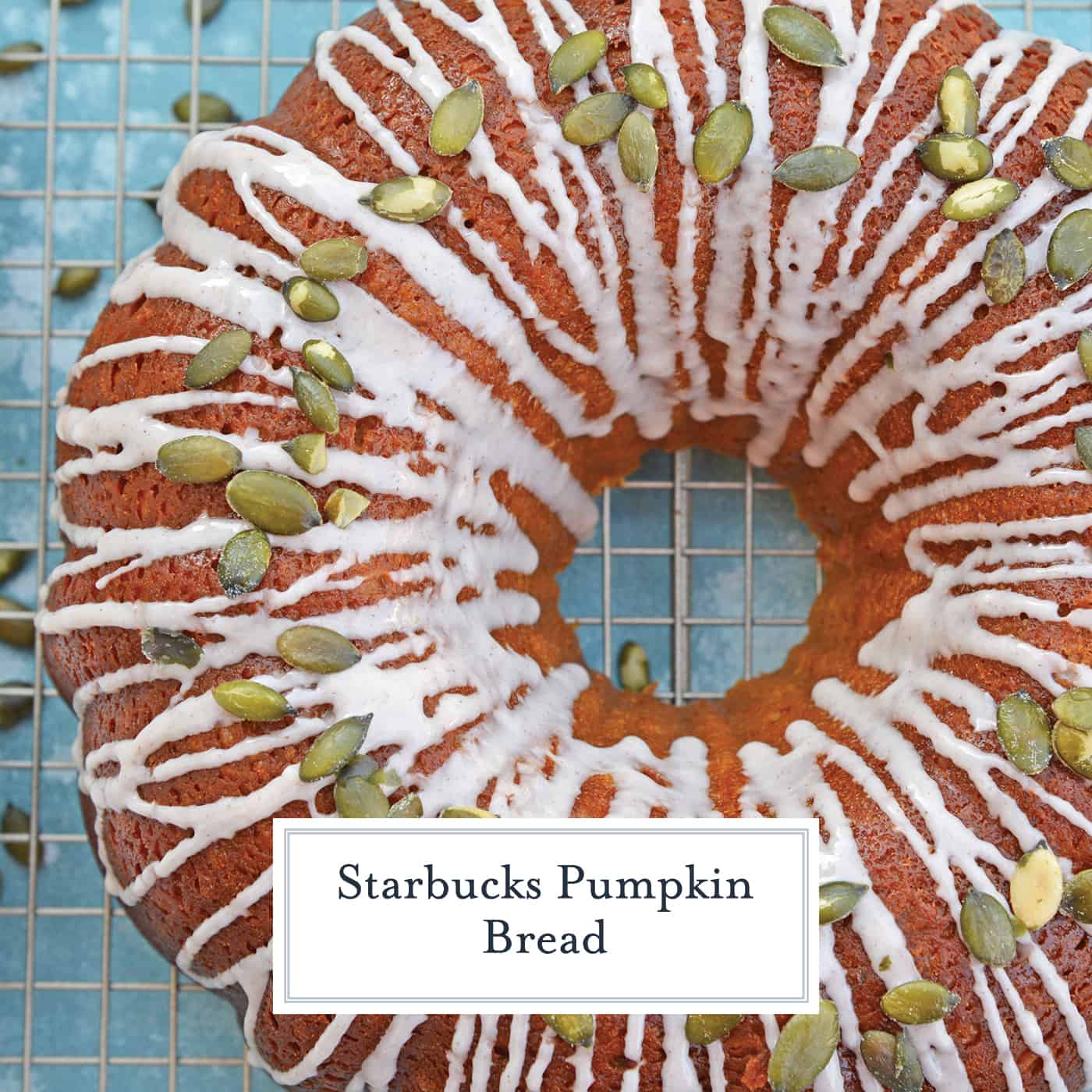 Even if you aren't a pumpkin lover, you might actually like this bread, I promise. It is not overly pumpkin, nor overly pumpkin spice.
Pumpkin Flavor
I'll be the first one to admit it, I am NOT a pumpkin spice fanatic. I don't mind it, but I also don't count down to the day Starbucks releases the first Pumpkin Spice Latte.
Everything in the food blog-oshpere is pumpkin flavored. Half the time it isn't even actually pumpkin, just pumpkin spice… which by the way is also very similar to apple spice and many other spice mixes.
Pumpkin puree without pumpkin spice is actually quite bland.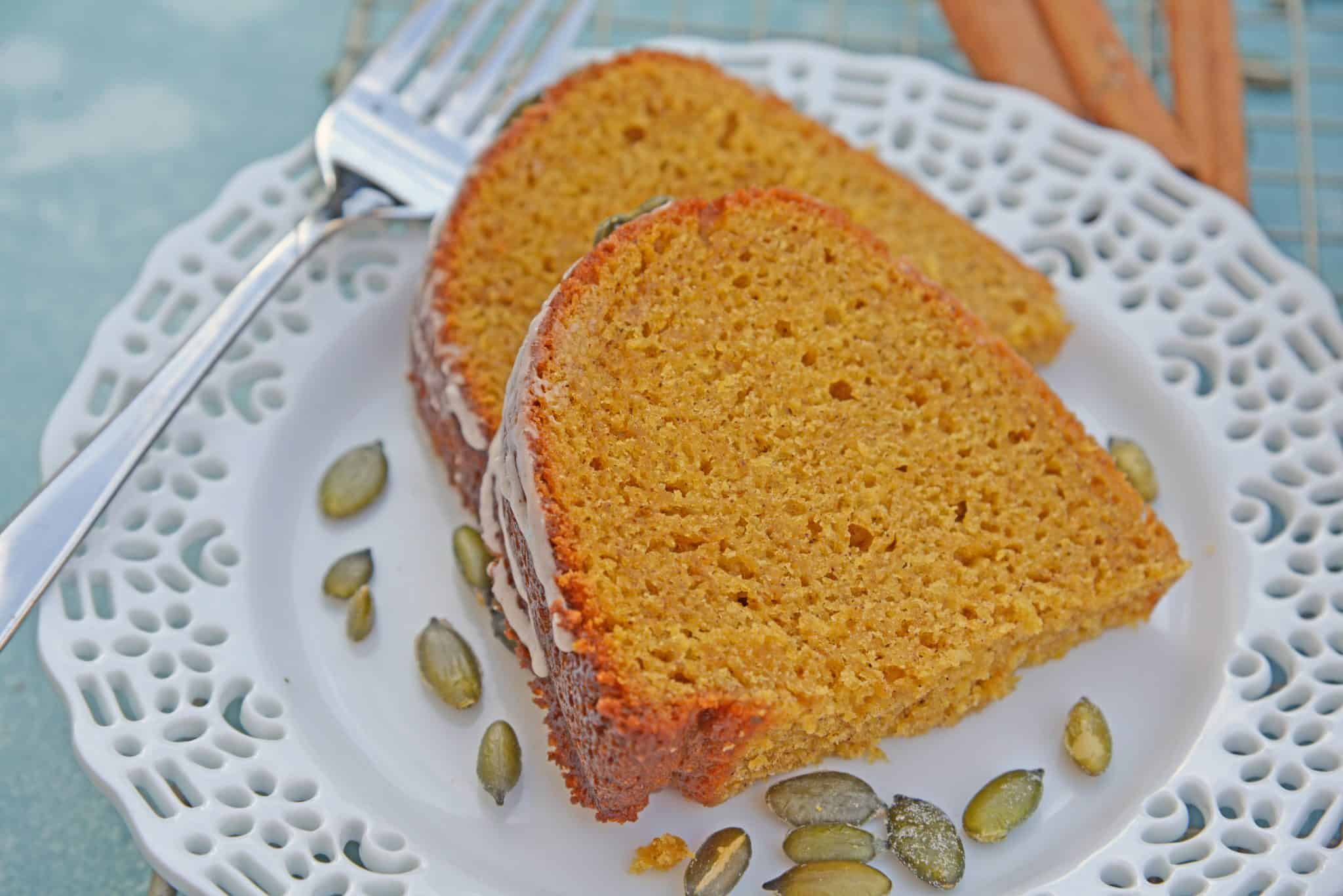 Starbucks Pumpkin Bread Recipe
I originally developed this recipe as a lighter version of the Starbucks Pumpkin Spice Pound Cake, however since the original publishing date, they have since taken it off the menu.
I'm not sure why… perhaps the 3 cups sugar didn't quite make up for the 6 eggs whites or people realized that "pound cake" should have real butter in it.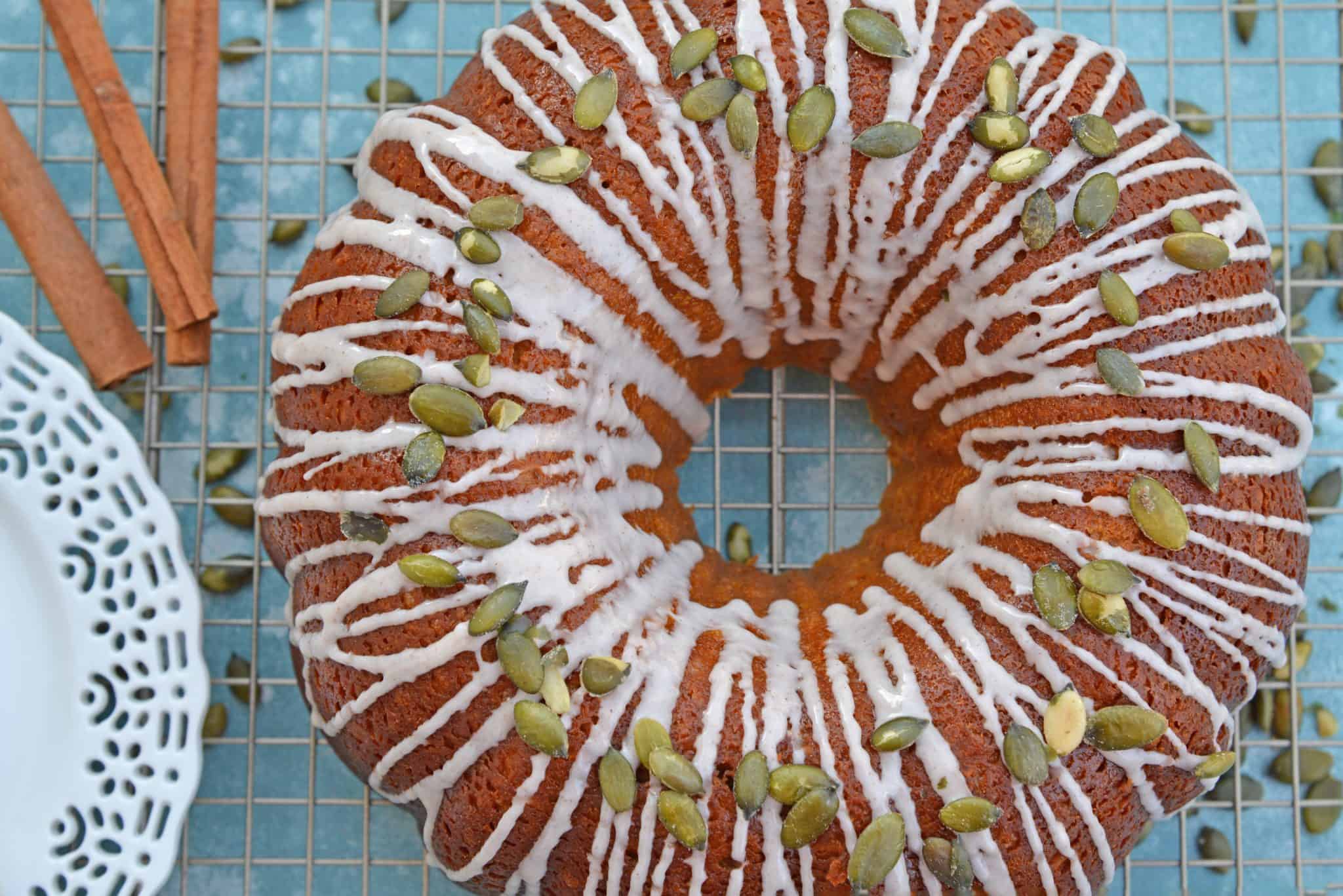 Whatever the reason, the Pumpkin Pound Cake has now been replaced with Starbucks Pumpkin Bread and quite honestly, it is probably a better and more accurate name.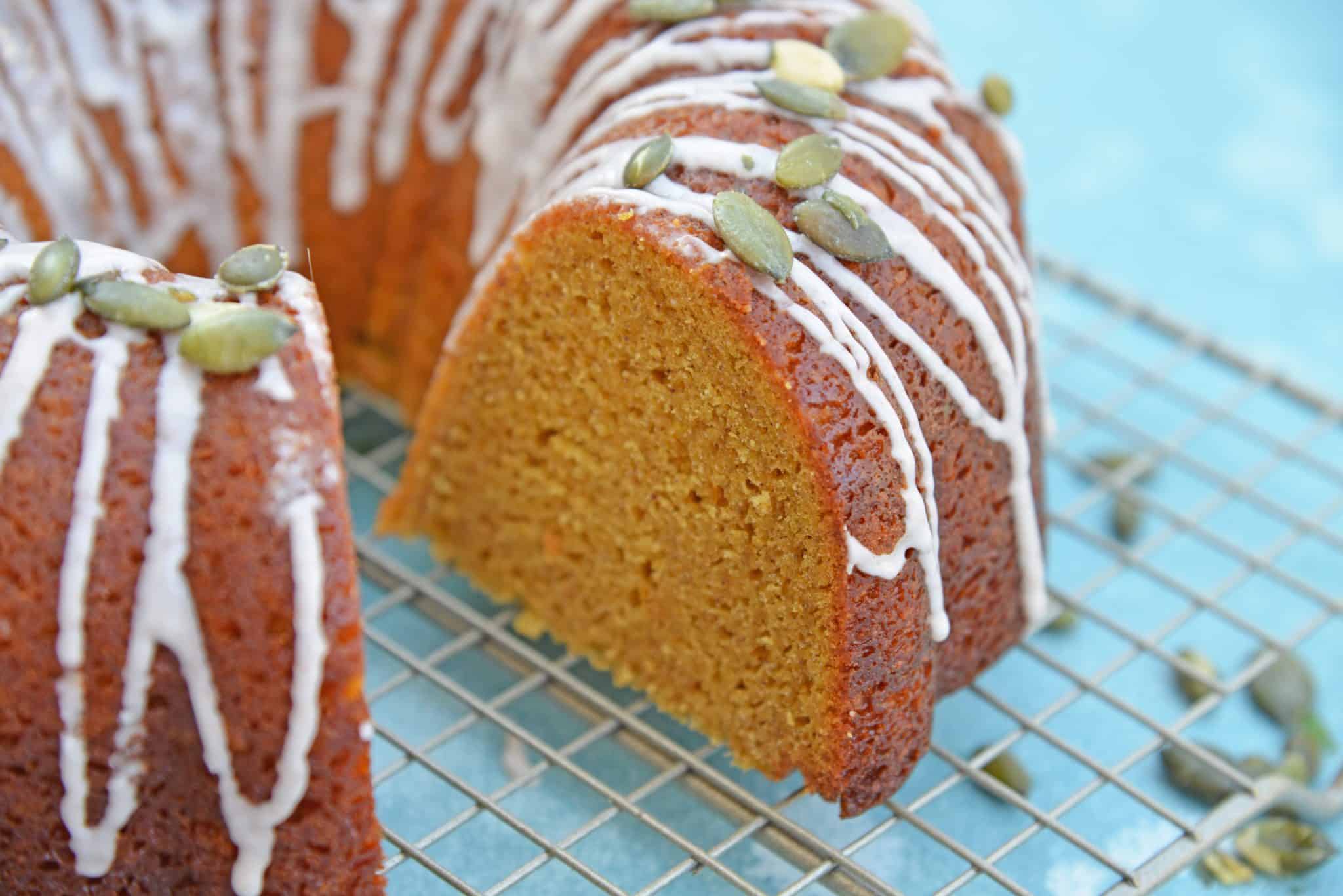 Loaf Pan vs Cake Pan
No matter what you refer to it as, Starbucks Pumpkin Bread is a rustic and moist bread flavored with all the spices of fall.
I've opted to not bake it in a loaf and instead modified it to a bundt pan, which is just so much prettier and instead of needing 2 loaf pans, you only need 1 cake pan.
If you do want to use load pans, split it into two and bake for 50-55 minutes or until it passes the toothpick test.
Ingredients
Flour– provides structure, can also use whole wheat
Pumpkin Pie Spice – use apple pie spice in a pinch
Coarse Kosher Salt
Leaveners: baking soda and baking powder
Sugar
Greek Vanilla Yogurt- make sure it is full fat Greek so it is thick.
Eggs– provides structure and fluff
Pumpkin puree– flavor and of course, color. Color will vary depending on the type and brand of pumpkin puree you use. Do not your pumpkin pie filling. I use homemade pumpkin puree.
Vanilla– for flavor.
I also make my own Pumpkin Pie Spice and Pumpkin Puree, you are more than welcome to use canned and store bought of both, but I figured it was worth pointing out.
The cake comes together like most- sift dry ingredients. Cream together wet ingredients and bake.
Cinnamon Glaze
What sets this pumpkin bread apart from the others is the cinnamon icing drizzle and salty papitas. Here is what you'll need:
Milk – almond or oat milk works too
Ground cinnamon
Pepitas- these are the tiny green pumpkin seeds opposed to the full grown white seeds.
Are there other options for glazing this pumpkin cake recipe? If you don't want to use the powdered sugar frosting, you can use a cream cheese frosting. You can also dust with a powdered sugar and pumpkin spice blend.
Whatever you do, make sure you let the cake cool completely.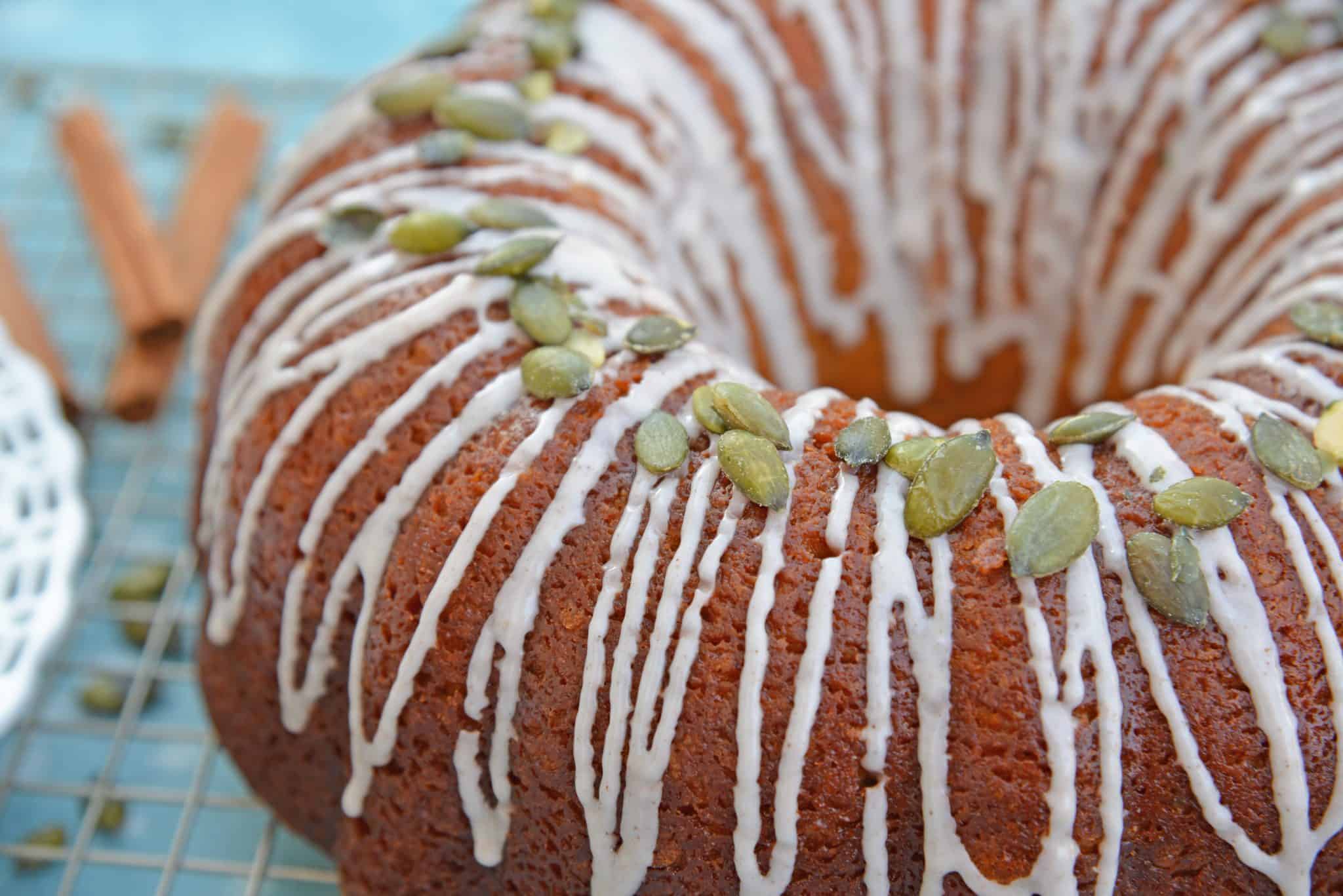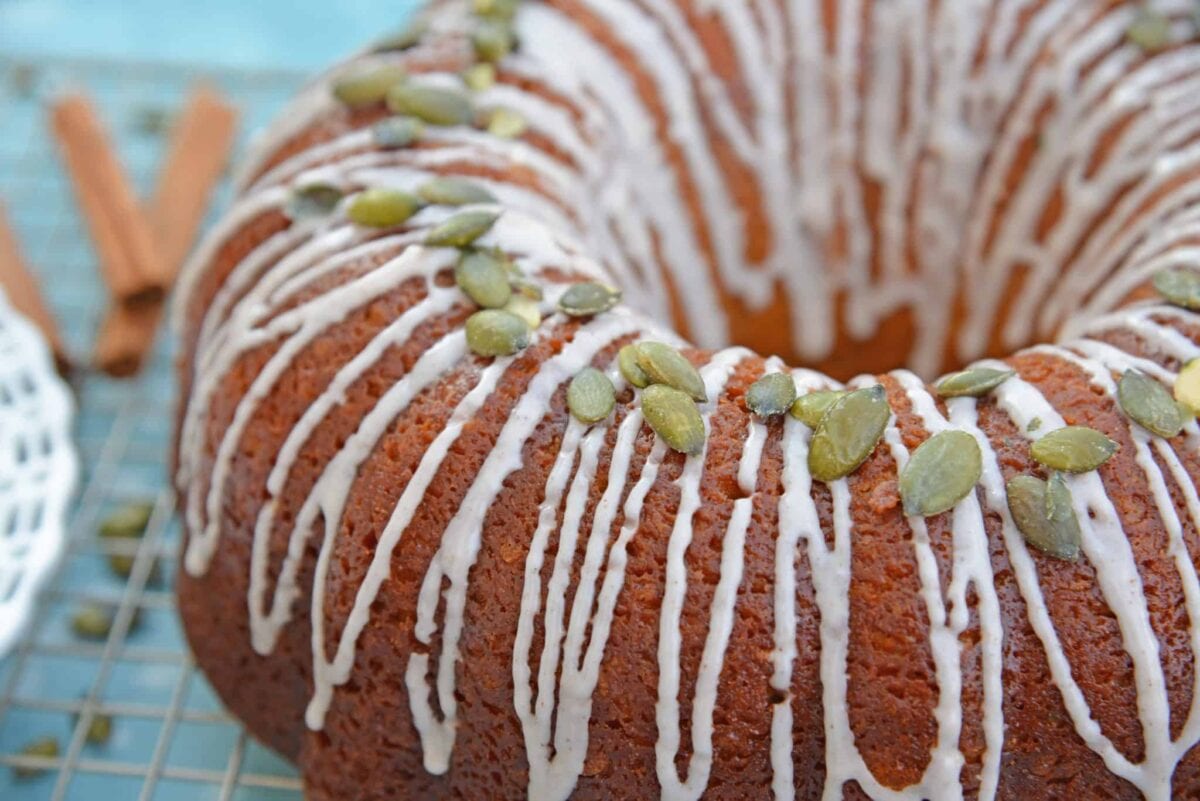 Tools for making this Pumpkin Cake:
Bundt Pan– I like to get a relatively plain version, just so it is more verstile. There are only so many Pumpkin Bread "castles" and monkey breads I can make.
Sifter– While I used to think this step was superfluous, I don't any more. It evenly mixes all your dry ingredients, prevent lumps and makes for lighter baked goods.
If you don't have a sifter, at least whisk your dry ingredient together. I also prefer the ones with a rotary hand crank, then you can switch directions, effectively grinding down more of your ingredients.
Stand Mixer– I lived for a long time without one. My life was changed when I finally bit the bullet and bought one. Just do it and thank yourself later.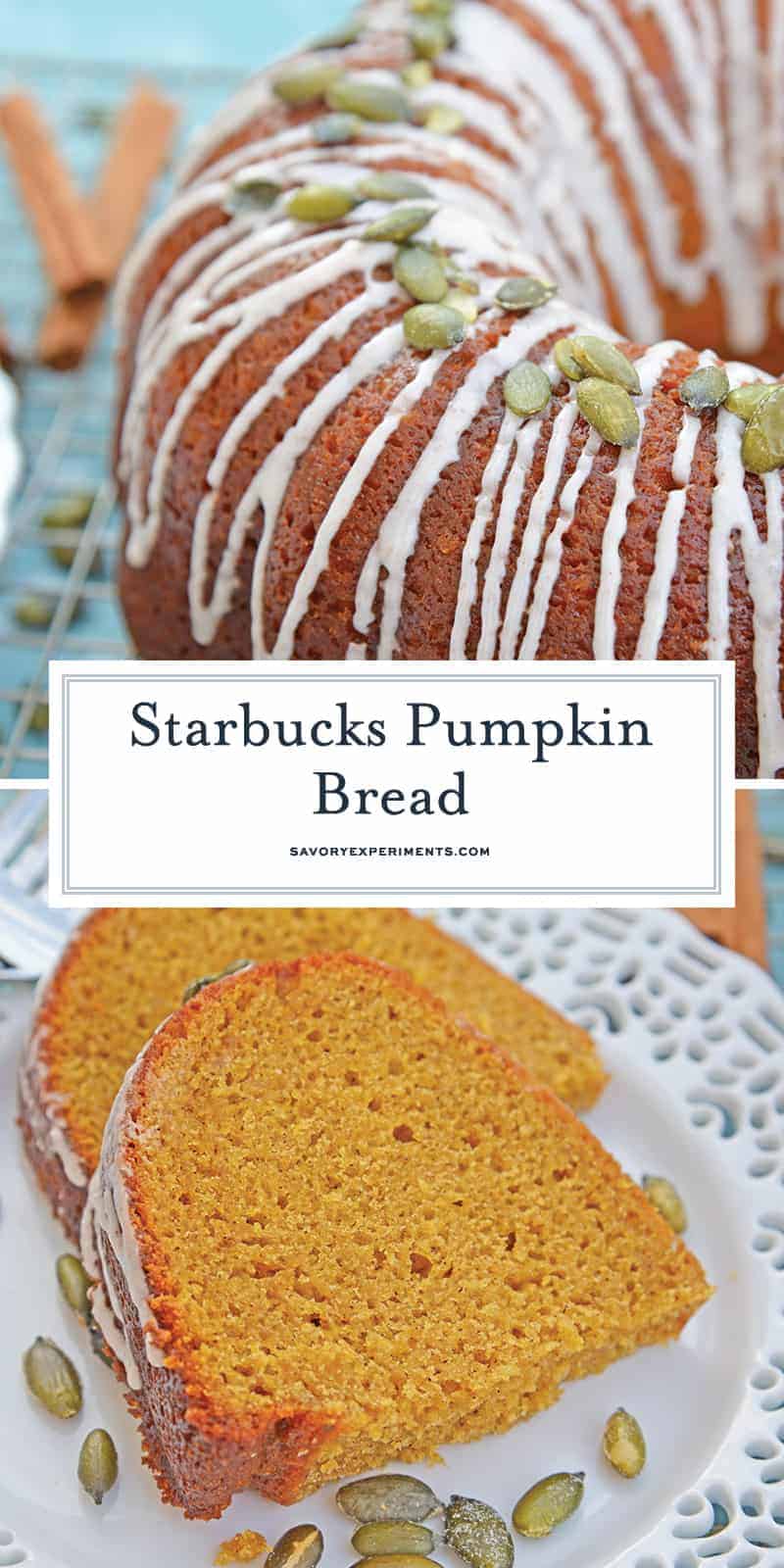 If you love my Starbucks Pumpkin Bread, then you'll also love these other fall inspired baking recipes!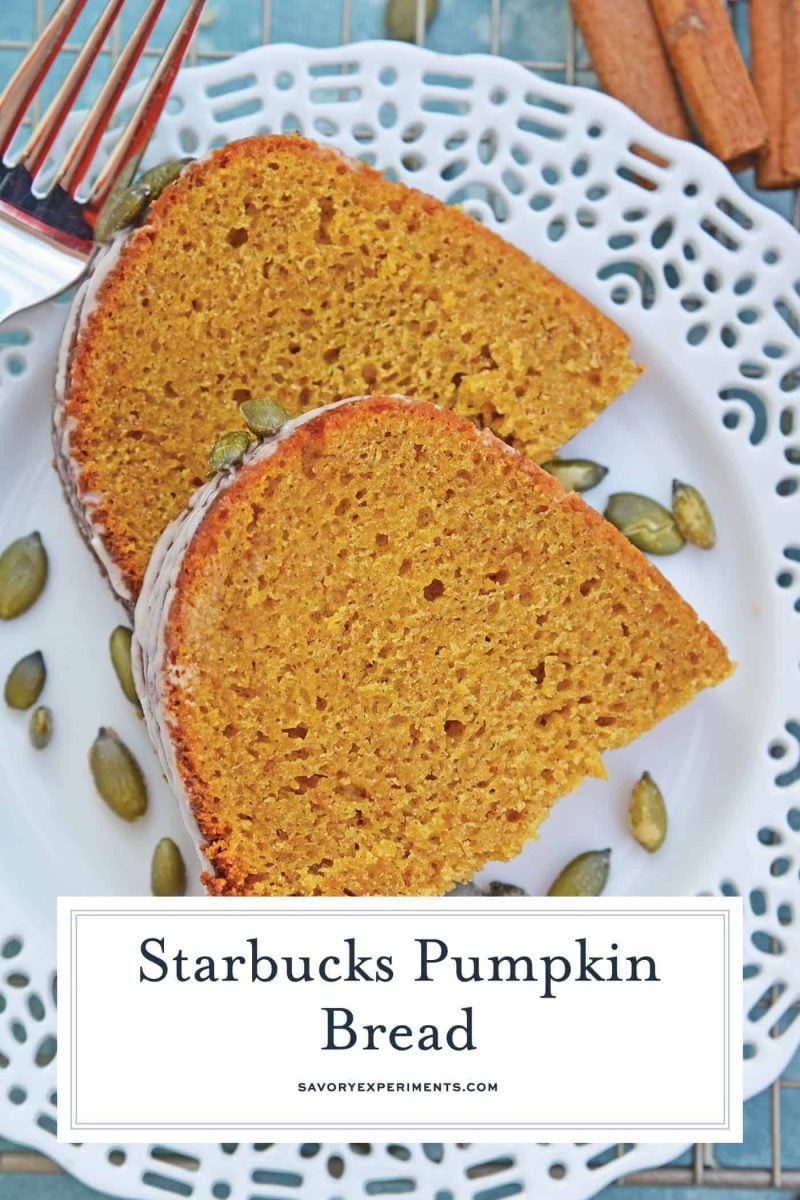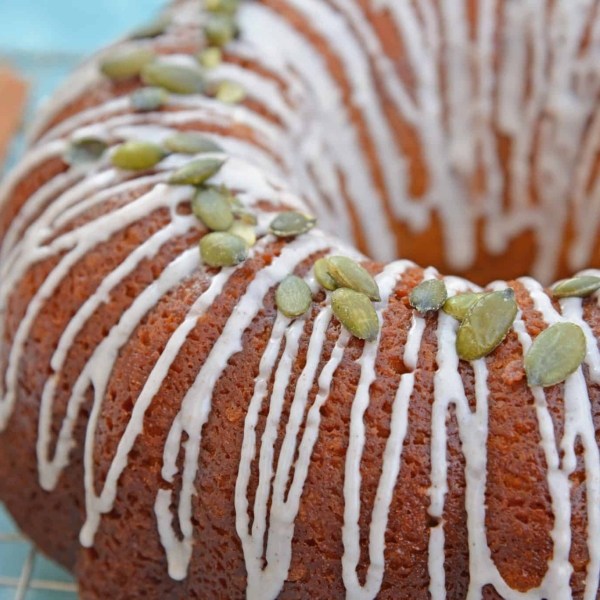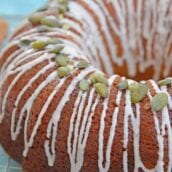 Starbucks Pumpkin Bread Recipe
Copycat Starbucks Pumpkin Bread is a moist and flavorful pumpkin pound cake perfect for pairing with a pumpkin spice coffee!
Instructions
Preheat oven to 350 degrees. Lightly coat bundt pan with cooking spray.

Sift or whisk together flour, pumpkin pie spice, salt, baking soda and baking powder. Set aside.

In the bowl of a stand mixer fitted with a paddle attachment or a large mixing bowl with an electronic hand mixer, beat together sugar, vanilla Greek yogurt and eggs. Add pumpkin and vanilla, blend until just mixed.

Slowly add flour mixture to wet mix. Do not over mix, this can result in your bread being tough.

Pour into greased bundt pan. Bake for 1 hour to 1 hour 15 minutes, or until it passes the toothpick test. If the top starts brown, loosely cover with a sheet of aluminum foil.

Remove and allow to cool for 10 minutes. Place serving dish over the top and flip. Knock the top (bottom of the bundt pan) with a knife to loosen the cake inside.

After cake has fully cooled, whisk powdered sugar with milk and cinnamon until smooth. You might need a little more powdered sugar or milk to make the mixture "drizzle-able". Drizzle over Pumpkin Pound Cake. Top with pepitas while glaze is still tacky.

Slice and serve with a heaping scoop of vanilla ice cream and a cup of coffee.
Nutrition
Calories:
381
kcal
,
Carbohydrates:
89
g
,
Protein:
6
g
,
Fat:
1
g
,
Cholesterol:
1
mg
,
Sodium:
346
mg
,
Fiber:
2
g
,
Sugar:
63
g