These melt-in-your-mouth Chocolate Crinkle Cookies are decadent and so easy to make. While I make them year round, they are Santa's new favorite cookie with a tall glass of milk- and also made for a good a reason, supporting kids with cancer.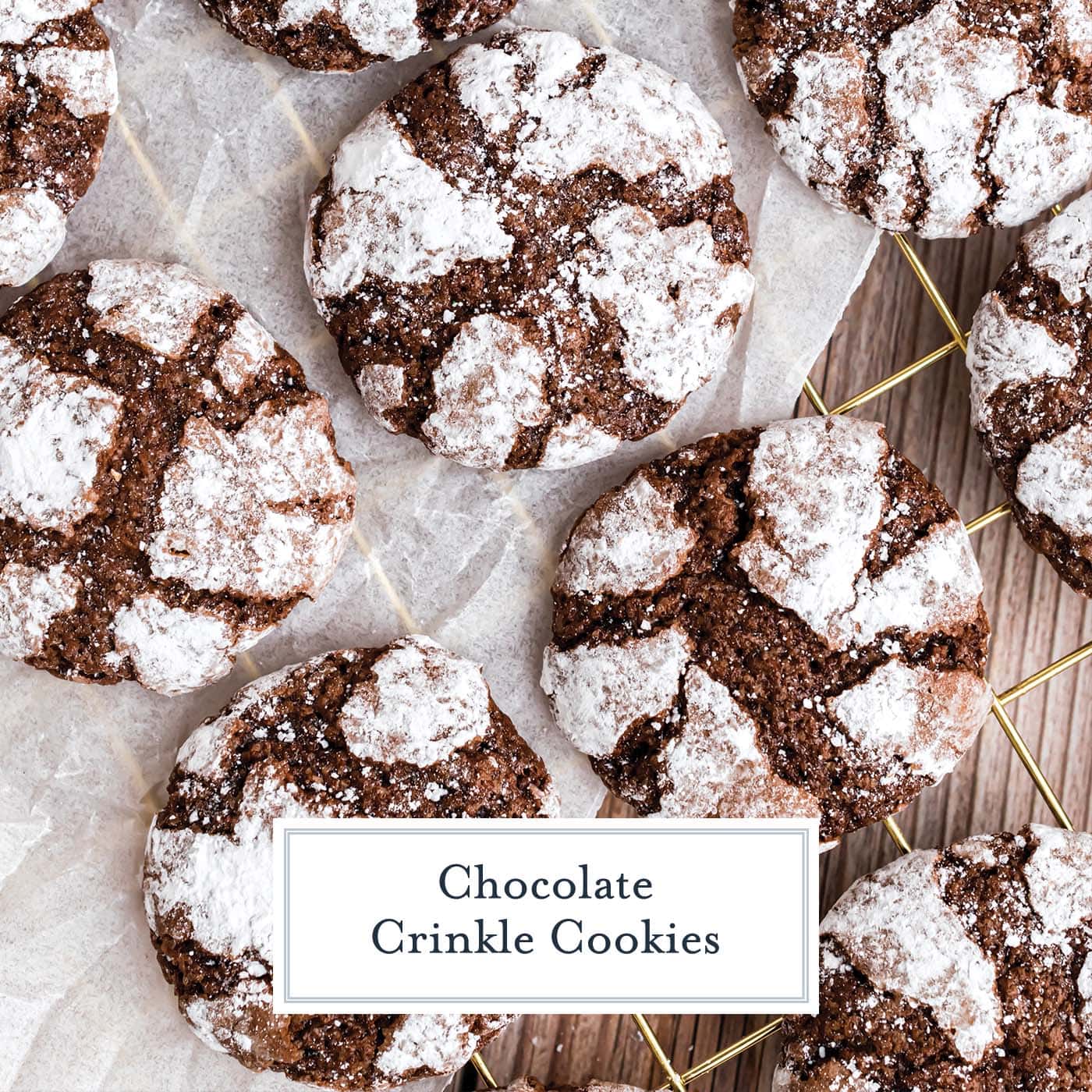 Tis the season for all things cookie! The holidays are a magical time of year, but even more so now that we have two little ones at home. While involving them in the kitchen makes more work and lots of messes for me, the memories we're making together are so much more important.
Unfortunately, not all kiddos get to have this experience. Today we are bringing awareness and raising funds for Cookies for Kids' Cancer.
About Cookies for Kids' Cancer
Cookies for Kids' Cancer is a recognized 501(c)3 non-profit organization dedicated to funding research for new, innovative and less-toxic treatments for childhood cancer. Since 2008, Cookies for Kids' Cancer has granted nearly $17 million to pediatric cancer research in the form of 100+ research grants to leading pediatric cancer centers across the country. From these grants have stemmed 35+ treatments available to kids battling cancer today.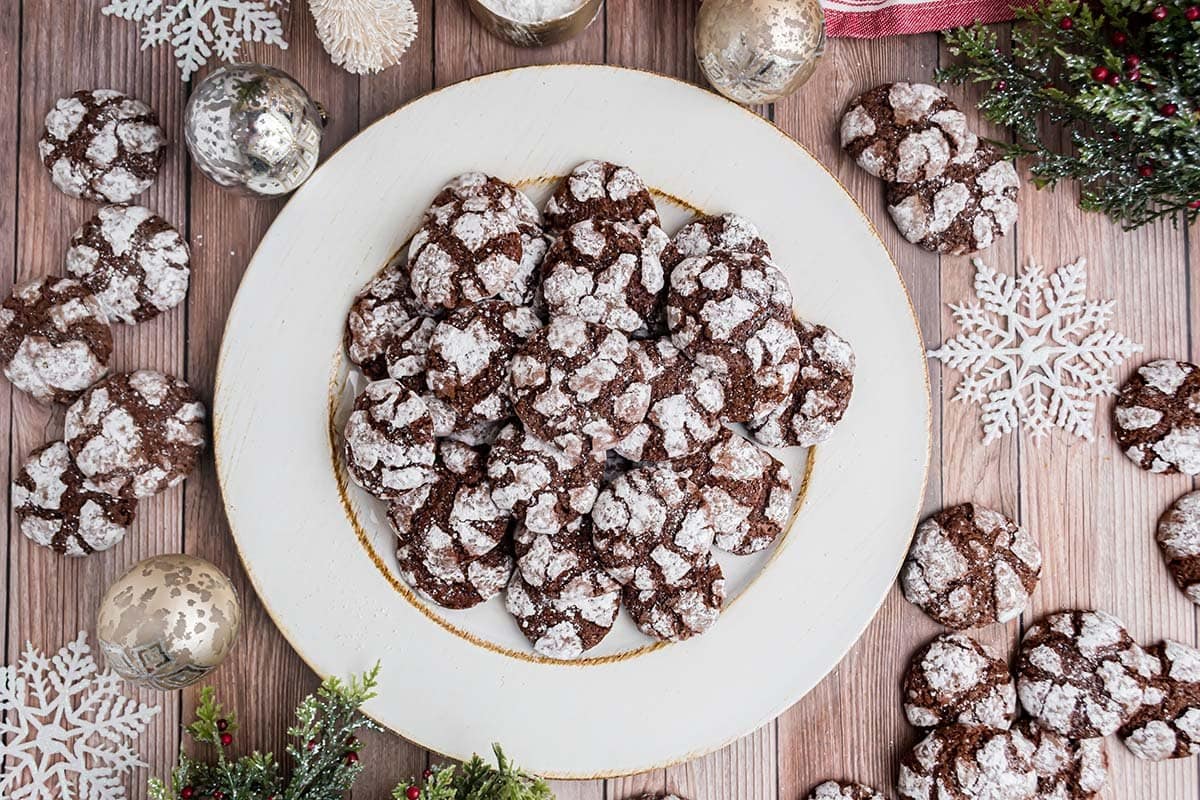 How it all started:
When 2-year-old Liam Witt was diagnosed with childhood cancer in 2007, his parents Larry and Gretchen were shocked to learn of the lack of effective treatments for pediatric cancers due to lack of funding. They pledged to support the funding of research for safer, more effective treatments for children battling cancer.
With the help of 250 volunteers, his mom Gretchen baked and sold 96,000 cookies, raising more than $400,000 for research. Word spread, and people nationwide began asking, "How can I help?" From that giant cookie bake, Cookies for Kids' Cancer was born.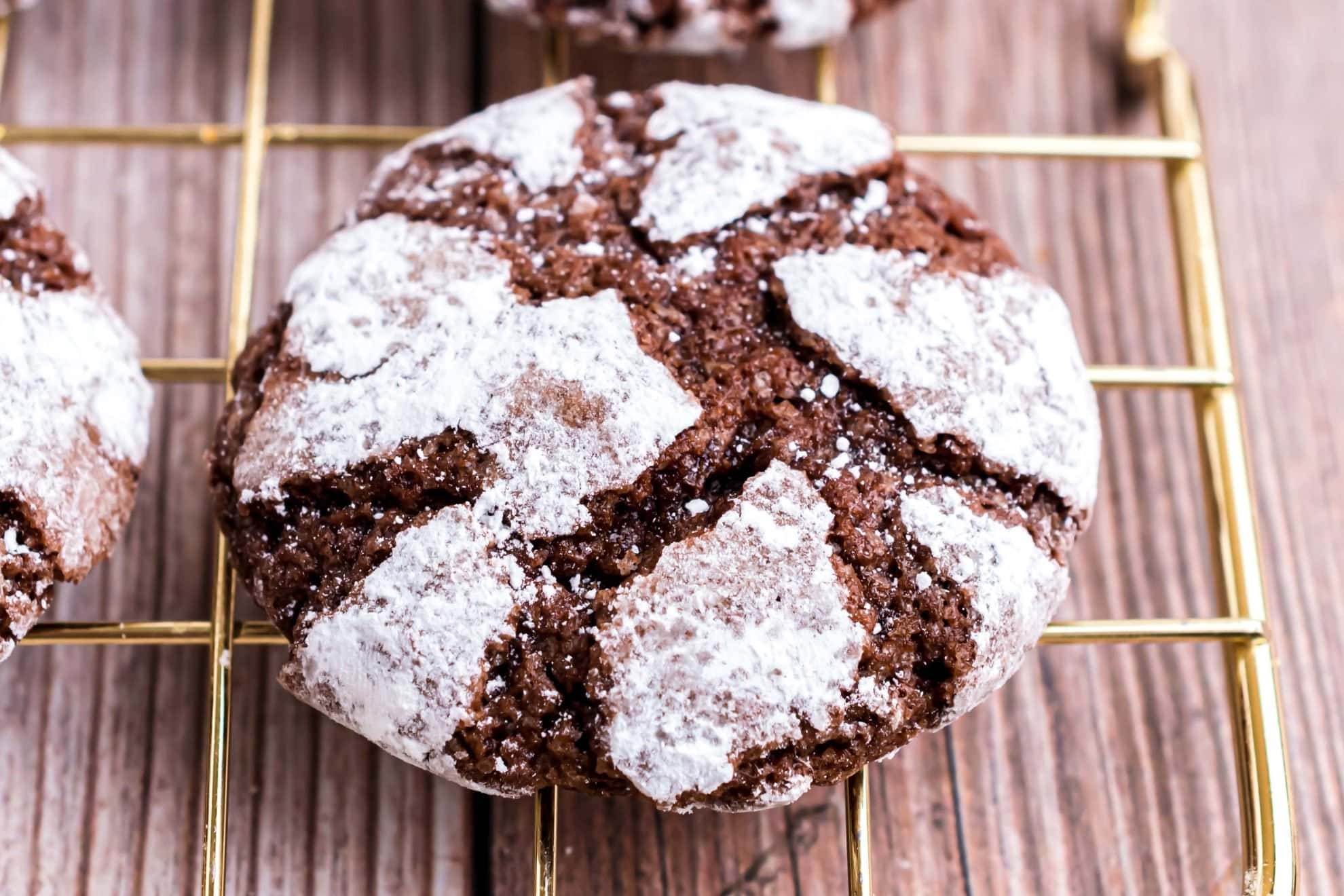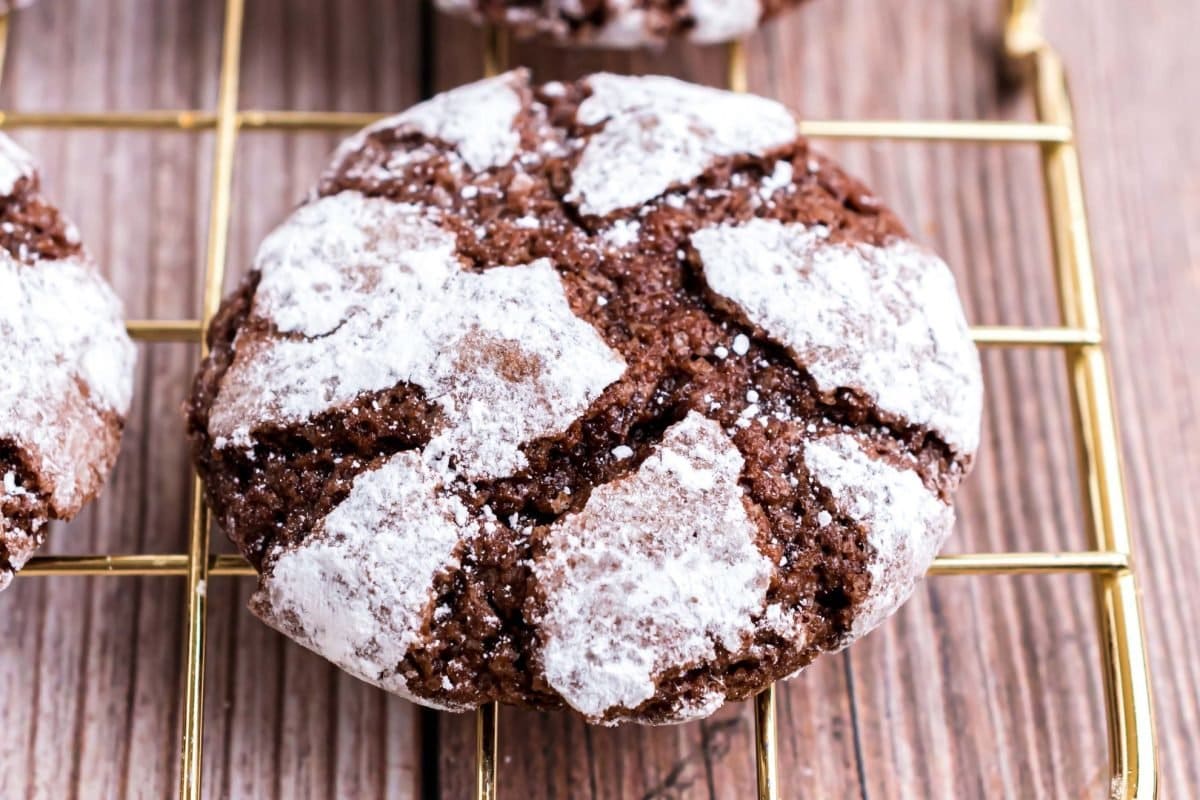 Matching
Cookies for Kids' Cancer is in a matching window with their friends at OXO, who will be matching every dollar raised through the end of 2021, up to $100,000. Whatever money we raise will automatically double on their fundraising page.
Even if you can't donate this season, consider sharing these posts. The more they get shared, the higher the chances that we are able to raise more funds. Every little bit counts, from $1 and up.
Chocolate Crinkle Cookies Ingredients
This recipe uses fairly standard baking essentials, which means it is easy to whip up nearly any day of the week.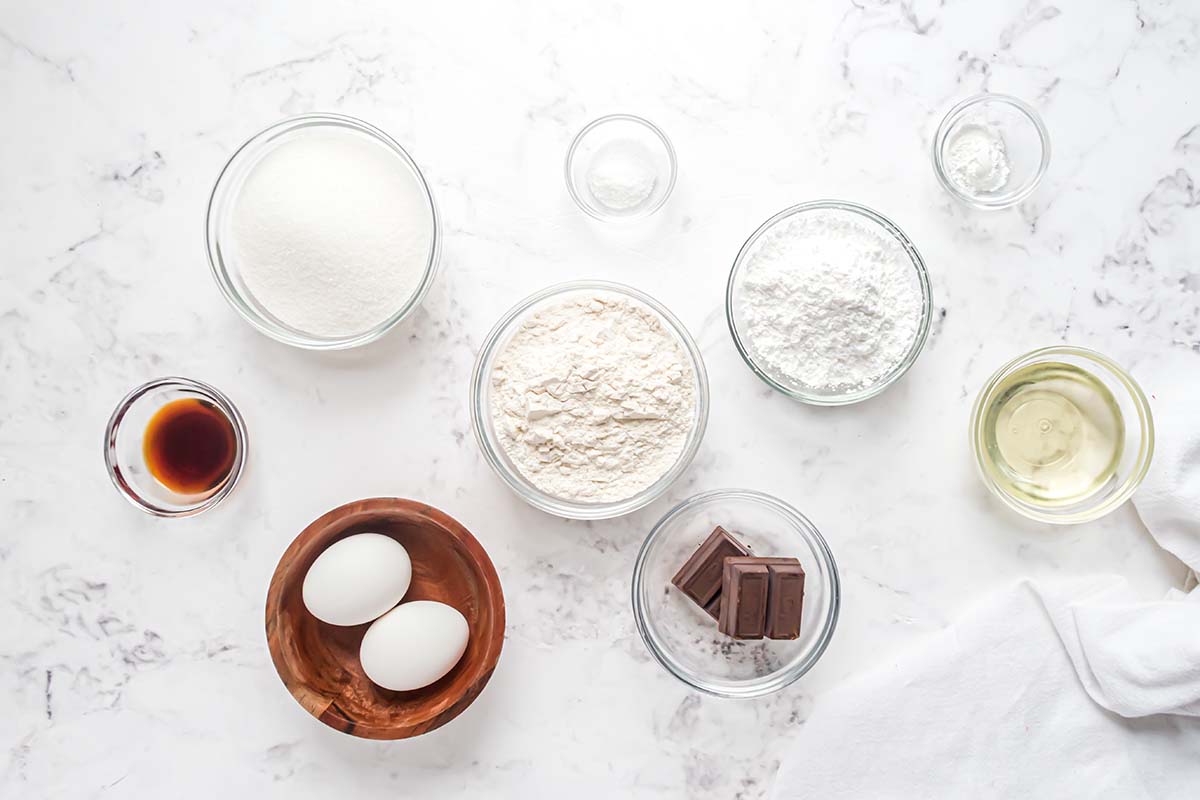 Unsweetened baking chocolate – Baking chocolate provides a full bodied flavor. Make sure you're using unsweetened instead of semi-sweet or fully sugared. I've seen some recipes use unsweetened cocoa powder, but I prefer the richness a wet chocolate gives.
White sugar – Because we're using unsweetened chocolate in this recipe, we need something to sweeten it up. Sugar is just the thing!
Vegetable oil – Using oil in your baking helps to ensure moistness. I don't know about you but I love a moist cookie. Other neutral oils can be substituted.
Eggs – Eggs are an important part of lots of baked goods! They provide structure, color and also flavor.
Vanilla – This is a popular ingredient in a lot of baking. Vanilla adds a deliciously warm and comforting flavor. The higher quality vanilla extract you use, the better your cookies will taste. Almond or espresso extract can also be used.
Flour – It's hard to make cookies like these without flour. Flour provides a nice base for the dough, while holding everything together.
Baking powder – Baking powder releases carbon dioxide into the mixture when baked. This helps the cookies to rise into those nice, fluffy chocolate crinkle cookies that you love.
Salt – We only use a small amount here, but salt in baking helps to bring out flavor.
Powdered sugar – You know that perfectly crackly white coating on these chocolate crinkles? That's all thanks to the powdered sugar (also known as confectioners' sugar) Rolling the raw dough in powdered sugar before baking allows the cookies to spread and leave those gorgeous cracks and makes them finger-lickin' good.
How to Make Chocolate Crinkle Cookies
First, melt the chocolate in a large bowl. The exact instructions should be on the package and are fairly easy and varies from product to product. Let is cool just a touch so that it is still malleable, but not so hot to cook the eggs.
After the chocolate has cooled, add the sugar and oil. Rather than doing this in the bowl of a stand mixer, we suggest mixing by hand. Overmixing (with an electric mixer) can lead to a cookie that is flat and crispy when baked. The texture of this cookie is one that is soft and fluffy in the center.
Next, add the eggs, one at a time, until full incorporated, and then the vanilla. It's tempting to use a stand mixer, but resist the urge- these cookies tend to get dry and brittle instead of soft and fluffy.
Sift together the dry ingredients to evenly incorporate them. Mix by hand until no flour mixture streaks can be seen.
Cover the dough with plastic wrap and refrigerate for at least 2 hours, but up to 2 days. It needs to be adequately chilled to melt the correct way in the oven. Too warm and it will flatten out like a pancake instead of puff up. The longer the dough is chilled, the thicker the chocolate cookies will be.
Now for the fun part! Put the powdered sugar in a small bowl and lightly dust your hands with the powdered sugar. Then using a tablespoon or small cookie scoop, scoop a small amount of dough into your hand and roll it into a ball aiming for 1-inch balls.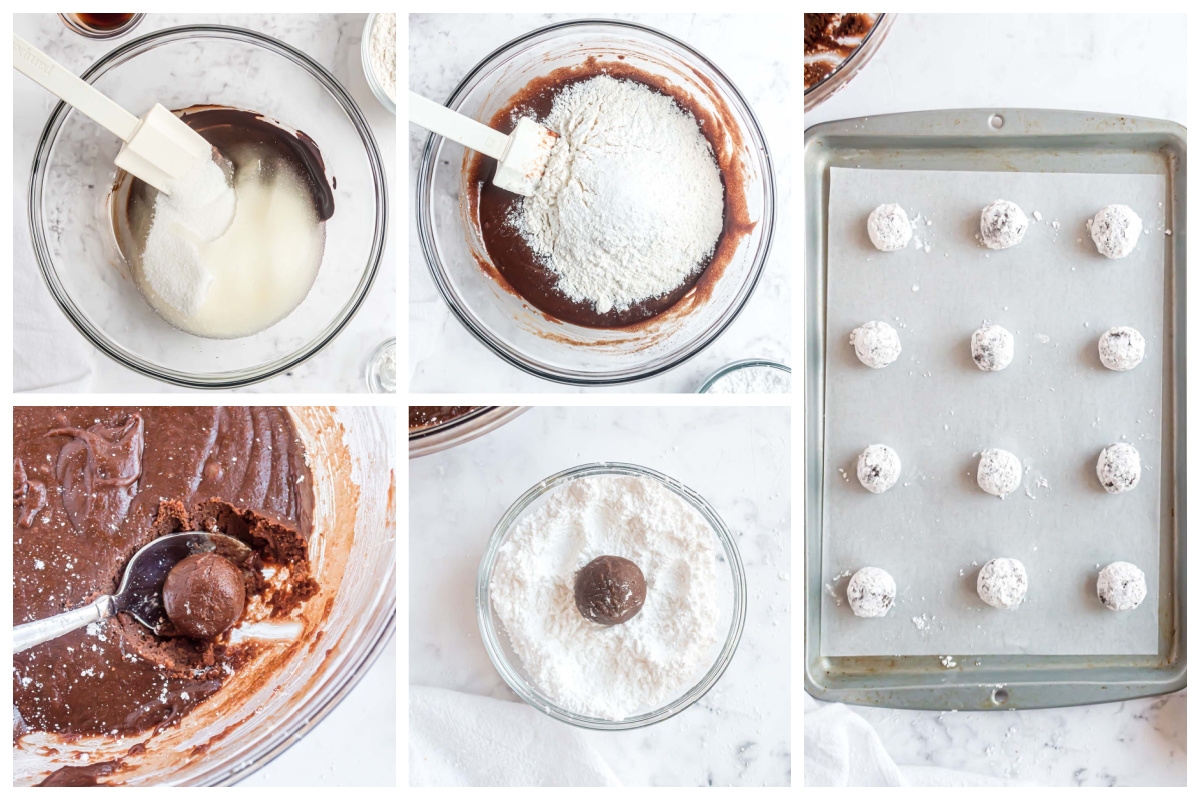 Drop the cookie dough balls into the powdered sugar and roll until they are completely covered. Place the dough on a prepared baking sheet a few inches apart to account for spreading and bake for 10-12 minutes, or until edges are set but the centers look a little shiny and wet.
Allow the cookies to cool on the baking sheet for 5 minutes and then transfer cookies to a wire rack in a single layer to finish cooling. Taking them off the baking sheet too early risks them being too fragile, but waiting too long will extend the cooking time and perhaps lose the chewiness.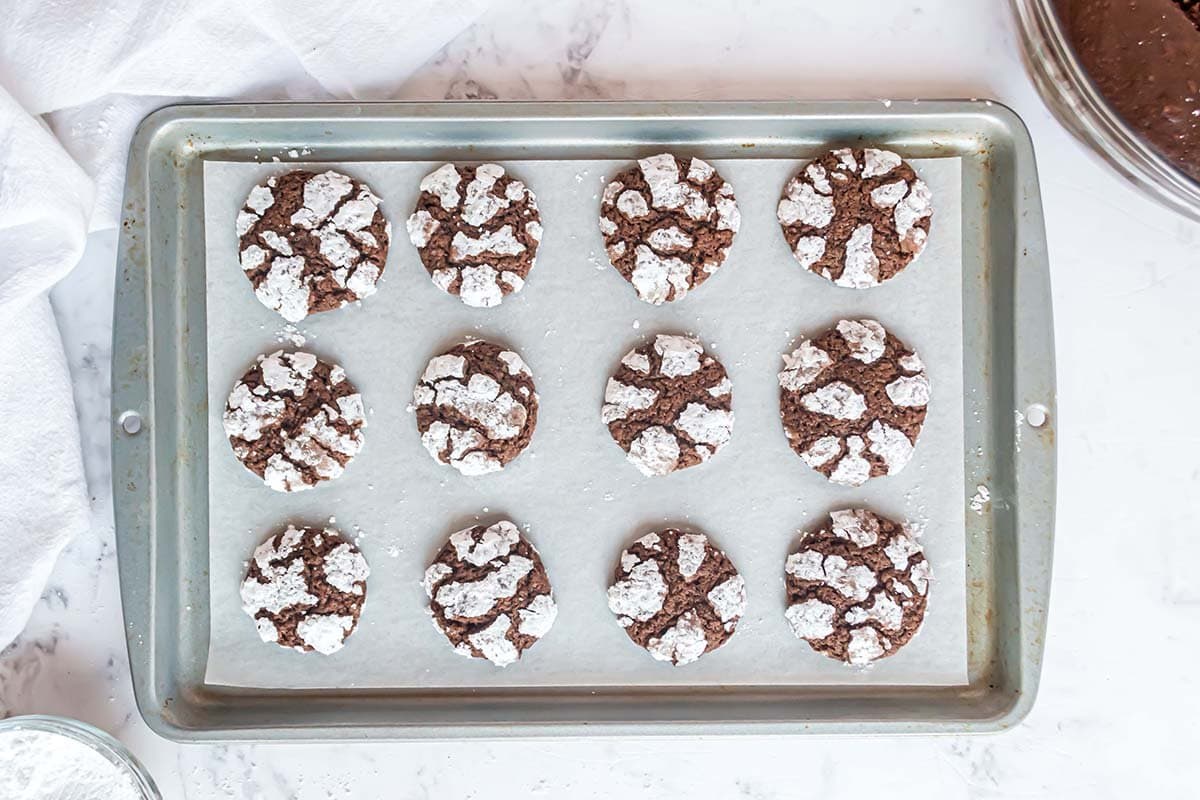 Variations
If you're a chocolate chip cookies lover, you could totally throw some chocolate chips into the dough! Peanut butter or caramel chips also taste fantastic. That melty goodness would send these cookies right over the top.
If you'd like to add a little kick, try putting a tablespoon of espresso powder into the dough. Keep in mind the flavor of your cookies will be extremely bold.
Lastly, almond extract instead of vanilla or in addition to will give these chocolate cookies an unexpected flavor.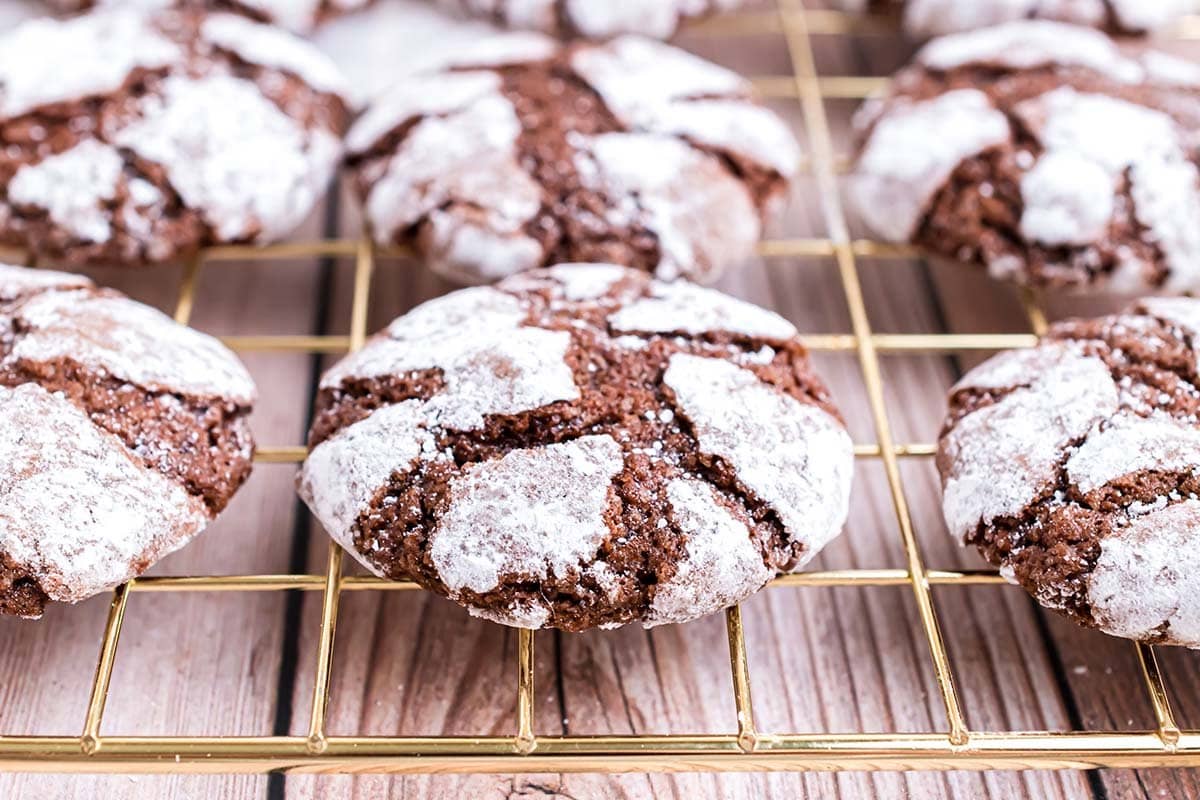 Storage and Freezing
These cookies can be stored in an airtight container at room temperature for 3-4 days. If you won't eat all of them in that time frame, you can freeze them! freeze Lay the chocolate crinkle cookies flat, in an airtight container or freezer bags separated by parchment paper.
These cookies will keep in the freezer for up to 3 months. When you are ready to enjoy them again, just thaw at room temperature and they're ready to go!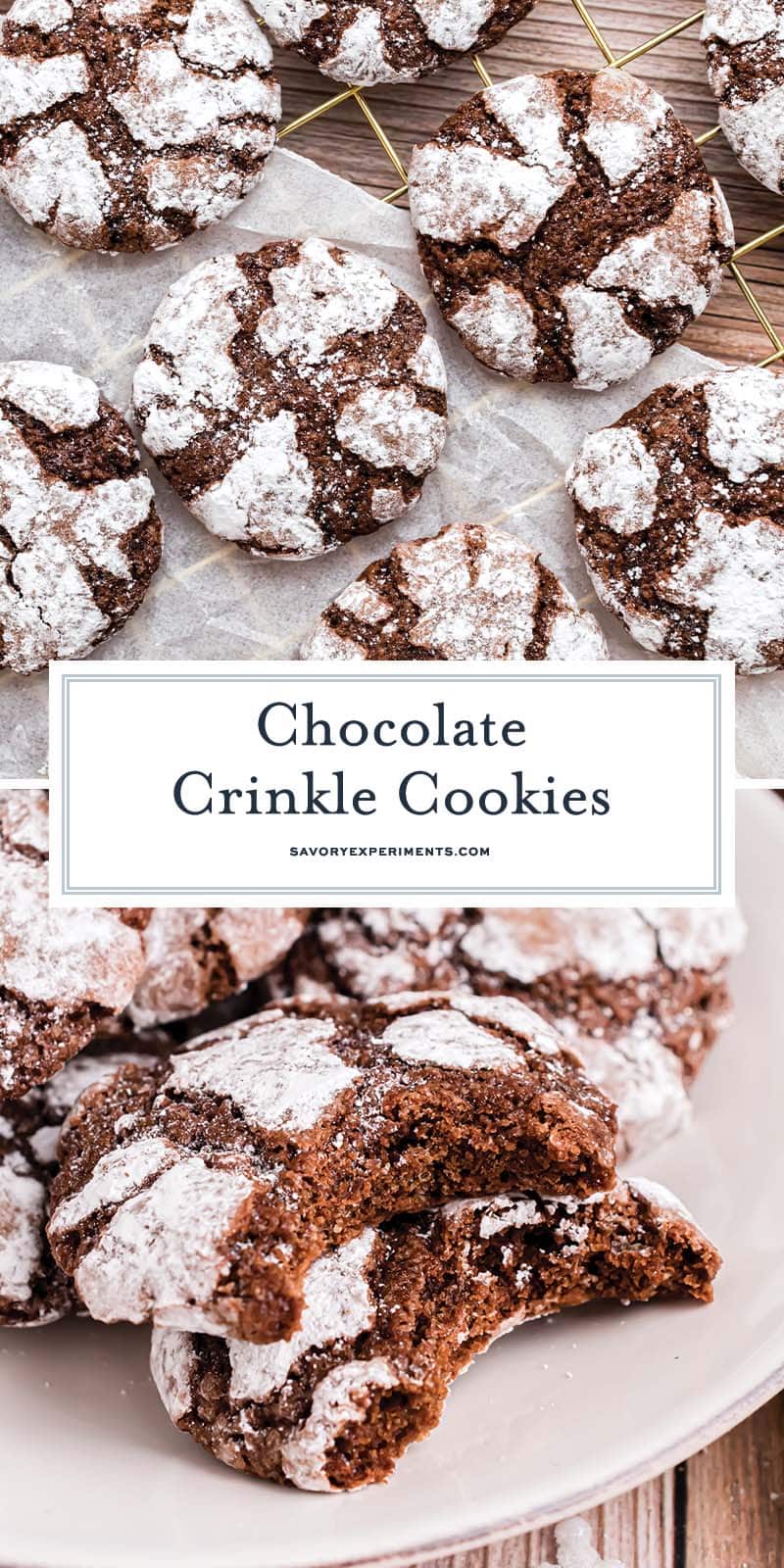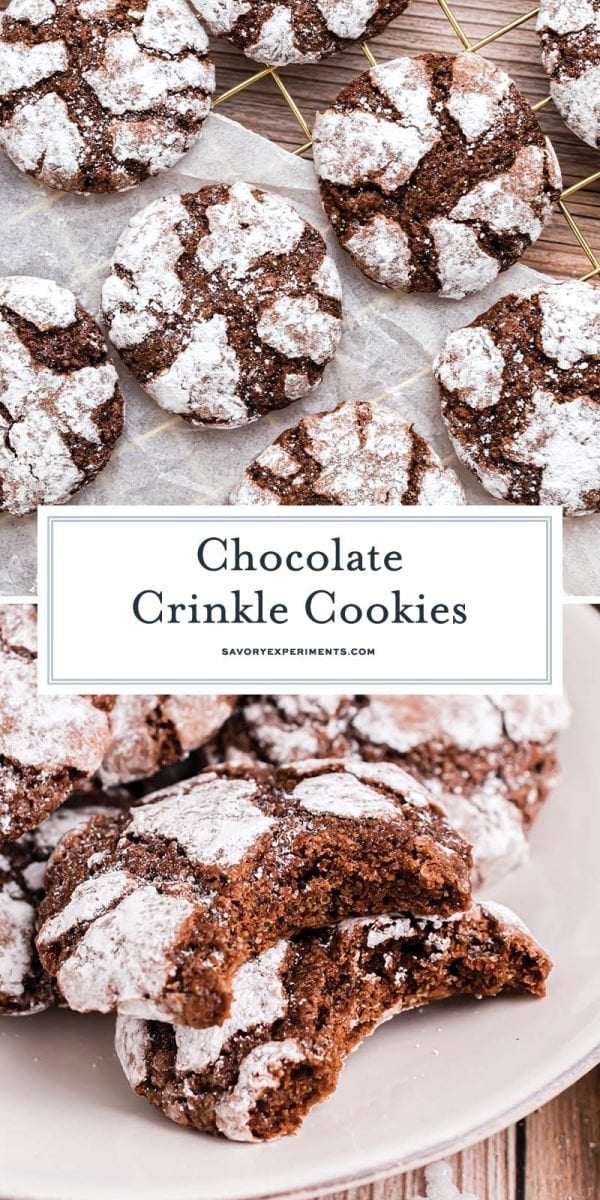 More Cookie Recipes: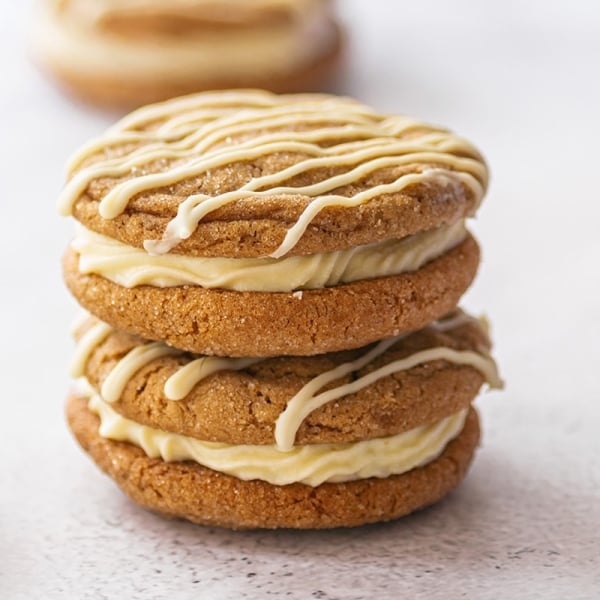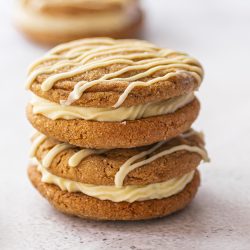 Molasses Cookie Sandwiches
Homemade soft & chewy molasses cookie sandwiches with a silky-smooth cream cheese filling take minutes to make and will become a family favorite!
View this recipe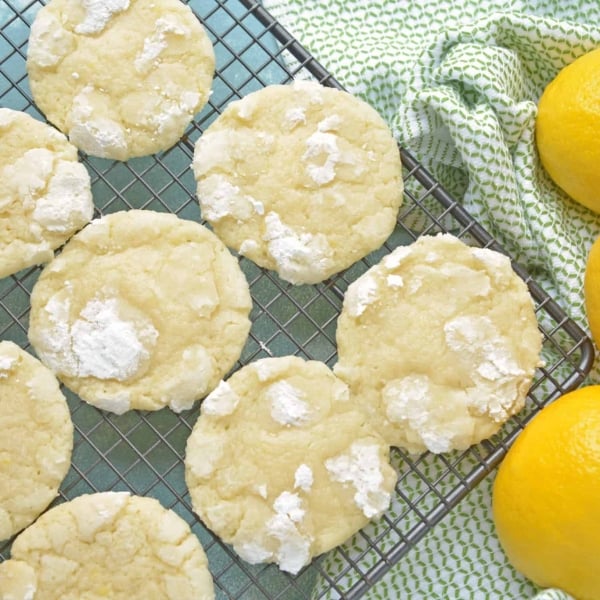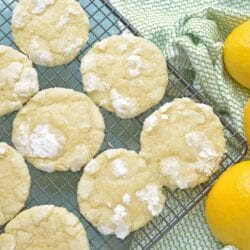 Lemon Cooler Cookie Recipe
Lemon Cooler Cookies, also known as Sunshine Lemon Coolers, are a classic cookie recipe using fresh lemon and powdered sugar.
View this recipe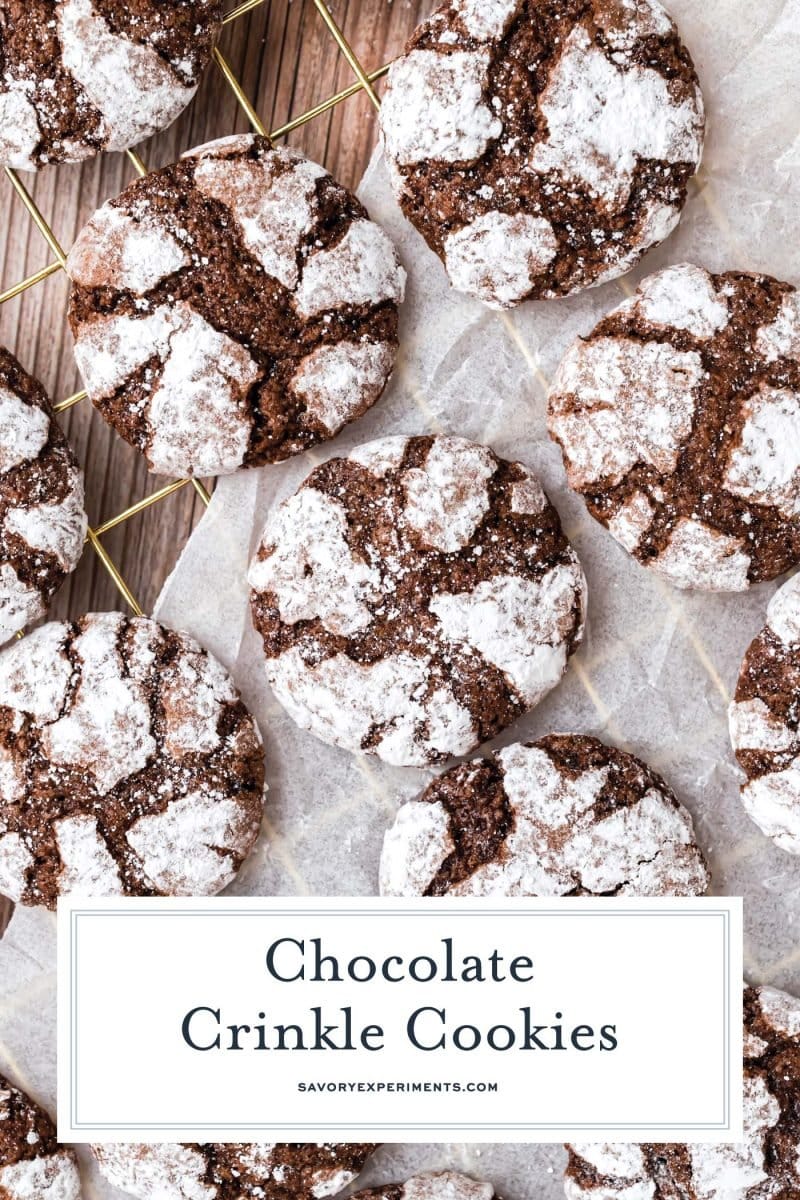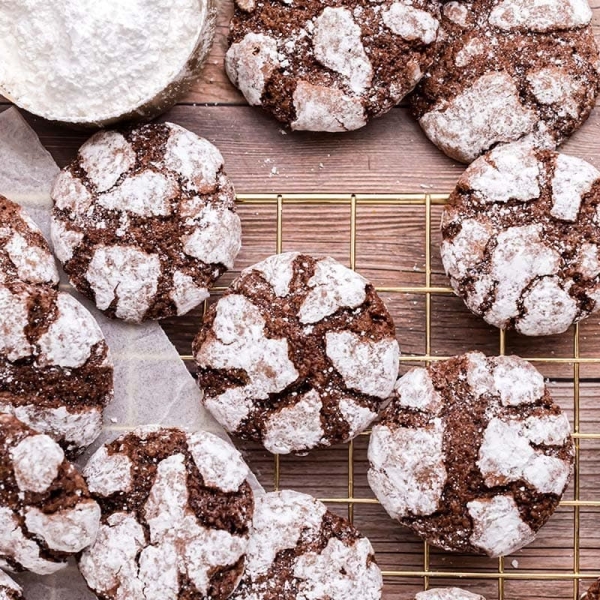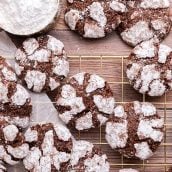 Chocolate Crinkle Cookies
These melt-in-your-mouth Chocolate Crinkle Cookies are decadent and so easy to make using just pantry staples. Light, fluffy and chewy.
Instructions
In a large microwave safe mixing bowl, melt the baking chocolate according to package instructions. Cool slightly.

Add the granulated sugar and oil, mix by hand until just combined.

Add the eggs, one at a time, until incorporated, and then the vanilla.

Sift together the flour, baking powder and salt. Add in small additions, mixing by hand as well. Do not overmix.

Cover with plastic wrap and chill at least 2 hours or up to 1 days.

When ready to bake, preheat the oven to 350°F. Line a baking sheet with parchment paper. Set aside.

Place powdered sugar in a small bowl and dust your hands with powdered sugar to prevent the dough from sticking to your hands.

Using a tablespoon or very small cookie scoop, scoop a small amount of dough into your hand and roll it into a 1-inch ball.

Roll the cookie dough in the powdered sugar until covered.

Place on parchment lined cookie sheet at least 2-inches inches apart. Do not crowd the baking sheet.

Bake for 10-12 minutes, or until edges are set. Cookies will appear slightly soft in the centers. Don't overbake.

Cool on baking sheet for 5 minutes and then transfer to a wire cooling rack to finish cooling.

If you've tried this recipe, come back and let us know how they were in the comments or ratings.
Nutrition
Calories:
66
kcal
,
Carbohydrates:
10
g
,
Protein:
1
g
,
Fat:
3
g
,
Saturated Fat:
1
g
,
Polyunsaturated Fat:
1
g
,
Monounsaturated Fat:
1
g
,
Trans Fat:
1
g
,
Cholesterol:
9
mg
,
Sodium:
36
mg
,
Potassium:
32
mg
,
Fiber:
1
g
,
Sugar:
7
g
,
Vitamin A:
13
IU
,
Calcium:
8
mg
,
Iron:
1
mg