These melt-in-your-mouth Chocolate Crinkle Cookies are decadent and so easy to make. While I make them year round, they are Santa's new favorite cookie with a tall glass of milk.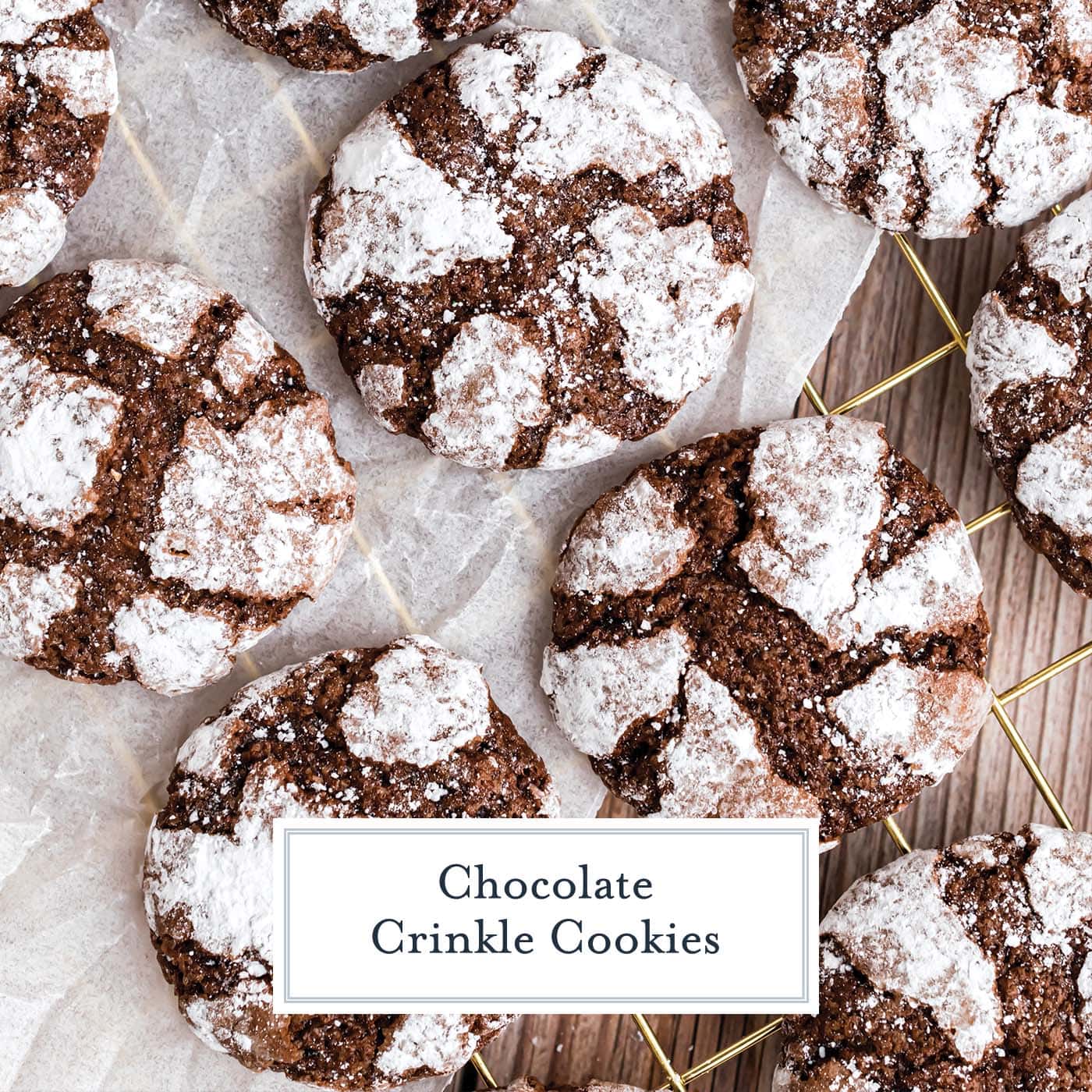 Tis the season for all things cookie! The holidays are a magical time of year, but even more so now that we have two little ones at home. While involving them in the kitchen makes more work and lots of messes for me, the memories we're making together are so much more important.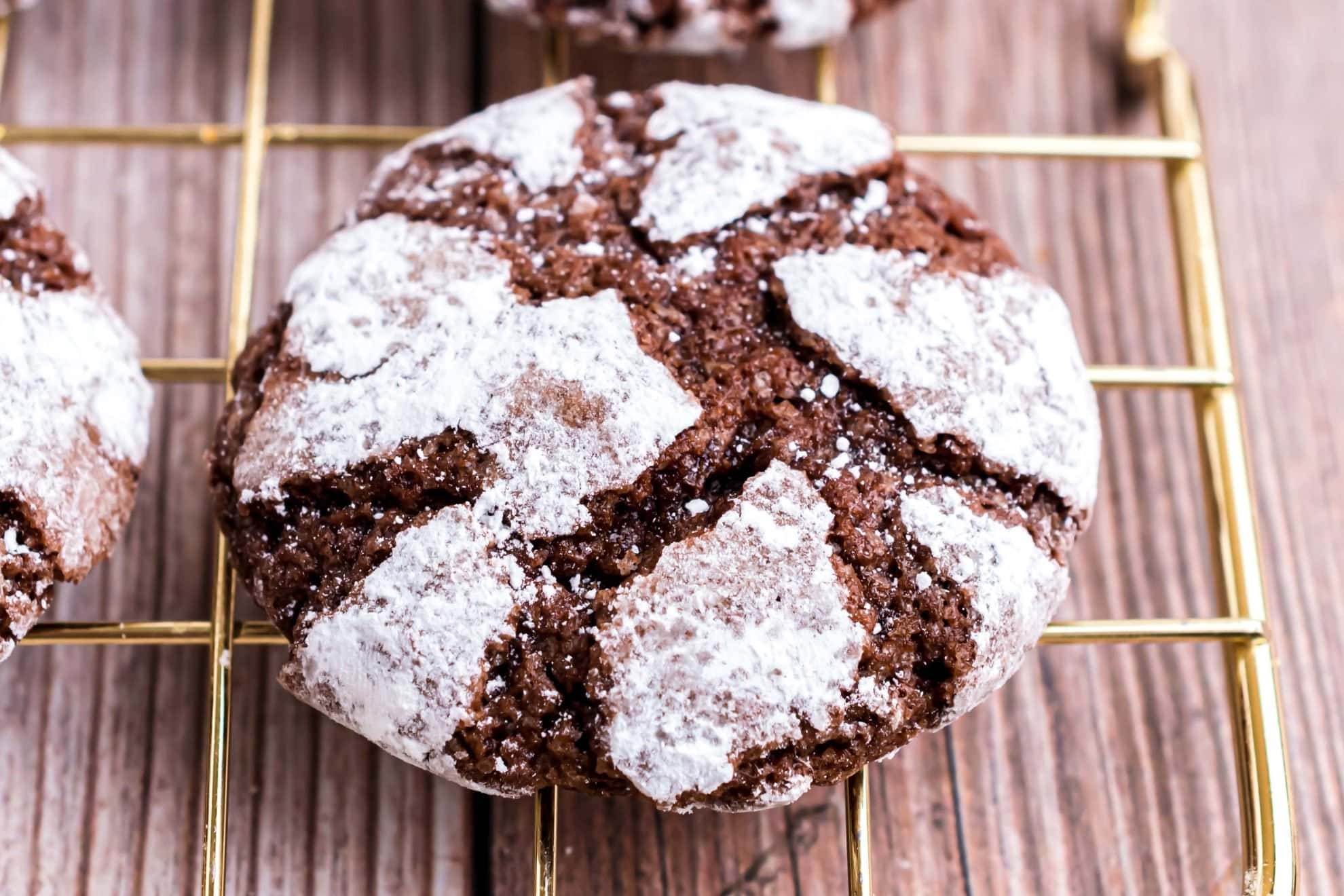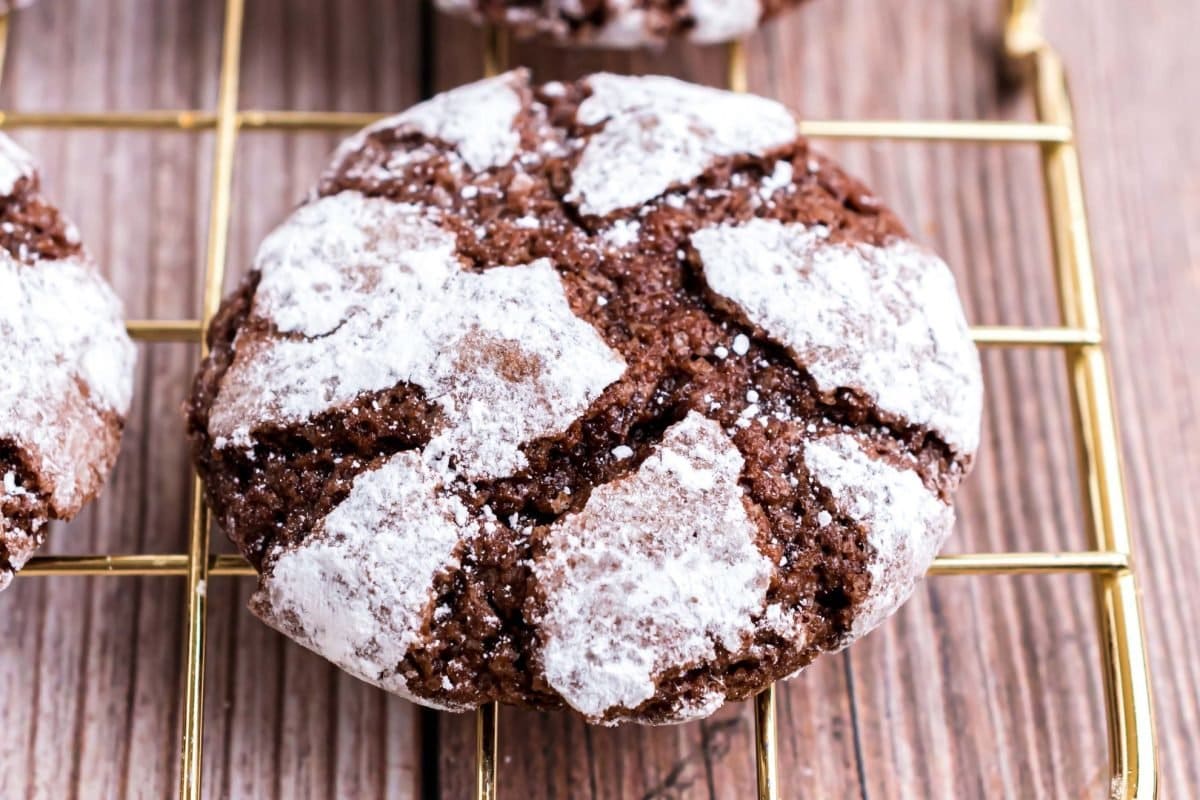 Why You'll Love These Chocolate Crinkle Cookies
Fudgy chocolate cookies that are perfectly crispy and finished with a powdered sugar coating- what's not to love!
Favorite Christmas cookies – When making your holiday cookie trays, this is the perfect cookie to add to your other classic Christmas cookies.
Perfect for chocolate lovers – These chewy chocolate crinkle cookies are perfect for the chocolate lover in your life- so full of chocolate flavor!
Made with pantry ingredients – Classic recipes like this are so easy because you more than likely have most of the ingredients on hand already.
Chocolate Crinkle Cookies Ingredients
This recipe uses fairly standard baking essentials, which means it is easy to whip up nearly any day of the week.
Unsweetened baking chocolate – Baking chocolate provides a full bodied flavor. Make sure you're using unsweetened instead of semi-sweet or fully sugared. I've seen some recipes use unsweetened cocoa powder, but I prefer the richness a wet chocolate gives.
White sugar – Because we're using unsweetened chocolate in this recipe, we need something to sweeten it up. Sugar is just the thing!
Vegetable oil – Using oil in your baking helps to ensure moistness. I don't know about you but I love a moist cookie. Other neutral oils can be substituted.
Eggs – Eggs are an important part of lots of baked goods! They provide structure, color and also flavor.
Vanilla – This is a popular ingredient in a lot of baking. Vanilla adds a deliciously warm and comforting flavor. The higher quality vanilla extract you use, the better your cookies will taste. Almond or espresso extract can also be used.
Flour – It's hard to make cookies like these without flour. Flour provides a nice base for the dough, while holding everything together.
Baking powder – Baking powder releases carbon dioxide into the mixture when baked. This helps the cookies to rise into those nice, fluffy chocolate crinkle cookies that you love.
Salt – We only use a small amount here, but salt in baking helps to bring out flavor.
Powdered sugar – You know that perfectly crackly white coating on these chocolate crinkles? That's all thanks to the powdered sugar (also known as confectioners' sugar) Rolling the raw dough in powdered sugar before baking allows the cookies to spread and leave those gorgeous cracks and makes them finger-lickin' good.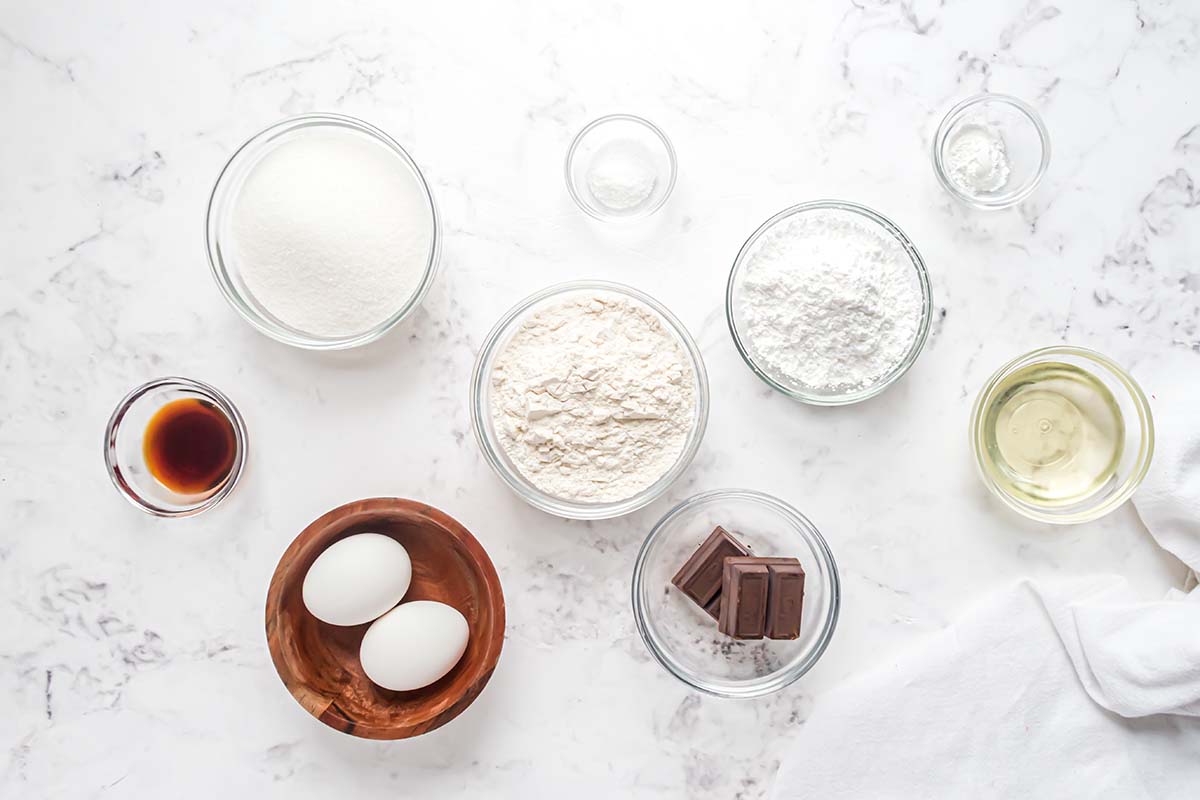 How to Make Chocolate Crinkle Cookies
You are going to love how easy it is to make this chocolate crinkle cookie recipe!
Melt chocolate. First, melt the chocolate in a large bowl. The exact instructions should be on the package and are fairly easy and varies from product to product.
Add sugar and oil. After the chocolate has cooled, add the sugar and oil. Rather than doing this in the bowl of a stand mixer, we suggest mixing by hand. Overmixing (with an electric mixer) can lead to a cookie that is flat and crispy when baked.
Add eggs. Next, add the eggs, one at a time, until full incorporated, and then the vanilla. It's tempting to use a stand mixer, but resist the urge- these cookies tend to get dry and brittle instead of soft and fluffy.
Dry ingredients. Sift together the dry ingredients to evenly incorporate them. Mix by hand until no flour mixture streaks can be seen.
Chill dough. Cover the dough with plastic wrap and refrigerate for at least 2 hours, but up to 2 days. It needs to be adequately chilled to melt the correct way in the oven.
Roll in powdered sugar. Put the powdered sugar in a small bowl and lightly dust your hands with the powdered sugar. Then using a tablespoon or small cookie scoop, scoop a small amount of dough into your hand and roll it into a ball aiming for 1-inch balls.
Bake. Drop the cookie dough balls into the powdered sugar and roll until they are completely covered. Place the dough on a prepared baking sheet a few inches apart to account for spreading and bake for 10-12 minutes, or until edges are set but the centers look a little shiny and wet.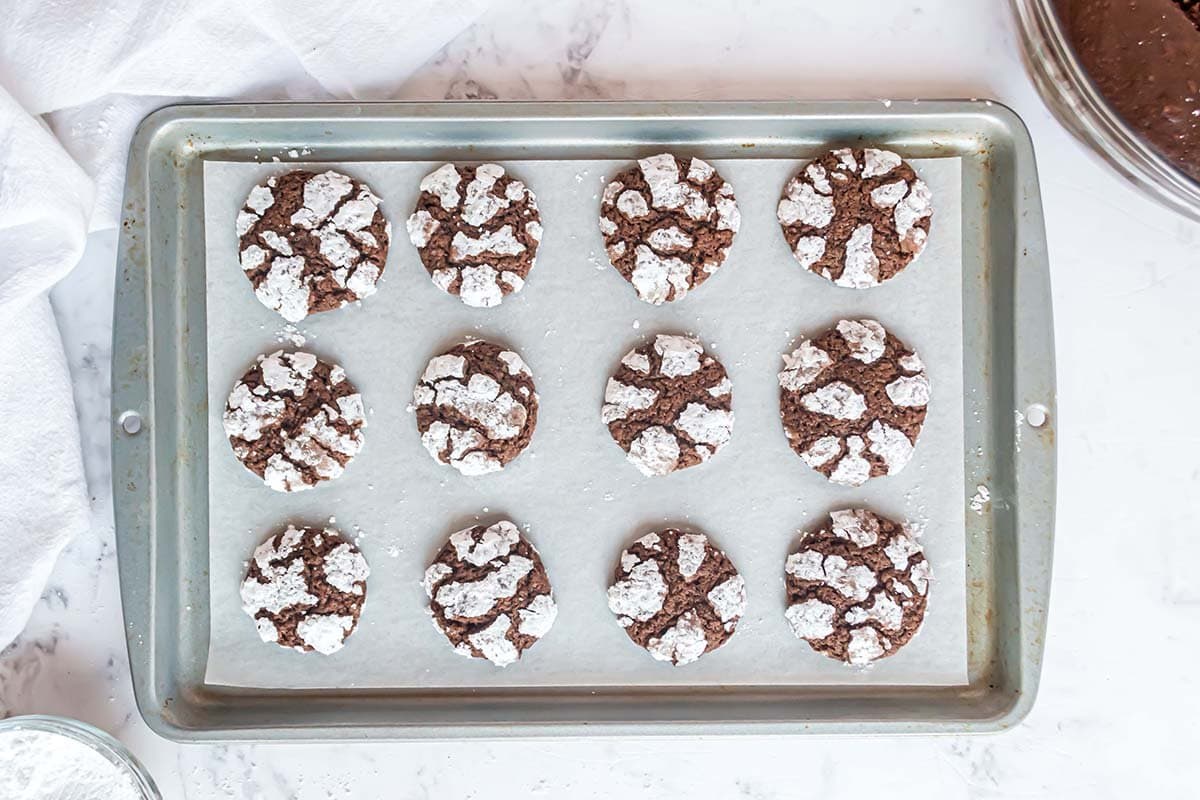 Variations
If you're a chocolate chip cookies lover, you could totally throw some chocolate chips into the dough! Peanut butter or caramel chips also taste fantastic. That melty goodness would send these cookies right over the top.
If you'd like to add a little kick, try putting a tablespoon of espresso powder into the dough. Keep in mind the flavor of your cookies will be extremely bold.
Lastly, almond extract instead of vanilla or in addition to will give these chocolate cookies an unexpected flavor.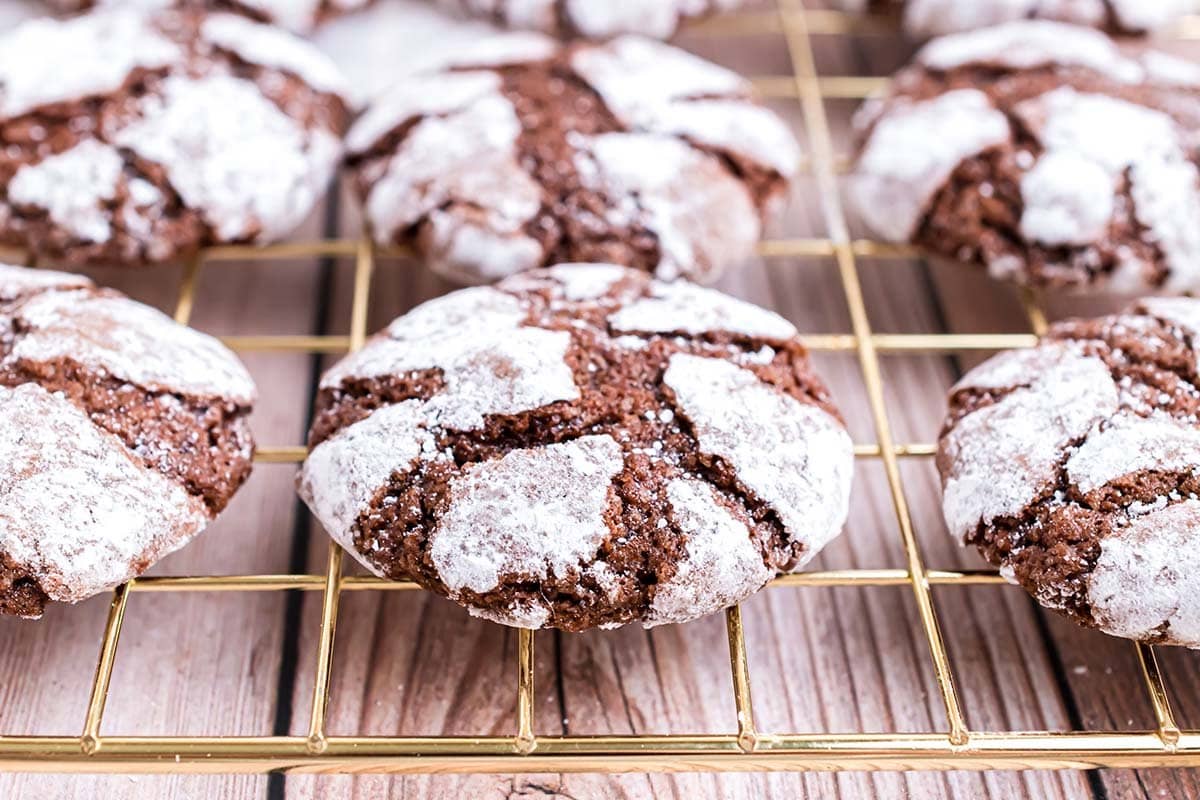 Storage and Freezing
Storage: These cookies can be stored in an airtight container at room temperature for 3-4 days. If you won't eat all of them in that time frame, you can freeze them! freeze Lay the chocolate crinkle cookies flat, in an airtight container or freezer bags separated by parchment paper.
Freezing: These cookies will keep in the freezer for up to 3 months. Keep in a freezer container or freezer bag. When you are ready to enjoy them again, just thaw at room temperature and they're ready to go!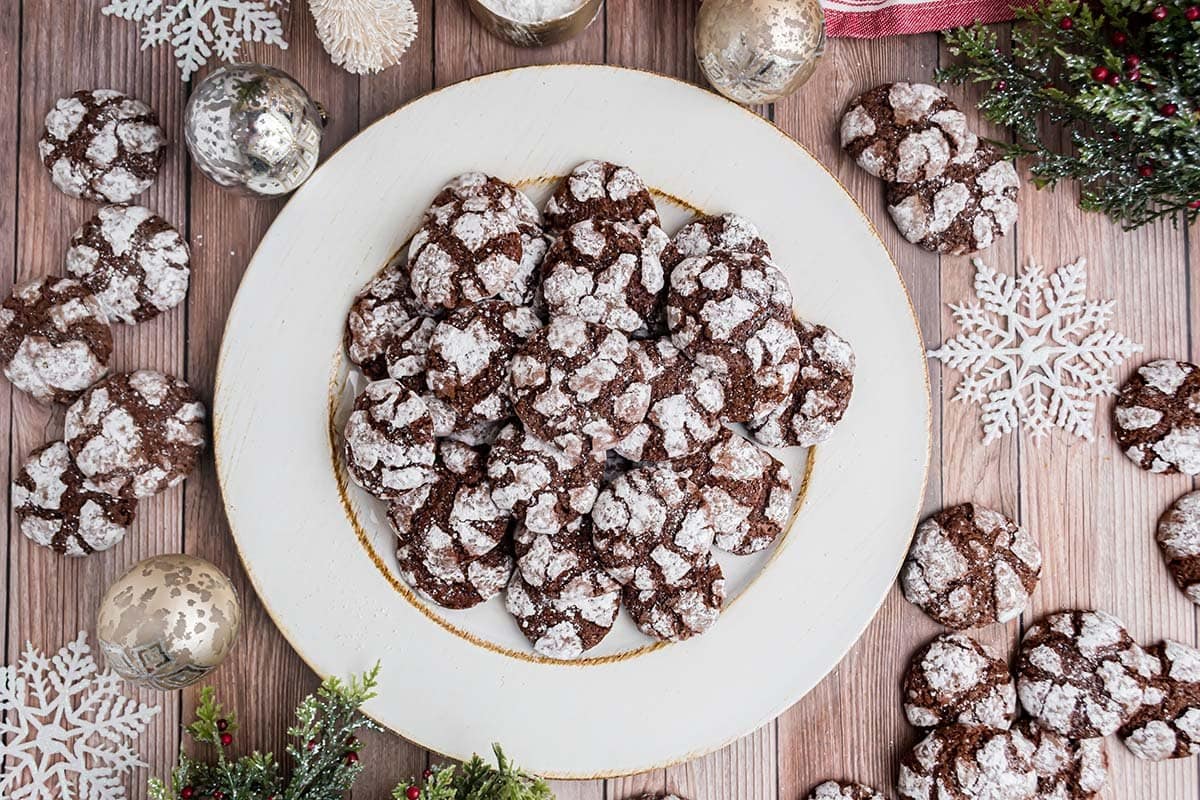 Frequently Asked Questions
What makes crinkle cookies crinkle?
The powdered sugar or confectioner's sugar is what gives these cookies their crackly appearance.
What is another name for chocolate crinkles?
Some people call this holiday staple a snowcap because of the powdered sugar.
Why my crinkles did not crack?
This could be because the cookies aren't spreading. Check your oven temperature is at the correct setting.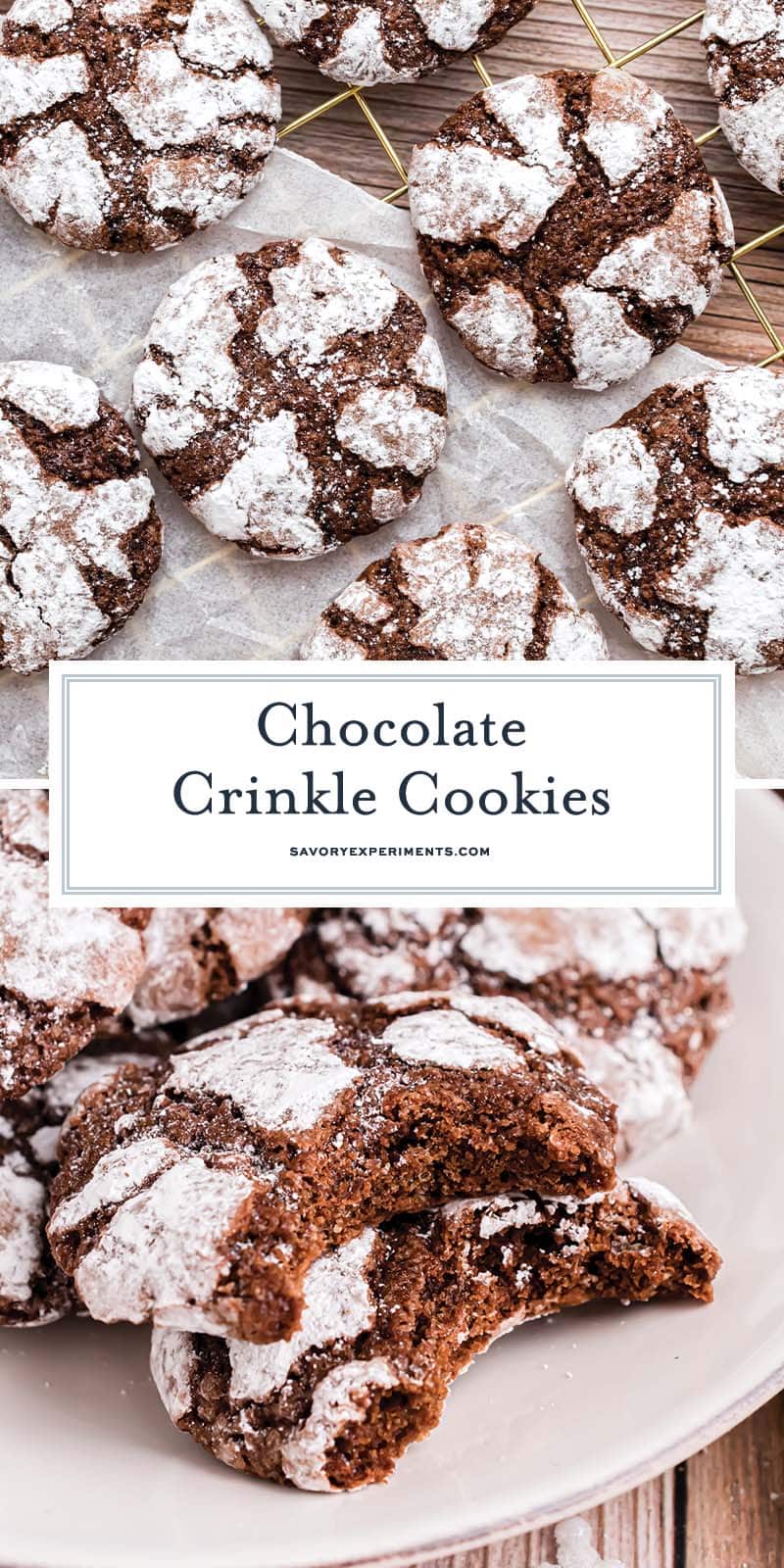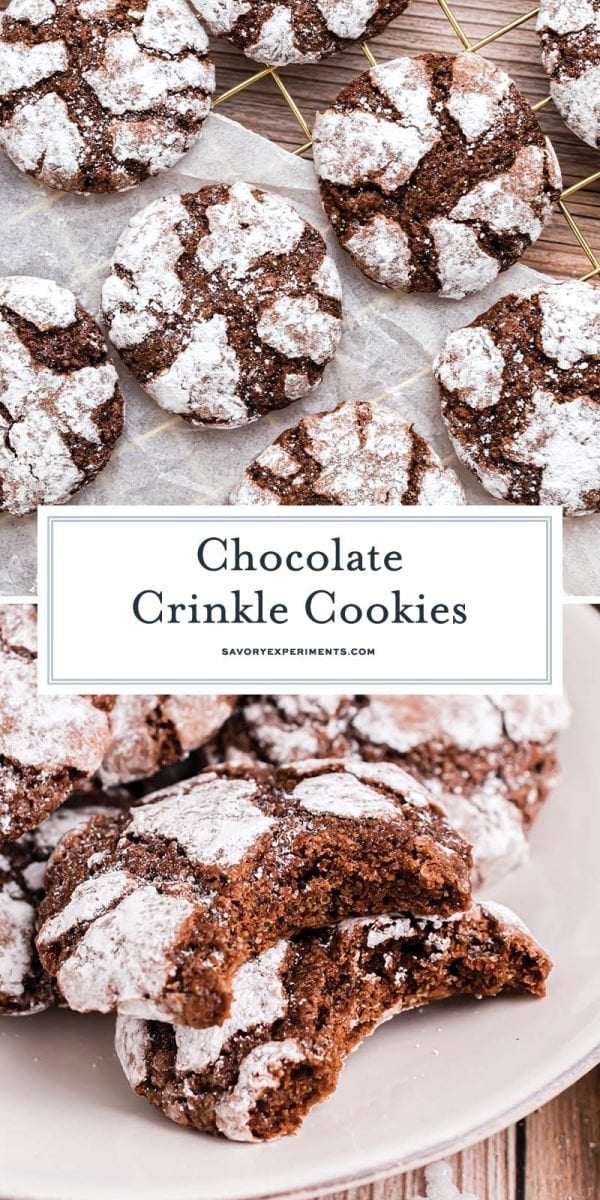 More Cookie Recipes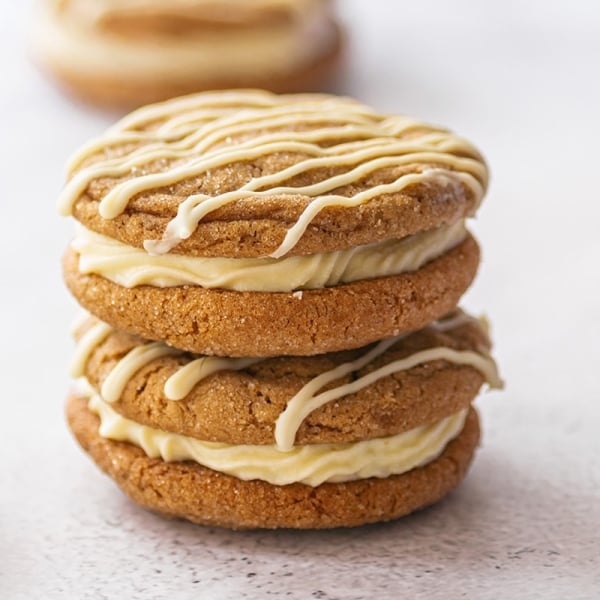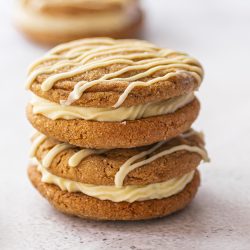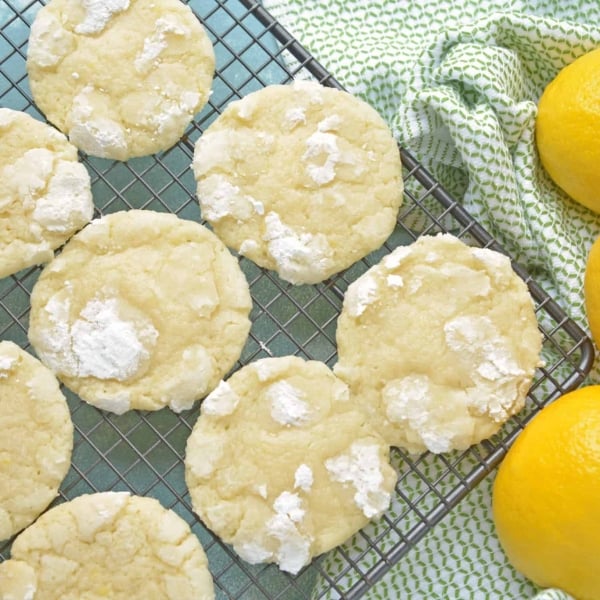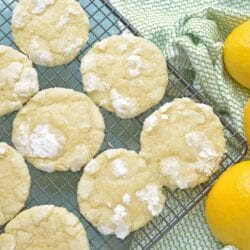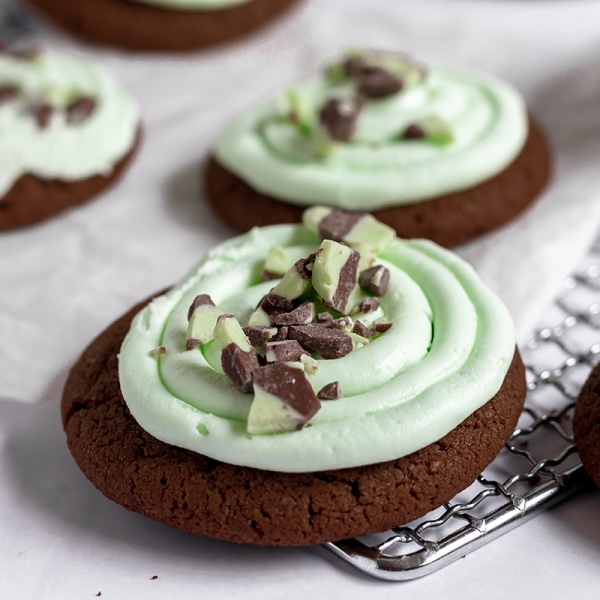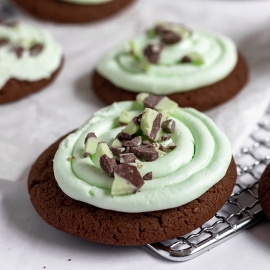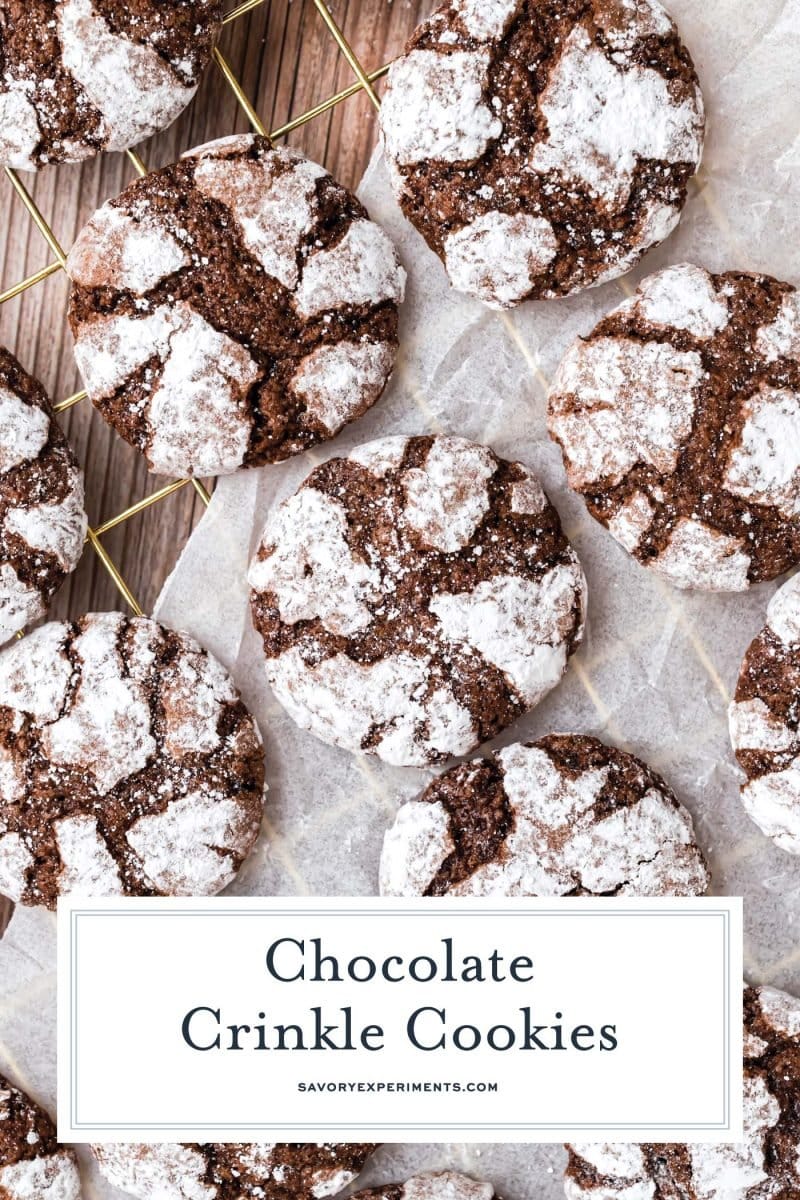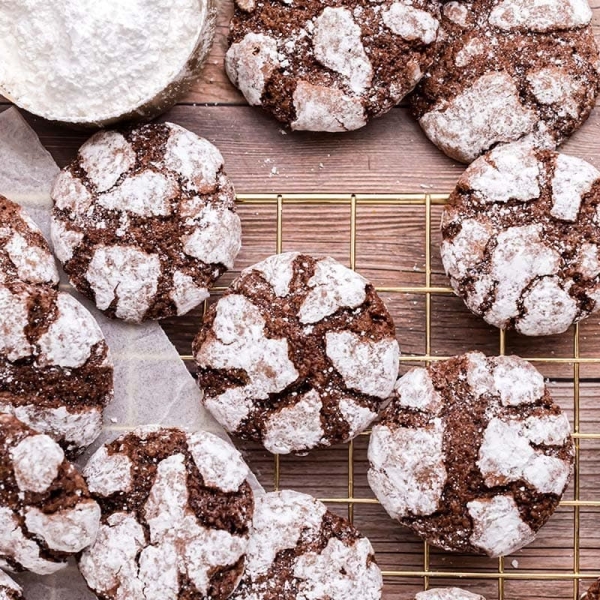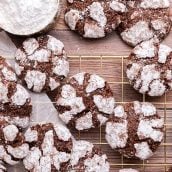 Chocolate Crinkle Cookies
These melt-in-your-mouth Chocolate Crinkle Cookies are decadent and so easy to make using just pantry staples. Light, fluffy and chewy.
Instructions
In a large microwave safe mixing bowl, melt the baking chocolate according to package instructions. Cool slightly.

Add the granulated sugar and oil, mix by hand until just combined.

Add the eggs, one at a time, until incorporated, and then the vanilla.

Sift together the flour, baking powder and salt. Add in small additions, mixing by hand as well. Do not overmix.

Cover with plastic wrap and chill at least 2 hours or up to 1 days.

When ready to bake, preheat the oven to 350°F. Line a baking sheet with parchment paper. Set aside.

Place powdered sugar in a small bowl and dust your hands with powdered sugar to prevent the dough from sticking to your hands.

Using a tablespoon or very small cookie scoop, scoop a small amount of dough into your hand and roll it into a 1-inch ball.

Roll the cookie dough in the powdered sugar until covered.

Place on parchment lined cookie sheet at least 2-inches inches apart. Do not crowd the baking sheet.

Bake for 10-12 minutes, or until edges are set. Cookies will appear slightly soft in the centers. Don't overbake.

Cool on baking sheet for 5 minutes and then transfer to a wire cooling rack to finish cooling.

If you've tried this recipe, come back and let us know how they were in the comments or ratings.
Nutrition
Calories:
66
kcal
,
Carbohydrates:
10
g
,
Protein:
1
g
,
Fat:
3
g
,
Saturated Fat:
1
g
,
Polyunsaturated Fat:
1
g
,
Monounsaturated Fat:
1
g
,
Trans Fat:
1
g
,
Cholesterol:
9
mg
,
Sodium:
36
mg
,
Potassium:
32
mg
,
Fiber:
1
g
,
Sugar:
7
g
,
Vitamin A:
13
IU
,
Calcium:
8
mg
,
Iron:
1
mg