Applesauce is nostalgic for me. Growing up my mom would always start dinner with a small bowl of applesauce, fruit cocktail or a salad. I always thought it was to get us to eat more fruits and veggies and I only later found out that it was really a ploy to get my dad to meet his quota.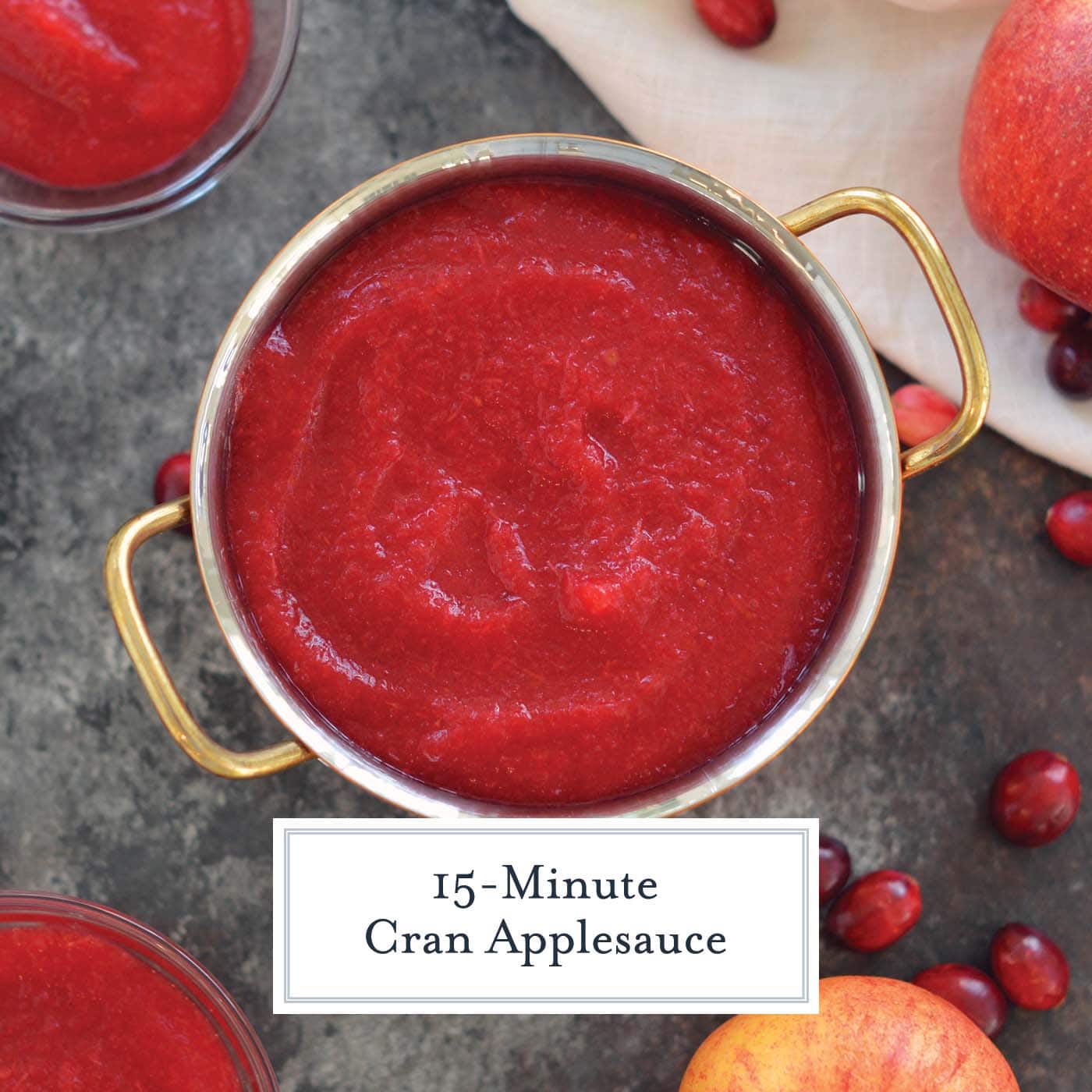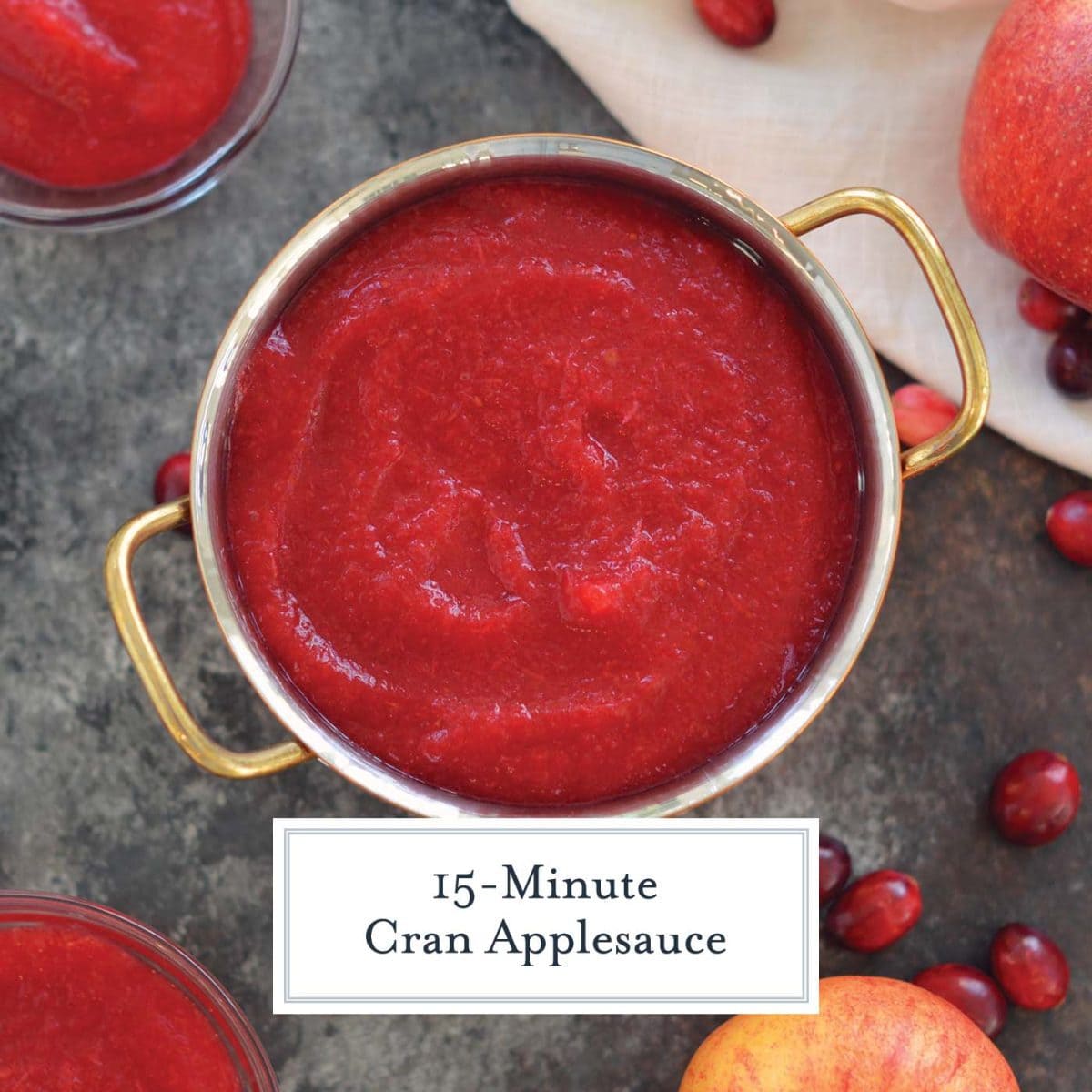 Could he really say no with our judging eyes watching him? But I never made my own until I was an adult. In fact, I probably didn't even eat applesauce for a good decade- not until I had kiddos myself.
Homemade Applesauce
Simple, homemade and delicious; just the way I like things. This quick applesauce recipe is based on my original, basic recipe has the sweet hints of fall apples with the tart of fresh cranberries. And the best part? The ingredient list is only 4 items long and the time to make it is only 15 minutes from start to spoon-in-mouth.
How? The microwave! Many applesauce recipes use an Instant Pot, CrockPot or the stovetop, but in just 5 minutes you can achieve similar results. If you are looking for the other versions, I do list them below.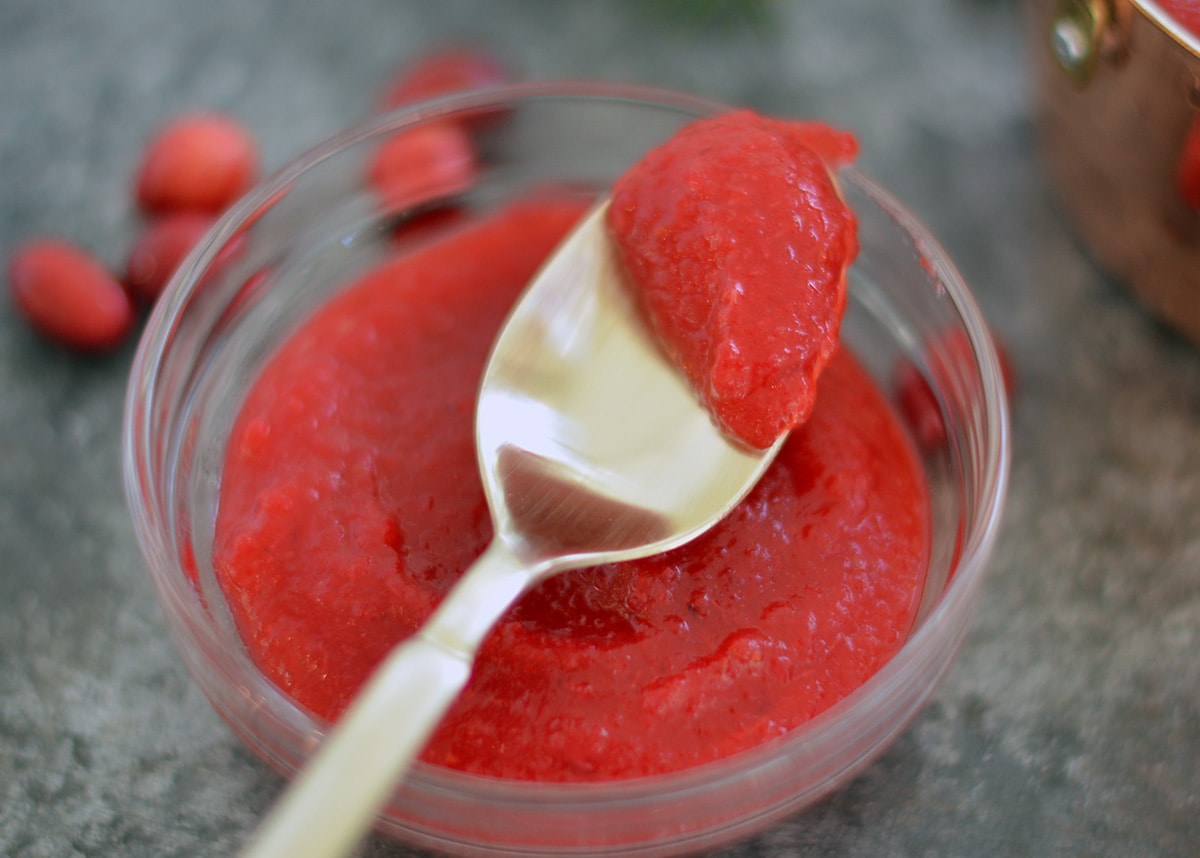 What You'll Need
The list is small, but mighty!
Fresh Apples- use 2-3 large apples. Use all of one type or a blend for more complex flavors. See below for recommendations on the type of apple to use.
Fresh Cranberries– adjust the amount up or down depending on how much tart flavor you like. I love the ruby red hue they give the sauce! You can use frozen cranberries too, just make sure to defrost them fully first.
Apple Juice– a little liquid is needed to get a sauce instead of a paste. No sugar added apple juice best, but in a pinch, just use water.
Sugar– sugar is optional, but keep in mind that most applesauce is sweetened. If you are intending to use this in baked goods, unsweetened is fine because presumably, the baked goods will have sugar. Sugar substitutes are good alternatives too. There are natural sugars in the apple, but since we are microwaving and not slow cooking, allowing them to caramelize, you won't get the full sweetness.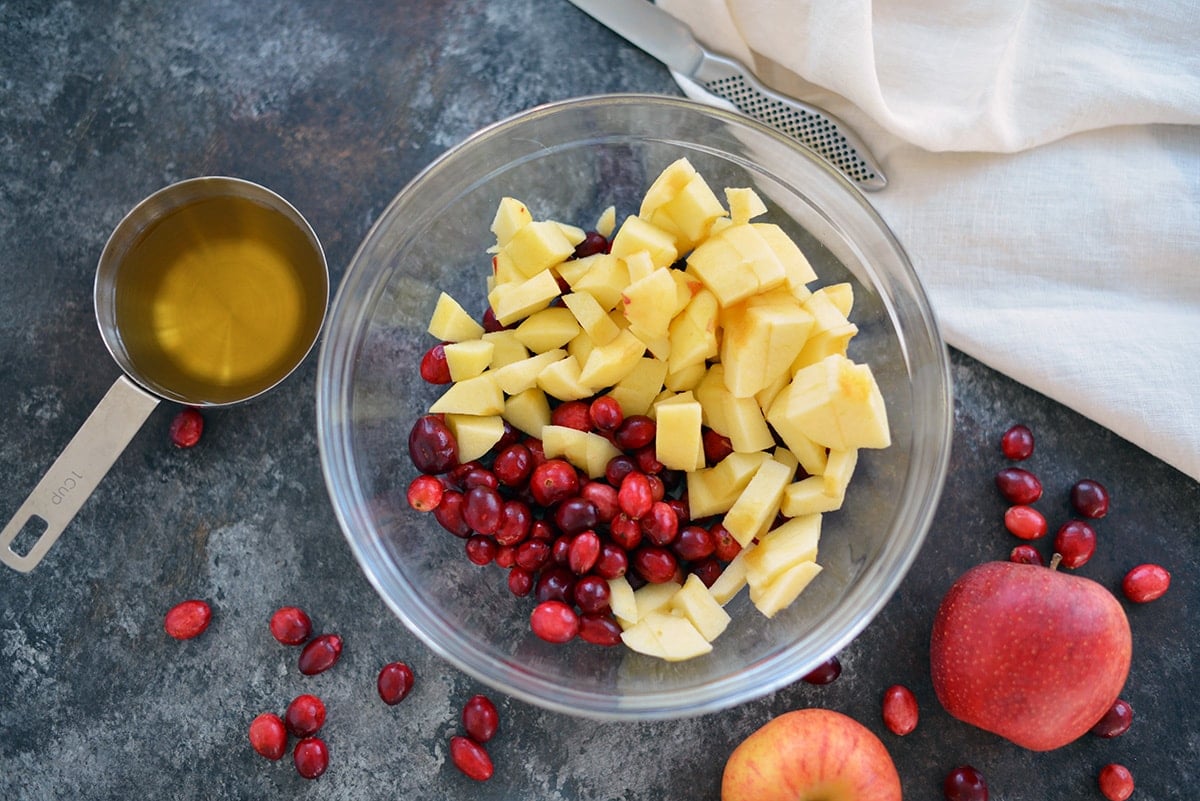 Best Apples for Applesauce
The type of apple you use is actually very important and will play a role in both the taste and texture of the finished product. Use all one type or a variety to create a custom flavor blend.
McIntosh- One of the most popular for baking, its sweet and soft flesh cooks down easily and is less fibrous than other varieties. It is also super juicy with just a hint of tart.
Golden Delicious- Also a soft flesh and used frequently in baking, instead of a tart aftertaste, they are actually a tiny bit spicy. Not enough to notice off the bat, but close your eyes, and after you finish chewing a bite notice the way your tongue feels.
Honeycrisp- Juicy and sweet, these are great for sweeter applesauce and the most kid-friendly.
Gala- A milder apple flavor, these will be a great base, but let the cranberries shine.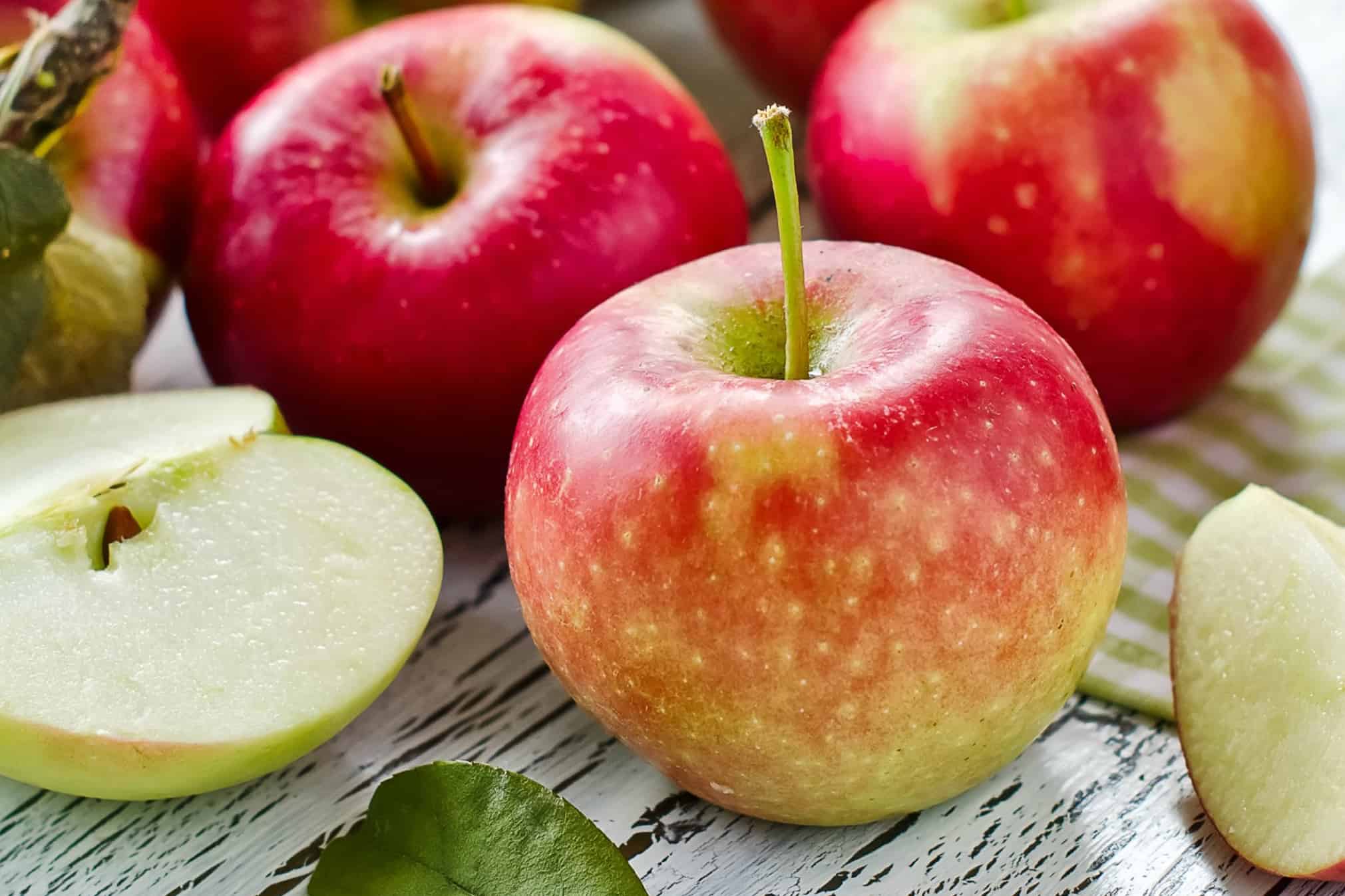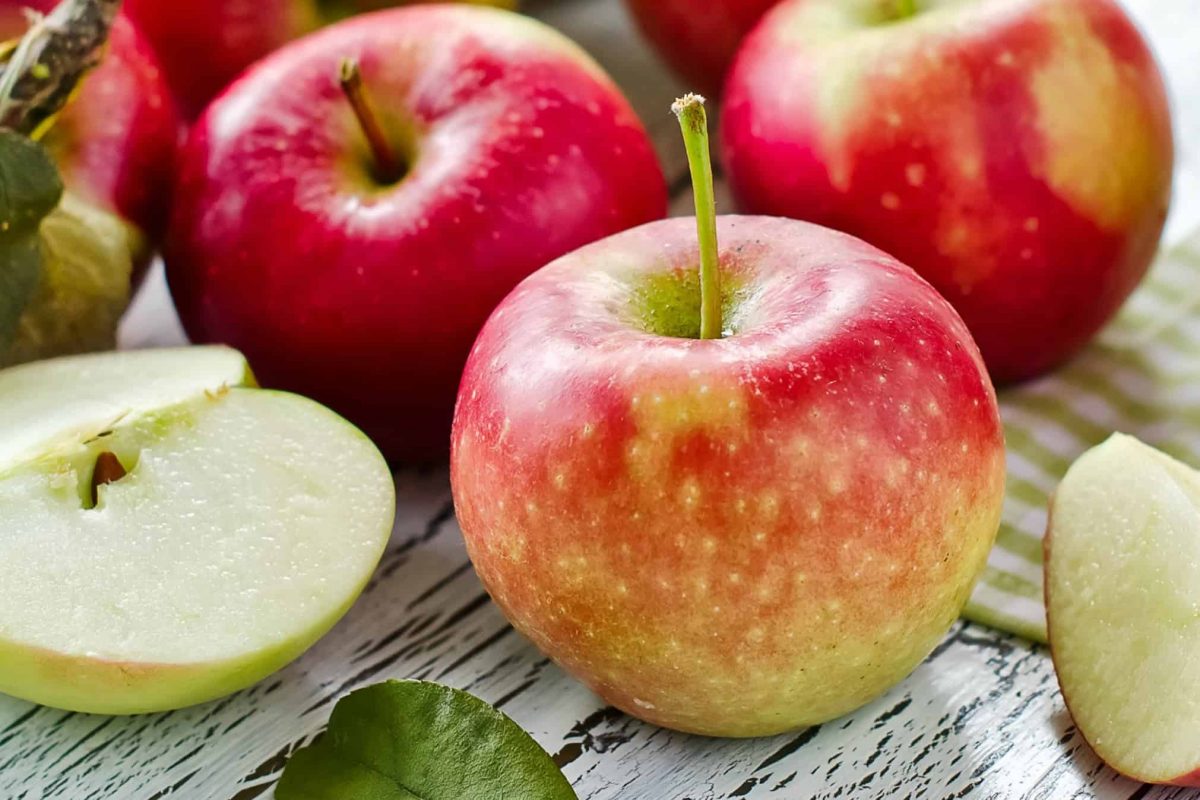 How to Make Applesauce
Peel and core your apples. You can leave the skin on, but depending on the type of apple, it can be waxy or unpleasant in the finished product. Cube the apples into 1-inch pieces.
Add them to a microwave-safe dish along with the cranberries and apple juice. Cover tightly plastic wrap. This will keep the heat and steam in, allowing the temperature to build faster and also steam the fruits.
Microwave for 3 minutes, open and stir and microwave for an additional 2 minutes. Some of the cranberries might explode a little. The fruit will be soft and fragrant.
Transfer the mixture, juices and all, to a food processor. Add your sweetener of choice, if using one, and then blitz it until your desired consistency. Alternately, you can use a ricer, potato masher or blender.

Slow Cooker or Instant Pot
Slow Cooker Applesauce- The benefit to using a crockpot is that you can add less or no sugar- the natural sugar in the apples will caramelize producing a naturally sweetened sauce. The texture will also breakdown and reduce the need for a food processor.
Add the apples, cranberries, juice and sugar to the crockpot, cover and cook for 4 hours. They should break down enough to not need a food processor unless you prefer a super-smooth blend.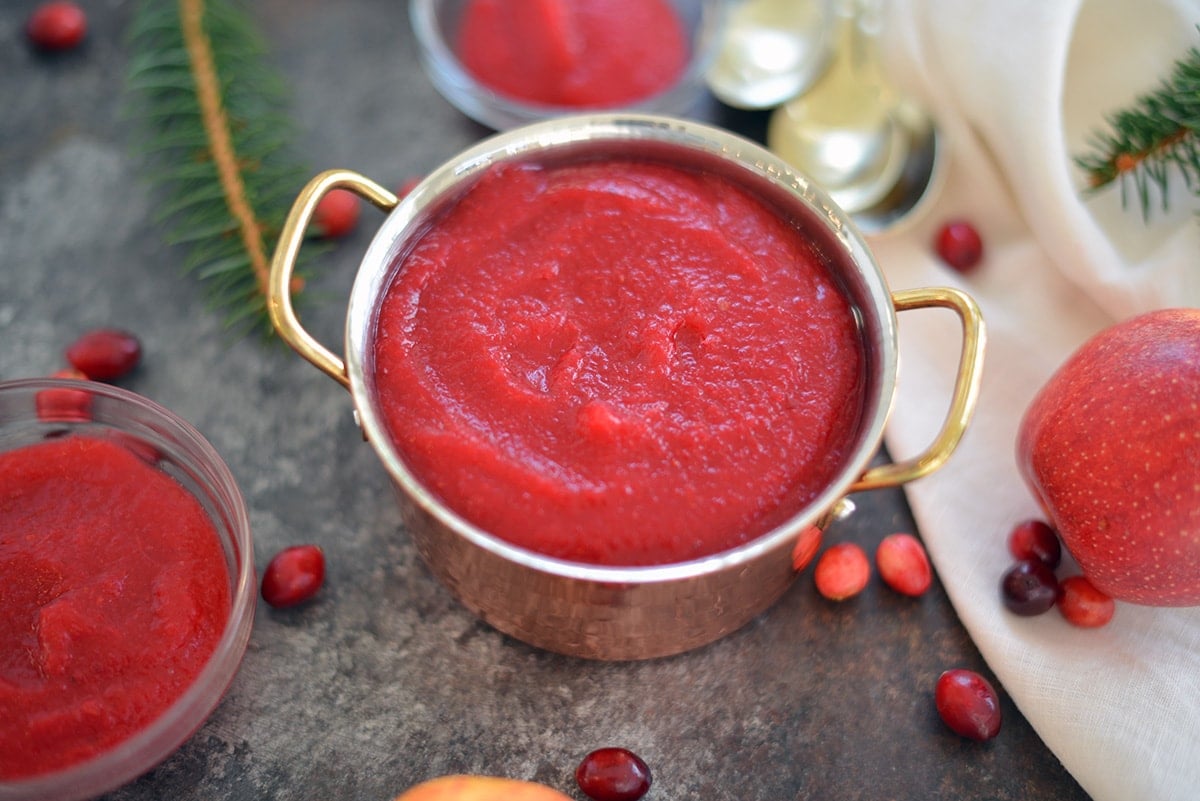 Instant Pot Applesauce– The benefit to making applesauce in the Instant Pot or electric pressure cooker is that you can make much larger batches. While it doesn't allow sugars to caramelize, it will break down the fruits and reduce the need for a food processor.
Follow the same instructions, but place the lid on, seal the vent and set for manual high pressure for 6 minutes. Do a quick release and then mash or blend, if desired.
Variations
While I don't find this sauce needs much more than it already has, feel free to customize yours with spices. Here are the most popular flavor affinities.
What to Serve it With
In my house we usually just eat the sauce. My kids love it and it is a nice antioxidant-rich snack for me. But is there anything more classic than pork chops and applesauce? Lucky for us, cranberries are a natural pairing with pork just like apples.
Applesauce is also fabulous in baked goods like cake, muffins or cookies. It can be used as an oil or butter substitute for other baked goods.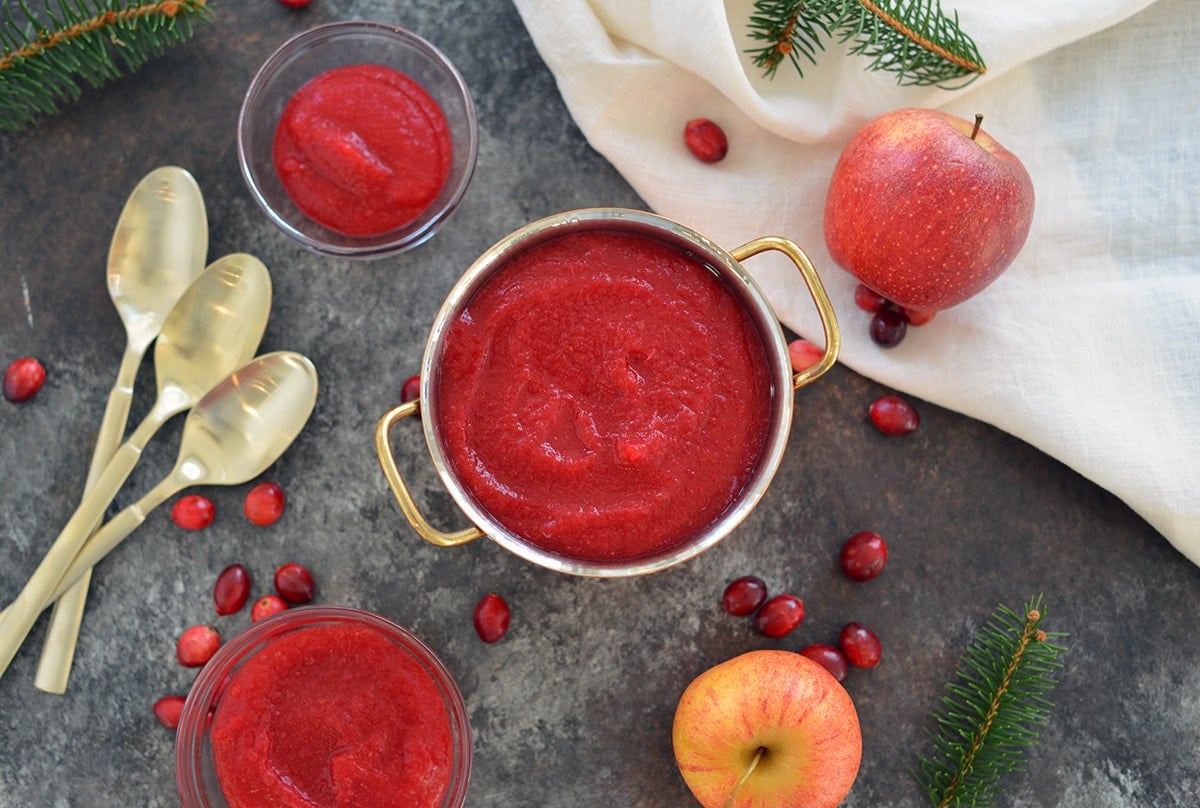 Storage & Freezing
Applesauce is one of the most perfect specimens for canning, however, I don't know how to can, so check these instructions out.
Can you freeze applesauce? You sure can! Place applesauce in airtight containers- either plastic bags or containers- with the least amount of air possible. They will stay frozen for up to 6 months.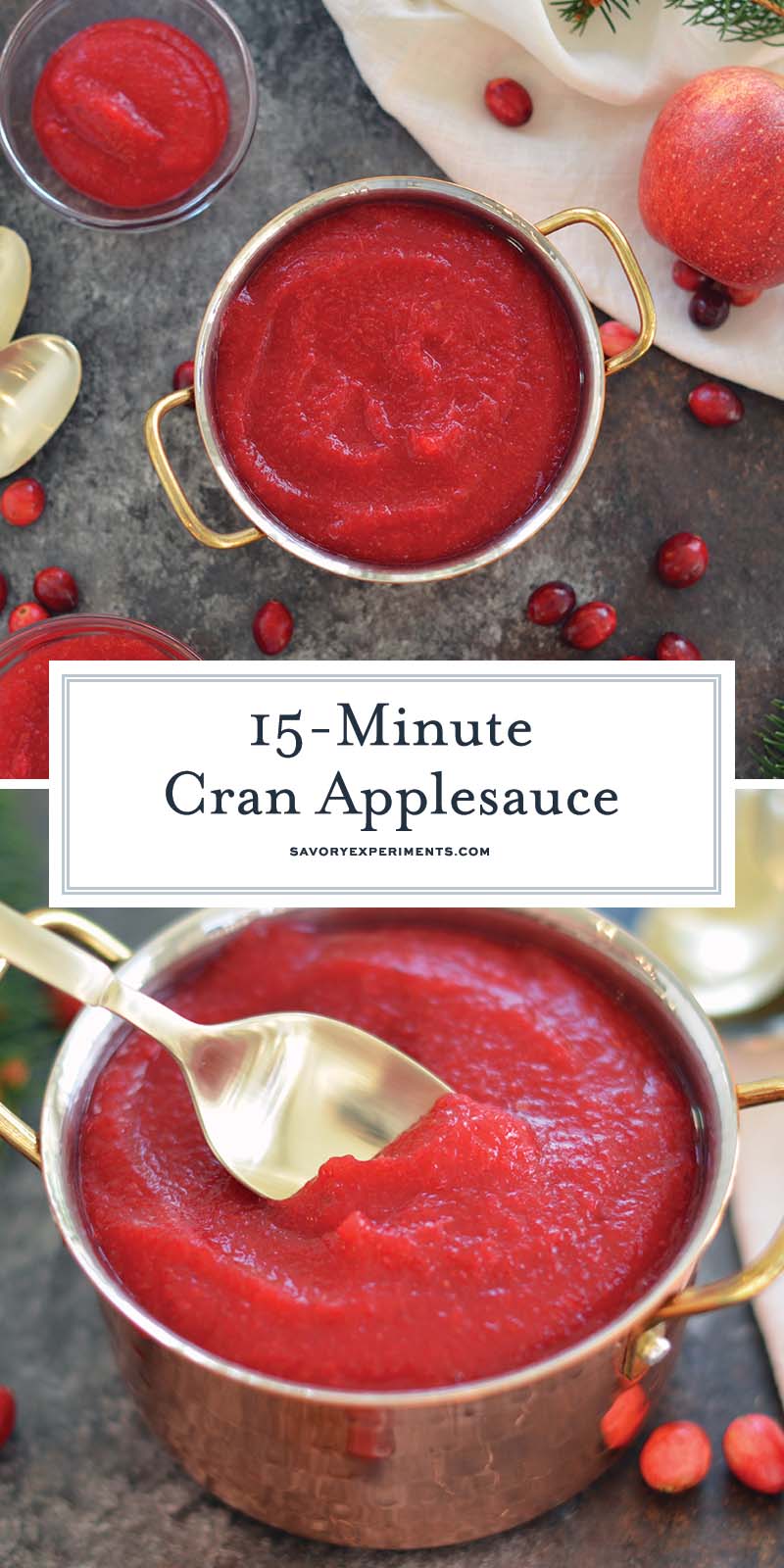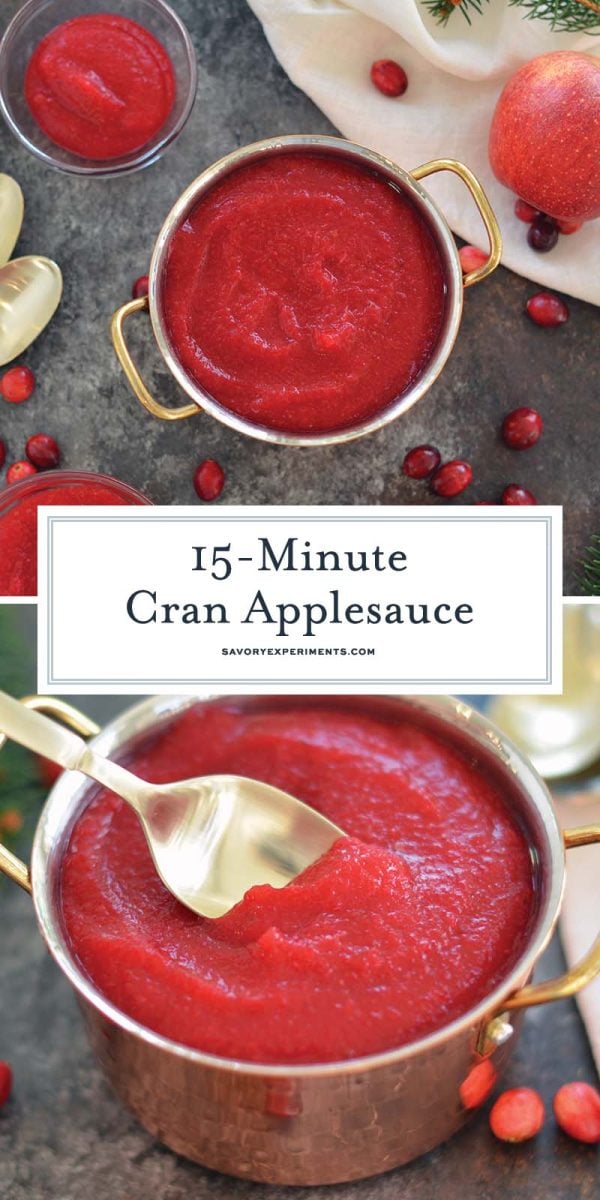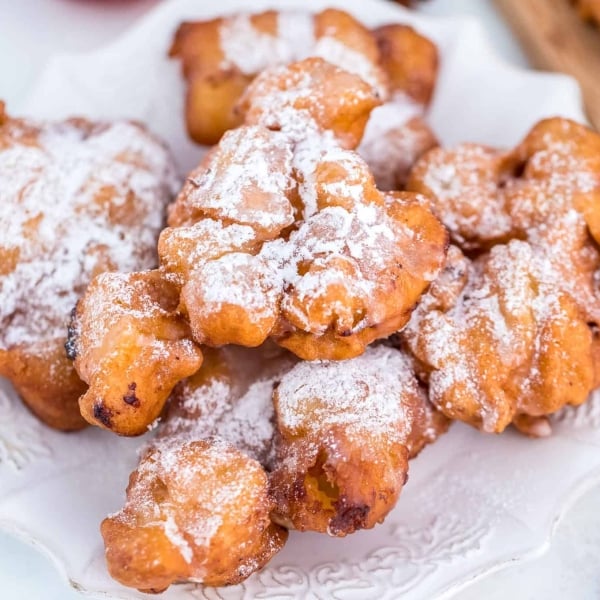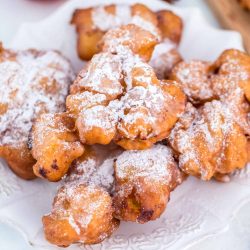 Homemade Apple Fritters
Homemade Apple Fritters have never been easier than with this apple fritter recipe! Surrounded by a cakey batter and drizzled with glaze, they're perfectly sweet and delicious!
See The Recipe!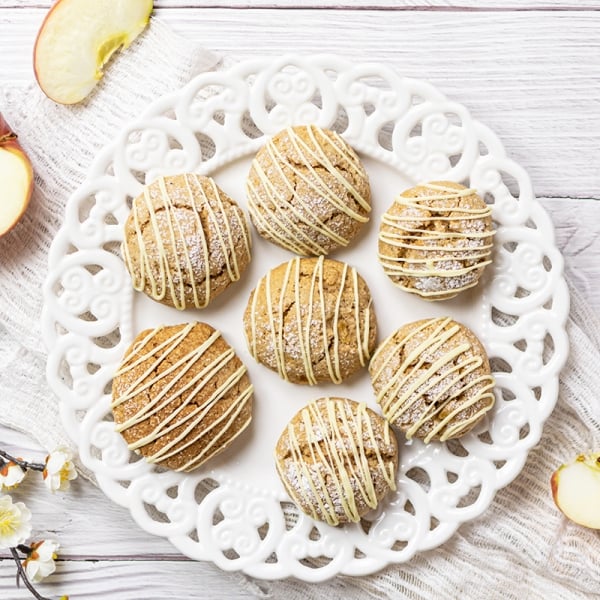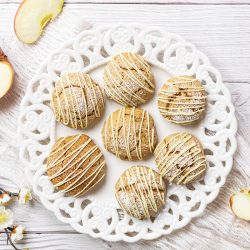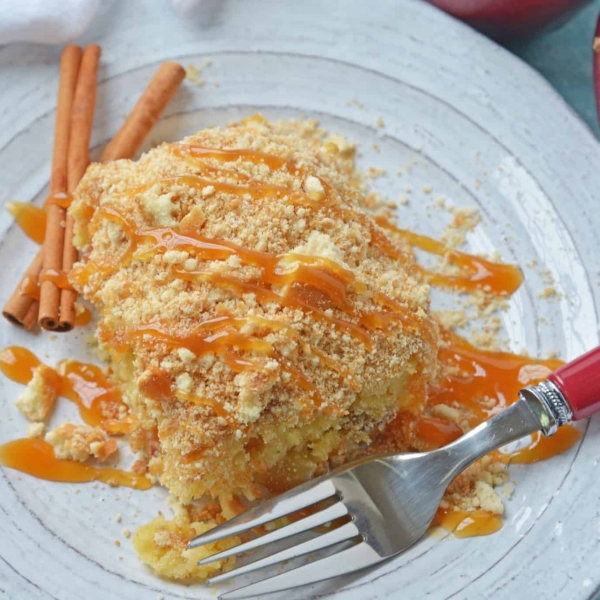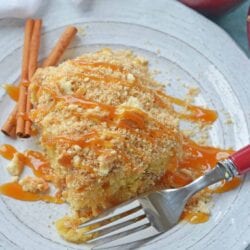 Caramel Apple Poke Cake
This Caramel Apple Poke Cake is one of the best recipes using boxed cake mix! With tons of apples, and cinnamon, this from scratch apple cake will become an instant family favorite!
See The Recipe!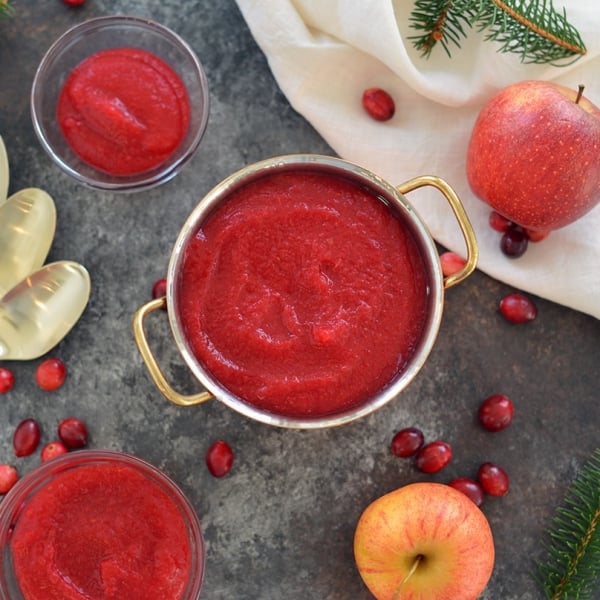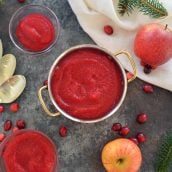 Cran Applesauce Recipe
In only 15 minutes, you'll have sweet and tart homemade applesauce perfect for baking, pork chops or just eating alone.
Instructions
Place the apples, cranberries and apple juice in a microwave safe bowl. Cover tightly with plastic wrap.

Microwave for 3 minutes. Remove, stir, and microwave for an additional 2 minutes.

Remove the bowl and transfer the mixture, juice and all, to a food processor or blender. Add the sugar and then give blend on high for 30-40 seconds or until it reaches your desired texture.

Enjoy warm or to chill before serving.

If you've tried this recipe, come back to let us know how it was in the comments or ratings!
Nutrition
Calories:
108
kcal
,
Carbohydrates:
28
g
,
Protein:
1
g
,
Fat:
1
g
,
Saturated Fat:
1
g
,
Polyunsaturated Fat:
1
g
,
Monounsaturated Fat:
1
g
,
Sodium:
4
mg
,
Potassium:
200
mg
,
Fiber:
5
g
,
Sugar:
21
g
,
Vitamin A:
86
IU
,
Vitamin C:
10
mg
,
Calcium:
13
mg
,
Iron:
1
mg