What happens when an apple meets a fried doughnut? You get these incredibly delicious homemade Apple Fritters!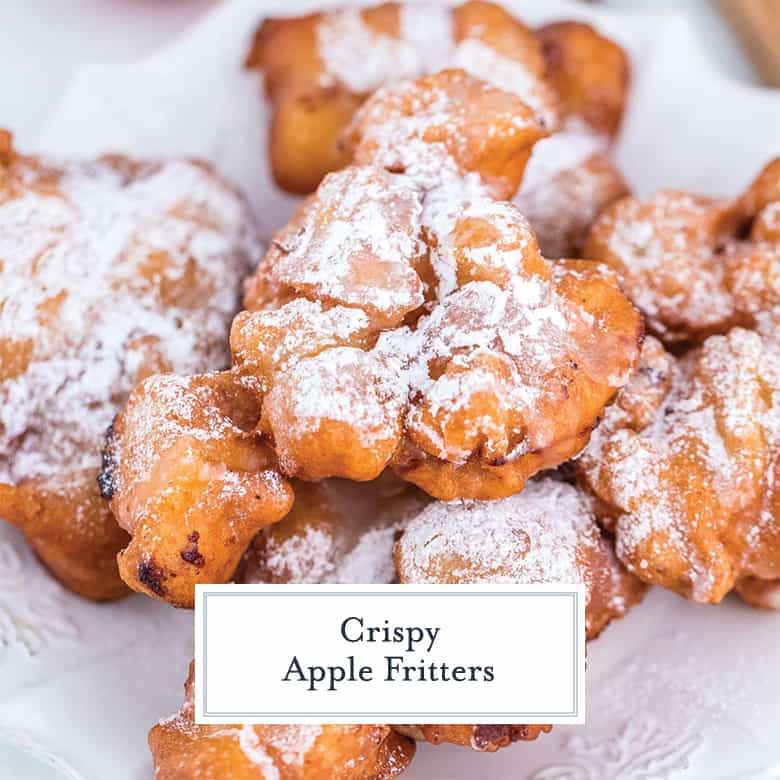 Apple Fritters
Now that the weather is finally getting nicer, (fingers crossed it stays that way.) I can't stop thinking about fair food. From funnel cakes to churros sausage sandwiches, I. love. it. all!
But I especially love those heavenly delights that are apple fritters! Being that the fair doesn't come around too often, I figured I'd better learn to make them at home.
With a few ingredients that I'd bet are already in your pantry, you can make this apple fritter recipe too. The recipe is so easy that you'll want to make them all the time.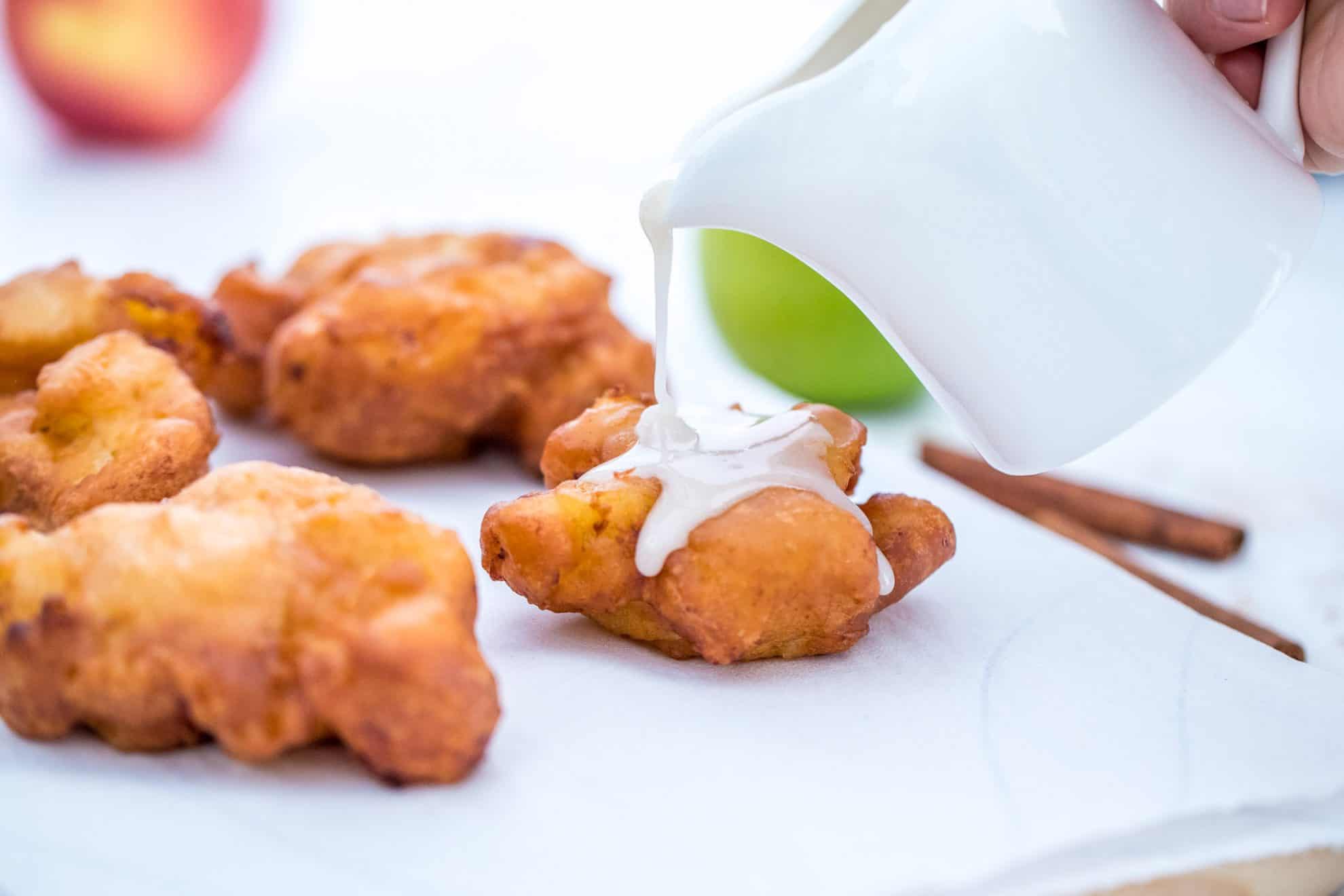 Types of Apples
Apple flavors really run the gamut, so pick yours based on personal preference, color and texture. My favorite is always a red delicious, but here are a few more options:
Granny Smith – slightly tart and green.
Honeycrisp – a little more delicate in flesh, but juicy.
Golden Delicious– Yellow with delicate flesh.
PRO TIP: Use a variety of apple types to get an even more sophisticated flavor profile!
The other ingredients are pretty stand pantry staples.
How to Make Apple Fritters
ONE. Start by sifting your dry ingredients together in one bowl.
PRO TIP: Sifting is sometimes seen as a useless step, but in every recipe with dry ingredients, it is very important. It not only breaks up clumps which will prevent over mixing, but it also uniformly distributes leaveners and salt so your fritters will puff up evenly and no one will get a mouth full of salty yuck.
TWO. Then in a separate bowl, combine the brown sugar with your wet ingredients and mix completely. Lemon juice is used to prevent the apples from oxidizing and turning brown.
Slowly add in the dry mixture and mix until combined.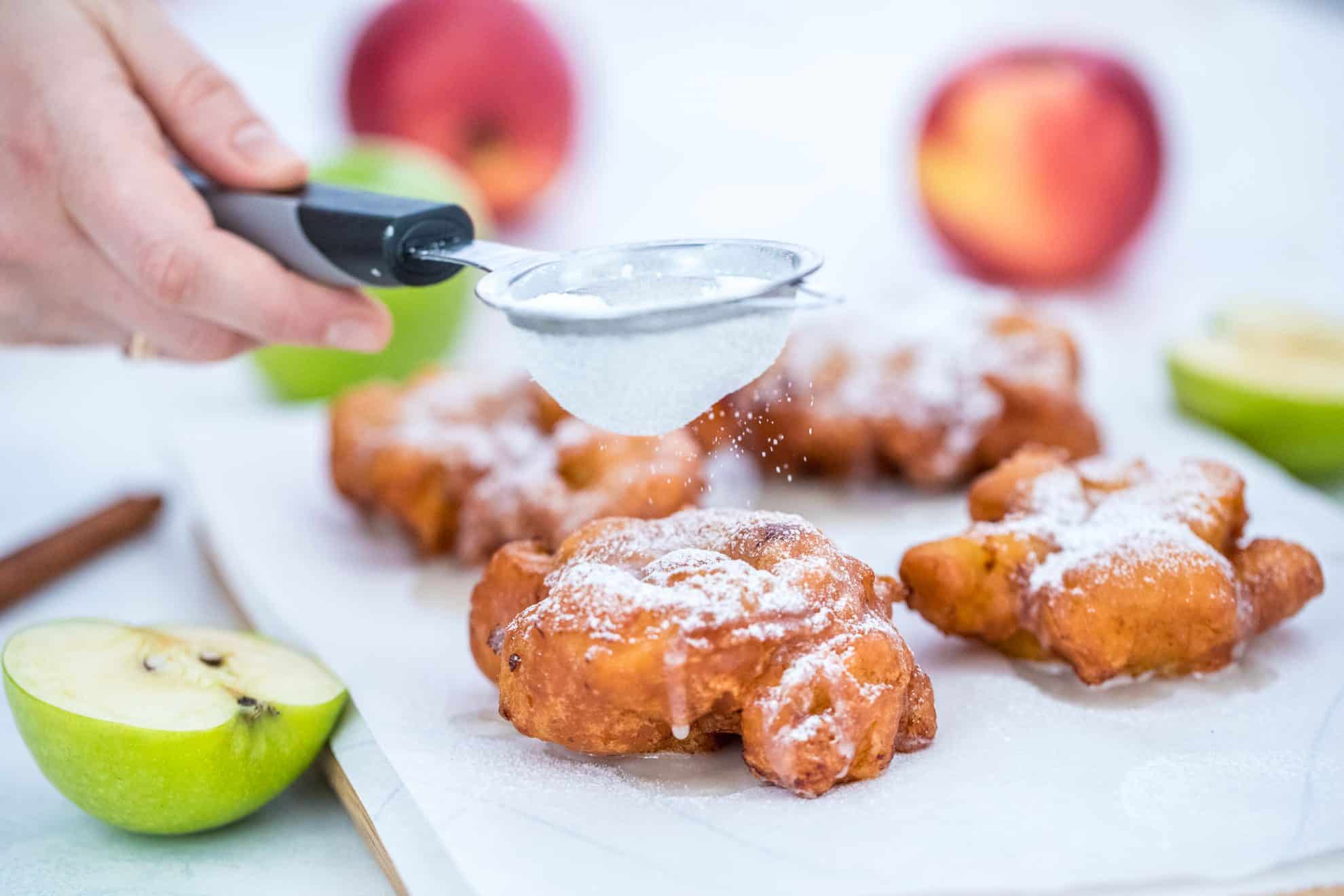 THREE. Add chopped apples, making sure to coat each apple with the batter mixture. Drop spoonfuls of the coated apples into the hot oil and fry until golden brown (about 2-3 minutes.) Use a deep fry thermometer or candy thermometer to carefully watch the temperature, adjusting as needed.
Be mindful of how large your apple fritters are going into the oil. If you make them too big or fat, the exterior will brown and burn before the inside gets a chance to cook.
FOUR. Once they reach the golden brown color, take them out of the oil with a slotted spoon and transfer them to a cooling rack over paper towels. This lets the oil drain without making them soggy on the bottom.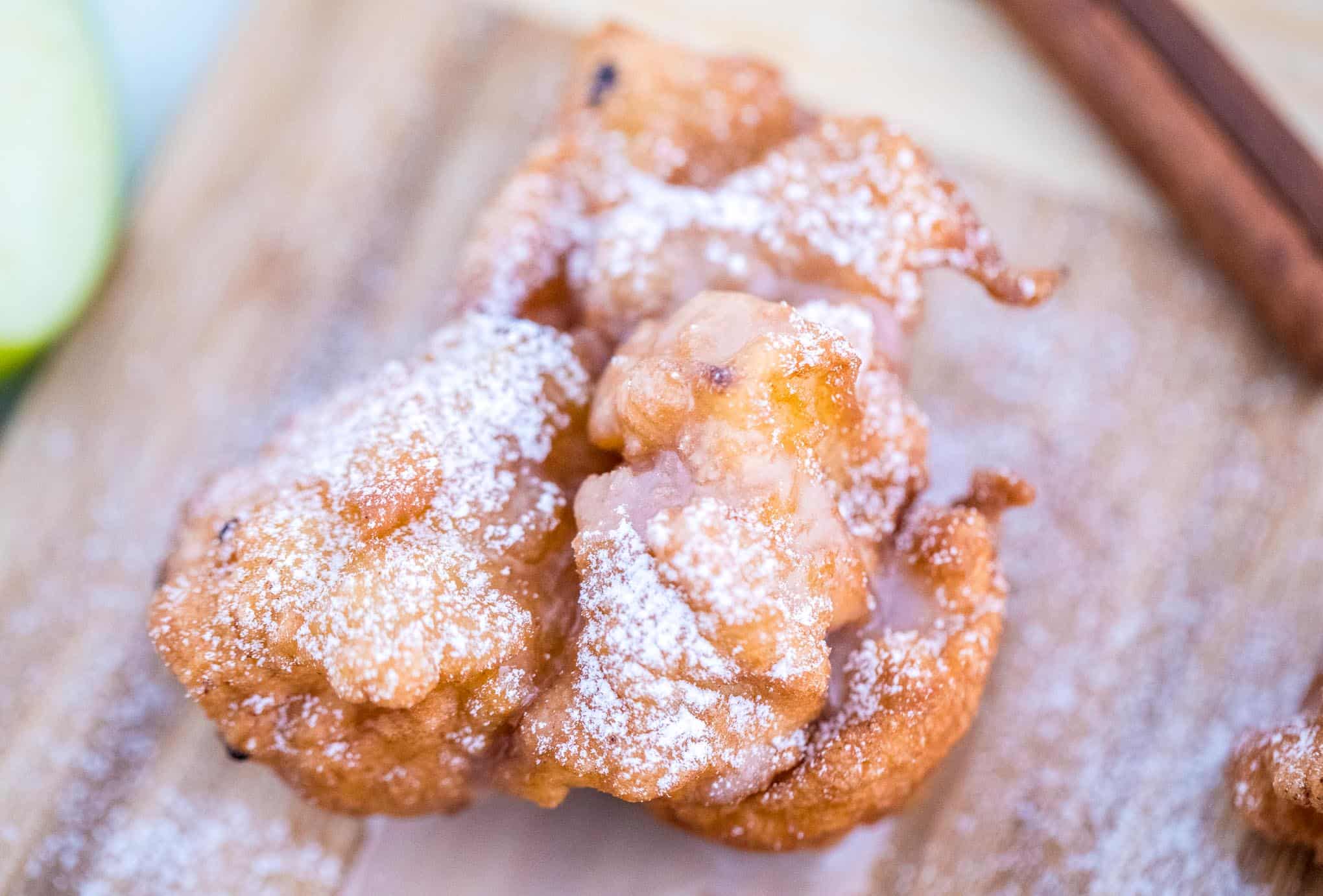 Toppings
Life is filled with choices and this is one. How to top them! You can three choices:
Cinnamon Sugar– If you prefer a crunchy cinnamon sugar exterior, stir together 1 cup white sugar with 1 teaspoon ground cinnamon. Toss hot apple fritters in the sugar mixture. You can also dust them with powdered sugar.
I like using brown sugar for a slightly molasses taste and deeper flavor- light or brown sugars work. You can use white sugar as well.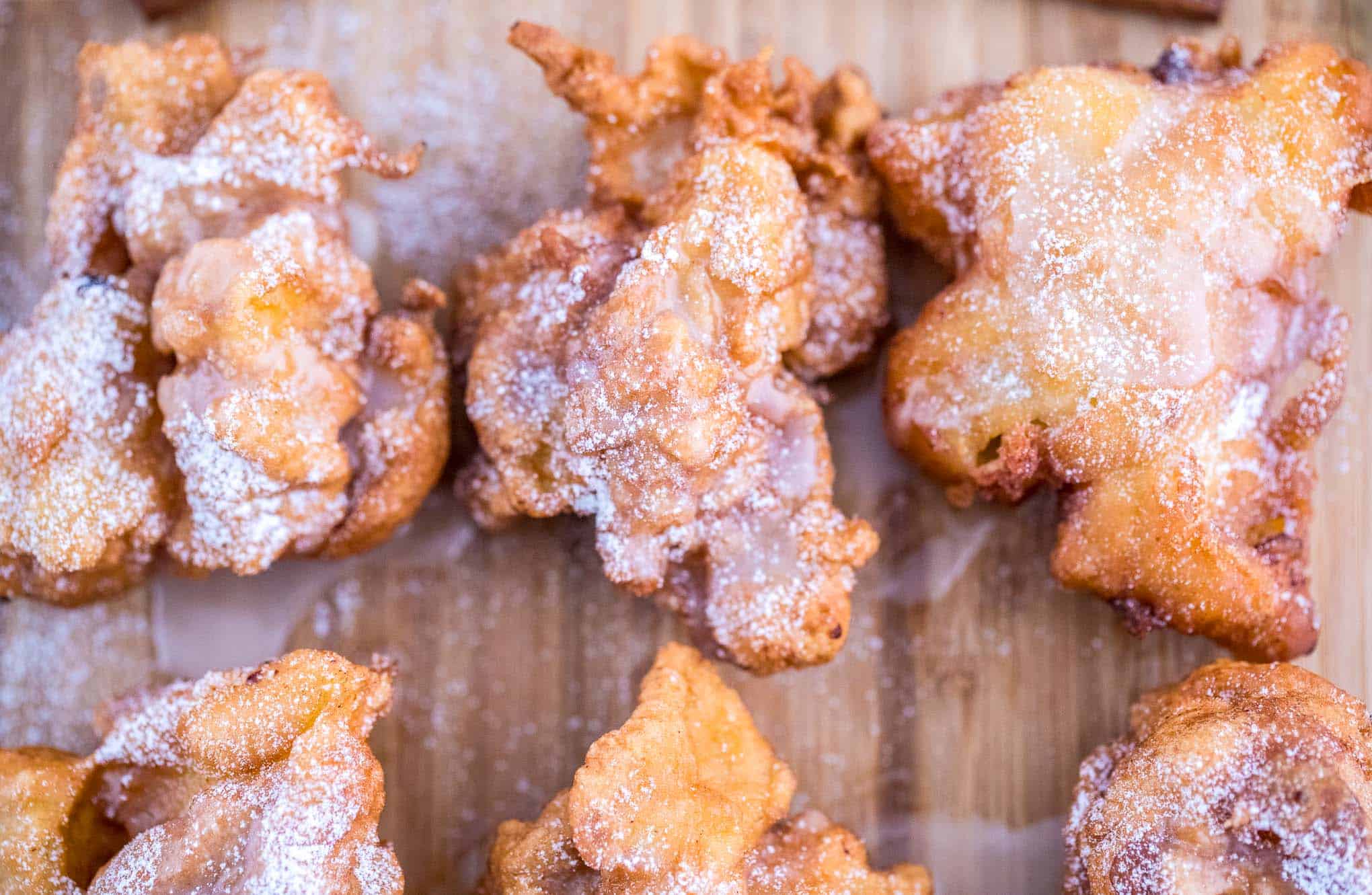 Glaze– A simple glaze is also totally acceptable.
Powdered Sugar– As is a light dusting of powdered sugar. If you go this route, wait to dust until you are ready to serve. If you do it before, the sugar will absorb into the fritter and get cakey.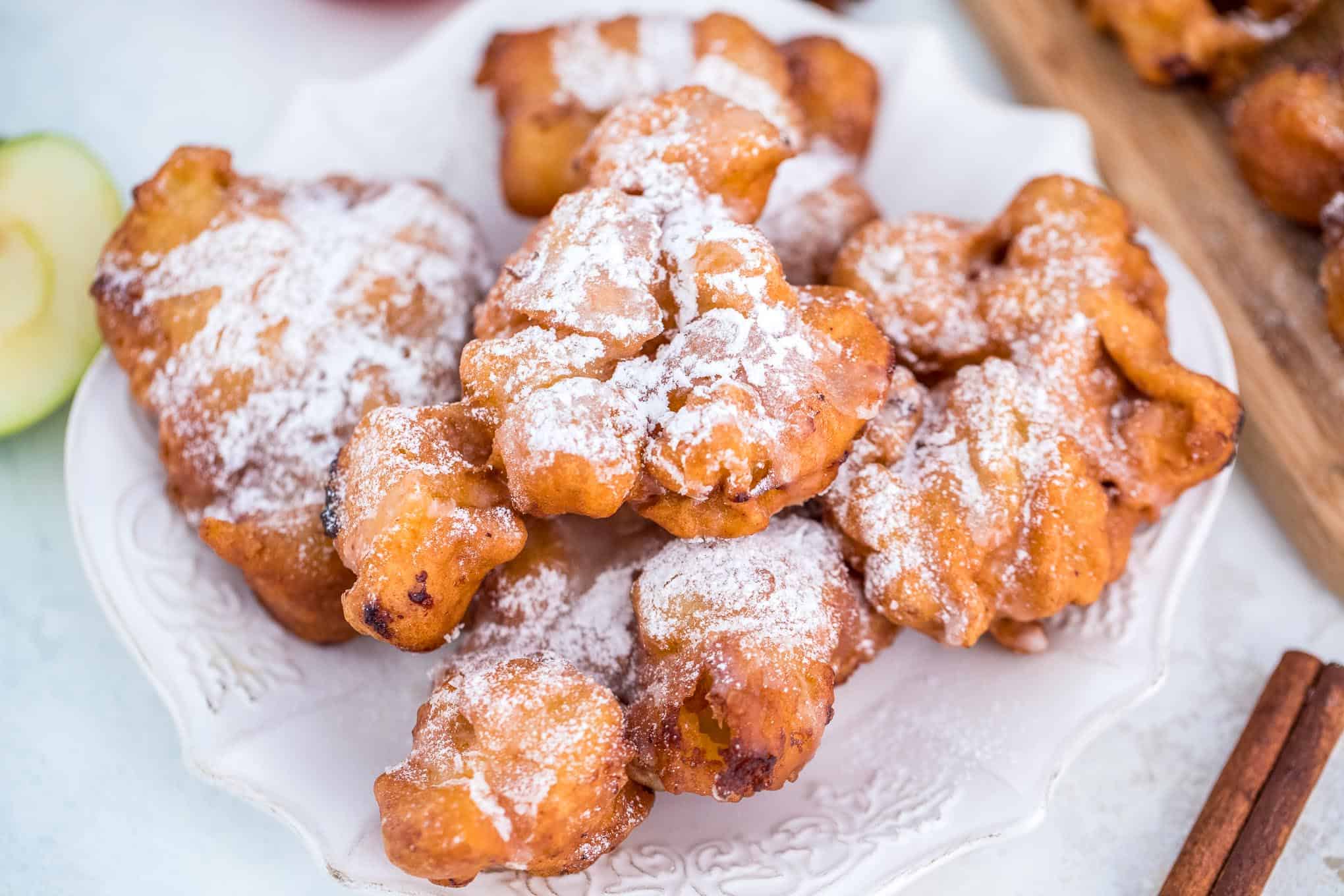 Caramel Apple Poke Cake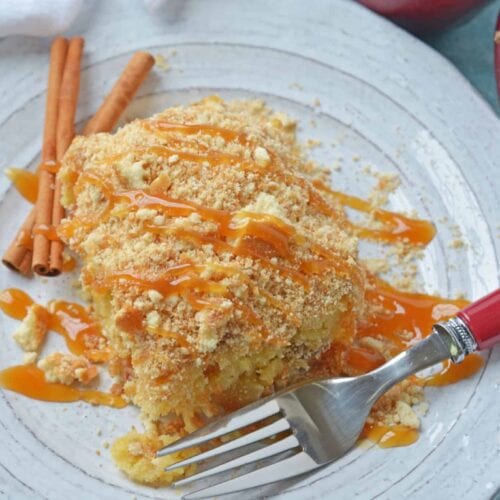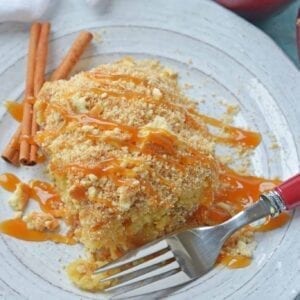 This Caramel Apple Poke Cake is one of the best recipes using boxed cake mix! With tons of apples, and cinnamon, this from scratch apple cake will become an instant family favorite!
Apple Monkey Bread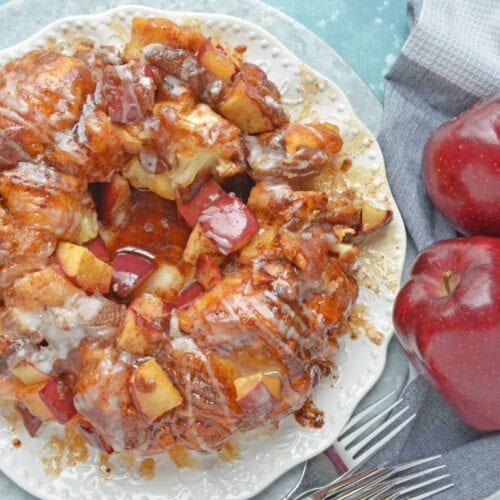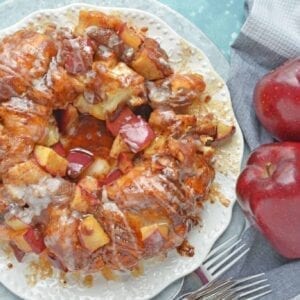 Apple Monkey Bread is an easy monkey bread with canned biscuits and fresh apples. A winning brunch and breakfast recipe for special occasions.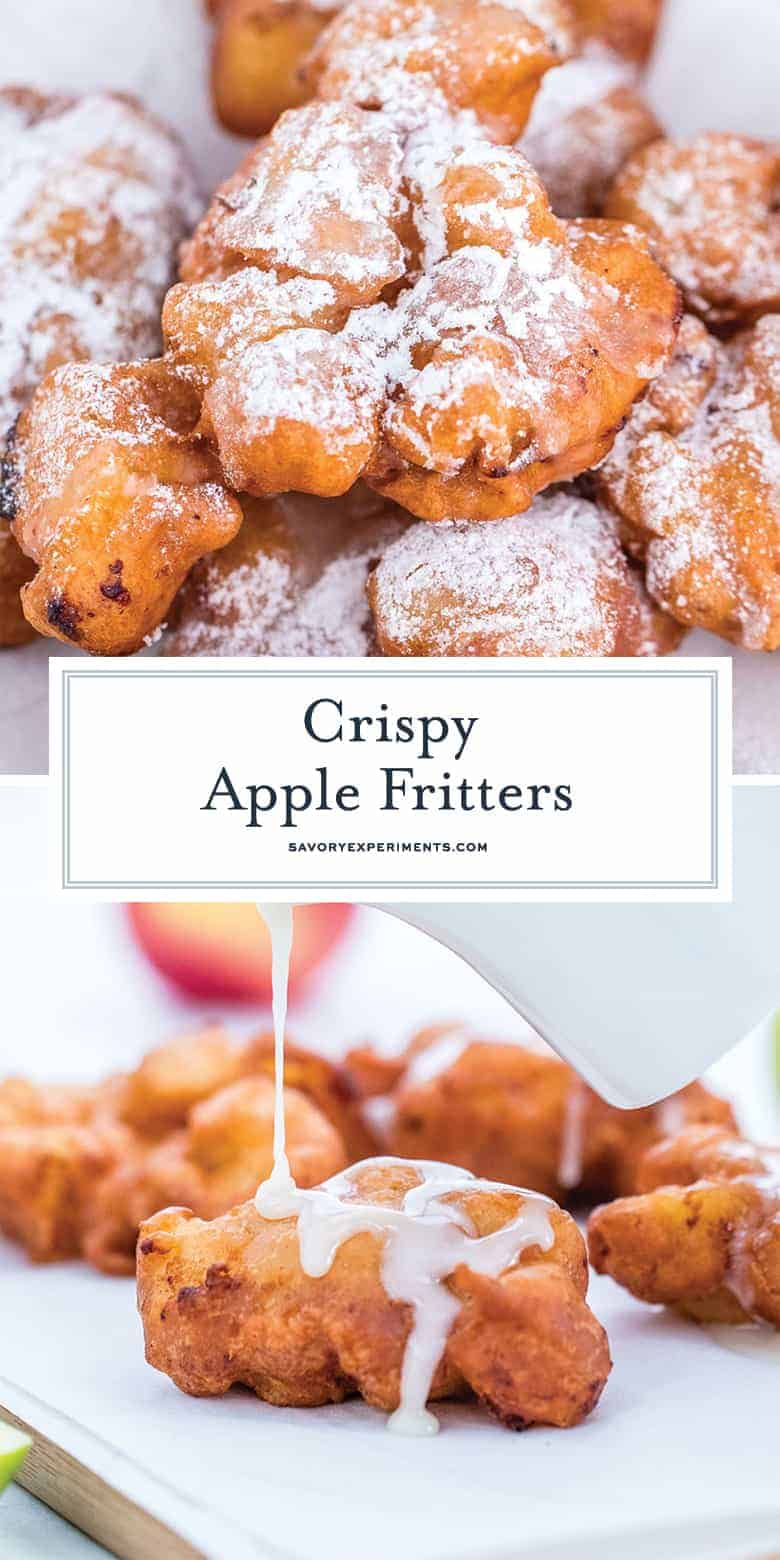 Make Ahead, Storage & Freezing
Can I freeze apple fritters? You can freeze cooked apples fritters in an airtight plastic bag for up to 4 months. However, when thawed, they might be a little gummy. You can try to revive them by giving them another quick fry. You will never be able to match the deliciousness of a freshly fried apple fritter.
Can I make apple fritters in advance? Technically, yes, but there is nothing like freshly fried apple fritters. You will lose the crunch and heat if you fry them ahead of time. What you can do is make the batter ahead of time and place it in the refrigerator until you are ready to fry them.
Baked Apple Fritters
Can I make these into baked apple fritters? Unfortunately, this recipe doesn't work to make baked apple fritters or apple fritter donuts. If I get enough interest, I'll put some time into making recipes for those though, just let me know!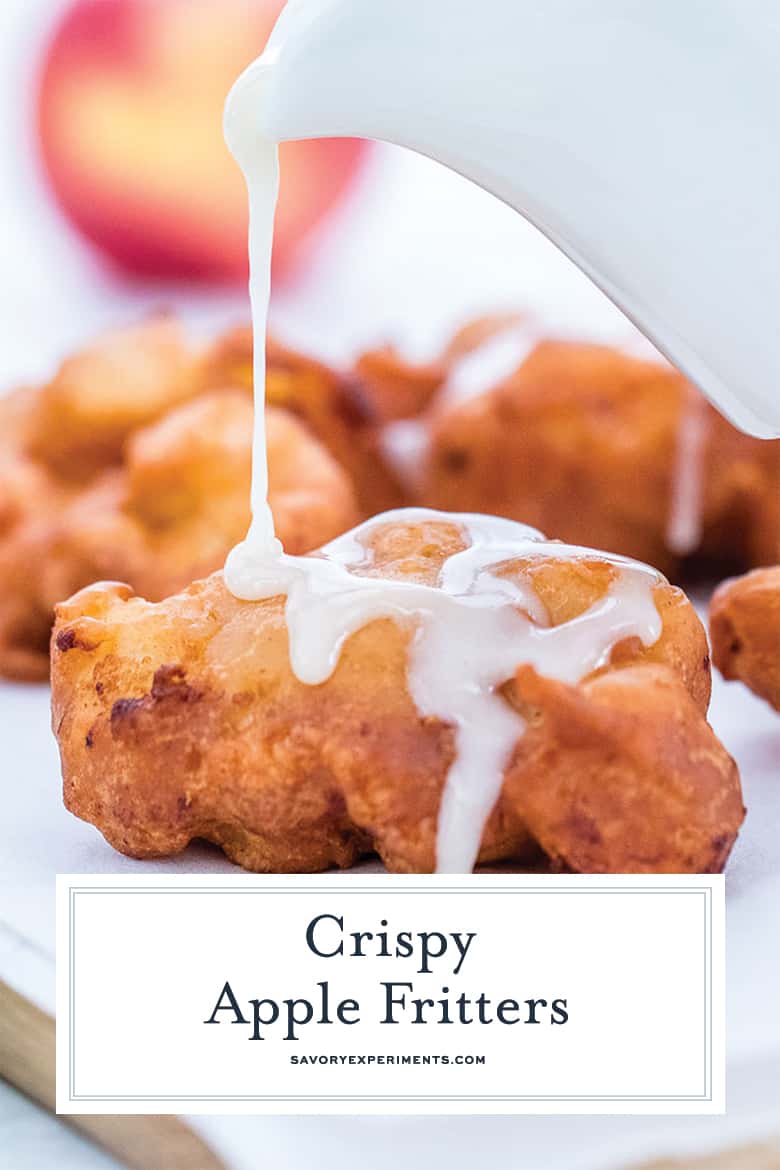 Tools:
Heavy Bottom Frying Pan– this will be one of your most used kitchen tools. Having something that is heavy bottom will distribute heat better and prevent burning whether you are using an electric or gas range.
Wood cutting board – wood won't dull your knives like plastic and if treated properly, has natural antimicrobial properties.
Good knife – Global is my favorite! They are worth the price, I promise. I am kind of obsessed with them and store them tucked away so no one else can use them. Including hubby. Hands off my good stuff!
Slotted Metal Spatula– I like these best for frying because they can withstand very high temperatures, the fine mesh means I can fish out any remaining batter that might be burning and they don't stick to things easily.
Apple Fritter Recipe
Homemade Apple Fritters have never been easier than with this apple fritter recipe! Surrounded by a cakey batter and drizzled with glaze, they're perfectly sweet and delicious!
Instructions
Sift together flour, cinnamon, baking powder and salt. Set aside.

In a large mixing bowl or stand mixer fitted with the paddle attachment, whisk together brown sugar, lemon juice, whole milk, eggs and melted butter.

Slowly add dry mixture until just combined.

Add chopped apples, folding by hand.Heat vegetable oil over high heat until it reaches 350-375 degrees.

Drop apple mixture by the spoonful unto hot oil.

Brown on both side, approximately 2-3 minutes.

Drain on a paper towel lined plate.In a separate bowl, whisk together powdered sugar, vanilla and milk until a drizzle-able consistency.

Place apple fritters on parchment paper or cooling rack and drizzle with powdered sugar icing. See notes for alternate cinnamon sugar topping. You can also dust the powdered sugar icing with even more powdered sugar like pictured here.

Eat hot or room temperature. Store in an airtight plastic container.

If you've tried this recipe, come back and let us know how it was.
Notes
If you prefer a crunchy cinnamon sugar exterior, stir together 1 cup white sugar with 1 teaspoon ground cinnamon. Toss hot apple fritters in the sugar mixture.
You can also dust them with powdered sugar.
Nutrition
Calories:
243
kcal
|
Carbohydrates:
52
g
|
Protein:
4
g
|
Fat:
3
g
|
Saturated Fat:
1
g
|
Cholesterol:
38
mg
|
Sodium:
149
mg
|
Potassium:
175
mg
|
Fiber:
2
g
|
Sugar:
35
g
|
Vitamin A:
130
IU
|
Vitamin C:
2.3
mg
|
Calcium:
67
mg
|
Iron:
1.1
mg