Dessert recipes are always popular no matter where you go. Whether you are just out to dinner or going to a party, a sweet treat at the end can't be beat.
Here we have some of the best pastry, pie and tart recipes for those of us who did not go to culinary school. Easy to make with oodles of short cuts.
Only one of my pastry recipes requires multiple steps of rolling dough and butter (and it is worth it!) the rest are simple and easy to follow.
Let's break it down.
Pastry Recipes
Pastry can be sweet or savory and is usually based with a mixture of flour, water and fat (generally butter or shortening). They are served all times of day, but most popular for tea, breakfast and dessert.
What usually comes to mind are buttery croissants, mille-fueille or baklava, but I am not that fancy. Mine typically use a shortcut, like store bought puff pastry and I have no shame about that.
Pie Recipes
Pies are described as being baked, although not always like my No Bake Strawberry Pie, and being filled with fruits, nuts and other confections.
Although there are certainly savory pies out there filled with meat, cheese and eggs. These are called quiche.
They are categorized into these four types:
Cream
Fruit
Custard
Savory
Apple Pie is the most popular pie in the United States and beyond.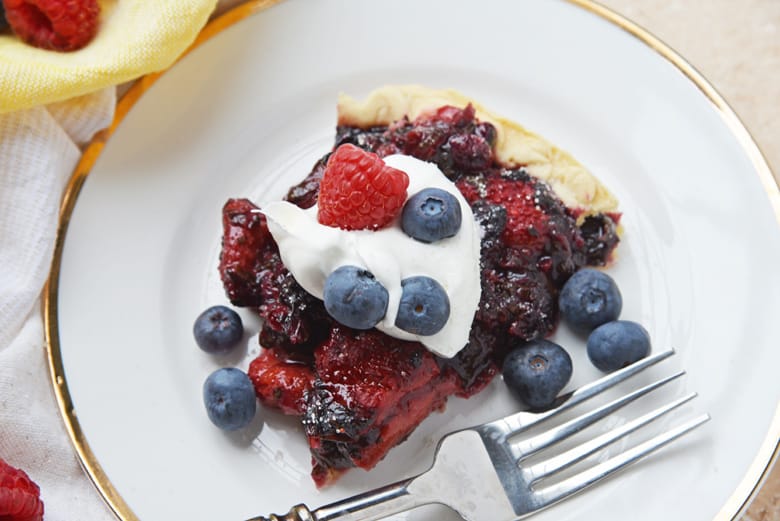 Tart Recipes
Tarts have a shallow shortcrust base, meaning there is twice as much flour to fat, but nowadays the definition has gotten a little flakey (pun intended). You can also use puff pastry and pie crust to cut corners.
Fruit and custard are the usual fillings, like my Persimmon Tart.
Popover Recipes
Popovers are one of my favorite things to make for visiting family and friends. The batter is easy to make, but needs to be prepared expeditiously, as the air bubbles are key in making these bad boys cavernous and crispy.
While you can get away with using a muffin tin, I highly recommend using an actual (aff) popover pan. My favorites are Cinnamon and Sugar and Blackberry.
You can also make them savory with cheese and herbs!