Maple cream cheese frosting combines cream cheese, butter, and maple syrup for a sweet and slightly tangy frosting that's perfect for spreading on top of cookies, cakes, and cupcakes.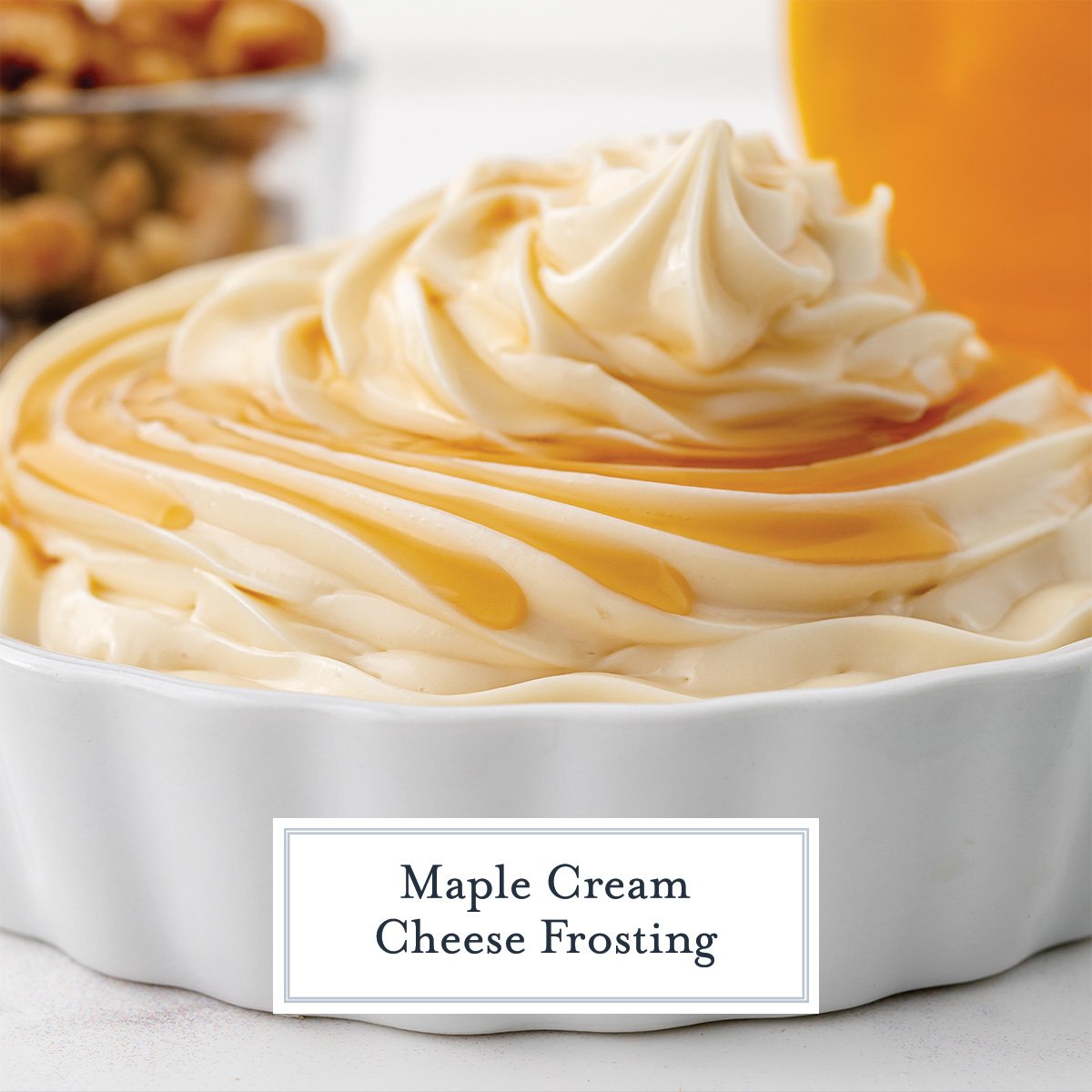 You'll want to put it on all of your baked goods and it can be used in place of plain cream cheese frosting.
From classic carrot cake to a pumpkin cake roll , this creamy frosting can make any baked good better. Pipe it into decorative swirls or spread it in a smooth layer over the top of a cake.
Maple cream cheese frosting is a great topping for fall and winter desserts — it adds a warm, cozy flavor that's perfect for desserts for holiday parties or to slather over cinnamon rolls on Christmas morning. But don't limit yourself to just seasonal treats — this frosting is delicious year-round.
The best part of this frosting is how quickly you can make it. The total time to whip up this sweet maple frosting is mere minutes.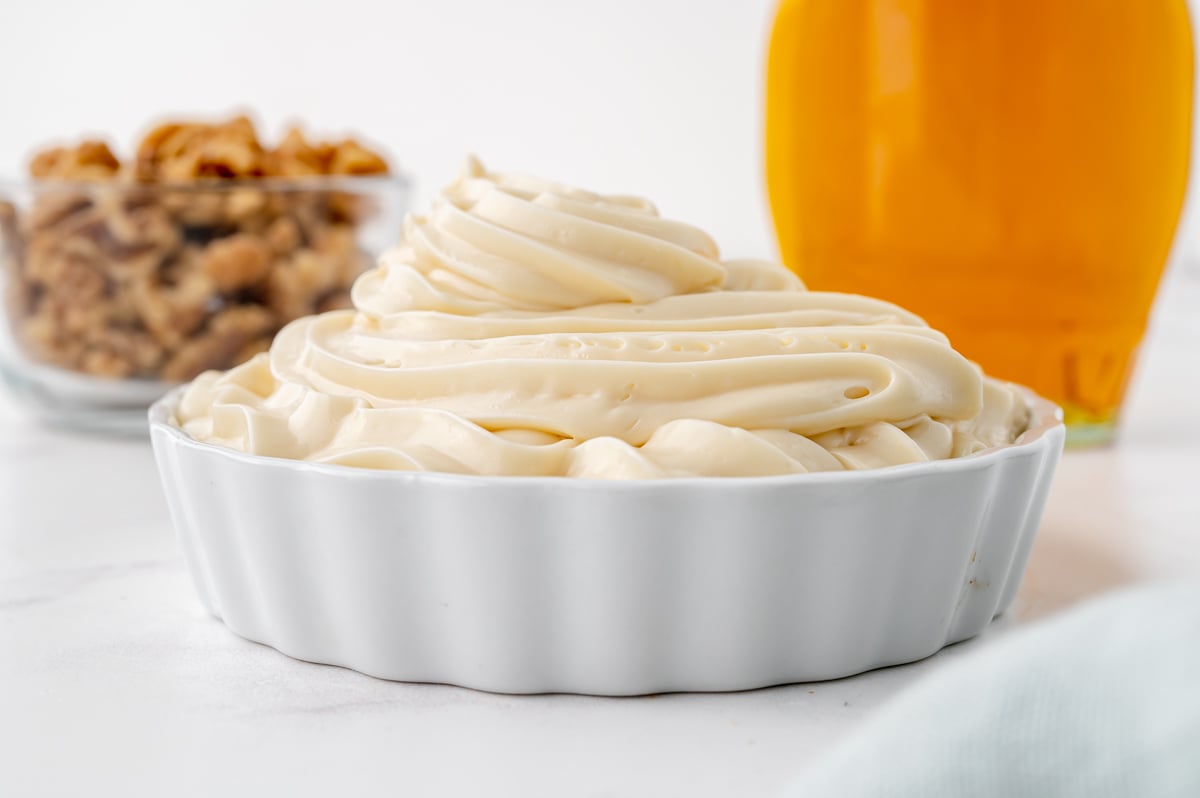 Why You'll Love Maple Cream Cheese Frosting
Maple cream cheese frosting is a decadent and delicious topping for desserts — it's easy to fall in love with!
Creamy and smooth: The combination of cream cheese and butter creates a silky smooth texture that will melt in your mouth.
Sweetness: The maple syrup adds a subtle sweetness that complements the tangy cream cheese.
Versatile: Maple cream cheese frosting pairs well with a variety of flavors, including pumpkin, apple, and carrot cake.
Easy: With just a few ingredients and a mixer, you can whip up a batch of this frosting in nearly no time.
Ingredients
All you need are some simple ingredients to make this velvety maple frosting.
Unsalted butter: This ingredient adds richness and flavor to the frosting. Make sure the butter is softened before using it in the recipe.
Cream cheese: Cream cheese is the main ingredient in this frosting — it provides a tangy flavor and a creamy texture.
Maple syrup: Pure maple syrup is used to add a sweet and slightly smoky flavor to the frosting. Use high-quality maple syrup for the best results.
Vanilla extract: This ingredient enhances the flavor of the frosting — it also adds a sweet aroma.
Coarse kosher salt: A little bit of salt balances the sweetness of the frosting and enhances the other flavors.
Powdered sugar: Powdered sugar thickens the frosting and makes it easier to spread.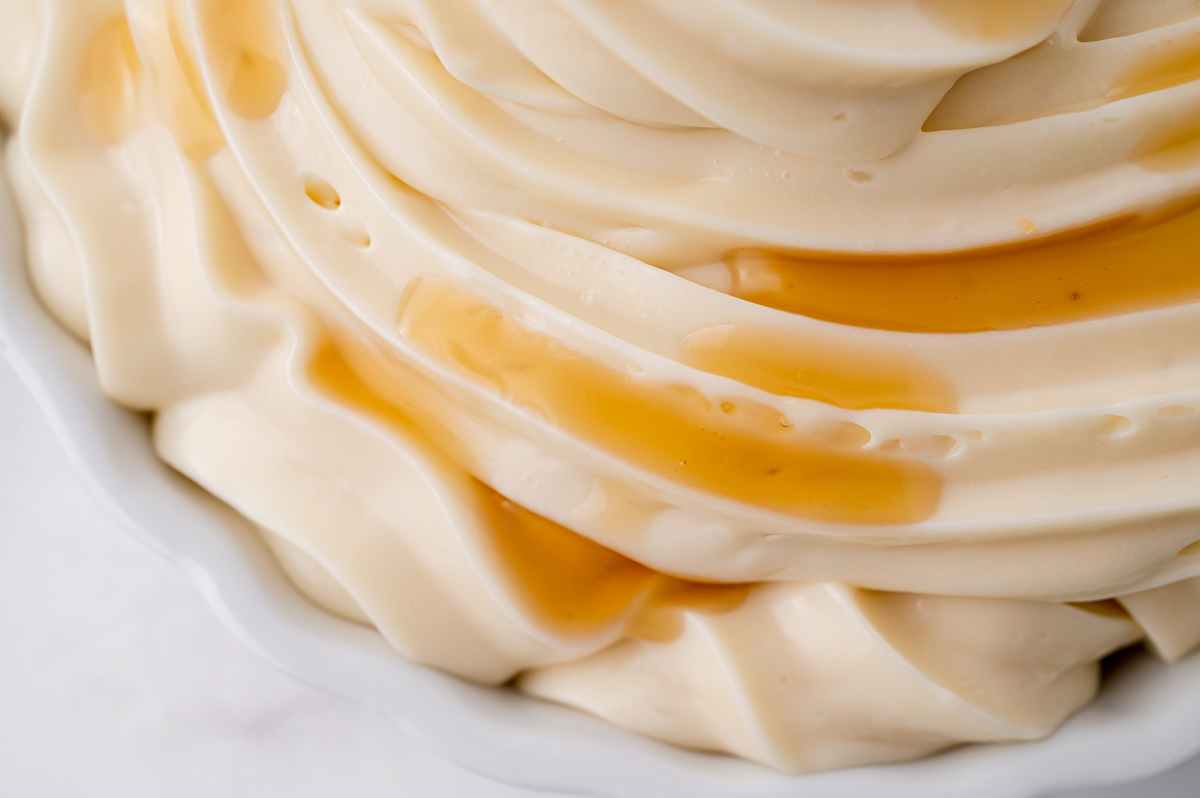 How To Make Maple Cream Cheese Frosting
With just a few simple steps, this frosting that's full of rich flavor couldn't be any easier!
Beat Butter. Add the butter to a medium bowl (or the large bowl of a stand mixer with a paddle attachment) and beat until light and fluffy.
Add Cream Cheese. Continue to beat while adding the cream cheese.
Mix Remaining Ingredients. Once the cream cheese is completely combined, add the remaining ingredients and salt and beat them together. Be sure to scrape the sides of the bowl with a rubber spatula in order to incorporate all of the ingredients
Get the Right Consistency. If the frosting is not thick enough, add powdered sugar and mix until it reaches the desired consistency. Pro-tip: Avoid having the mixer on high speed when adding powdered sugar to the bowl. Keep the mixer on low speed or medium speed so that it doesn't blow out of the bowl.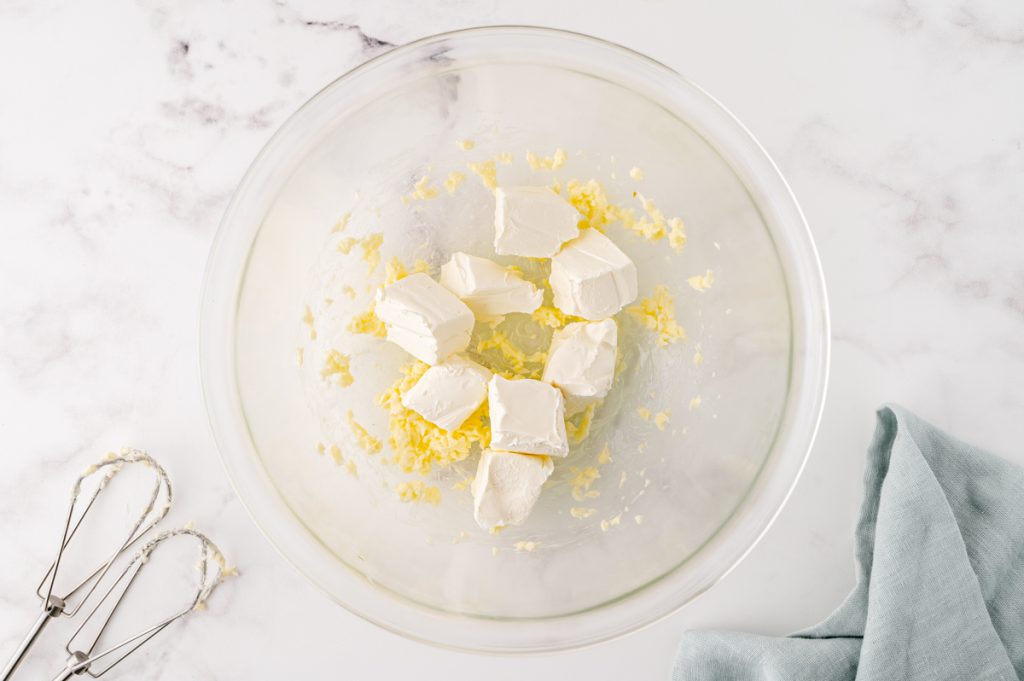 What to Serve with Maple Cream Cheese Frosting
This frosting is tasty on so many different treats — just spoon it into your piping bag and decorate anything from simple vanilla cupcakes and spice cake, to yellow sheet cake, or maple cinnamon rolls. You can also elevate oatmeal cookies by spreading a generous layer of frosting across the top and it's the perfect way to create a unique rendition of a carrot cake. We used it on our Butternut Squash Cake.
You can also serve it as a dip with fruit, pizzelles, cookies, or waffle cone pieces.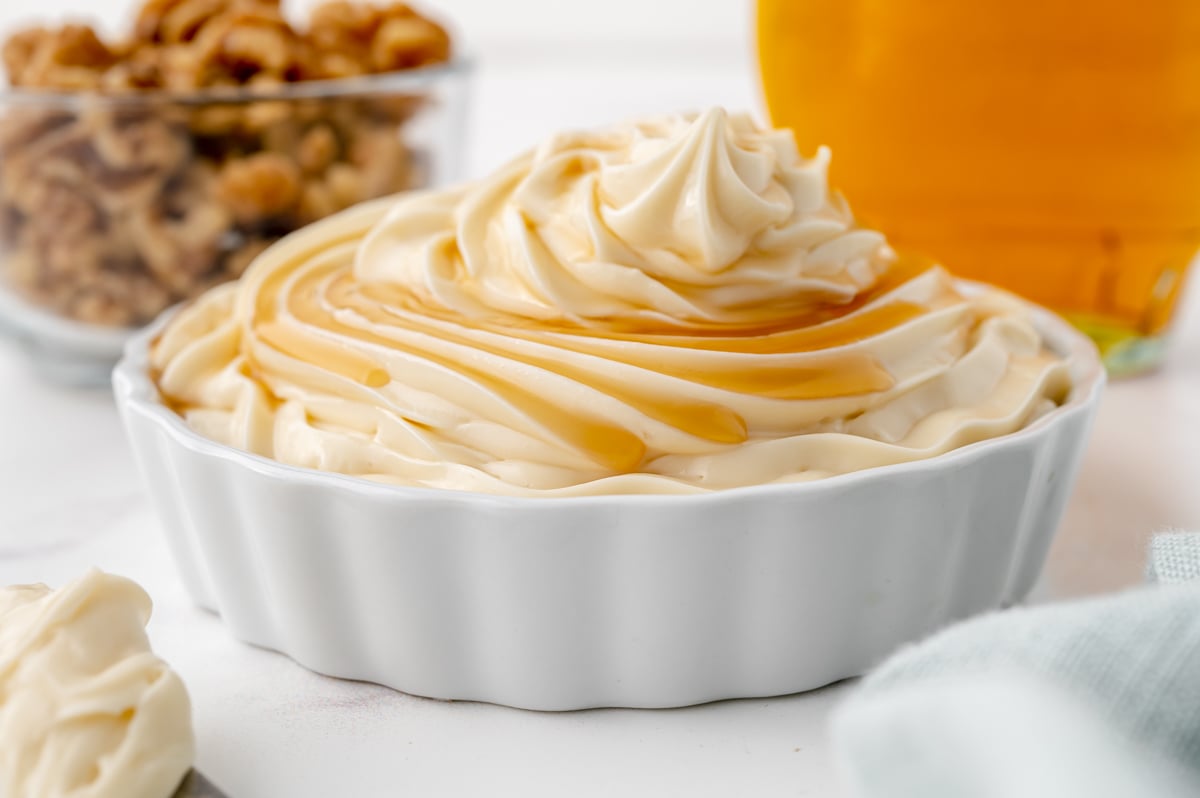 Variations
There are a few ways to switch up this simple frosting.
Extract – For a different flavor profile, try changing the extract. Almond extract is perfect if you like the flavor of nuts, or for more maple flavor, try adding maple extract.
Sweetness – For more sweet flavor, add a touch of honey or a bit of brown sugar.
Chocolate – Add texture and chocolatey flavor by folding in mini chocolate chips. Try dark chocolate, milk chocolate, or bittersweet.
​Different textures – To create a different texture, add crushed nuts or sprinkles.
Storage and Freezing
Since the frosting does contain dairy, be sure to keep it stored in the fridge or freezer.
Make ahead: The maple cream cheese frosting can be made ahead of time and stored in the refrigerator until ready to use. Be sure to let the frosting come to room temperature before using.
Refrigerator: Store maple cream cheese frosting in an airtight container in the refrigerator for up to 1 week.
Freezer: Freeze frosting for up to 3 months in a resealable bag or freezer-safe container.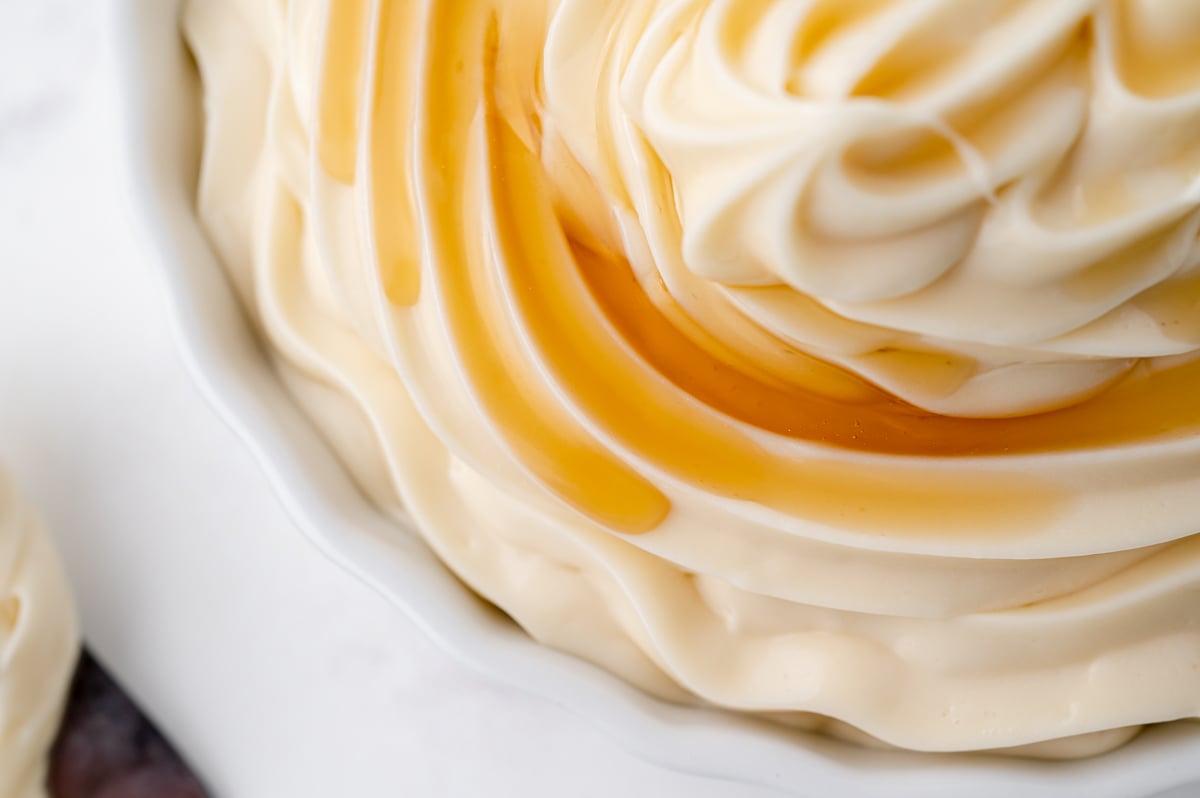 Common Questions About Maple Cream Cheese Frosting
What is maple frosting made of?
This maple frosting is a combination of cream cheese, butter, and maple syrup, with powdered sugar for thickening, if needed.
Is cream cheese frosting different than buttercream frosting?
Yes, they are different. Buttercream frosting uses just butter (and sweetener) while cream cheese frosting combines both butter and cream cheese.
Does powdered sugar thicken cream cheese frosting?
Powdered sugar is an excellent thickener for cream cheese frosting.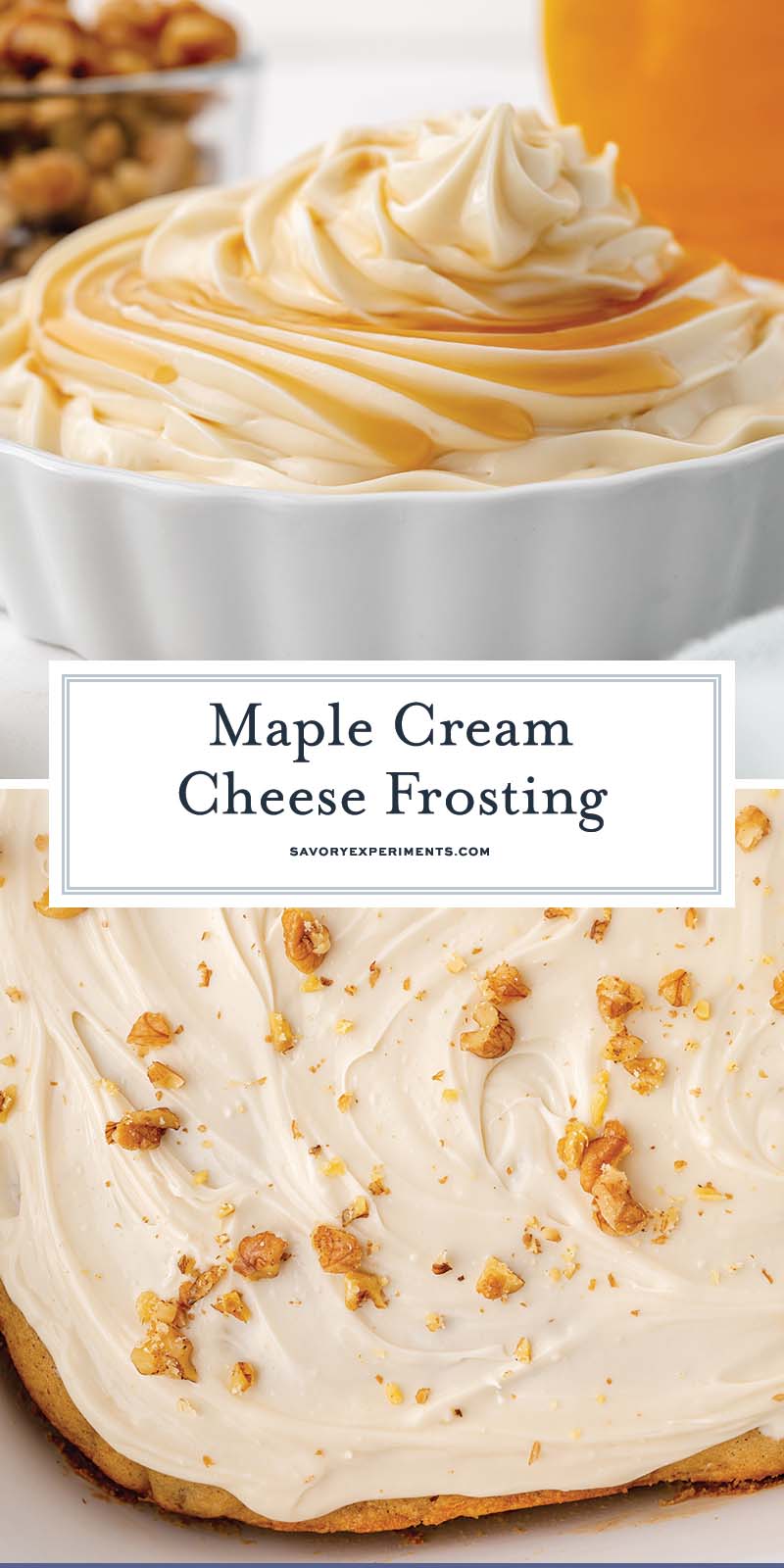 More Easy Toppings for Cake and Cookies
Frostings are a great way to customize desserts. Here are a few of our favorites.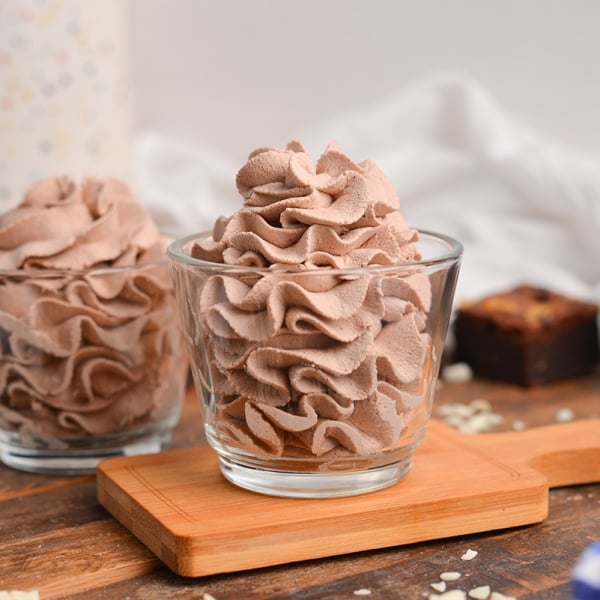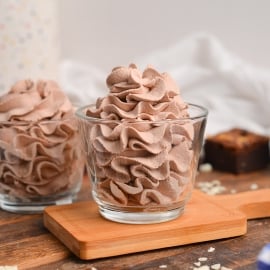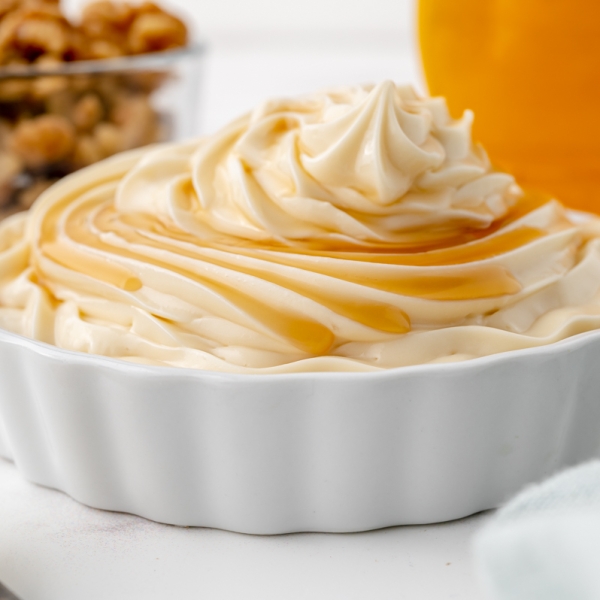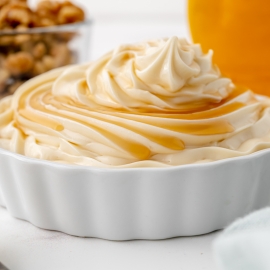 Maple Cream Cheese Frosting Recipe
This EASY Maple Cream Cheese Frosting recipe combines cream cheese, butter, and maple syrup for the ultimate sweet and tangy frosting!
Instructions
In the bowl of a medium mixing bowl or the bowl of a large stand mixer, beat the butter until light and fluffy.

Add the cream cheese, beating until fully blended.

Add the maple syrup, vanilla and salt, beating until no streaks remain.

If the frosting is too loose, add 2-3 tablespoons powdered sugar until it is stiff enough to hold a peak.

If you've tried this recipe, come back and let us know how it was in the comments or star ratings.
Notes
** Maple syrup thickness can vary greatly, if the frosting is too loose, use 1 tablespoon at a time until it reaches a desirable consistency.
Nutrition
Calories:
690
kcal
,
Carbohydrates:
42
g
,
Protein:
7
g
,
Fat:
56
g
,
Saturated Fat:
34
g
,
Polyunsaturated Fat:
2
g
,
Monounsaturated Fat:
15
g
,
Trans Fat:
1
g
,
Cholesterol:
160
mg
,
Sodium:
944
mg
,
Potassium:
247
mg
,
Sugar:
36
g
,
Vitamin A:
2048
IU
,
Calcium:
159
mg
,
Iron:
0.2
mg