Cinnamon and apples simmering on the stovetop might be the quintessential fall scent. Candles yearn to capture it in little glass jars. And yet, you can get the aroma AND an amazing batch of applesauce.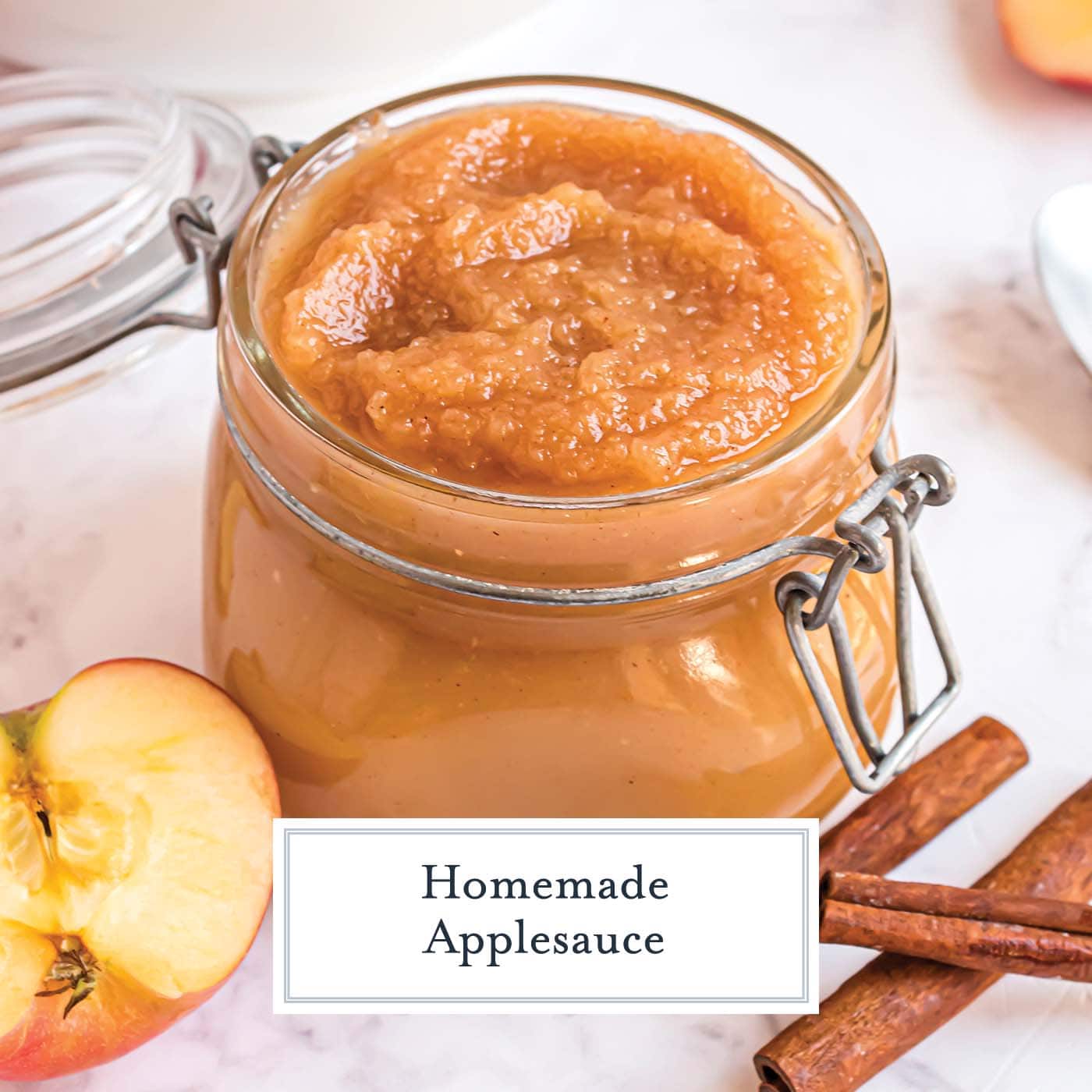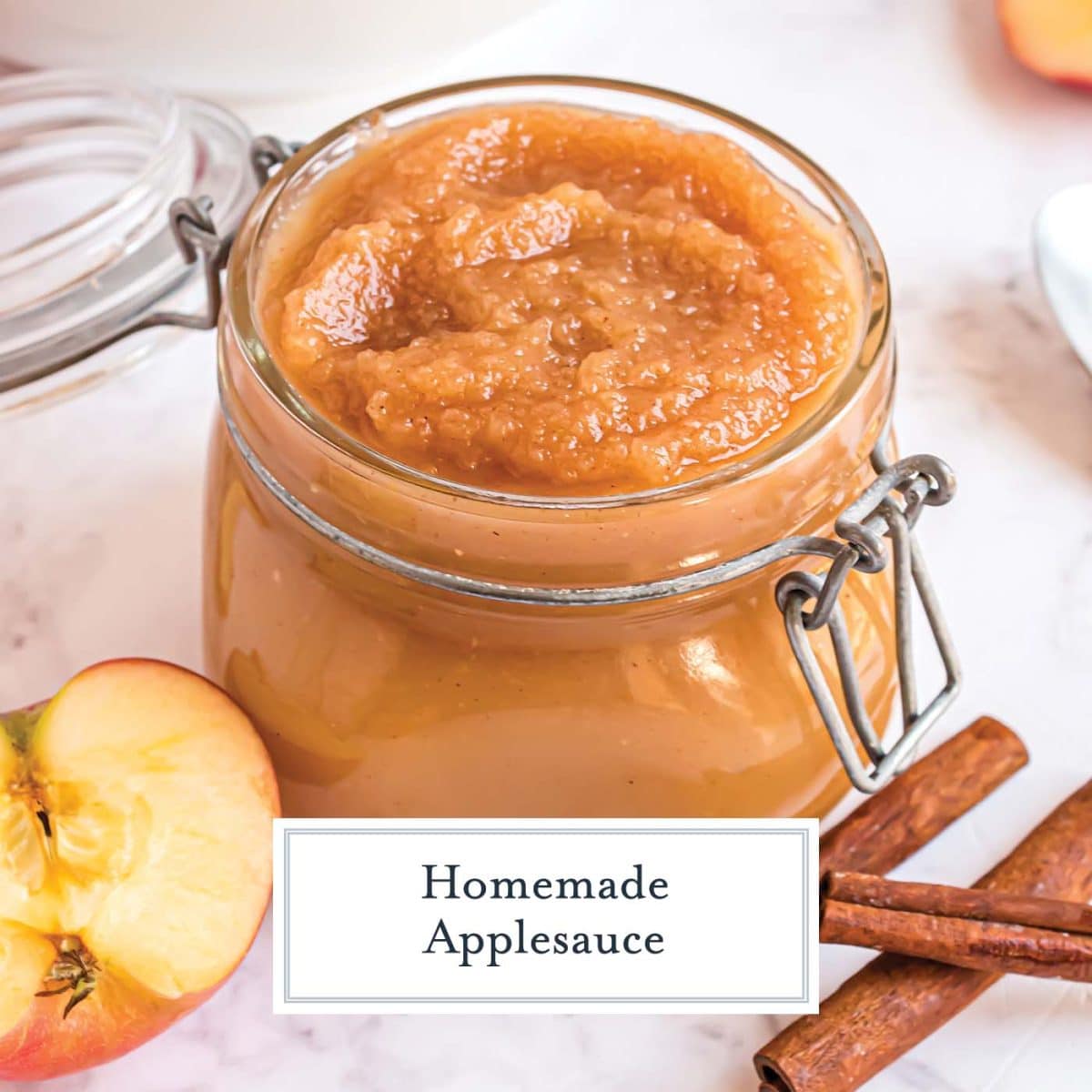 Whether you have pounds fresh from apples picking or just 3-4 that might go to waste on the countertop, making your own applesauce is a fun and easy kids project.
Best Homemade Applesauce Recipe
Applesauce is one of those silly things that is really easy to make from scratch, yet most folks still buy it premade at the store. Making your own is not only rewarding, but also a great way to use up fruit about to turn and to eat clean.
This applesauce sauce recipe is super easy to make and creates a flavorful and hearty base that can be transformed into other variations- everything from switching up the spices to adding other fruit, like cranberries.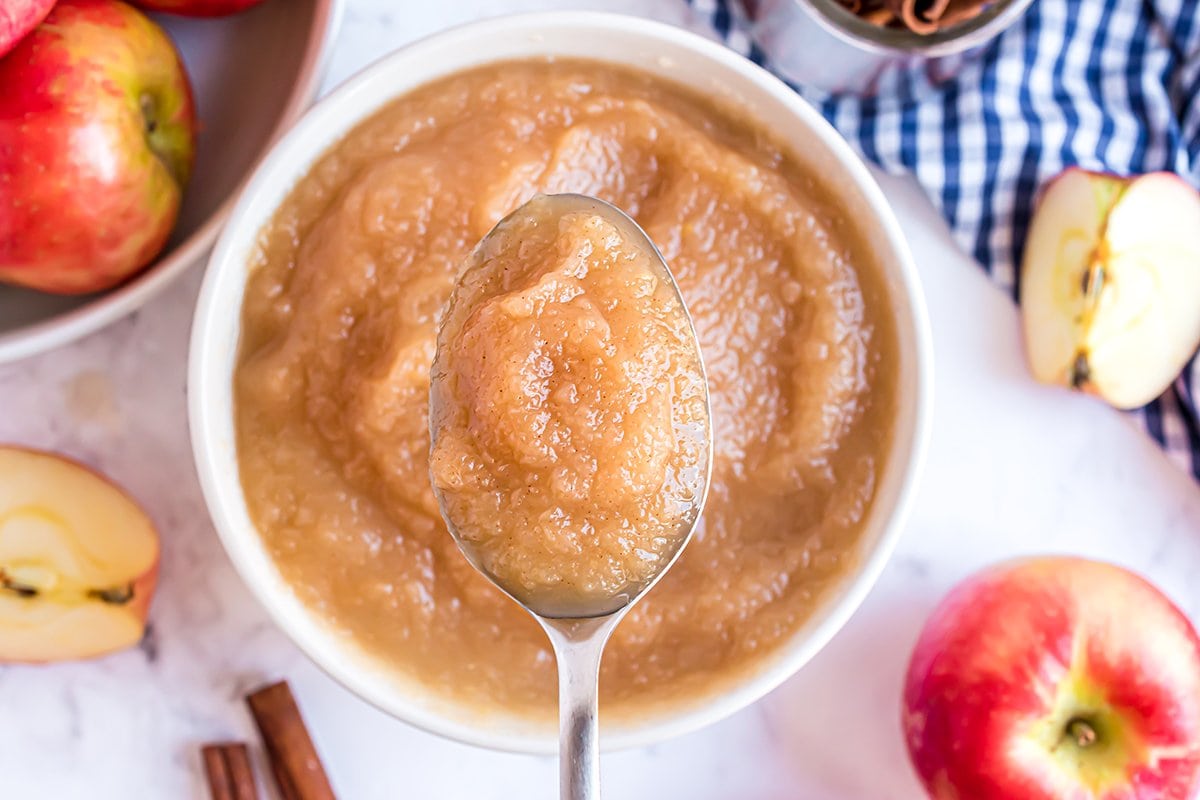 Crockpots and instant pots are popular cooking vessels, and I'll give you the instructions to make it this way, but in my experience, the good, old stovetop is actually faster and easy to clean up. The only method easier is the microwave, which lucky for you, I also have instructions for.
Ingredients
The ingredient list is short and sweet, but is also very forgiving in amounts.
Fresh Apples– the star of the show, apples can not be substituted, but the flavor and texture of your sauce will change dramatically depending on the variety. I've included a quick guide to apples below.
Apple juice– Many recipes call for plain water, but why do that when you can add even more flavor with juice?
Sugar– I use white sugar, but this recipe will work perfectly fine with reduced sugar, no sugar or a sugar substitute. Check the substitute you are using for substitution ratios. Brown sugar can also be used for a slight molasses aftertaste. Maple syrup and honey can also be used.
Cinnamon– I have a hard time thinking about applesauce not spiked with the warm flavor of cinnamon, but again this can be omitted or changed based on personal preference. See some of my spice variations below.
Choosing the Right Apples
There really isn't just one apple that is the best apple for applesauce. The type you use is important and plays a role in the taste and texture of the finished product.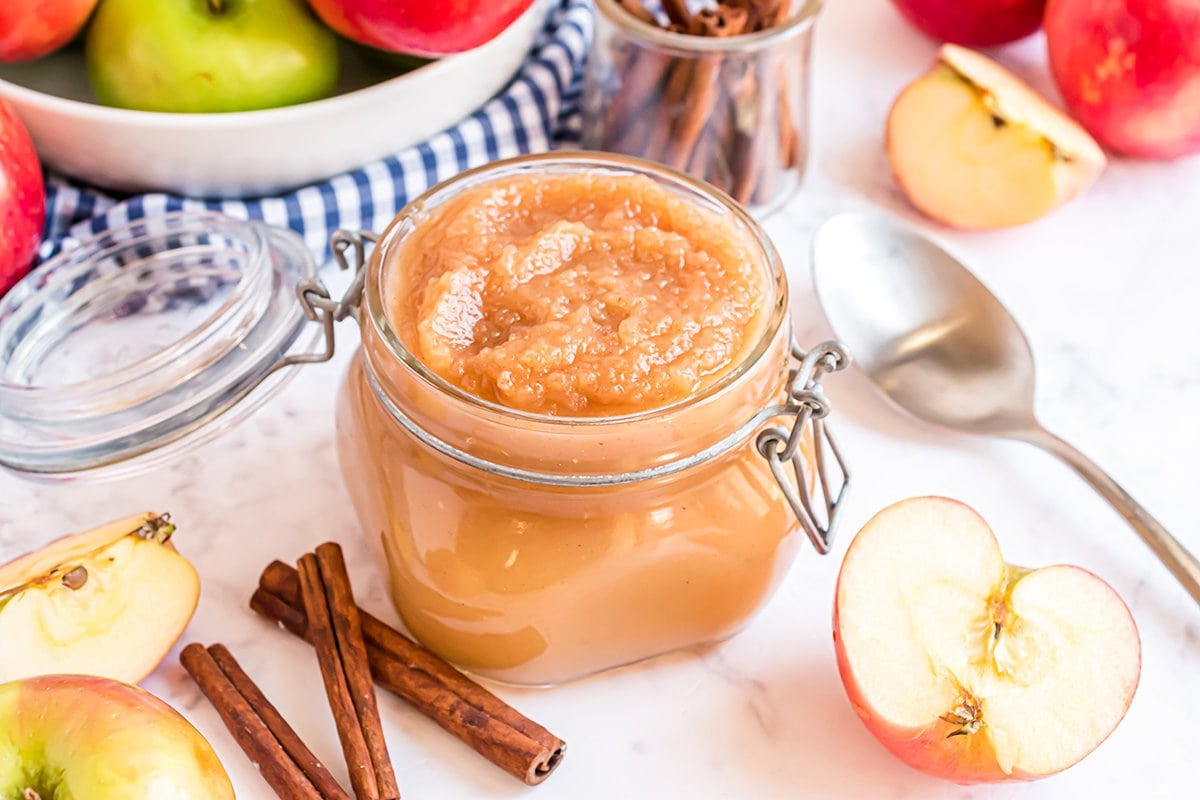 Use all one type or a variety of apples to create a custom flavor blend. One of my favorites is tart apples with sweet apples.
McIntosh- One of the most popular for baking, its sweet and soft flesh cooks down easily and is less fibrous than other varieties. It is also super juicy with just a hint of tart.
Golden Delicious- Also a soft flesh and used frequently in baking, instead of a tart aftertaste, they are actually a tiny bit spicy. Not enough to notice off the bat, but close your eyes, and after you finish chewing a bite notice the way your tongue feels.
Honeycrisp- Juicy and sweet, these are great for sweeter applesauce and the most kid-friendly.
Gala- A milder apple flavor, these will be a great base, but let the cranberries shine.
Granny smith Apples– Give a tart taste with a coarser texture.
Pink lady- Gives a silky and sweet sauce without much body.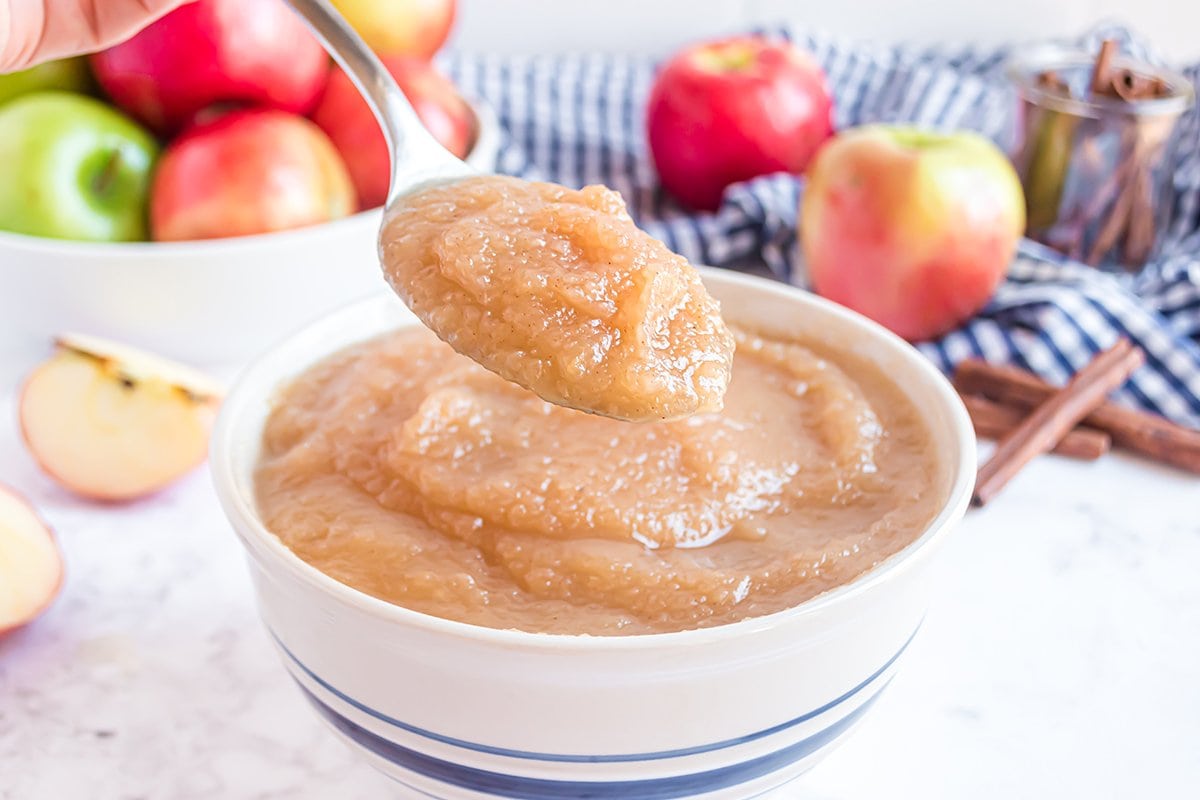 How to Make Applesauce
Peel and core your apples. You can leave the skin on, but depending on the type of apple, it can be waxy or unpleasant in the finished product. Cube the apples into 1-inch pieces.
Combine all ingredients into a medium saucepan (or a large pot if you are doubling the recipe), cover and simmer until the apples are soft and start to break down. This will be very apparent. Some folks also like to simmer with a cinnamon stick, but I get more flavor from adding the ground cinnamon from the start.
Transfer the cooked apples to a blender or food processor and give it a few blitzes until it reaches your desired texture. I like a smooth applesauce and this takes 30-45 seconds. If you prefer a coarse, chunky applesauce, opt for a potato masher, food mill, ricer or immersion blender. Although I've found the immersion blender route can be a little messy since they work best in fully liquid forms.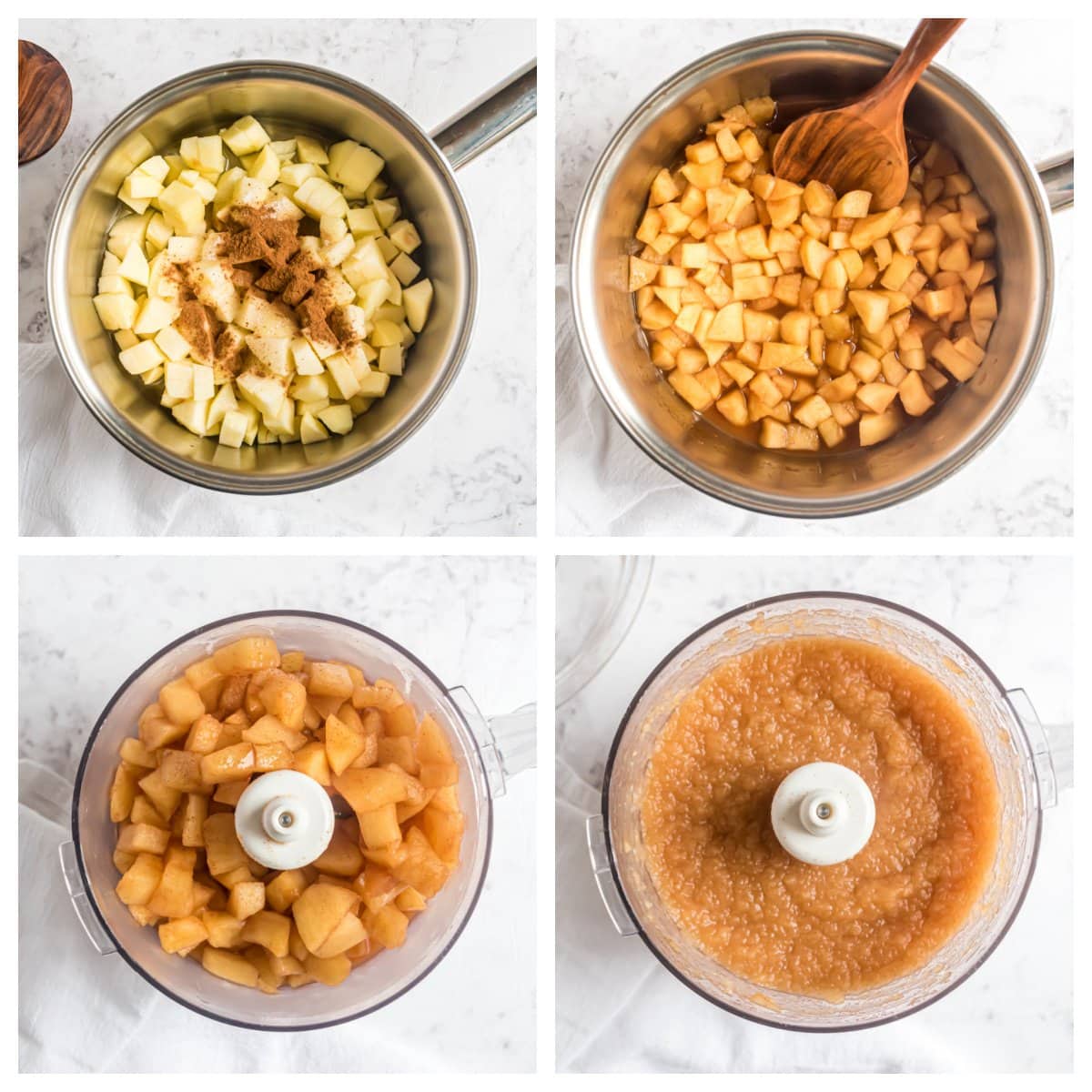 Enjoy your sauce room temperature, warm or chilled. It will thicken a tad when chilled, but if you want a super thick sauce, it can be run through a fine mesh sieve as well. I store mine in mason jars and even sometimes give them as gifts.
Slow Cooker, Instant Pot & Microwave
Slow Cooker Applesauce
The benefit to using a crockpot is that you can add less or no sugar- the natural sugar in the apples will caramelize producing a naturally sweetened sauce. The texture will also break down and reduce the need for a food processor.
Add the apples, juice and half of the sugar to the crockpot, cover and cook for 4 hours. They should break down enough to not need a food processor unless you prefer a super-smooth blend.
Instant Pot Applesauce
The benefit to making this great recipe in the Instant Pot or electric pressure cooker is that you can make much larger batches. While it doesn't allow sugars to caramelize, it will break down the fruits and reduce the need for a food processor.
Follow the same instructions, but place the lid on, seal the vent and set for manual high pressure for 6 minutes. Do a quick release and then mash or blend, if desired.
Microwave Applesauce
Microwaving is a cinch when you are in an applesauce emergency, however you lose the benefit of low, slow heat to caramelize the natural sugars.
Place all of the ingredients into a microwave-safe bowl and cover tightly with plastic wrap. Microwave for 3 minutes. Remove, stir, and microwave for an additional 2 minutes. Then follow whichever method you prefer for mashing.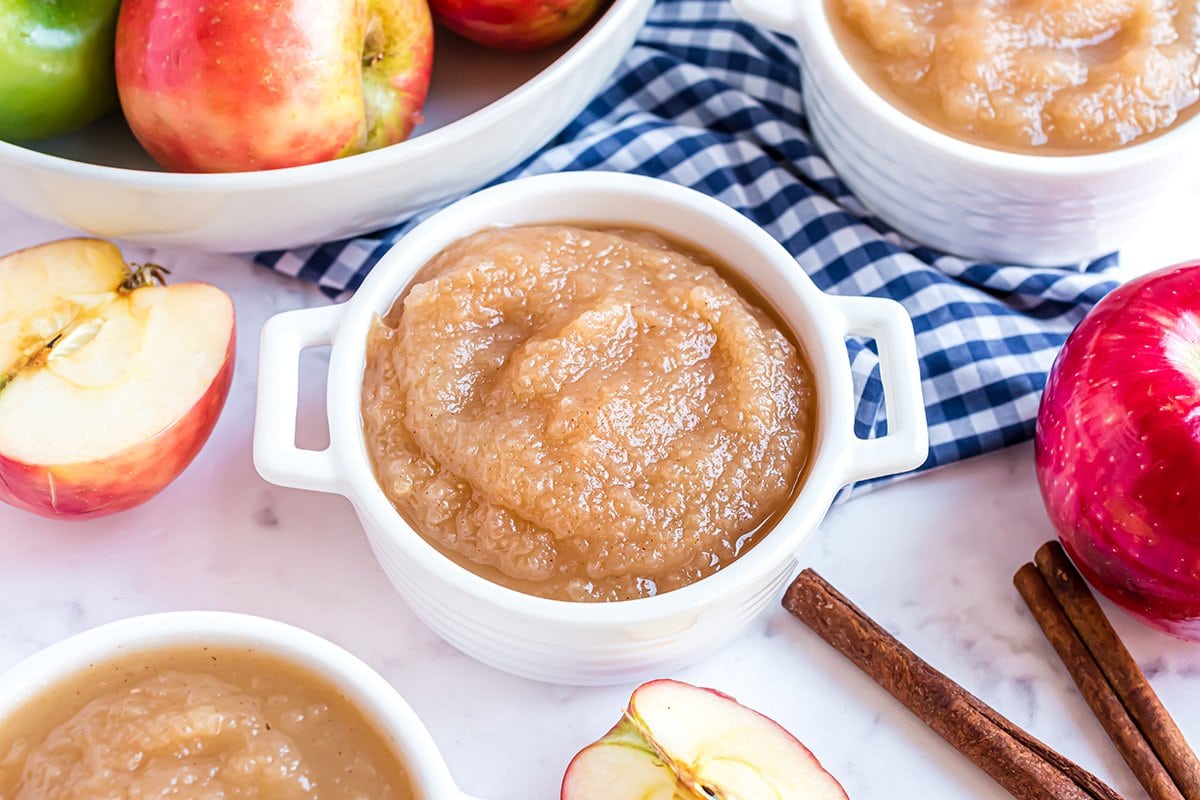 Variations
While I don't find this sauce needs much more than it already has, feel free to customize yours with spices and other fruit. Here are the most popular flavor affinities.
Cinnamon
Nutmeg
Allspice
Chopped pears
Pomegranate arils
Swap out the apple juice for other fruit juices like orange or cranberry
Give a little tang with a tablespoon of lemon juice
What to Serve it With
In my house we usually just eat the sauce. My kids love it and it is a nice antioxidant-rich snack for me. But is there anything more classic than pork chops and applesauce?
Applesauce is also fabulous in baked goods like cake, muffins or cookies. It can be used as an oil or butter substitute for other baked goods.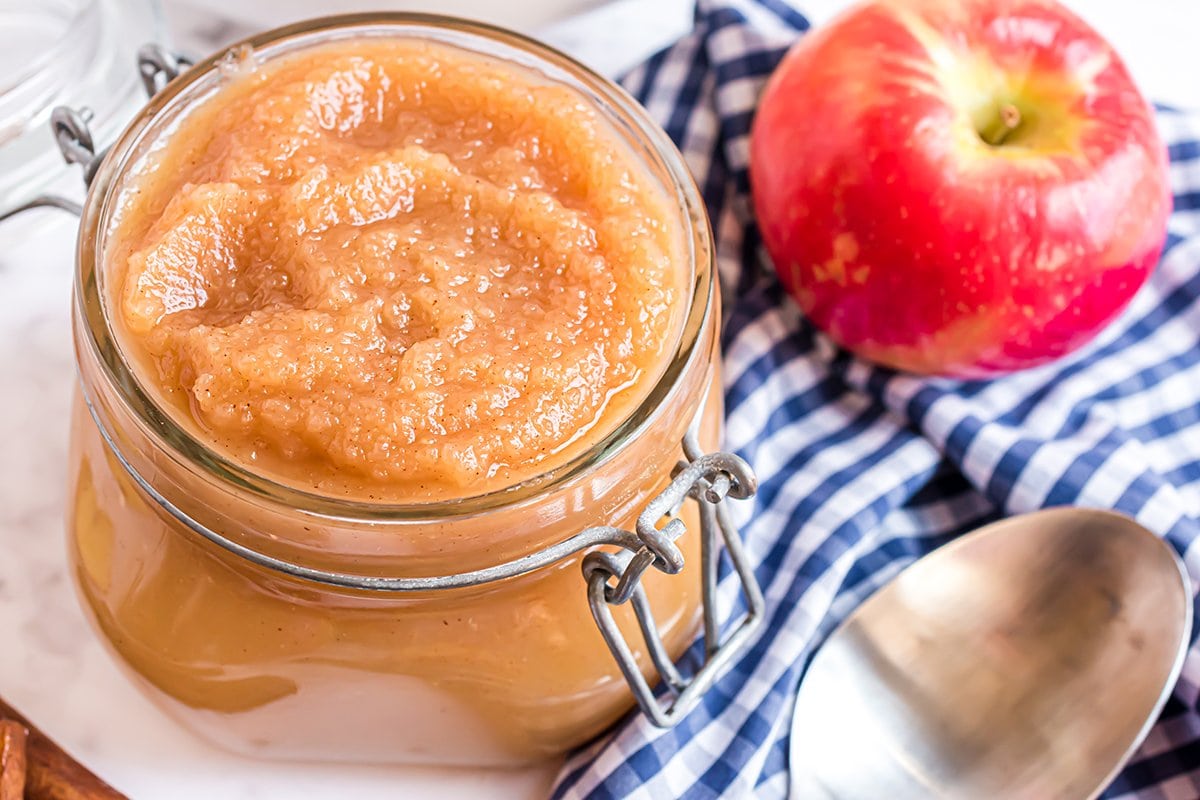 Storage & Freezing
Applesauce is one of the most perfect specimens for canning, however, I don't know how to can, so check these instructions out.
Store in the refrigerator in an airtight container for up to 1 week. Yes, I know the stuff from the grocery store lasts a lot longer, but this recipe doesn't include preservatives to give it that edge.
Can you freeze applesauce? You sure can! Place applesauce in airtight containers- either plastic bags (like freezer bags) or containers- with the least amount of air possible. They will stay frozen for up to 6 months.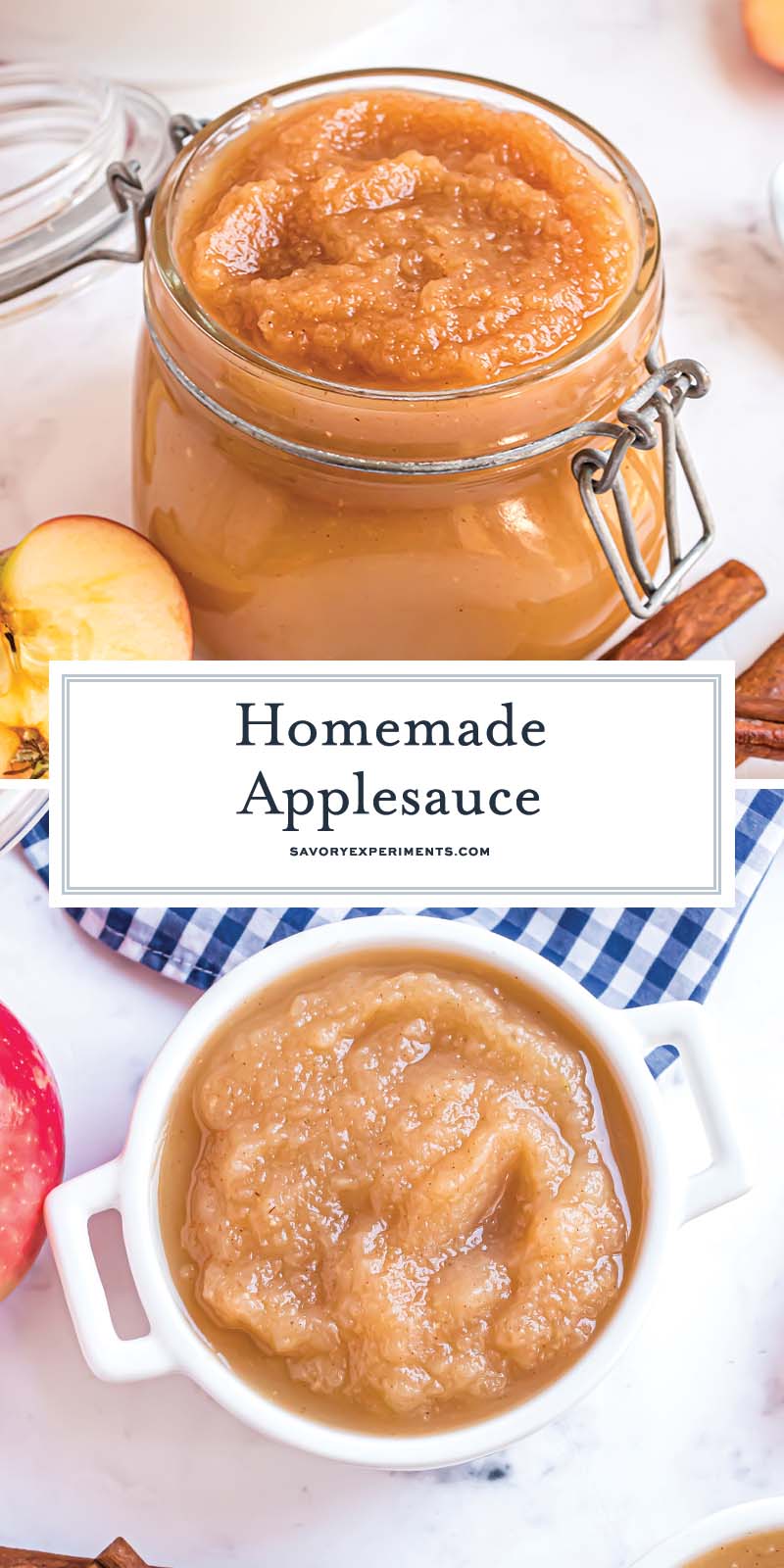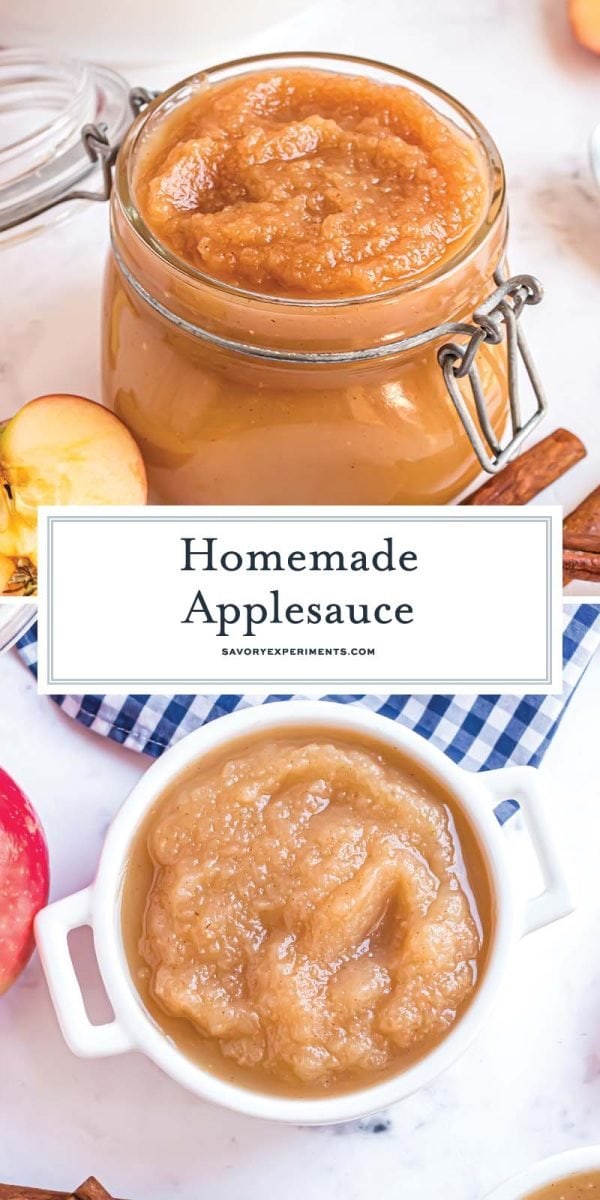 More Apple Recipes: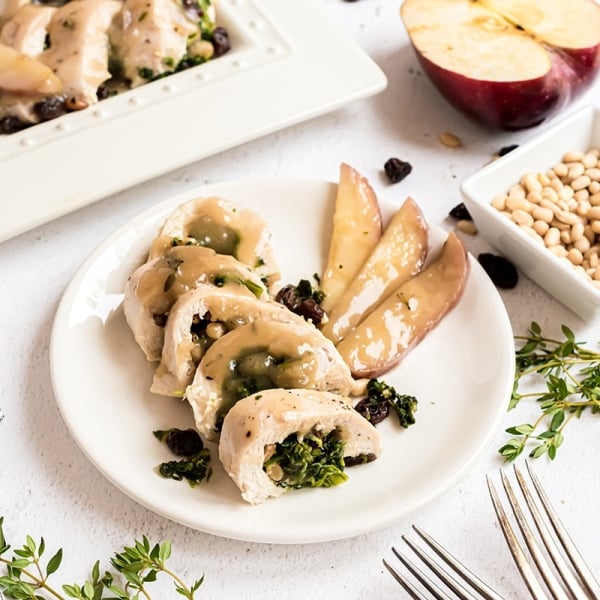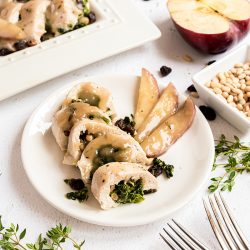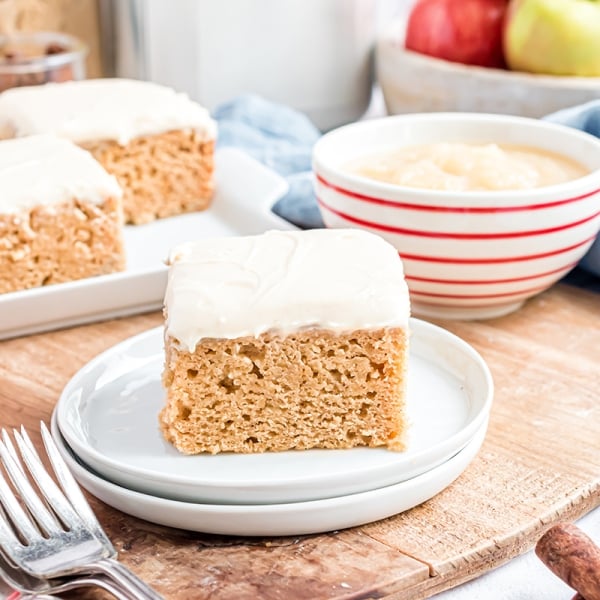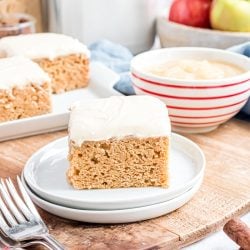 Applesauce Cake
With a moist crumb and warm spices, this old-fashioned Applesauce cake is one that you'll want to make over and over again!
See The Recipe!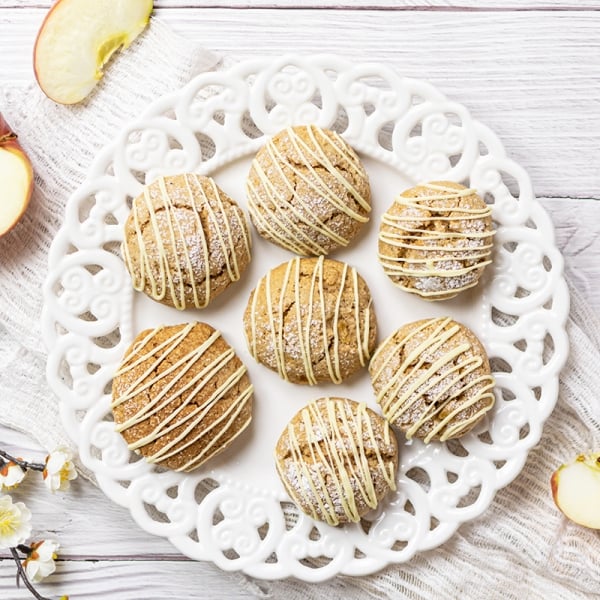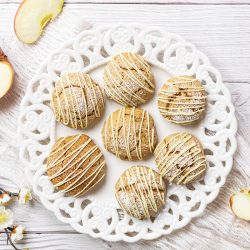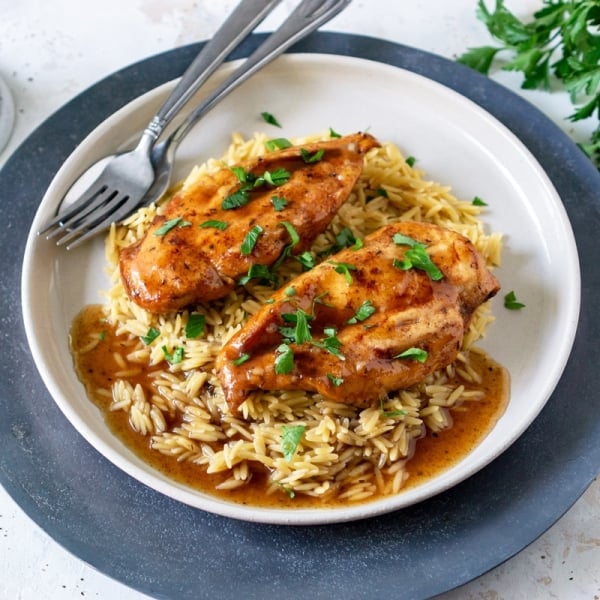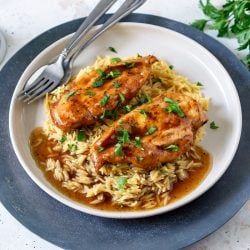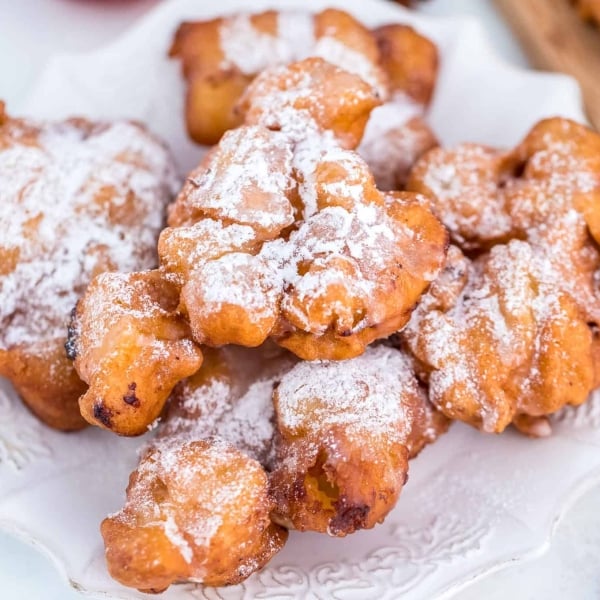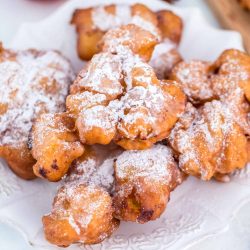 Homemade Apple Fritters
Homemade Apple Fritters have never been easier than with this apple fritter recipe! Surrounded by a cakey batter and drizzled with glaze, they're perfectly sweet and delicious!
See The Recipe!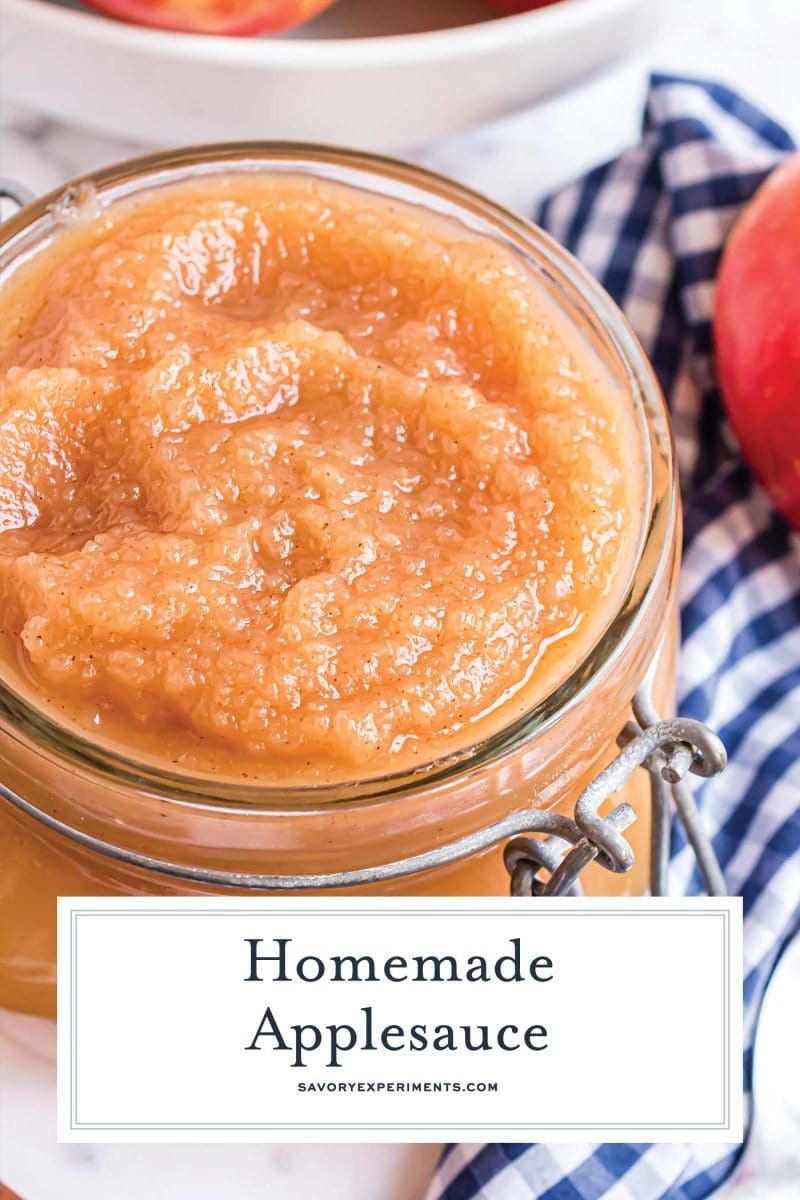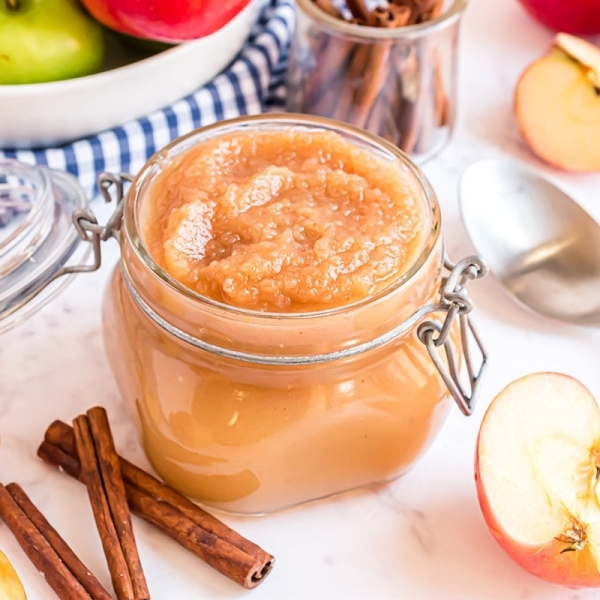 Homemade Applesauce
Fresh applesauce laced with warm cinnamon. Enjoy warn, chilled or with one of our 10+ variations.
Instructions
Combine all ingredients into a medium saucepan, cover and simmer over medium-low heat for 15-20 minutes or until the apples are soft and start to break down.

Transfer the mixture to a blender or food processor and blend until it reaches the desired consistency.

Enjoy warm or chill. The mixture will thicken upon chilling.

If you've tried this recipe, come back and let us know how it was in the comments or ratings.
Notes
Note: For a super thick sauce, place in a fine-mesh sieve and allow liquids to pass through. Apples will vary in terms of liquid volumes, so this might be necessary if used in other recipes or just personal preference.
Nutrition
Calories:
66
kcal
,
Carbohydrates:
17
g
,
Protein:
1
g
,
Fat:
1
g
,
Saturated Fat:
1
g
,
Polyunsaturated Fat:
1
g
,
Monounsaturated Fat:
1
g
,
Sodium:
2
mg
,
Potassium:
114
mg
,
Fiber:
2
g
,
Sugar:
14
g
,
Vitamin A:
50
IU
,
Vitamin C:
4
mg
,
Calcium:
8
mg
,
Iron:
1
mg