Have you ever had Puppy Chow? No, not some truth or dare game of "go eat the dog food", the dessert! Maybe you just aren't familiar with the name. Puppy chow is also known as Muddy Buddies, Monkey Munch or even Reindeer Chow.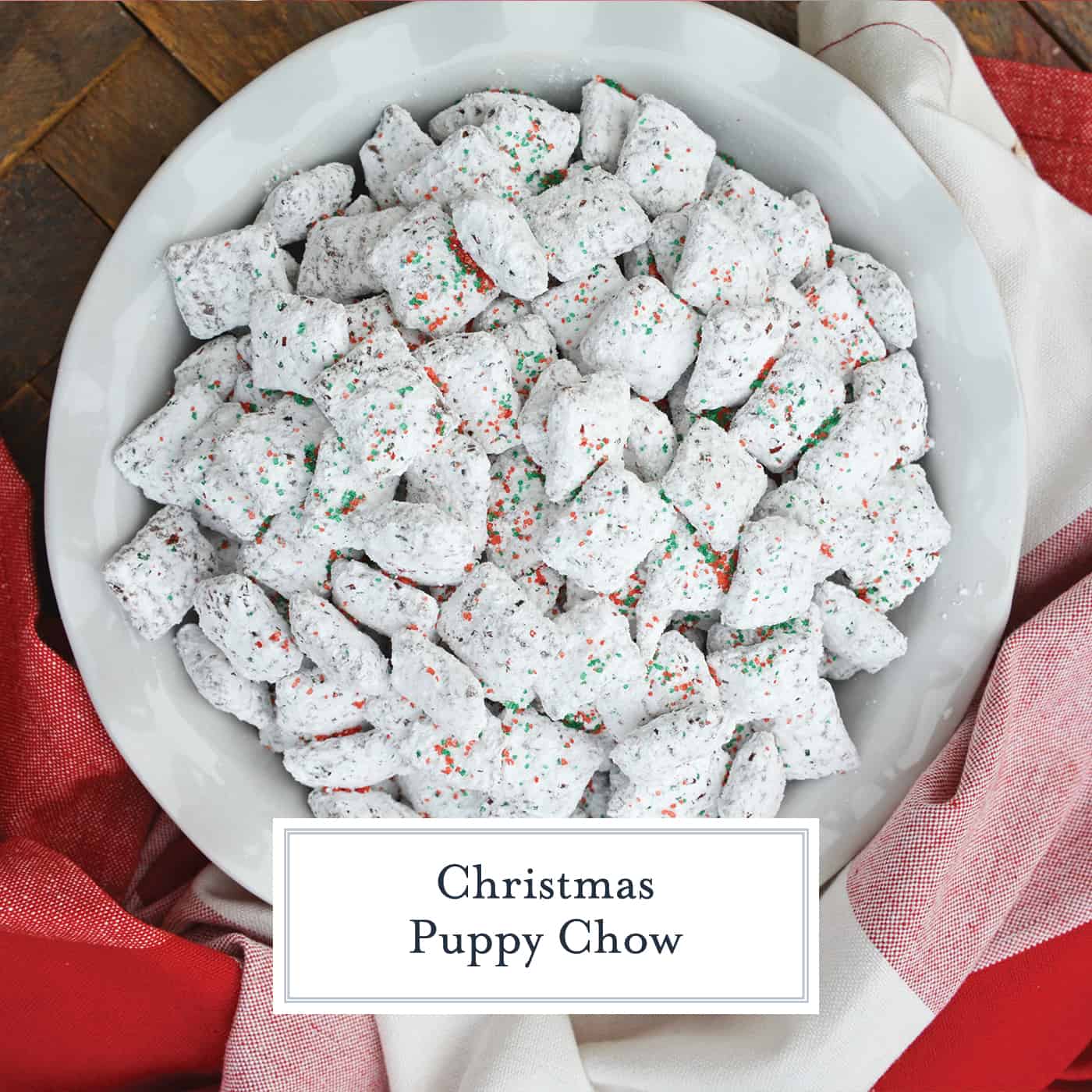 Christmas Puppy Chow transforms a traditional muddy buddy recipe into a festive Reindeer Chow mix! The perfect no-bake dessert for any party or event.
Well, I don't call it Savory Experiments for nothing. I like to try new things. I get something stuck in my head and then I figure it out in the kitchen.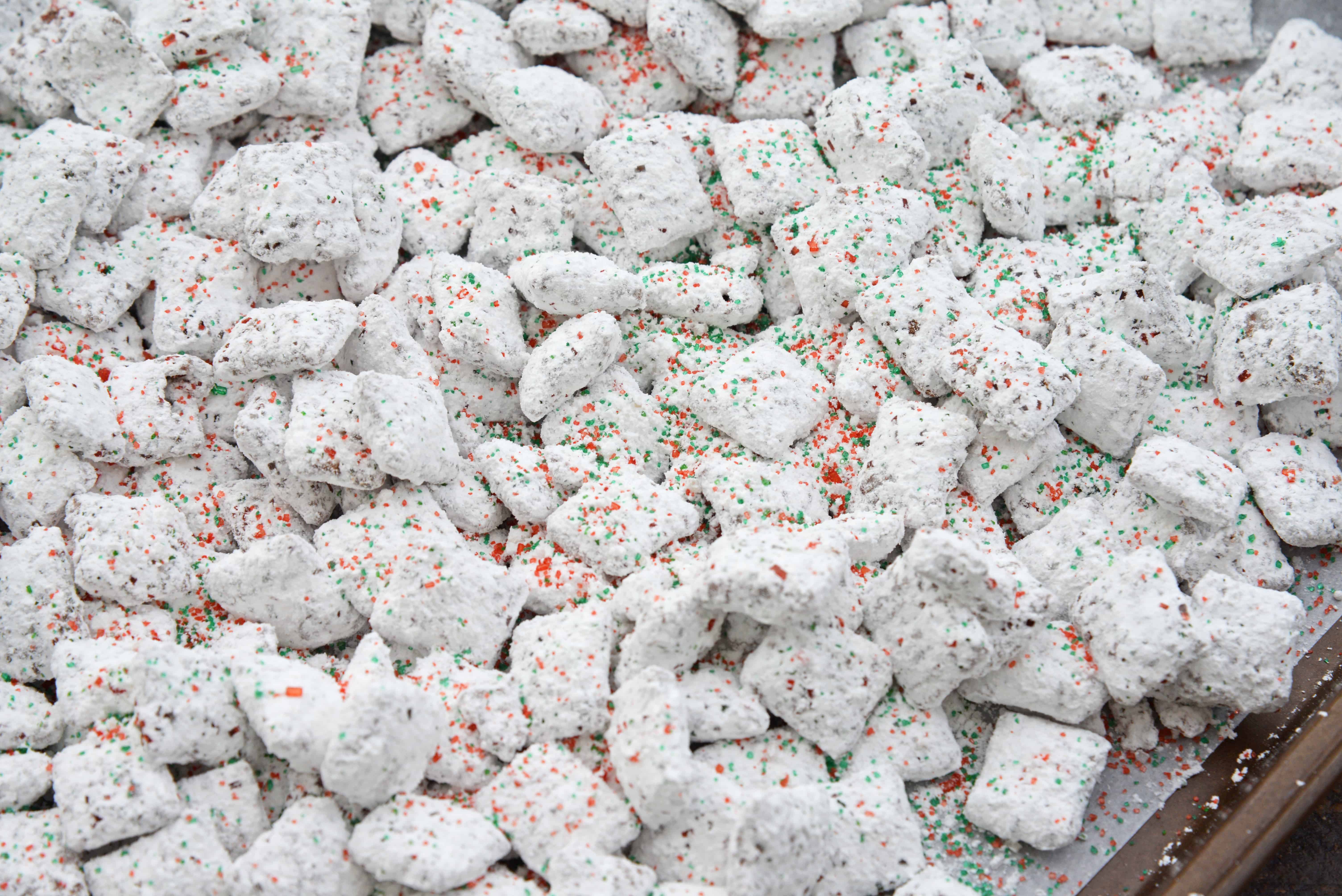 For a while I've toyed with the idea of making colored puppy chow mix. For whatever reason, in my head, it was as easy as putting a few drops of gel food coloring in with the powdered sugar and done-zo, colored puppy chow.
Not so much. Turns out that just makes a globby mess. Lucky for me, I hadn't wasted the whole batch seeing I intended on making green, red and white puppy chow.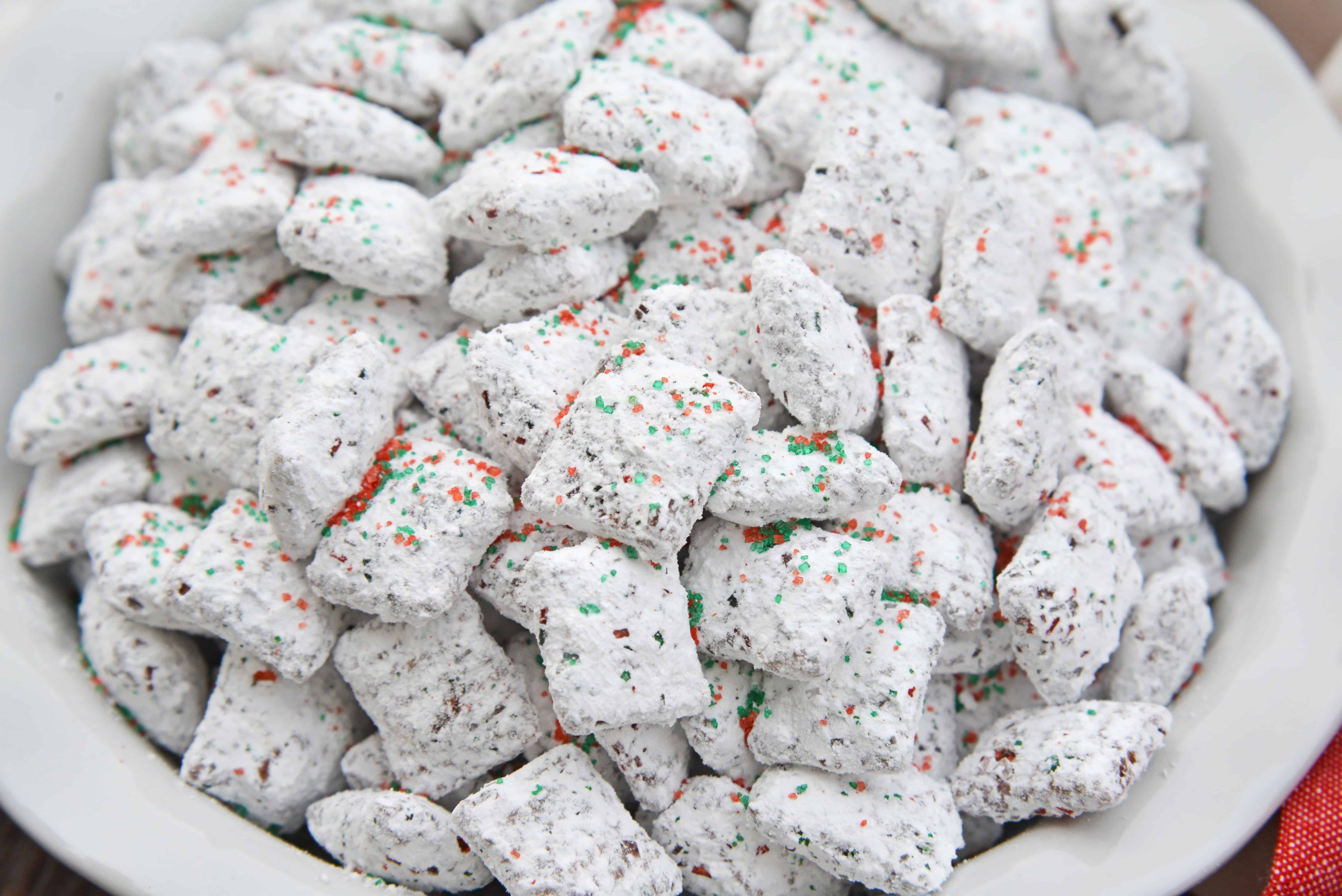 I figured coloring powdered sugar would be as easy as coloring granulated sugar. Nope, turns out you need powdered food coloring or coloring dust and although I have many random items in my baking cabinet, red and green powdered food coloring were not among them.
So I improvised with the rest of my sticky Chex cereal and instead added festive sprinkles to the powdered sugar. Here I learned you need a lot more sprinkles than you think to really make an impact. But alas, I made my festive puppy chow and everyone enjoyed it!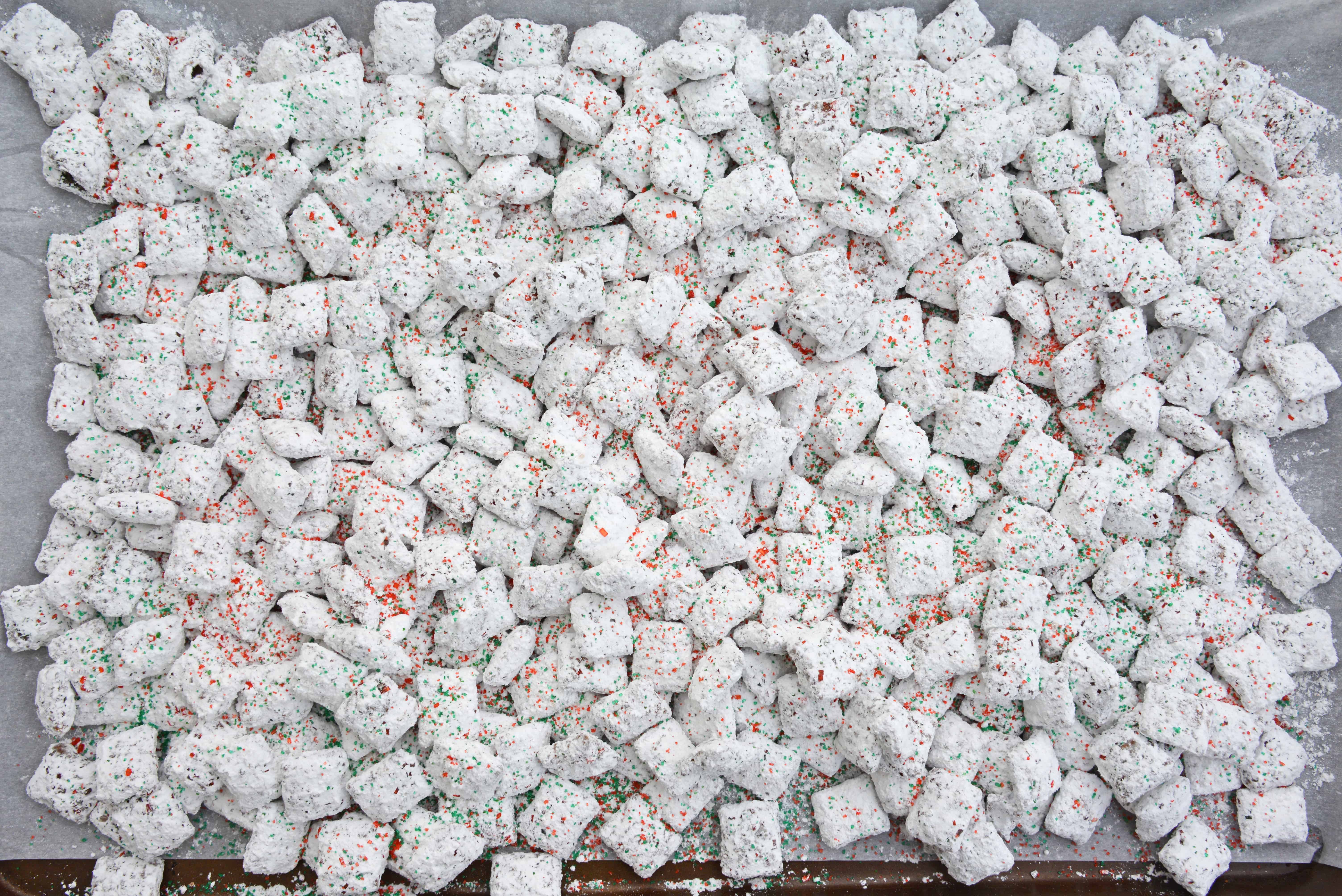 This puppy chow recipe is adapted from Genius Kitchen, because well, they are geniuses so why recreate the wheel. Let me also tell you what makes it different and what I modified.

You can use any type of Chex cereal you'd like, but I prefer rice flavor. It also makes this a gluten-free Puppy Chow recipe!
Most chex muddy buddy recipes use only chocolate and peanut butter, but I find that incorporating butter and vanilla makes it easier to mix evenly onto the chex cereal. It also makes an even richer flavor and gives slightly more volume.
Technically you can melt the mix in the microwave, but I find that melting chocolate in the microwave can be super temperamental, so I opt to mess the extra pan and take the time to do it on the stovetop.
Nine cups seems like a lot of Chex cereal and technically it is, but this stuff is delicious and it will go fast. If you don't make the whole batch, you'll regret it. You might regret not doubling the recipe, actually! If you are wondering how many boxes of cereal to buy, one 12 ounce box will give you this much and at least one heaping bowl of morning cereal.
Use a way larger mixing bowl than you think you need. Most puppy chow recipes will call for you to mix the Chex cereal right into the saucepan. I disagree. Place your Chex cereal into a very large mixing bowl and pour the melted chocolate over the cereal in 3 stages, lightly tossing each time. It helps to evenly cover the cereal without too much mixing, which results in broken puppy chow.
Many recipes only use 1 1/2 cups powdered sugar, I like to use more and just discard the rest. I find that using only 1 1/2 cups doesn't adequately cover the cereal, making a blotchy monkey munch. No go. I want fluffy white pieces!
I also add one more step of laying it in a single layer on a baking sheet and chilling to harden it up before putting it in a storage container. You can store at room temperture, but I like mine chilled, so I keep it in the fridge.
Have no fear, I still fully intend on making a gloriously beautiful colored puppy chow mix, but for today (and without an extra trip to the store) sparkle sprinkle mix will just have to do! Hey, it is a good way to use up all that those extra sprinkle tidbits you might be storing!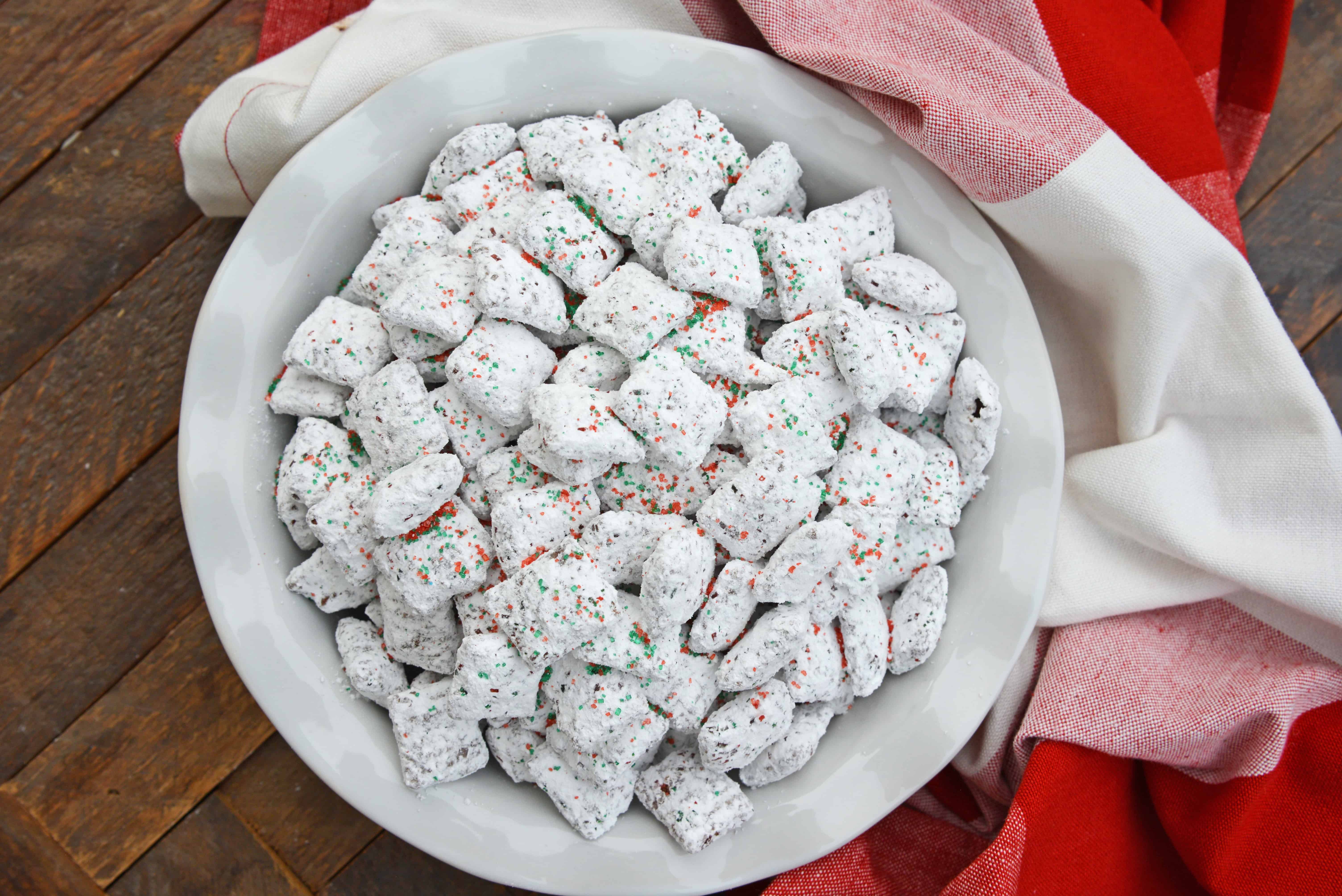 Lastly, why is it called puppy chow? Rumor has it because it resembles dog food, but I don't think it looks like any dog food I've ever seen, so who knows. What I do know is that it is delicious!
If you liked our Christmas Puppy Chow recipe, you'll love these other easy Christmas dessert recipes!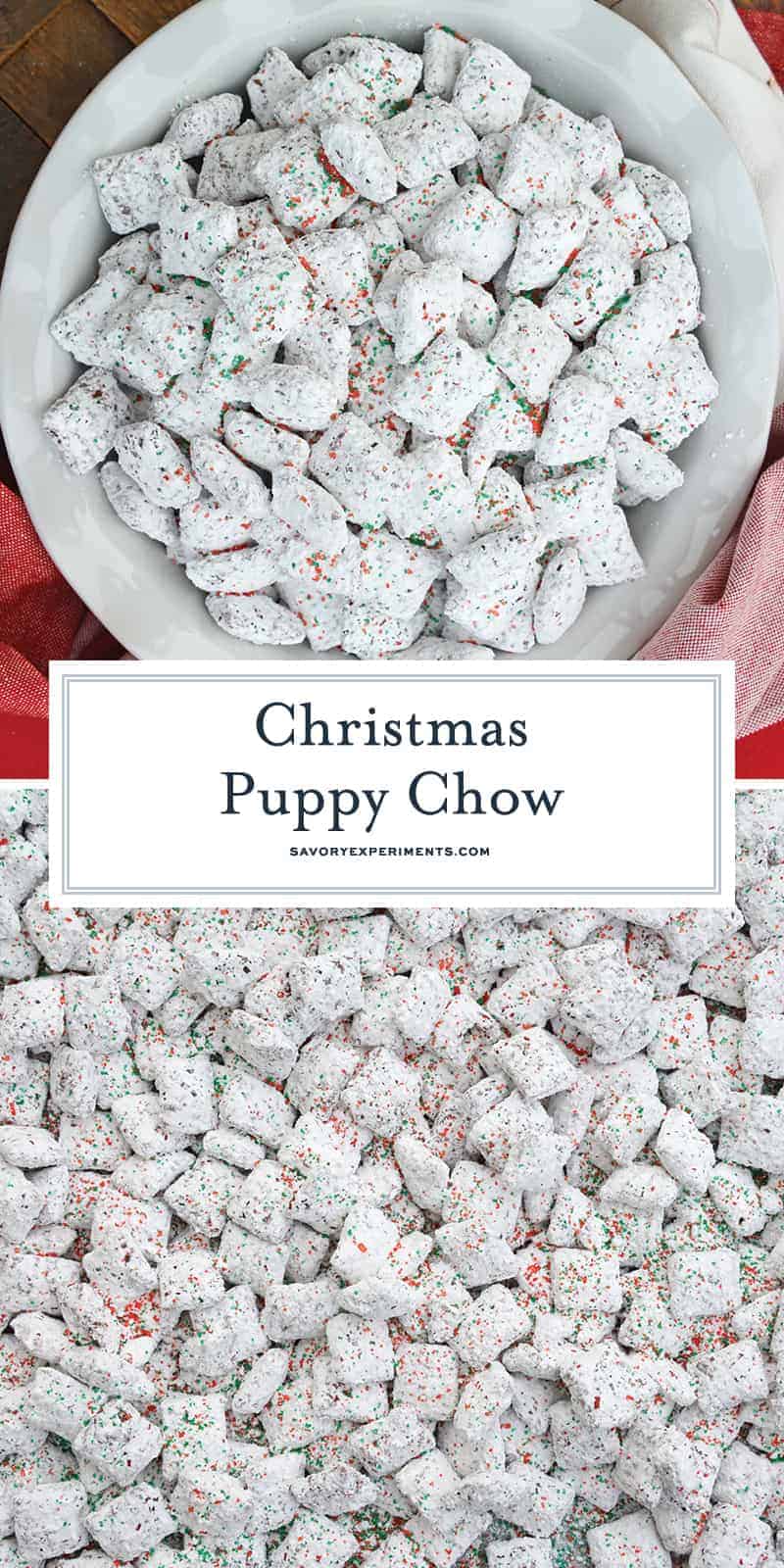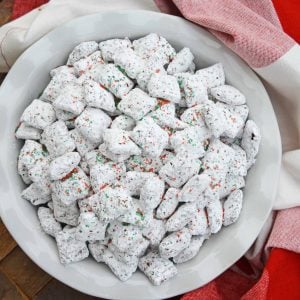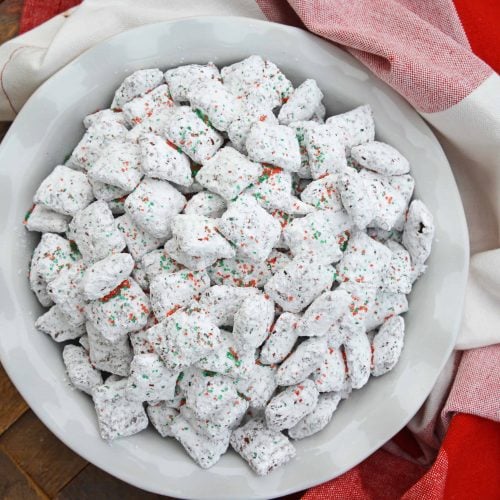 Christmas Puppy Chow
Christmas Puppy Chow transforms a traditional muddy buddy recipe into a festive Reindeer Chow mix! The perfect no-bake dessert for any party or event.
Keyword:
muddy buddy recipe, puppy chow recipe, reindeer chow
Ingredients
9

cups

Chex cereal

1

cup

semi-sweet chocolate chips

1/2

cup

smooth peanut butter

1/4

cup

butter

1

teaspoon

vanilla

2

cups

powdered sugar

1

cup

festive sprinkles
Instructions
Measure cereal in very large mixing bowl. Set aside.

In a heavy bottom saucepan over medium heat, melt and combine butter, chocolate chips and peanut butter, stirring constantly.

When fully melted, stir in vanilla.

Pour chocolate mixture over cereal in 3 stages, stopping to toss cereal between additions.

Toss until cereal is fully and evenly coated.

Working in two batches, place 1 cup powdered sugar and 1/2 cup sprinkles into an airtight plastic bag, add half of coated Chex cereal. Toss to coat.

Remove to a parchment paper lined baking sheet.

Continue with remaining powdered sugar, sprinkles and Chex cereal.

Chill for 15-20 minutes before transferring to a storage container.

If you've tried this recipe, come back and let us know how it was!
Nutrition Facts
Christmas Puppy Chow
Amount Per Serving
Calories 499
Calories from Fat 144
% Daily Value*
Total Fat 16g 25%
Cholesterol 13mg 4%
Sodium 430mg 18%
Potassium 394mg 11%
Total Carbohydrates 83g 28%
Protein 9g 18%
* Percent Daily Values are based on a 2000 calorie diet.