Make your next fiesta a hit with this 7 Layer Bean Dip! Whether you're looking for easy party appetizers or just need a snack at home, this bean dip is a winner.
With layers of guacamole, sour cream, refried beans and enchilada sauce, you just can't go wrong!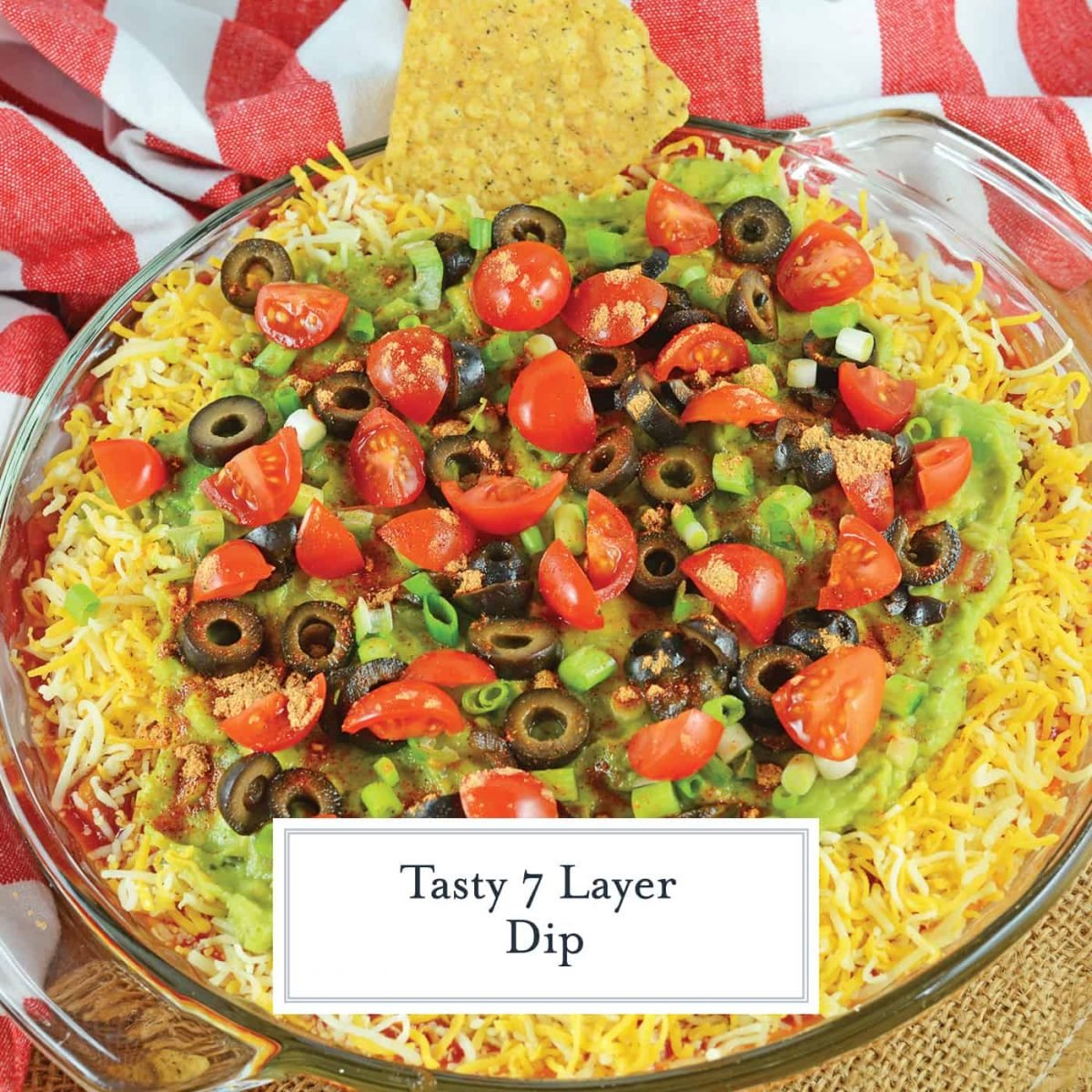 Easy party appetizers don't get much easier than this 7 layer dip! This bean dip takes chips and dip to a whole new level with ingredients like refried beans, guacamole and sour cream!
Do you have a go-to party appetizer? For some reason, I always gravitate towards dips. They are generally easy to make, and after you pick up a bag of chips, you are set!
This seven layer dip (also known as bean dip, Mexican dip, Mexican bean dip and even just Layer dip) is particularly easy, and with so many layers of deliciousness, it packs a huge flavor punch!
With only 15 minutes of prep time, this dip is perfect for when you need an easy appetizer in a pinch.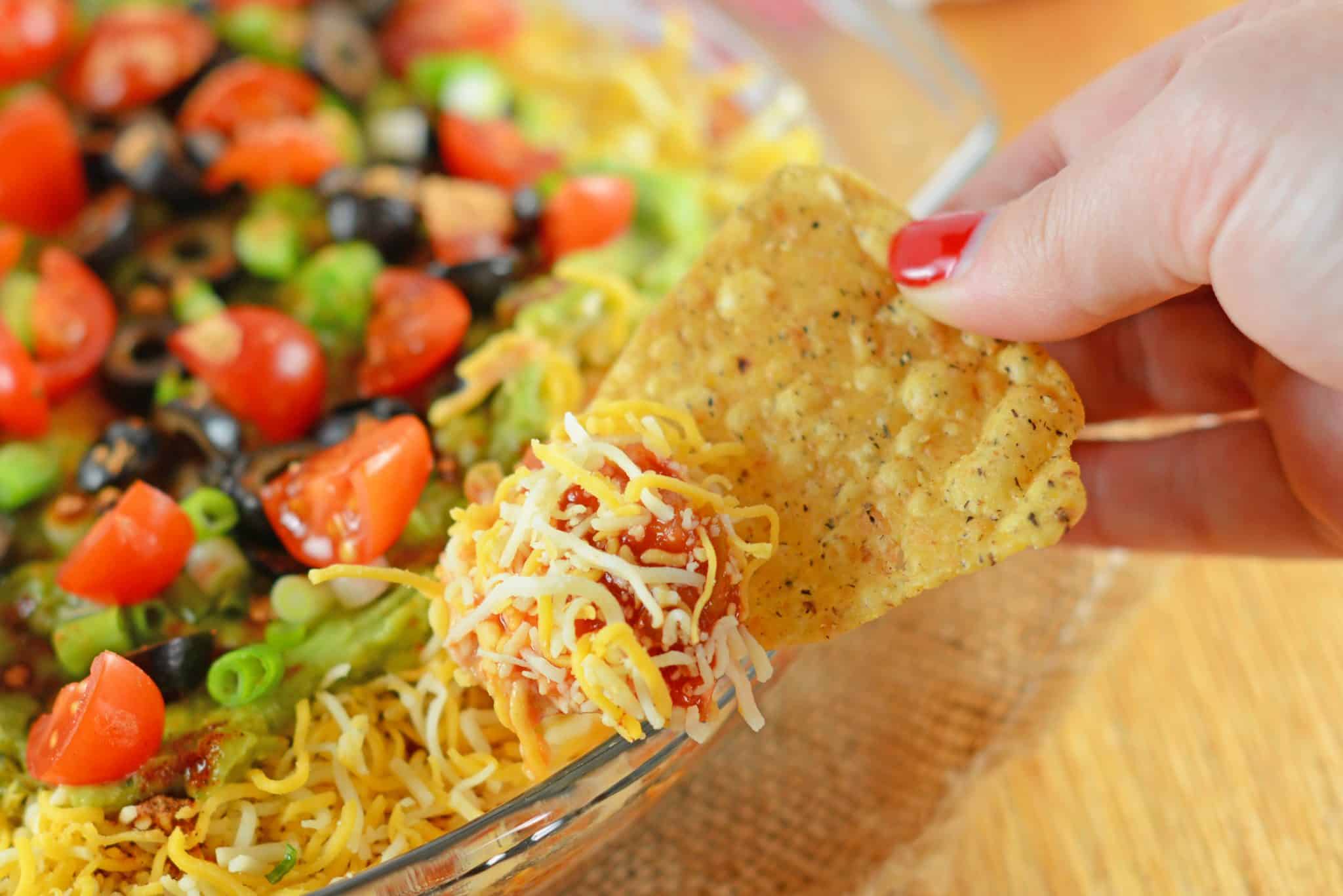 The term "seven layer dip" comes from, you guessed it, the seven layers! Of course, guacamole, refried beans and sour cream are all great by themselves; but just imagine how incredible they are together in one Mexican dip.
This 7 layer dip starts with a base layer of refried beans, which is where it gets it name of "bean dip". Those are topped with a combination of sour cream, hot sauce and taco seasoning.
Next comes the enchilada sauce, and then the guacamole.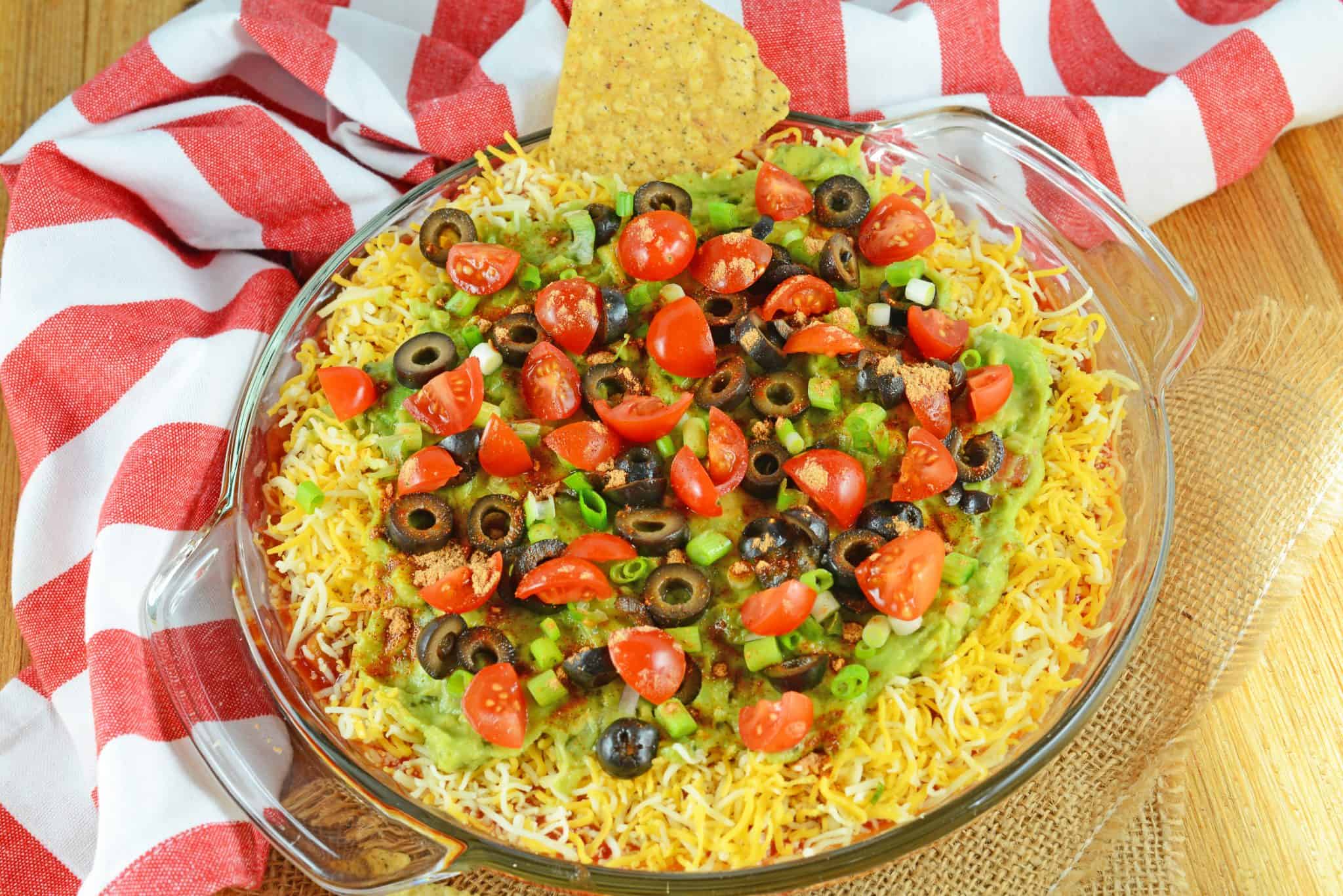 This dip can be easily customized to include your favorite taco toppings, but I like to top mine with shredded cheese, olives, tomatoes and scallions. Shredded lettuce would also be a great addition.
Quite possibly the best part of this dip is that there is no baking required. As soon as you prep it, it is ready to go! You can make this dip ahead of time, but because it is best served cold, I would keep it refrigerated until you are ready to eat it.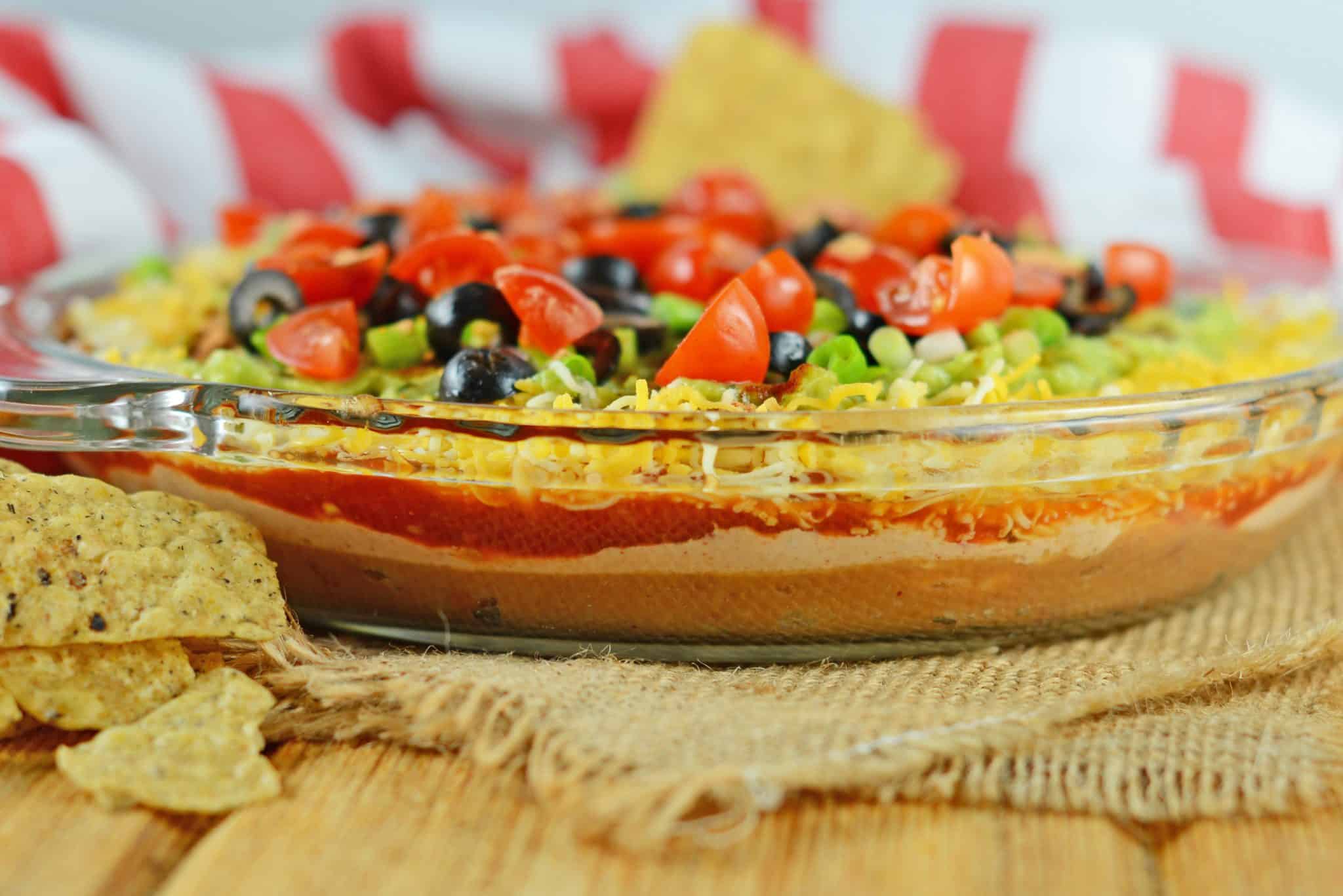 This dip would be great served alongside tacos, but it is also universal enough to be served at any get together or summer BBQ.
So grab a bag of tortilla chips and dig in because this 7 layer dip is sure to be a hit with everyone! I mean, it is hard to go wrong with guacamole, refried beans and chips, right??
I dusted the top of mine with chili powder for extra garnish. Fresh lime juice is also a good choice!

If you like this Seven Layer Dip, you are going to love these other easy party appetizers:
Tools for making this 7 Layer Dip:
Pie Plates– I think every kitchen should have at least three shallow dishes or pie plates for the process of breading or marinating. You can also bake pies in them! Hehe.
Mixing Bowls– make sure to check out my article on Using the Right Mixing Bowl, you'd be surprised how many people aren't!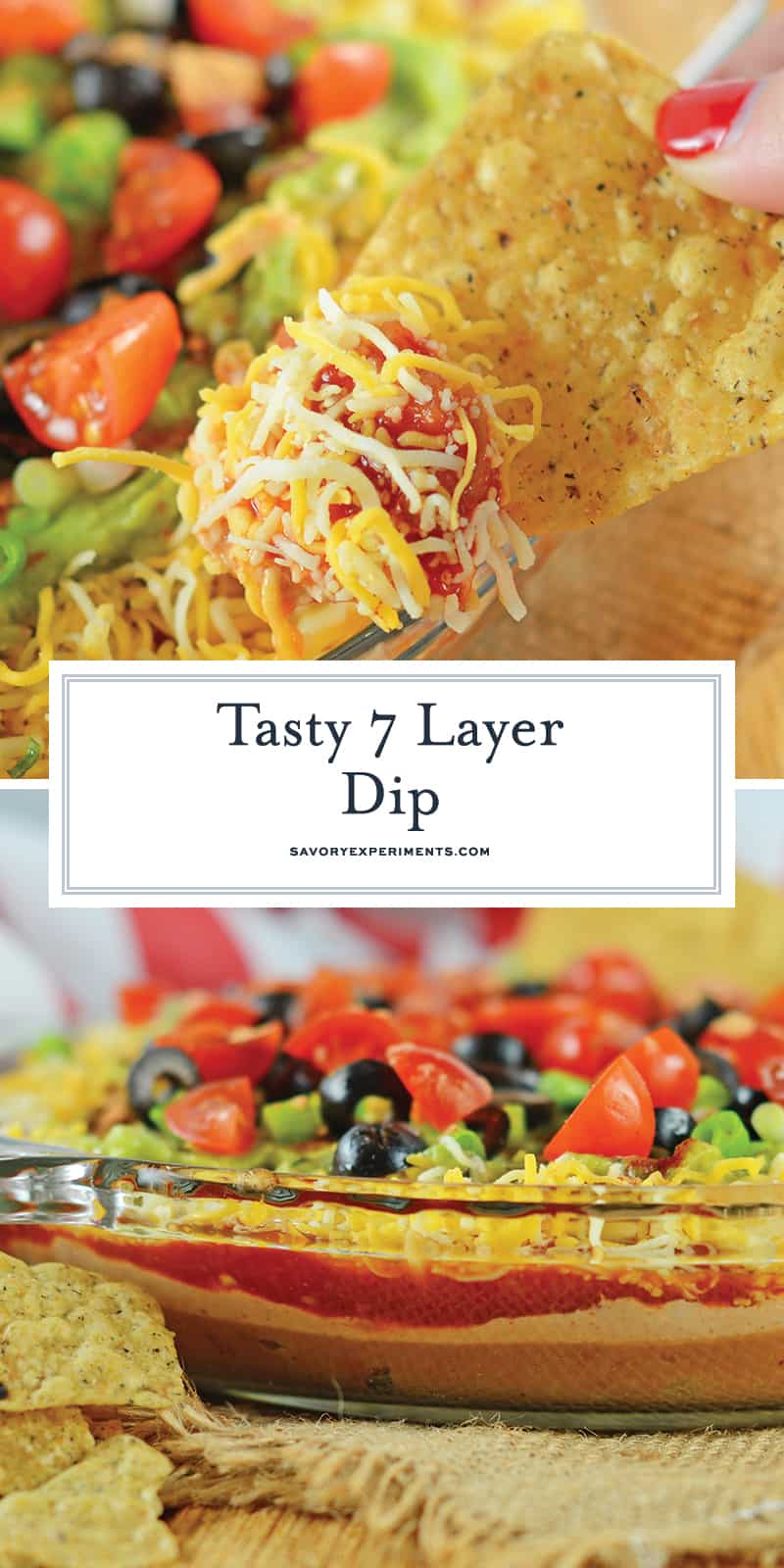 Questions you might have about how to make 7 layer dip:
How far in advance can I make seven layer dip? I would say up to a day ahead of time.
Can I use a different type of beans? Sure! I even make my own refried beans. Classic refried beans, made with pinto beans, and refried black beans.
Can I freeze 7 layer dip? This is one I wouldn't recommend freezing, although since it is so easy to make, why would you need to?
Can I add cream cheese? Sure! Add in a cream cheese layer around the beans and enchilada sauce. I recommend allowing it to warm up so you can easily spread it.
You can also beat cream cheese with enchilada sauce.
Can I use green enchilada sauce instead of red enchilada sauce? You can use whatever color enchilada sauce you desire!
Can I serve this Mexican dip hot? I love melted cheese. I love cheese in general, however this is one recipe I prefer chilled. There is nothing, however, stopping you for heating it.
I would add the fresh vegetable toppings after baking on 350 degrees for about 5-10 minute or until cheese on top is bubbly.
---
---
7 Layer Dip
Easy party appetizers don't get much easier than this 7 layer dip! It takes chips and dip to a whole new level with refried beans, guacamole and sour cream!
Instructions
Spread refried beans in a 9 inch round pie plate.

In a medium mixing bowl, combine sour cream, hot sauce and 1 teaspoon taco seasoning. Mix well and spread evenly over refried beans.

Top with enchilada sauce, spreading out to the edges.

Next, spread guacamole and top with shredded cheese, olives, scallions and tomatoes. Sprinkle remaining 1 teaspoon taco seasoning.

For best results, cover and refrigerate for 1-24 hours before serving.

If you've tried this recipe, come back and let us know how it was!
Nutrition
Calories:
182
kcal
|
Carbohydrates:
9
g
|
Protein:
5
g
|
Fat:
13
g
|
Saturated Fat:
5
g
|
Cholesterol:
24
mg
|
Sodium:
625
mg
|
Potassium:
212
mg
|
Fiber:
4
g
|
Sugar:
4
g
|
Vitamin A:
590
IU
|
Vitamin C:
5.6
mg
|
Calcium:
117
mg
|
Iron:
0.7
mg