This post is sponsored by the Certified Angus Beef® brand in conjunction with a social media campaign through Sunday Supper LLC. All opinions are my own.
Forget about taco Tuesday, let's talk about fajita Wednesday! Okay, I totally made that up. For serious, everyday should be fajita day!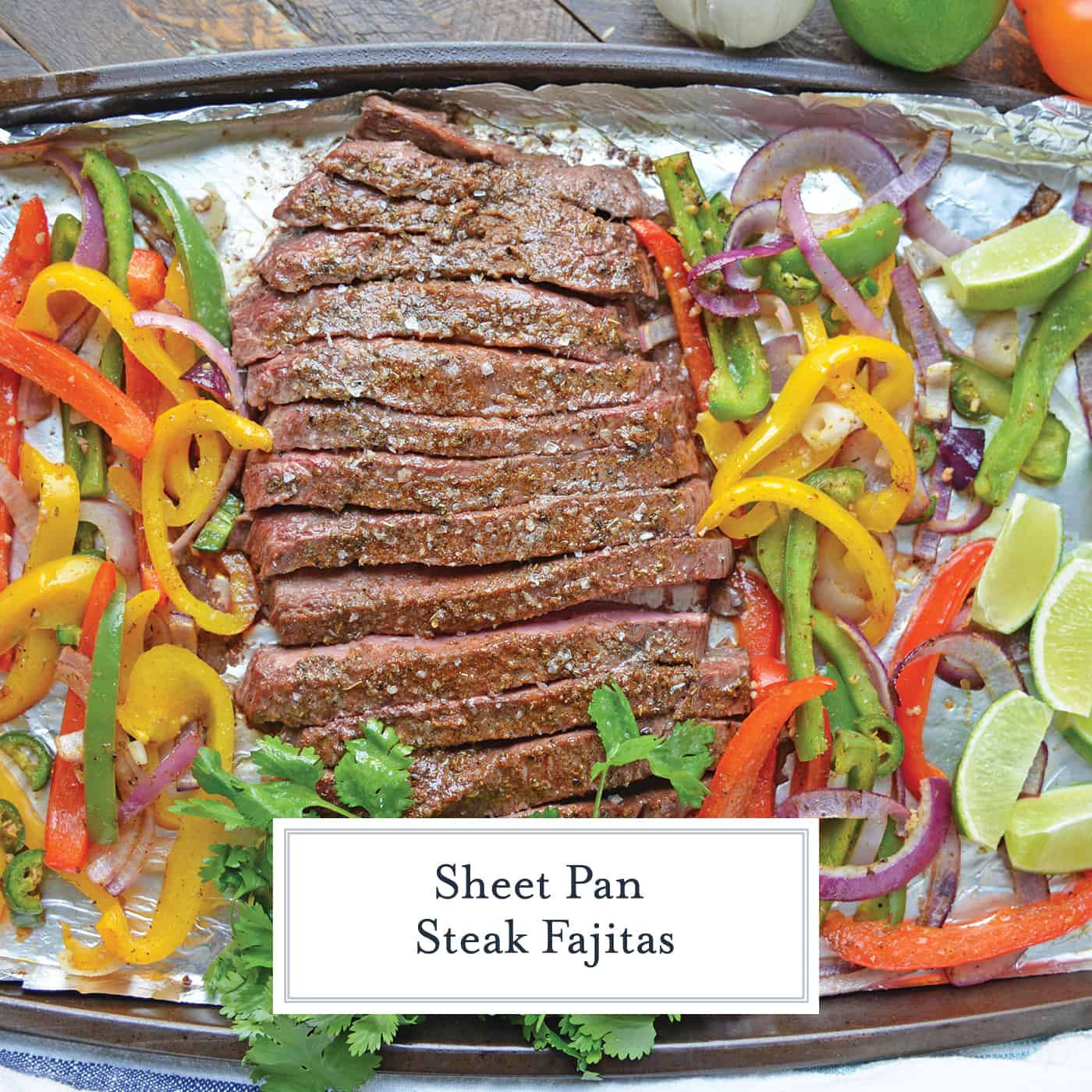 Sheet Pan Steak Fajitas are an easy weeknight meal using tender beef, homemade fajita seasoning, peppers, onions and jalapenos!
Sheet Pan Steak Fajitas are one of our favorite easy weeknight meals. Easy beef fajitas made in just one pan. Yep, that is all folks, one cutting board and one sheet pan is all you need to create a tasty meal.
For my Sheet Pan Steak Fajitas I use Certified Angus Beef® brand. Certified Angus Beef® brand cuts are guaranteed to pass 10 specifications in three areas: marbling and maturity, consistent sizing and tenderness and quality appearance.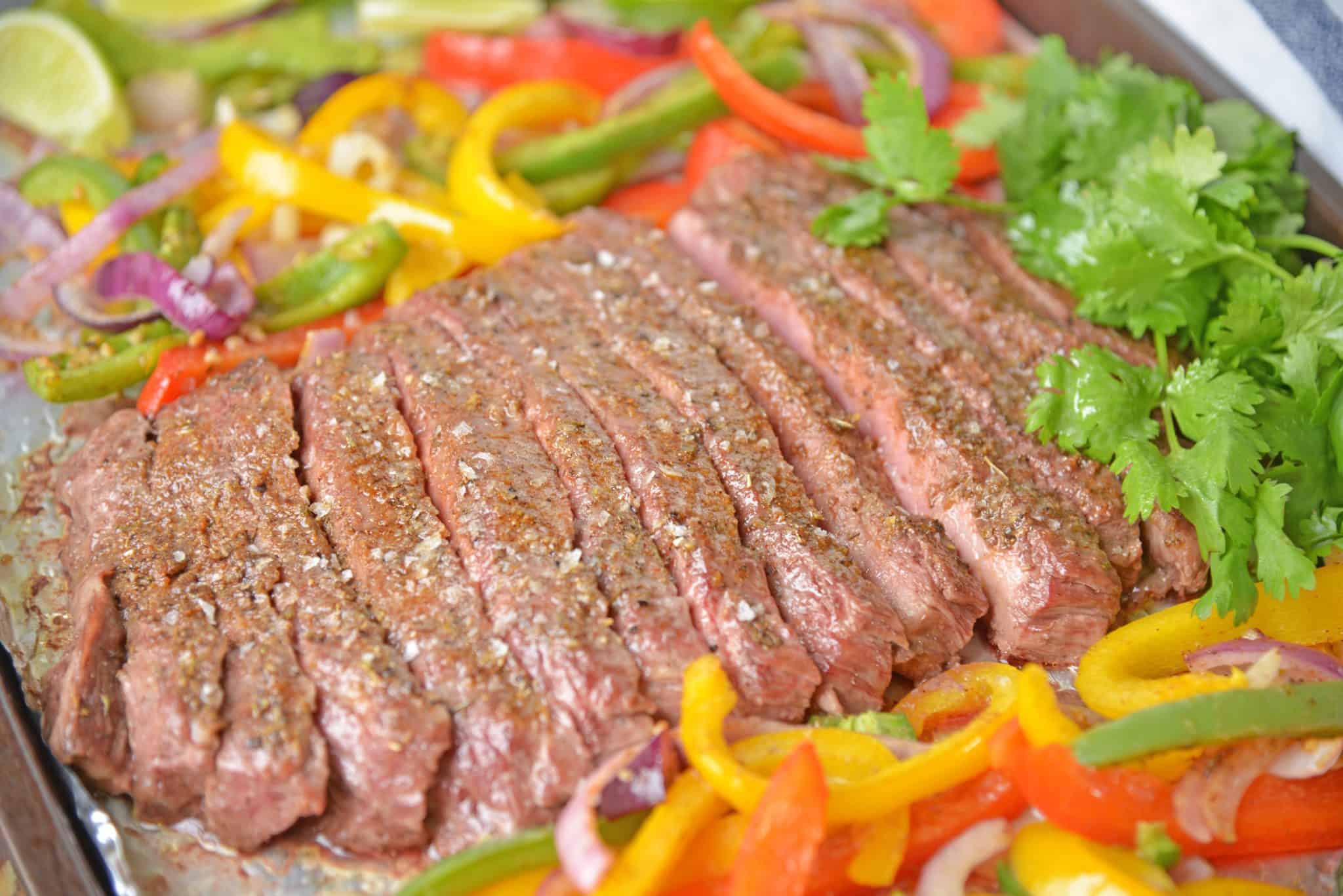 Only 3 of every 10 Angus cattle qualify. Just look for the Certified Angus Beef® brand logo and you can be certain you are feeding your family a quality product.
Sheet Pan Steak Fajitas use a homemade fajita seasoning instead of beef fajita marinade, cutting prep time by hours. Use the same seasoning for the julienned peppers and onions. I also throw in fresh jalapeños for extra spice.
The best cuts of beef for making steak fajitas are skirt steak, but I like using flank steak or even a strip. Since this recipe doesn't require marinating to break down fibers and tenderize the meat, knowing how to treat your meat is important.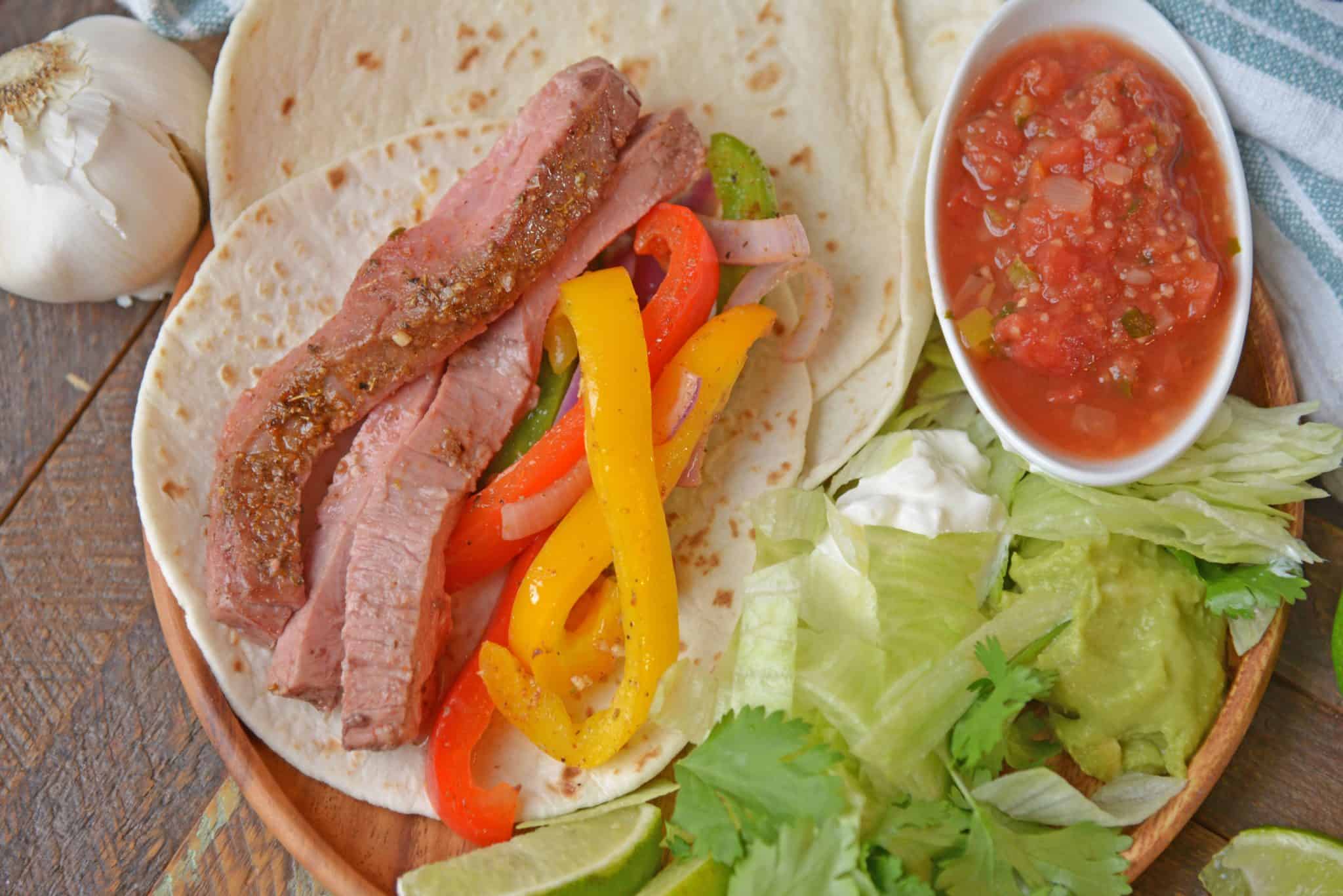 Other tricks to make sure you have the most tender beef in your steak fajitas is to not overcook them and also cut against the grain.
One of my favorite Certified Angus Beef® brand chefs, Tony Biggs, once told me "he would not be held responsible for any beef cooked over medium rare" and I have to agree with him!
Side note… I had a roommate in graduate school (food blogging wasn't my first career) who swore she didn't like beef. I made her my favorite Honey Steak at a juicy medium rare and lo and behold, she just didn't like over cooked steak.
Her mother always prepared beef well done and she found it chewy and dry. She just needs a little pink in her life and now she loves steak and other types of beef!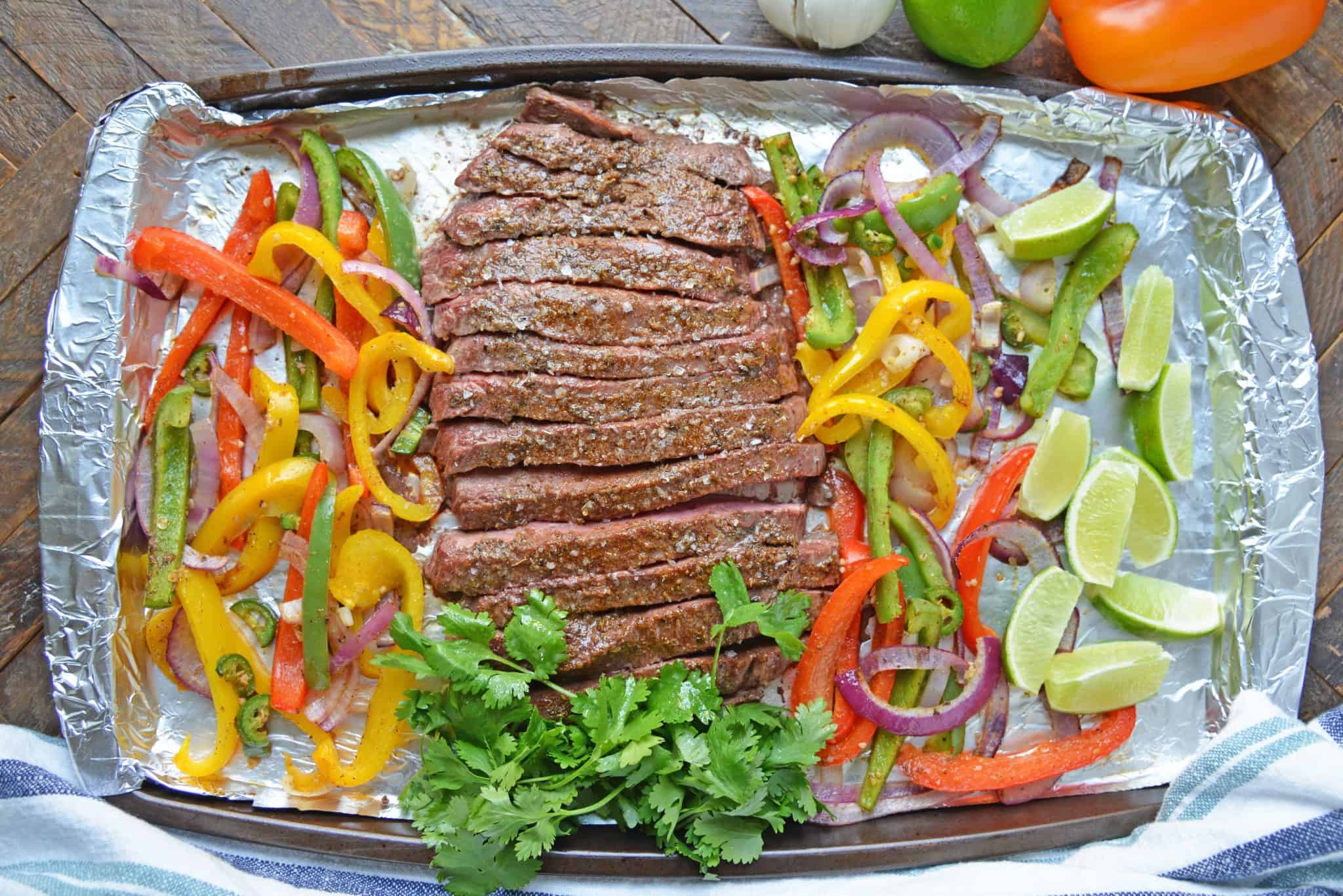 In additional to not over cooking, slice your beef against the grain. By making cuts against the grain, you shorten the fibers, making them easier to break and chew. This goes for any cut of beef, not just flank steak or fajitas. Watch us make them!
Tools for making Sheet Pan Steak Fajitas:
Rimmed Baking Sheet– another kitchen staple! You'll use this for prep work, roasting and much more. I have 7 at my house.
Wood cutting board – wood won't dull your knives like plastic and if treated properly, has natural antimicrobial properties.
Good knife – Global is my favorite! They are worth the price, I promise. I am kind of obsessed with them and store them tucked away so no one else can use them. Including hubby. Hands off my good stuff!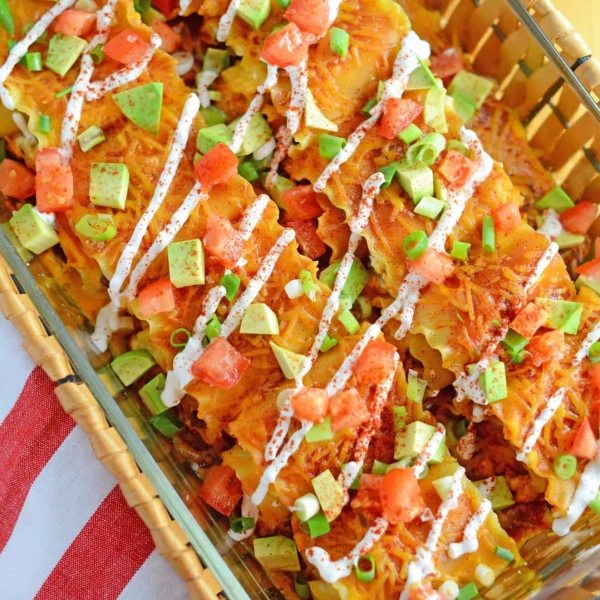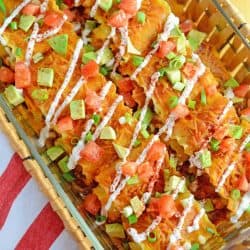 Mexican Lasagna Rolls
Mexican Lasagna Rolls are the best marriage of taco lasagna and traditional lasagna. So easy the kids can help make them!
View this recipe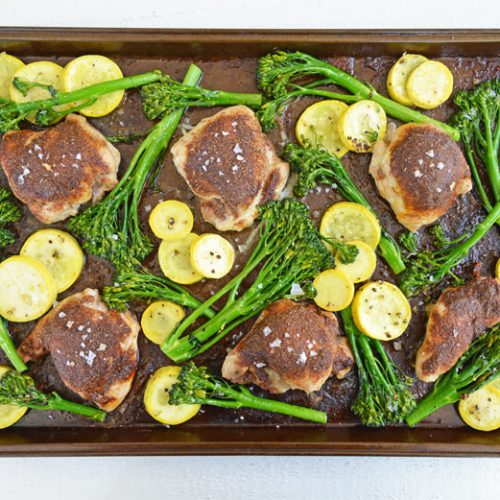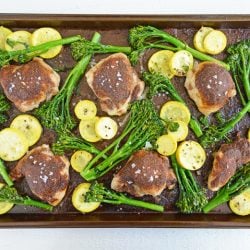 Blackened Sheet Pan Chicken Thighs
I am all for saving time on meals, and one pan meals are the best. This EASY Blackened Sheet Pan Chicken Thigh recipe is about to be your new favorite!
View this recipe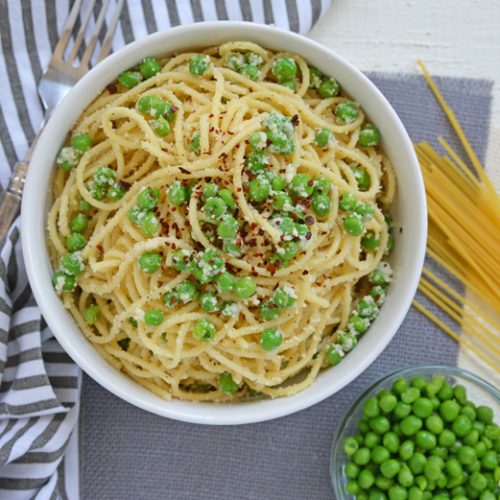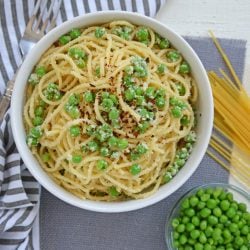 Pasta and Peas
Pasta and Peas is an easy pasta recipe that the whole family will love. Only one pot and 10 ingredients to a family friendly meal!
View this recipe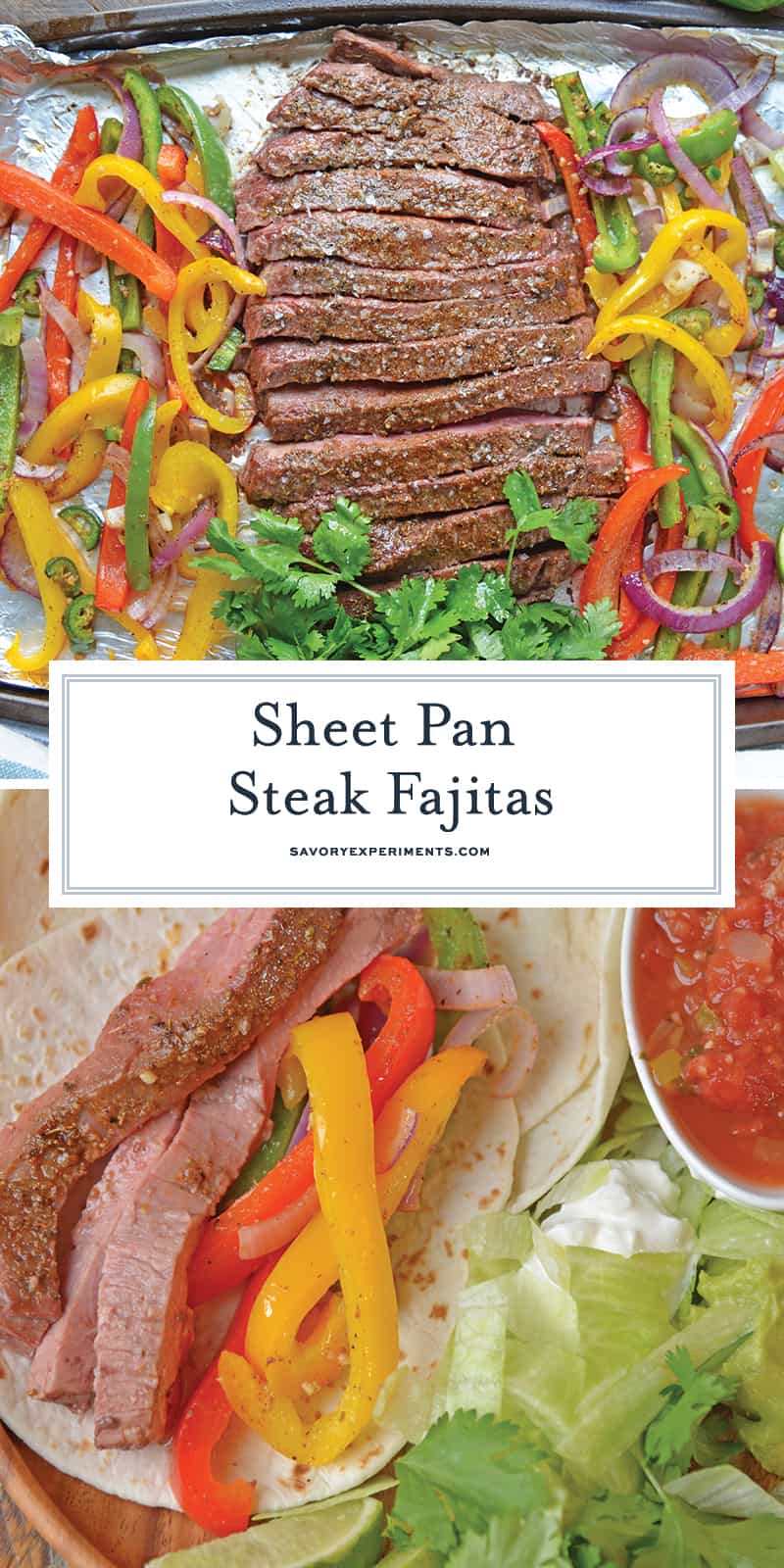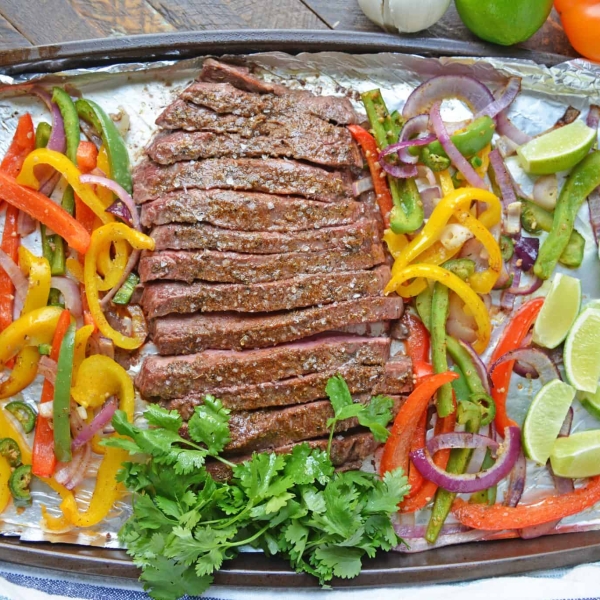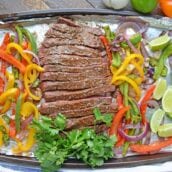 Sheet Pan Steak Fajitas
Sheet Pan Steak Fajitas are an easy weeknight meal using tender beef and homemade fajita seasoning.
Instructions
Preheat oven to 350 degrees. Line a large rimmed baking sheet with aluminum foil.
Place flank steak, bell peppers, onions, jalapeño, garlic on baking sheet. Grate lime zest over all ingredients.

Sprinkle fajita seasoning and vegetable oil over all ingredients and toss gently.

Bake for 15 minutes for until beef is desired doneness. Remove and allow to rest for 5 minutes.

Evenly divide beef and vegetables into each small flour tortilla and top with ranchero sauce and desired garnishes.

If you've tried this recipe, come back and let us know how it was!
Ranchero Sauce:
Heat the oil in a medium saucepan over medium heat.

Add white onion, chipotle peppers in adobo sauce and garlic. Cook until soft and fragrant, about 5 minutes

Add tomato sauce, chicken broth, Kosher salt, smoked paprika, dried oregano, chili powder and lime juice, stirring to combine. Simmer on low for 5 minutes.

Using an immersion blender, or transferring the whole mixture to a stand blender or food processor, blend until smooth. Set aside until ready to use.
Nutrition
Calories:
598
kcal
,
Carbohydrates:
53
g
,
Protein:
44
g
,
Fat:
21
g
,
Saturated Fat:
10
g
,
Cholesterol:
102
mg
,
Sodium:
711
mg
,
Potassium:
900
mg
,
Fiber:
3
g
,
Sugar:
7
g
,
Vitamin A:
1940
IU
,
Vitamin C:
86.8
mg
,
Calcium:
144
mg
,
Iron:
5.9
mg