Topped with tons of bell peppers, onions, black beans, tomato, chicken and cheese, these Loaded Chicken Nachos are the ultimate party food.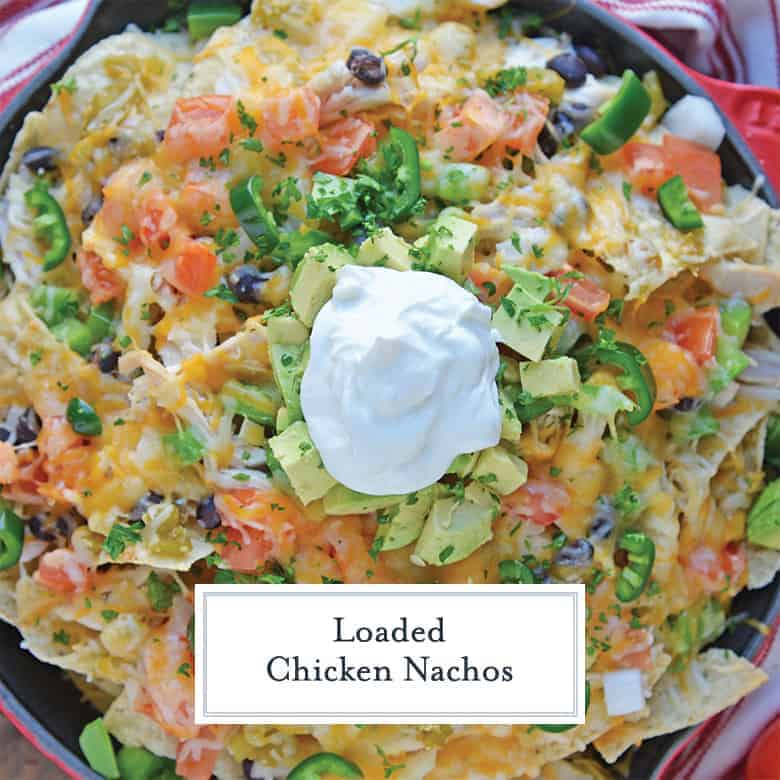 These Loaded Chicken Nachos are the ultimate nacho recipe! Topped with chicken, cheese and lots of veggies, you could make an entire meal out of these loaded nachos.
Call them what you want… loaded nachos, supreme nachos or just pure heaven, good nachos can be hard to find. That's why I made these Loaded Chicken Nachos (and provided you with more information than any one person should know about nachos).
First of all, you are going to think I am crazy. I've put wayyyy too much thought into what makes the perfect plate of nachos. But I guarantee after you read through my crazy ranting, you'll agree with me and never look your loaded nachos the same.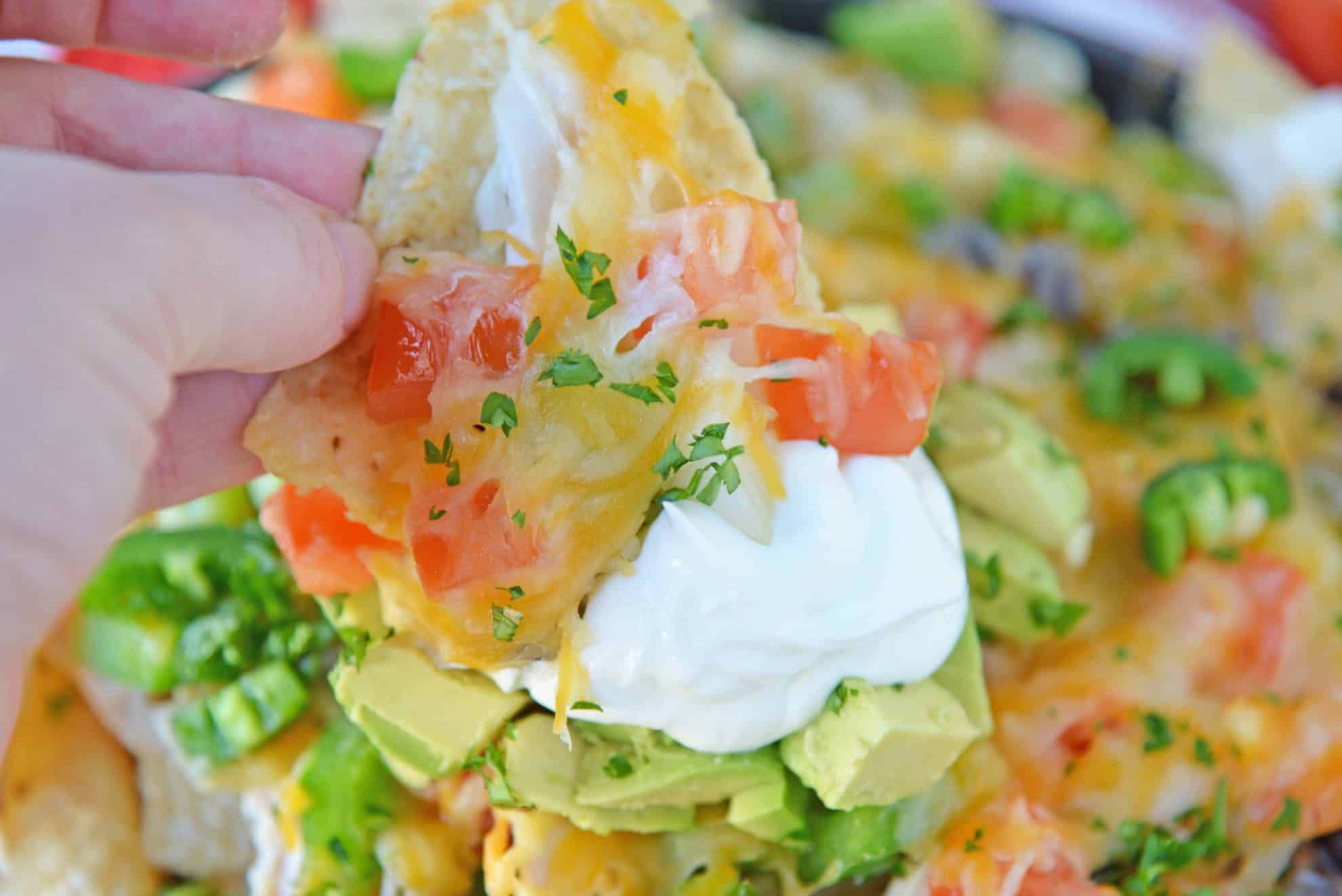 There are two main ways to serve nachos: sheet pan nachos or skillet nachos. I find the most restaurants serve skillet nachos. Both are good and both have pros and cons.
Sheet pan nachos are great because you are guaranteed to get an even bite of topping on each chip. However, they are also more time consuming to make because here you are dotting each chip with a dollop of refried beans and sprinkle of cheese, or whatever other nacho toppings you pick.
Skillet nachos just look impressive. Who doesn't want to gaze at a heaping plate of chips smothered in cheese arriving at the table, but not before your server says "don't touch… it's hot!"?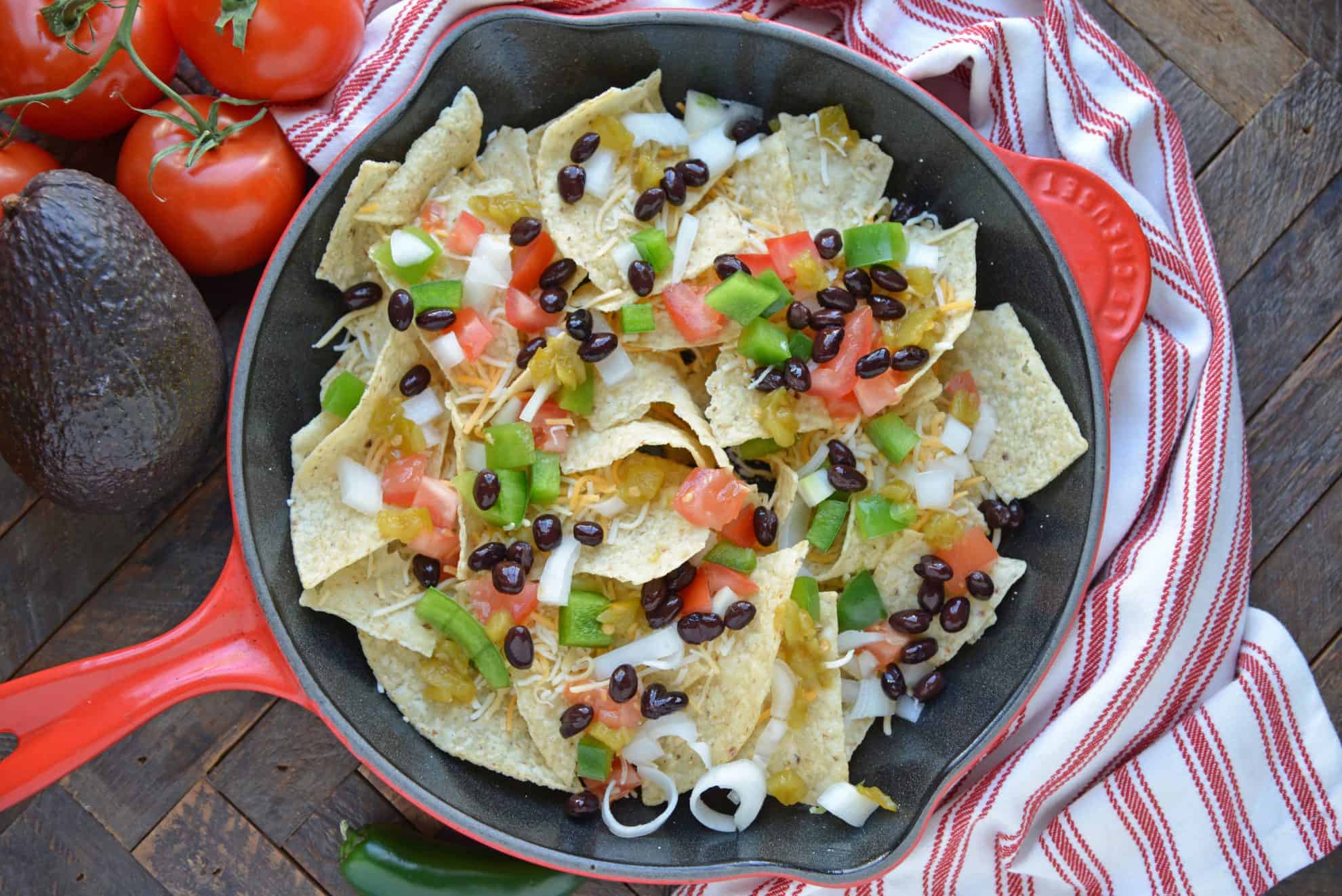 First layer of skillet nachos
The downfall here is that you might burn yourself (don't lie, you've totally touched the plate even after acknowledging the warning) and sometimes the bottom chips don't get the same amount of love as the top chips. Now you just have plain tortilla chips in cold cast iron. Whomp, whomp.
The perfect nachos start with the right type of tortilla chip. I am not married to any one variety, whether it be blue corn, white or yellow corn, but it has to be a good, sturdy chip. I don't want my chip to droop and sag when trying to transport all those glorious toppings from the plate to my mouth.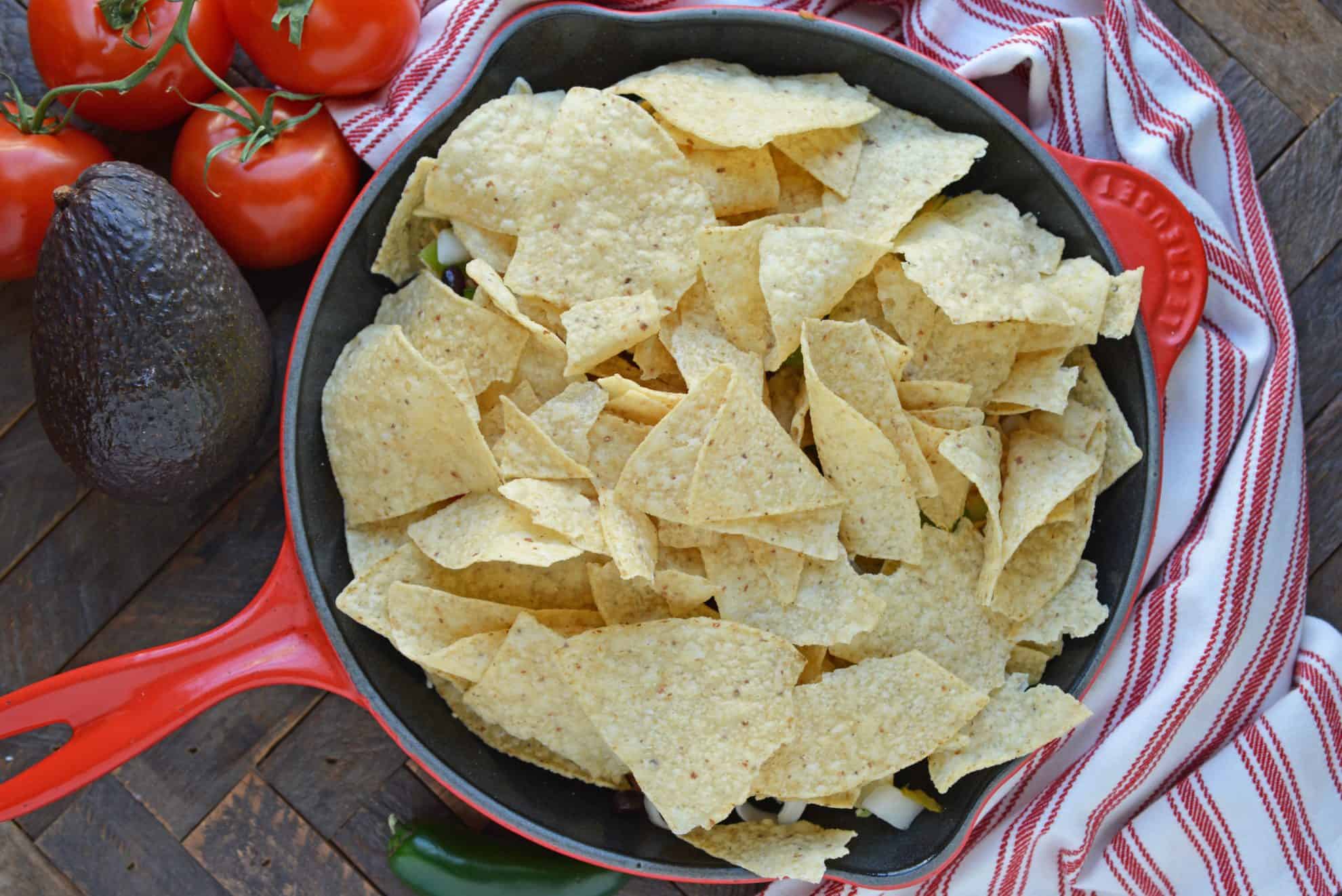 Layer nachos with more chips.
The second crucial element to loaded nachos is cheese. Cheese is a matter of preference and I've gotten into one too many debates over the perfect cheese for nachos. People tend to fall into two camps: nacho cheese sauce or real shredded cheese.
I prefer real shredded cheese and half the time I ask my server what type of cheese they use, people tend to not know the answer.
A nice cheese blend is my top pick. Cheddar and monterey jack or even a queso fresco or cotija. If you can only choose one, cheddar seems to be the most popular cheese for nachos.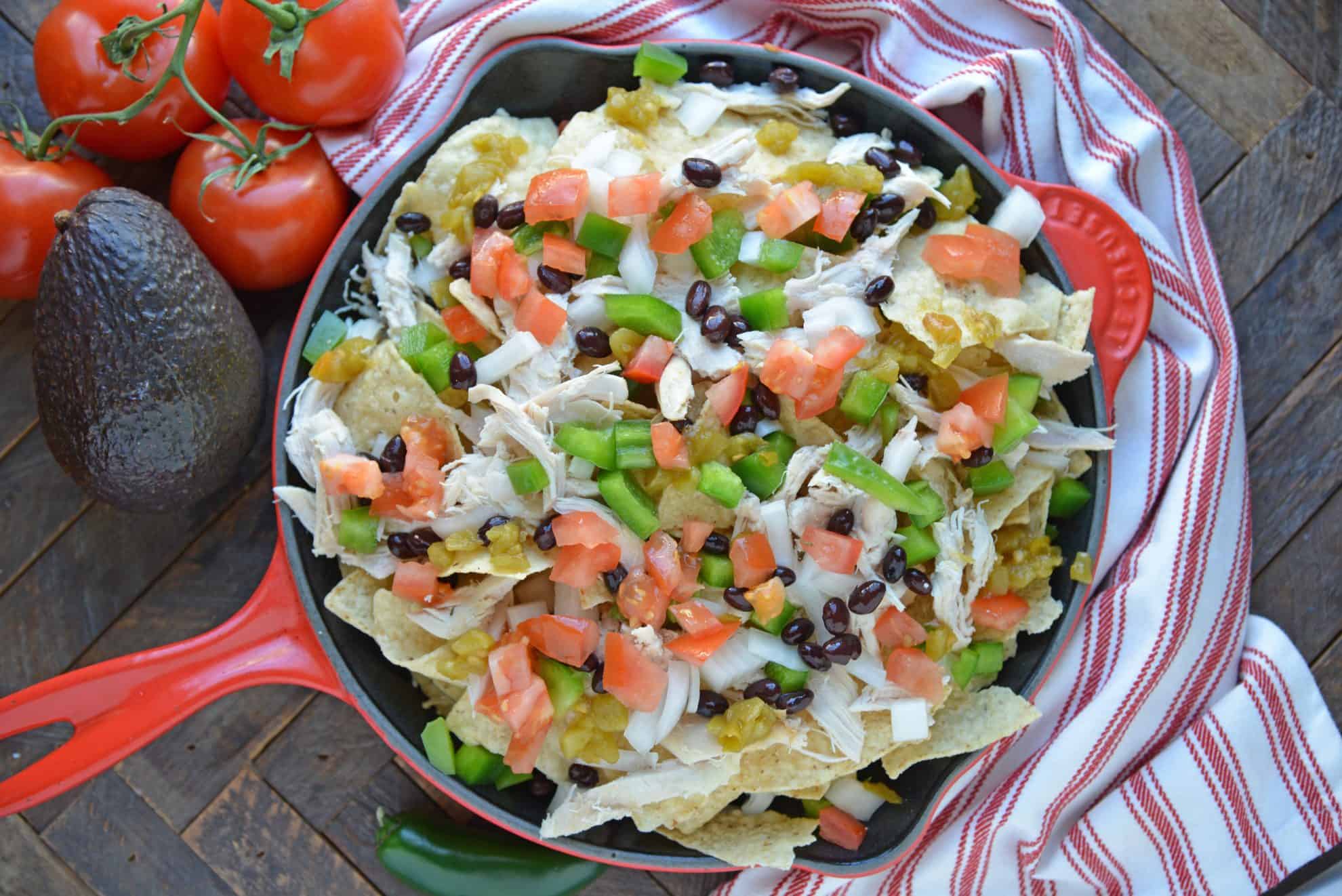 Manually shredding your cheese is also a strong suggestion. Pre shredded cheese is tossed in a starchy mix so it doesn't clump together and while that is fine for many recipes, nachos and the perfect cheese pull aren't coming from a bag.
As I write this, I am sitting here munching on the batch of Loaded Chicken Nachos you see in these exact photos and they've been out of the oven for over 3o minutes. All of my chips are still crunchy. Just sayin'….
Don't get me wrong, I love a good queso; I just don't want it on my nachos. The goal here is for my chips to stay crisp and crunchy. Drowning them in liquid gold isn't going to accomplish that. If you must order cheese sauce, have them put it on the side and dip to avoid the dreaded soggy chip syndrome.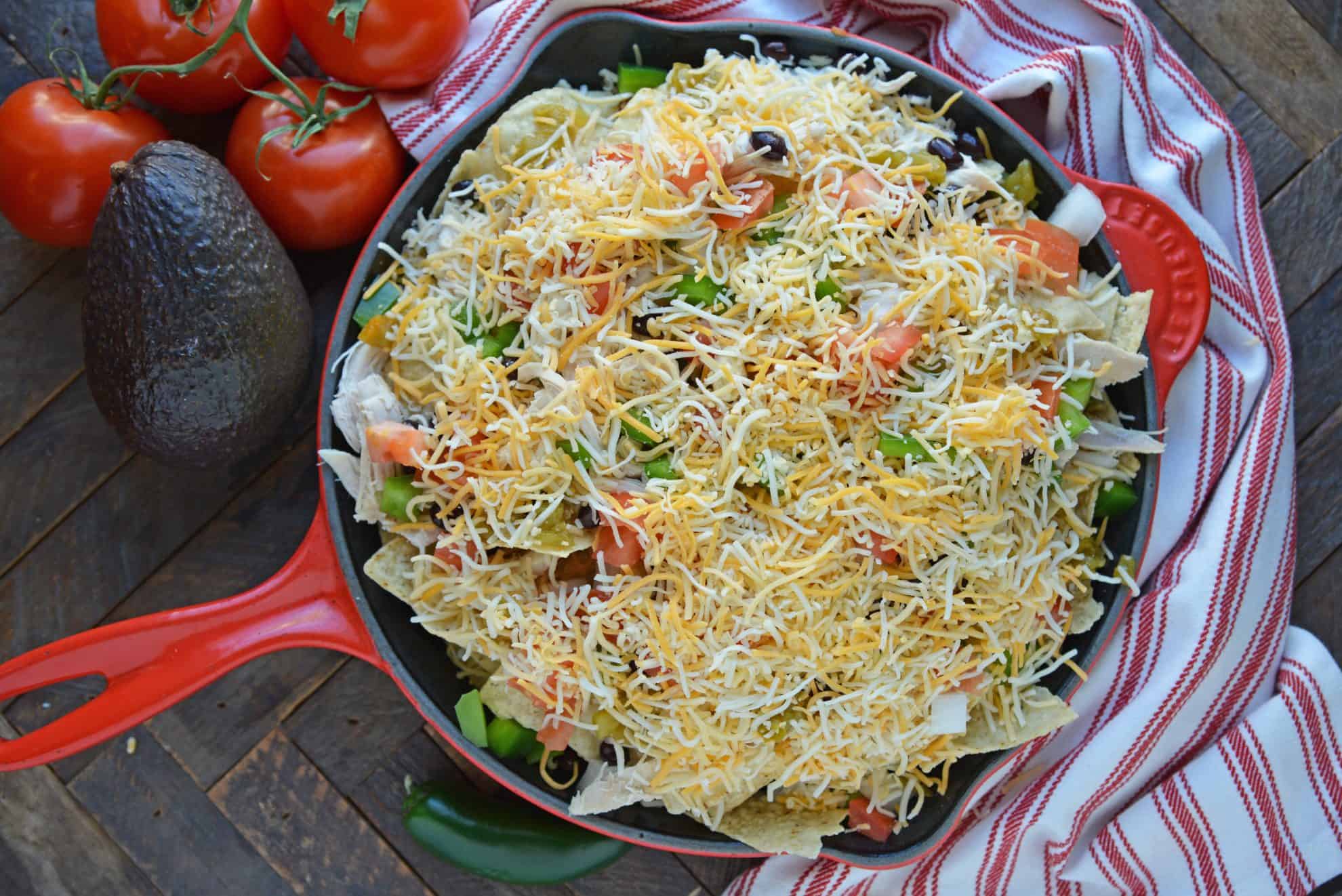 Top with lots of cheese!
And don't get me started on fake nacho cheese sauce… the stuff that gets squeezed out of a bag or can be found in a pump. If you cheese sauce does not somewhat solidify or need refrigeration, just throw it away. Gross!
The next element to perfect supreme nachos is of course, the toppings. These, too, are a matter of preference. I like a blend of prepared items and fresh ingredients.
And the more veggies, the merrier. This makes me rationalize that I am eating my veggies and therefore this heaping plate of loaded nachos must also be kinda healthy. Like salad nachos. Hahahaha!
Biting into a piping hot chip with cool, crunchy and crispness is pure nacho heaven. Pair it with a mint mojito and you are golden.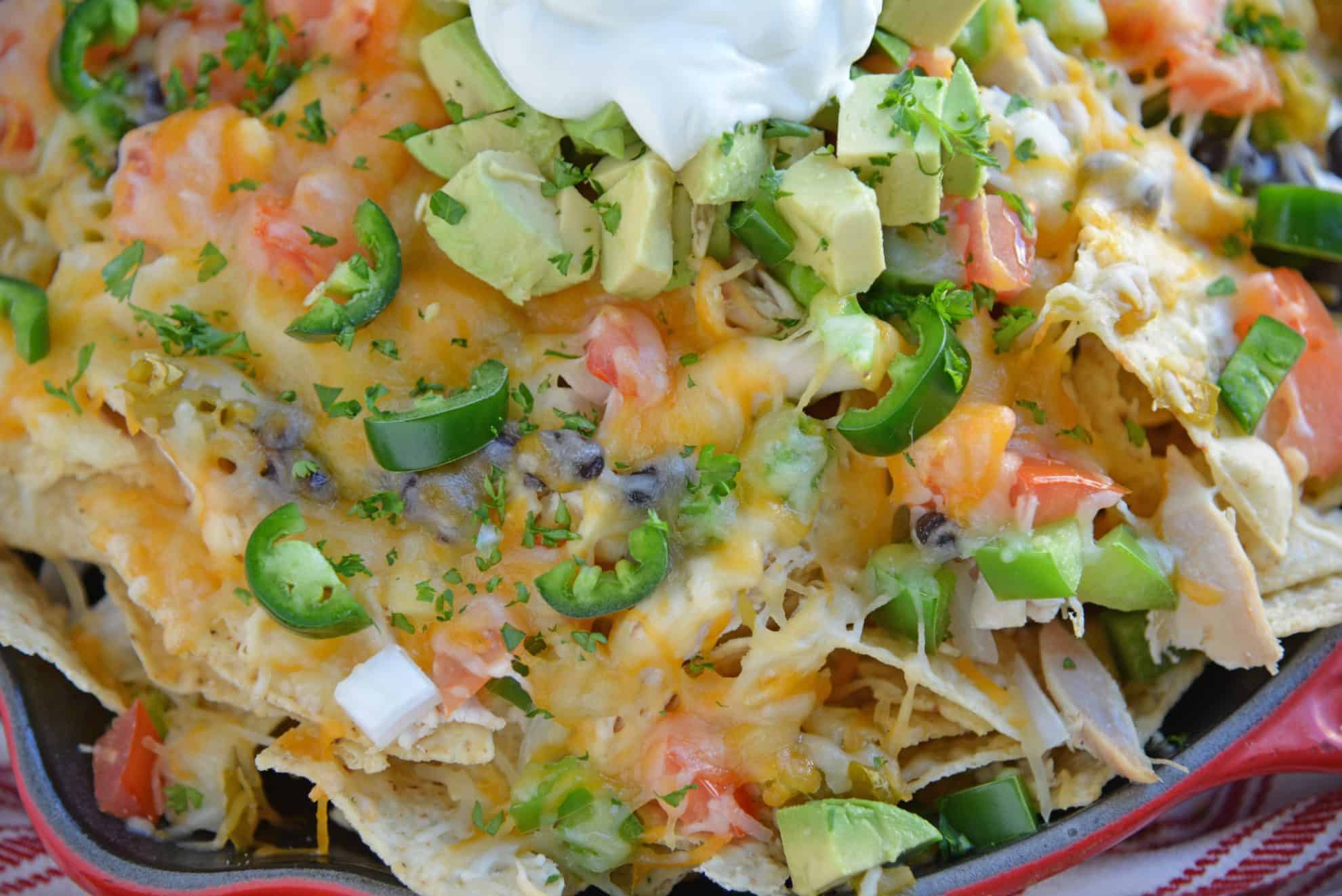 I also tend to pick toppings that aren't too saucy. Leave the saucy stuff for the side. There isn't any shame in dipping (only double dipping).
Toppings like salsa, chili, guacamole or even sour cream can leave your nachos limp. Serve these favorites on the side and thank me later.
You can also add a protein. Chicken happens to be my favorite and at home I generally just buy a rotisserie chicken from the grocery store and shred it so I don't have to worry about also cooking the meat.
Using leftover chicken or beef from tacos is an excellent idea too.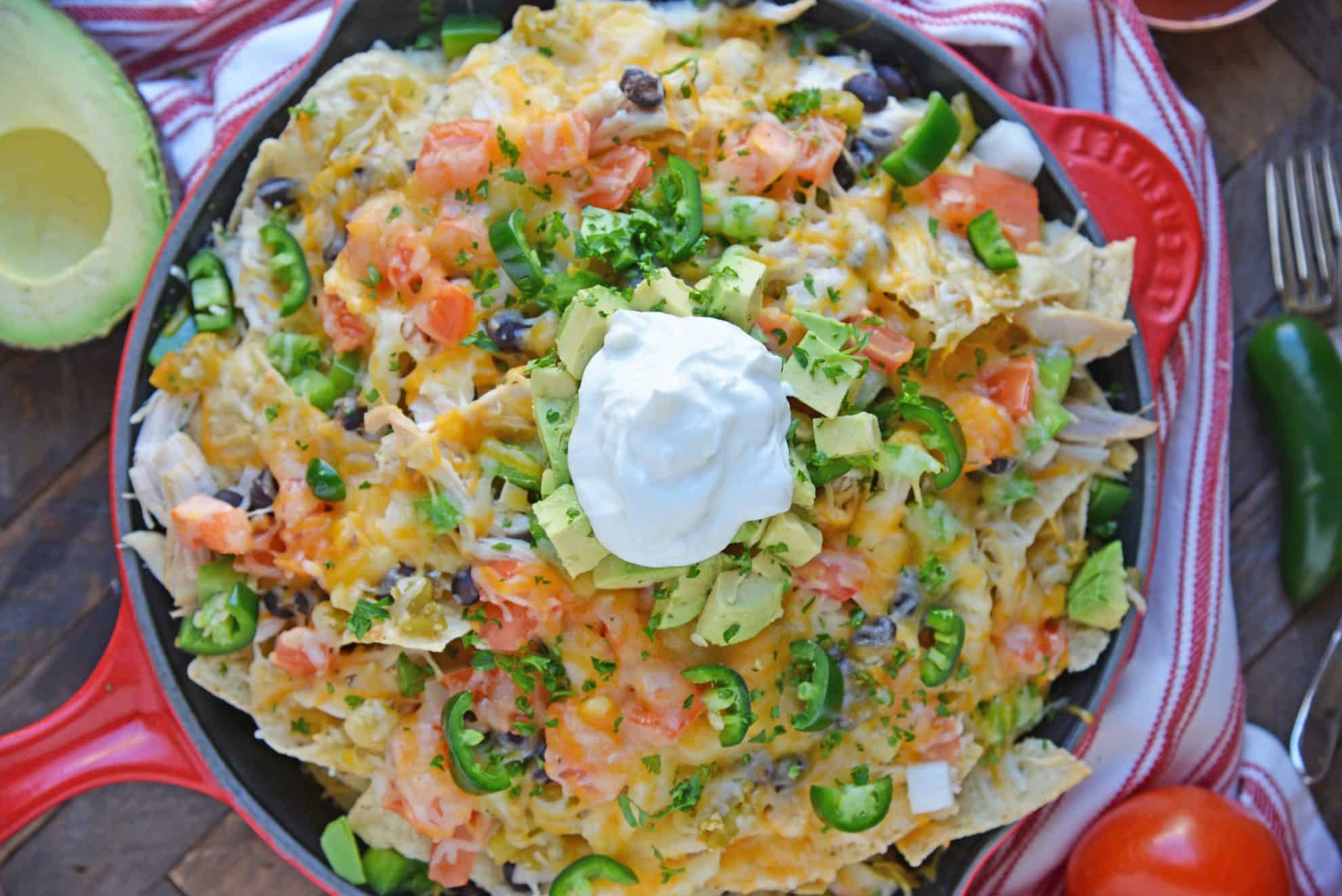 Here are some favorite toppings for supreme nachos. Pick 5-6 and don't overload them too much that your chip can't handle the weight.
Nacho Toppings
Black Beans
Refried Beans
Avocado
Bell Pepper
Onion
Black Olives
Hatch Chile Peppers
Jalapenos (fresh or pickled)
Protein (chicken, shrimp, pork or beef)
Shredded lettuce (to be added after cooking)
Fresh Lime Juice (to be added after cooking)
Cilantro (to be added after cooking)
Layering is the next crucial element to creating the best nacho recipe, especially if you are making skillet nachos. Arrange a layer of chips on the bottom, then a layer of toppings.
Place this in the oven to melt the cheese. If you skip this step, then the center nachos won't have melted cheese. Believe me, they just don't have enough time to cook the whole way through without burning your chips.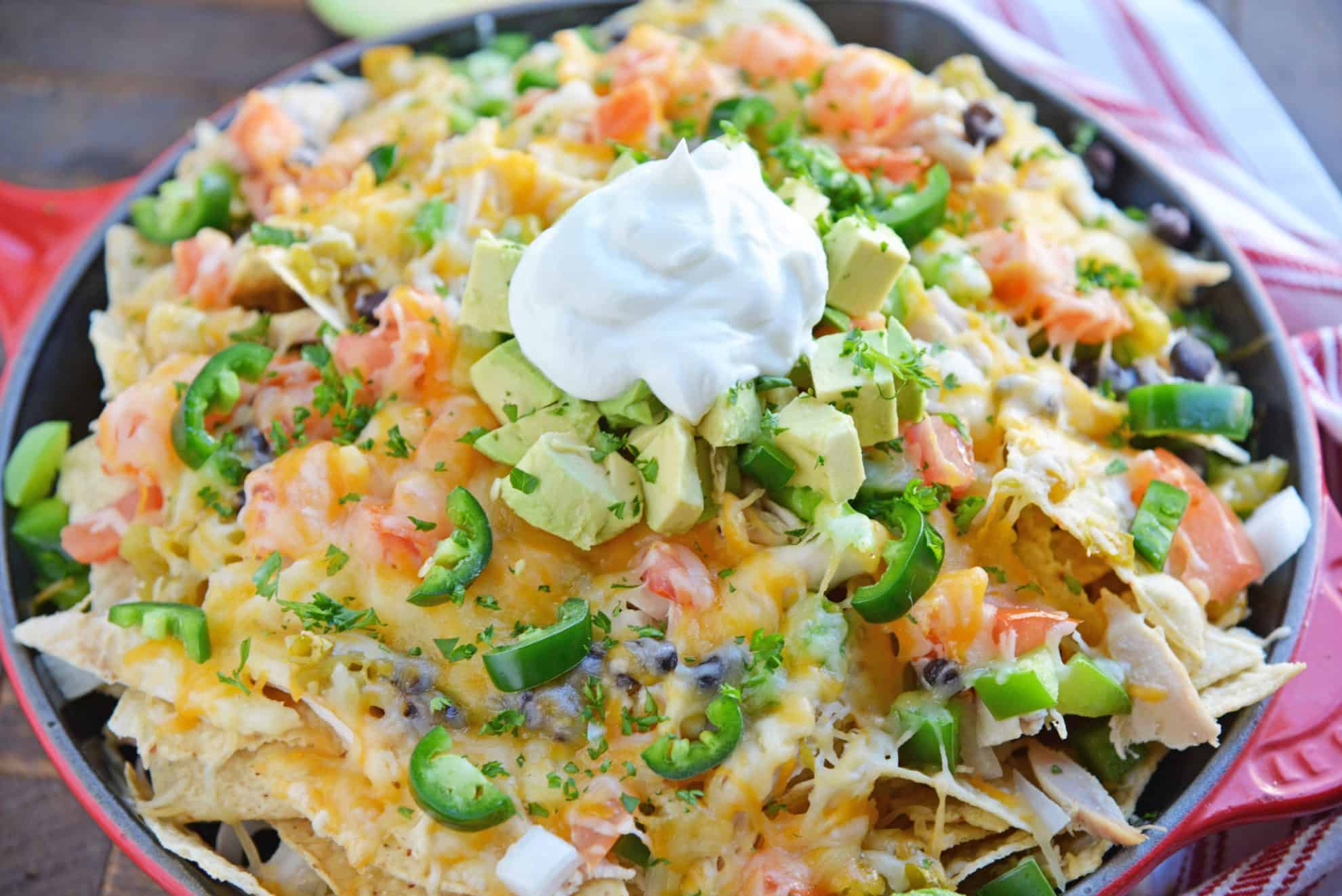 Take the skillet out and repeat the process, returning to oven until the cheese has melted. Then finish with more fresh toppings like lime wedges, cilantro, shredded lettuce or cubed avocado.
Sour cream is, of course, the last element, but I'm not a big fan of sour cream. *Gasp*
But I do like have something cool and creamy to calm my mouth after a bite of fresh jalapeno, so I use plain Greek yogurt. Just as delicious and even thicker and creamier.
Perfect loaded nachos:
Choose a hearty chip
Pick your cheese (freshly shredded cheese is highly recommended)
Choose 5-6 non-saucy toppings
Use a blend of prepared and fresh ingredients
Layer your chips and toppings, melting cheese between
Finish with cool, cold fresh elements
Enjoy your supreme nachos!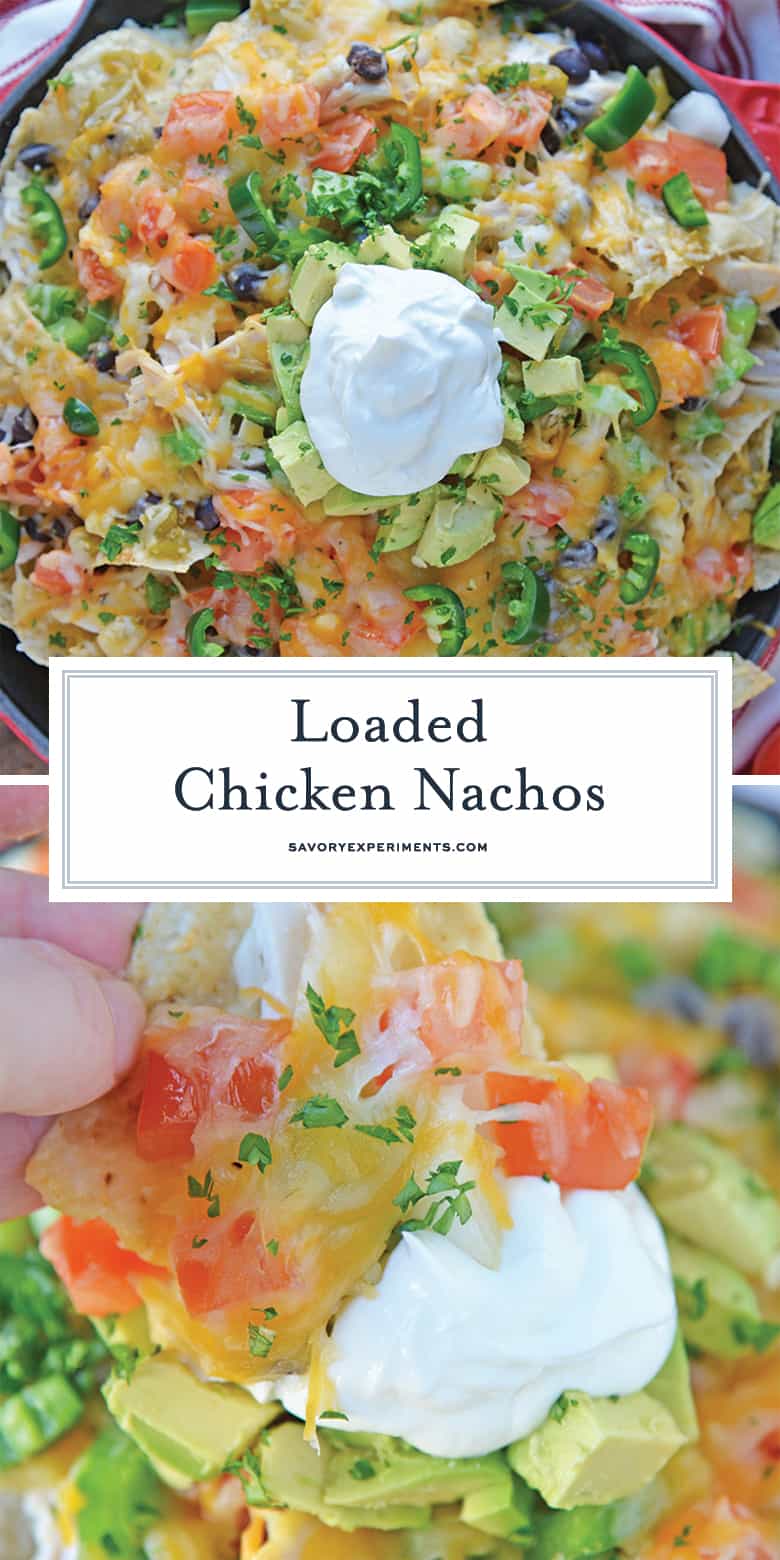 Tater Tot Nachos (Totchos)
Loaded Tater Tot Nachos, also known as Totchos, are the ultimate game day snack. Smothered with cheese, chicken, pico and green chiles, they are sure to make your guests happy!
See The Recipe!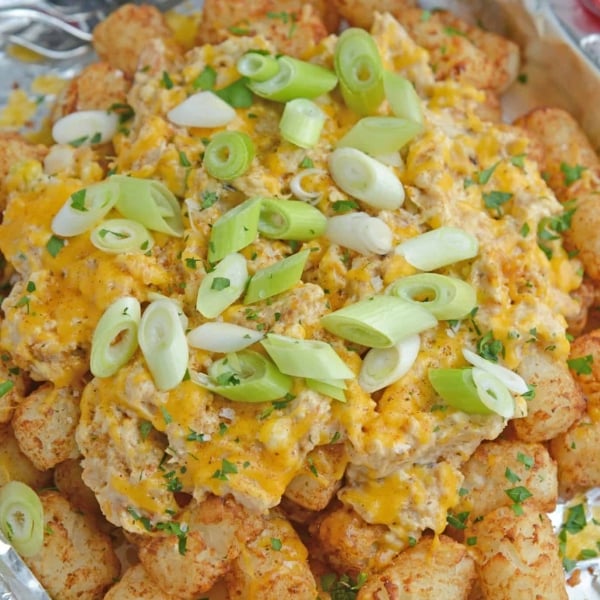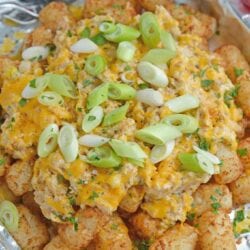 Crabby Totchos
Crabby Totchos are crispy fried tater tots smothered in hot crab dip and topped with melty cheddar cheese. The perfect party appetizer!
See The Recipe!
Tools for making the perfect nachos:
Wood cutting board – wood won't dull your knives like plastic and if treated properly, has natural antimicrobial properties.
Good knife – Global is my favorite! They are worth the price, I promise. I am kind of obsessed with them and store them tucked away so no one else can use them. Including hubby. Hands off my good stuff!
Rimmed Baking Sheet– another kitchen staple! You'll use this for prep work, roasting and much more. I have 7 at my house.
Cast Iron Skillet– Yes they are heavy, yes they take a little extra TLC. Are using cast iron pans worth it? YES!!! Just buy one and you'll thank me later! I have both pre-seasoned and unseasoned. I like them both for different reasons.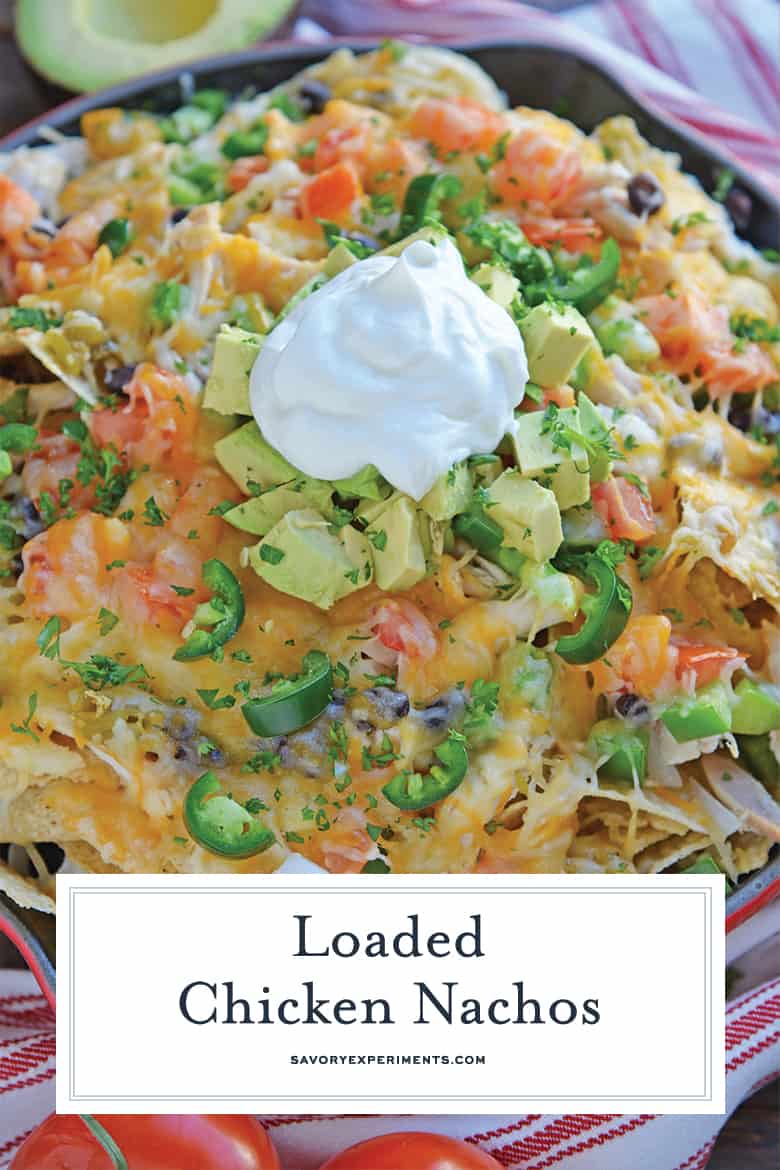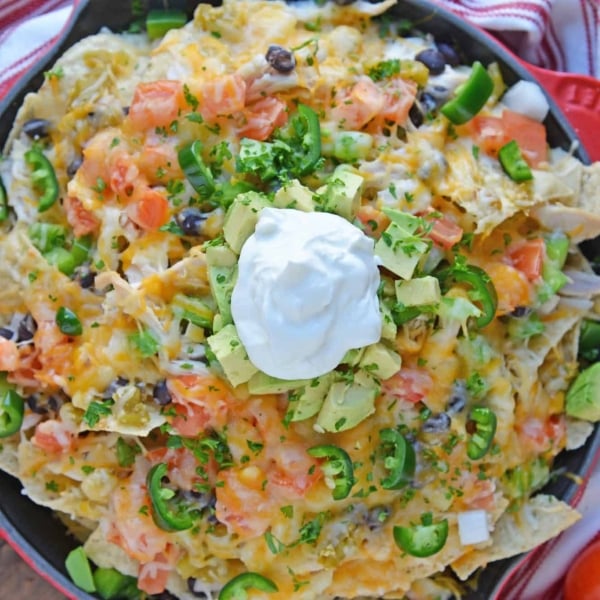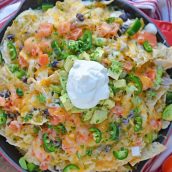 Loaded Chicken Nachos
These Loaded Chicken Nachos are the ultimate nacho recipe! Topped with chicken, cheese and lots of veggies, you could make an entire meal out of these loaded nachos.
Instructions
Spread tortilla chips in a single layer on a rimmed baking sheet. Lining your rimmed baking sheet with aluminum foil will make for an easy clean up. See notes for building skillet nachos.

Equally divide all fresh ingredients including bell pepper, onion, tomato, black beans, chicken, shredded cheese, green chiles, avocado and jalapeno.

Place under high broil for 3-4 minutes, or until cheese has melted.

Remove and drizzle with plain greek yogurt.

If you've tried this recipe, come back and let us know how it was!
Notes
To make skillet nachos, place a single layer of tortilla chips in your skillet, sprinkle each layer with toppings and cheese, creating 3 layers of tortilla chips. Cook and garnish the same way as sheet pan nachos.
Nutrition
Calories:
630
kcal
,
Carbohydrates:
55
g
,
Protein:
23
g
,
Fat:
37
g
,
Saturated Fat:
11
g
,
Cholesterol:
61
mg
,
Sodium:
618
mg
,
Potassium:
538
mg
,
Fiber:
7
g
,
Sugar:
4
g
,
Vitamin A:
1230
IU
,
Vitamin C:
35.8
mg
,
Calcium:
420
mg
,
Iron:
2.8
mg