Of all the things home cooks struggle with, making juicy and flavorful baked chicken breasts seems to be high on the list. While it can be as easy as throwing some rub on them and tossing them in the oven, truly delicious, crave-able, and totally versatile baked chicken takes a few extra (but quick) steps.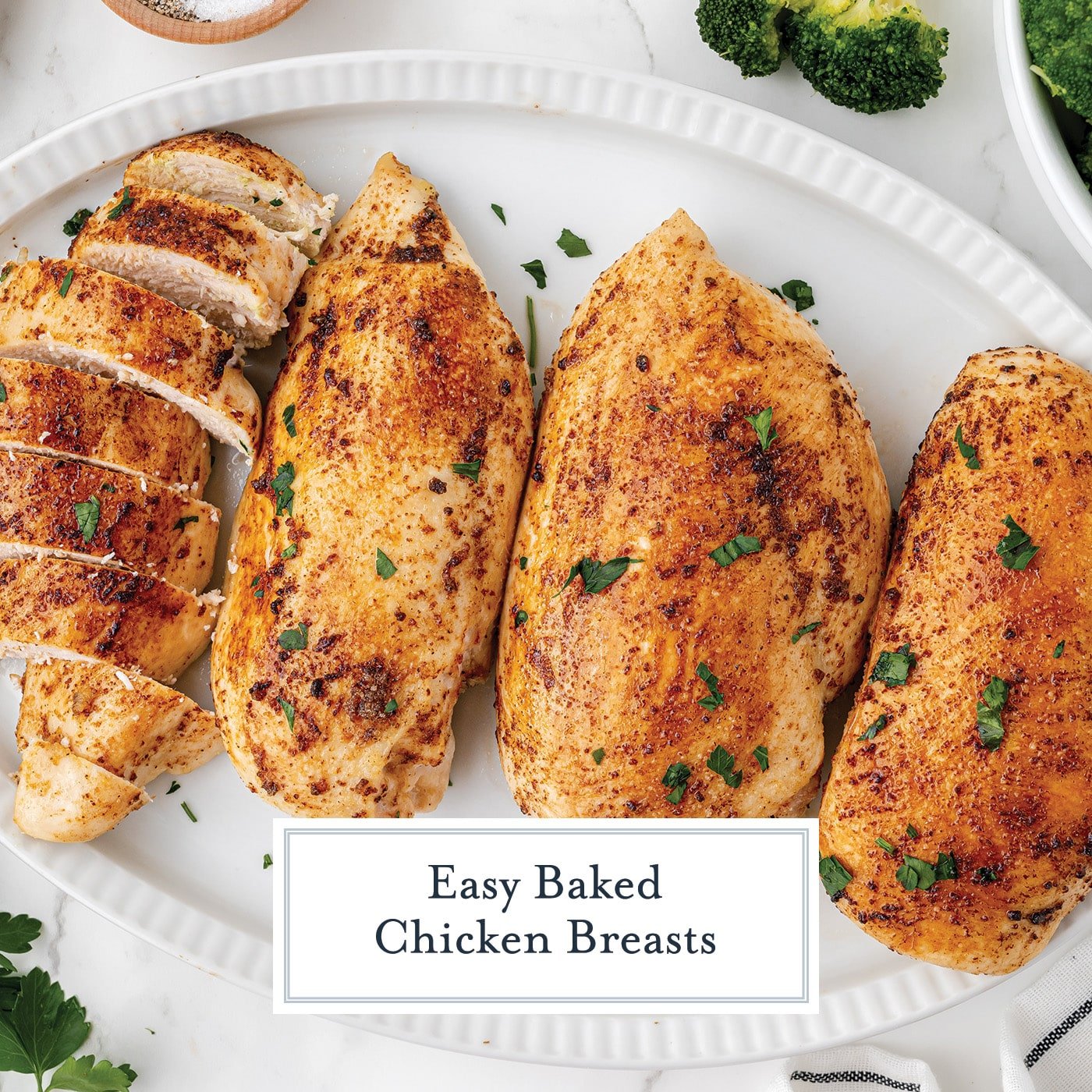 While this baked chicken recipe is perfection with just the seasoning, we take it up a notch with velvety and delicious white garlic sauce.
Why Do You Brine Chicken?
Yes, I realize this step takes a little longer than a quick and easy meal, but it's helpful in ensuring your chicken stays super juicy. Feel free to skip it if you are short on time.
Not only does brine keep the chicken moist, but it also imparts flavor. This recipe calls for salt in the brine, but you can add a variety of other ingredients, from aromatic onion or garlic to your own favorite seasonings — even pickle juice can be used!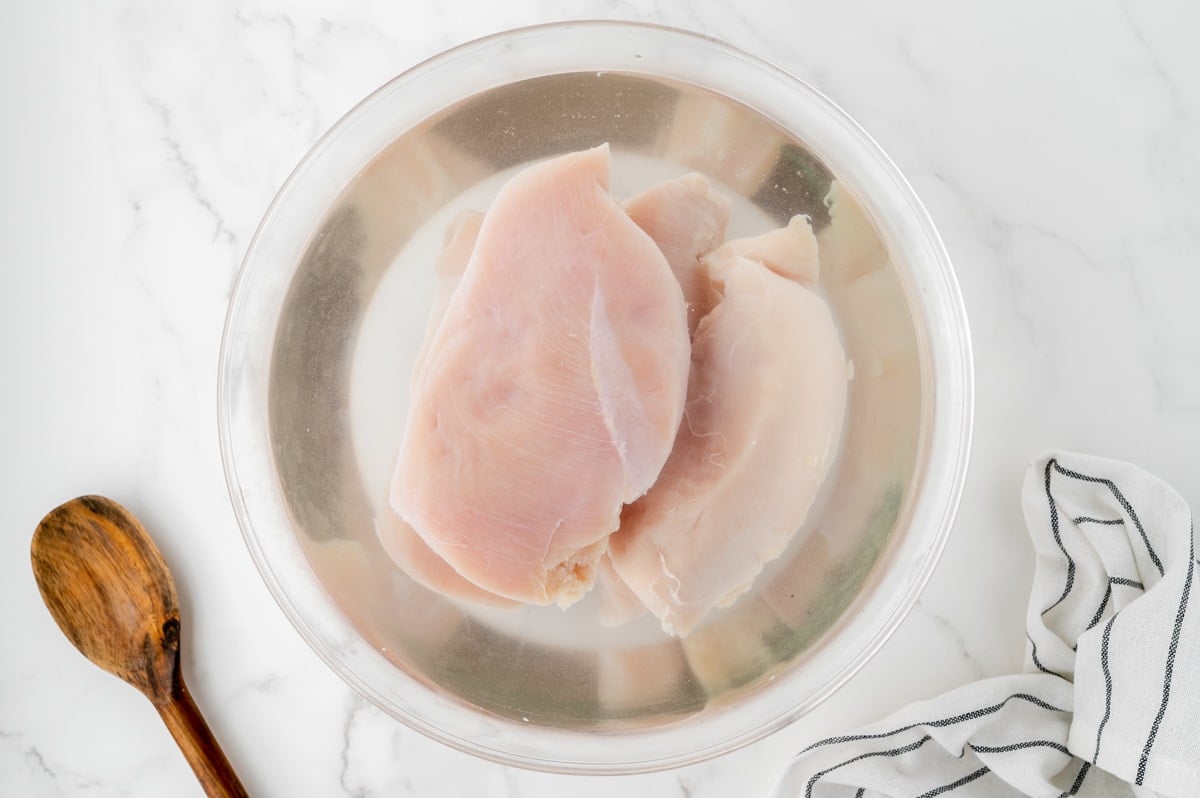 Uses for Baked Chicken Breasts
While most folks are just making chicken to be the main entree, they can also play a role in other meals. Here are a few of our favorite ways to use chicken.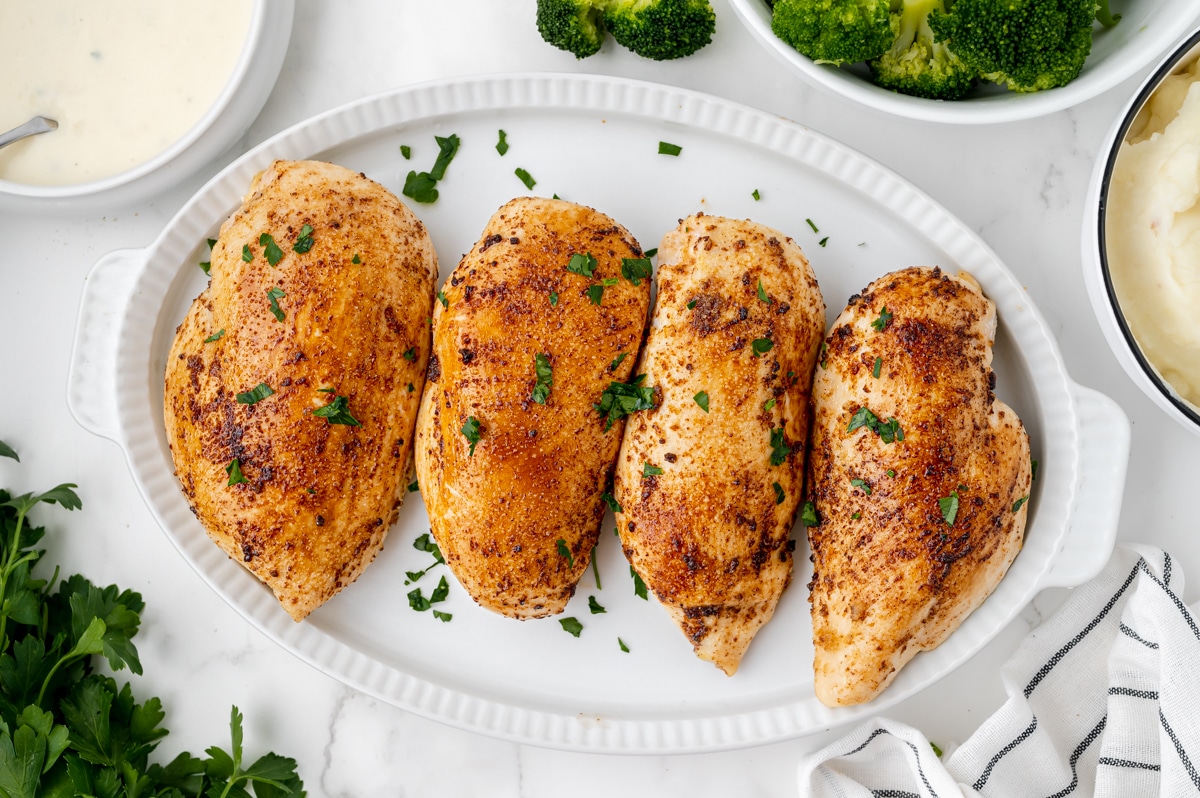 Why Are My Chicken Breasts Dry?
Overcooking
The most common reason chicken breasts are dry is that they are overcooked. Home cooks are terrified of undercooking chicken, so they often unintentionally overcook it. The quick and easy solution is to have a digital instant thermometer to chicken the temperature.
Baked chicken should reach an internal temperature of 160°F in the oven and will achieve a temp of 165°F while resting.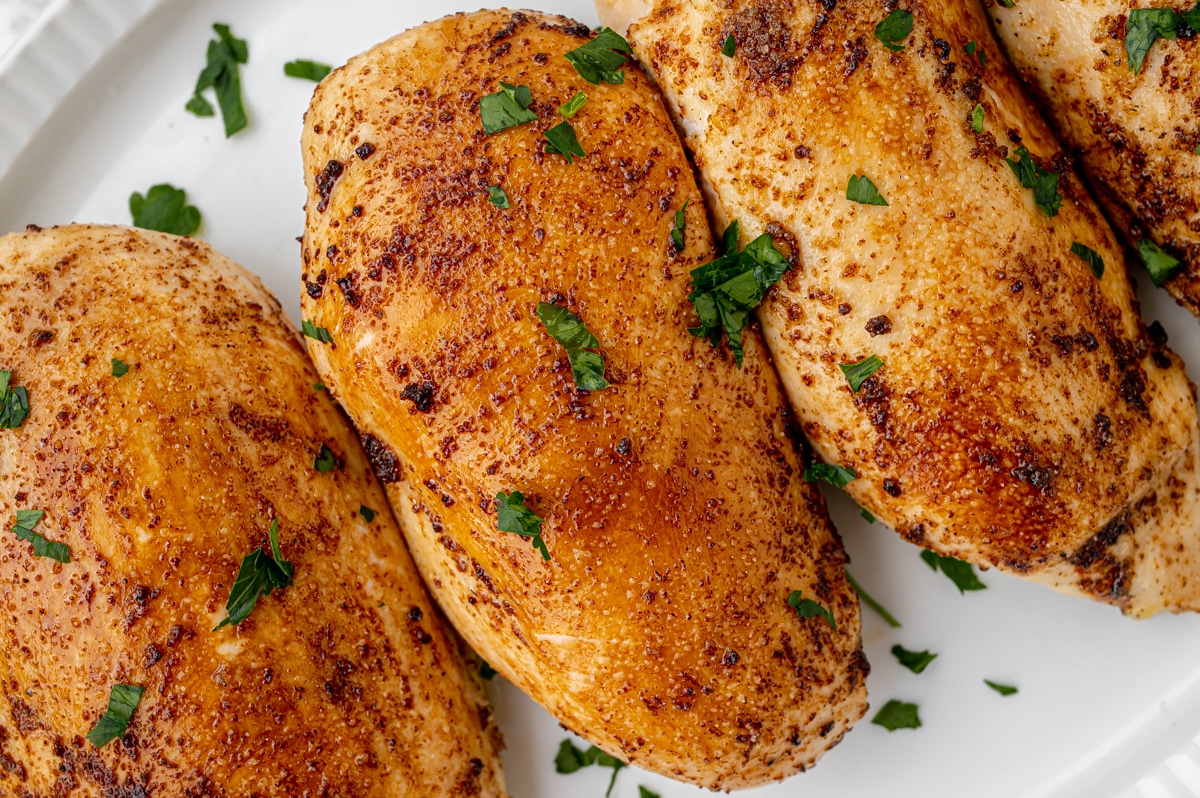 Uneven Shapes
This issue is unavoidable. Chicken breasts are naturally unevenly shaped, and therefore the thick, meaty side needs longer to cook than the thin tapered side. Brining helps prevent this because the thin side will absorb the brine at a faster rate than the thick side.
Tenderizing until they reach an even thickness is another option, but then you'll have funky-looking shapes too.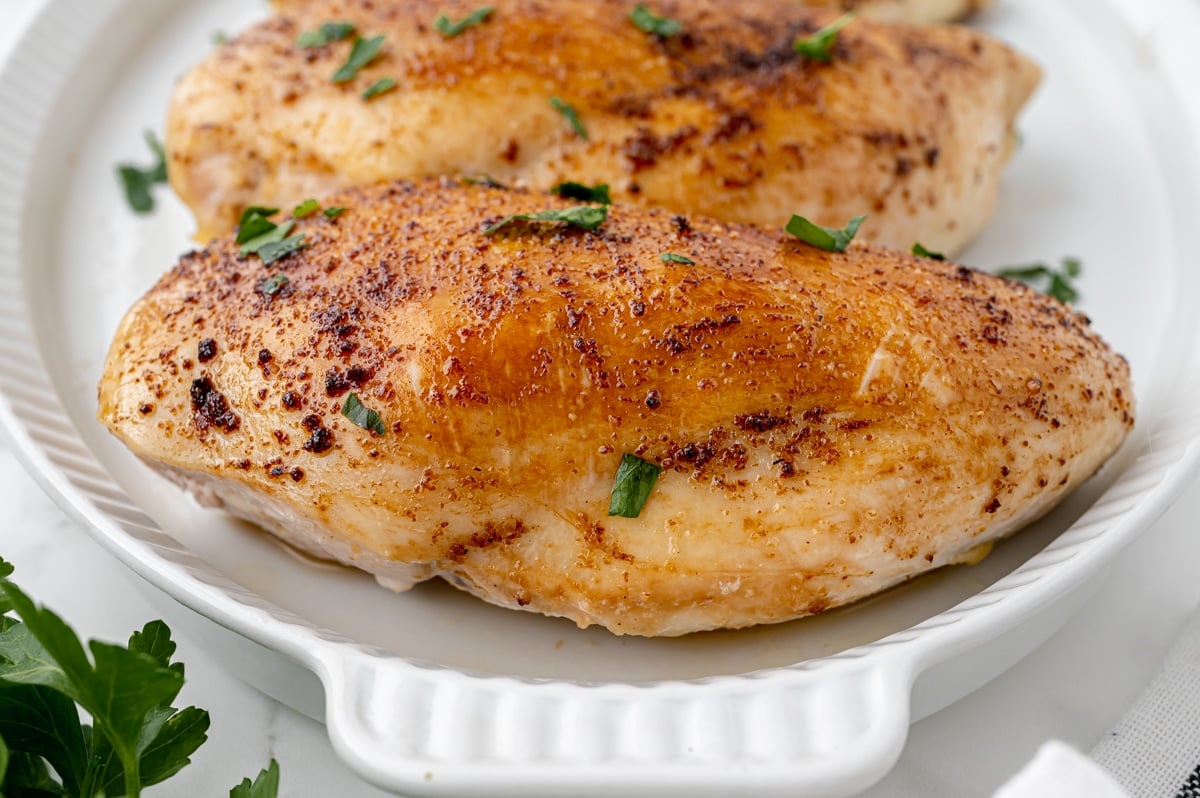 Failure to Rest
Time and time again, I preach about the importance of letting meats rest. This allows the juices to reabsorb back into the fibers so the juices stay in the chicken and do not run all over the plate.
Chicken should rest for 5-10 minutes. This also allows for the carry-over cooking phenomenon that will help it achieve the correct temperature. And no, your chicken will not be cold. Tent it with aluminum foil if you are super worried.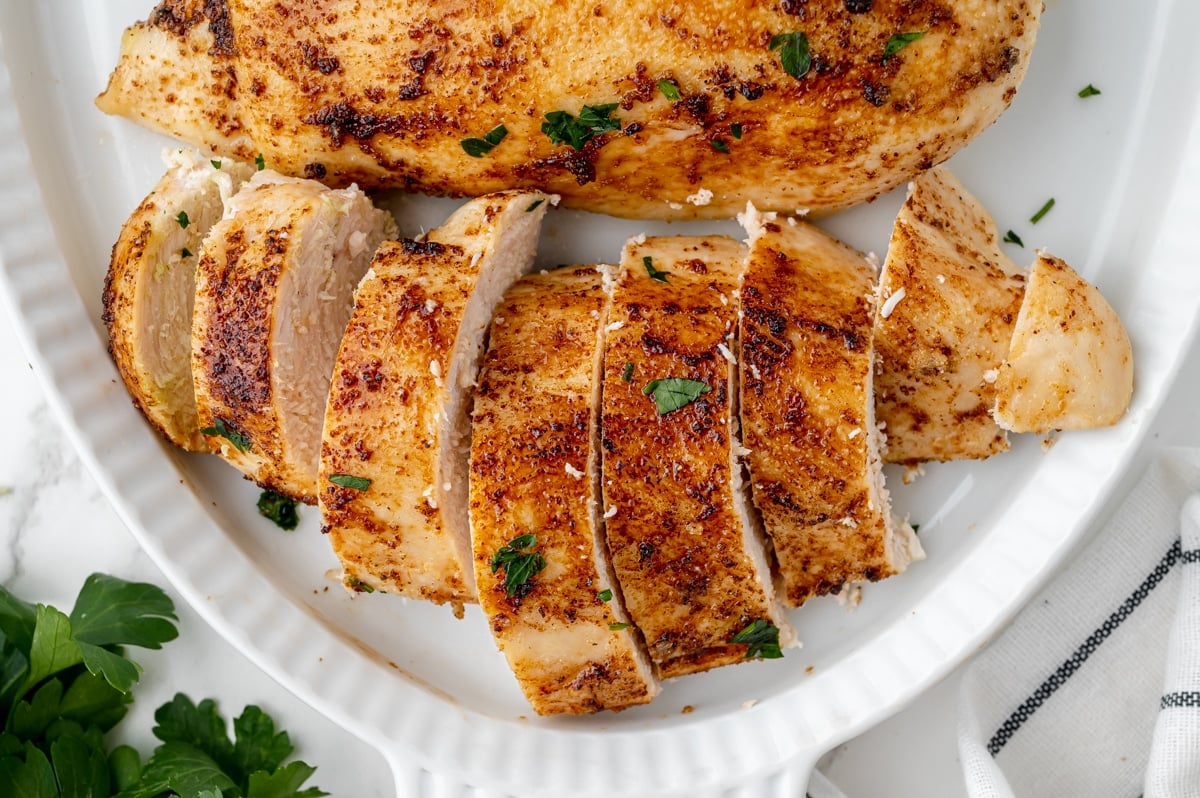 White Garlic Sauce
The sauce is totally optional, but you know I like it saucy! This basic sauce is used for everything from dipping pizza crusts to topping elegant meals, so why not take baked chicken to the next level too?
If the sauce isn't as thick as you want it, add more cheese. If the sauce is too thick, add an additional splash of milk.
Fresh herbs are optional as well. This is usually a combination of random items I have in my vegetable crisper or the garden. One teaspoon of dried herbs can also be used.
Parsley
Tarragon
Mint
Cilantro
Basil
Marjoram
Rosemary
Thyme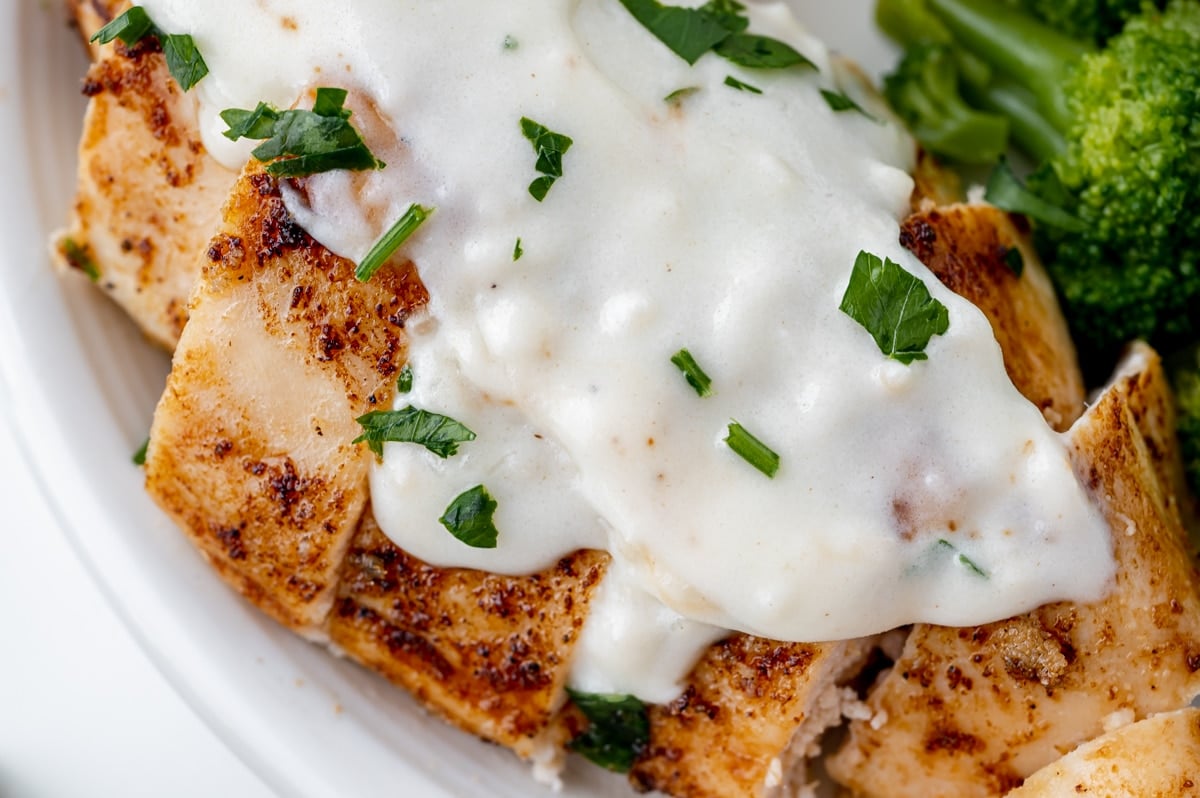 Why You'll Love Juicy Baked Chicken Breasts
There are so many reasons to love this simple chicken recipe.
Simple – There are no fancy techniques necessary to make the best, most juicy chicken.
Versatile – You can serve this for an easy weeknight dinner or dress it up for when company comes over. It's also perfect for meal prep.
Convenient – All of the ingredients are easy to find at the grocery store.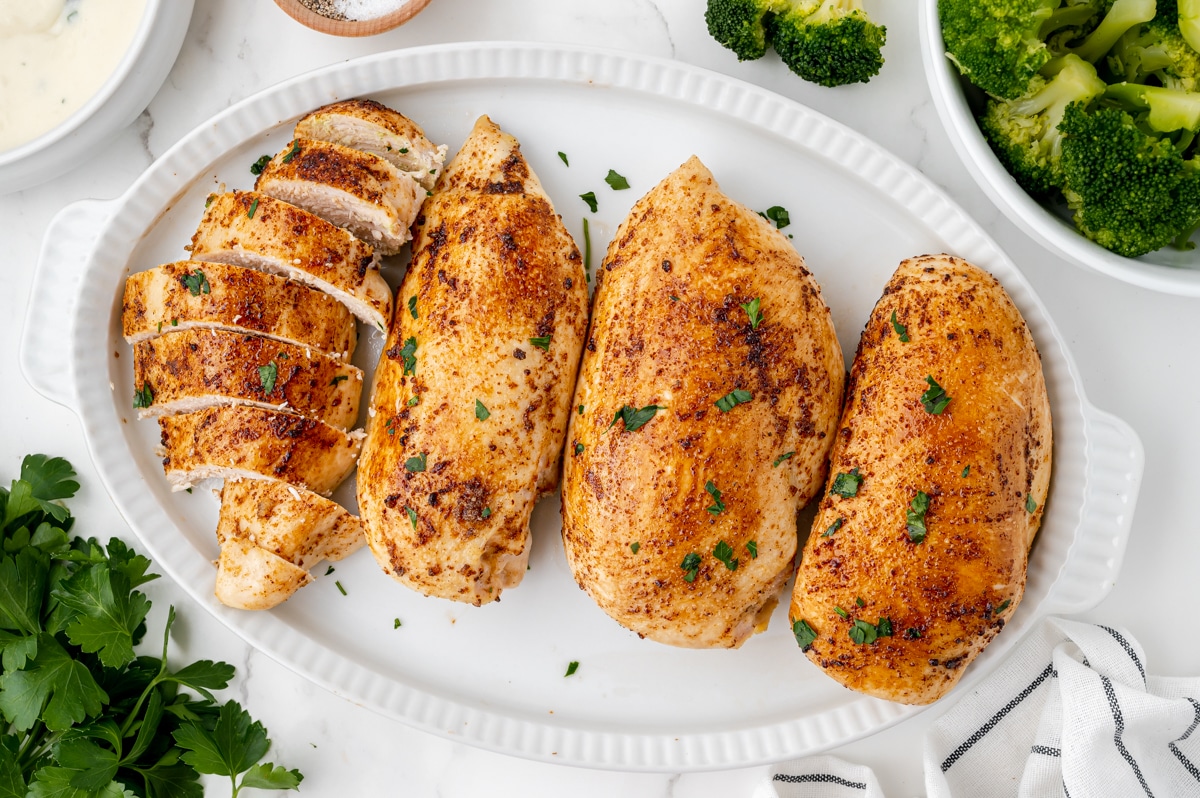 Ingredients
These simple ingredients come together to create the most delicious chicken breasts.
Baked chicken
Boneless skinless chicken breasts, trimmed of excess fat: Trimming the fat helps to give the chicken breasts a uniform shape. This way, they can cook more evenly.
Coarse kosher salt: Salt is used to make the simple brine.
Seasoned salt: This flavorful blend of spices and herbs provides a savory and well-rounded flavor.
Garlic powder: Garlic powder adds aromatic flavor to the meat.
Onion powder: This powder complements the other ingredients
White ground pepper: White ground pepper has a slightly floral taste and a subtle spiciness. You can use black pepper instead if you don't have white pepper handy.
Unsalted butter, melted: Melted unsalted butter helps to keep the chicken moist while cooking.
White Garlic Sauce
Unsalted butter: Butter helps to build a rich and creamy base for the sauce.
Garlic cloves, minced or pressed: Garlic helps to define the flavor of this aromatic sauce.
Flour: Combining the flour with the butter helps to make the roux.
Whole milk or half and half: This dairy component helps to form a rich, luxurious texture.
Parmesan or pecorino cheese, freshly and finely grated: Cheese helps to thicken and flavor the sauce.
Ground white pepper: White pepper imparts a slight bit of heat.
Coarse kosher salt: Salt enhances the flavors of the other ingredients.
Fresh herbs, chopped (optional): Herbs add vibrant color and fresh flavor to the sauce.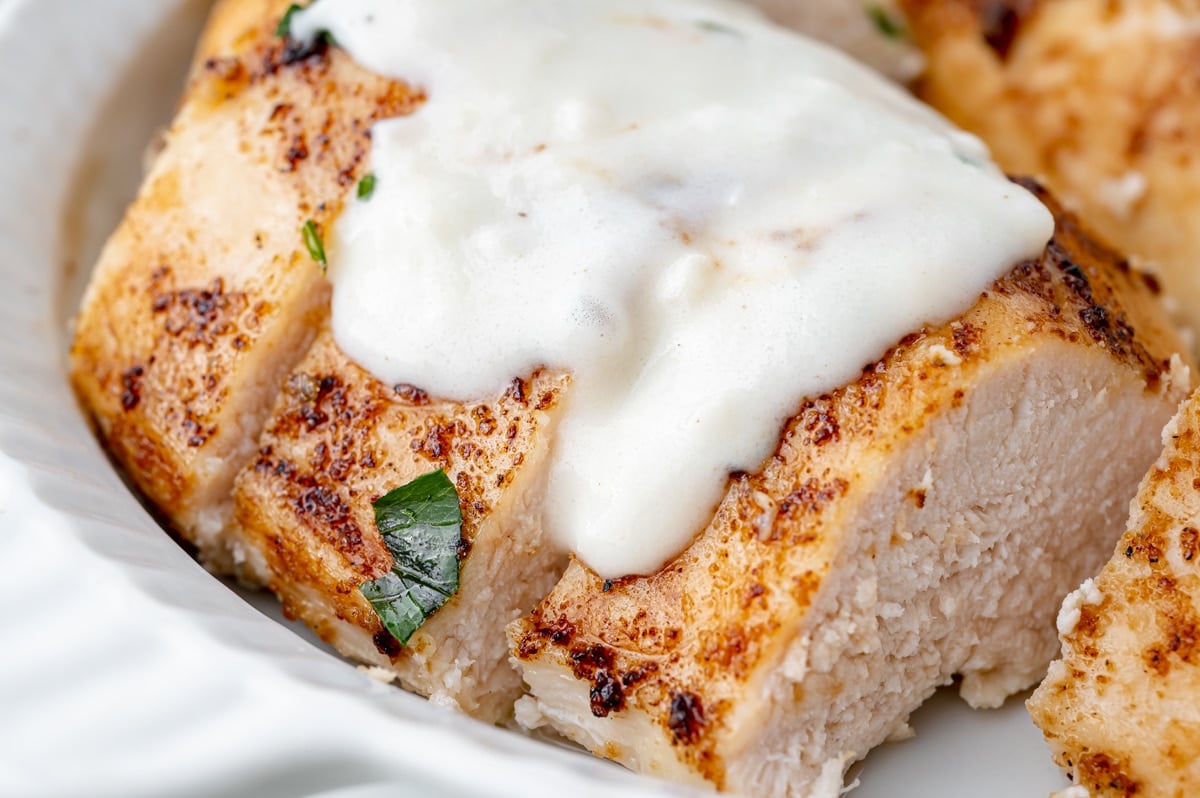 How to Make This Chicken Breasts Recipe
These chicken breasts, with the velvety garlic cream sauce, are so easy to make that this may become your go-to chicken recipe.
Chicken Breast Instructions
Stir together warm water and salt in a large mixing bowl.
Place the chicken breasts into the water and salt mixture, ensuring that they are completely covered by the water.
Refrigerate the chicken.
When ready to bake, place the chicken breasts on a prepared baking sheet lined with parchment paper after patting the chicken dry with paper towels.
Whisk together the seasoned salt, garlic powder, onion powder, and pepper in a small bowl.
Brush the melted butter over the chicken.
Sprinkle the seasoning mixture over top of the chicken, ensuring that it is evenly applied.
Bake chicken breast until the internal temperature reaches 160-165 degrees Fahrenheit on a meat thermometer stuck into the thickest part of the breast. The cooking time may vary depending on if you use large chicken breasts or medium-sized breasts.
Remove the chicken from the oven.
Let chicken rest under tented aluminum foil before serving.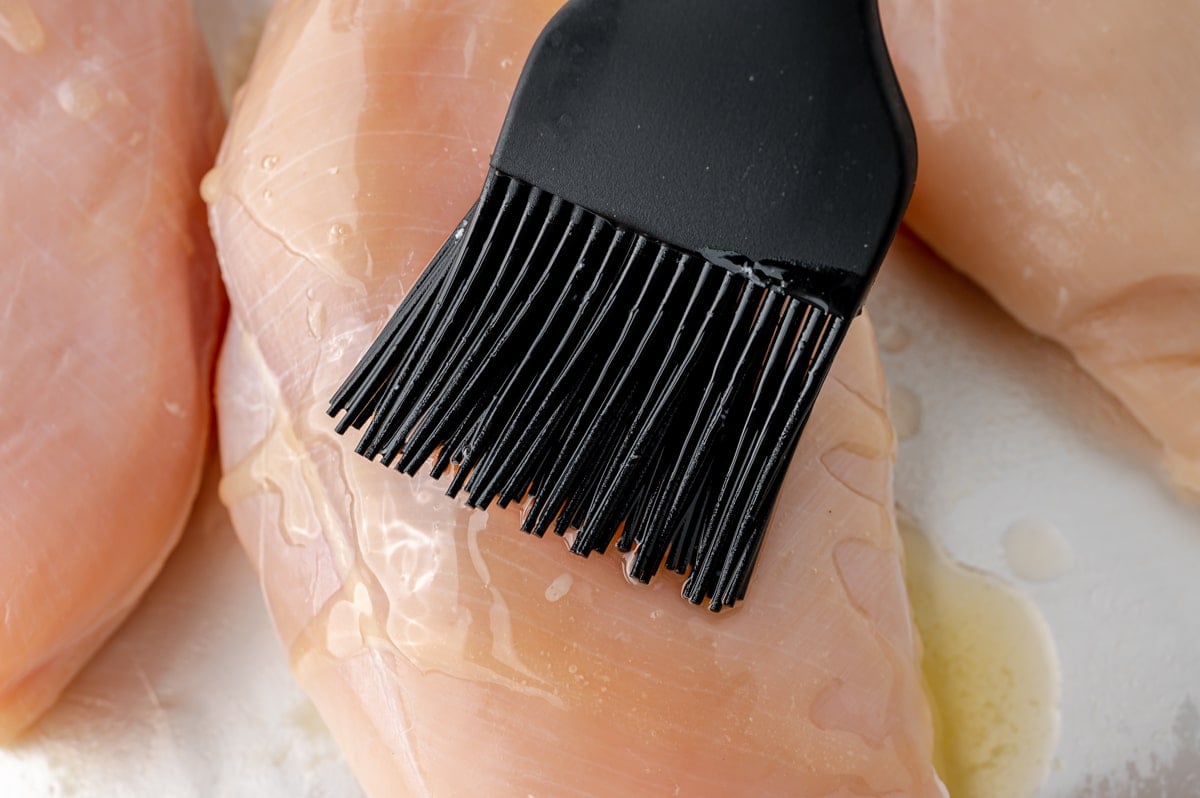 White Garlic Sauce Instructions
Add the butter to a heated medium saucepan and melt.
Add the garlic to the melted butter and saute.
Pour in the flour and whisk together until completely combined.
Add the milk to the flour and butter mixture and whisk until silky smooth.
After turning down the heat, add the cheese, pepper, salt, and herbs.
Whisk together until cheese melts.
Remove from heat and serve.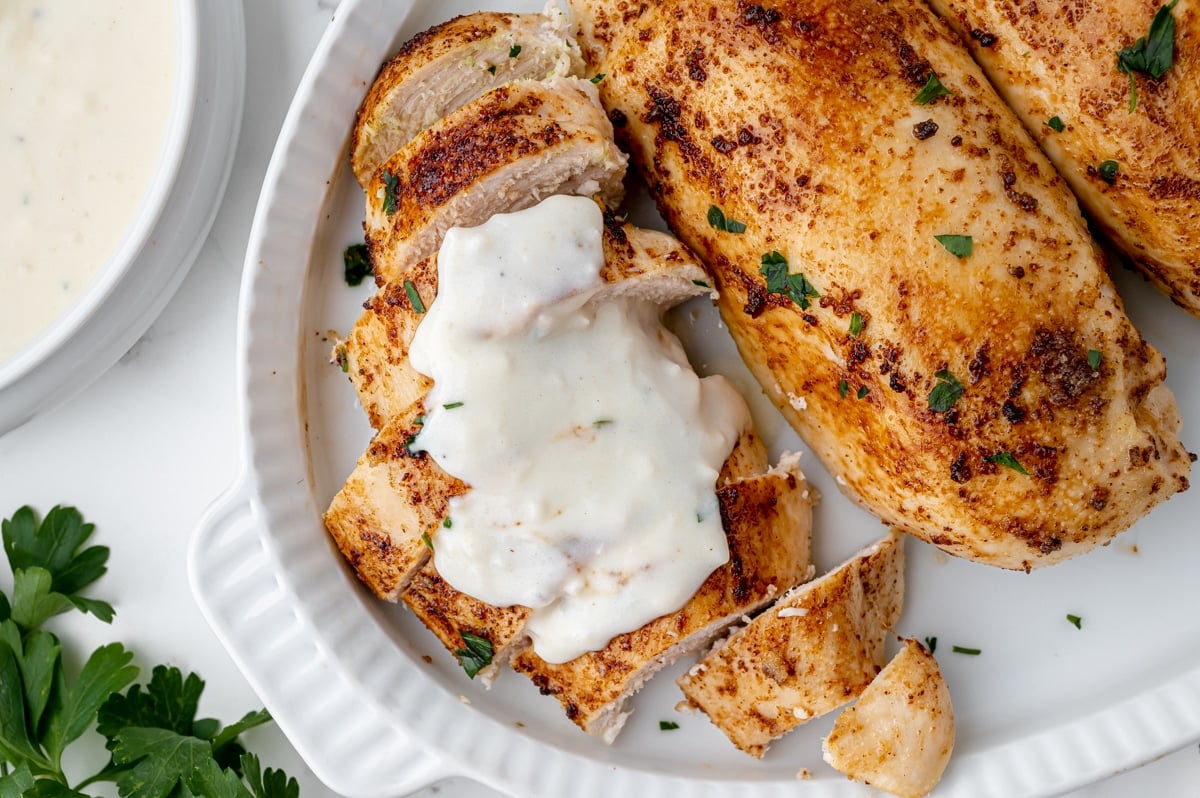 What to Serve with Oven Baked Chicken Breast
Juicy baked chicken breasts go with nearly any side dish. For veggie-based side dishes, try serving it alongside balsamic roasted root vegetables, broccoli fritters, or roasted cauliflower with parmesan.
For starchier sides, try mashed potatoes, macaroni and cheese, or lemon saffron risotto.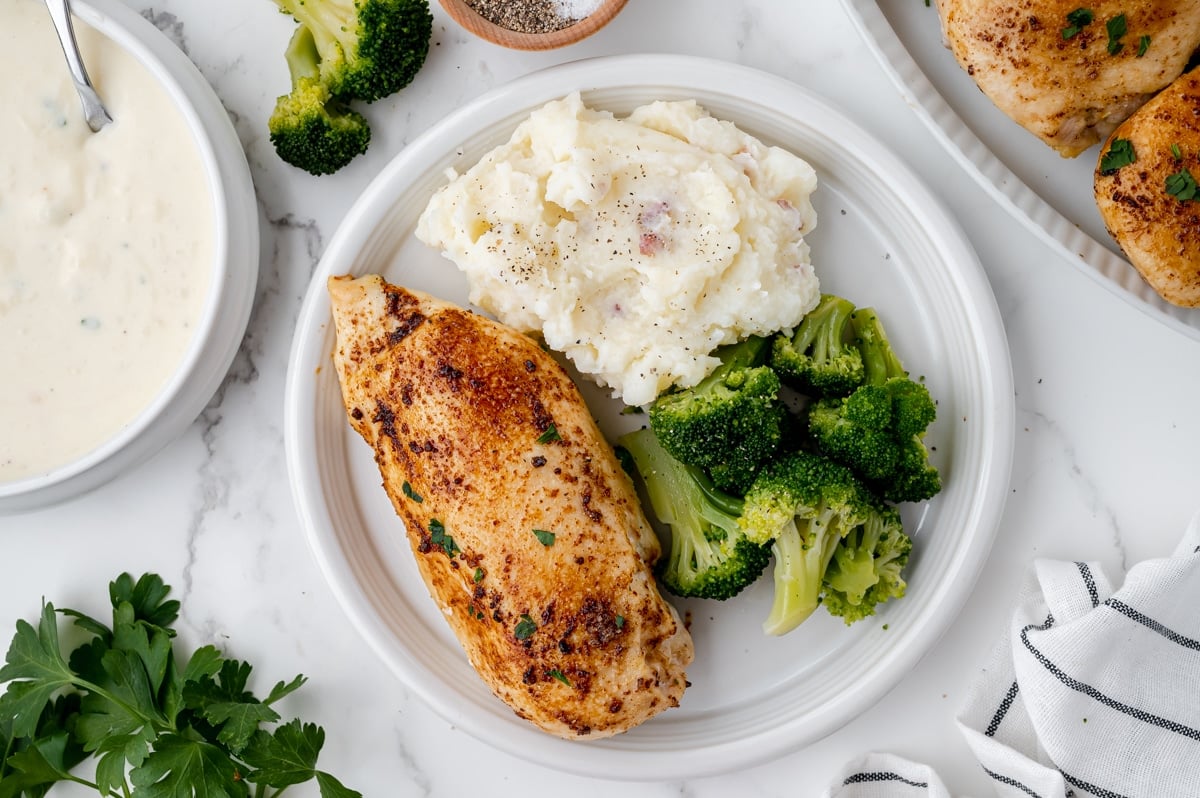 Variations on Easy Baked Chicken Breast
This is a basic recipe that you can build on with your own creative twists.
Seasonings – Instead of our simple seasoning blend, use your own favorite seasonings to apply to the chicken before baking. For some heat, try chili powder, cayenne pepper, or taco seasoning, and for Italian flavor, try using Italian seasoning.
Brine – Add different spices to change up the flavor of the brine.
Sauce – Use a sauce like Jamaican jerk sauce, ranchero sauce, or bbq sauce.
Meat – Instead of chicken breasts, consider using chicken thighs instead.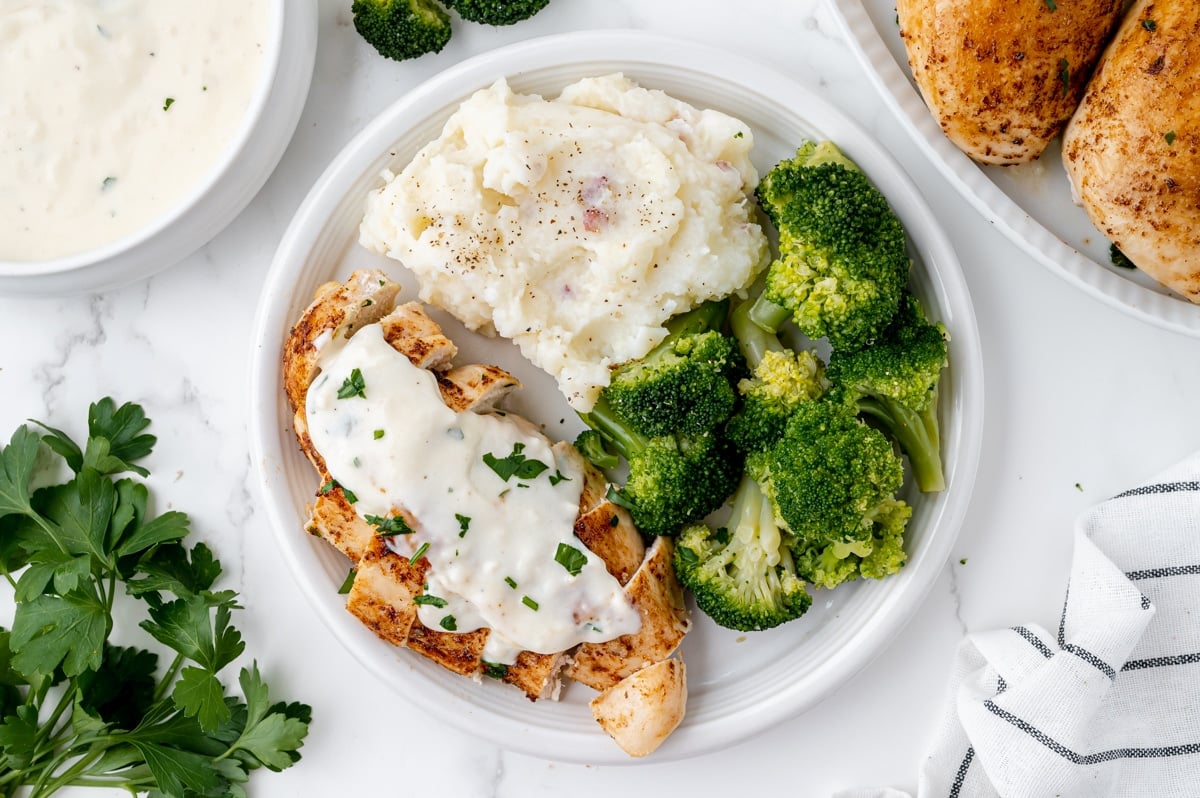 Storage
Baked chicken is so versatile. Just store it in the fridge or freezer for when you need to easily add some protein to your meal.
Make-Ahead: Meal prep by making the chicken ahead of time and keeping it in the fridge for quick sandwiches and salads.
Refrigerator: Once it has cooled to room temperature, store baked chicken in an airtight container or wrapped in plastic wrap in the refrigerator for 3-4 days.
Freezer: Freeze leftover chicken for up to 3 months in resealable freezer bags or a freezer-safe container.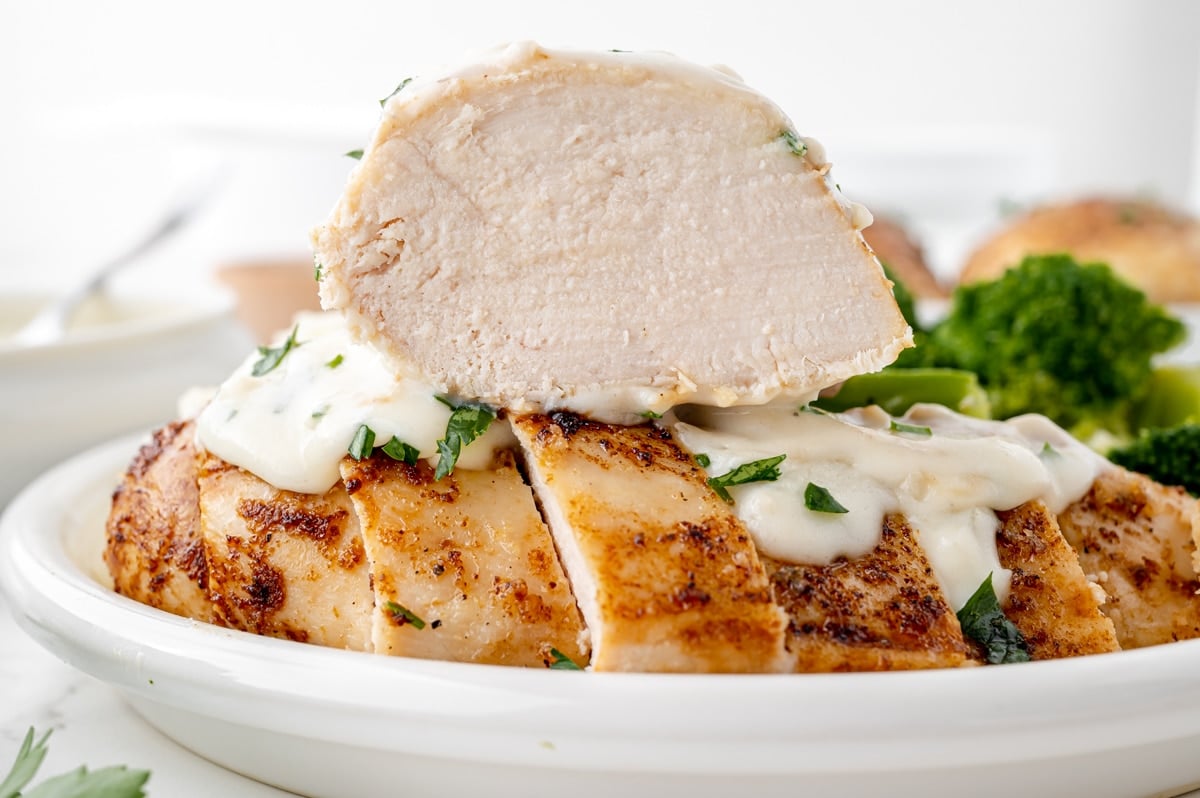 Common Questions About Juicy Baked Chicken Breasts
How do you keep chicken juicy in the oven?
Using bone-in chicken breasts instead of a boneless chicken breast can help the chicken to be juicy, as well as using a brine. You can also cook it at a lower temperature, and be sure to let it rest before serving.
Does covering chicken make it juicy?
Allowing the chicken to rest while tenting it with aluminum foil does help the chicken to become juicy after baking.
What is the easiest way to cook chicken breast?

This recipe is probably one of the easiest ways! Just pop it in the oven after brining and seasoning.
More Easy Chicken Recipes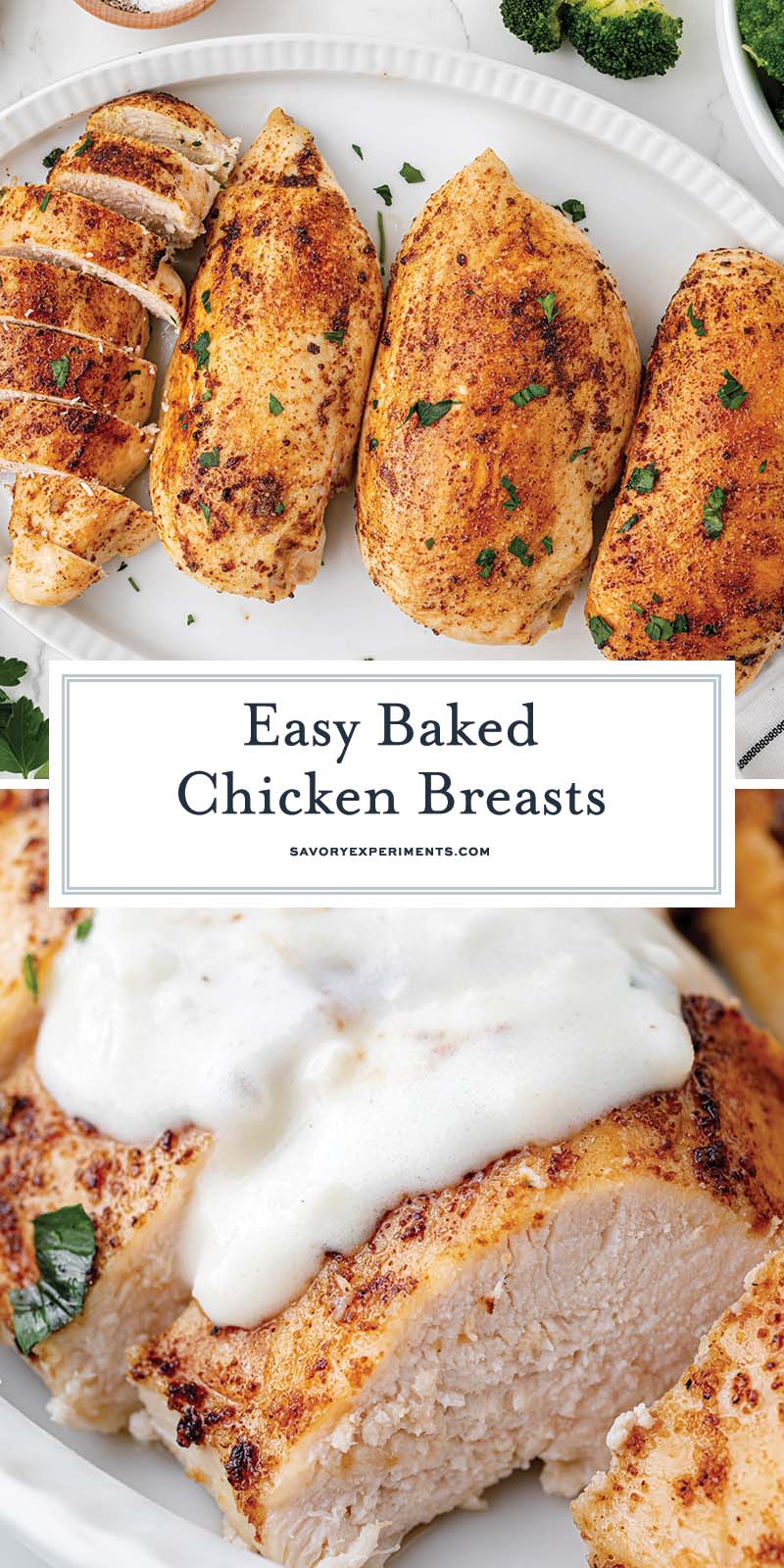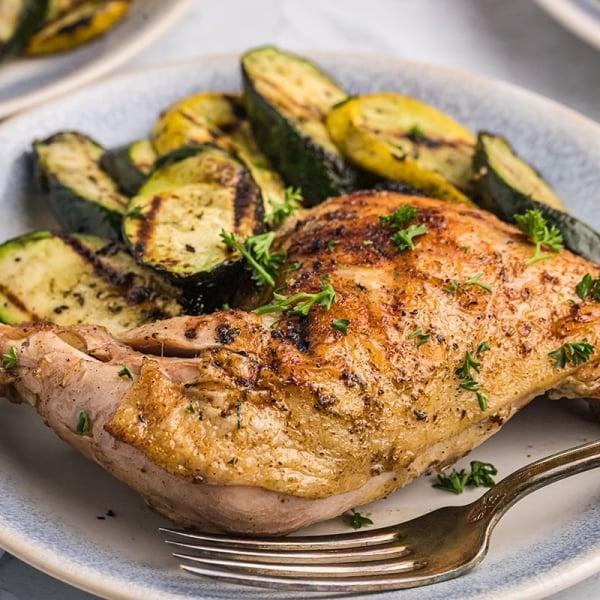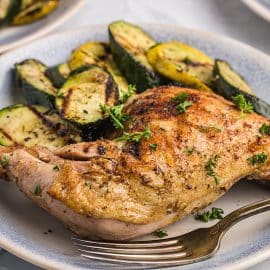 Fireman Chicken
Fireman Chicken, also known as Cornell Chicken BBQ, is a classic BBQ chicken marinade that originated in upstate New York, but is making its way through the states!
See The Recipe!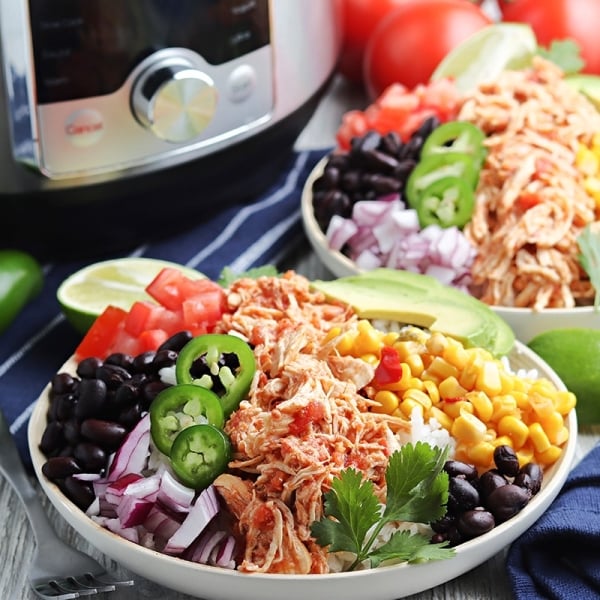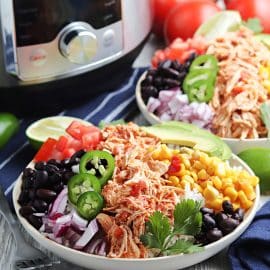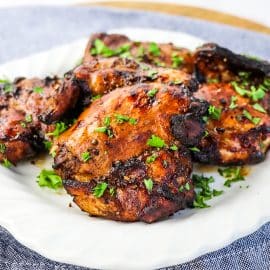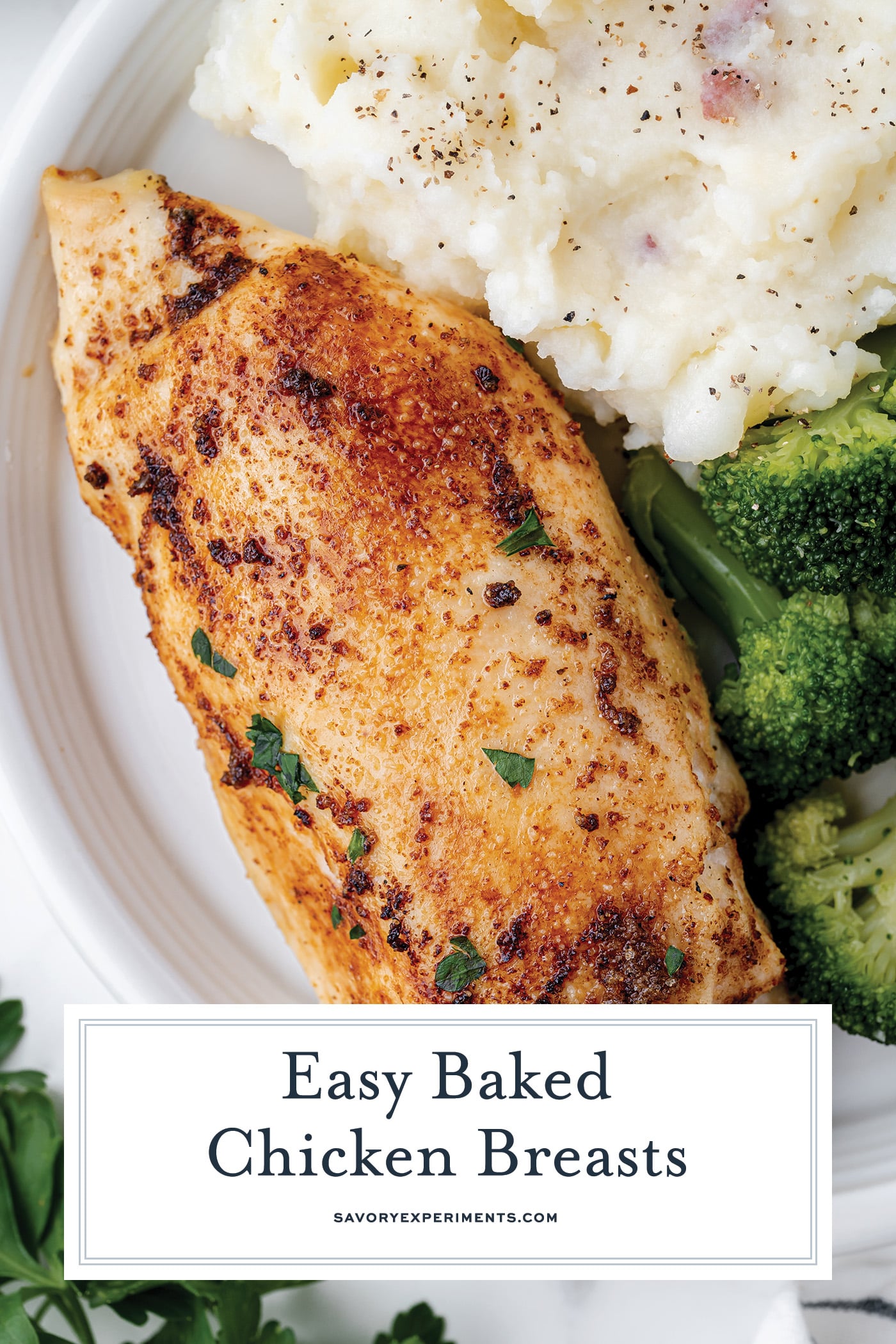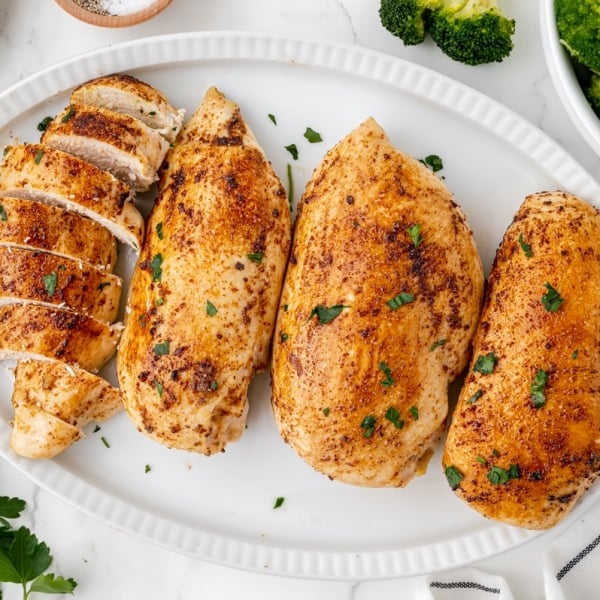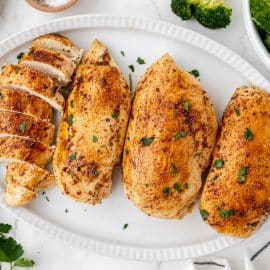 Juicy Baked Chicken Breasts
These JUICY Baked Chicken Breasts are delicious on their own with a simple seasoning, but we take it up a notch with a White Garlic Sauce!
Instructions
Baked Chicken Breasts:
Fill a large mixing bowl about halfway with warm water and stir in the salt until nearly dissolved. Add the chicken breasts and add more water if they are not fully submerged. Place in the refrigerator for 1-4 hours.

When ready to bake, preheat the oven to 400°F. Line a rimmed baking sheet with parchment paper or aluminum foil for easy clean up. Set aside.

Remove the chicken breasts from the brine, discarding the liquid. Pat dry with paper towels and place into the prepared baking sheet about 2 inches apart.

In a small bowl, stir together the seasoned salt, garlic powder, onion powder and pepper.

Baste each breast with melted butter and then evenly sprinkle with the seasoning mixture.

Bake, uncovered, for 18-20 minutes or until the chicken is lightly browned and reaches an internal temperature of 160-165°F.

Remove and allow to rest for 5-10 minutes.
White Garlic Sauce:
Melt the butter in a medium saucepan over medium heat. When melted, add the garlic, sauteing for 1 minute. Whisk in the flour to make a paste and then whisk in the milk until smooth (except for garlic bits).

Reduce heat to low and whisk in the cheese, pepper, salt and fresh herbs. When cheese has melted, remove from the heat until ready to serve.
Serving:
When ready to serve, spoon the white garlic sauce generously over the chicken breasts.

If you've tried this recipe, come back and let us know how it was in the comments or star ratings!
Notes
Chicken breasts vary greatly in size and shape and thus, cooking times will also vary. Make sure to keep an eye on them and use an instant digital thermometer. Smaller breasts can take only 15 minutes, while super big ones, up to 23 minutes.
Nutrition
Calories:
494
kcal
,
Carbohydrates:
10
g
,
Protein:
55
g
,
Fat:
25
g
,
Saturated Fat:
13
g
,
Polyunsaturated Fat:
2
g
,
Monounsaturated Fat:
7
g
,
Trans Fat:
1
g
,
Cholesterol:
195
mg
,
Sodium:
2021
mg
,
Potassium:
985
mg
,
Fiber:
1
g
,
Sugar:
3
g
,
Vitamin A:
670
IU
,
Vitamin C:
4
mg
,
Calcium:
206
mg
,
Iron:
2
mg