This is an easy Chicken Tortilla Soup that can be on your table in less than an hour. A rich tomato broth with a bit of spice and large chunks of chicken make this a hearty and comforting meal!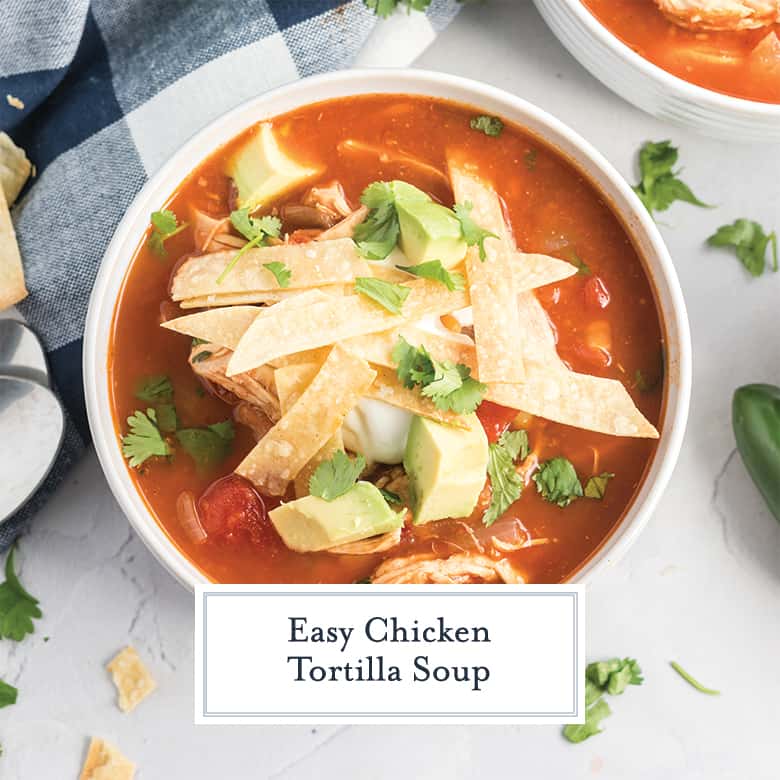 An easy chicken tortilla soup that is rich and hearty. Full of veggies, chicken, and a little bit of spice, this soup leaves you reaching for more.
Soup is a great meal any time of the year. It is comforting and familiar and is equally great for lunch or dinner. Some of my favorites are:
This tortilla soup is rich and hearty, full of vegetables, chicken and just a little bit of spice, it is one of our favorites.
One of the reasons I love this soup so much is that it is so quick to make, and it doesn't need a long simmer time to develop great flavor.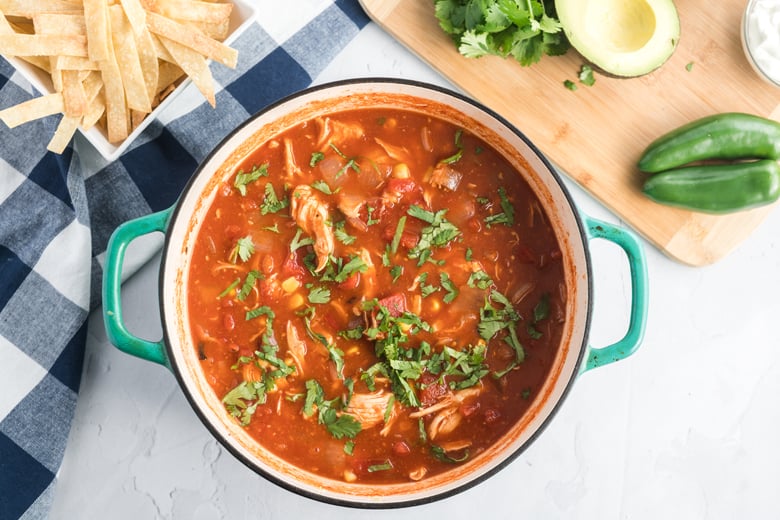 It is seasoned with simple spices and I add a bit of chopped chipotle peppers and adobo sauce to my chicken tortilla soup to give it a nice heat without being overpowering. The chipotle peppers are completely optional, if your family doesn't like spicy food, you can just leave these out.
PRO TIP: Using a pre-cooked rotisserie chicken makes this soup really quick and easy. Simply remove the skin and shred the meat before adding it to the pot.
Of course, if you love heat, go ahead and add as many peppers as you like. Sometimes I will even chop up some fresh jalapenos if I have them on hand.
This homemade Chicken Tortilla Soup is one of those meals that is hard to mess up. You can easily customize it however you like; add extra vegetables, remove the ones you don't like, and make it as spicy or mild as your family prefers.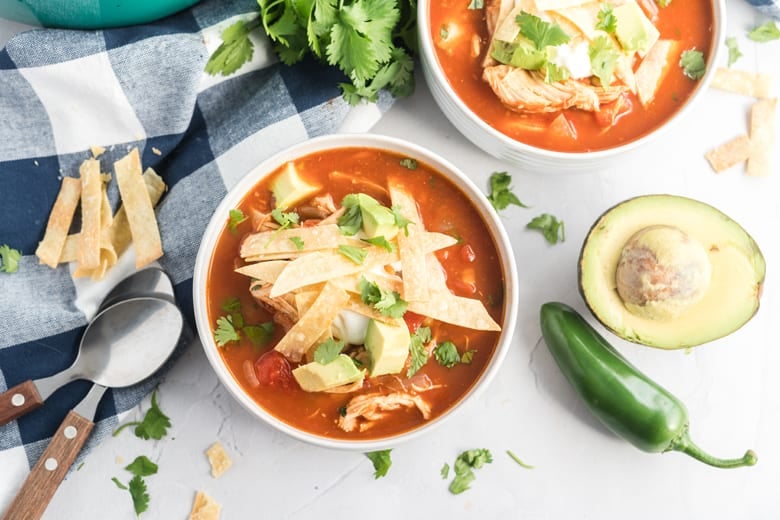 One of the best components of this chicken tortilla soup is in the homemade, crispy tortilla strips. They are so easy to make and add a great crunch to the finished soup. I like to season mine with a bit of course salt, but if you want to change things up you can use seasoning salt or taco seasoning.
PRO TIP: If you don't want to make your own tortilla strips you can use any store-bought tortilla chips instead.
How should I serve chicken tortilla soup?
Tortilla soup is all about the toppings and there are so many great toppings to serve with this soup. You can add as many or as few as you like. Some great choices are:
Diced or sliced avocado
Sliced jalapeno peppers
Sour cream
Cheese
Fresh cilantro
Fresh diced tomatoes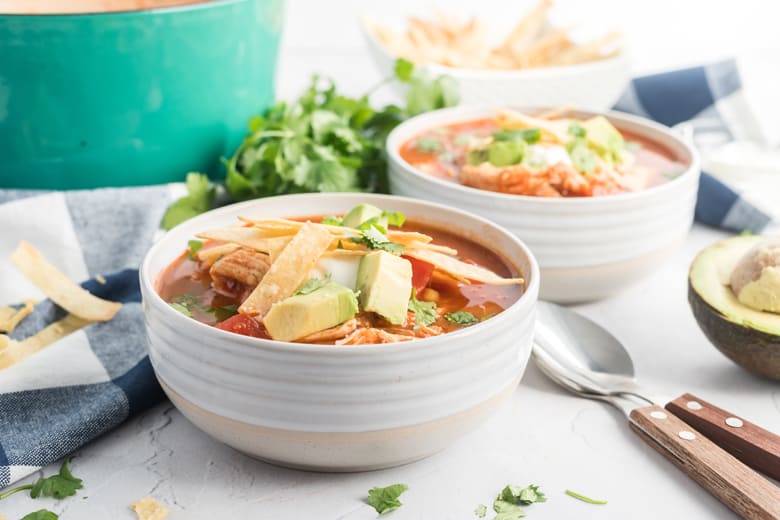 Can chicken tortilla soup be frozen?
Yes. This soup freezes very well and makes great grab and go lunches. Simply pour into airtight containers once the soup has cooled and freeze. It will keep several months.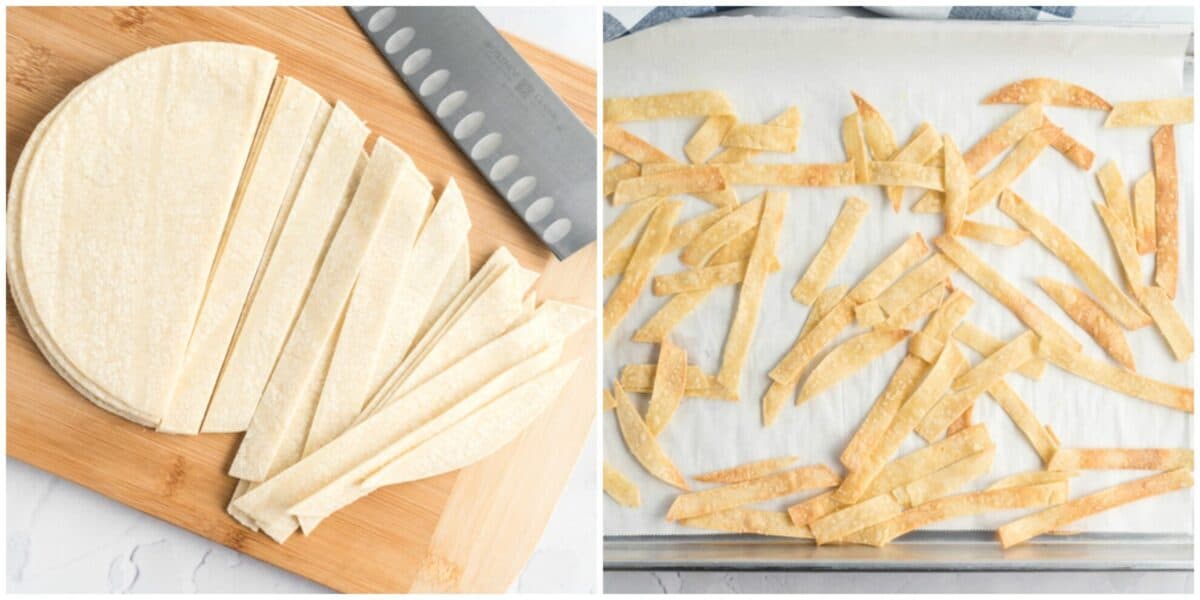 Can I cook the chicken in the soup instead of using pre-cooked?
Yes, you can, it will just take longer to get it to the table. I would suggest using 4 6-ounce boneless skinless chicken breasts.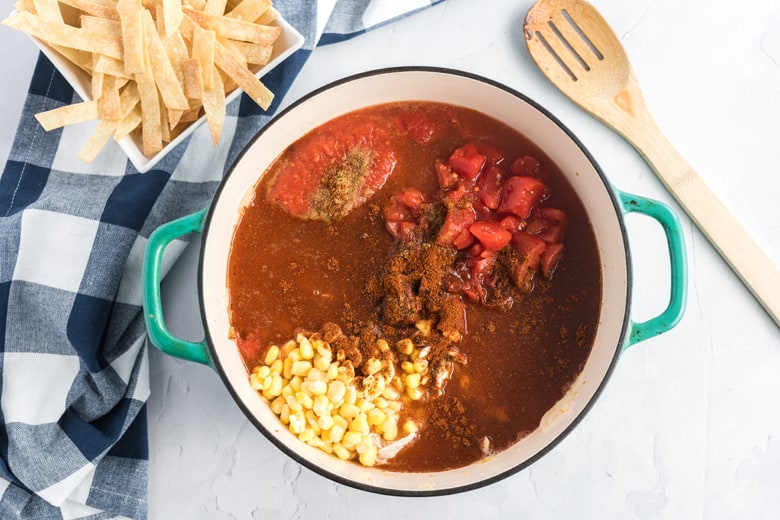 Add these to the chicken tortilla soup when you add the broth and tomato sauce and simmer for approximately 20 minutes.
After simmering, remove the chicken from the soup, shred or dice it and add it back to the pot. Then heat for an additional 10-15 minutes before serving.
Can I add beans to this soup?
Sure you can! Black beans are a great addition to this chicken tortilla soup. I suggest using canned beans as they are easier to work with.
Simply drain and rinse the beans and add them to the soup at the same time you add the chicken and other ingredients.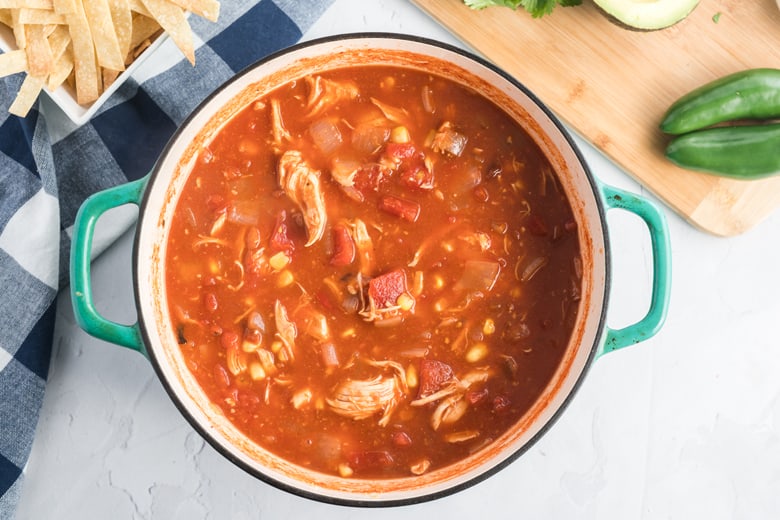 If your freezer is stocked with chicken, here are some more great recipes to use it up: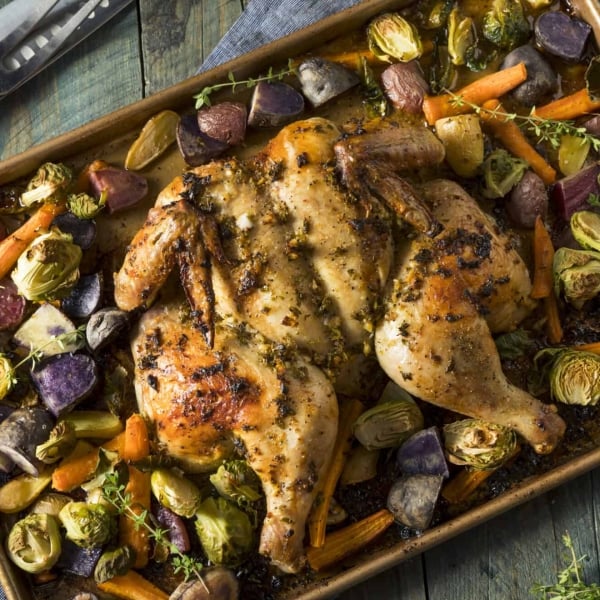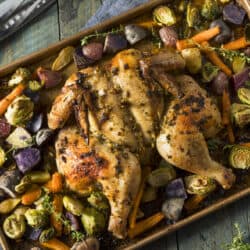 Spatchcock Sheet Pan Chicken
Spatchcocking a chicken is an easy and ingenious way to break down a bird that guarantees gorgeous results every time.
View this recipe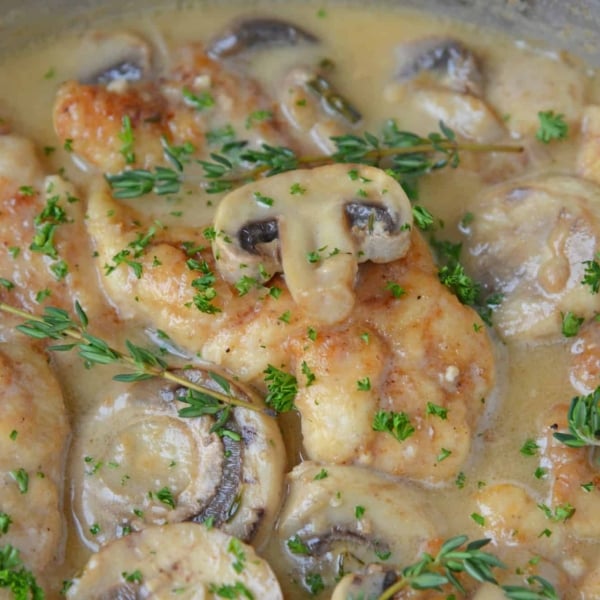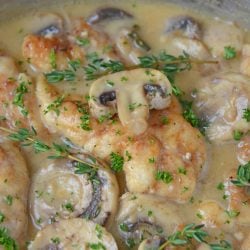 Creamy Asiago Chicken
Creamy Asiago Chicken is a tasty and easy chicken recipe that is perfect for a weeknight meal. Mushrooms, shallots and thyme flavor this delicious dish.
View this recipe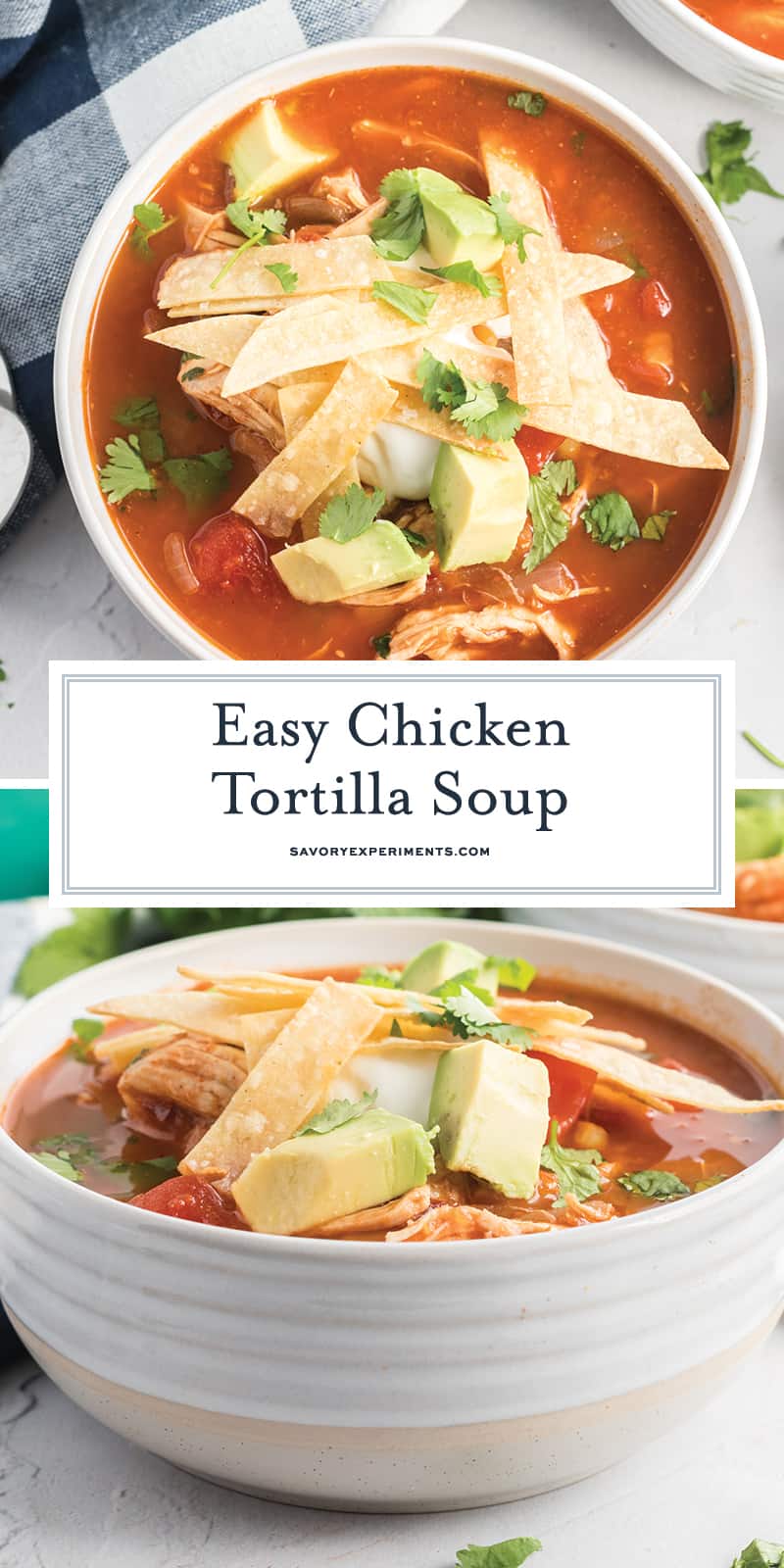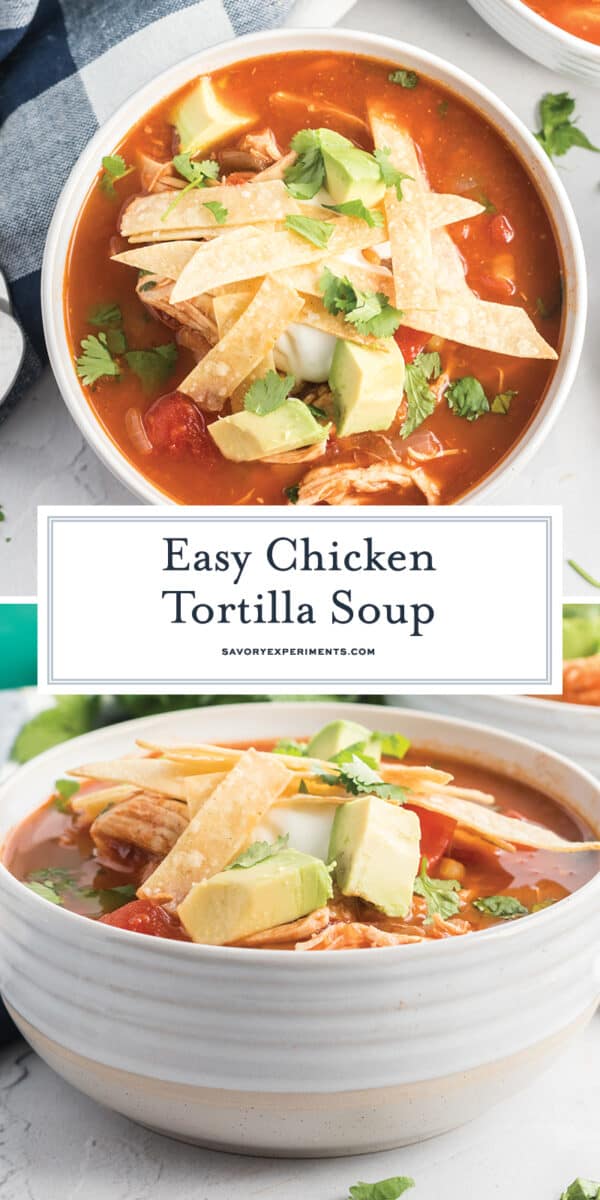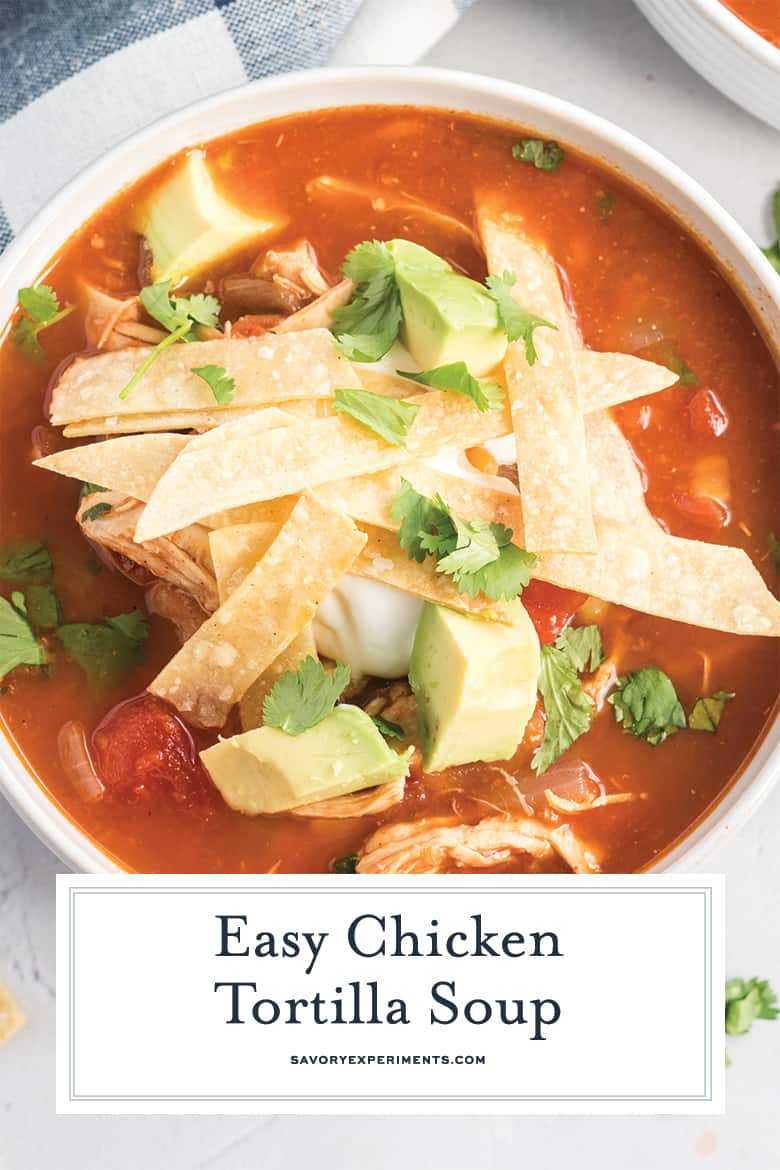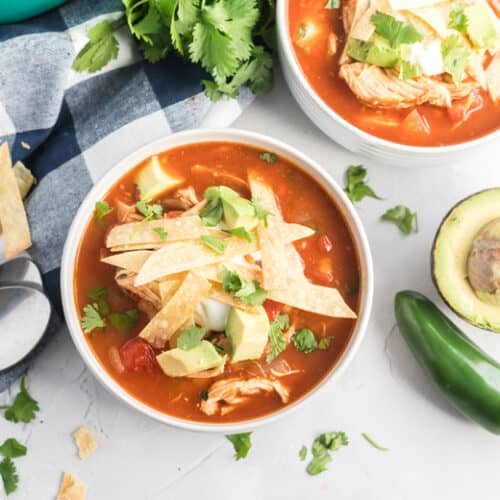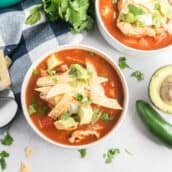 Easy Chicken Tortilla Soup
This is an easy chicken tortilla soup that can be on your table in less than an hour. A rich tomato broth with a bit of spice and large chunks of chicken make this a hearty and comforting meal!
Instructions
Heat oil in a large pot or dutch oven. Add onions and garlic and sauté on medium heat until onions are almost translucent.

Add all remaining ingredients, except cilantro, tortilla strips or toppings to the pot.

Increase heat to med-high and bring soup to a gentle boil, then reduce heat to medium and simmer for 15-20 minutes.

Serve topped with tortilla strips and an assortment of toppings.
Tortilla Strips
Preheat oven to 350 degrees

Place sliced tortillas in a bowl and toss with the olive oil and salt.

Spread the strips on a parchment lined baking sheet and bake for approximately 10 minutes then toss them and bake another 5-10 minutes until lightly golden.

Remove from the oven and allow to cool before serving.
Nutrition
Calories:
311
kcal
,
Carbohydrates:
31
g
,
Protein:
20
g
,
Fat:
13
g
,
Saturated Fat:
2
g
,
Cholesterol:
55
mg
,
Sodium:
2278
mg
,
Potassium:
860
mg
,
Fiber:
5
g
,
Sugar:
8
g
,
Vitamin A:
627
IU
,
Vitamin C:
46
mg
,
Calcium:
98
mg
,
Iron:
4
mg