This is an easy Chicken Tortilla Soup that can be on your table in less than an hour. A rich tomato broth with a bit of spice and large chunks of chicken make this a hearty and comforting meal.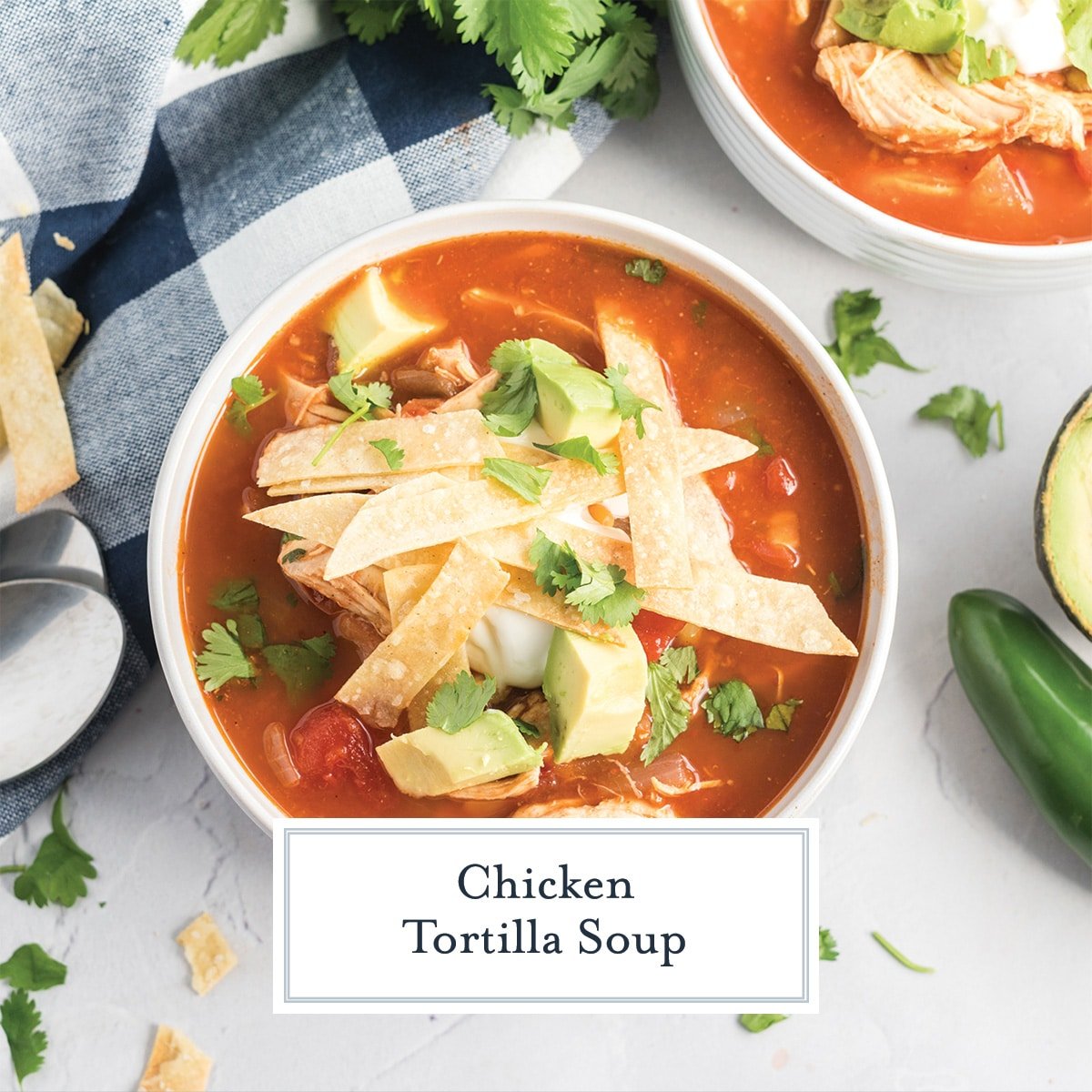 An easy chicken tortilla soup recipe one that is rich and hearty. Full of veggies, tender chicken and a little bit of spice, this soup leaves you reaching for more. One of the reasons I love this soup so much is that it is so quick to make, and it doesn't need a long simmer time to develop great flavor.
Soup is a great meal any time of the year. It is comforting, familiar and equally great for lunch or dinner. Some of my favorites are: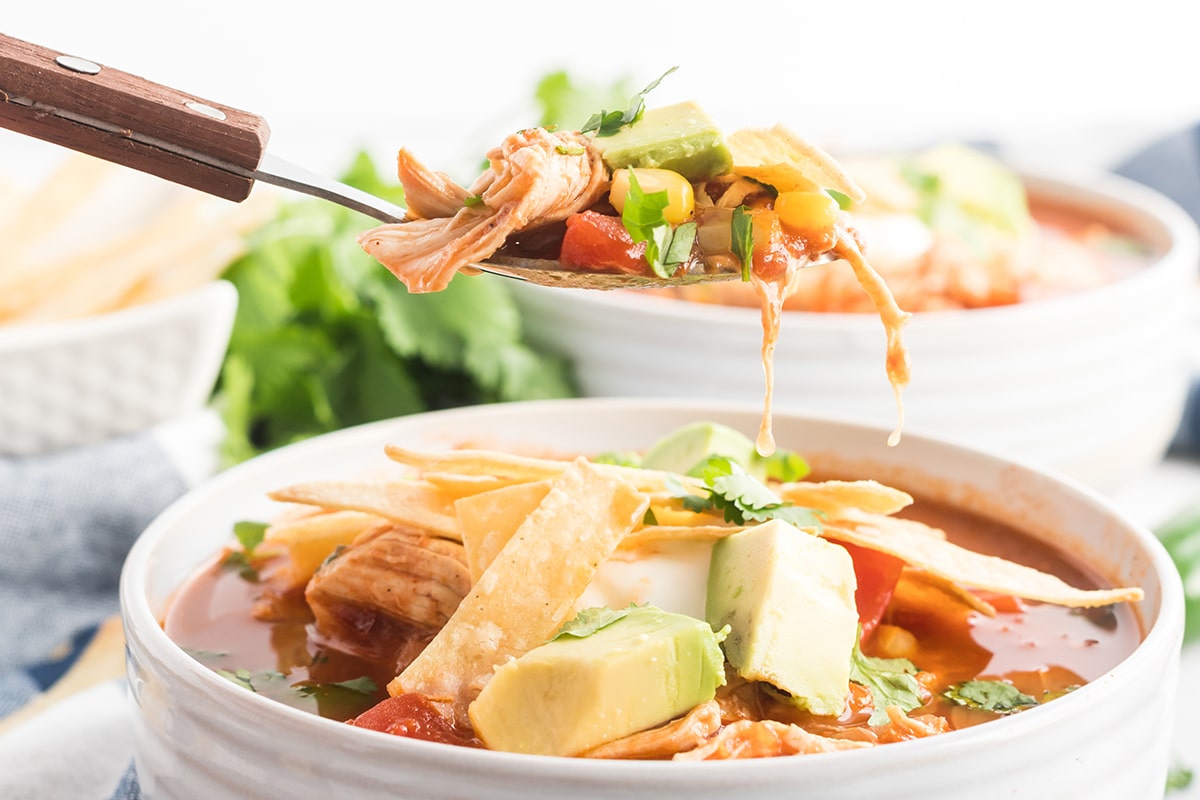 What is Tortilla Soup?
Tortilla soup is a dish that hails from Mexico. Pieces of fried tortilla are added to a broth most often made with tomato, garlic, onion, and chiles. It is thought that the recipe came about as an easy way to use ingredients that were on hand.
Traditionally, it features chicken as the protein and is often served with delicious toppings like avocado, sour cream or crema, and even cheese.
That said, like so many other recipes, every region, town, and family has their own unique way of making it. Some recipes utilize turkey or beef while others remain vegetarian. I like to keep it simple with chicken.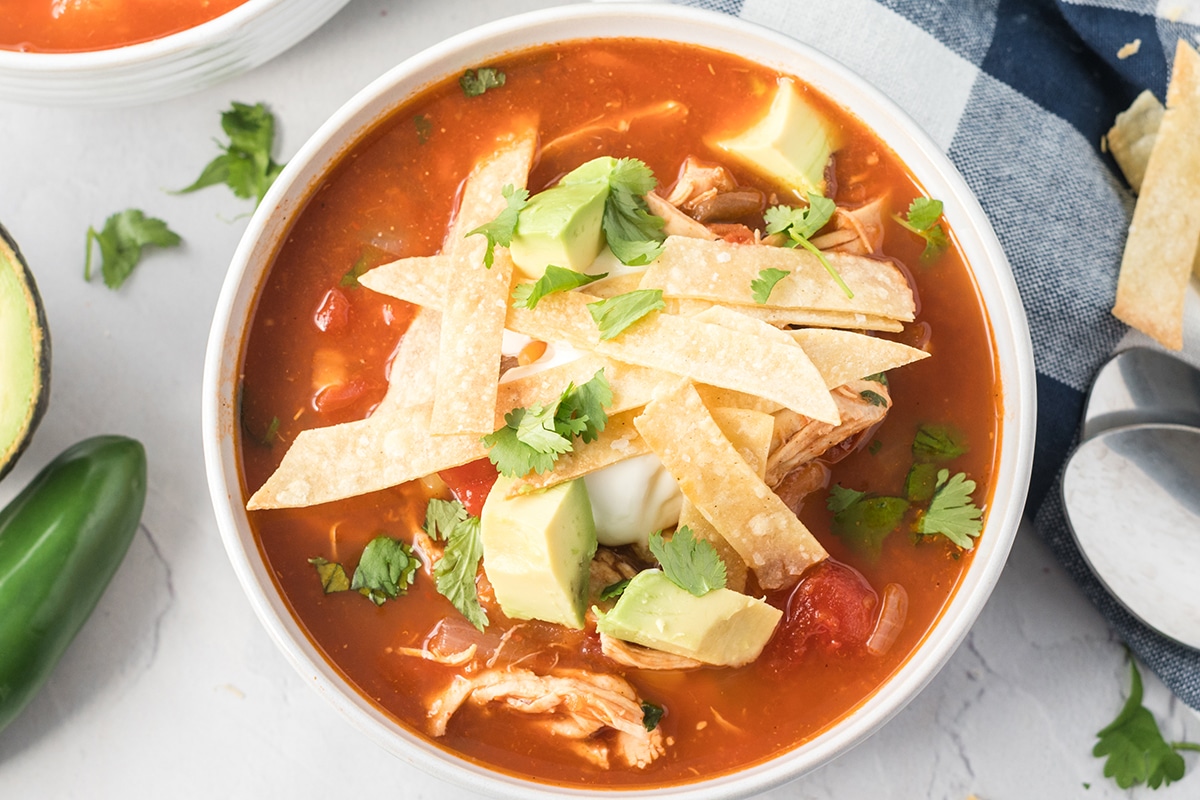 What Gives Tortilla Soup its Signature Flavor?
Aside from the tortillas, it's all about the broth that is seasoned simply with a few spices. I add chopped chipotle peppers and adobo sauce to my chicken tortilla soup to give it a nice heat without being overpowering.
The chipotle peppers are completely optional. If your family doesn't like spicy food, you can easily leave these out.
Of course, if you love heat, go ahead and add as many peppers as you like! This homemade Chicken Tortilla Soup is one of those meals that is hard to mess up. You can easily customize it however you like: add extra vegetables, remove the ones you don't like, and make it as spicy or mild as your family prefers.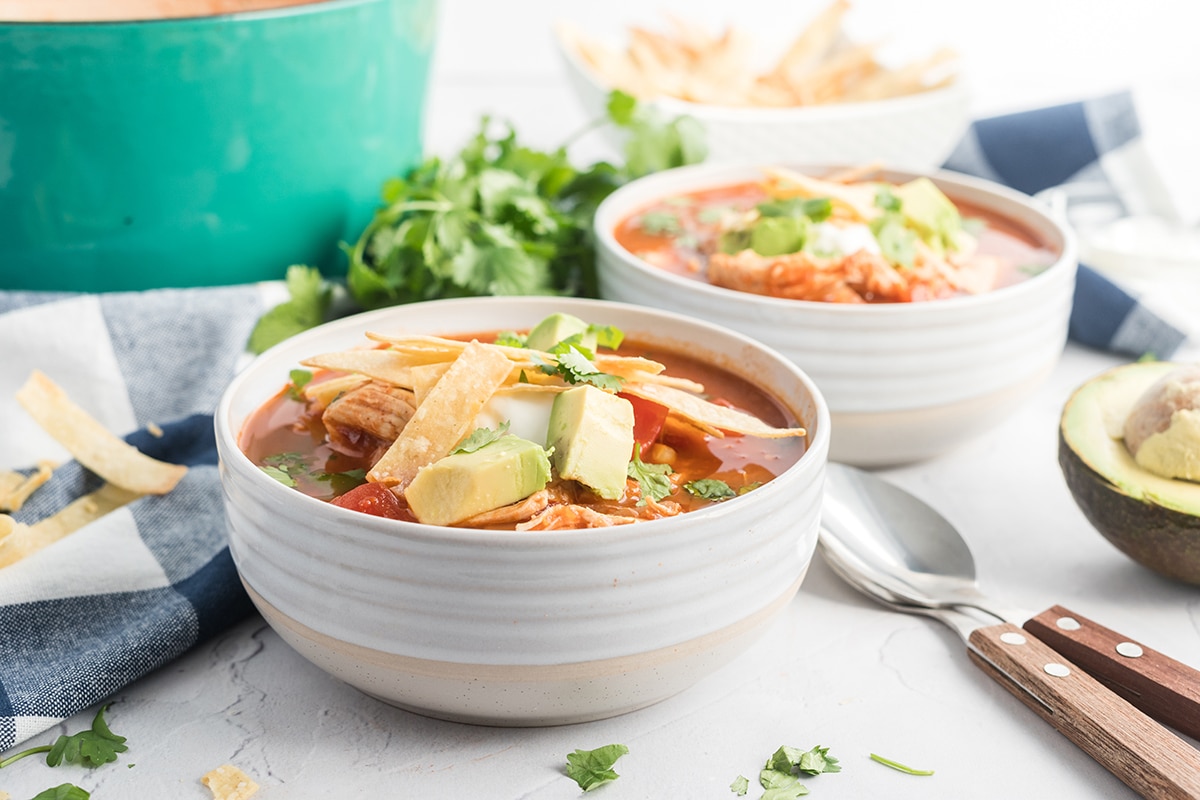 What's In Chicken Tortilla Soup?
The ingredient list looks long, but I assure you that the majority of the simple ingredients are pantry and kitchen staples. As with many Mexican-inspired soups, much of the list is seasonings and spices.
Olive Oil – Any olive oil will do here. It is being used as a conduit for flavor and for heat for your veggies to cook. Save your more expensive extra virgin olive oils for uncooked applications like salad dressings or to finish a dish. This helps its crisp and oftentimes grassy flavor really shine through.
White Onion – These tend to have a strong and pungent onion flavor, but that flavor is toned down as these onions cook. Yellow onion is a great substitute if you can't find white onion or don't have any on hand. Yellow onions will provide a similarly complex and hardy flavor. Not to mention we have them around our kitchen all the time!
Garlic – As I always say, measure garlic with your heart. This recipe calls for two cloves but go with your gut and feel free to add more. If you are using the minced and jarred variety, more power to you! The general rule is that 1 tsp equals 1 clove.
Chicken Broth (Chicken stock) – There are lots of routes you can go here! Canned or boxed chicken broth is great and full of flavor as well. A bouillon cube will give you the same flavor but might also come with quite a bit of added sodium. Bone broth gives you a really rich and over-the-top texture as it is full of the fats and collagens from steeping the bones to make a stock. I do lean towards low sodium just so I can control the saltiness. Vegetable broth is also a good swap for a vegetarian version.
Crushed Tomatoes – Typically a mix of crushed tomatoes and either tomato paste, tomato puree and tomato sauce. This helps give your soup some heft and body with a tomato-y base.
Diced Tomatoes – These are most often cut tomatoes in a simple tomato juice. Keep on eye on the can though. Sometimes additional ingredients are thrown in i.e. basil or onion. Make sure it is in line with the flavor of what you are cooking.
Shredded Chicken – If you are short on time, grab a rotisserie chicken at the grocery store, get rid of (or snack on the crispy skin) and shred it at home. Leftover baked chicken or even canned chicken can also be used.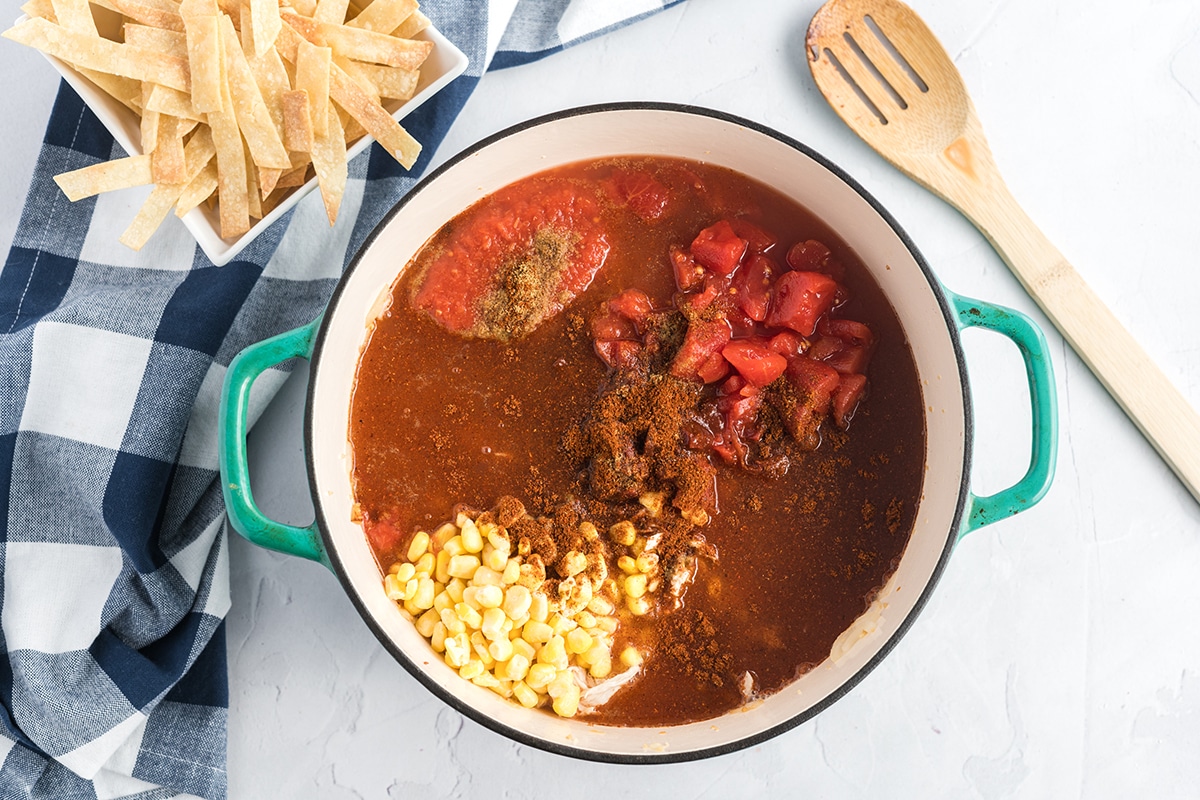 Corn – If corn is in season, grab some cobs and take the kernels off. The natural starches in each fresh corn kernel work to thicken the soup. If it isn't corn season or if you are short on time, frozen kernels are great too!
Chipotle Pepper in Adobo Sauce – Dried and smoked jalapenos are canned or jarred in a hearty sauce made with tomatoes and spices. These chilies and their accompanying sauce can pack a powerful punch so be sure to taste test and remember, a little goes a long way.
Chili Powder – Typically a blend of one or more chilies along with flavors that can include cumin, garlic powder, onion powder, oregano, and paprika. Similar to chipotle peppers in adobo, every blend is going to be a little bit different. Cayenne pepper can also be used.
Cumin – You most often see this in its ground form, but it is also sold as whole seeds. It is the dried seed of the parsley plant and brings a nutty and somewhat buttery flavor to dishes it is added to.
Cilantro – You either love this one or hate it. The most divisive of the fresh herbs! Also known as coriander in some places, the leaves and stems of this plant have a lemony, peppery, and unique flavor that brightens and excites any dish.
Corn Tortillas – Made from masa which is corn that has gone through the nixtamalization process. This soaks the corn in an alkaline liquid and hulls it while giving it more flavor and improving it's nutritional value.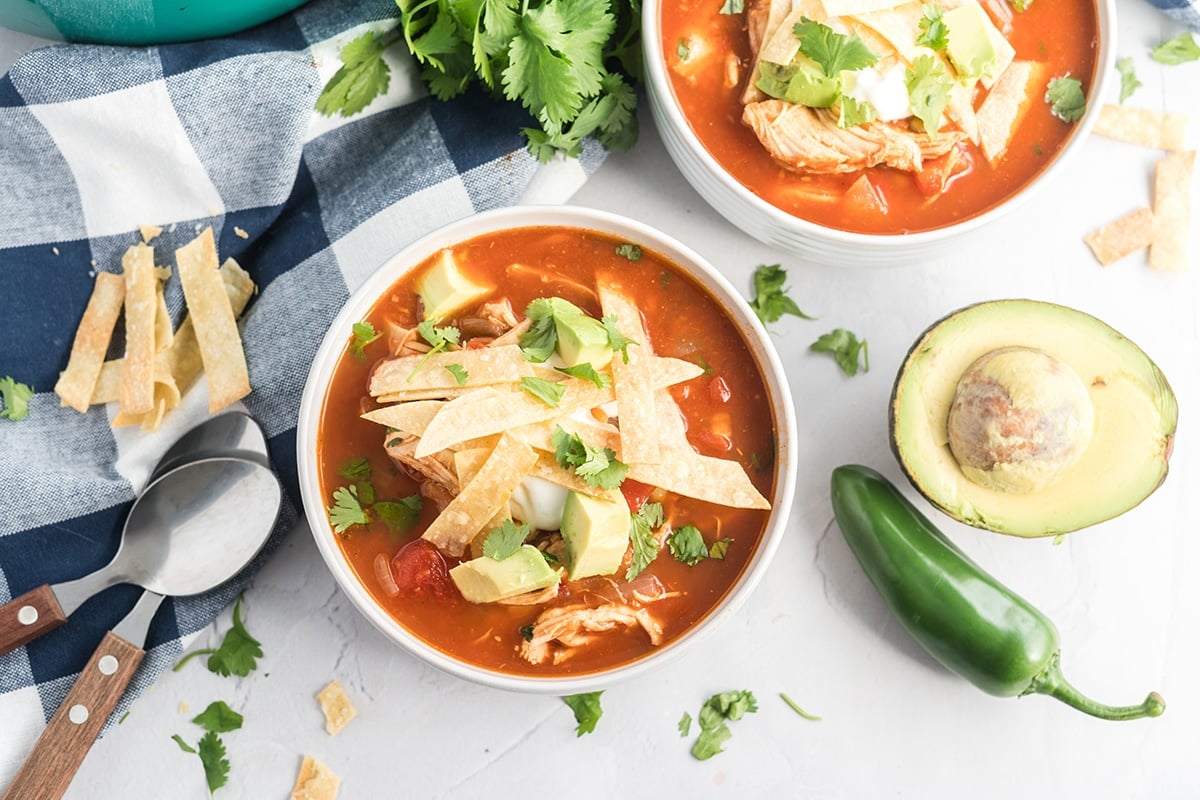 How Should I Serve Chicken Tortilla Soup?
Tortilla soup is incredible all by itself, but man alive it is good with toppings. There are a ton of options to choose from, but here are some of our house's fan favorites:
Diced or sliced avocado
Sliced jalapeno peppers – fresh OR pickled
Sour cream or crema
Fresh cilantro
Cheese
Fresh diced tomatoes
Fresh Lime Juice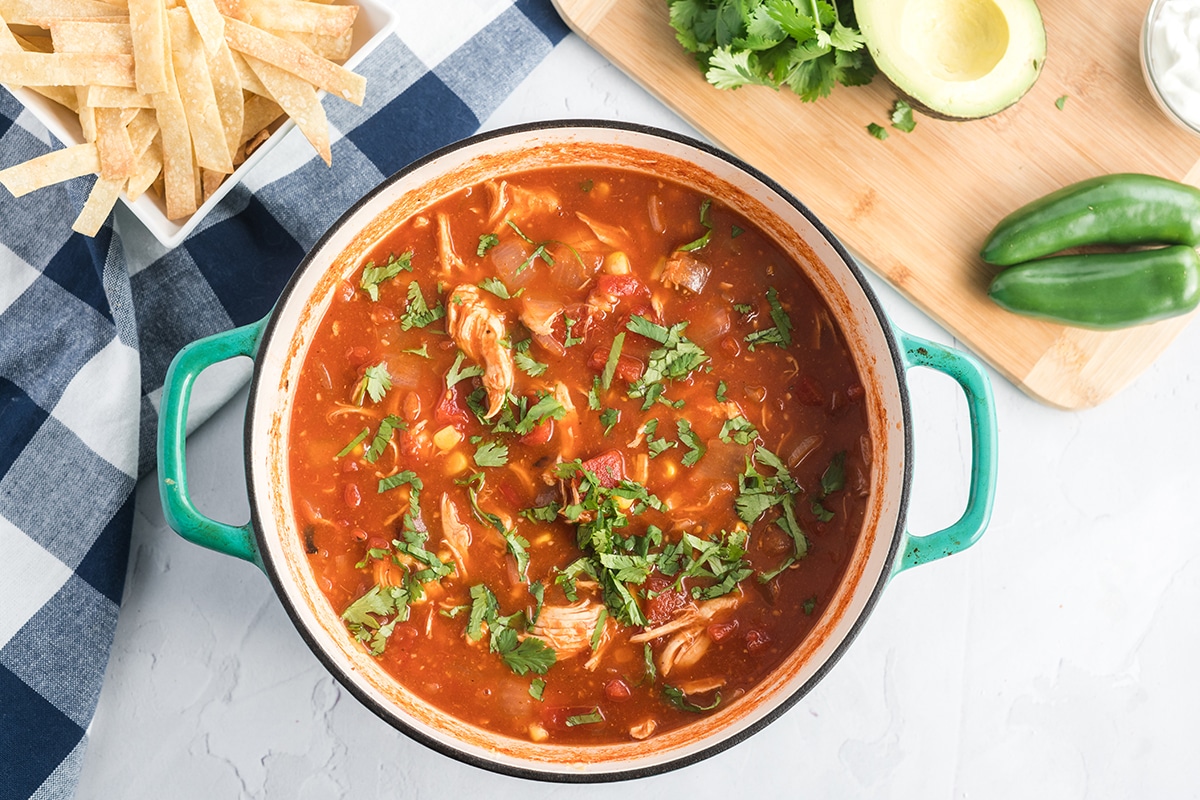 How to Make Chicken Tortilla Soup
If you are buying already-cooked chicken, this recipe is a breeze. Be sure to bake your tortilla strips while the soup is cooking to cut down on prep and serving time.
Saute. Heat oil in a large pot or dutch oven. I like to use a heavy-bottomed pot because it ensures an even heat and prevents your soup from scorching. Add onions and garlic and sauté on medium heat until onions are almost translucent. Be sure to watch and stir while these are happening.
Add Flavors. Add everything from the chicken broth to the cumin to the pot. Wait to add your salt and pepper last because it is always best to season soups at the end after they have reduced even if only a little.
Simmer. Increase heat to medium-high and bring soup to a gentle boil, then reduce heat to medium and simmer for 15-20 minutes. Every stove is different so be sure your soup is gently boiling and that will be the simmer mode.
Assemble & Serve. When everything smells and looks delicious, serve your soup and top it with your a mix of your favorite toppings. Be sure not to forget the crispy tortilla strips!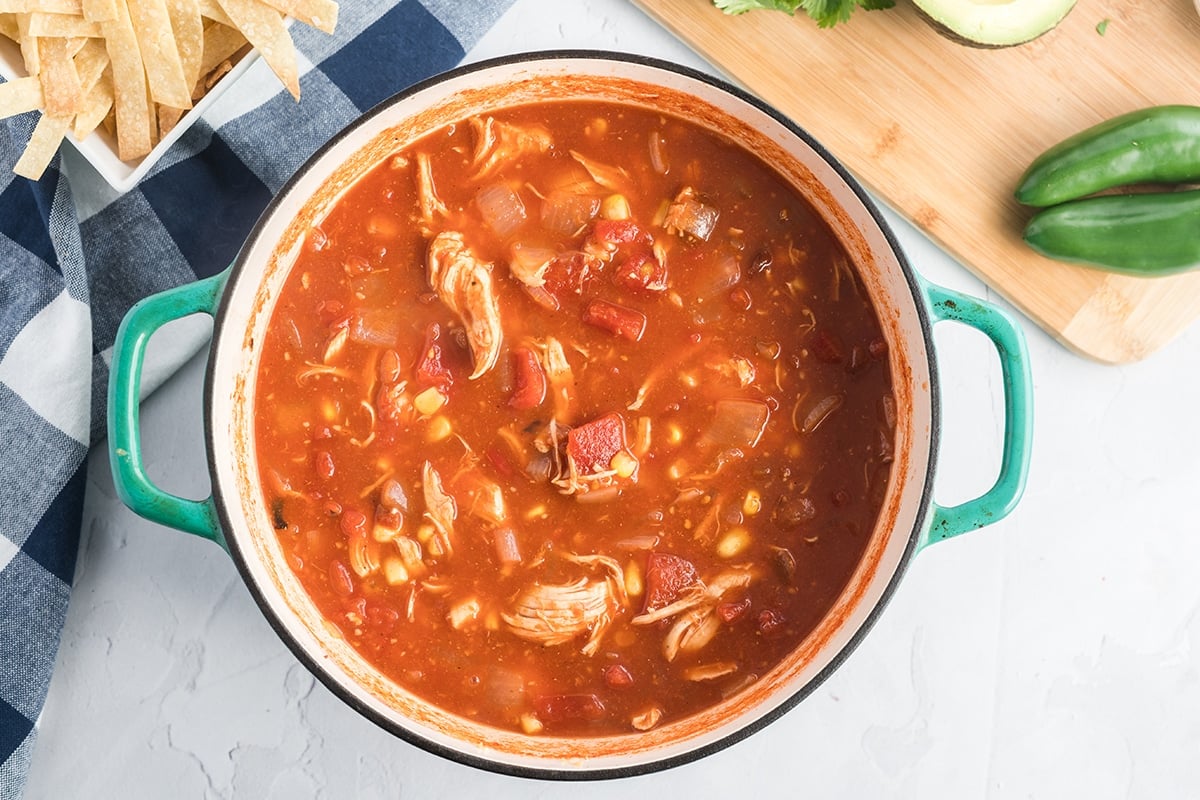 How to Make Homemade Tortilla Strips
If you are really in a pinch, grab some corn tortilla chips and throw them on the soup, but I highly suggest making your own.
Preheat your oven to 350°F. I suggest having an oven thermometer because most ovens vary by 25-50°F. Be sure to do this before you start making the soup so the tortillas will finish at the same time.
Place the sliced tortillas in a bowl and toss with the olive oil and salt. Width isn't arbitrary here. Be sure to cut these all the same size will make sure they cook at roughly the same speed.
Spread the strips on a parchment-lined baking sheet and bake for approximately 10 minutes then toss them and bake another 5-10 minutes until lightly golden. Try to make sure they are spread evenly for an even cook.
Remove from the oven and allow to cool (at least a little) before serving. Hot oil and mouths do not mix!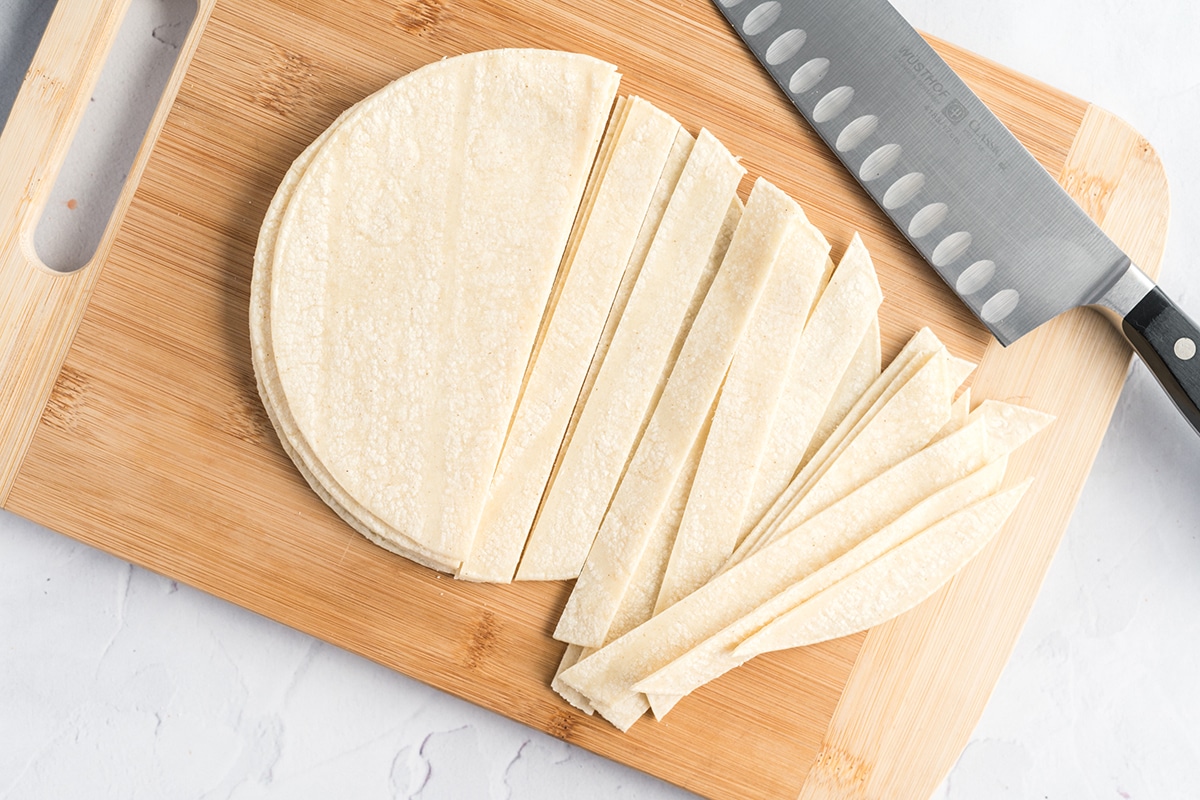 Crock Pot & Pressure Cooker Instructions
I would venture to say that making Instant Pot chicken tortilla soup is a time saver, but making crock pot chicken tortilla soup is for ease of serving at a party or large group where you'd like to keep it warm because the cook time is actually longer. It is a family favorite for Sunday football.
Instant Pot Instructions
Set instant pot to saute, add the olive oil, then garlic and onion. Saute and then add all of the other ingredients, giving them a quick stir.
Set to manual pressure low for 5 minutes and then use quick release method and you are ready to serve!
Crock Pot Instructions
In a small saute pan, heat the olive oil and then add onions and garlic, sauteing until soft. Transfer to a crock pot sprayed with cooking spray.
Add the remaining ingredients and heat on low heat for 1 hour. Turn to "keep warm" while serving.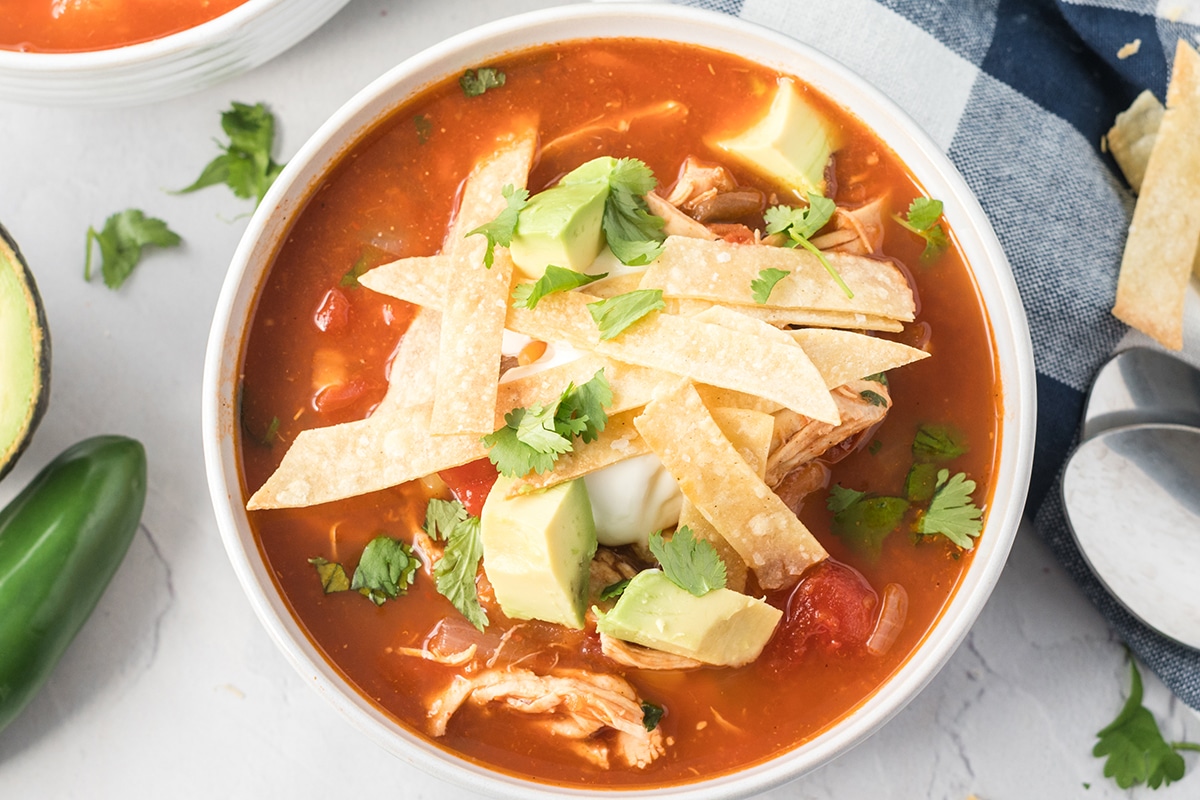 Variations
I highly encourage you to customize this recipe and make it your own. Here are a few suggestions to get those creative juices flowing.
Using Raw Chicken – You can use raw chicken but it will add a couple of steps to the dish. I suggest using four 6-ounce boneless, skinless chicken breasts or four to six boneless skinless chicken thighs. Add them to your soup and everything else after the garlic and onion are sauteed. Allow everything to simmer for 20 minutes. Remove the chicken breasts, shred them, put the chicken back into the pot, and serve!
Adding Beans – Black beans are a great addition to this chicken tortilla soup. I suggest using canned beans as they are easier to work with. Drain and rinse the beans and add them to the soup at the same time you add the chicken and other ingredients. Black beans, pinto beans and even kidney beans are all good choices.
Flavored Tortilla Strips – Instead of adding just salt, add in some chili powder, taco seasoning, or cumin to your tortilla strips and then bake them. This will give them an added layer of deliciousness.
More Heat– This recipe is a smoky heat, but if you want to sweat, toss in jalapeno or habanero peppers. Also use green chiles for a little kick.
Bell Peppers– Chop up green, yellow, red or orange bell peppers an saute them with the onions and garlic.
Enchilada Sauce or Ranchero Sauce– Stir in 1-2 tablespoons of either heady sauce to change the flavor a tad.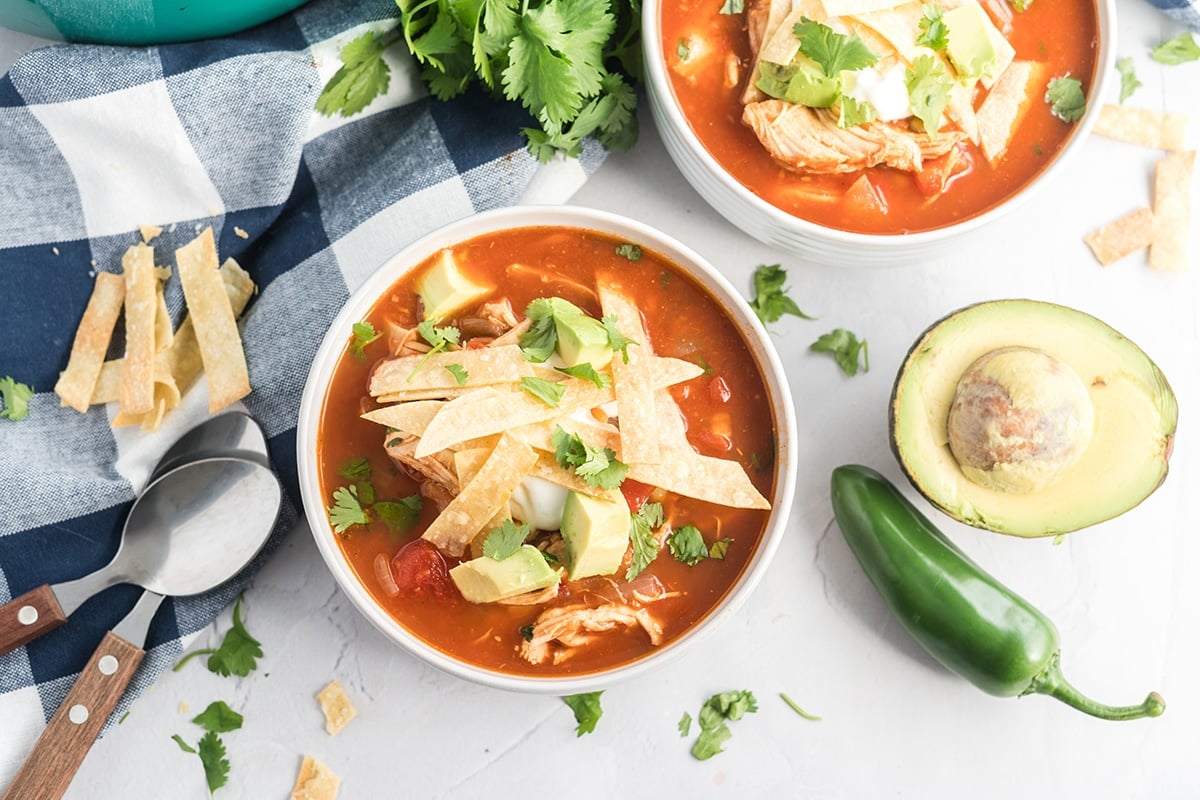 What Do You Serve with Chicken Tortilla Soup?
This soup is typically the main show on the table. If you wanted to serve something alongside it, I would suggest a salad or coleslaw, guacamole and tortilla chips, or some cornbread.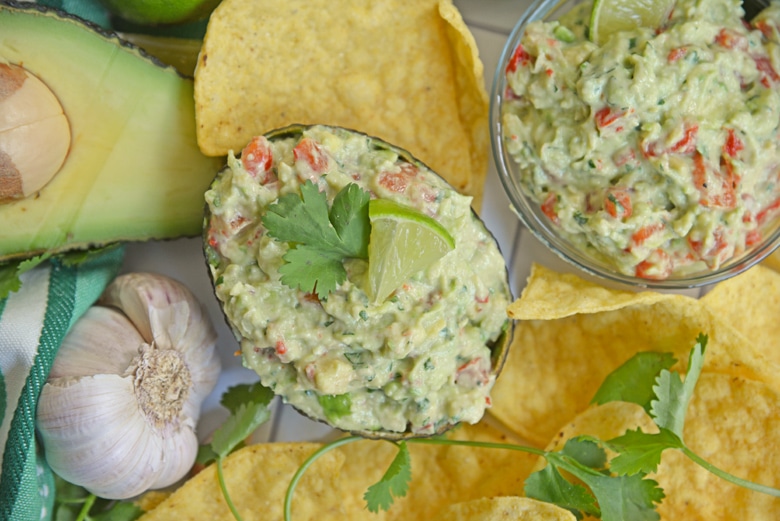 Questions about Chicken Tortilla Soup
What is chicken tortilla soup made of?
The basics of this easy dinner recipe include chicken broth, tomatoes, fresh garlic, onion, chiles, spices, and fried tortilla strips. Some variations include the addition of ingredients like beans, fresh jalapenos, and masa harina for the creamy version.
Is chicken tortilla soup good for you?
I will be the first to tell you that I am not a doctor, but what I do know is that this dish is hearty, nutritious, and includes most of the major food groups.
How do you thicken chicken tortilla soup?
If you would like a thicker soup, that is an easy fix. Simply 1-2 tsp of cornstarch with the liquid from the soup. This is called a slurry. Give it a good whisk in a small bowl and then add it to the pot. The heat from the soup will activate the starches and begin to thicken the broth.
Can I Use Flour Tortillas for the Strips?
Flour tortillas will not get crispy the same way corn tortillas will, however, feel free to use them instead.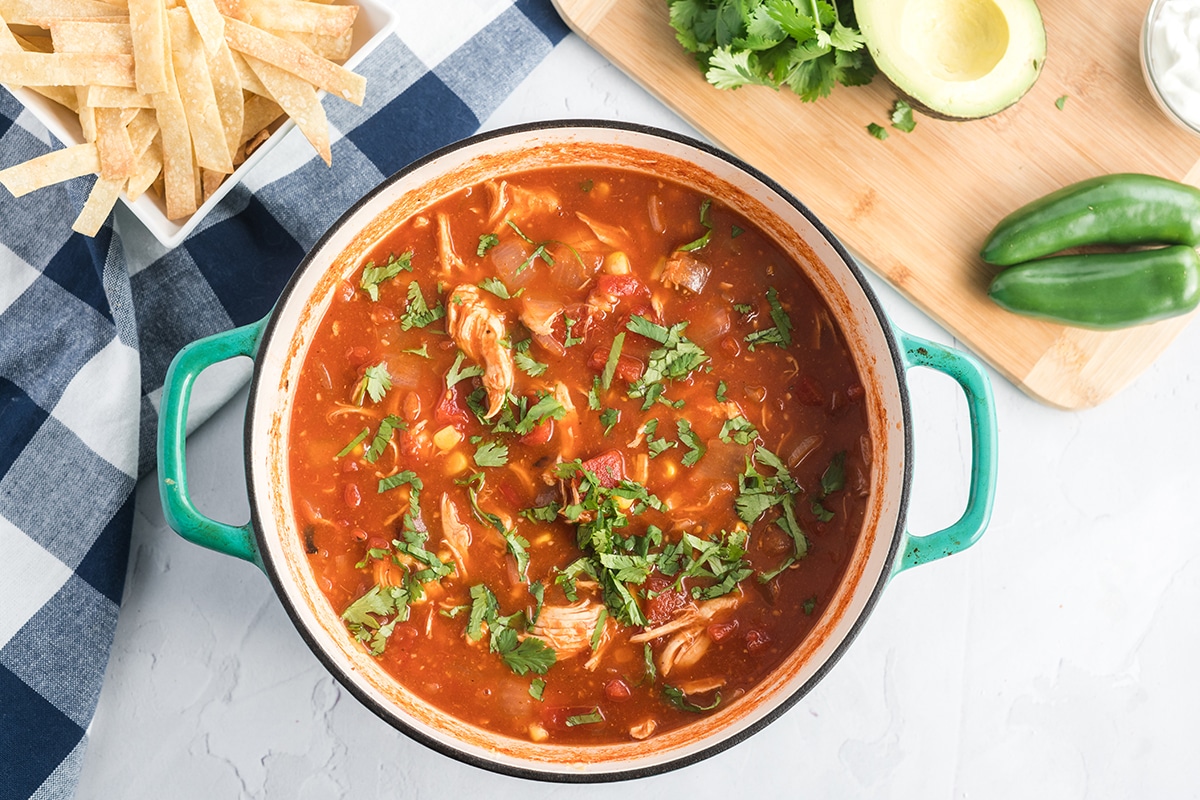 Make-Ahead, Storage & Leftovers
Can You Make Chicken Tortilla Soup Ahead of Time?
Absolutely! Feel free to prep the veg, aromatics, and toppings ahead of time. You can also cook the chicken ahead of time and place it in an airtight container. When you are ready to cook, all you need to do is cook and combine. My husband swears it is even better the next day after all of the flavors marry.
How Do You Store Chicken Tortilla Soup?
Leftover Chicken Tortilla Soup can easily be stored in one large air-tight container in the fridge for 4-5 days or in single-serve containers in the fridge for 4-5 days. These can be reheated on the stove in a pot until the soup reaches a simmer or in the microwave in microwave-safe containers. Top with tortilla strips and your toppings of choice and enjoy.
Can You Freeze Chicken Tortilla Soup?
Yes, you sure can! Once cool, you can put it in freezer-safe plastic bags or in large or single-serve freezer-safe plastic containers. These should be safe to store for a few months. When you are ready to enjoy them, thaw them overnight in the refrigerator and then reheat them according to leftover directions.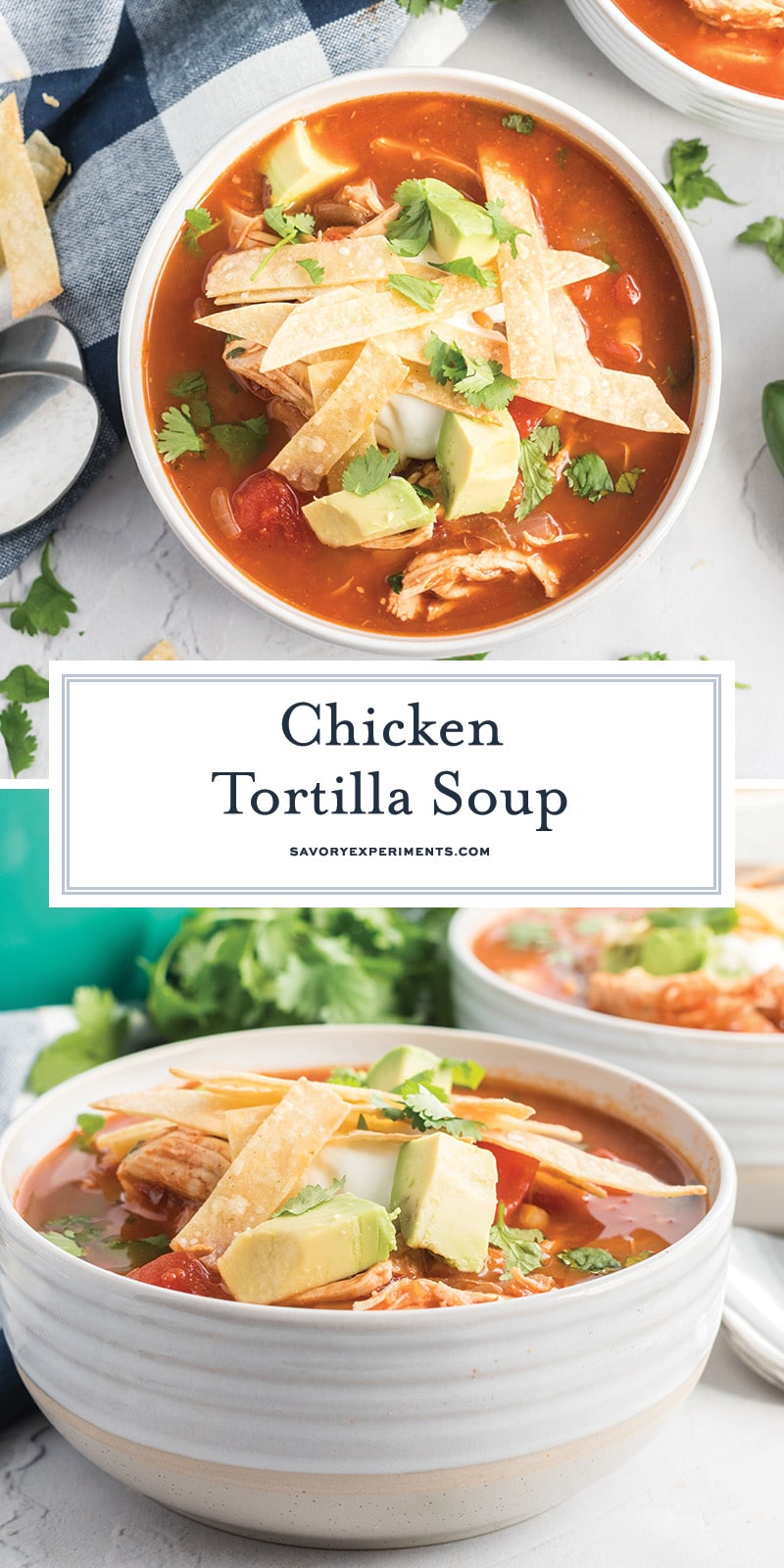 Here are more great chicken recipes: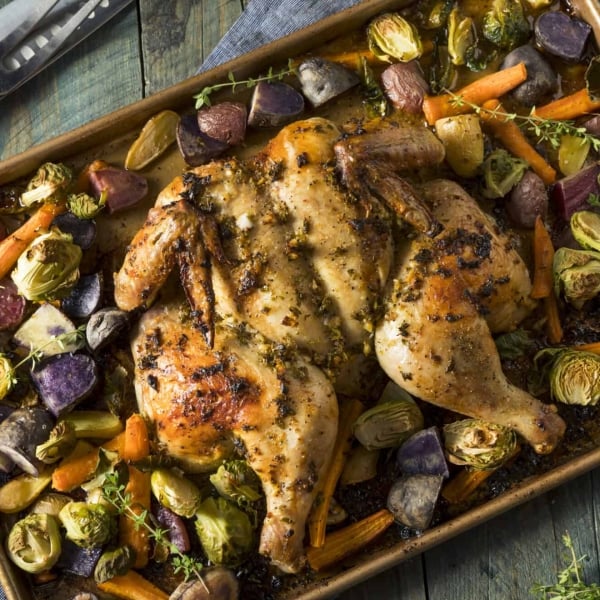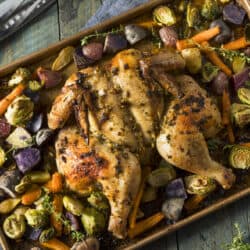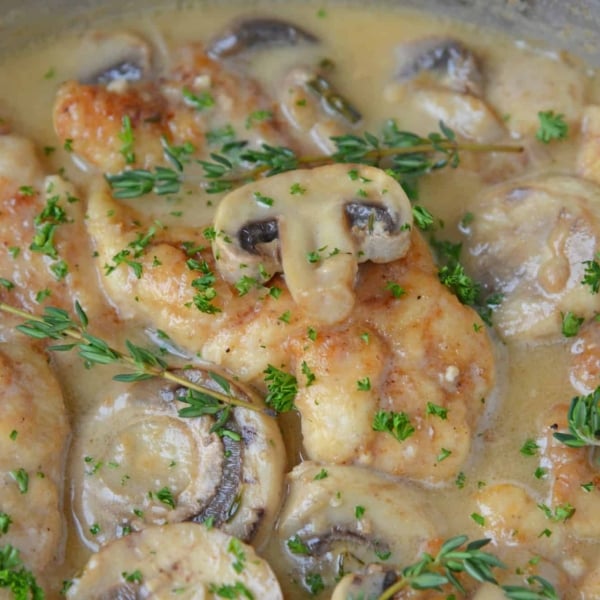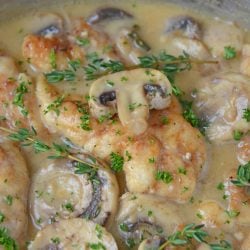 Creamy Asiago Chicken
Creamy Asiago Chicken is a tasty and easy chicken recipe that is perfect for a weeknight meal. Mushrooms, shallots and thyme flavor this delicious dish.
See The Recipe!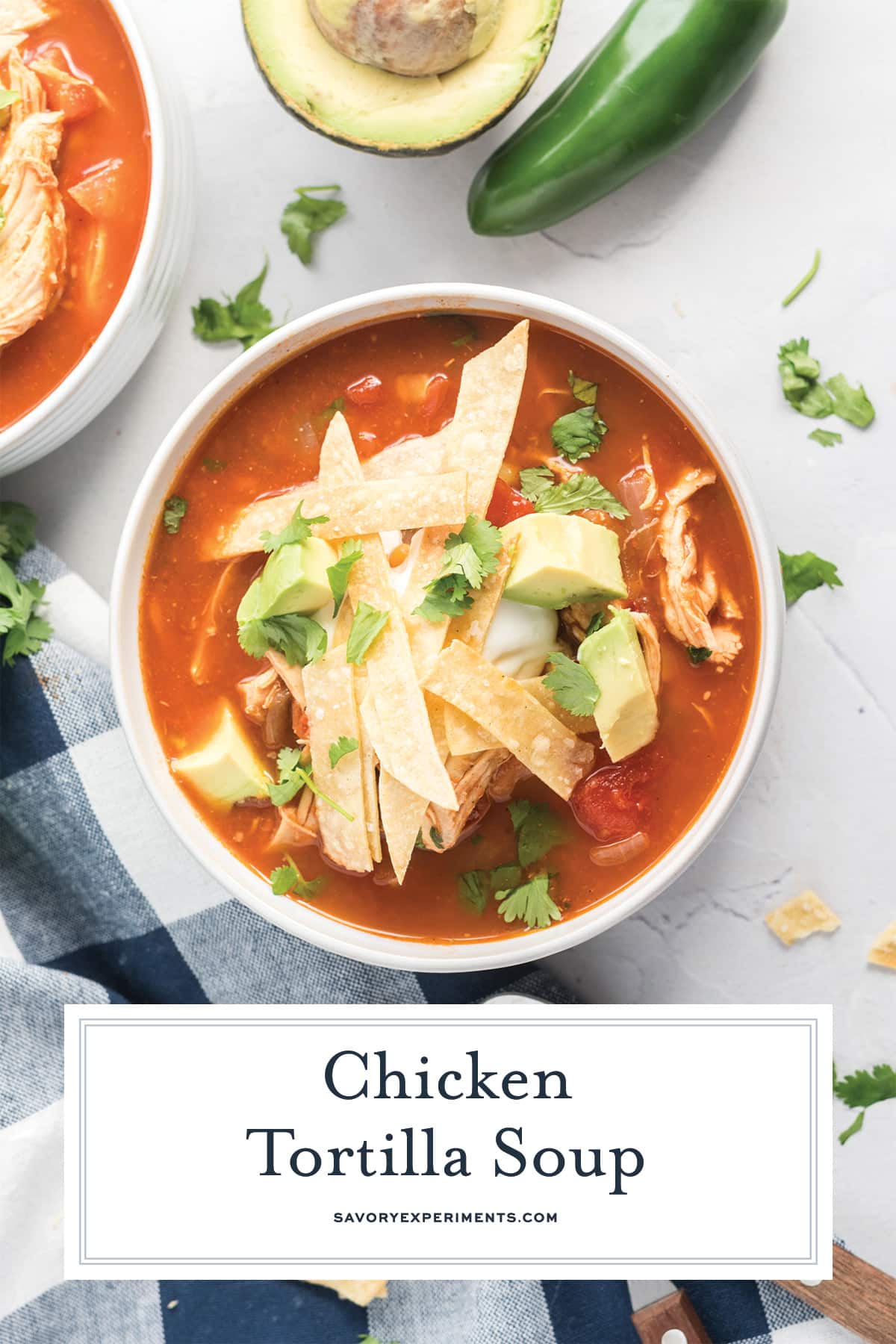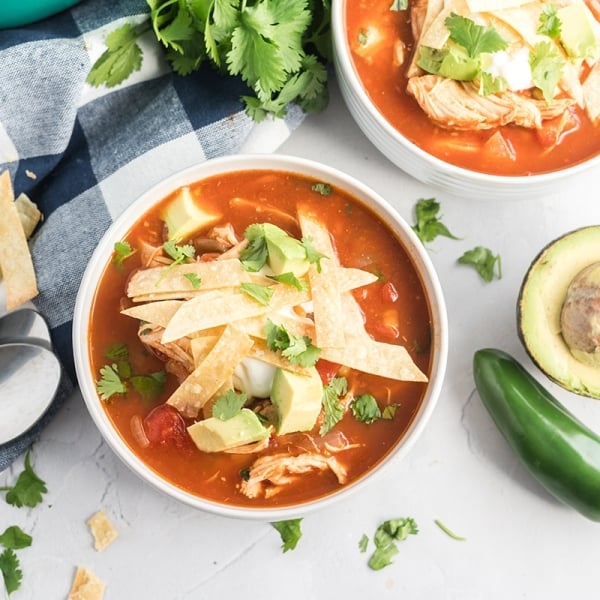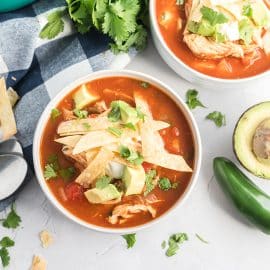 Easy Chicken Tortilla Soup
This is an easy chicken tortilla soup that can be on your table in less than an hour. A rich tomato broth with a bit of spice and large chunks of chicken make this a hearty and comforting meal!
Instructions
Chicken Tortilla Soup:
Heat the oil in a large pot or dutch oven. Add the onions and garlic and sauté on medium heat until onions are almost translucent.

Stir in the broth, tomatoes, chicken, corn,chipotle peppers and adobo sauce, chile powder, cumin, salt and pepper.

Increase the heat to high and bring soup to a gentle boil, then reduce heat to medium and simmer for 15-20 minutes.

Serve topped with tortilla strips and an assortment of toppings.
Tortilla Strips
Preheat the oven to 350°F.

Place the sliced tortillas in a bowl and toss with the olive oil and salt.

Spread the strips on a parchment lined baking sheet and bake for approximately 10 minutes then toss them and bake another 5-10 minutes until lightly golden.

Remove from the oven and allow to cool before serving.

If you've tried this recipe, come back and let us know how it was in the comments or star ratings!
Nutrition
Calories:
311
kcal
,
Carbohydrates:
31
g
,
Protein:
20
g
,
Fat:
13
g
,
Saturated Fat:
2
g
,
Cholesterol:
55
mg
,
Sodium:
2278
mg
,
Potassium:
860
mg
,
Fiber:
5
g
,
Sugar:
8
g
,
Vitamin A:
627
IU
,
Vitamin C:
46
mg
,
Calcium:
98
mg
,
Iron:
4
mg