This post has been sponsored by Stella® Cheese. All thoughts and opinions are my own.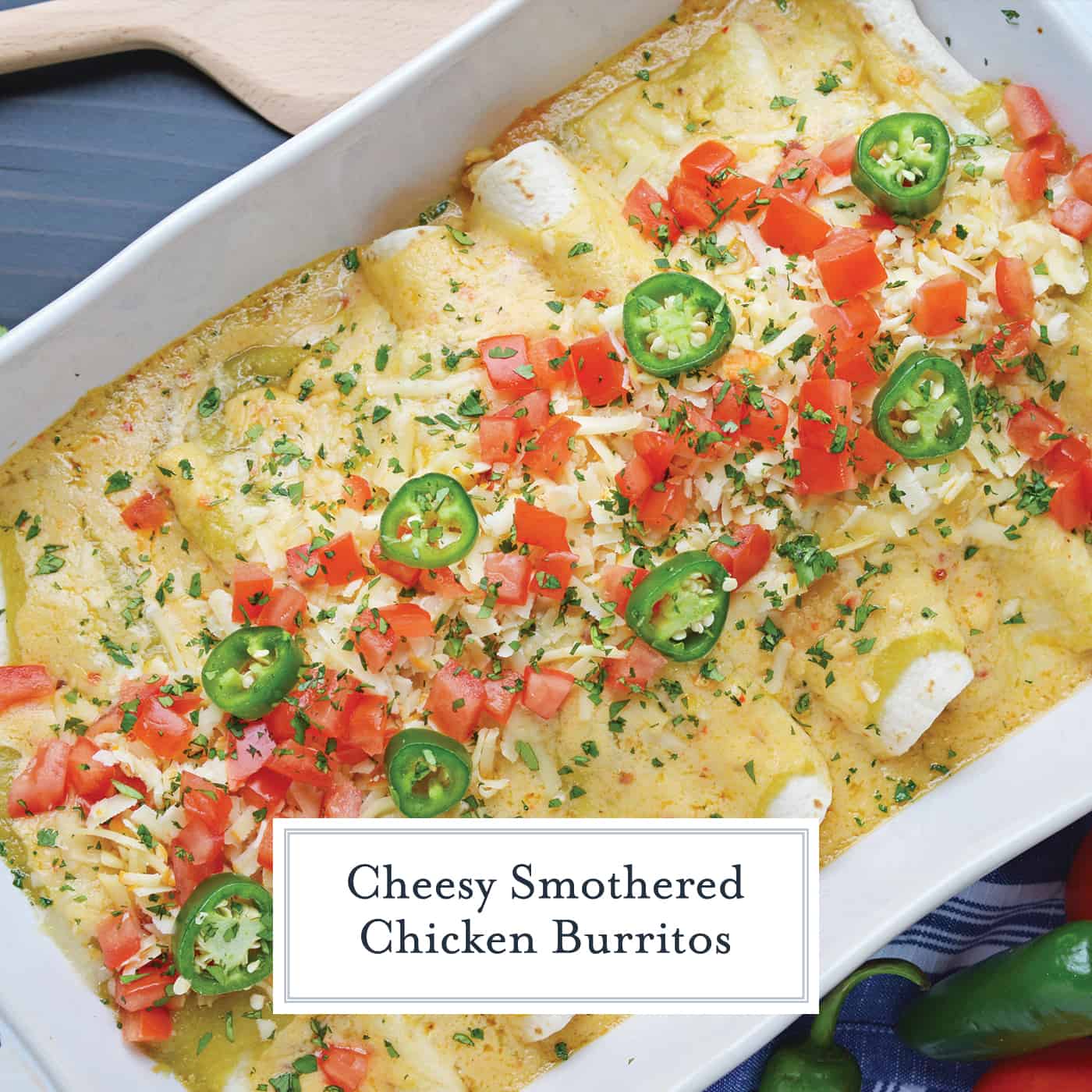 Cheesy Smothered Chicken Burritos are an easy one-dish weeknight meal made with gooey cheese, green enchiladas sauce, shredded chicken and fresh toppings.
Cheesy Smothered Chicken Burritos are one of my favorite meals. The family loves them, and they are simple to assemble.
Much of the meal can be made ahead of time, and there are so many variations; you can decide just how much effort you want to exert.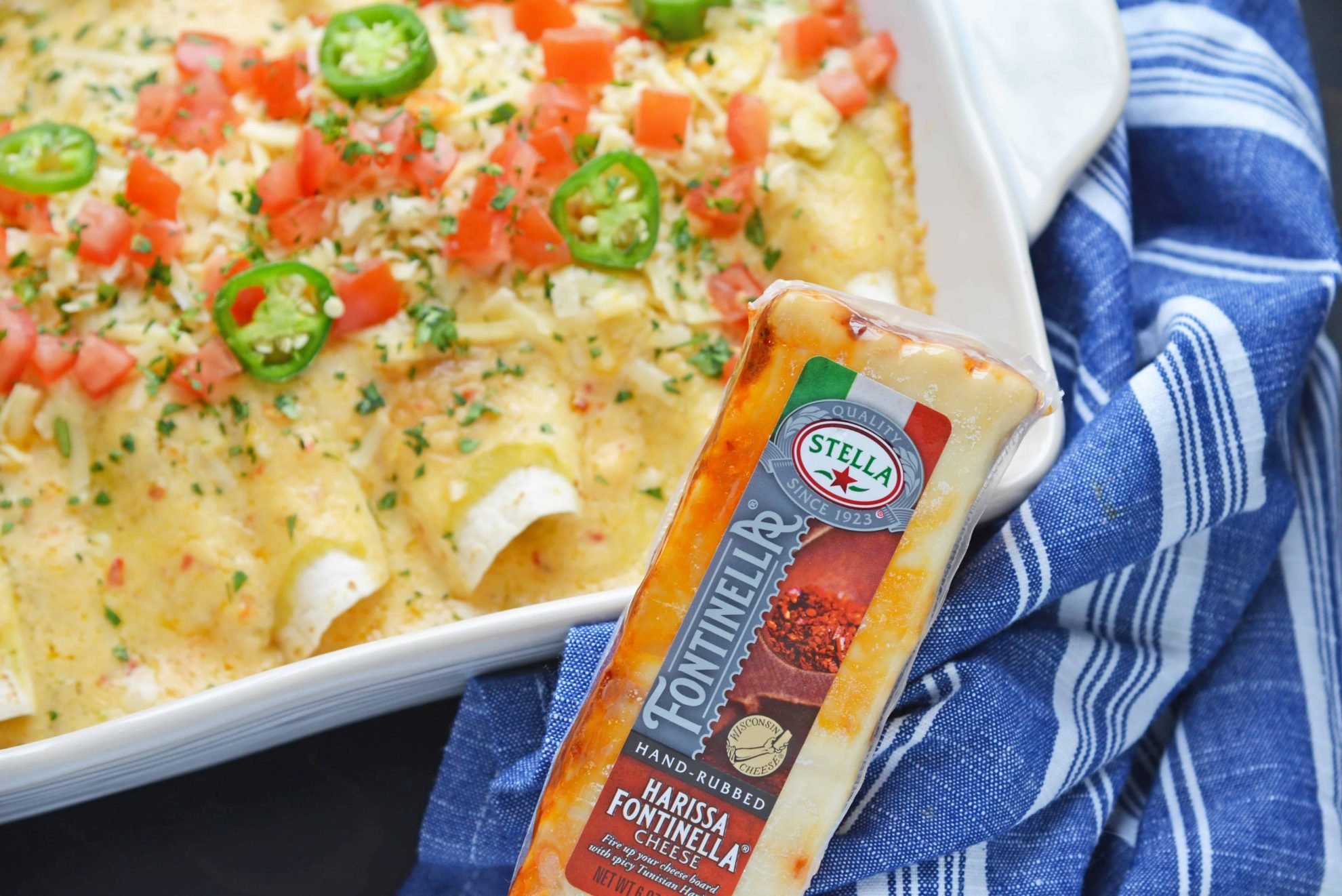 There is only one thing you do need to pay special attention to and that is the cheese. They are Cheesy Smothered Chicken Burritos, right?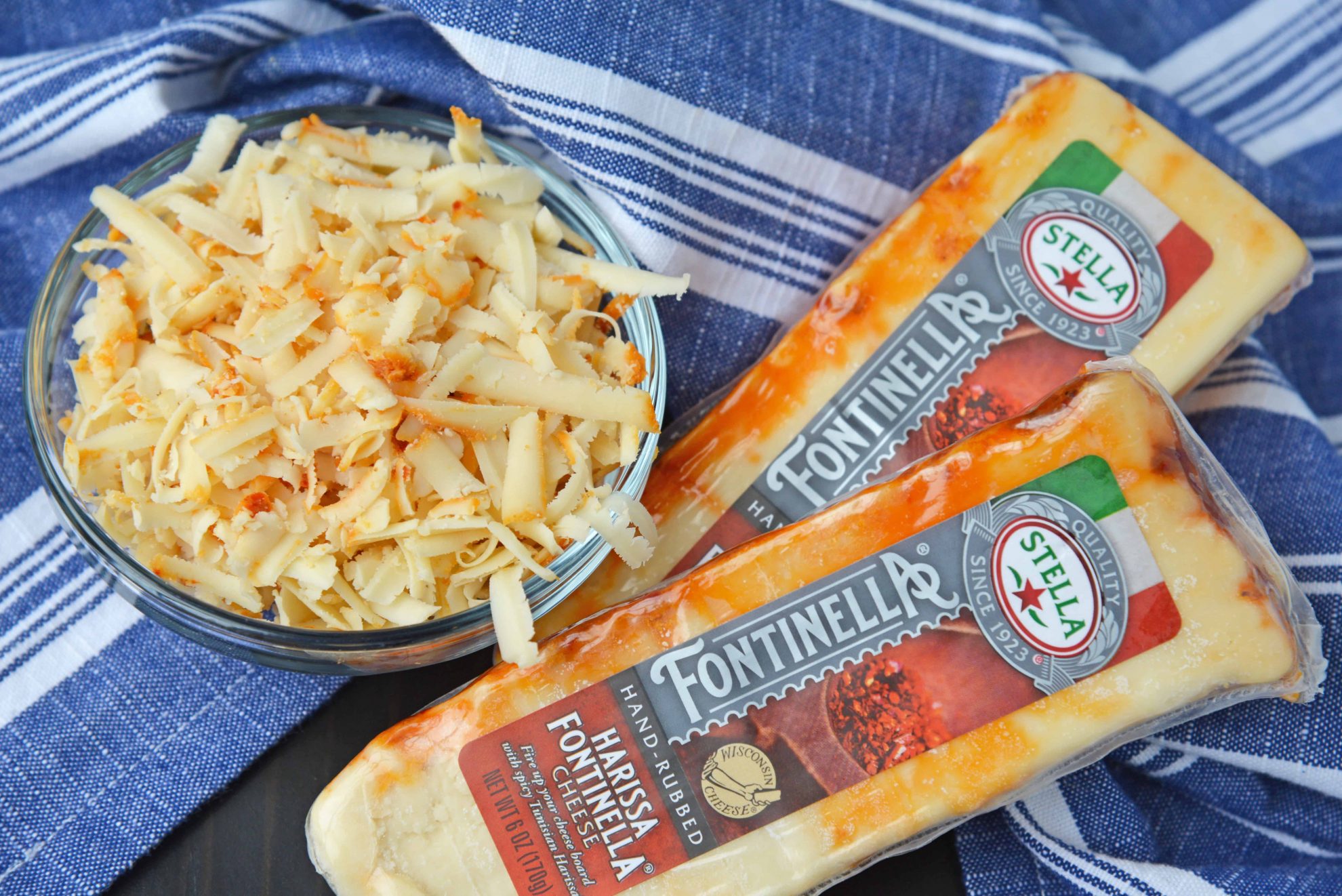 The flavor profile of my baked burritos changes dramatically when I change the cheese, and I just found this new cheese that I adore: Stella® Fontinella® Rubbed Cheese (brand link), which can be found at your local Safeway.
Stella® Cheese is available in four fabulous flavors:
Stella® Fontinella® Basil Pesto – full of basil and garlic
Stella® Fontinella® Black Pepper Cheese – fresh cracked peppercorns in a creamy cheese
Stella® Fontinella® Harissa Cheese – rubbed with spicy harissa
Stella® Fontinella® Bourbonista Cheese – inspired by the flavors of barrel-aged whiskey and coffee
You really can't go wrong with the flavor. All them are equally as good in a gourmet grilled cheese sandwich, whipped into a quick queso dip or sauce, enjoyed on crackers, or cubed on a charcuterie board.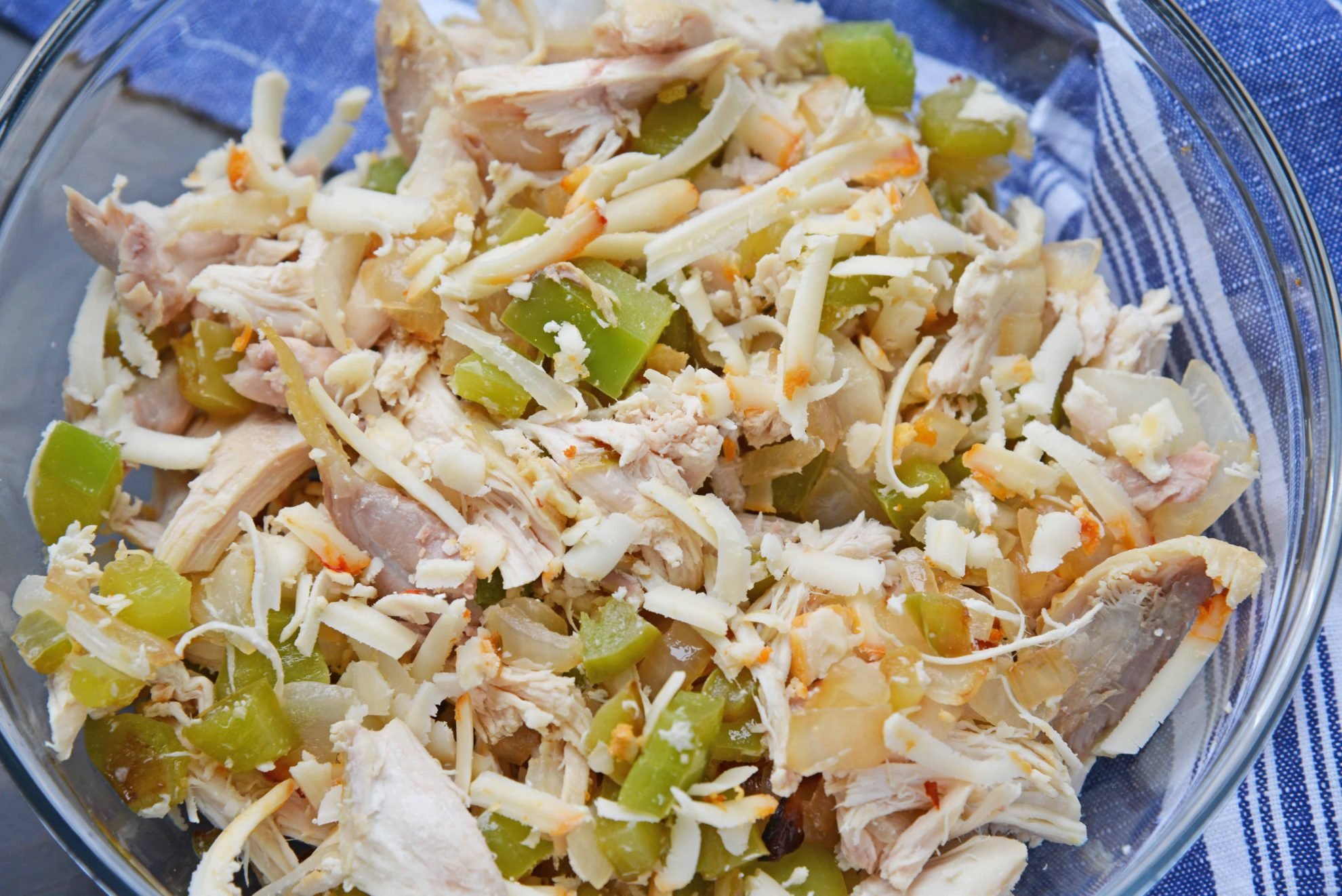 For my Smothered Chicken Burritos, I tried the Stella® Fontinella® Harissa Cheese. While harissa is typically a Middle Eastern flavor, it is defined by its heat and use of spicy chile peppers, which is also similar to Mexican cuisine, so I decided to fuse the two.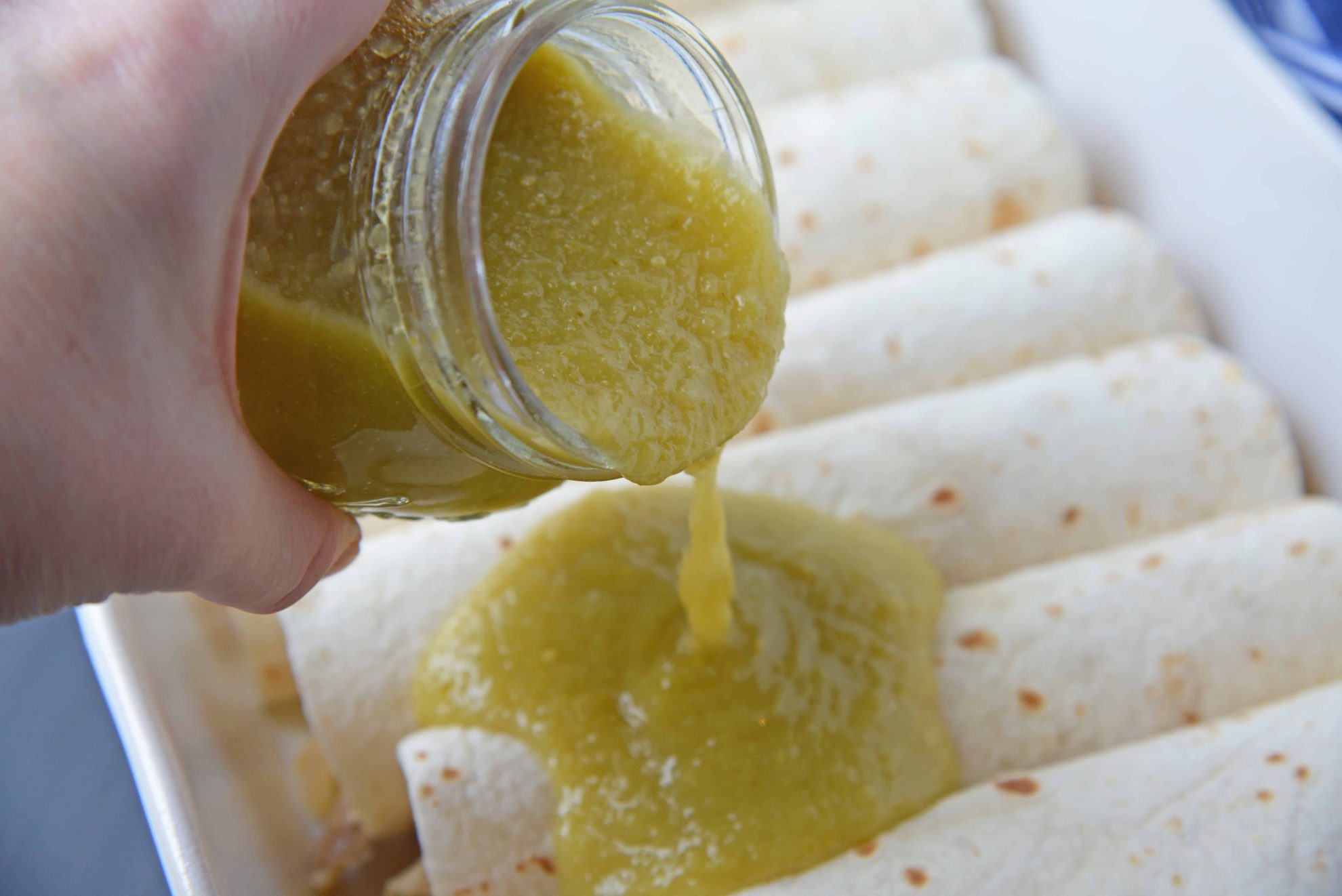 Stella® Fontinella® Harissa Cheese was so good, I used it in three different ways to make my famous baked chicken burritos.
First in the burritos themselves, second in a quick queso sauce to top, and lastly in more freshly shredded goodness on top.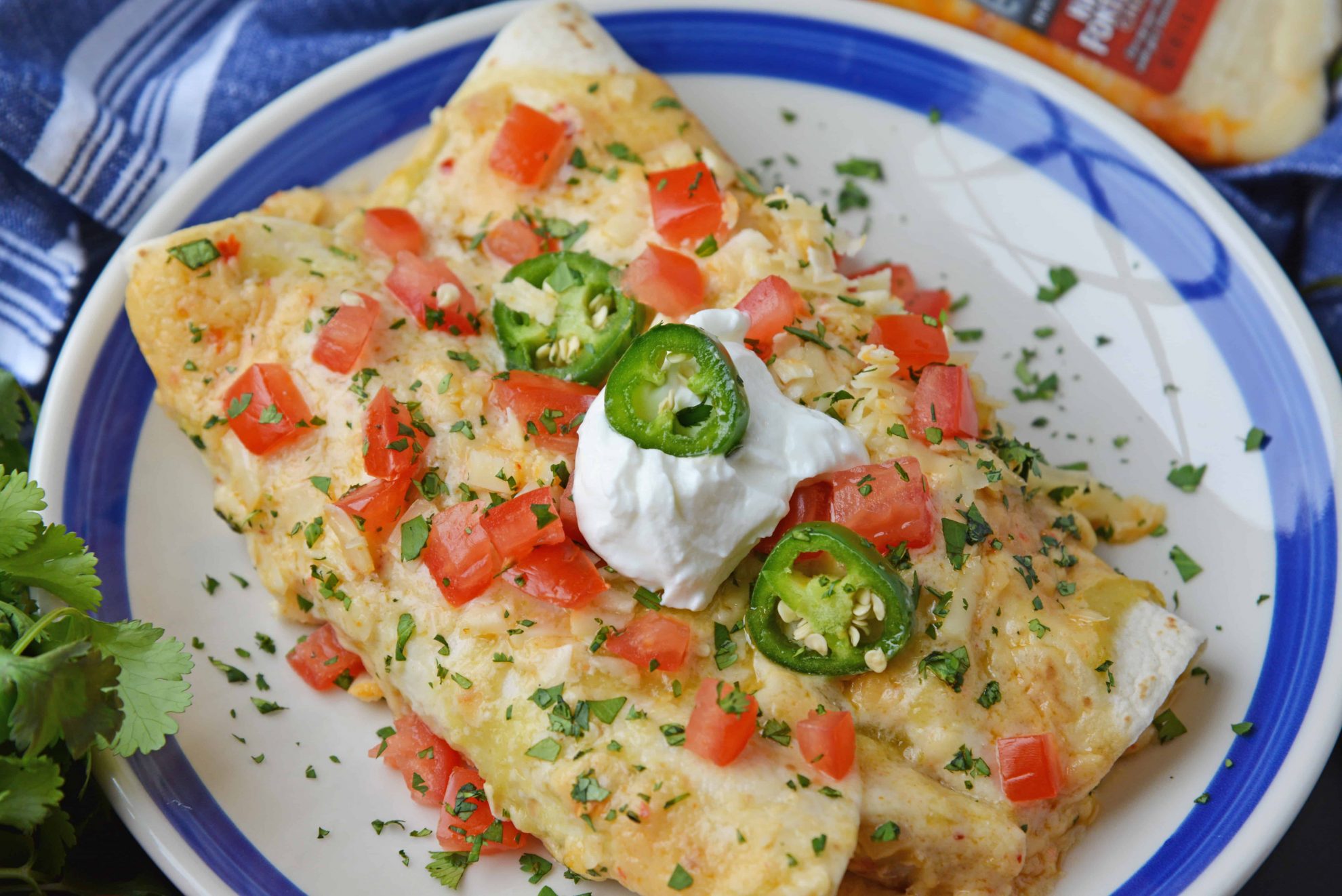 Stella® Cheese aims to "make every day gourmet" by using their signature Fontinella® cheese, delicately sweet and creamy smooth, with just a hint of sharpness that comes from the Italian word "to melt."
Each of the flavors are rubbed into this signature cheese, making it full of flavor and super creamy.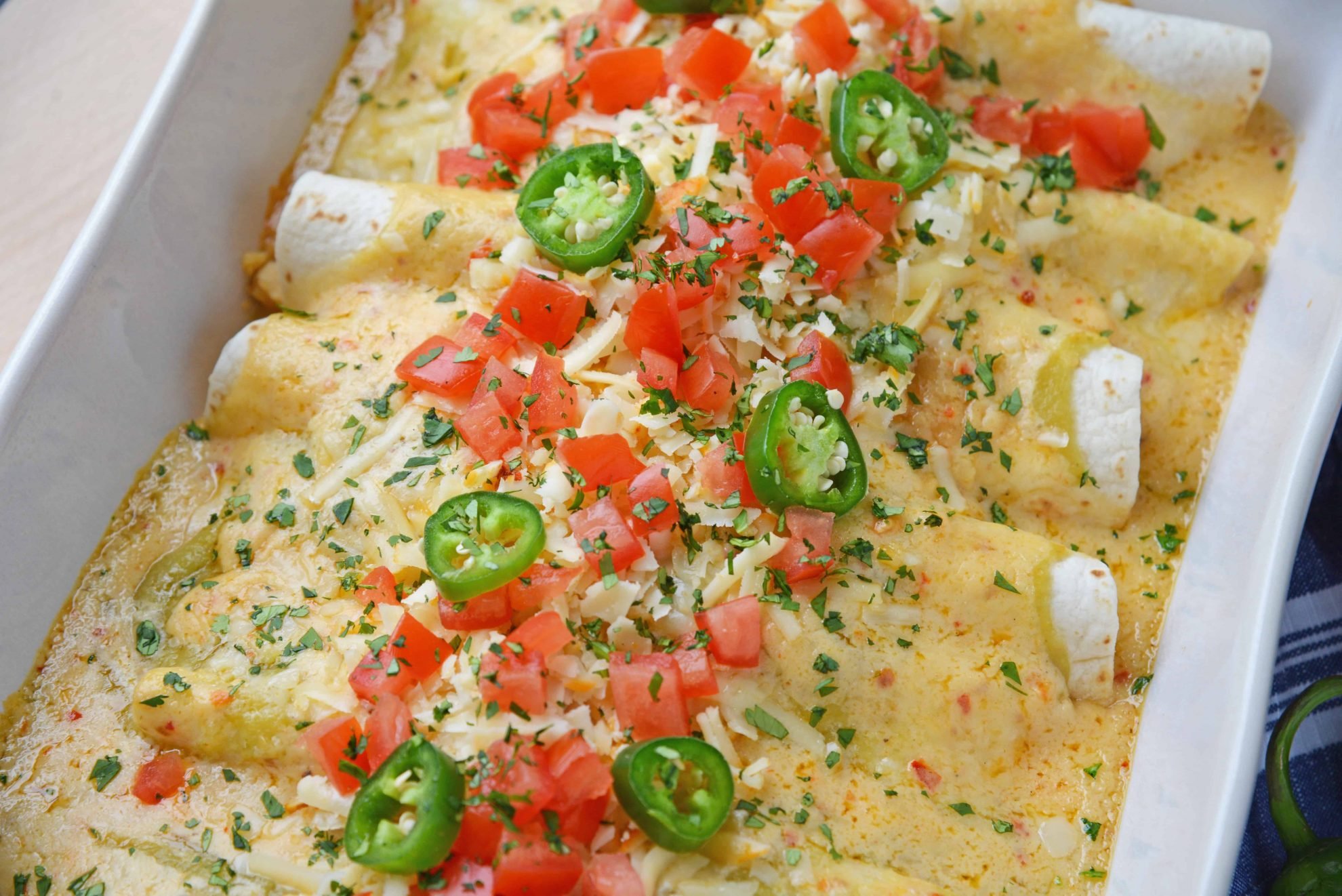 Whether I head into my local Safeway store to peruse the gourmet cheese section or use the convenient Safeway app for coupons or ordering, I am sure to have a pleasurable shopping experience.
Super cheesy and just the right amount of spice make this the best Smothered Chicken Burrito recipe out there.
If any one of these cheesy pieces is too much work or doesn't appeal to you, two (or even one) will do just fine.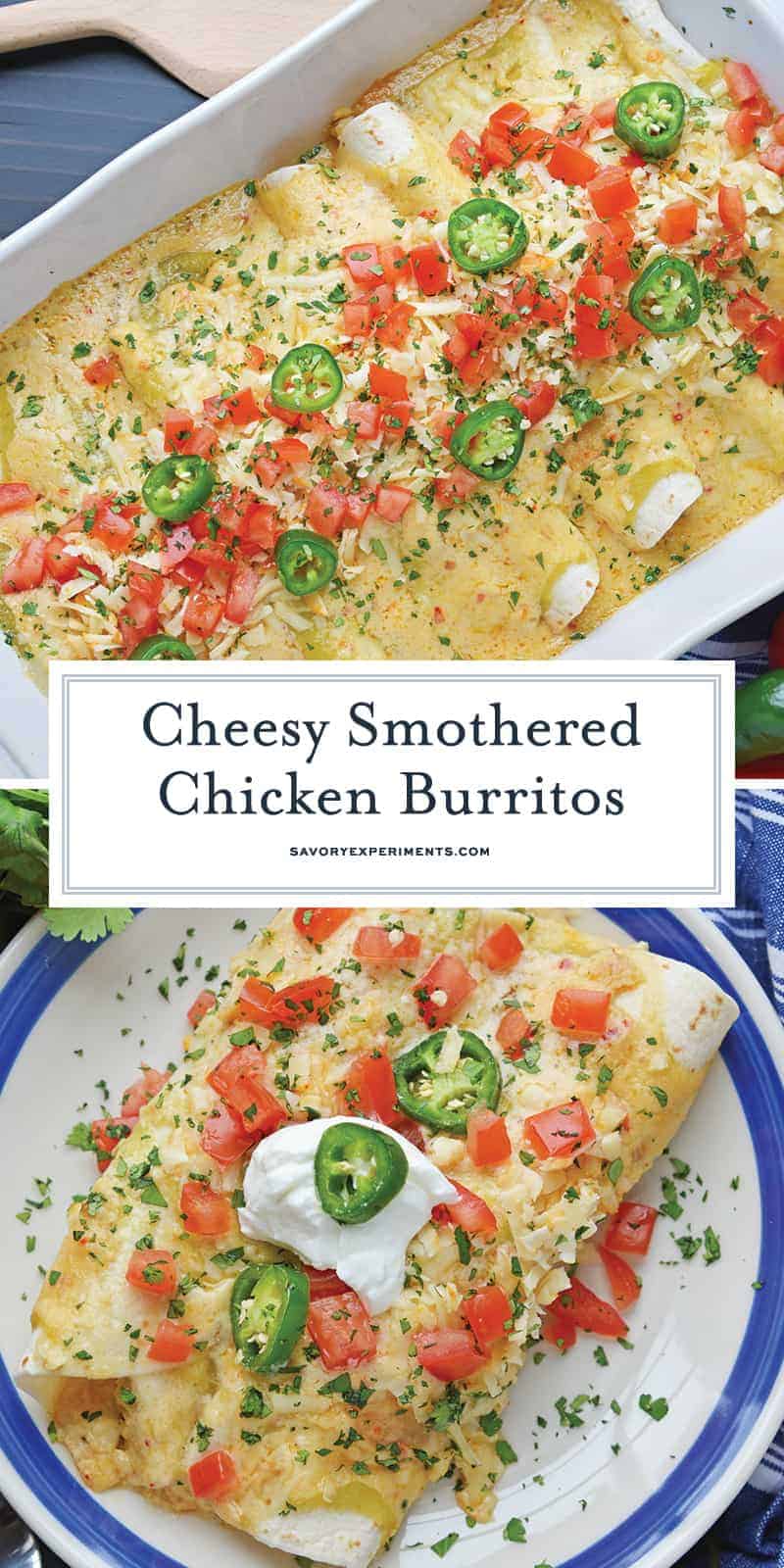 Get the recipe for my homemade green enchilada sauce!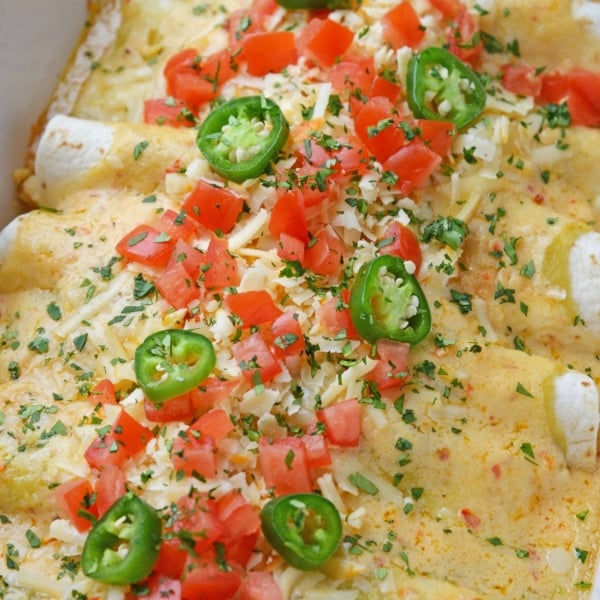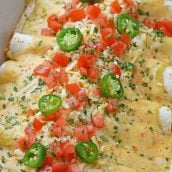 Smothered Chicken Burritos
Cheesy Smothered Chicken Burritos are an easy one-dish weeknight meal made with gooey cheese, green enchiladas sauce, shredded chicken and fresh toppings.
Ingredients
Toppings:
1

cup

green enchilada sauce

½

cup

Stella® Fontinella® Harissa Cheese

, shredded

1

fresh jalapeno

, seeded and sliced

1 to

mato

, seeded and chopped

1

tablespoon

cilantro

, minced (optional)
Instructions
Preheat oven to 350 degrees.
For burritos:
Heat vegetable oil in a medium skillet over medium heat. Add chopped bell peppers and onion, sautéing until softened.

Remove from heat and transfer to a large mixing bowl.Add shredded chicken and cheese and toss to combine.

Spray a 9×13 baking dish with cooking spray.

Evenly divide chicken mixture between the flour tortillas, rolling tight and fitting snuggly into the baking dish. If you are making this dish ahead of time, stop here and refrigerate until ready to cook.

Top burritos with green enchilada sauce and 1 cup cheese sauce. You might have some cheese sauce left over for dipping tortilla chips.

Bake, uncovered, for 15-20 minutes or until edges of tortillas start get brown and toasty.Remove and top with freshly shredded cheese, jalapenos and tomatoes.

Serve immediately.
For cheese sauce:
Heat butter and flour in a small saucepan over medium heat. Whisk together to form a paste.Add milk, whisking until smooth, still over medium heat.

Add shredded cheese, whisking until smooth.

Continue to whisk while adding salt.

Continue to cook until cheese sauce starts to thicken, then remove from heat. If you like a thicker cheese sauce, this should be good, but if you wanted something a little thinner, add 1-2 tablespoons more milk until you reach your desired consistency.

If you've tried this recipe, come back and let us know how it was!
Notes
*you can use chopped leftover chicken or buy a precooked rotisserie chicken at the grocery store and shred it. Alternately, you can use canned chicken.
Nutrition
Calories:
598
kcal
,
Carbohydrates:
42
g
,
Protein:
29
g
,
Fat:
34
g
,
Saturated Fat:
18
g
,
Cholesterol:
100
mg
,
Sodium:
1365
mg
,
Potassium:
344
mg
,
Fiber:
2
g
,
Sugar:
11
g
,
Vitamin A:
1515
IU
,
Vitamin C:
23.1
mg
,
Calcium:
454
mg
,
Iron:
2.9
mg