Who doesn't love tacos? Or pasta? So why not combine the two in a delicious taco pasta salad?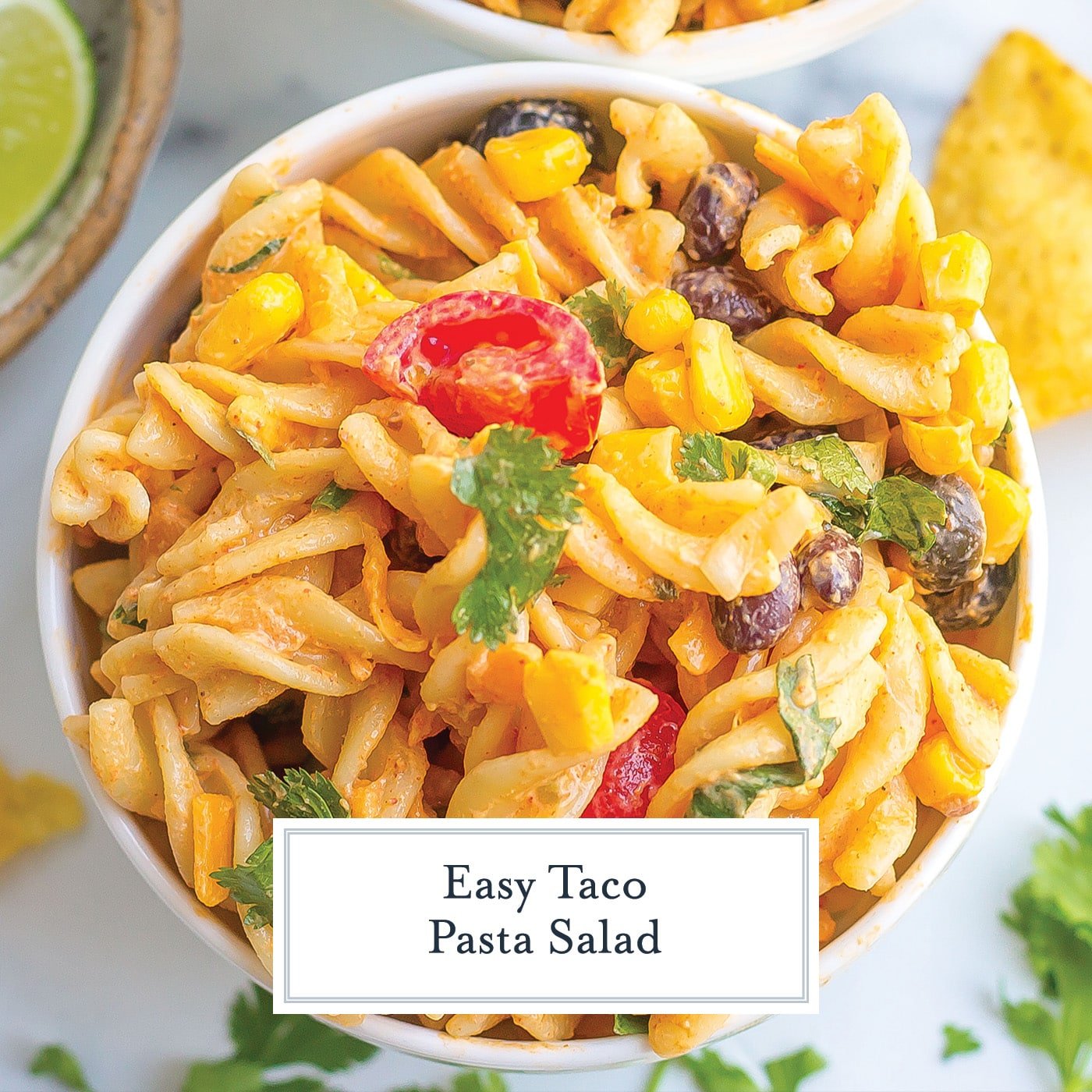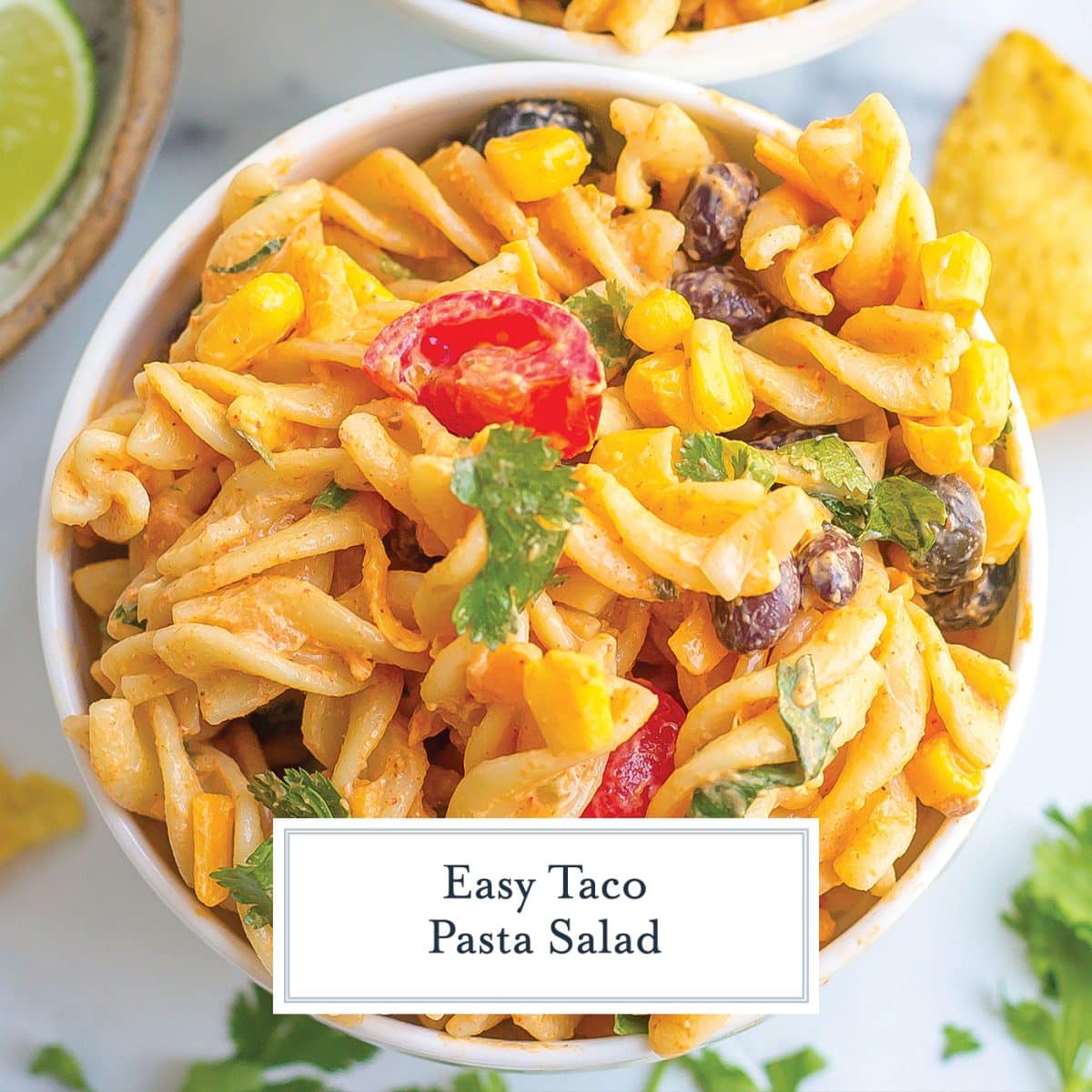 With easy ingredients (most of them canned or otherwise store bought) you can toss together a pasta salad that has all of the flavors of tacos. If you want to spend the time on cooking meats to go on it, that's great, but you can absolutely make this a vegetarian dish, too.
Great for Parties and Potlucks
I love that I can toss this taco salad together in no time for a summer cookout — it's one of my go-to favorite recipes in the summertime. But it can also serve as a main meal (feel free to add taco meat, too) on busy weeknight, especially taco night (taco Tuesday calls my name each week!)..
The other great thing about this salad is that everyone loves it. Kiddos and adults will chow down equally on this either as the main course for an easy summer dinner — or as a side dish — and your leftovers will be also be amazing the next day for lunch or a repeat dinner,
The next time you need an easy recipe for a great cookout or potluck dish, look to this! You'll wow your friends — and even maybe yourself — with the amazing flavors you can get without actually stuffing tacos in your face (though we're all about that, too).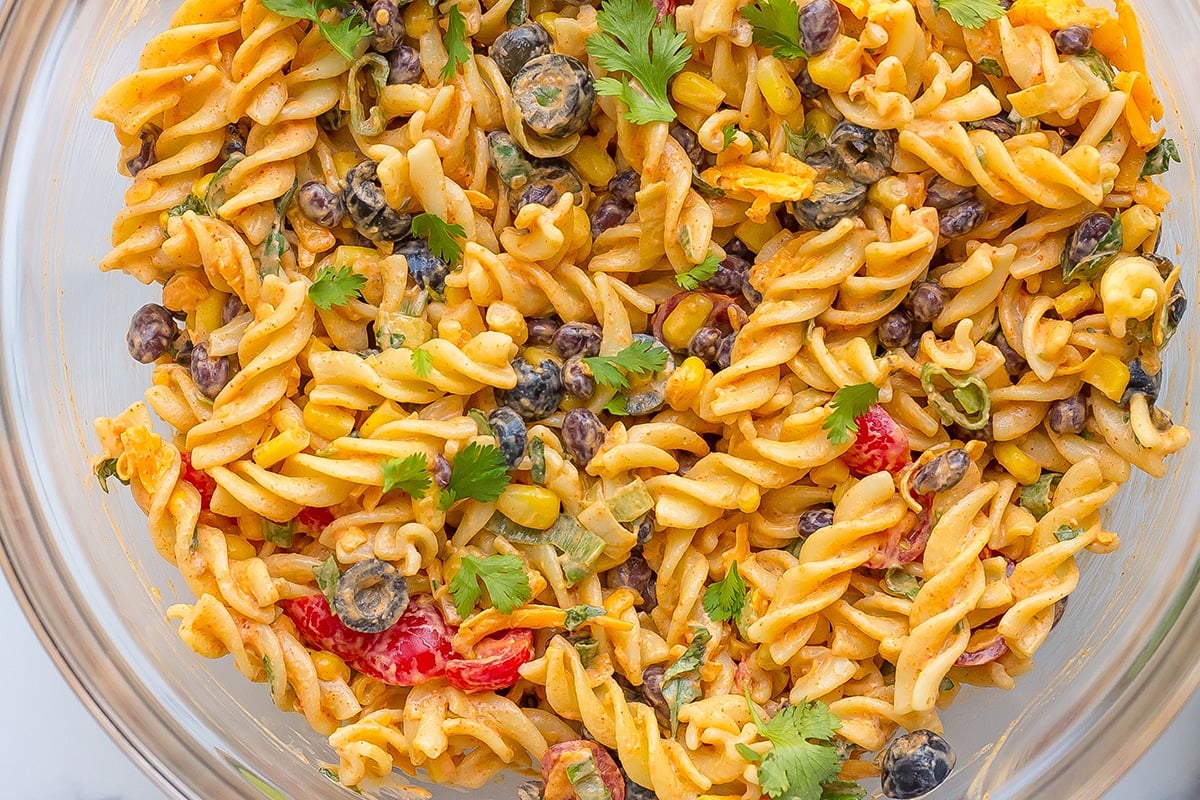 Why You'll Love Taco Pasta Salad
Easy – Just throw a few packaged ingredients, and a couple fresh ones, together and boil the pasta, and it's done!
Portable – You can easily tote this off to a party or a picnic — just throw it in some containers.
Customizable – You can make this as hot or mild as you want. You can also omit the pasta and make it a dip or you can make it hearty by adding meat.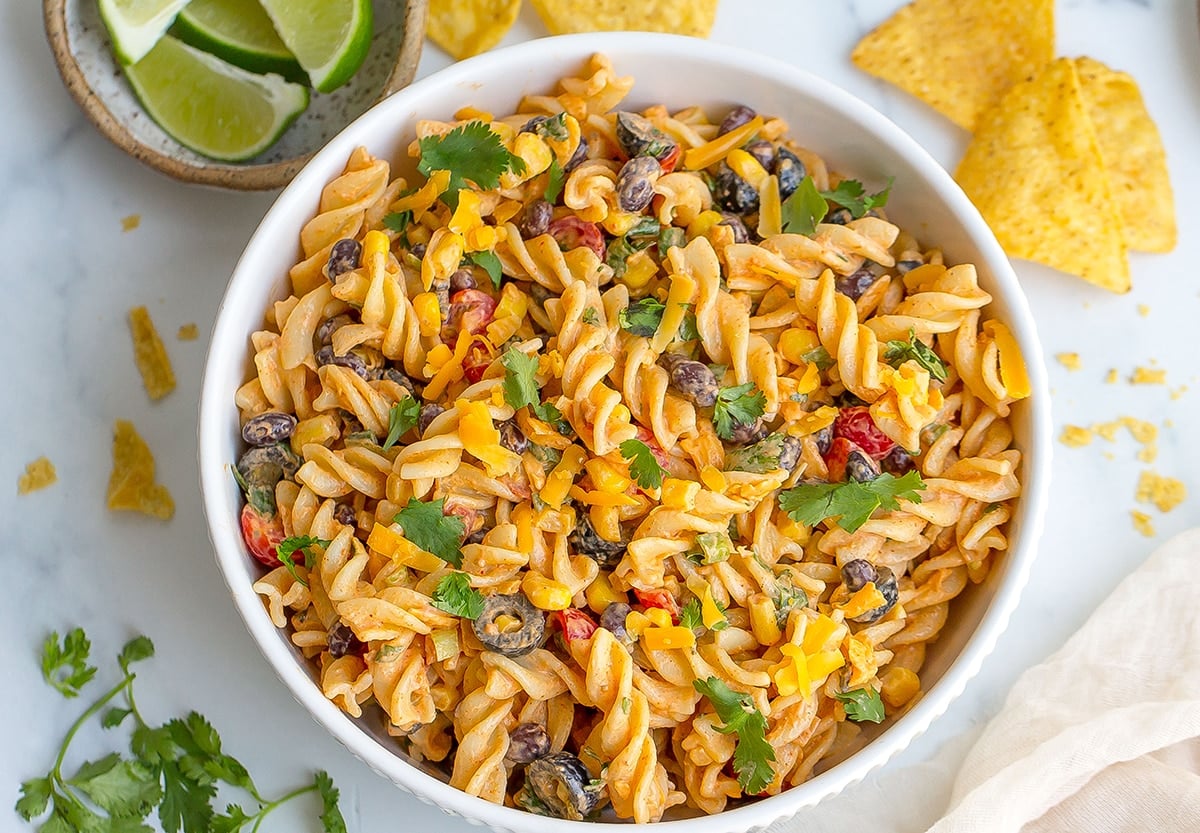 Ingredients
The ingredient list is short and includes many pantry staples.
Dry fusilli pasta – You can choose any shape of pasta that you prefer but this is one of my favorites and it grabs on the ingredients perfectly. Another great choice is bowtie pasta.
Black beans – Rinse and drain your canned black beans before using, or cook up your own at home prior to adding them to this salad.
Corn – Drain and rinse your corn before adding it to the salad. You can also use fresh corn — just cut it off the cob after cooking.
Green onions (scallions) – Ensure to slice these super thin so they look pretty in the salad but also don't overwhelm eaters with a big bite of onion.
Fresh cilantro – Chop your cilantro finely. If you know your audience, and someone doesn't like it (it's genetic, friends), then leave it out. It is, in fact, a real thing that some folks think cilantro tastes like soap or dirt and it is actually genetic, don't waste your time trying to get them to like it.
Cherry tomatoes – Quarter your cherry tomatoes so that they are perfectly bite-sized.
Canned olives – Drain these. If you want, and enjoy, some extra brininess you can leave them as they are. Otherwise, rinse them.
Extra sharp cheddar cheese – I always recommend shredding it at home, but you can use the store bought shredded version as well. You can also experiment with other cheesy goodness like a jalapeno monterey jack or cotija.
Salsa – Make your own or buy your favorite at the store. This can be a pico de gallo or traditional dipping sauce.
Taco seasoning – Use your own personal blend, or grab the one you like best from your local grocer.
Sour cream – Full fat is always preferable, but you can use low or no fat if you prefer. Crema Mexicana is also a good choice, but a little thinner.
Fresh lime juice – Juice your own limes for the freshest and brightest lime flavor. If you really like citrus, add some zest too.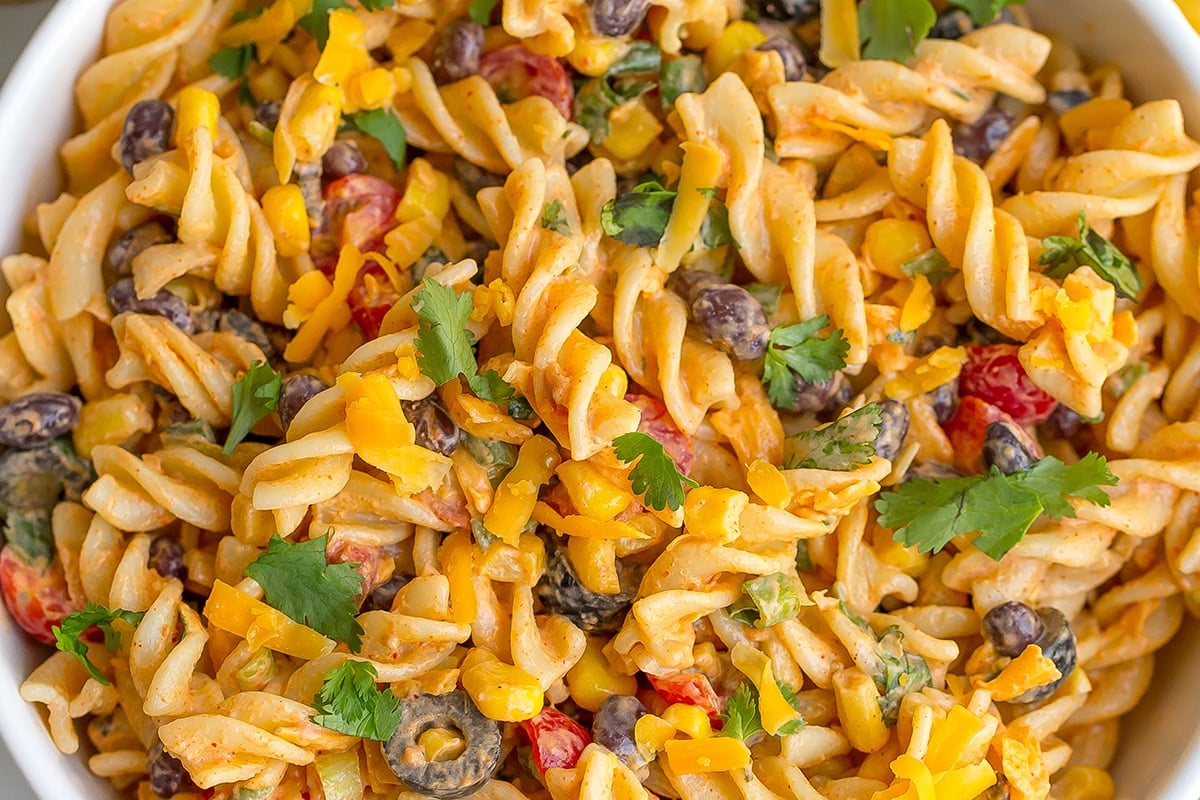 How To Make Taco Pasta Salad
Boil pasta. Boil pasta according to package instructions.
Make dressing. In a medium bowl whisk together the salsa, taco seasoning, sour cream, and lime juice until combined. Ensure that they are entirely incorporated, especially the taco seasoning.
Drain and rinse pasta. Once finished, when the pasta is ready, drain it in a strainer to remove any excess moisture. Rinse the pasta under cold water until it's completely cooled to avoid warming any other ingredients and tap to get off all of the water.
Add vegetables. Add the beans, corn, green onions, cilantro, cherry tomatoes, olives, and dressing to the pasta and fold together gently.
Add dressing and mix. Then, add the dressing and mix again, coating all ingredients.
Toss in cheese. Toss in the shredded cheese and stir until it is completely mixed in.
Chill. Allow the salad to chill in the refrigerator for at least an hour before serving.

Taco Pasta Salad Variations
While this salad is great on its own you can also toss in plenty of great additions. Any of your favorite taco toppings are a great idea, but here are a few other suggestions:
Spice it up – Add crushed red pepper, chili powder, or cayenne or even your own favorite peppers or jalapenos.
Add some zip– Toss some more lemon or lime juice with the pasta, or even add it to the water while the pasta is cooking.
Make it low carb- Instead of using pasta, try using riced cauliflower as the base. If you want a warm dish, try cooking up the ingredients and serving them over mashed cauliflower.
Dress it– Instead of making your dressing, choose one from the grocery store and dress it up. French dressing or Catalina dressings are good options.
Make it meaty– Add any ground meat you may want, like ground turkey or beef. Pulled meats like chicken or pork are delicious as well.
Serve it saucy- You can make a pasta dish all on its own or you can leave out the pasta and serve this as a salad over romaine lettuce or a sauce on baked potatoes.
Pack in some peppers– Add some green bell peppers, or other varieties, to add some color and flavor.
Order up onions – Add any diced variety whether it's red onions, yellow or white.
Give some love to the olive (oil) – Add just a touch of olive oil to the dressing to add some flavor and also up the healthiness factor in this dressing.
Get crunchy – Either use plain tortilla chips to dig right in and scoop up all of this goodness, or crush them and sprinkle over top for some salty flavor and a little crunch. You can also use some crunchy Doritos (any flavor you like) to add some goodness to this dish.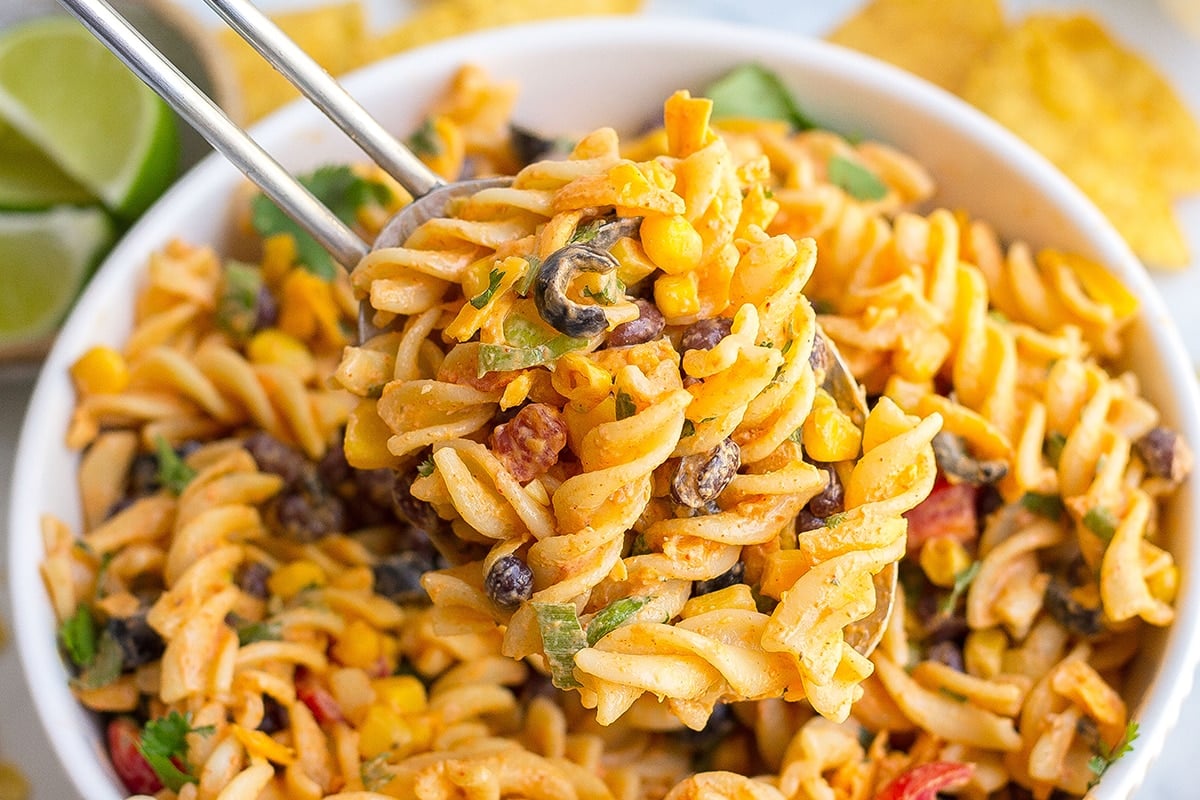 Storage & Freezing
To store: Store the meat separately in an airtight container for up to 3 days. Do not store ingredients together to prevent wilting or contamination.
To freeze: This recipe does not freeze well.
If you've tried this recipe, please come back and let us know how it was in the comments or ratings.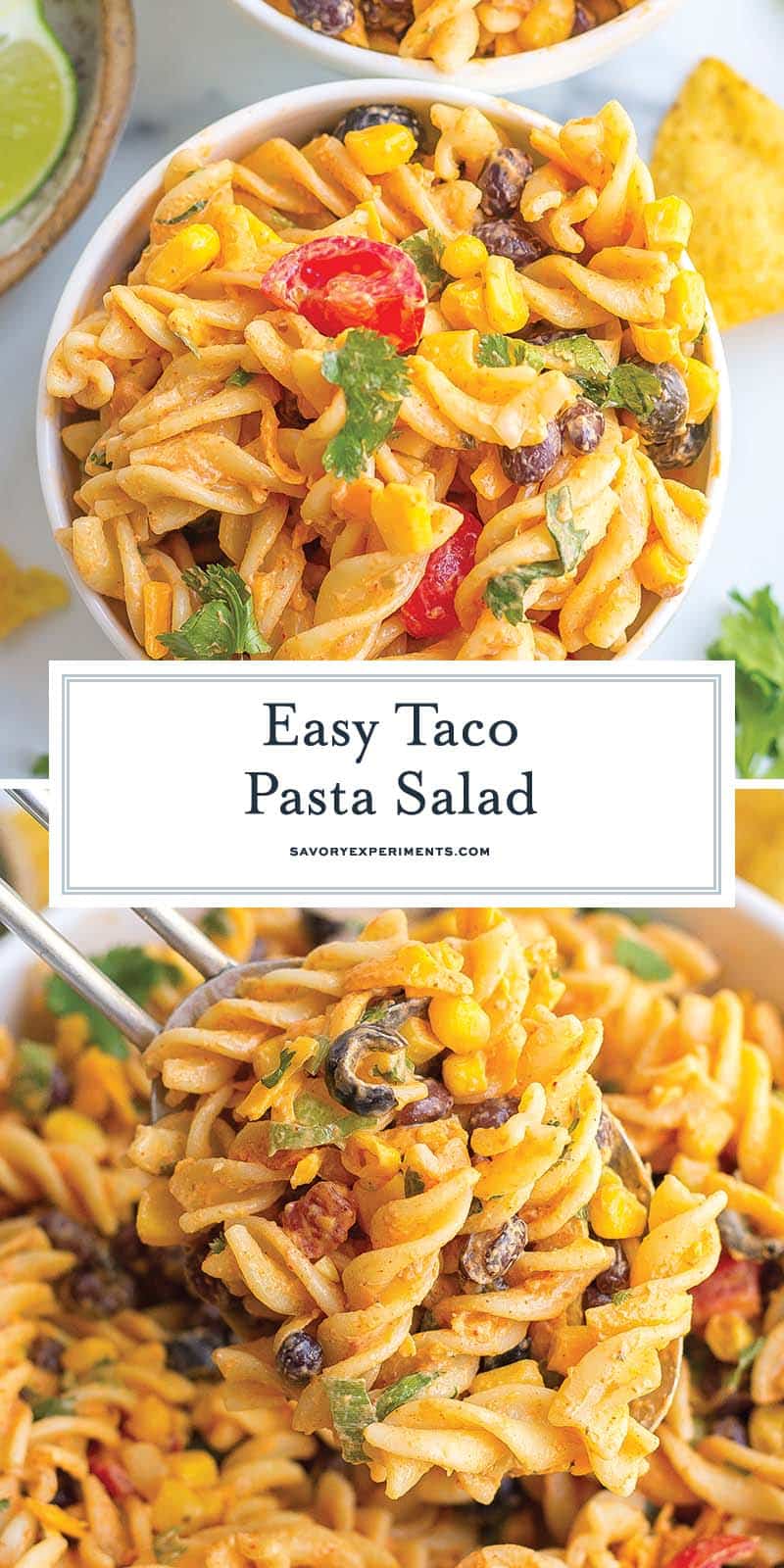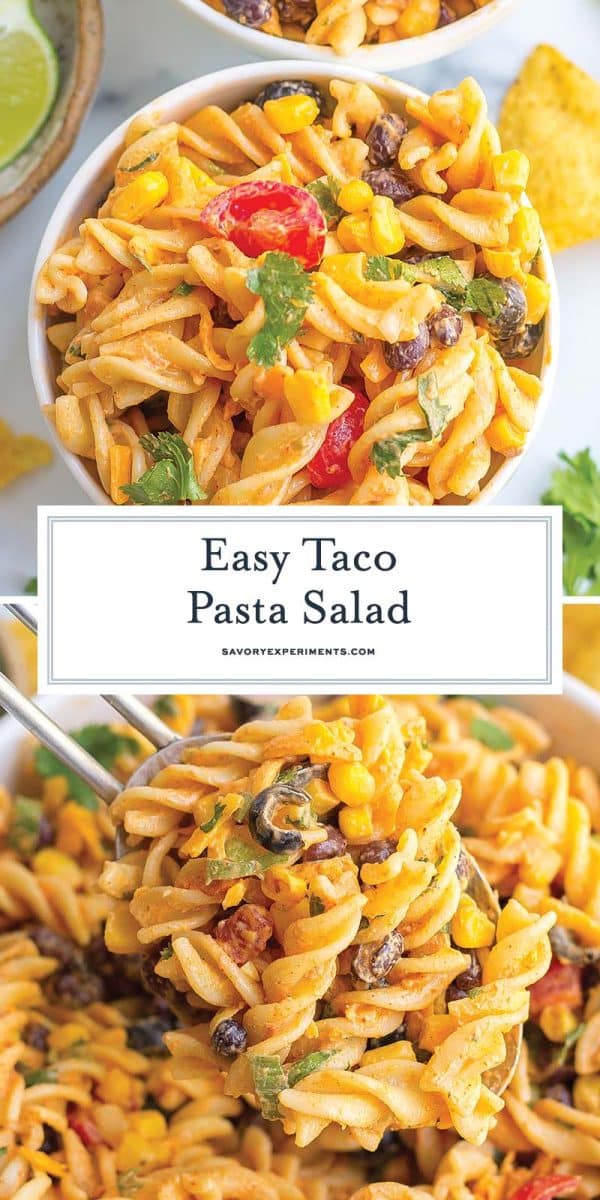 More Taco-style Dishes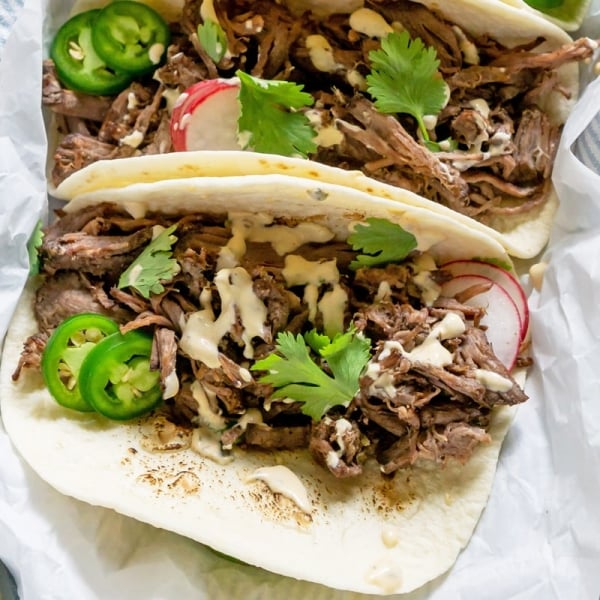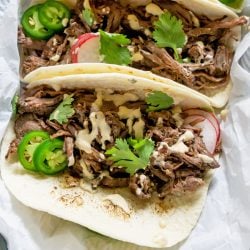 Barbacoa Tacos
These Barbacoa Tacos are savory, a little spicy, and major crowd pleasers! Get ready for a tasty homemade Mexican dinner!
View this recipe
Spaghetti Squash Taco Boats
Taco Spaghetti Squash Boats are stuffed with ground turkey, diced tomatoes, avocado, and lots of cheese! They have tons of flavor and are so easy to make.
View this recipe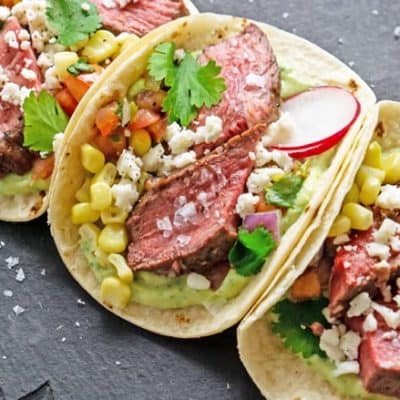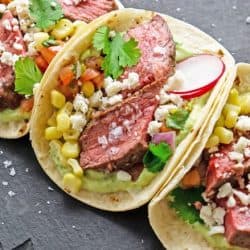 Jalapeno Lime Flank Steak Tacos
Flank Steak Tacos with a jalapeno lime marinade that will have you craving more. Made with few ingredients and lots of flavor, it's sure to become a family favorite!
View this recipe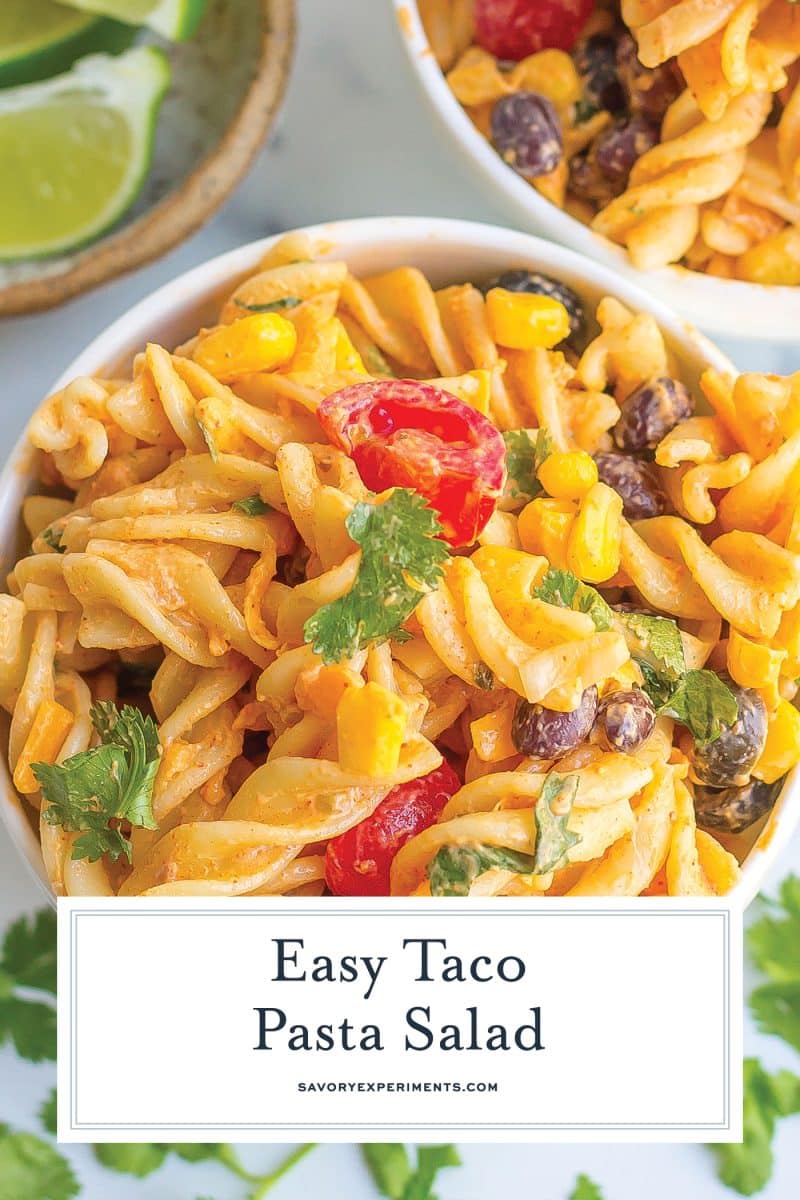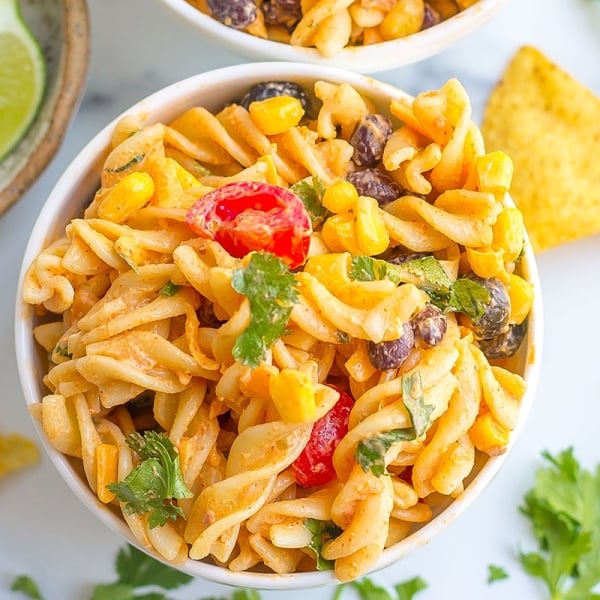 Taco Pasta Salad
Zesty taco flavors in the form of a pasta salad. Perfect for potlucks and parties!
Ingredients
Pasta Salad:
4

ounces

dry fusilli pasta

1

cup

black beans

, rinsed and drained

1

cup

corn

, rinsed and drained

1/4

cup

green onions

, thinly sliced

1/4

cup

cilantro

, chopped

1/4

cup

cherry tomatoes

, quartered

2.5

ounce

black olives

, drained and sliced

1

cup

extra sharp cheddar cheese

, shredded
Instructions
Boil the pasta in a large pot of salted water. Cook according to box instructions or until al dente.

While the pasta is cooking, prepare the salad dressing. In a small bowl whisk together the salsa, taco seasoning, sour cream, and lime juice until combined.

Drain the pasta in a strainer and rinse under cold water until cooled. Transfer to a large mixing bowl.

Add the beans, corn, green onions, cilantro, cherry tomatoes, olives, and dressing to the pasta. Mix well until all of the ingredients are combined.

Mix in the shredded cheese and stir until all of the pasta is evenly coated.

Let the pasta salad sit in the refrigerator for at least hour. Stir again before serving and enjoy cold.

If you tried this recipe, come back and let us know how it was in the comments or star ratings!
Nutrition
Calories:
180
kcal
,
Carbohydrates:
16
g
,
Protein:
9
g
,
Fat:
10
g
,
Saturated Fat:
5
g
,
Polyunsaturated Fat:
1
g
,
Monounsaturated Fat:
3
g
,
Cholesterol:
22
mg
,
Sodium:
506
mg
,
Potassium:
300
mg
,
Fiber:
4
g
,
Sugar:
3
g
,
Vitamin A:
633
IU
,
Vitamin C:
6
mg
,
Calcium:
164
mg
,
Iron:
1
mg